jordlinghome.com – Home cinema may be rare in every home. Because this is a non-priority room. However, with having a home cinema, you can have quality time with your family or your friends. Watching together while enjoying snacks will be a very fun activity. Therefore, there is nothing wrong to make one room as a home cinema. To help you have a comfortable home cinema to gather with your family or your friends, here we have provided 32 Cozy Home Cinema Decors and Ideas that You Will Love. So, let's check it out!
1. Watching Area in The Middle of The Room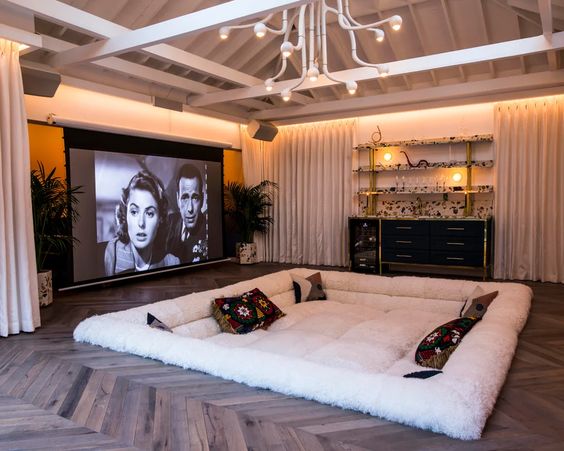 If home cinema usually uses a large sofa or comfortable armchair, this one idea is different. The area for enjoying movies is made lower and like a bed. Here you can enjoy your favorite movies while lying down. The addition of a few pillows made it even more comfortable. This is also an alternative way so that small home cinema can be enjoyed by large families.
2. Home Cinema in Purple Nuances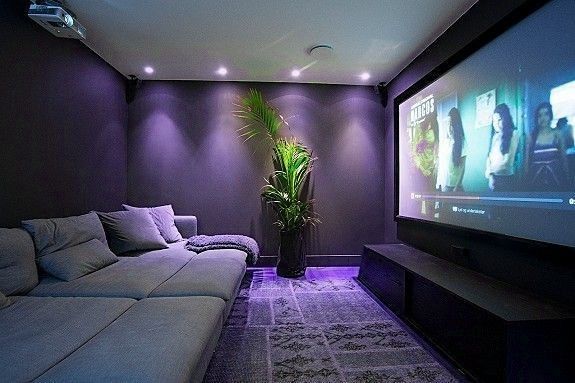 Purple is a color that is often avoided because it is considered eccentric. However, the purple home cinema actually looks so attractive. Several lights that shine directly on the walls show a purple color that is so charming. And the addition of a few plants gives a fresh impression and eliminates the stiff impression of a home cinema. That way, the purple home cinema not only looks great but also will feel cozy.
3. Chesterfield Chairs Make It Looks Elegant and Luxurious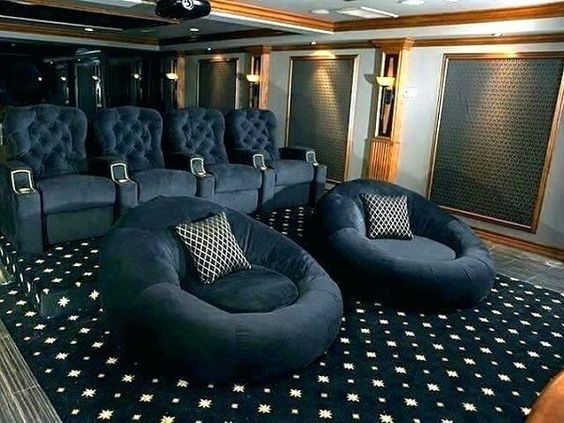 Home cinema that looks ordinary is indeed very boring. Therefore, we need something that stands out there. You can choose a sofa or armchair with a chesterfield model. This one model will be very helpful in making a home cinema that seems ordinary looks elegant and luxurious.
4. Board and Batten Beautify The Minimalist Home Cinema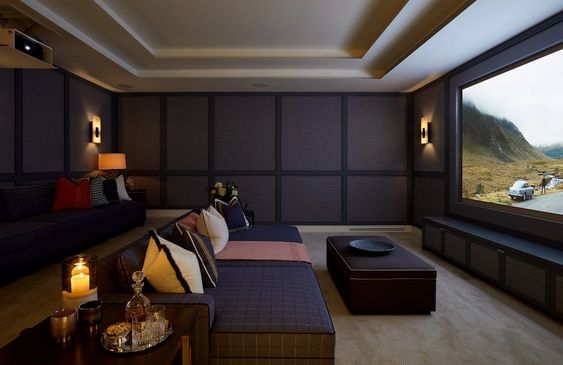 In a minimalist concept room, of course, not many decorations are used. As in the home cinema in the picture above. To eliminate the impression of mediocrity and rigidity, the board and batten were chosen for the walls of the room. The textures and patterns of the board and batten really help to remove the stiff impression of the minimalist concept. That way, the home cinema will look great and feel cozy.
5. Luxury Home Cinema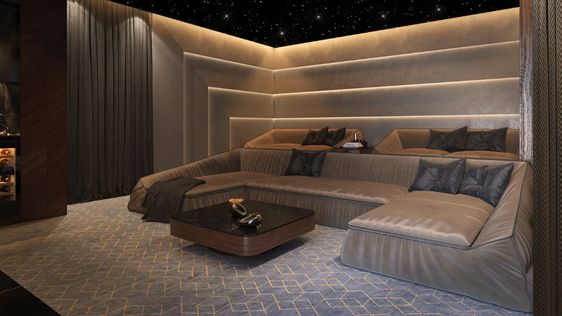 You do not need something expensive to make a room seem luxurious. You just need to play on the fabric in the home cinema. To make your home cinema look luxurious, you can choose a sofa with velvet fabric. Or, you can also apply velvet fabric on the side of the home cinema wall. With the same color, the home cinema will appear more minimalist and calm.
6. Home Cinema Room with Wood Accent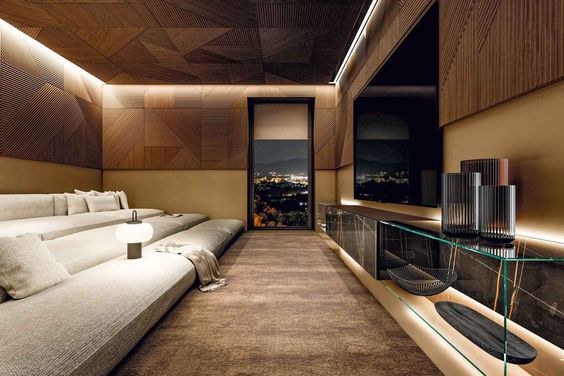 Home cinema with wood accents will feel calmer and more comfortable. This is because wood can evoke warm shades in the room.
The home cinema looks so charming with the wood accent applied to the ceiling and half the walls. The help of LED lighting is very helpful to show a beautiful wood accent. So that the home cinema will look very attractive.
7. Large Sofa for Your Big Family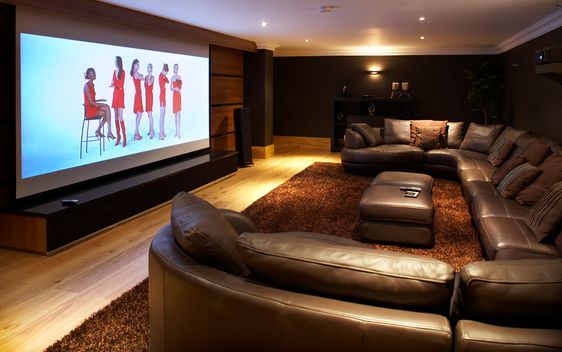 For those of you who have a large number of family members, of course, the number of sofas in a home cinema must be adjusted. Try to avoid using a single sofa. This is because it can make home cinema feel cramped. Instead of choosing a single sofa, you can choose a sofa with large size as well. Provide some pillows to make this large sofa feel comfortable to watch.
8. Relaxing Sofa Make It Cozy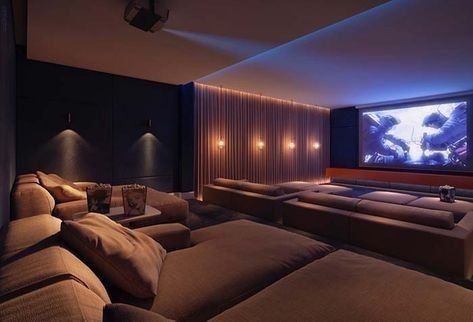 A home cinema with large size will be a pity if it is not used. Here, you can choose a sofa with different models. You can use a large sofa at the front of the room. And for the back, use a daybed sofa. This will make you comfortable while watching and also relax yourself.
9. Loft Home Cinema Room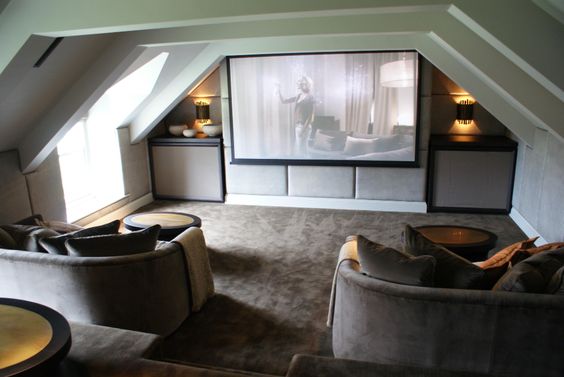 The loft is the quietest room at home. Therefore, you can use the loft as a comfortable home cinema. Due to the short walls, make sure you do not use a large and tall sofa. For the loft, it would be better to use a low-profile sofa.
And for the color, white is the best to choose from. The white color will make the loft home cinema feel wider. With this, you will feel comfortable there.
10. Look Masculine with Black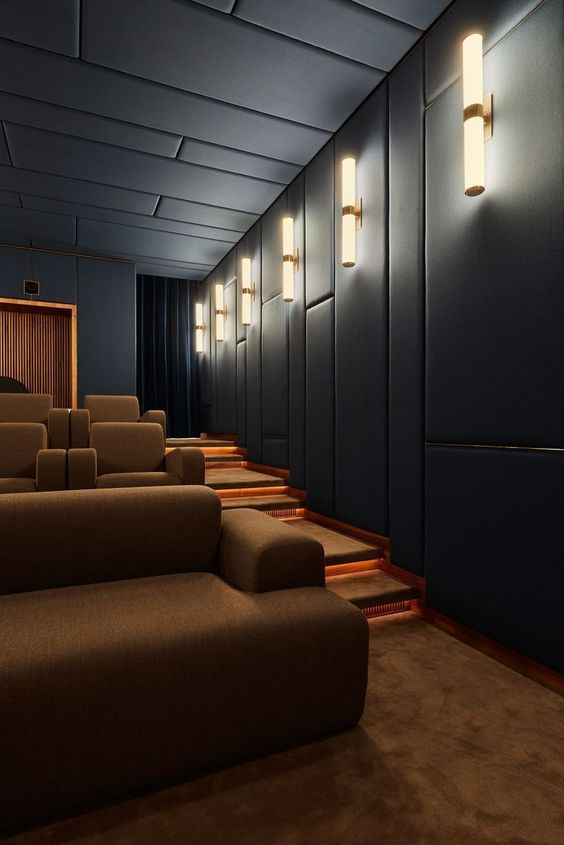 There is nothing wrong with applying black to home cinema. The black color will make the room seem darker. Even so, the black color is able to provide peace for home cinema. So this room will feel comfortable for watching the movie. And to make black look attractive in this room, you can add additional lights on the walls.
11. Cozy Small Home Cinema Room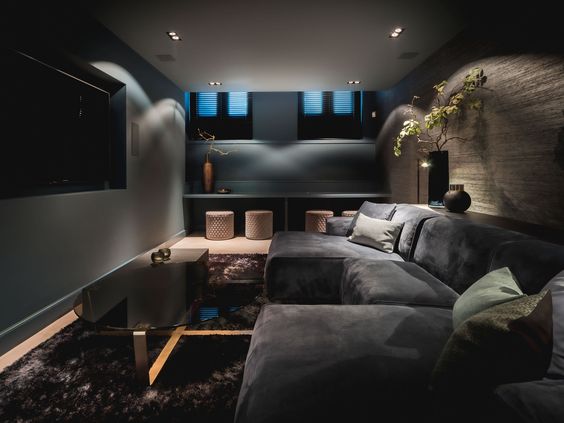 It is okay to make a home cinema in a small room. Here, you can use a sofa in a smaller size. Make sure the sofa you choose does not have legs. This will really help to make the small home cinema feel more spacious. And to give the illusion of a wider home cinema, you can add a carpet or rug there. Also, provide artificial lighting to make the room feel fresh.
12. Equipped with Coffee Table for Your Drinks and Snacks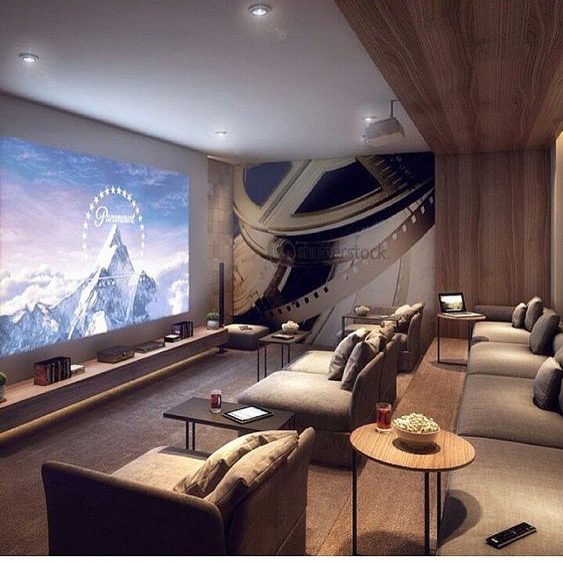 If your home cinema is really spacious, you can add a coffee table there. Besides making the home cinema look more attractive, you can also use it to put some drinks and snacks. Watching movies accompanied by favorite snacks will be much more fun.
13. Calm Home Cinema in Soft Tones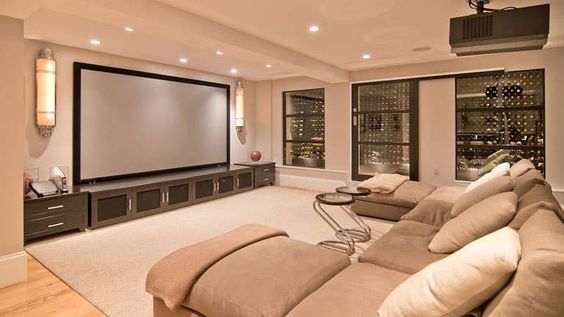 Home cinema does not always have to be dark. You can also make this room look bright and soft. With a few soft tones, such as warm beige and light caramel, it is enough to make home cinema feel so comfortable and calm.
14. Elegant Black Home Cinema Nuances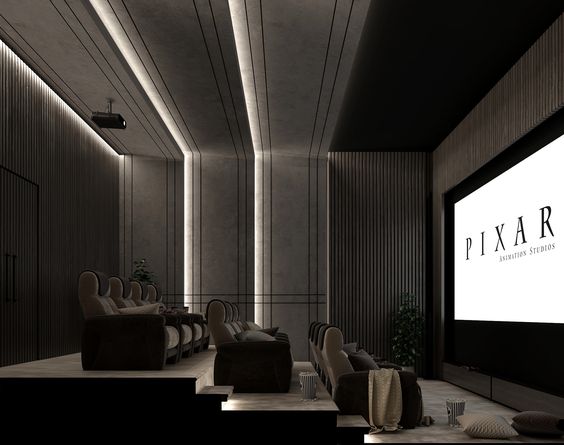 Elegant black home cinema is perfect for those of you who like interiors with a masculine look. A home cinema in black nuances will seem cooler. And the help of light from LED lighting will make it look elegant.
15. A Little Touch of Industrial Style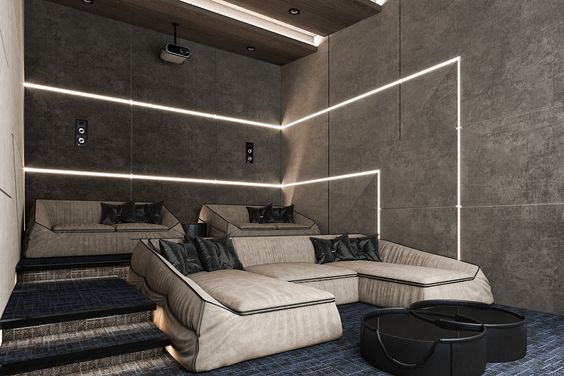 Currently, industrial style is not only for cafes or restaurants. You can also apply an industrial style to your home cinema. The concrete wall with LED lighting there is the thing that stands out the most and makes the home cinema look so attractive. The natural gray color of the concrete gives a cool and calm feel to this room.
16. Attractive Board and Batten with Geometric Motifs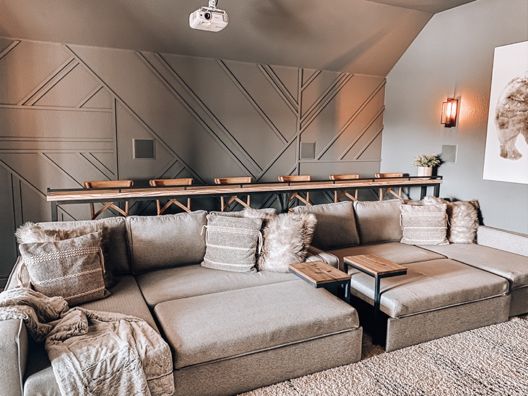 Board and batten is the most appropriate solution for a minimalist concept room. As in the picture above, the geometric pattern on the board and batten makes a simple and minimalist home cinema look so attractive. The texture that appears on the walls makes you no longer worry about what decorations are suitable and match for your home cinema interior.
17. Simple Home Cinema Room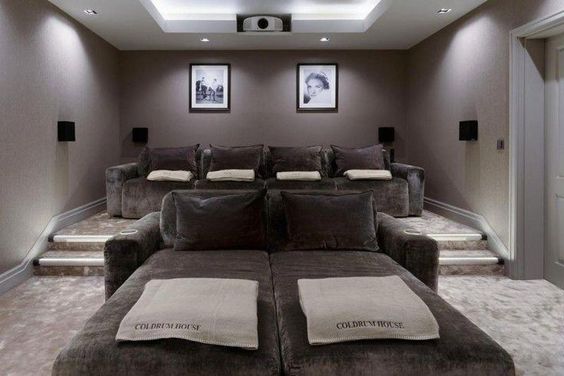 Home cinema rooms can also be attractive and comfortable with simple decorations. Like the picture above where the home cinema roon is made in shades of gray. As a natural color, gray makes this room look calm. Even though it only contains a sofa and two wall decorations, the home cinema still looks interesting. This is because the help of spotlights from the ceiling to the wall makes a simple home cinema not seem stiff.
18. Elegant with LED Lighting on Wall and Ceiling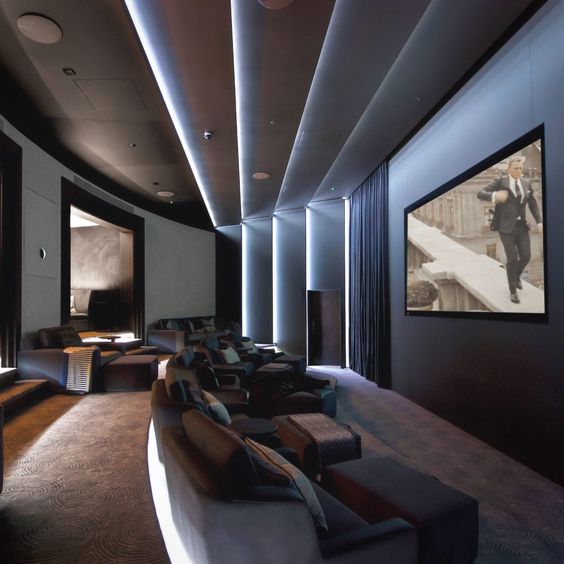 LED lighting is an additional light that can add to the beauty of the room. You can apply LED lighting to walls and ceilings like the picture above. This will be very helpful in making the home cinema look more attractive and not seem stiff. With the help of LED lighting, home cinema will be cozy.
19. Home Cinema Room with Home Bar in It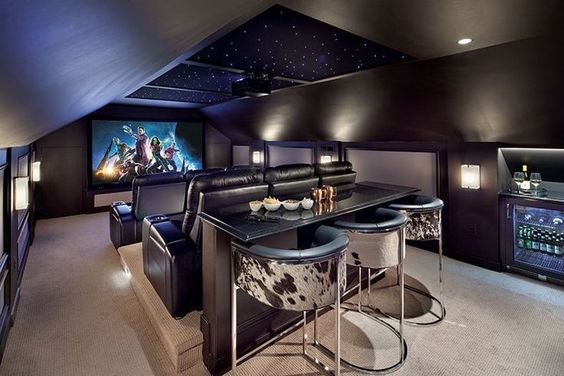 There is nothing wrong with enjoying your favorite movie with a delicious cocktail. Therefore, presenting a small home bar in the home cinema becomes a great idea.
You can install the bar table following with a comfortable chairs facing the screen. That way, there will be additional space for your family or friends to enjoy the movies.
20. Home Cinema yet Family Room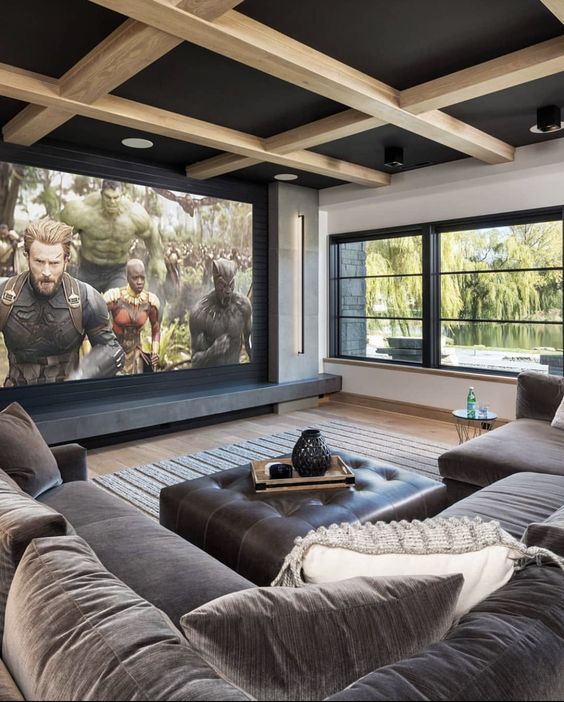 The family room is a very important room. In this room you will spend time with your family.
Usually, there will be a large sofa and coffee table for home families. You can add a projector screen to turn your family room into a home cinema room.
The windows are left exposed without any decorations allowing natural light to enter the room freely. The help of natural light will make the home cinema feel so warm and comfortable.
21. Monochrome Home Cinema Design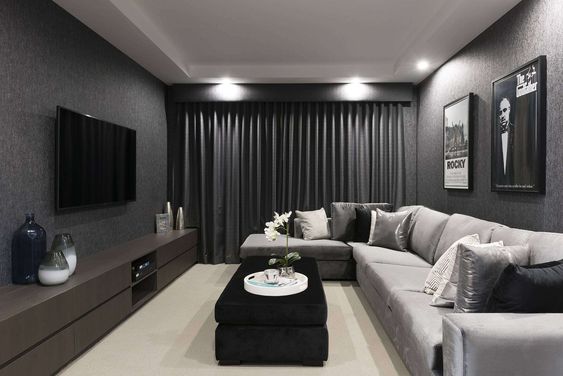 Monochrome room is the best. The white color makes it look bright. And the black color gives a firm and elegant effect. You can also add gray as a good link between white and black.
22. Navy Wall is Adorable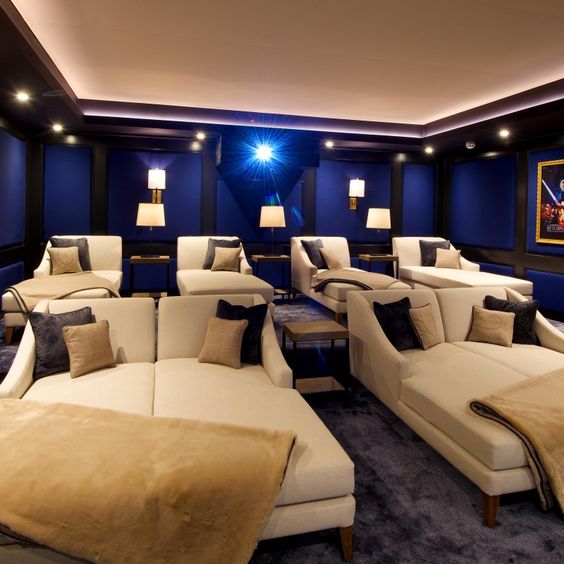 The wall is the most appropriate spot for you to make an interesting area. This will really help to make a simple room look attractive. You can paint the walls of the home cinema with a navy blue color. This will turn your simple home cinema into an elegant home cinema.
23. Black and Pink Nuances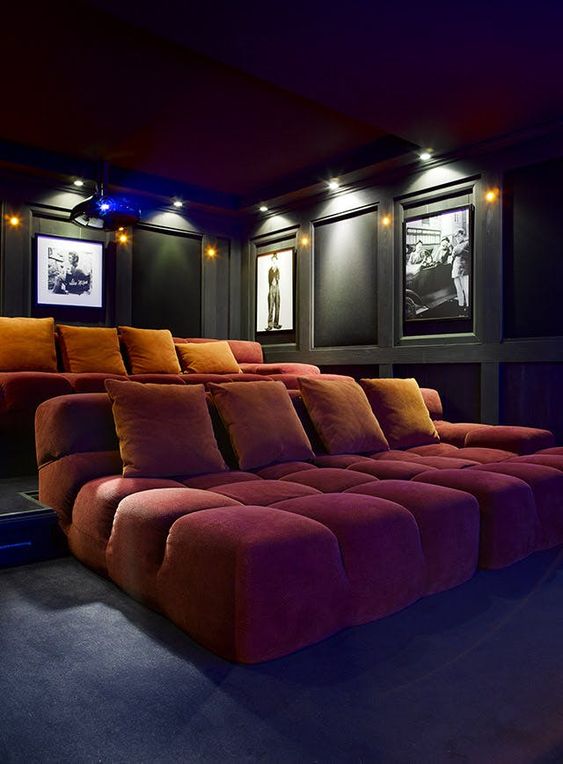 The combination of black and pink is very interesting. As in the picture above, black home cinema nuances look more calm with a beautiful pink sofa that is so comfortable.
24. Small Home Cinema Room in Gray Nuances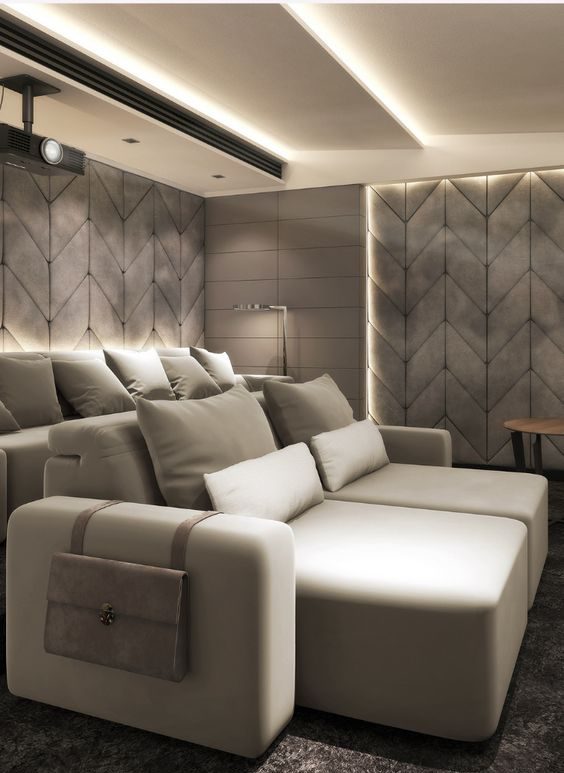 Gray is a color between white and black. So, the gray nuanced home cinema will look bright but tends to be more shady. The gray color itself makes the room seem cold. Therefore, with the help of warm lighting from LED lights on the ceiling and wall really helps to make this room feel so calm and cozy.
25. Long Curtain Make It Great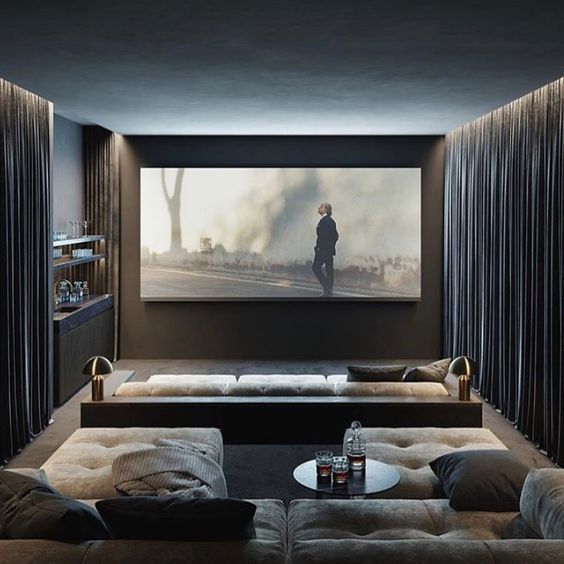 In making the small home cinema feel cozy, you really need to make it look wider. Here, you can take advantage of the side of the window. You can use long curtains from the ceiling to the floor. The help of LED lighting on the top plate makes the home cinema look so adorable.
26. Blue LED Lighting on Ceiling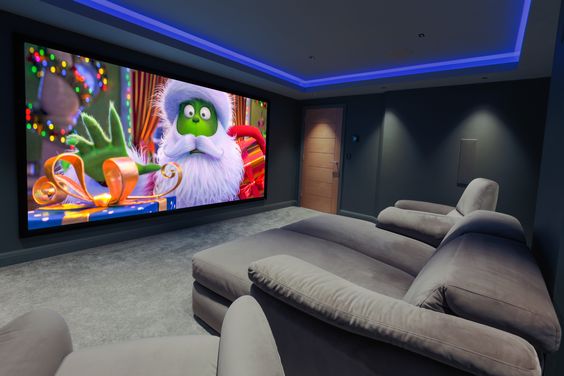 LED lights that are usually used are white and warm (yellow) lighting. However, the LED lights with blue lighting are no less interesting. As in the picture above, the LED with blue lighting so beautifully decorates the ceiling of the home cinema room.
27. Feel Like in Galaxy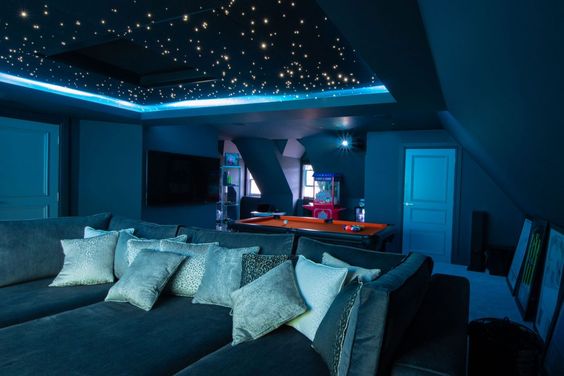 The blue home cinema with the illusion of stars on the ceiling makes the home cinema look interesting and different. The nuances that are presented make you feel like you are in outer space.
28. Automated Home Cinema Projector Screen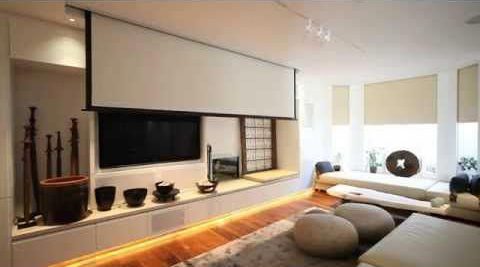 If you really don't have a room that you can use as a home cinema, you can choose a living room. With the help of an automated projector screen, you can turn your living room into a comfortable home cinema.
29. Elegant with A Little Touch of Yellow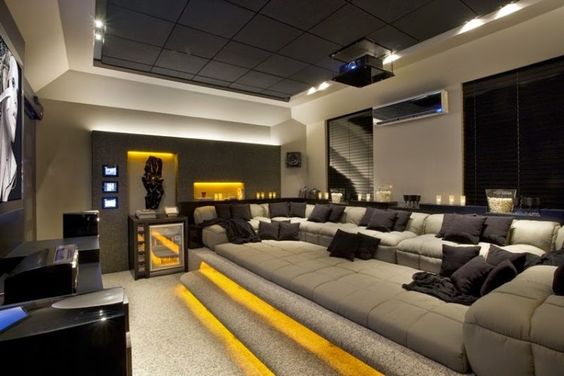 Yellow is often avoided. However, gray nuances with black home cinema look different and more charming with yellow on the stairs and also on the shelf.
30. Fabulous Ceiling Make It Cozy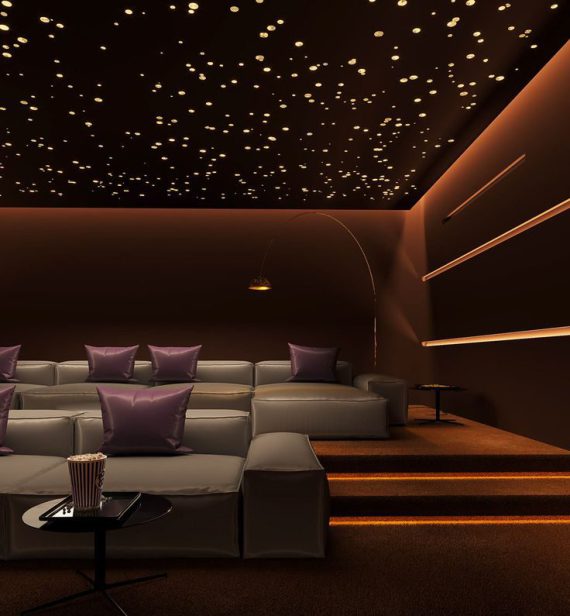 A dark room will be beautiful if it is decorated with something bright. You can decorate the black ceiling with glow in the dark stickers which you can easily get at the nearest store.
31. Cozy Home Cinema in Blue Nuances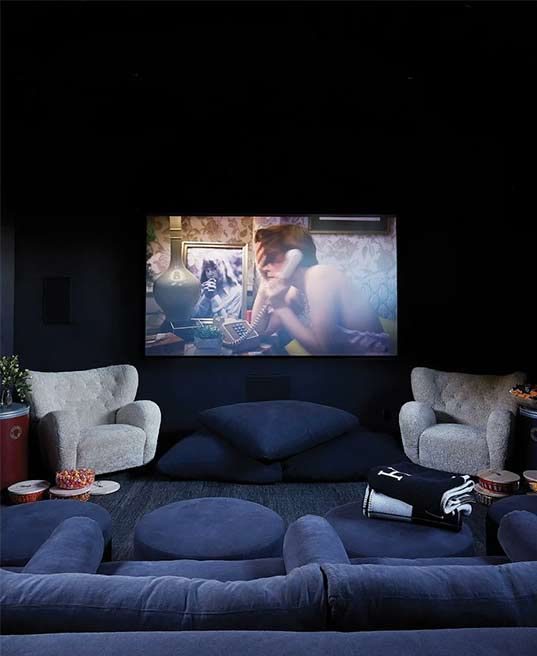 Home cinema in blue nuances is no less interesting. The dark blue shade makes the room look elegant. However, the blue color itself gives a slightly fresh effect that makes home cinema feel comfortable.
32. White Home Cinema Nuances in Loft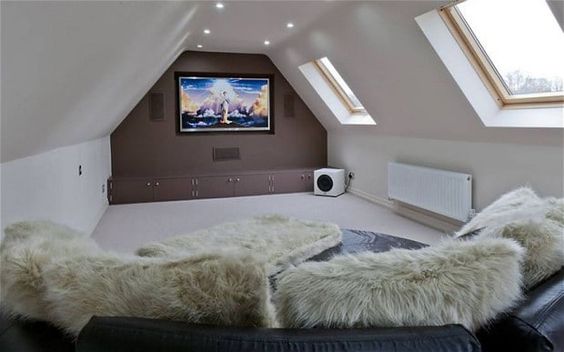 Loft is narrow. Therefore, white is the most appropriate to be used as the main color. This will help the home cinema in the loft look bright. So that the home cinema will far from cramped and stuffy feel.