Jordlinghome.com – What is the noticeable thing when we see the masculine bedroom interior design? It must be a kind of sleek, sexy, and modern clean line decoration. Moreover, the industrial decoration design added charm and a strong manly room style. There are many clever ways to create the sleek and modern man's cave bedroom look. For instance, the artistic wall man's bedroom decor, sleek manly furniture selection, and creating a stylish walk-in wardrobe make the manly bedroom look so classy!
In this writing, we will be sharing with you some quirky and sleek masculine walk-in wardrobe designs down below. By installing the walk-in wardrobe designs, we'll find the perfect way to store our clothes!
Before we dig into some outstanding masculine walk-in wardrobe design, there are some advantages to installing this wardrobe style in the modern living space, wanna know it? Let's find the answer right down below!
Let's peel off the benefits of installing the walk-in closet!
Help us to dress quickly
We might be thinking that the first goal of installing this wardrobe is to give an elegant and sleek accent to the modern living space. Besides that opinion, the walk-in wardrobe presence actually helps us to dress quickly. Considering the urban people's lifestyle that has fast movement also need something clever design to support their lifestyle. By installing the walk-in wardrobe, we can store our clothes in a spacious wardrobe size. So, we can point out something we want to wear directly and save time a lot!
Storage space
It is very clear that a walk-in wardrobe has a much larger space to cater to our clothes rather than the basic classic wardrobe. If you have a bunch of clothes and you love to collect some fashion trends edition. We are pretty sure you need the larger space to cater to all of your clothes perfectly! So, a walk-in wardrobe comes up to resolve that solution!
Added privacy
When your friends around in your bedroom and you want to dress securely, you must be needed something private wall to make you comfortable changing your clothes. If you have a walk-in closet in your room, you can simply walk inside and close the door. Finally, you've got the ideal space to change your clothes without feeling insecure!
A perfect way to organize your clothes!
It's so much easier to organize our clothes in a bigger space rather than the small one. We can easily put the clothes in each group, it's impossible to organize a lot of clothes in the small wardrobe size!
Added aesthetic aspect to your bedroom!
The walk-in closet in your bedroom will give an aesthetic value to your bedroom. It could double up the charm aspect in your manly bedroom decor. So, you can creatively design your own walk-in closet with your own style!
Manly walk-in-wardrobe with stylish mirror accent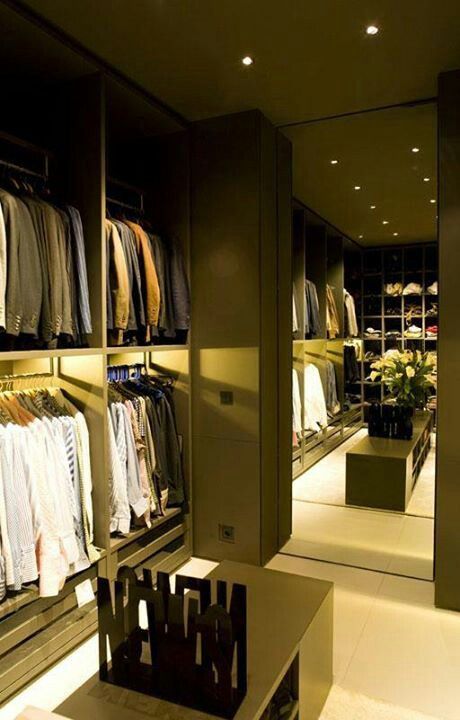 A manly bedroom decoration that displays a modern walk-in closet. The earthy color tone cabinet meets with luminous LED lights to give a warm ambiance. Then installing the mirror on the wall give a spacious interior look. In addition, the quirky modern steel decoration gives an impactful stylish statement.
Simple and affordable manly walk-in wardrobe to install in your bedroom!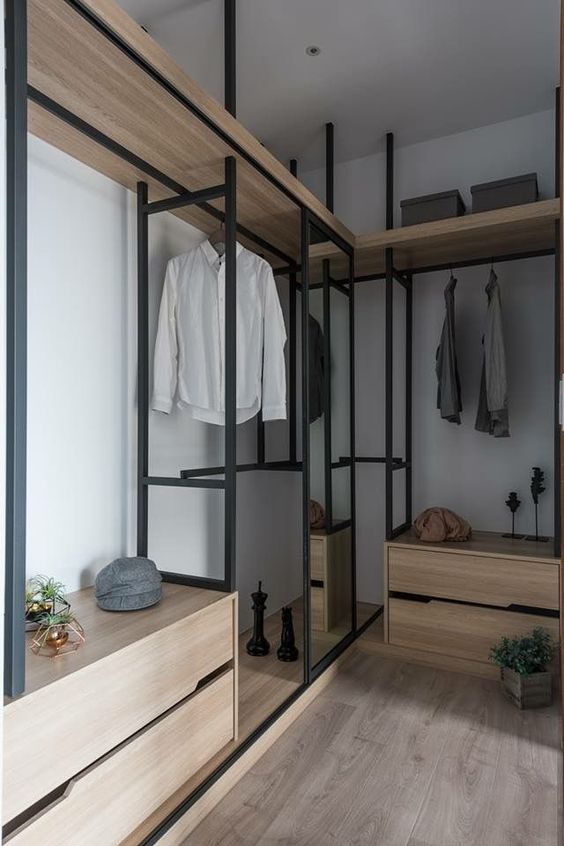 When you come into a fast room decoration and well-functioning space in your bedroom. Something simple, affordable, and practical line decor is what you need the most! To store your clothes and keep it organize, it's very helpful tp have a walk-in closet in our bedroom! The large space wardrobe that could cater enough your clothes.
All we need to do first is to find the right space we want to install this modern wardrobe style. After that, we can install the steel framework to support the wooden rack. When you finish arrange the framework, then we can put some wooden slabs that aim to store our clothes as racks. In addition, we can hang on our clothes in this clever and well-function wardrobe. This kind of wardrobe does not make space feel like a cramp, and wooden accents give a soothing environment in our bedroom. This simple and affordable walk-in closet style is fit to install in the bachelor pad bedroom, cause it's super easy and won't take a large space!
Awesome place to store your clothes behind the stylish wooden sliding door!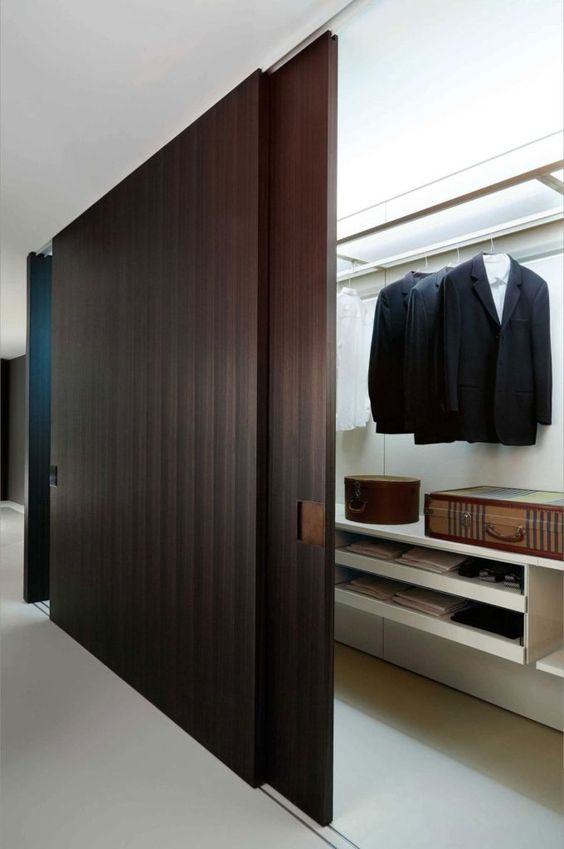 They might do not recognize there is a functional walk-in closet behind this stylish wooden wall. Creating the privacy space to store our precious wear in the modern home living style is needed. The stylish wooden sliding door that easy to operate and represent the homeowner's design taste gives a satisfaction room design. Behind this wall, there is a bright and comfortable closet to cater your clothes!
Spacious modern walk-in closet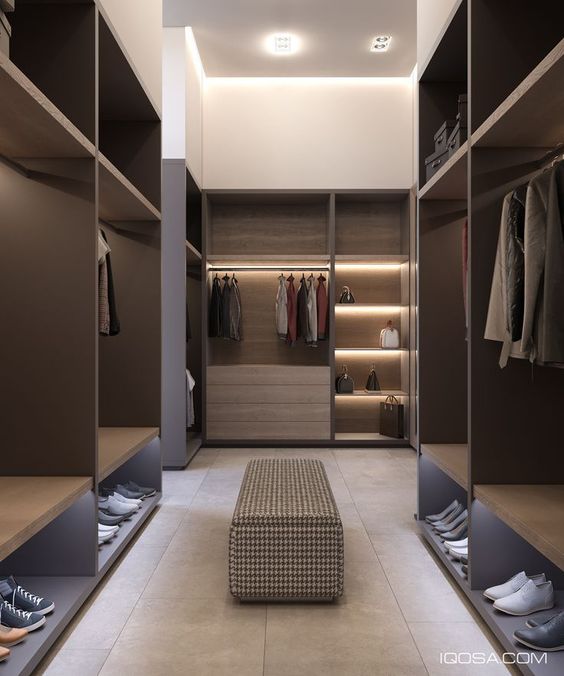 To cater to your clothes in a good way, we can create a walk-in wardrobe in our bedroom. Setting up the rack on both sides of the space and create the spacious pathway in the middle. In addition, installing the LED lights inside the wardrobe to give a comfortable bright accent. A very fine wooden finish rack meets the luminous lighting gives a sophisticated impression. The soothing ambiance is integrated with a neutral mood board palette internally.
Behind the backdrop, there is tucked stylish closet!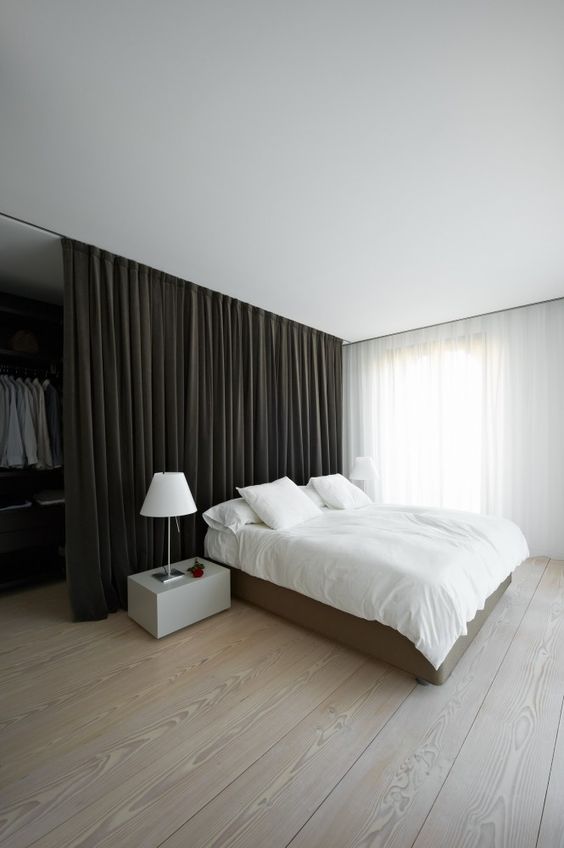 In the modern living space, the clean line sophisticated design is highlighted. Let see this comfortable modern manly bedroom design that has a magical backdrop! Who can notice that behind the backdrop there is a stylish wardrobe design? What a brilliant idea to install the walk-in wardrobe behind the backdrop of our bedroom. It's quite functional, savvy space, and sleek masculine walk-in wardrobe design!
This bedroom ambiance is quite comforting. There is some factor that makes this bedroom look soothing and so clean! First of all, there is the oak flooring that has a subtle look to create a calm interior environment. Then the neutral white wall palette and ceiling give the spacious feel inside. Moreover, the sheer curtain is installed to cater to the proper amount of natural lighting coming through the interior space. As a result, all those elements successfully donate the calm and cozy atmosphere inside the manly bedroom!
Stylish wooden slats feature to store your clothes!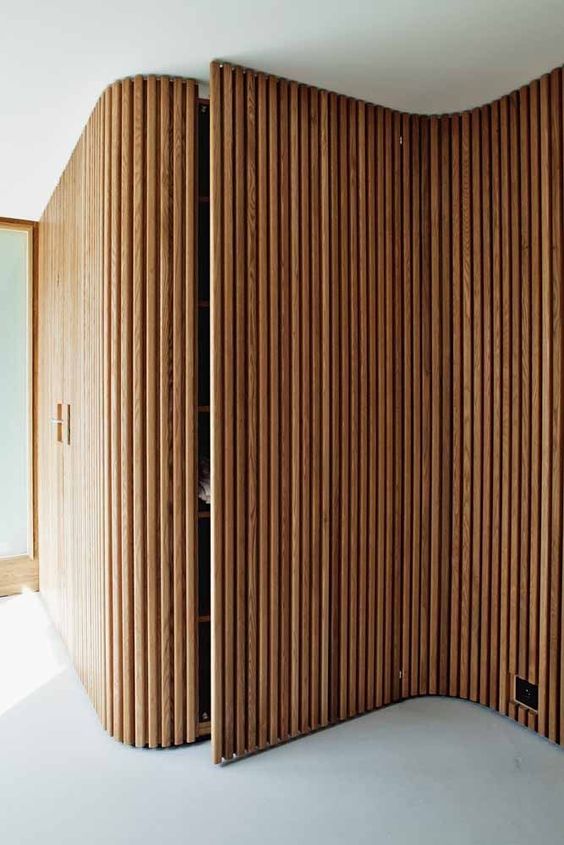 In the modern living design, creating a wow factor inside our home is quite competitive. There are lots of great interior designer that shows outstanding and sustainable design. For a manly bedroom style, we can create a sleek and clean line decor. It means, we can only put simple and modern furniture so space would not feel stuffy.
The next step is how we create the proper wow factor in this sleek masculine bedroom decor? We find the idea to display a natural look by installing a wooden accent in the bedroom! Well, we can collect the wooden slats to create the dramatic wooden paneling that can beautify the neutral wall. You can choose light wood, dark wood, or even black accent wooden paneling based on your taste. Then, we can install wooden slabs to store your clothes in. Finally, adjust the lighting in this stylish men's wardrobe style by installing LED lights! We guarantee these amazing wooden slats will suit perfectly in your simple men's cave bedroom!
Great timber panel accent!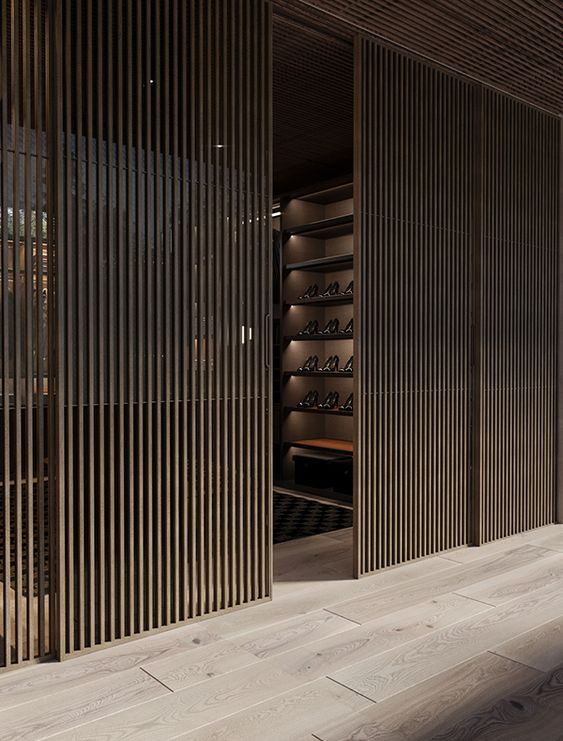 If you want to create outstanding masculine bedroom decor. We can give the quirky natural punch accent inside. Installing timber paneling to divide the walk-in wardrobe space and your bed space is a great idea! The timber panel gives an artistic and organic view in the manly bedroom decor! Setting up this walk-in wardrobe in a dark accent with a little proper adjustment to create a dramatic view of the whole interior space! Installing some lamps inside the wardrobe that donate a friendly and comforting look to the eye! Would you like to have an organic masculine walk-in wardrobe style set in your bedroom?
Luxury glass walk-in closet design!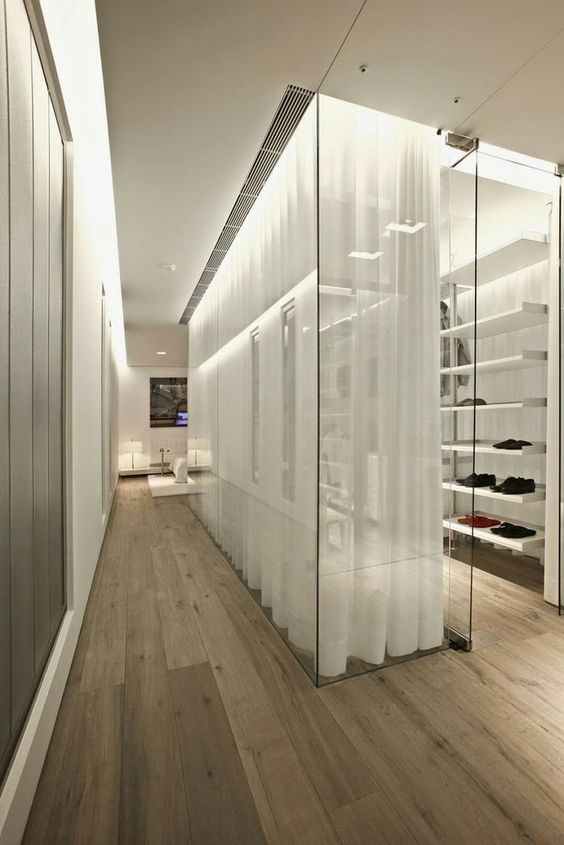 Emitting the bright and modern bedroom style, we can follow this type of decoration by installing a full-glass walk-in closet style inside! The LED lights that blush with sheer curtain give a little bit of transparency to your modern wardrobe design! You can store your clothes and shoe collection in this luxury glass wardrobe design!
Multi-function walk-in wardrobe design!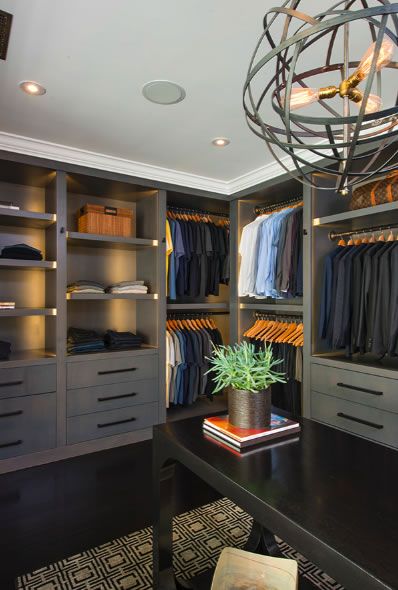 A man's cave bedroom design is based on the sustainable and well-functioning compact decor. This fitting room space does not only functioning as it should be, but this space is well-designed to be a comfortable reading nook or a small office! Surrounded by the privacy wall and the comforting luminous lamps in this walk-in wardrobe make us feel cozy being inside for a long time! So, this comfortable walk-in closet design can function as a cozy reading nook and small office!
Conclusion
Appearing a walk-in closet in our bedroom not only gives us a perfect way to store your clothes. It has a lot of advantages to owning it. We already shared with you some benefits of having the walk-in closet for your room above!
To give the manly bedroom decoration look more special. The stylish and sleek masculine walk-in wardrobe design can be installed in your personal room! Considering the man's cave bedroom that bold in the sleek and clean line decoration. We have compiled some of the best walk-in wardrobes that could liven up your manly lifestyle decor! The stylish glass wardrobe, to the artistic and organic wooden feature that absolutely gives charm to your living space!
We hope you enjoy some of the best and outstanding walk-in closet projects above. Figuring out what types of decoration you want to do in your room project. We hope this could be a bridge to bring you into the dream manly bedroom decor ideas!