Jordlinghome.com – When we come into a luxury bedroom and it is completing with a unique place to store clothes called a walk-in wardrobe. There are many styles of walk-in wardrobe available now, each one of them is a simple line walk-in closet in a masculine bedroom, a neutral open wardrobe in a cozy minimalist Scandinavian apartment, etc.
There are some advantages when we install a walk-in wardrobe in our room. Providing more racks that useful to store our clothes better than in a common closet. It helps us to organize our pile of clothes. Finally, we can say bye to a messy closet! Besides that, we can utilize the open wardrobe as a cozy dressing room, support them with good lighting and cozy arrangements that make us feel comfortable inside this walk-in closet!
In this project, we will guide you to have some curated walk-in wardrobe design that you will fall into it. Get ready for our curated walk-in wardrobe designs that feature glossy elegant accents, cozy arrangements, appealing decoration, and completed with practical lighting. Those are some elements we should own to achieve an insane walk-in wardrobe design!
So, get ready to dig into 10 walk-in wardrobe inspiration ideas to store your clothes in a better way!
Cozy in a small open wardrobe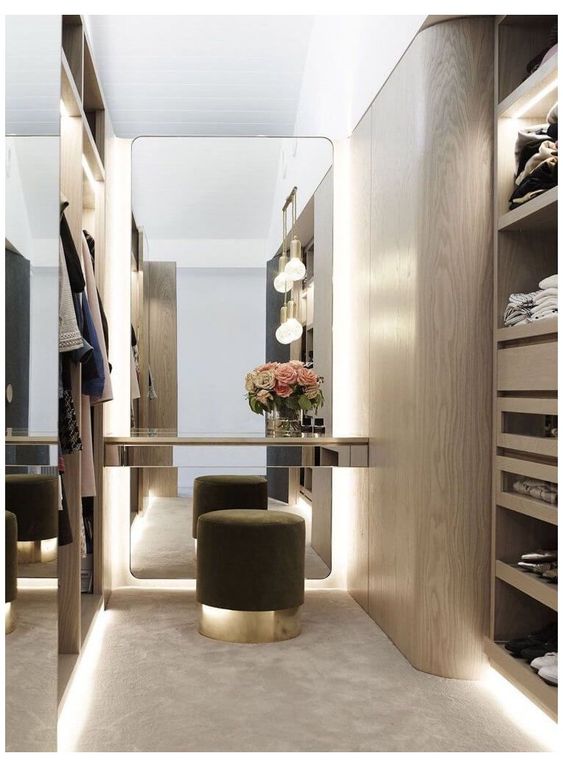 Do you want to dedicate a small space in your bedroom into a cozy walk-in closet? You have a huge possibility to make it happen! This open wardrobe just required a narrow space in your room. Installing a wooden rack to store your clothes and shoes. Tricking a narrow space into a magical larger look by installing a sliding door for your hanging clothes! Do not forget to install a full-height mirror in the middle to intriguing cozy larger space. Giving a golden finish onto the table and stool, the glossy decoration makes this small open wardrobe look elegant! To make this small dressing spot cozier, we can install some pendant lamps to make the room brighter and feel the warm ambiance while being inside!
Neutral walk-in wardrobe for a small apartment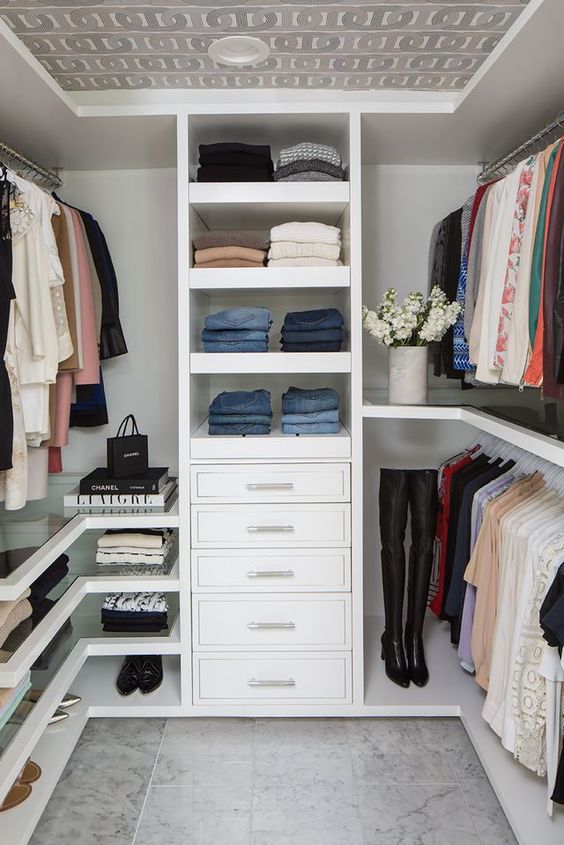 This neutral walk-in closet suits to decorate your small bedroom. The simple line decor makes this wardrobe affordable to install in your cozy Scandinavian studio apartment. Installing some racks all around the open wardrobe to store our clothes in tidy arrangements. Ladies, do not be afraid to store a bunch of your shoe collections, you can store them all at the bottom side rack. Now, we can pick and change our clothes easier! We can spot the clothes we want to wear directly display on the reachable spot. How versatile this wardrobe design!
Curated eclectic walk-in closet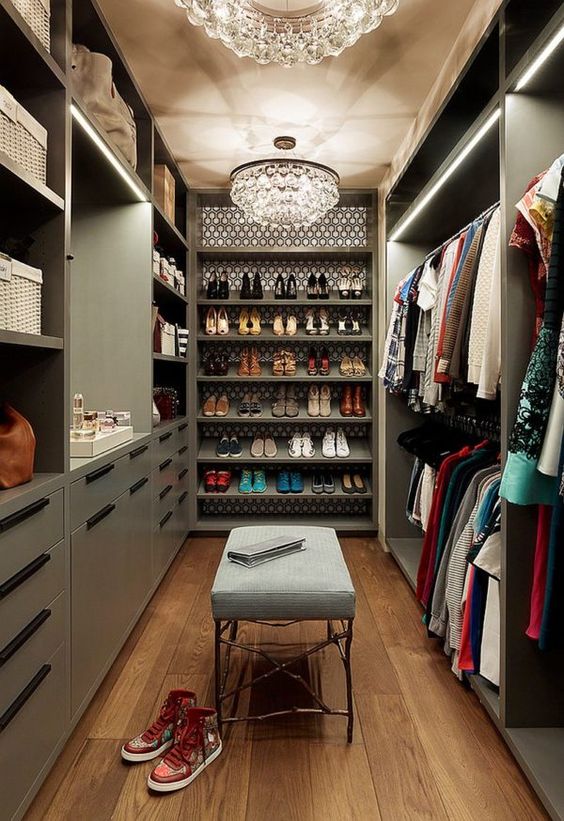 Are you the kind of person who loves to design your private place based on your own taste and character? Then, you must have your own eclectic bedroom style. The freedom in adding textures, colors, and materials in curated design is the essentials of eclectic design. Now, we guide you to have a curated eclectic walk-in closet that could be your preference!
This is a girl's eclectic open wardrobe style. Do you find something unique in this design? We find this wardrobe very interesting, there we can see the selection of color that does not belong to any gender. The equal blending color ratio of earthy color make this wardrobe design suit for boy and girl, it is an example of versatile design!
Dream walk-in closet for girl!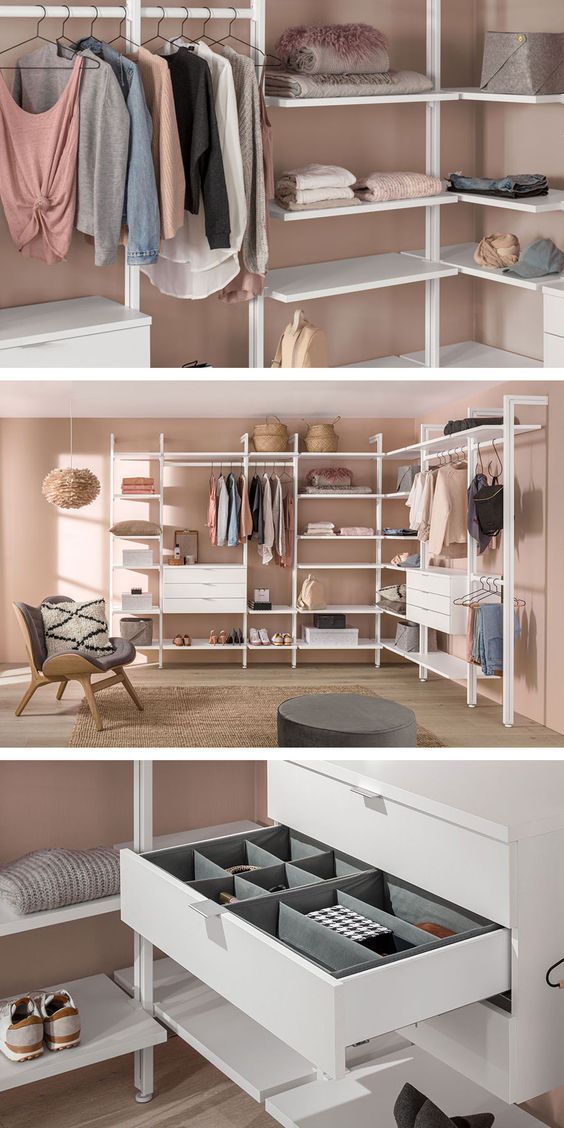 The pink blush wall palette and simple line decoration make this open wardrobe feel spacious yet so lovely! The natural textures decoration where we can see on the woven rug and woven basket perfectly soothing the whole room. It's a dreamy walk-in wardrobe that every girl wants to install it in their room!
Luxurious walk-in wardrobe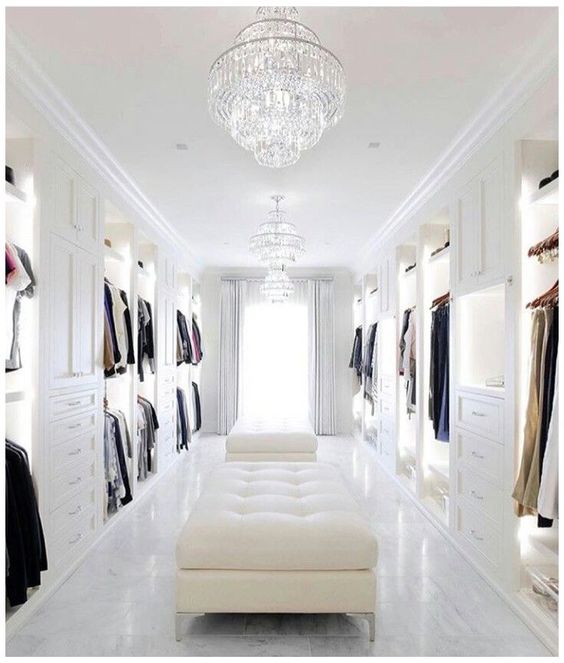 Appearing a classy walk-in closet in a luxurious bedroom to bold an elegant room design! We can use all-white themes to create a luxurious and spacious open wardrobe. Starting off the work from the ground, we can install a white marble to feature an elegant look. Adding two cushion stools to comfy seating in this wardrobe. Then, installing a modern glass chandelier to strengthen the luxurious walk-in closet. Finally, adjust the lighting in every rack in this wardrobe. You'll be amazed walking in this hallway that displays well-clothes arrangements and the glossy look come from the white marble and glass chandelier! Do you love this luxurious walk-in closet idea?
Cozy kids' walk-in closet idea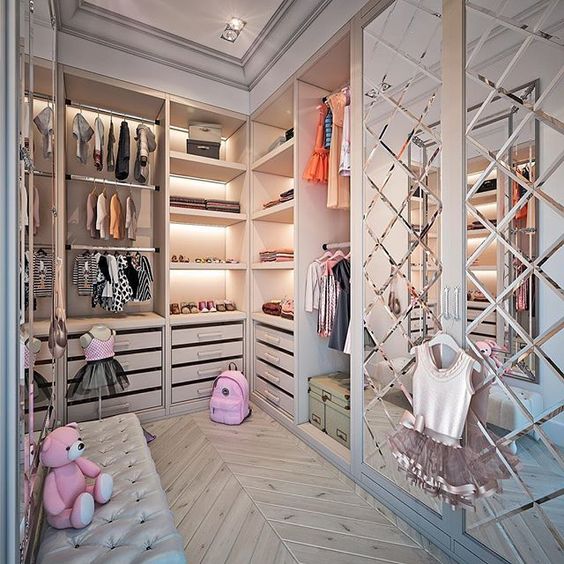 Another walk-in wardrobe inspirations to store your clothes in a better way fall into a cozy kid's open wardrobe design! There's wooden flooring that has been installed on the ground is perfect to create a warm ambiance. Adding a long cushion stool to provide seating. The long hallway is sustainable to be an indoor playground spot for kids. Then, installing some racks to store clothes and shoes. Completing this open wardrobe with drawers to store kids' toys.
Mom, installing this walk-in wardrobe in your little one bedroom helps you to store the clothes in a clean line arrangement. So, do not think too much time to install this wardrobe in your little son and daughter's room. It will cut down your time in cleaning and tidying the kid's room!
Sophisticated walk-in wardrobe design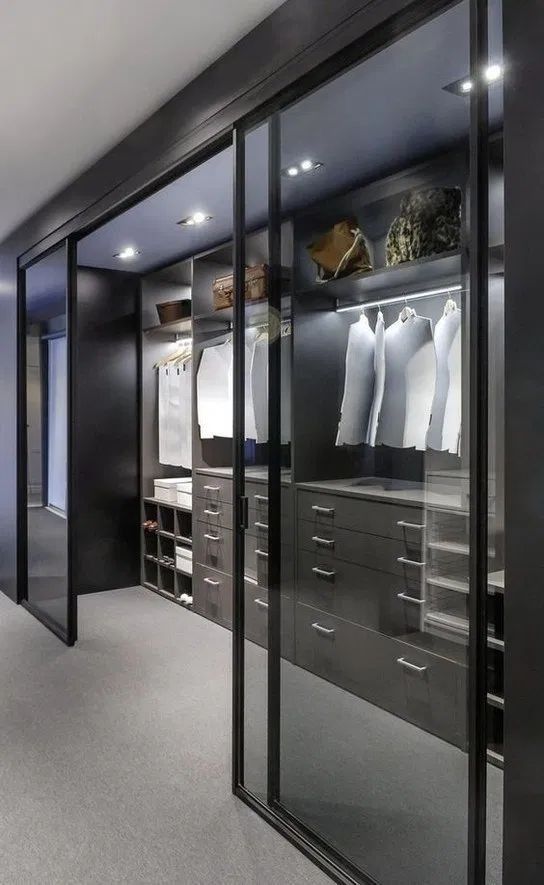 The black glass closet sliding door has a multifunctional feature. The glossy feature from high-quality black glass makes this wardrobe look so stylish. Installing a glass sliding door to feature a display of stylish walk-in wardrobe from outside. The perfect lighting that shines through this dark wardrobe is so appealing and welcoming! Do you love this sophisticated wardrobe to install in your room?
Classic walk-in closet style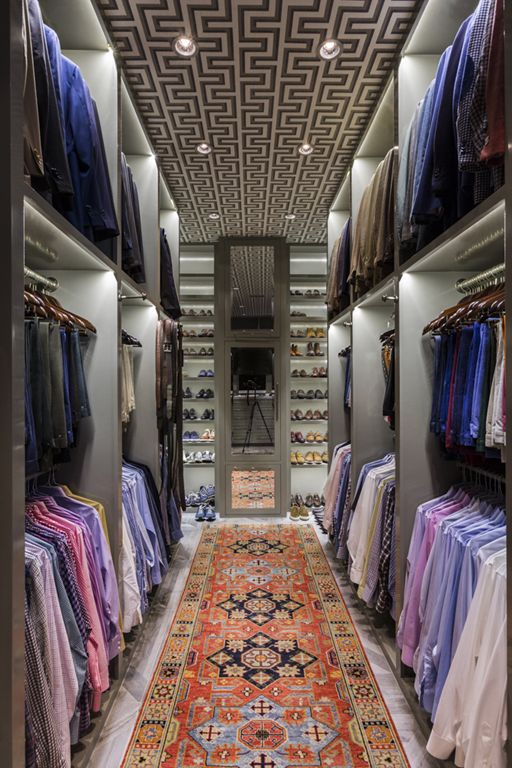 When we enter the hallway of the open wardrobe, feel a great ambiance of the old era! Back to the vintage era by displaying a distressed vintage rug on the hallway floor. To make this wardrobe more appealing in displaying some patterns, we can install a geometrical pattern ceiling!
The warm ambiance in this tight dressing spot brings us into another perspective of the old era. Displaying this classic walk-in wardrobe in the modern bedroom layout can give a different magnitude of the great history a long time ago. Do you love to display the dual designs in one room?
Find a tropical vibe in your wardrobe!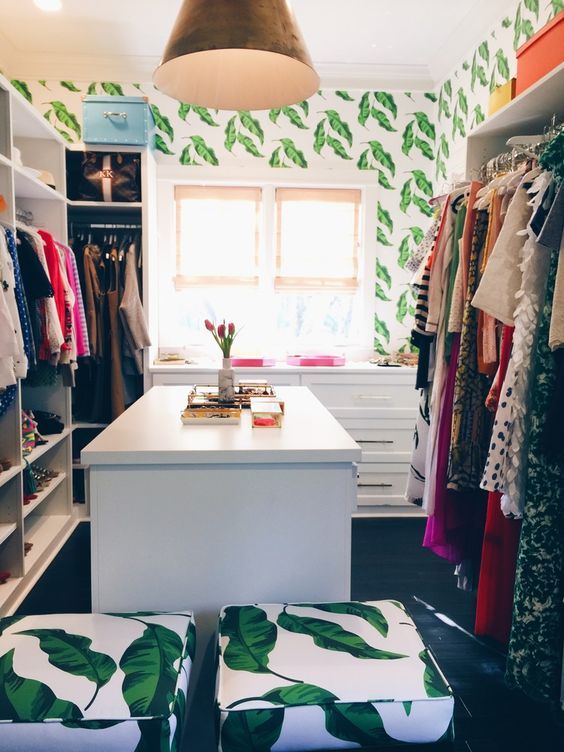 When it comes to the summer season, we would love to decorate our living space with some relaxing tropical decorations. Appearing tropical plants accent into the room such as banana leaves. We can use printed banana leaves fabric on the stool. Then, we can evoke a tropical summer vibe into this fitting room by installing a banana leaves wallpaper on the wall. When the natural sunlight robustly comes through the window then hits the tropical decoration makes us feel relaxed. Do you love to cheer the summer vibe by doing a little bit of decoration in your room?
Welcoming minimalist walk-in closet design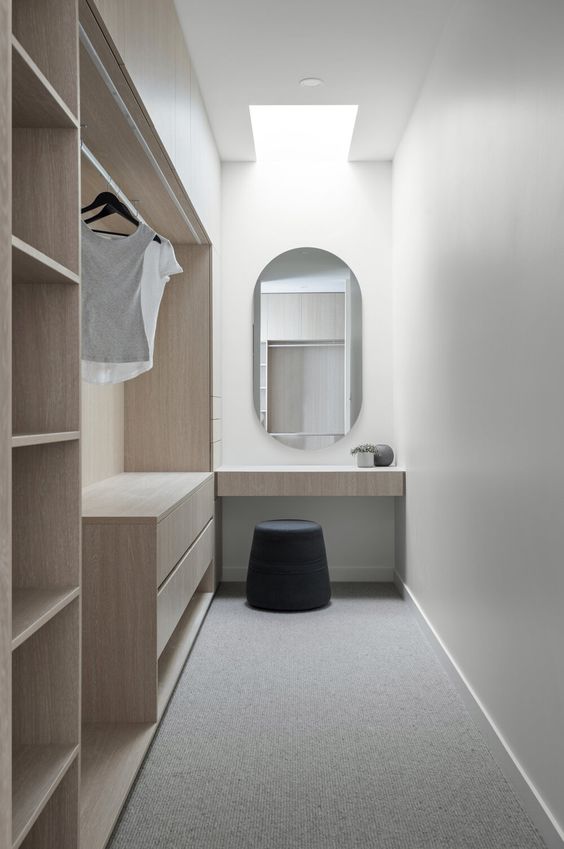 Are you searching for an affordable walk-in closet design that you can install in your home? If so, we offer you to have a minimalist open wardrobe. Alright, let's begin this project right now! First, we can paint this tight space with a neutral color such as white. The neutral white color scheme successfully makes a narrow space look larger than the actual size! After that, we can make ceiling ventilation to allow the natural sunlight to brighten up the room. Installing an organic mirror on the wall completing with a stool that stands on a gray rug. Finally, set a wooden cabinet to store our clothes. The wood material is chosen to amplify the friendly environment in this minimalist walk-in closet. Do you fall in love with this minimalist walk-in wardrobe?
As we alluded to earlier, the walk-in wardrobe helps us to store more clothes and keep them away from messy arrangements. The open wardrobe makes us easier to spot the clothes we want to wear. This wardrobe design effectively cuts down the time to pick the dress we want.
Those are 10 walk-in wardrobe inspiration ideas we were already shown to you! We offer you different wardrobe styles. We can find some luxurious and sophisticated design, the warm and cozy arrangements in a classic open wardrobe idea, to the most affordable minimalist walk-in closet design.
Hopefully, these 10 open wardrobe ideas can be watering your thirst to create an appealing walk-in wardrobe in your home! Do not be afraid to express your own creative design!