Jordlinghome.com – When it comes to the bedroom decorating idea, there is a highlight we point out, that could represent who you are, just be yourself is a key to achieve your own dream room. A bedroom is a place where you get your personal space in the house. That is why styling your bedroom should be base on your style. So, then you will feel comfortable inside whether to sleep or just have a rest.
If you are a little bit messed up kind of person and want to style your room with your own rule, then the eclectic bedroom style suits you the most. It provides you freedom in matching up the interior decoration with your own style. The freedom in styling this type of bedroom doesn't mean chaotic but it has its own rule on its design that should be curated.
What is a curated design mean in the eclectic bedroom decor? As we already talked about it above, this room should not turn to be chaotic but should be a curated design. That means it needs harmony to blend some materials and decoration to create a vibrant yet calming interior bedroom design.
The next question that comes across to mind is how to create a curated bedroom design? First of all, you have to know what you love. When you got the point of what you love the most to decor your bedroom, then you are exactly ready to begin an eclectic bedroom project. For example, if you love crafting anything on your own, you have to make sure that the art you made finds its balance in the room, so this bedroom meets the harmony in substance.
Here we have some eclectic bedroom designs that could be your inspo. Do not miss any of them!
Maximize Master Bedroom In A Consistent Color Scheme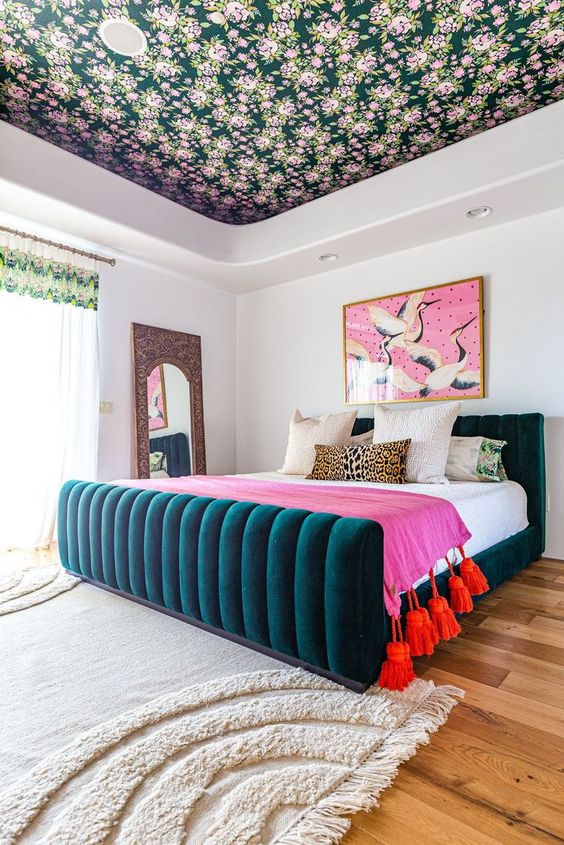 This spacious bedroom design finds its harmony for its consistency in blending color scheme. There is no dominant color palette over to another, green, cream, pink, and while palette all perfectly find its balance in a room. There is no overwhelming decoration in this room, and it looks so spacious and airy feel bedroom. You can copy this trick to create your own eclectic type by balancing the color scheme.
In this room, we can see the piece of art on the wall creating the right visual effect, the plain rug feels so right with a floral ceiling, the standing mirror has the unique pattern frame laid back a rustic view into this room. Do you find your style to make a bedroom by blending some color scheme that keeps them alive in balance?
Modern Eclectic Bedroom Bold in Textures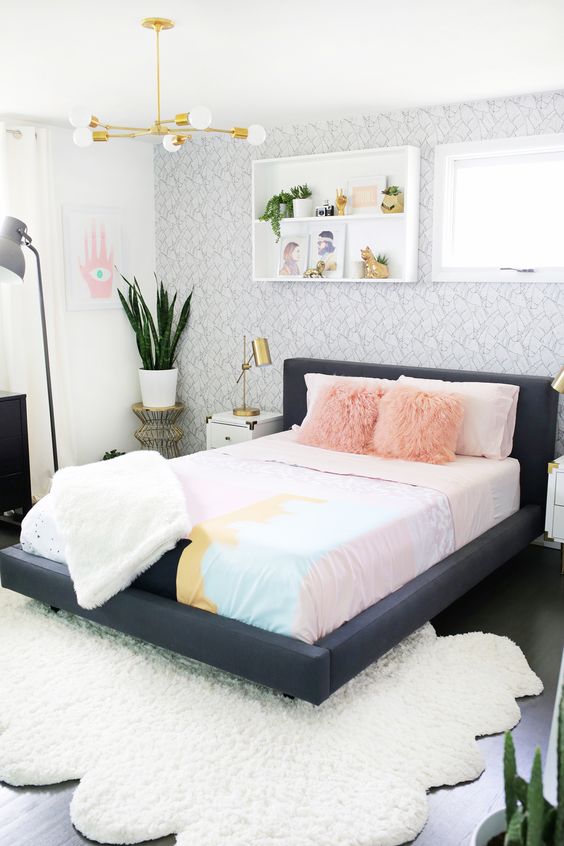 From the previous room design, we appearing a balanced color scheme to make an exquisite eclectic bedroom. Now, we bring you to another variation design that plays in textures. Let us point out the textures as a focal point in this room, to begin with, a textural wall has a neutral color scheme and geometric pattern. Next, we go to the bed section, as we can see what is the eye-catching thing from this bed are fluffy throw pillows and a blanket. And then we go down to spot the rug, there is a beautiful display of textural white rug spread on the floor.
The neutral color scheme in this room and then the selection of the right textural decoration again make the room standout in balance. Adding some natural elements such as indoor plants into the room gives us a great relaxation effect that works well together with a neutral palette in this room. Black wooden flooring creates a dramatic visual effect on the neutral wall palette in this room.
Check our latest bedroom design here: 10 Lovely Shabby Chic Bedroom Ideas – Dreamy Girl's Room Designs!
Soothing Backdrop Effect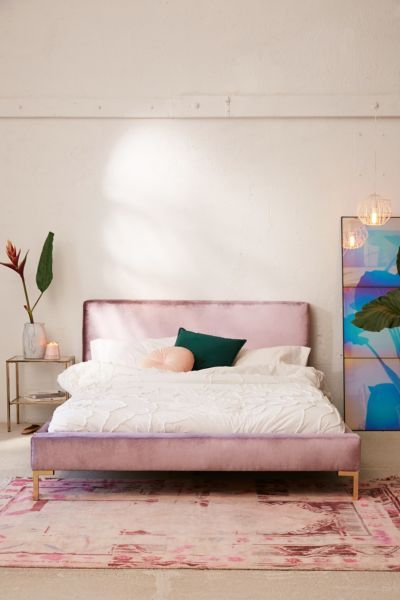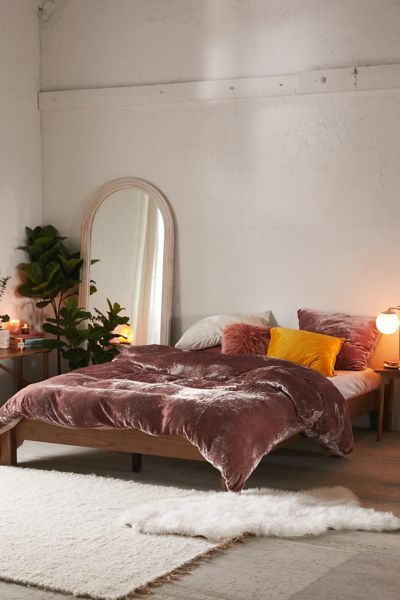 A beautiful display of this bedroom gives us a soothing backdrop panorama. Featuring a neutral wall palette with less decoration makes us fall into a magical place. Again in these two-bedroom appearing balance in the color scheme.
In the first one, it represents a pink, white, and blue right in the proportion of the whole space of this room. It also gives a rustic view by adding a distressed pink rug on the floor that combines very well with a pink distressed bedstead.
At the other one, the second picture bold its curated look on the bed and rug. It has a Skye velvet duvet cover and set with a throw pillow. Let's take a look down the bed, there is a fluffy rug lie on the other textural cream rug. To enhance the beauty of this room, it displays an antique vintage standing mirror that tucks at the corner of this room. This is such a beautiful mess bedroom design!
Cozy Eclectic Scandinavian Bedroom Style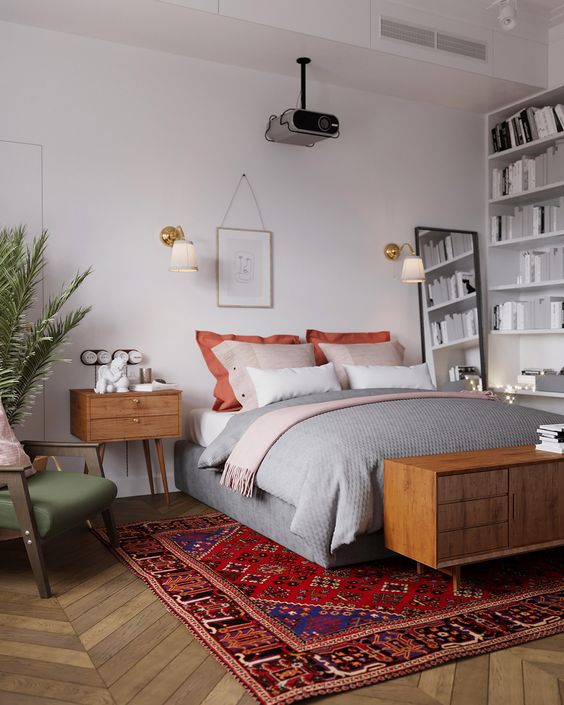 This bedroom interior design featuring a modern Scandinavian look style. We can see from the selection of the furniture such as a night table, minimalist bookshelf to the soft wall palette. Yet it shows combine modern design with antique style in the same place. There is nothing wrong if you love the minimalist decoration of Scandinavian style brought into an eclectic style.
Minimalist gray bedding looks so compatible with the same tone color open bookshelf and the walls. We can add an antique touch to this modern bedroom decoration. Let us display a vintage rug onto the earthy color wooden flooring. It is such an amazing transitional from an antique style to the modern room design. This is the sample design when you have a plan to blend the modern and antique style in the same time and place. Both look so proportional in this room.
Eclectic Bedroom Filled in Decoration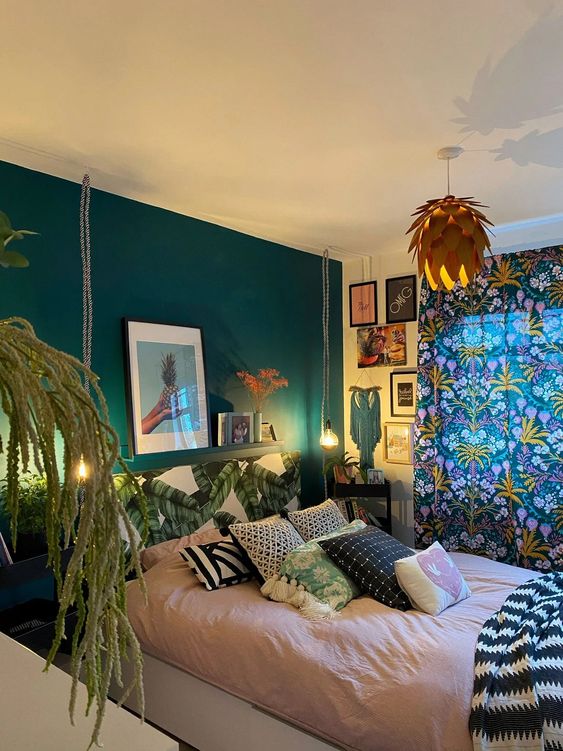 Another eclectic room style is full of decoration. The rich vibrant color and pattern in this room style are just gorgeous. Let us take a look at the wall hue first. It is painted with emerald green for the backdrop and then adding some photographs on the decoration of the walls. Now, we're going to the bedding style, this headboard decorated in printed banana leaves lines that blends very well with an emerald green backdrop. Display some printed pattern throw pillows on the pink bed and add more pattern on the bed with a strip ripple blanket. And then add some indoor houseplants into the room. To add a more filled bedroom look, we can install a floral curtain.
This eclectic bedroom idea filled with full decoration. Although it has lots of decoration and patterns, it does not look too crowded. The characteristic of an eclectic style is showing the style that goes well in harmony. Do you love this bedroom interior design?
Natural Eclectic Decorating Idea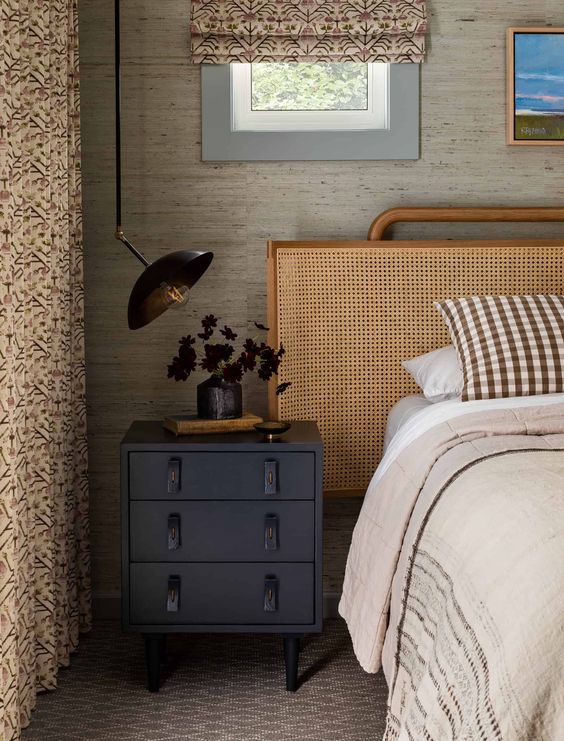 Our next eclectic idea comes to natural decoration. This bedroom has a curated natural decoration. To begin this decoration, display a cream palette bedspread and customize a natural look bedding by installing a rattan headboard. Giving an extra dimension of natural look by installing a floral curtain. This bedroom is so lovely!
Here we also have a tropical bedroom design that will make you feel great relaxation: 12 Dreamy Tropical Bedroom Ideas| Find The Ultimate Tropical Vibe In Your Room!
Symmetrical Eclectic Bedroom Idea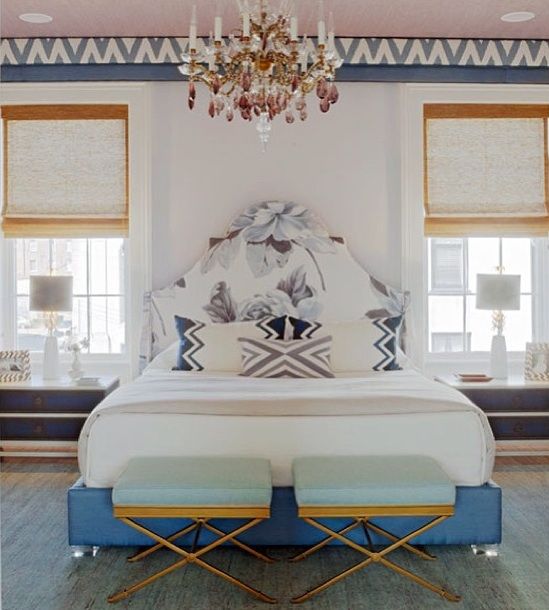 Here is another symmetrical bedroom idea you can copy to create an eclectic bedroom idea. First, we have to do is simply set a bed in the middle of the room right between the window. Starting off to put same table and night lamp on each side of the bed. The next styling symmetrical room design is to put a couple of identical chairs in front of the bed. And then the last thing you can do to bold an extra symmetrical design by painting the same pattern and color on the trim of the ceiling that same with throw pillows pattern. This assymetrical bedroom decoration brings a unique dimension to the whole space. So, styling an eclectic bedroom is such a fun activity and brings out our creativity through decoration.
Check out our peaceful bedroom ideas: 8 Peaceful Coastal Bedroom Interior Design Ideas!
Luscious Eclectic Bedroom Decoration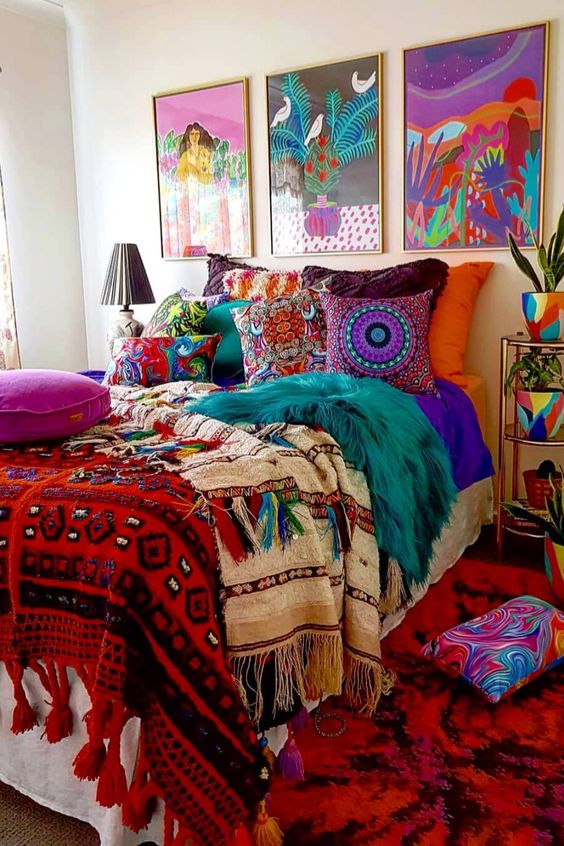 One last eclectic idea comes to the luscious design full of boho decoration. This room feels so alive with energetic and colorful decoration. To begin with this vibrant bedroom design by spreading a red boho rug, and then going up to the bedding with layering concept. Layering your bed with some boho throw pillow, there are red and cream throw blankets in one queen bed. Do not forget to add more various throw pillow designs to make this bed looks more attractive. After working with the bedding and flooring job, we can do some eye-catching art onto the wall. Stick some printed boho photographs that will seriously work to evoke a luscious bedroom. Do you love this blended boho decoration?
Find out our boho bedroom design here: 13 Bohemian Bedroom Ideas | Liven Up Adventurous Bedroom Design!
An eclectic bedroom design allows us to decorate the room with our own style but there is one thing we should know in designing this room style. To style, this bedroom needs a room designer to express their thought and beyond imagination, but it emphasizes the curated in designing. Why is a curated design is that matters to eclectic design? The answer is simple when all comes in balance that exactly an eclectic room finds its substance.
We already collecting the best 8 eclectic bedroom designs in various styles such as appearing a concept of boho decoration, using a balance of color scheme bedroom decoration, to the unique symmetrical design that evokes unique dimension bedroom design. So, we hope this writing could help you to find out your own room style. Be creative in designing your own room, express your own exquisite room style!