Jordlinghome.com – The bohemian style also known as the boho style is so popular through this urban modern living now. It takes the sense of carefree, adventurous, and well-playful design. Boho style bedroom usually brings out vibrant colors such as orange, purple and also commonly used earthy color as its major hues wall.
For a boho style fan or even the one who searching for a unique decoration bedroom, here are some tips you need to know if you want to fulfill your boho bedroom design. You need to keep these rules: boho style playful enough colors in bedroom decoration, using lots of pattern rug and layering textures bed with a knitted throw blanket.
A bohemian bedroom decoration evokes our sense into worldly immense travel feel by just staying in our bedroom. We can decorate our bedroom with some materials which show a strong pattern, textures, and color. Such as an ottoman Turkish rug, Indonesian Batik textile, decorative houseplants, and some antique furniture.
Those are some helpful tips if you want to achieve Bohemian style as your bedroom design. Here we have 13 bohemian bedroom ideas that will liven up adventurous bedroom design!
1 out of 13
Boho Bedroom Style With Turkish Rug| Shows Off Pattern and Textures Bedroom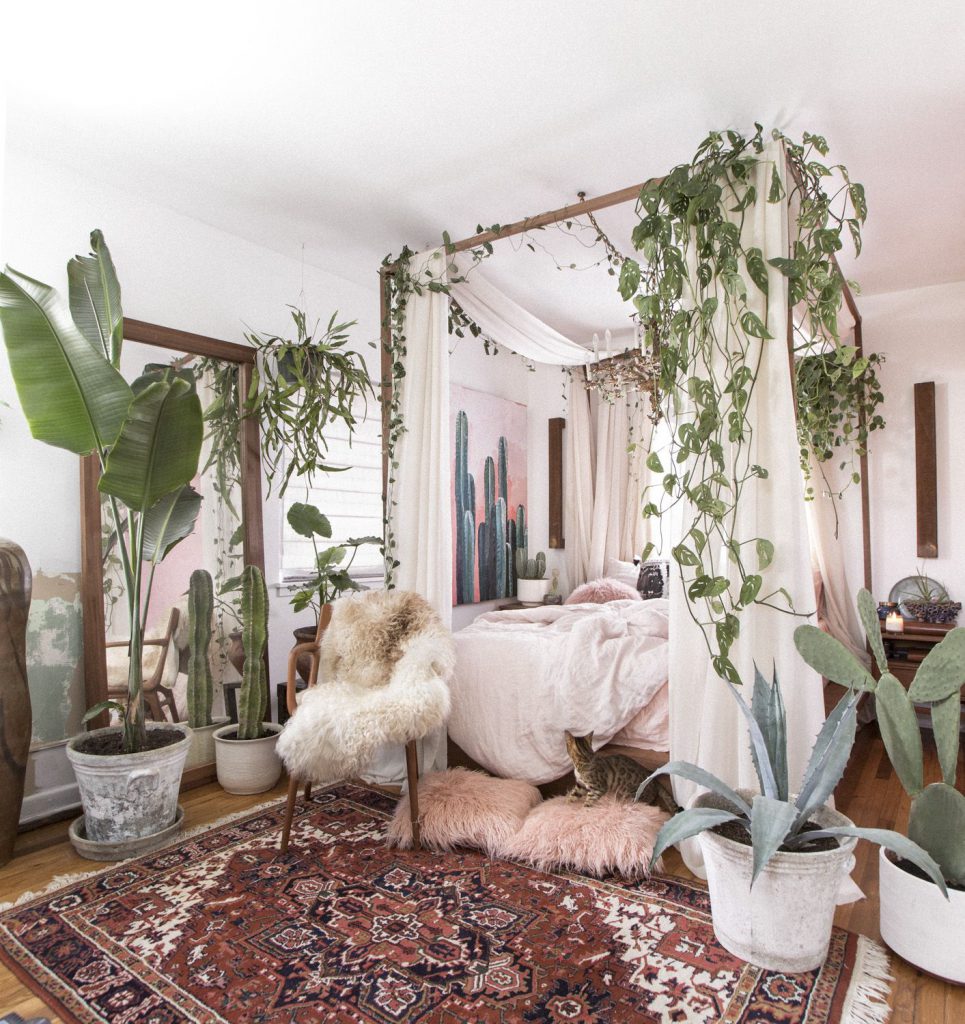 Feeling so good in relaxation environment by adding some houseplants in the bedroom, such as cacti, hanging plants, and succulent plants. Completing this adventurous bedroom design with a Turkish pattern rug, and some layering bed. Installing wooden flooring and add some wooden furnishing creates a warm effect in this room.
2 out of 13
Cheerful Boho Bedroom style with Bright Colors!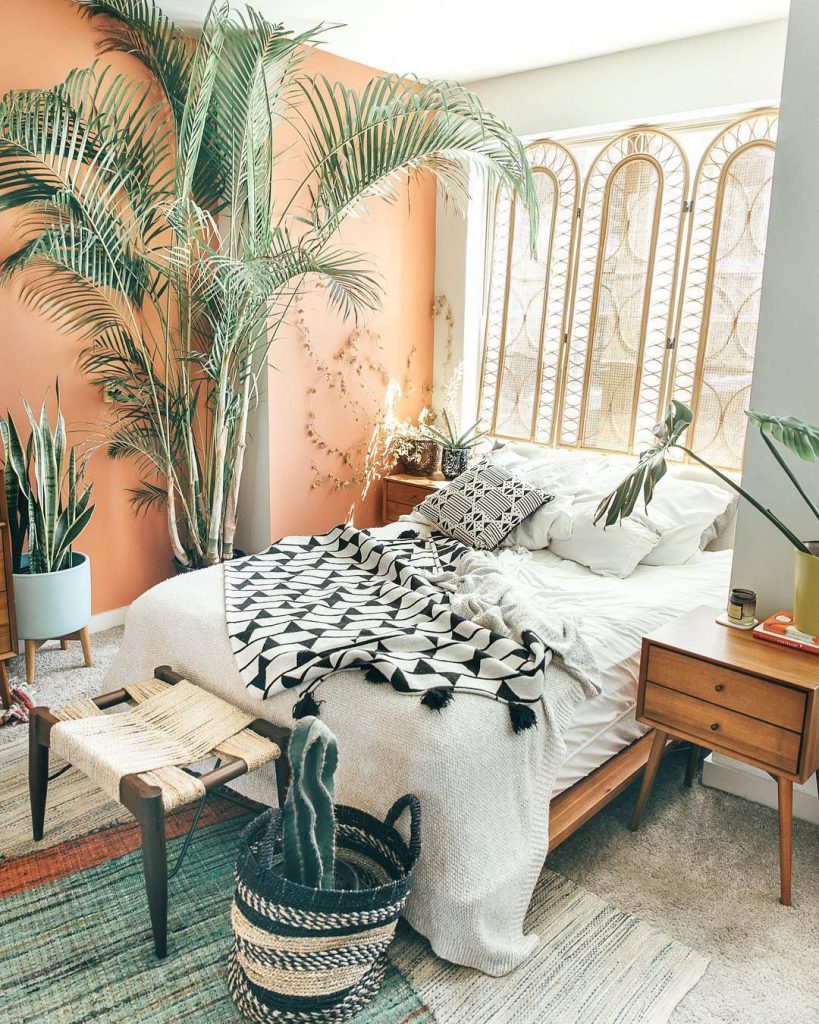 This room looks a little bit messy but that's okay. We love this piece of chic boho bedroom idea. Starting off paint the wall with earthy color a mixture of orange and brown. Spreading some wicker rugs, wooden furnishing, and some houseplants such as snake plants, cactus, and so on. To make this bedroom a more boho look, installing a pattern window that brings us to feel like travel to Mediterranean countries, it is so great to have such an adventurous bedroom feel like we're traveling!  Do you love this piece of bohemian bedroom idea?
3 out of 13
Indian Influences| Bohemian Inspired Bedroom Decoration Ideas!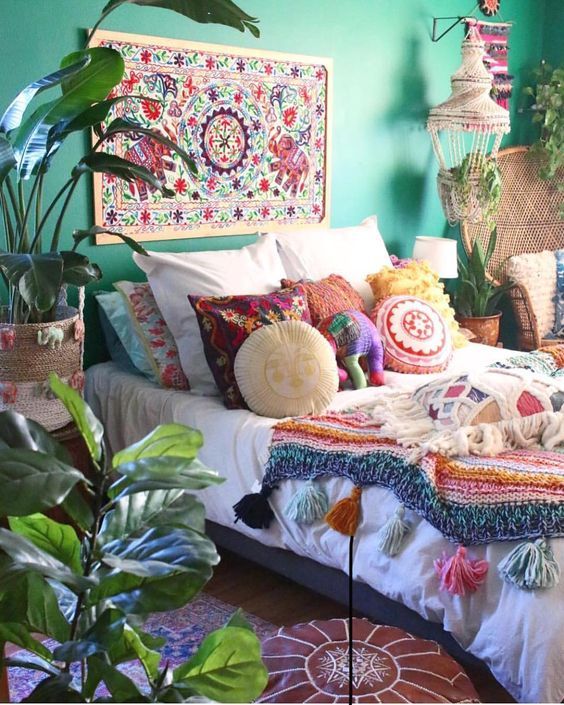 Have you ever been travel to India? There where you can see lots of Hindu decoration for their home? If you love the sense of the magnitude of being travel there, you can create that feel with Indian bohemian influences in your bedroom, we guarantee that will bring back your travel there!
Let us share decoration boho style tips into your bedroom design. Working first with your bedroom flooring decoration, spread Persian or ottoman rug onto the floor, apply green lime paint onto your wall hue, layering your bed with some pillow and knitted pattern throw blanket, adding some greeneries into your bedroom to freshen up the air, do not forget to stick on elephant tapestry on to the wall and some antique Indian accessories. Now, you have a completely adventurous bedroom design that will liven up your dream!
4 out of 13
Indonesian Batik Inspired Boho Bedroom Decoration!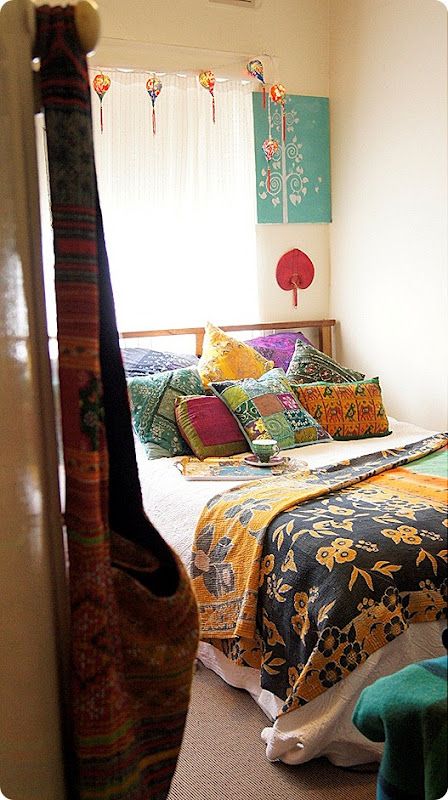 After talking about Mediterranean bohemian influences bedroom style, now we are heading into the southeast Asia version! We are jumping now to the Indonesia boho version style, we can add batik for this bohemian bedroom decoration. Some of you might do not know what is batik, well batik is a traditional pattern fabric originally from Indonesia, it usually has flower or animal patterns on it.
So, our next bohemian bedroom style is Indonesian influences batik style. We can layer our bed with a batik pattern throw blanket, adding some pillow with the same pattern, add a neutral rug, and you can hang a batik bag on the wall of your bedroom to strengthen the bohemian bedroom look. It is quite a simple boho bedroom style but looks so chic and unique!
Check out our bedroom ideas for kids: Playful, attractive, and educative kids bedroom ideas
5 out of 13
Unpretentious Boho Bedroom Decoration!
Do you feel bored with your bedroom decoration? If so, you can try this bohemian bedroom decoration! This is looking chic bohemian bedroom, choosing lots of earthy color such as cream and black, and green, which make this boho bedroom looks so warm and relaxing.
Alright, let us do a bedroom makeover now. Bringing many houseplants into your bedroom decoration such as pothos, spider plants, etc. For a bedroom decoration, we can choose linen pattern bedding, add boho floor cushion, boho cream rug, and then install a unique bohemian rattan chandelier.
6 out of 13
Bohemian Bedroom with Blue Undertone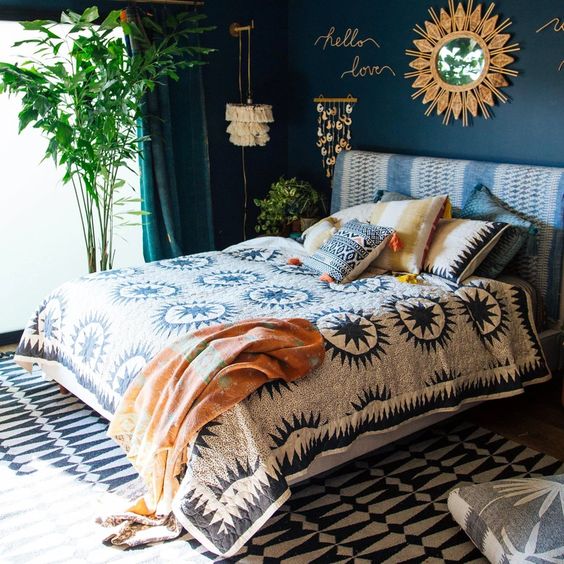 Another boho bedroom idea is turning to be a blue undertone. Choosing dark blue for wall paint color, giving a texture treatment by adding the sun decoration, and giving the calm sensation with green plants inside.
Check out our guides to make cozier in the bedroom here: 4 Guides That Can Make You Feel Cozier In Bedroom!
7 out of 13
Soothing Blue and Calming Green Combine All Together in Boho Bedroom Ideas!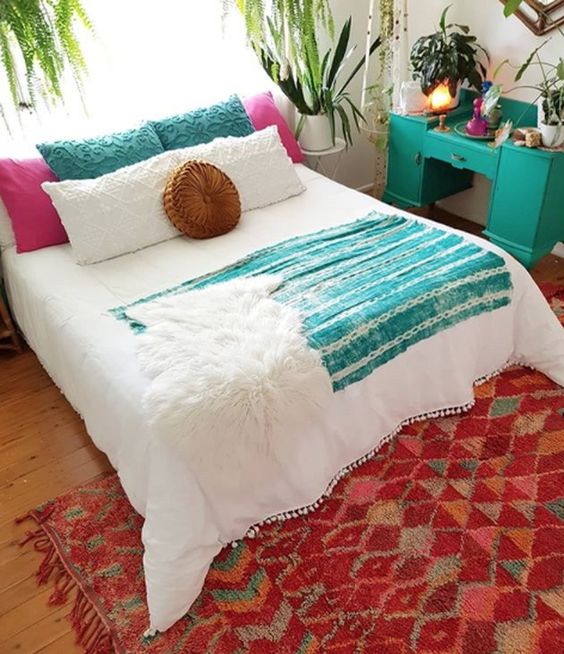 Creating many textures and colors in boho bedroom decoration is quite cool. First of all, if we want to play lots of colors in our bedroom, make sure we choose a neutral color such as white. So then, we can add more color to our bedroom.
Now, let us start creating boho bedroom decorations. Wooden flooring is suited for a boho bedroom to make this room warm, put a knitted pattern boho rug, decorated with a blue undertone drawer, a white blanket with a blue undertone, and then complete this soothing boho bedroom with some calming green plants. This boho style looks so unpretentious in a blue undertone!
8 out of 13
Wallpaper Triangle Art For A Unique Boho Bedroom Look!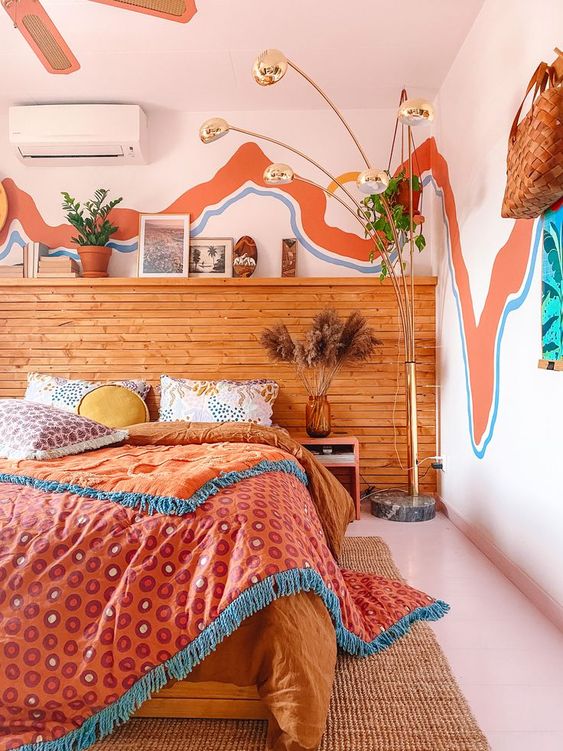 This boho bedroom style looks sweet using vibrant colors! We can start to apply a woven rug on the floor, stick an abstract triangle wallpaper on the sweet pink blush wall. For some boho decoration, we can put green plants and an ethnic woven bag. Completing this cozy bedroom with a stand modern floor lamp at the corner. The mixtures of soft wall pink blush hue with cheerful orange undertone just look so good together. Do you love this boho harmony style for your bedroom idea?
9 out of 13
Adventurous Wildlife Boho Bedroom Style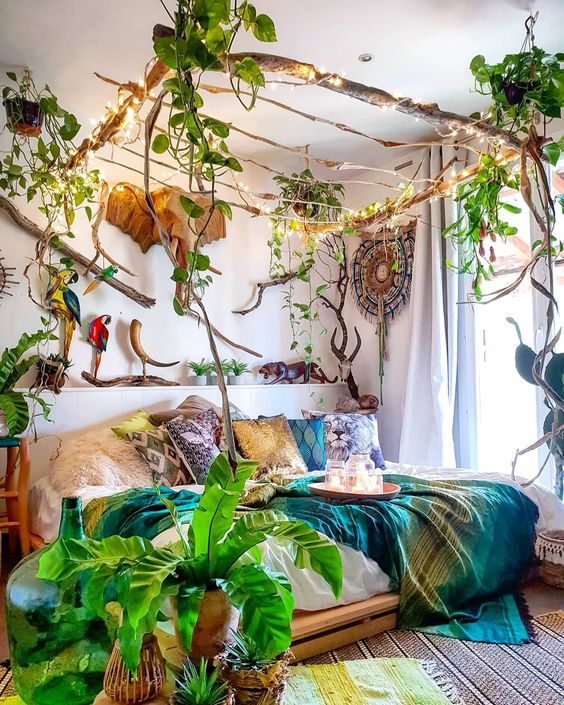 Bringing the wildlife into the bedroom design is another boho unique style. Liberating your adventurous thoughts beyond this amazing bedroom decoration. Without thinking too much let us makeover this bedroom. First, we need to spread woven rugs on the floor, and then we can install a wooden hanger around our bed so then we can hang some vines. To highlight the bed area, we can install LED light on the wooden hanger, so that will shine beautifully in the dark of night. Adding an incredible impression with some wildlife decoration, such as an elephant wall hanging, animal miniatures, and some branches to decorate your wall. Liven up adventurous bedroom design inspired by wildlife adventure!
10 out of 13
So Boho Style Bedroom Decoration!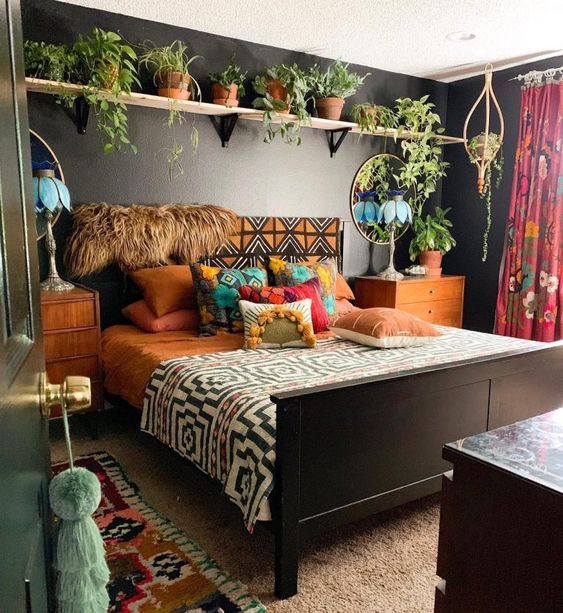 Are you looking for a very bohemian-looking bedroom style? If so, this picture above can answer your desire. Starting off with a vintage rug, a geometrical pattern linen blanket, there are some wooden furnishings, antique table lamps, and fulfill with indoor houseplants. We hope this bedroom look can be your solution in search of a boho bedroom idea.
11 out of 13
Give Your Boho Bedroom With Art Touch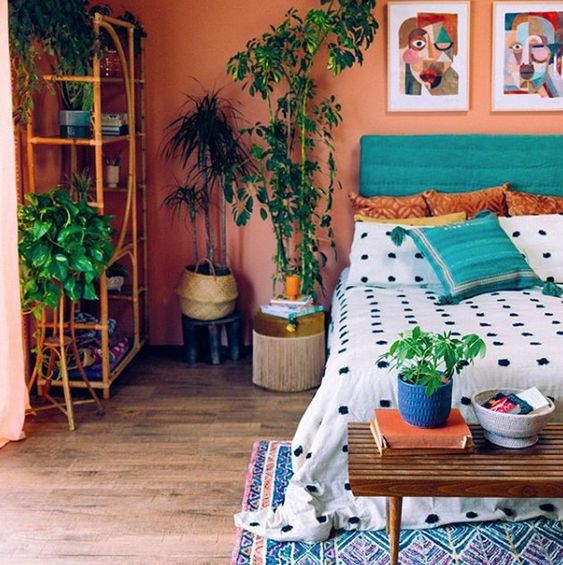 Here we have another impressive boho bedroom idea, which provides work art for its decoration. This boho bedroom choosing a blue pattern vintage rug, a blue undertone bed set, adding some pots greeneries, and finally give a touch with some abstract faces paintings. Do you love this piece boho bedroom idea?
12 out of 13
Bohemian Bedroom Ideas With Sandie Mural Art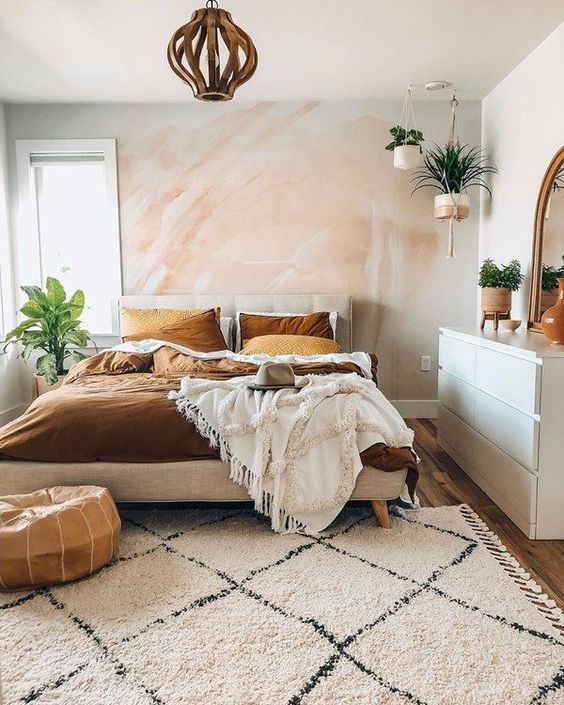 Here we introduce you a simple decoration bohemian bedroom ideas! You will not be overwhelmed by an over-decoration bedroom. It is easy to DIY makeover boho bedroom-style ideas. All you need to have to get this simple boho bedroom look are a novelle home Matrique geometric rug, comfy seating with a pillow floor chair, add some green plants inside, and give a touch of art to this room with Sandie mural.
A peach Sandie mural art blends so perfectly with a cream wall. This peach blush successfully sweetens this boho bedroom looks. Do you love this simple bedroom boho idea?
13 out of 13
Vintage Decoration For A Boho Bedroom Style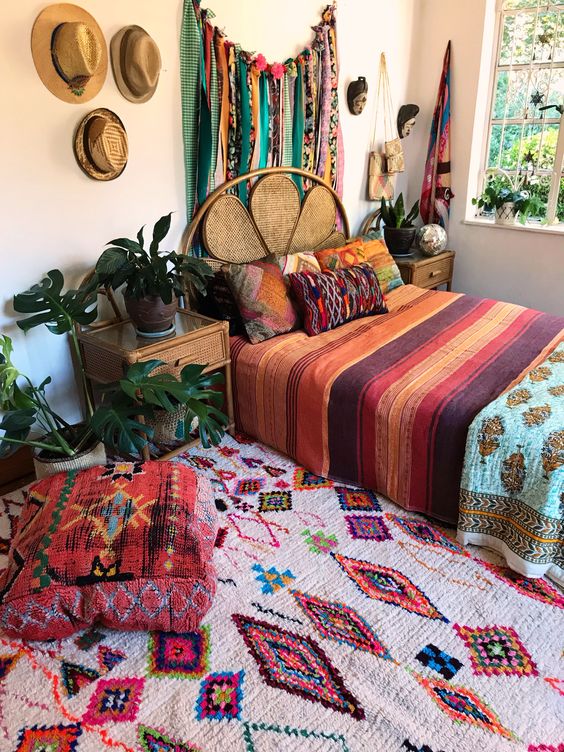 Appearing chic boho bedroom style with its identical decoration. So, what should we have to create a bohemian bedroom style? Alright, the rug takes an important role in bohemian interior decoration, we can choose a vintage pattern rug, a vintage pattern linen bedding, some woven stuff that is essential to bohemian style. Hanging on the wall some boho hats to styling your bohemian bedroom look. The last thing to feature boho look bedroom, add some indoor green plants. Do you love to makeover your bedroom into this charming boho style?
Check out our latest writing about home design here: 14 Mind-blowing Minimalist Living Room Design You Will Love To Have
Bohemian style is popular in the 70s era, this style is not commonly known in fashion trends but also spread throughout many elements in this life or even to be a culture, liberated the freedom to express style. Now, the bohemian style is not only popular in fashion style but also popular in home design.
Bohemian bedroom ideas are so unique with their distinctive decoration. It plays a lot in neutral or earthy color as its foundation and then layers up with lots of vibrant accessories. The vibrancy of these colors that stands out the most in this room and some antique decorations brings out the sense of adventurous feel to it!
Featuring lots of vibrant colors make this boho-style bedroom feels warm. Do you see some boho bedroom decoration above is a little bit messy? Do you ever wonder why? Let us give a quick explanation about messy boho bedroom decoration! Laidback to its history, boho style appears to liberate the style and mix-matching some stuff.
Whether it has liberated in styling but it has a major characteristic we could define as a boho style in interior design. They are carefree layers of pattern, color, and textures. Well, we can see above bohemian bedroom decorating ideas above showing lots of pattern, textures, and color as its whole look.
We already collecting 13 bohemian bedroom ideas. There are some simple and unpretentious designs and half of them have the most playful decoration bedroom ideas. Through bohemian bedroom decoration, we can feel an adventurous experience just like travel around countries, why we say so? It is because boho represents lots of textures in decoration. So, we find out some unique textures fabric to embellish the boho room, such as choosing ottoman Turkish rug, Persian rug, Indonesian batik, and many more. That is the reason why having a boho bedroom design will bring us into an adventurous experience of traveling!
So, home stylish lovers, we can try these bohemian decorating ideas to makeover our bedroom to be an extraordinary and adventurous bedroom design! We hope you like these ideas, stay tuned for our next outstanding and informative home design both internally and externally!