Jordlinghome.com – Appearing greeneries inside the home now on trends. There are some benefits of having indoor plants inside our home, such as purifying the air, beautiful natural decoration, and some door plants also believed can help the low lighting in a dark room.
Do not let the green grass fool you. Not all types of indoor plants are hard to maintain. Here we have 10 selections of indoor plants that easy to maintain on your own. You do not need to have capacious gardening expertise to have indoor planting. Let us check out 10 indoor houseplants easy to take care of and perfect to beautify your home interiors down below!
1 of 10
Snake Plants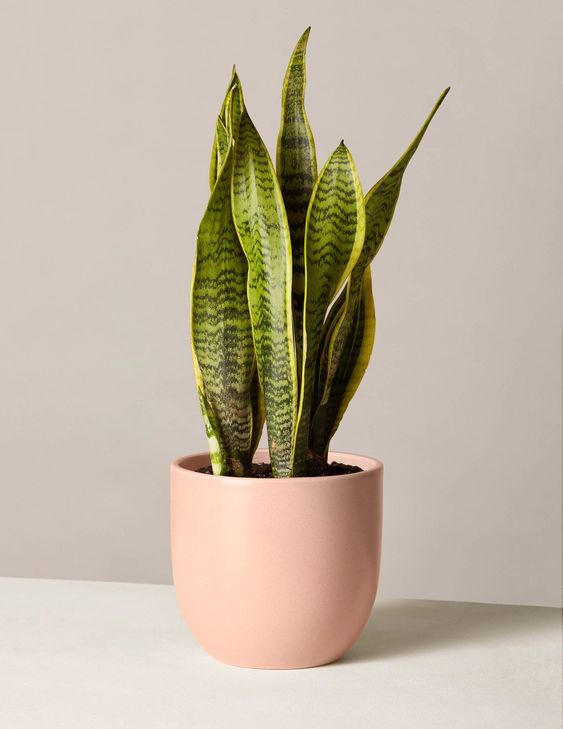 The first easy-to-care houseplants that come to mind are snake plants. Snake plants also called "mother-in law's tongue" easy to maintain, their probability of still alive is high even we do not have much time to take care of our plants. They do not consume much water, so tips to watering them when they really need it. How to check our snake plants need some water? Simply, stick our finger into the soil, once we pull off our finger from the soil and it's dry that is the exact time to water them. Put them directly into the sunlight in the morning.
They can decorate your home beautifully without thinking hard to keep them alive. They will arise into large shapes, so we can put them in the corner of the room when they in gigantic size.
We also have an article which talks about DIY Vertical Garden that you might need to purpose small outdoor spaces. Check them out!
2 of 10
Cacti To Beautify Interior Design!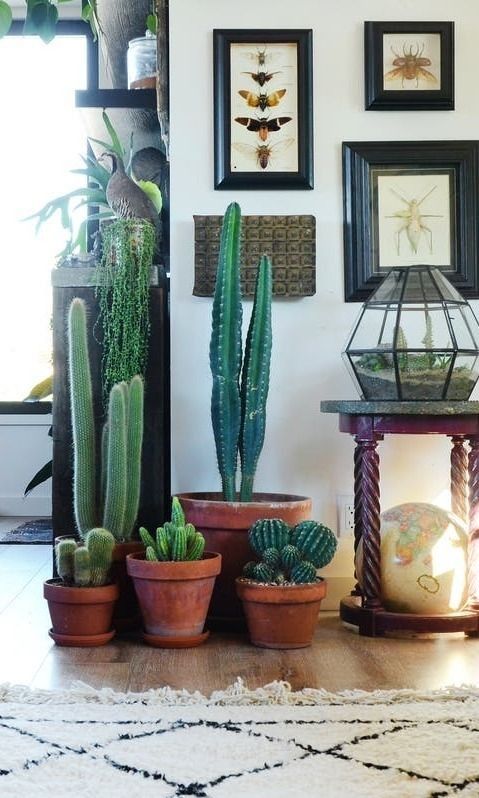 Creating a wow factor when somebody steps inside your home. Setting groups of cacti in your living room creating a feel like in the desert, when many of us choosing durable furniture to decorate home we can create the unusual look to put some cacti to beautify interior design.
Choosing cacti for indoor house plants not only for theirs beautiful and unique physical but also for their ability to recycle carbon dioxide turn to be fresh oxygen. So, do not have a doubt to choose cacti for your indoor plants, they can clearly make the air in our home clean.
One more highlight of choosing cacti for indoor house plants is because they are easy to take care of. We only need to water them once a week or when the soil is dried. There is a tip to watering cacti, it is simply using a sprayer, so that can avoid too much watering them. A Sprayer also transfers water evenly equal to the whole cacti surface.
3 of 10
Colorful Artificial Succulent Plants
Another indoor houseplant  easy to care of are succulents plants. Bringing more mood while being in our home needs some extra decoration. We can evoke a cheerful mood by setting some colorful artificial succulents, styling them better with slogan pots that will give a meaningful message to whom anybody reads that.
How do we take care of succulents plants alive? We can place them behind the open window to make them get natural sunlight in the morning and then watering them onto the soil. That is all a simple way to take care of your artificial succulent plants. Is that so easy to maintain, do not wait any longer to have some to put on your table!
4 of 10
Get Exotic Pothos To Give A Sweet Greenery In Your Home!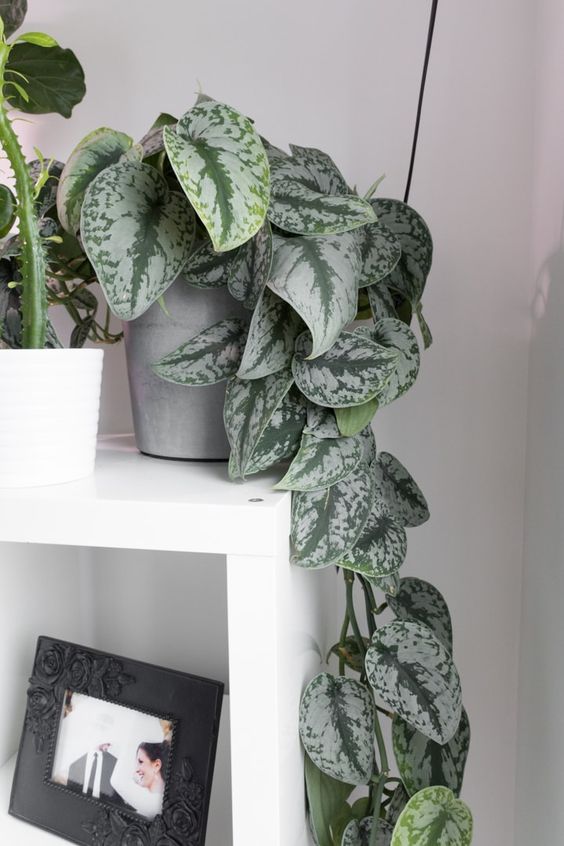 A minimalist home interior design with white hues would be so perfect by adding exotic pothos creeping on the rack shelf. Evolving natural living room design would definitely turn a good mood and relaxing environment interior home design.
Caring an exotic pothos in our living room does not take much effort, which makes them categorize as one of many houseplants easy to care for. To keep them grow happily in your home, we can water them on the top of the pot.
5 of 10
Peace Lily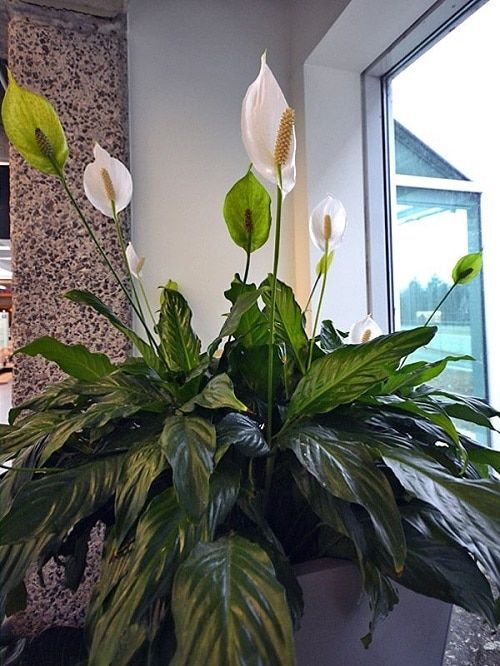 This gorgeous houseplant called Spathiphyllum or known as Peace Lily, it has dark green foliage and outstanding white flowers. The peace lily is so popular among houseplant hunters since NASA make a feature of it on the list of best-purifying air. Put them inside our house, then they will clean the air, so we can breathe the fresh air.
Peace lily does not need much water to live their life, that is the reason why they really good categorized for houseplants. Kindly watering them once a week in the warm season and less often in winter because they save water supply longer than in the warm season.
6 of 10
Maidenhair Fern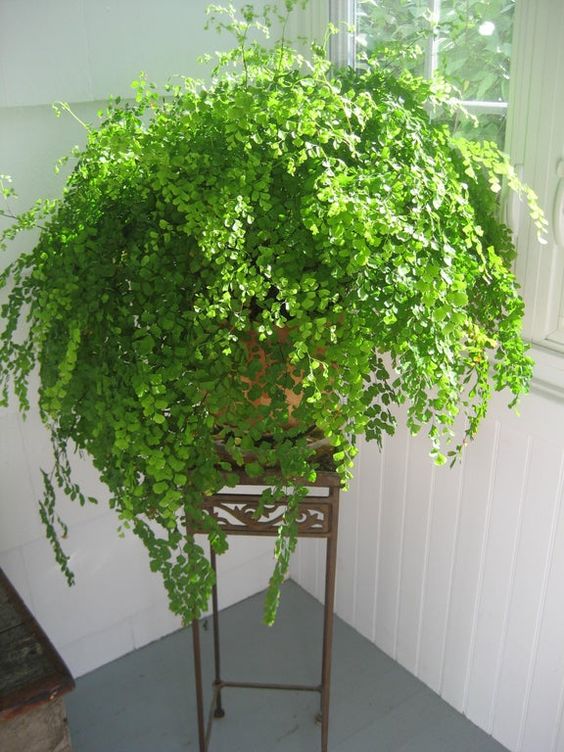 Maidenhair fern is such a gorgeous lacy plant. From its origin, it lives around waterfall rocks. So, the best place to replace this plant should be in good humidity. Giving maidenhair plant indirect sunlight to grow generously. Using a pot with drainage holes, keeping the soil humid, and watering them every day. When they growing wider and wider, you get amazed at how it looks, cause they are so beautiful in groups. Let us try this plant to decorate your indoor home.
Do you curious about how to create a Japanese garden that will lead you to full of relaxation, check our writing about the Japanese rock garden here!
7-of 10
Spider Plants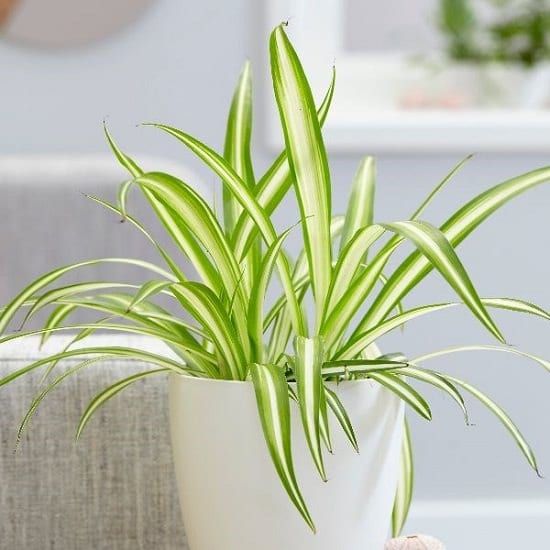 Spider plants come to our list of indoor houseplants. Why does it call a spider plant? The answer is quite simple when its pointed leaves turn down the pot, it looks like spider legs. It has a combination of dark green on the outmost side and light green in the middle.
How to take care of spider plants inside the home? Simply, water them and make sure the soil keeps moist and they will grow generously.
8 of 10
Aloe For Indoor Houseplants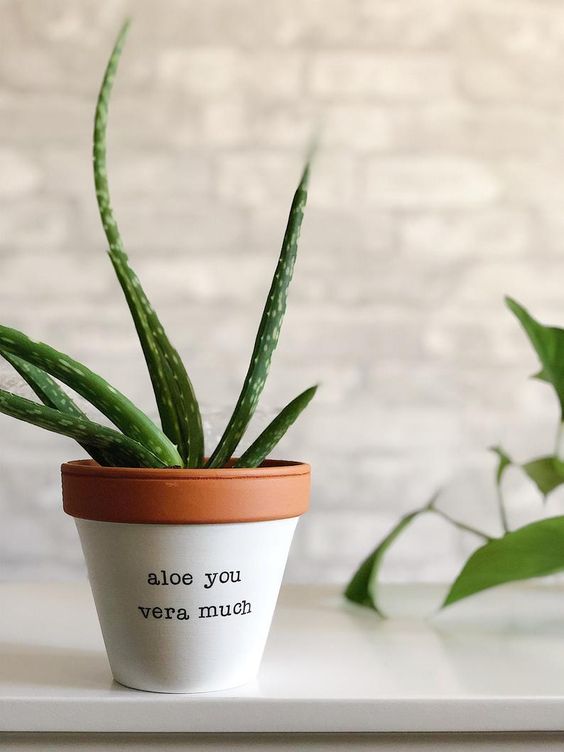 Another indoor house plants come to aloe vera.  Aloe is a type of succulent plant, it gets thicker and thicker when it grows. We can put them in pots. It is useful to grow aloe inside the home, aloe can purify the air that will make the air inside the house fresher.
There are some benefits of aloe gel we should know they are, heals burns, clears acne, helps to relieve fissures, etc. That is quite interesting benefits of aloe vera. We should have this one in our home!
9 out of 10
Decorative Chinese Money Plants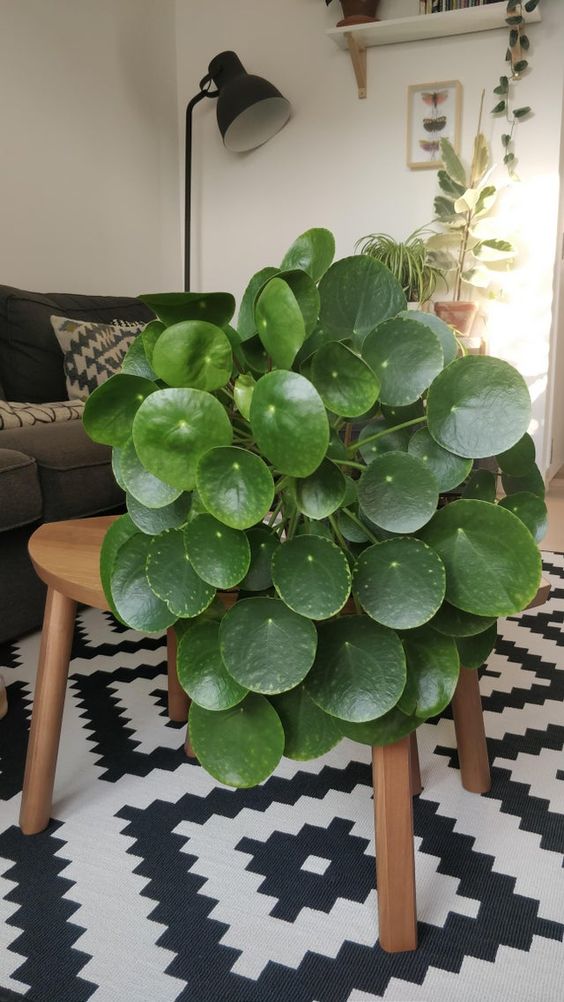 Chinese money plants originated from Yunan, Province in China. Its shape is circular or similar to the coin. So, we can guess why it's called Chinese money plants simply because it's shaped like a coin that refers to money and it's from China.
Now, this plant is so familiar with Scandinavian home interior design. It evokes a simple and modern look that is the main concept of Scandinavian interior design. Planting them in a pot and put them on the table that blends with timeless white wall hues creates magical harmony in your modern living room.
A Chinese money plant selected for indoor houseplants because it is easy to maintain. To make them grow and live happily inside the door, gently place them in a bright room and make sure they receive enough bright indirect light. And then, caring them by rotating the pot at least once a week, so they will receive the sun equally that makes them grow in balance. Considering they grow in dry soil does not mean they do not need water to drink! Gently watering them a little bit more in a warm season and less in the colder season.
If you care for them in the right way, they will grow lots of coin-shaped leaves, which is so fascinating to see.
10 out of 10
Aglaonema for Fresher Air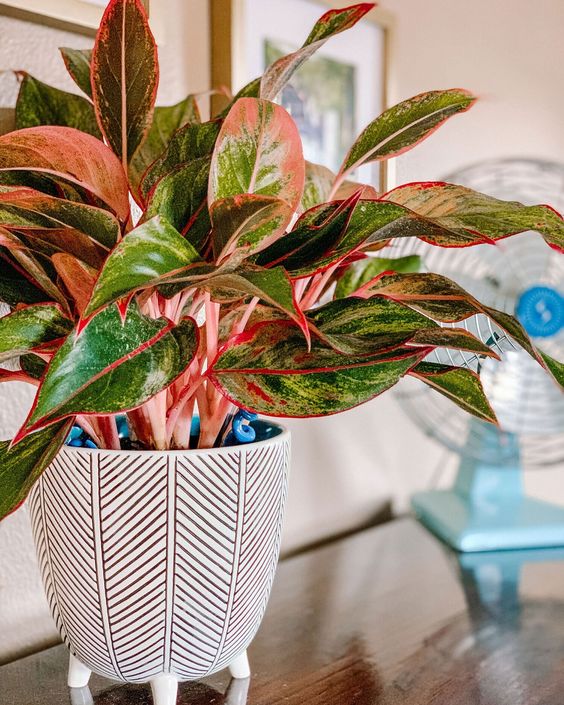 We have come to the last 10 indoor houseplants easy to take care of in this writing! We do not wanna miss a truly beautiful plant called Chinese evergreen! They have a nice pattern and color that make them look so distinctive when you come inside the house. Everyone with a black thumb and does not have high gardening expertise can have these lovely plants! what a piece of good news that is!
How to take care of Chinese evergreen indoors? It is an easy peasy lemon squeezy! You just need to water them once a week and they are a type of low-light plant, so you are fully relaxed to handle them grow. You might need a little bit of fertilizer to make them grow happily, but do not over giving them fertilizer too often, once in three days is enough to keep them alive and healthy. So, do not take too much time to think about what ideal plants suit you and grow them indoor, Chinese evergreen should be on your list! Happy gardening inside your home, get relaxed, and breath the fresh air!
Choosing plants as home decoration is so popular around the world now. There are many selections of houseplants available to grow indoor. We made a list of the 10 best indoor houseplants easy to care for and perfect to beautify your home interiors! There are snake plants, cacti, succulent plants, pothos, peace lily, maidenhair fern, spider plants, aloe vera, Chinese money plants, and aglaonema.
Those are the best 10 indoor houseplants we have already chosen. They are perfect to beautify your home interiors! Bringing up greeneries inside the home is not only for aesthetic interior decoration, it also gives us the benefit of creating fresh air. Their ability to purify air to be clean is what we need to breathe quality air supply inside the home.
Bringing greeneries inside the home also requires easy to take care, so we don't need to be worry get a mess and dirty caused by plant. By being clever to select the right houseplants would not take much effort to care for them inside the home. We choose the plants that can survive in dry soil and live inside the home with minimum direct sunlight.
So, let us decorate our home interiors with a natural selection such as houseplants to create a relaxing environment while being inside the home. From 1 to 10 selections of indoor houseplants, which one you want to adapt in your home?