Jordlinghome.com – When the colder season has faded away, and the summer comes with its beautiful sunny day. To embrace the sunny day, we think about some fresh renovation in our bedroom. Spending time a lot in surfing the net, looking for a relaxing and cheerful bedroom design. Until we finally found the one, our choice turns into a tropical bedroom design!
A tropical bedroom design plays in vivid colors to show its attractiveness and cheerful environment. That is perfect to design our bedroom for welcoming shiny days of summer! At the very beginning of the day, feel so much energy when you wake up in the morning. Surrounding by a tropical vibe in your room, that will be so fascinating!
Here we have some tips to create a dreamy tropical bedroom design. First, we can include vivid colors into the room to create a cheerfully tropical vibe such as green, yellow, and other natural hues. The second tip to build an ultimate tropical bedroom design is featuring jungle-like decoration for interior design, such as featuring a forest tapestry, a printed flamingo duvet, palm trees wallpapers, etc. You can add an extra touch of tropical design by featuring greeneries inside.
A tropical bedroom design is not only all about the jungle tropical-like decoration. We can combine tropical design with boho and minimalist style design to create a more vibrant tropical room design.
Here we have some dreamy tropical bedroom ideas that can help you to find out the ultimate tropical vibe in your room! Check them out down below!
1 out of 12
Hawaiian Wallpaper For A Tropical Bedroom Idea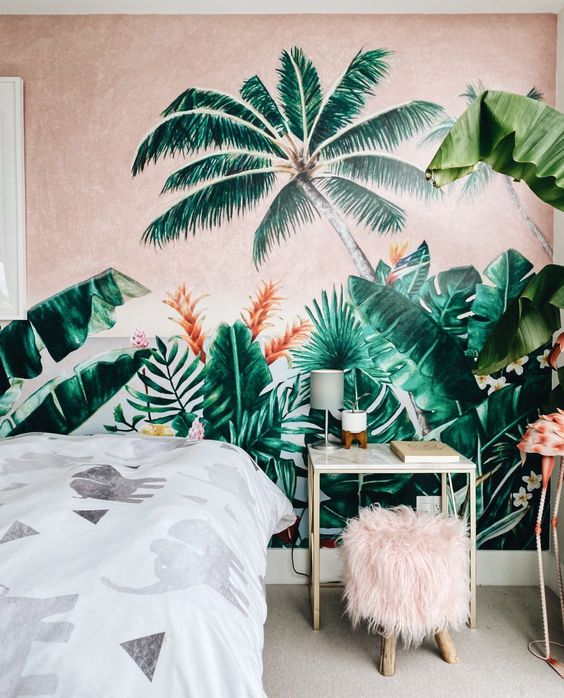 There is an easy option to present a tropical vibe in your room. We only need to stick this large Hawaiian wallpaper on the wall. This large wallpaper evokes your sense to feel in the jungle-like. The magnitude of it will freshen up your mind in the morning.
2 out of 12
Feeling Like Sleeping In outdoor Spaces!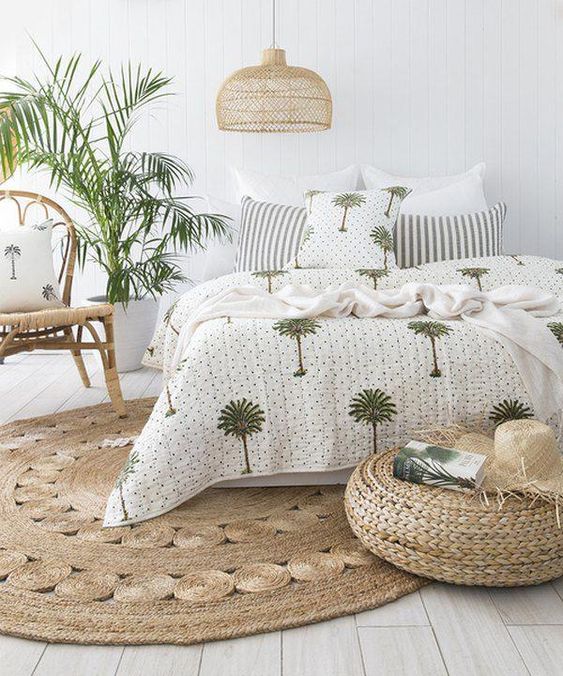 Creating a feel like sleeping in nature nuances is a great deal to freshen up your morning wake up. Adding a medium palm tree to your bedroom, and decorate your bed with a printed palm tree throw pillow and duvet. Completing a natural bedroom look by spreading a round woven jute rug, and put a round weave straw pillow on the floor, and installing a rattan pendant lamp. These natural accessories in this room blend very well with a white hue bedroom wall. Do you love to have this natural ambiance inside your bedroom?
3 out of 12
A Dreamy Tropical Bedroom Design!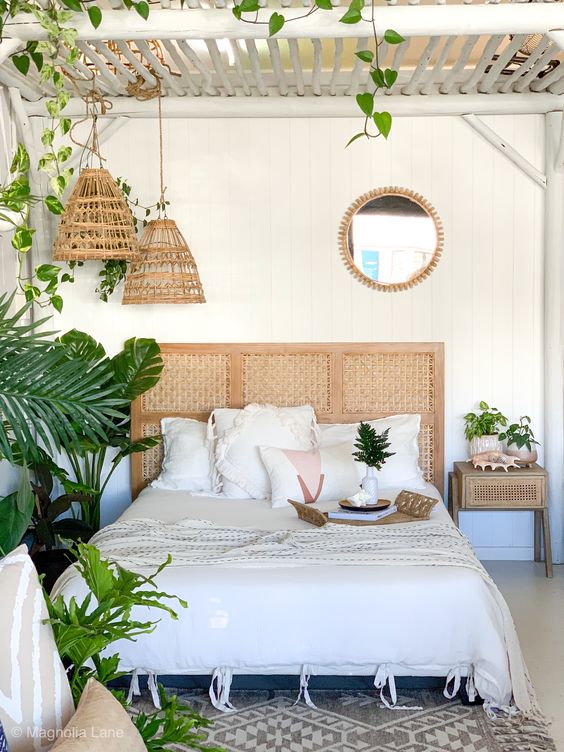 What comes to our mind when we want to have a dreamy tropical bedroom look? Lush of green plants surround and some neutral furnishing made from, wood, rattan, or bamboo. Well, that is all that might help you to imagine a dreamy bedroom design.
In the picture above, the dreamy tropical design set with a branch pergola to make this room looks more natural, painted the wall with a neutral hue, and adding some greenery inside to make our room looks refreshing in lush. As a focal point in this tropical bedroom, we can set a bed with a woven bedhead decoration. Adjust lighting with two rattan pendant lamps. When you have that all components in your room, you nearly successful to achieve a dreamy tropical bedroom.
4 out of 12
Tropical Bohemian Bedroom Ideas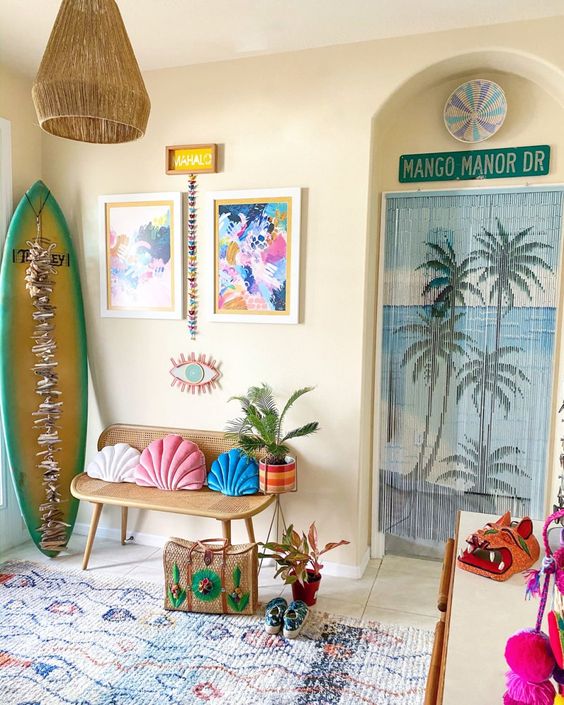 As we already mentioned above, a tropical bedroom can combine with a bohemian style that astonishingly creates a more vibrant yet colorful tropical bedroom look. Featuring lots of vivid colors in bedroom decoration. Let us dig into the room decoration now.
First of all, spread a woven patterned rug in boho style, and then add some seashells and surfing board into a tropical bedroom decoration. Installing a rattan pendant lamp to adjust the lighting in this room and to beautify the nautical design. Adding some accessories for both boho and tropical elements, such as an antique boho woven bag, abstract paintings, and a linen palm trees tapestry to decorate the wall. Do you love this blend of tropical and coho style in the same harmony to decorate your bedroom?
5 out of 12
Printed Pineapples Duvet And Throw Pillows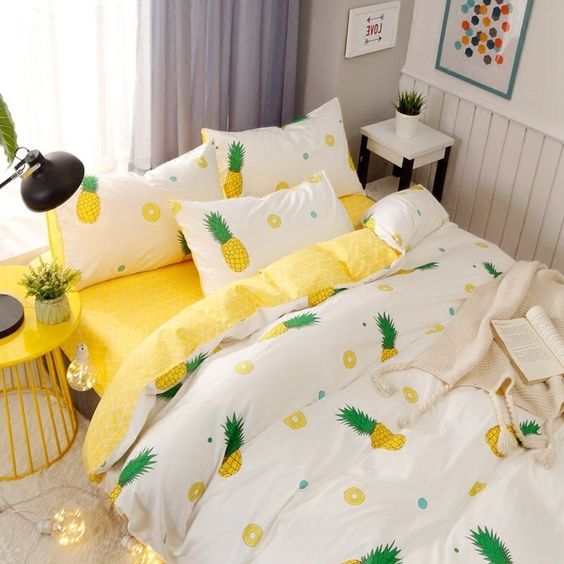 When the tropical meets minimalist concept, this is the look like to be. We can cheerful our tropical bedroom with a printed pineapples duvet and throw pillows. There is nothing better than presented pineapples as a natural mood enhancer in a tropical bedroom design. decorate the room in minimalist concept, so you will not feel overwhelmed by over decoration that stacks in your bedroom spaces. Applying neutral hues all over the wall, in this case, we allow the printed pineapple bed shines as a focal point in this room. Do you love the tropical bedroom design blend with the minimalist concept?
6 out of 12
Flamingo Decoration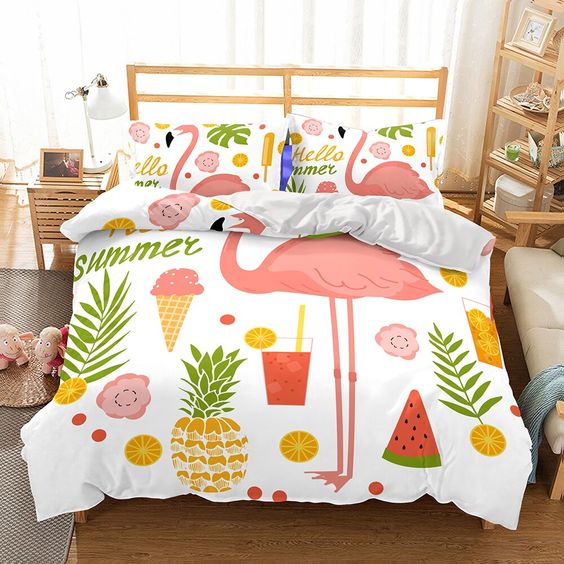 Another dreamy tropical bedroom idea is using a bedspread printed flamingo. Evokes tropical bedroom look with a bed design as its focal point. A colorful summer theme duvet brings out a cheerful environment tropical vibes. You can apply this idea to create a tropical vibe bedroom in the easiest way. This type of room is suitable to decorate your kid's bedroom. They will love the flamingo theme bed set.
We also have other bedroom ideas for kids, don't miss seeing them too! 8 Attractive, Educative, and Playful Bedroom Ideas For Kids! 
7 out of 12
Tropical Jungle Tapestry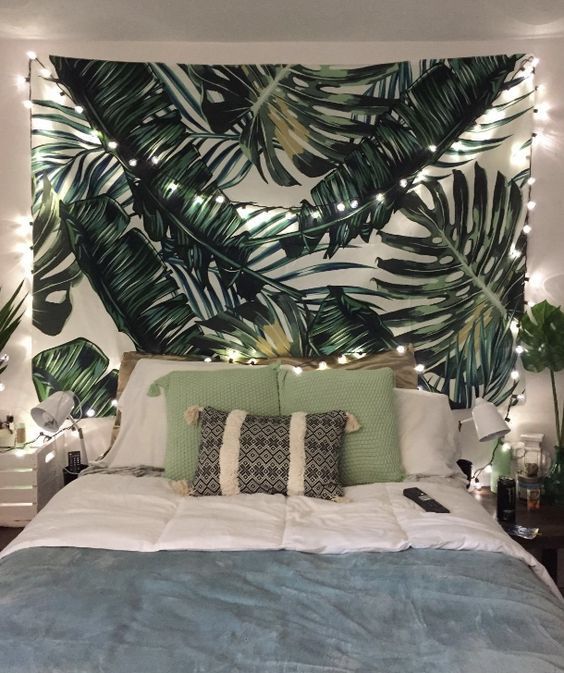 When you planning a tropical bedroom idea, but you don't have much time to decorate your room, calm down, we have a solution for you. All you need to do is stick a jungle tropical tapestry on the wall. The printed banana leaves give a bold accent of tropical vibes. Givin an extra look for your tropical bedroom by installing LED wall lights around your printed banana leaves tapestry. Now, you can find the ultimate tropical vibe in the simplest way!
8 out of 12
A Vintage Banana Leaves Curtain For Tropical Bedroom!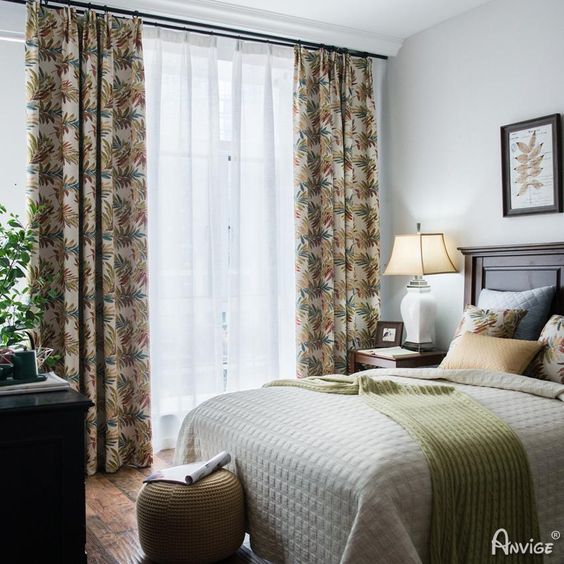 Creating a tropical bedroom design with a touch of a vintage curtain is possible to do! Waking up in the morning and open the vintage banana leaves curtain will freshen up your bedroom and raise your mood in a good feeling. For the decoration, this room has a rectangle patterned duvet, a woven floor chair all together in the soft color palette wall.
9 out of 12
Tropical Bedroom Idea: Printed Banana Leaves Throw Pillow And A Bamboo Bedstead
Do not leave the bamboo accent to present a tropical bedroom in your design. It has a unique natural appearance that is needed in a tropical design style. Joining the natural look of the bamboo bedstead with some printed banana leaves on your throw pillows. We can spread a straw jute rug on the floor, to enhance the dreamy tropical bedroom idea, adding a pot of banana leaves for decoration. Do you fall in love with this down-to-earth tropical design idea?
10 out of 12
Seagrass Headboard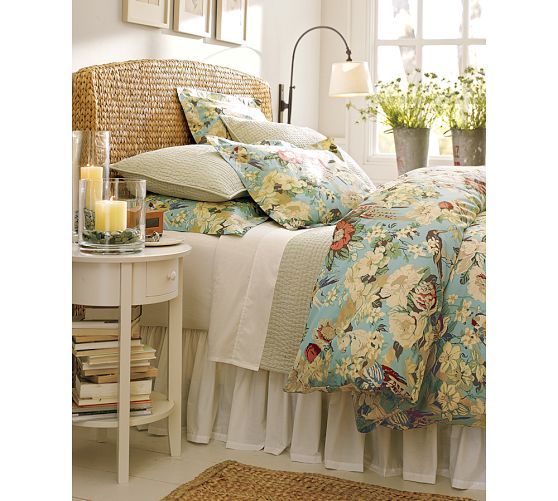 Another idea of tropical bedroom design is appearing seagrass headboard into the room. Adding some natural elements into the tropical bedroom is needed. In this bedroom design, it plays a lot in natural textures to evokes natural vibes such as a woven just rug, and a seagrass headboard combine together perfectly in the tropical bedroom concept. To make this room looks colorful and vibrant, we can set a printed floral duvet and throw pillows, also to freshen up the look, put some pots of indoor houseplants inside.
You will love this fresh environment in a vibrant room decoration when you wake up in the morning. Let us get up, open the curtain and let the morning sunshine inside through the window. This charming sunshine brightens up our dreamy tropical bedroom.
11 out of 12
Lush Tropical Bedroom Idea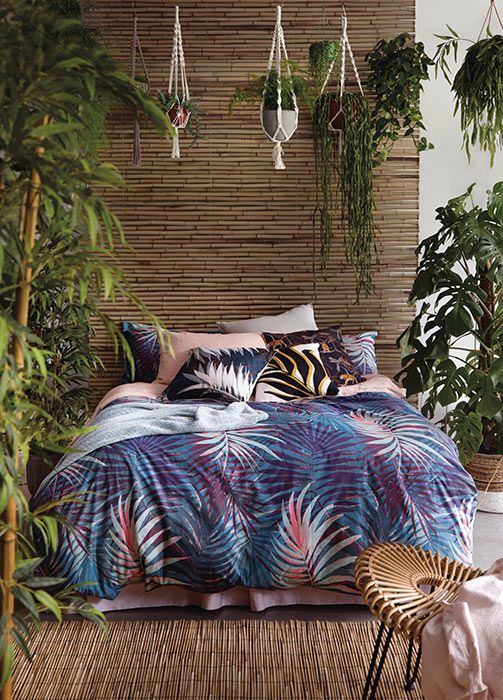 Thinking about a tropical bedroom design full of lush green plants is so refreshing and relaxing!
The first thing we need to decorate our bedroom full of green plants is to find a perfect spot to put your bed, for example in the middle of the room, so we will have an amazing view surrounded by lush green plants.
The next step is adding some natural furniture such as a rattan chair, rattan jute rug, and install a bamboo wooden curtain to cover the wall.
Now, we are going to set some green plants decoration, hanging some green plants on the ceiling, and put some larger plants at each corner of the room. In this environment, we feel lost in the lush tropical forest. That is so relaxing! Do you love this tropical bedroom design?
Tap here to see our latest bedroom design: 10 Masculine Bedroom Decorating Ideas| Discover Your Own Aesthetic Men's Bedroom!
12 out of 12
Comfortable Swing Chair In The Tropical Bedroom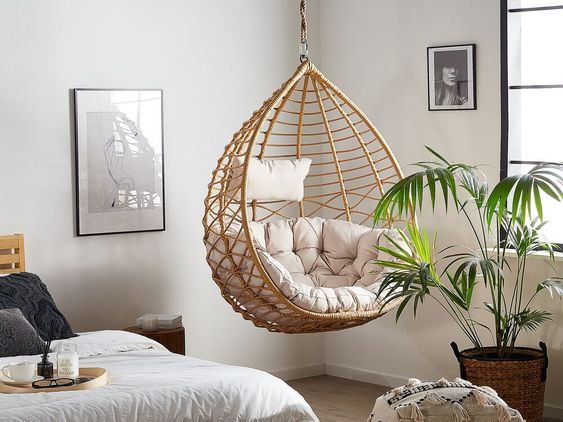 There is nothing better than get relax sit in the comfortable swing chair in soothing tropical bedroom decoration. Yes, we all got the idea to put a swing chair in our tropical bedroom. It will bring us to the next level of comfort. Do not forget to put a tropical indoor houseplant inside your room.
Intriguing the relaxing green tropical forest into your room is beyond imagination! Get a perfect morning coffee time sitting on the swing chair in your own room is something priceless moment you will get every single day!
Tropical bedroom decoration identical with natural green color, its idea came from the tropical forest which has lush of green trees. Some common decoration for a tropical bedroom design usually appears in banana leaves trees, pineapple, and flamingo character. There are abundant printable tropical themes for wallpaper, throw pillow, duvet, tapestry into the curtain, they all awesome!
You can also check our relaxing bedroom design: 8 Peaceful Coastal Bedroom Interior Design Ideas
A dreamy tropical interior bedroom design is suits the most for people who need full relaxation. It can be a place where you can rest peacefully in your private room. Surrounded by lush tropical green plants will make you lost beyond a magical escape!
The tropical bedroom ideas also combine well together with any other style, such as minimalist, boho, and vintage style. Blending tropical design with boho style creates a unique look and more vibrant color! Which one is your favorite tropical bedroom design?
Those are our 12 dreamy tropical bedroom ideas and we hope these can help you to find the ultimate tropical vibe in your room!