Jordlinghome.com – Talking about bedroom decoration is so exciting. There are many ways to style our bedroom, each one of them is a masculine bedroom. Before we dig into the masculine bedroom decorating ideas, let us find the essence of the masculine bedroom itself.
Well, masculine bedroom style usually evokes a sexy look. A visual affirmation of men's bedroom design creating oh so sexy and stand out in minimalism. The question is, how they design their room that turns to be sexy and eye-catching? They usually extend the neutral color and combine very well with leather furnishing that successfully creating oh so damn sexy decoration!
There are common things we could find in men's bedroom decoration. They are much using a neutral color such as black to create a bold yet mysterious visual effect to its visitor. Another characteristic of the masculine bedroom is creating airy spaces and bold minimalist decoration. Minimalist decoration work very well with a neutral wall hue and finally creating both an elegant and sexy appearance!
There are some ways we can do to create a sexy, stylish yet elegant masculine bedroom. To begin with, working the wall with neutral color selections, maximize the interior design with some proper furnishing that balances with minimalist concept, and the last is to personalize room design as your own aesthetic bedroom interior design ideas. Here we have an abundant masculine bedroom design that could be your inspo. And we also help you to find out your own aesthetic bedroom design. Without taking too much energy, let us dig into 10 masculine bedroom decorating ideas down below!
Eliminate Bright Accessories to Create A Sexy Men's Bedroom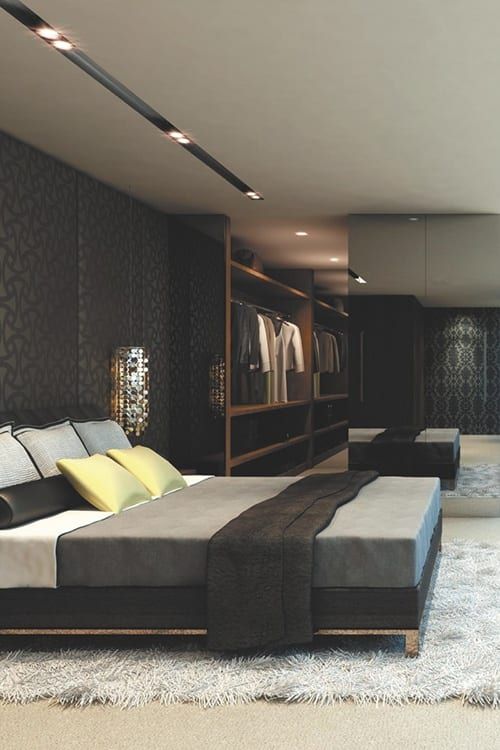 As we already discussed above, a masculine bedroom using lots of neutral colors for its bedroom look. This bedroom using a black pattern wall, and there is a focal point in this masculine bedroom design, that is a bed centerpiece. There is no glamour and bright accessories in this room. Designing in a minimalist style made this room looks so spacious. One more highlight of this minimalist masculine bedroom decoration is the presence of wide mirror glass to block the hallway into the clothing section. The transition of the wardrobe section to the bed space evokes an elegant side of this room.
There is no overwhelming decoration in this bedroom, which makes this room feel so spacious. Featuring the minimum light combine with a black pattern wall creating a sexy and warm bedroom. So, guys do you fall in love with this idea to apply in your bedroom?
Modern Masculine Bedroom, Bachelor Pads Kind of Type!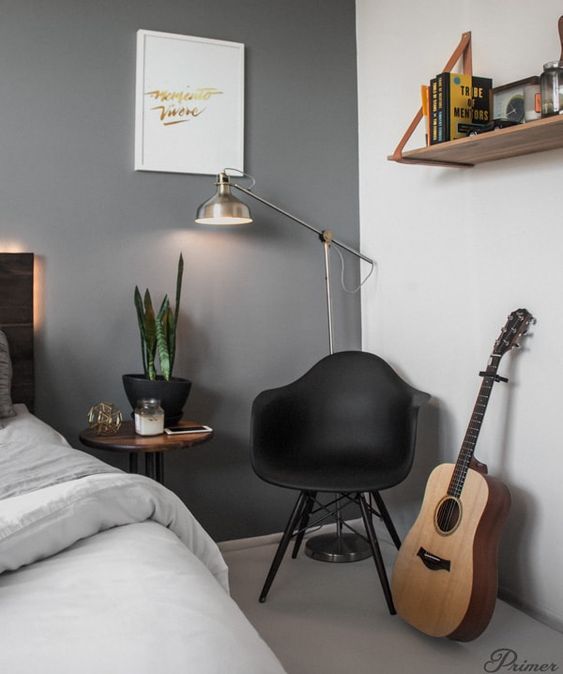 Discover your own aesthetic men's bedroom with a modern touch! The bedroom should be a place you can reflect yourself, be creative in designing your own style. For bachelor pads, you can follow this modern masculine bedroom that easy to apply on your own.
You will feel more comfortable during stay inside with organizing decorating bedroom ideas. The first thing you need to do is paint your wall with a neutral color such as gray, adding less decoration to create more space, bringing your favorite guitar inside the room that will boost your masculine bedroom design. To comfy your sleeping, set a cotton duvet and sheet on to your bed. This simple masculine bedroom decoration could be your inspo to renovate your dorm bedroom project!
Check our guide to make your bedroom feel cozier: 4 Guides That Can Make Us Feel Cozier In Bedroom
Define Your Own Aesthetic Men's Bedroom Ideas!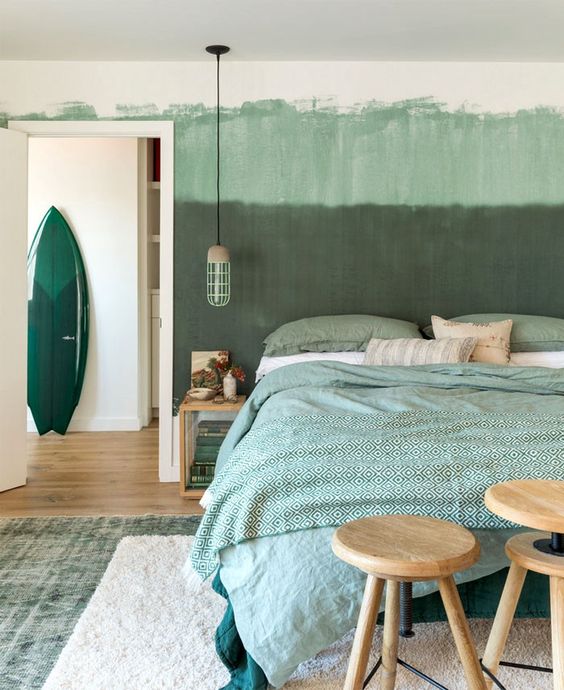 Talking about dark color in masculine bedroom decorating ideas is never-ending. It takes an important role in designing men's bedrooms. Define your own aesthetic men's bedroom ideas with your style and taste!
In the picture above, the masculine bedroom appears as an adventurous bedroom. Creating concrete textures on the wall by brushing different colors presented as a wave, Adding some wooden furniture inside, there is a surfing board standing near your own room. This men's aesthetic bedroom idea plays in a concrete texture wall to define its adventurous room owner.
Leather Touch For A Masculine Bedroom Decorating Idea!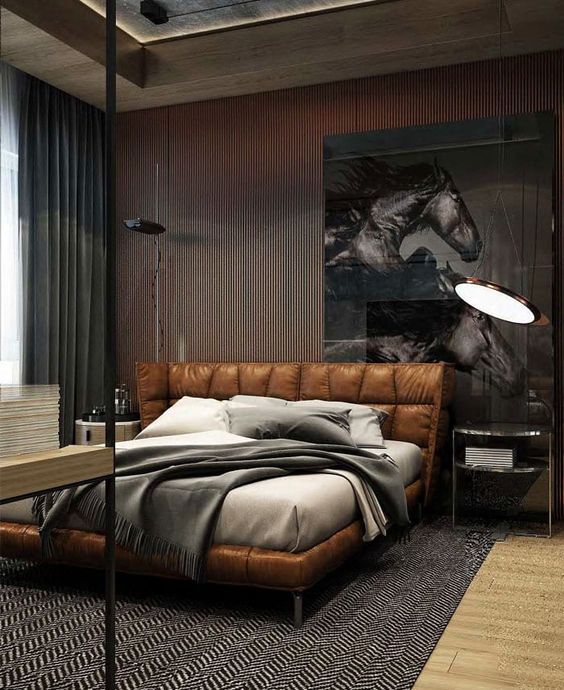 Another idea in designing a masculine bedroom is giving a leather touch for decoration. In this masculine bedroom design, the headboard, and bedstead coated with leather, let us add more some decoration to create a masculine bedroom he will love to have! First spread a patterned rug in a dark color, a wood strip wall, stick stallion photographs on the wall to emerge masculine vibe decoration. Soothing this warm bedroom with floor-standing LED. Again, what stands out the most in the masculine bedroom design is featuring dark colors and low lighting that appeal sexy visual effect.
Check our writing about bedroom ideas for kids: 8 attractive, playful, and educative kid's bedroom ideas
Appearing Flannel Coverlet For Men's Bedroom Design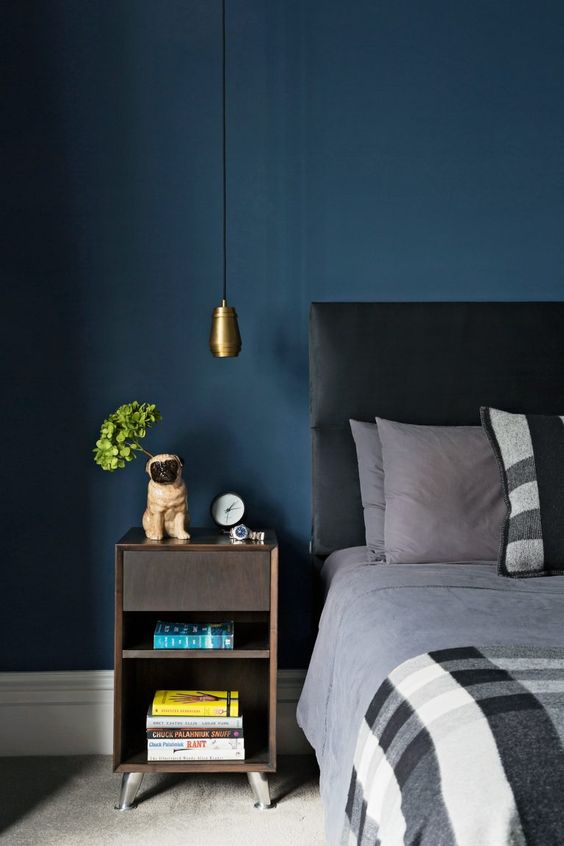 Creating a masculine bedroom with a touch of flannel is a good idea. This makes this room stylish and chic at the same time. This is a good deal bedroom design for a young man! Well, to create this stylish masculine bedroom, we jump out to the bed as a focal point in this room. Mix-matching soft gray cotton sheet with a stylish coverlet flannel, and then we can paint the wall with dark blue to create a neutral look and balance with a stylish bed.
Complimenting this stylish masculine bedroom with simple decoration, add a wooden table on the side, and softened the look of this room with a gray rug. This masculine bedroom looks stylish! So, You can adapt this idea to emerge a stylish and chic masculine bedroom interior design idea! Do you fall in love with this masculine bedroom decoration?
Monochrome Bedroom Inspired-design For A Masculine Bedroom Idea!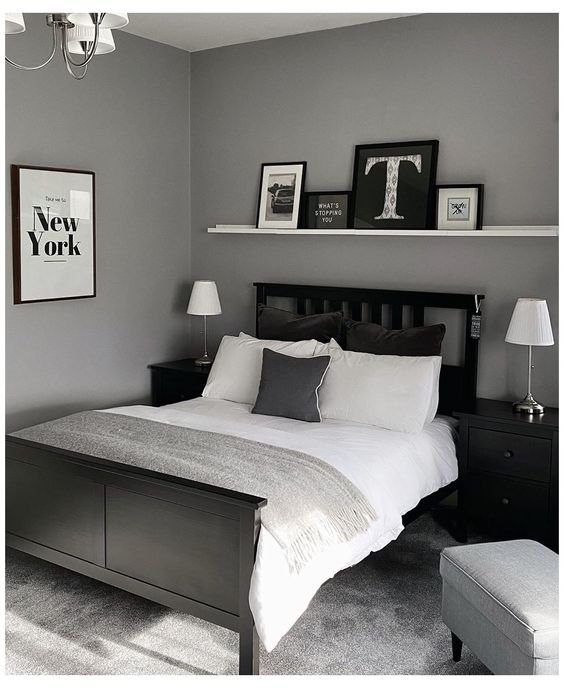 We can style the masculine bedroom with a monochrome interior design. All combine together in the same hues creating an amazing masculine bedroom that finds its harmony. We can start working on the wall, painted it with a neutral color such as gray, giving a touch of simple decoration such as word art print that sticks on the wall or standing on the hanging shelf. And then put the classic lamp on the table, to comfy the monochrome bedroom design, we can add a pillowy bench into your room.
You can copy this style to create your own masculine bedroom type, we guarantee this won't make you overwhelm in creating a men's bedroom look.
Check our bedroom design: 13 Bohemian Bedroom Ideas| liven Up Adventurous Bedroom Design
Masculine Bedroom Decorating Idea: Stripe Geometric Wallpaper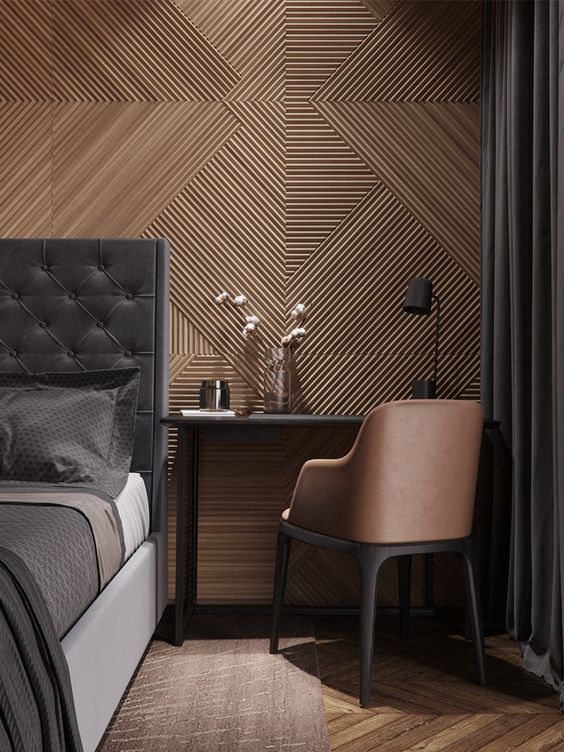 After using lots of neutral color paint for a masculine bedroom, now let us give a chance wallpaper to stand out in men's bedroom design. Installing a brown geometric pattern wallpaper to your wall, matching up the wallpaper with a durable table and chairs in the same hues. Completing this masculine bedroom look with a stylish bed in gray. This room showing bold its masculine look in neutral color selection and minimalist decoration. So, do you love to work your masculine bedroom with a strip of geometric wallpaper?
Sophisticated Masculine Bedroom Idea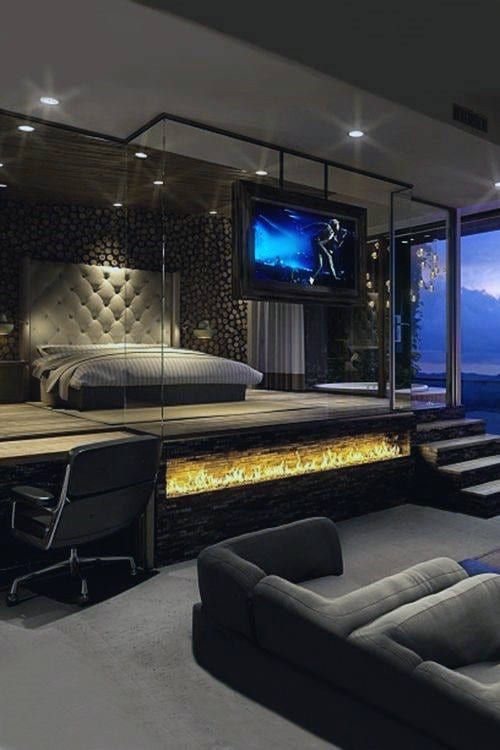 If you are the type of person who likes versatility in your bedroom, then this sophisticated masculine bedroom can be your idea. Let us dig into the interior decoration. Creating the layer structure inside the room, building a ladder to create a higher place for a bed, installing wood flooring to create a warm feel, set some modern sofa on the lower place of the bed. Comfy seating area by installing a large tv screen on top. And make your work spot warmer by the presence of interior roaring fireplaces. Installing ultra large windows to beautify your interior design, so you feel connected with a gorgeous view outside of the door. Comfy your bedroom with Ceiling LED. This is such a perfect masculine bedroom design, a wow design in a sophisticated area! Do you love this masculine bedroom design?
A Pleasing Masculine Bedroom Idea With Green Plant View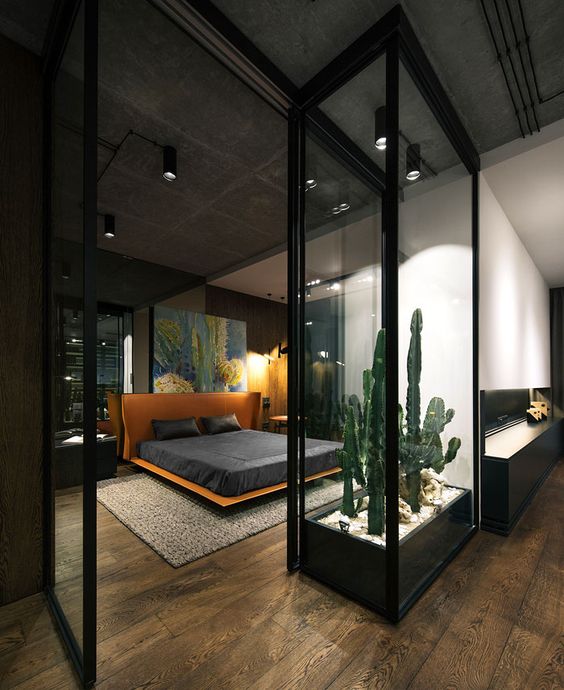 Another masculine bedroom decorating ideas in this writing come to this gorgeous green plant decoration! Imagining a warm and comfortable bedroom with unique decoration that pleasing our eyes so fascinating, we can create all those feelings in a masculine bedroom design.
Starting off choose a neutral color selection for the masculine bedroom such as black, brown, white, etc for the room hue. Installing wood flooring to create a warm feel, adding artwork on the wall, set a silk bed cover to embellish your bed area, and give a little bit spot in your bedroom for building green plants area. Installing the mirror glass to put your favorite indoor house plants, such as cacti. This green plant view will make you feel relaxed in your bedroom. So, would you love to add some greenery into your masculine bedroom spot to comfort you more?
Appealing Men's Bedroom Design With Soft Hues And Silk Bed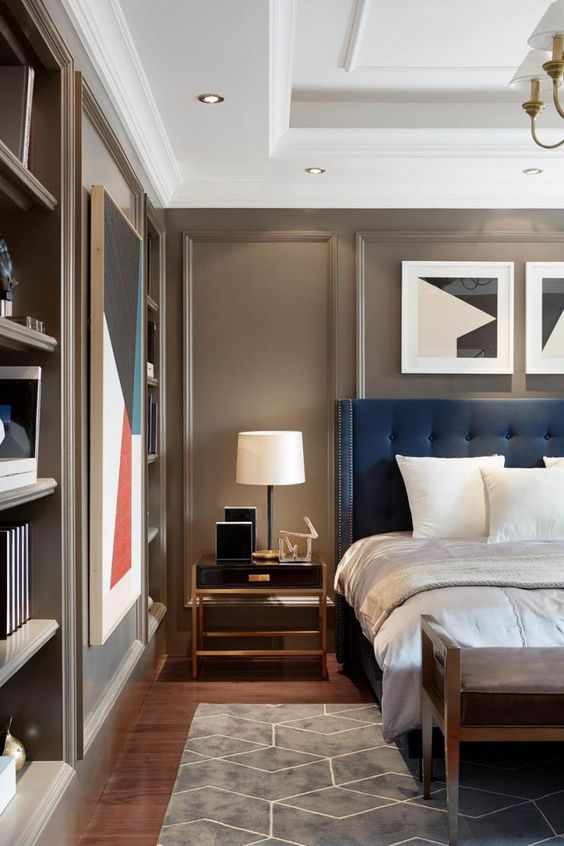 We have come to the last masculine bedroom interior design ideas in this writing. Now, we offer you a little bit different look from the previous designs above! Where we all have the dark and warm appealing bedroom design, here we have a brighter masculine bedroom look but still have the same concept of using a neutral color for interior design.
This room set in a minimalist style, we can see there are no overwhelming accessories tuck into this room, everything has its own purpose decoration. What makes this room style define as a masculine bedroom idea? Because this bedroom appearing bold accent in geometric wall painting as its decoration, and it has the silk bed and pillows that evokes a sexy masculine bedroom look. Do you love this beautiful masculine bedroom decoration?
Check our latest writing about bedroom decoration here: 8 Peaceful Coastal Bedroom Interior Design Ideas
We have come to the conclusion now, there is some point we already highlight in creating masculine bedroom design. They are using a neutral color for its major bedroom look, doing less decoration to create a spacious bedroom, appearing silk, leather inside that combine very well with a mysterious black wall and finally all that evokes sexy appealing masculine bedroom.
Those are 10 masculine bedroom decoration ideas you may love to have! There are some masculine bedroom looks so comfortable in warm design, and there is some masculine bedroom creating oh so damn sexy room design. And they're also a masculine bedroom design to show its own aesthetic men's bedroom idea! Which one is your favorite? Or do you have any idea to discover your own aesthetic men's bedroom design?
We hope you enjoy our writing about men's bedroom decorating ideas, let us be creative and keep positive vibes, have a nice day everyone!