Jordlinghome.com – When it comes to bedroom decoration, there is a major point all of us should know. Decorating our room with our own style and simply do what we want to. Lately, there are over a thousand and thousand bedroom decorations spread throughout countries and over history. But there are some available trends of bedroom decoration we could copy into our own.
What comes to your mind when you hear about shabby chic? Well, let's find out the definition of shabby chic altogether. Alright, shabby chic is a trend of interior design that brings out a romantic and strong feminine accent on its design. By appearing vintage styles, such as floral design, using lots of soft linen fabric and a touch of an old-fashioned antique style which is so damn beautiful. And the shabby chic design supported by freedom in creating its own style which is so playful for fun and decorative design.
You will find lots of shabby chic bedroom designs in many towns in Paris, where many villages there embrace vintage style and express their emotion through creative and playful design. Usually, a shabby chic bedroom design featuring floral and pink accents on its decoration.
Here we have 10 lovely shabby chic bedroom ideas that may turn to be your dreamy girl's bedroom!
Floral Bedding and Full on Pink Accent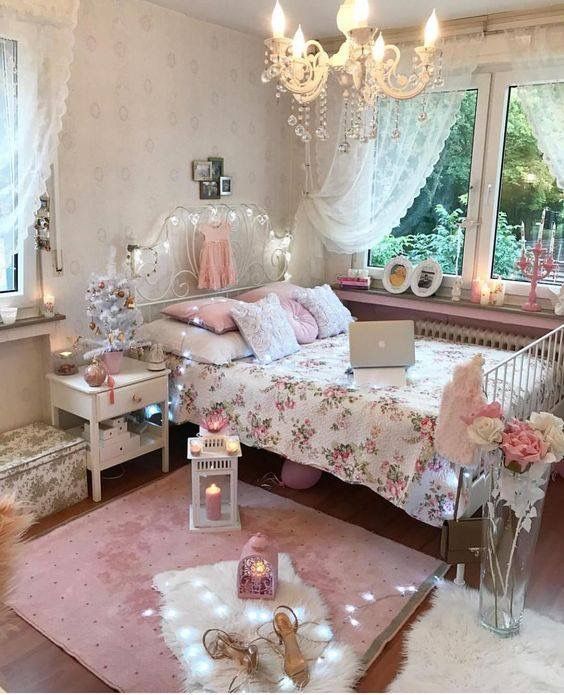 There is no other way to create a shabby chic bedroom with floral decoration and a pink accent. To decorate this girly shabby chic is, spread the pink rug, and then a bed in floral linen, decorate the room with a rustic chandelier. And we can add more shabby chic decorations with bold pink accessories. Put some antique birdcage candlelight and some flower, wearing the lace curtain.
Check out our guide to make your room cozier: 4 Guides That Can Make Us Feel Cozier In Bedroom
Soft Color Pallet Bedroom And Ruffle Bedding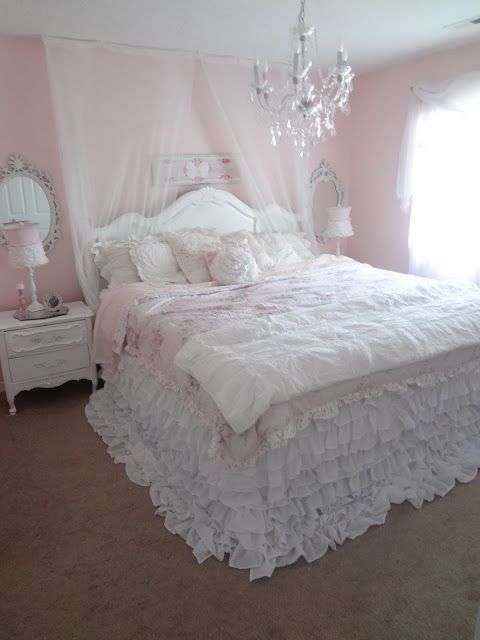 A beautifully decorated shabby chic bedroom with a soft wall pink pallet. Setting a ruffle linen bedding to make this room look chic. Adding simple decoration into this chic room such as a white night table, table lamp in pink decoration, and use a sheer curtain. It is easy to have this shabby chic bedroom in simple decorations, isn't it?
Blue Shade Shabby Chic Bedroom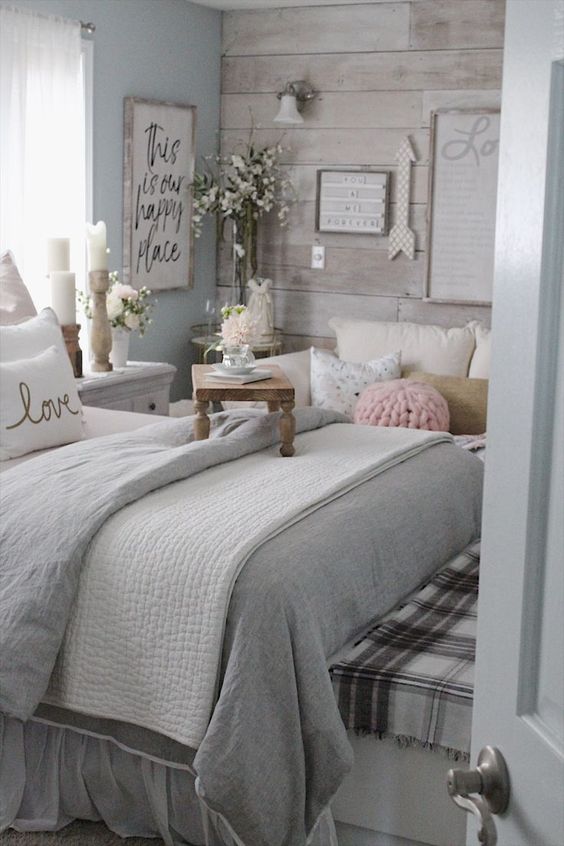 Decorating shabby chic bedroom is not only being in pink pallet but also can represent with another soft pallet such as light blue is perfect for this bedroom pallet. Painting the wall with light blue, and then doing some decoration to feature a shabby chic bedroom, such as using a ruffle bed skirt, adding some flowers in a vase, rustic wall lamp, a cedar chest, and some antique retro candlestick votive holders. All combine well together in a neutral light blue palette. Do you love this light blue shabby chic bedroom decoration?
Find out more bedroom design ideas:13 Bohemian Bedroom Ideas | Liven Up Adventurous Bedroom Design!
Distressed Wooden Headboard For Antique Shabby Chic Bedroom Look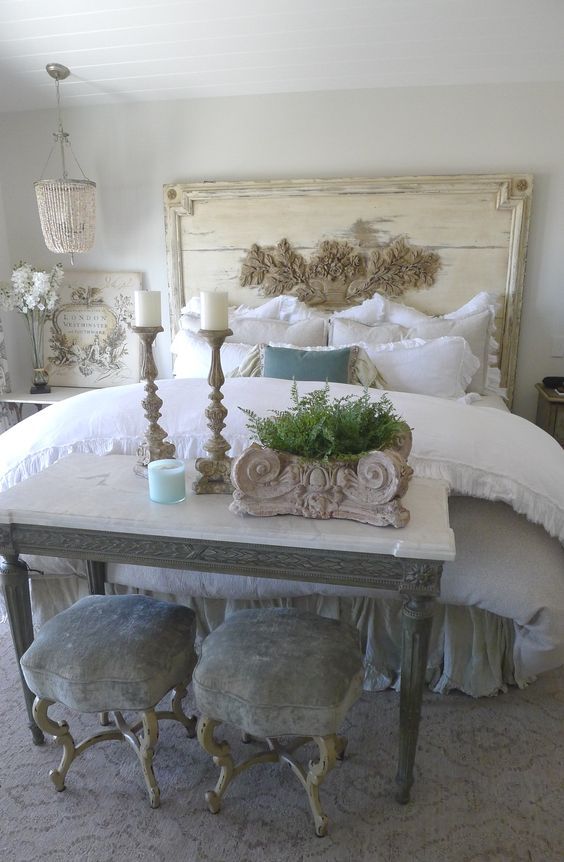 This shabby chic interior design playing lost in neutral colors. Using lots of beige pallets for walls and furniture. Appealing chic antique view, this tiny bedroom focus on the bed as its focal point. We can see a distressed wooden headboard in beige color make this room looks so natural. Featuring a classical view, we can play on antique furniture.
Adding antique vintage stools, table, candlestick votive holders, and some antique vases with flowers. This small bedroom looking gorgeous in shabby chic interior design, do you love this design girls?
Showing Textures In Shabby Chic Bedroom Design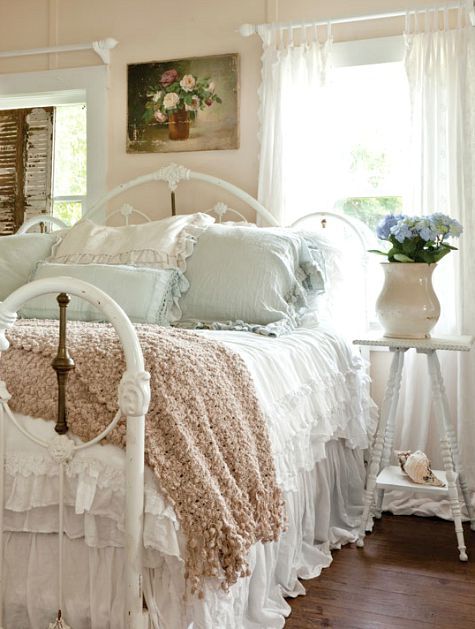 This small shabby chic bedroom design appearing layering and textures. The combination of layering and a touch of textures make this room look beautiful. First of all, do you know what we talk about layering concepts here? Well, let us take a look into a major centerpiece in this room decoration, it is all about the bed! Applying ruffle skirt bed and layering with a textural knitted throw coverlet, this unique texture coverlet make this bedding looks distinctive and successfully creates chicer shabby bedroom ideas. Complimenting this charming bedroom with some vintage furniture. They are a vintage tea table, flower, and a beautiful floral vintage painting. Allow natural sunlight through the windows inside your room, you can use a sheer curtain to creates the perfect silhouette of your lovely bedroom design.
Charming Shabby Chic Bedroom With Green Accent Decoration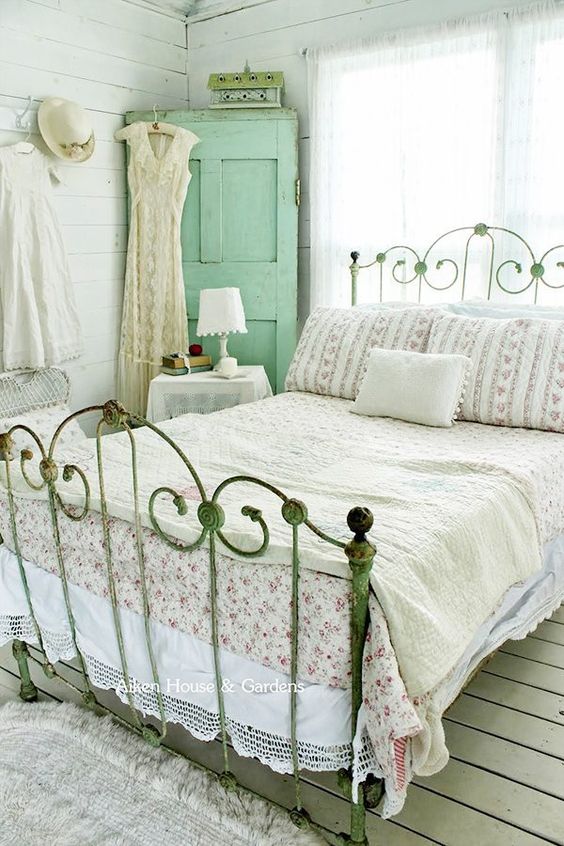 Showing beautiful shabby chic bedroom design is not only suck on the pink accent. Green approves its existence to create a riveting shabby chic room look. Starting off work from the floor, we can use distressed wooden flooring to alluring antique style. Next guide in creating this shabby chic decoration, spread a neutral rug palette. Let's jump onto the bedding section, we can install a vintage bedstead in green, put a bed and cover it all out with a floral linen bedsheet. Put some printed floral throw pillows on it. Don't forget to add some green accent in your charming room, adding an antique wooden distressed wardrobe painted in green. And add a vintage lamp beside your bedding.
Creating an extra dimension of a shabby chic bedroom look by letting your vintage dress hanging on your antique wardrobe. Simple decoration and green accent furniture in this shabby chic bedroom are awesome! Do you love this idea?
Check out our writing for relaxing bedroom ideas: 12 Dreamy Tropical Bedroom Ideas| Find The Ultimate Tropical Vibe In Your Room!
Superb Yet Calming Shabby Chic Bedroom Idea In Blue Accent!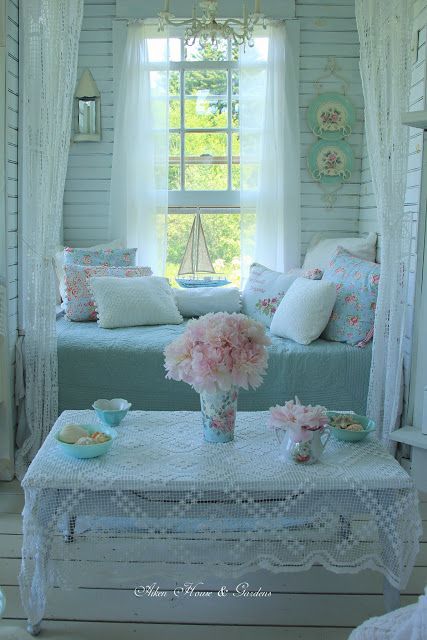 The romantic sense given by floral accent combines with blue accent design makes this room look outstanding yet calming. There is no doubt bringing some antique and vintage stuff into the shabby chic bedroom makes this style looks distinctive to another. Creative ways in blending old-fashioned style decoration with soothing neutral pallette is a genius idea.
This sweet shabby chic bedroom design uses a light blue hue in creating its major look. Applying blue accent to the wooden wall, bedding, table, and other decorative accessories in this room. Vintage style taking a big role in a shabby chic bedroom decoration, giving printed vintage floral to the linen throw pillows successfully sweeten this lovely bedroom decoration. Do not forget to decor the room with an antique chandelier and a lovely pink flower. Selecting a light blue for the room palette so soothing and give a touch of attractiveness by adding pink flower into this room, so irresistible to have. Girls, is this your type kind of room?
Check out our more bedroom ideas: 8 Peaceful Coastal Bedroom Interior Design Ideas!
Gorgeous Girls Room In White!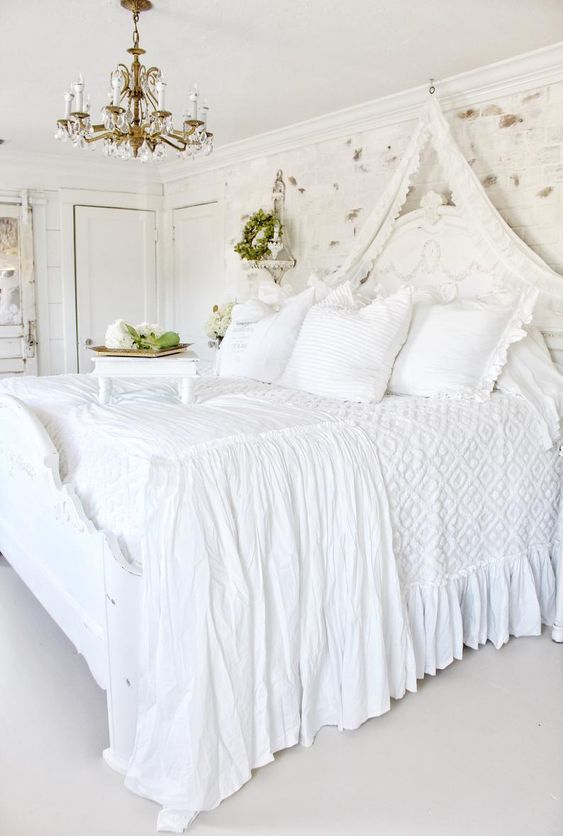 This shabby chic bedroom idea turns all into white! From flooring, wall, bedding, into decoration gorgeously in white. There is no floral accent attach to this bedding, there is an idea to make this white bed look eye-catching to the eye.
We can trick the style to make this bed not so boring in just white by giving texture and do a layering job. Start from the base, installing a ruffle bed skirt to the bed, layer with a geometrical knitted pattern sheet to give a texture on this bed. And then do a job for a headboard decoration, hang the lace from the ceiling to the headboard in a triangle shape.
Installing an antique candle chandelier brings an ancient look into this room design. We can also add green plants to this white shabby bedroom look. This shabby chic bedroom design looks standout in white!
Strip Linen Coverlet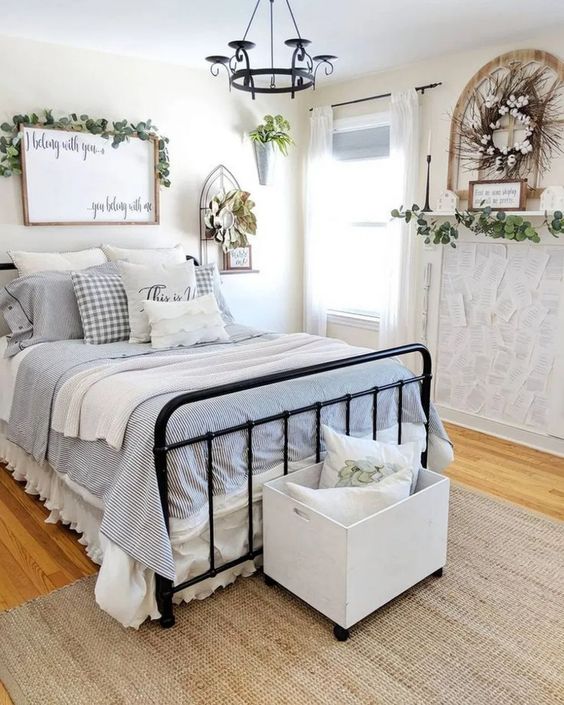 Another shabby chic bedroom design looks so warm by installing wooden flooring. This shabby chic room design looks more modern because it does not show distressed wooden flooring nor any other furnishing. But still, this room categorizes as a shabby chic room design by appearing antique touch such as antique candle chandelier, vintage floral decoration that sticks on the wall, and uses a ruffle skirt for bedding.
This room feels warmer and cozier by the presence of a woven rug and some green indoor houseplants combining with a neutral wall palette is just mindblowing shabby chic bedroom decoration.
Vintage Retro Mural Wallpaper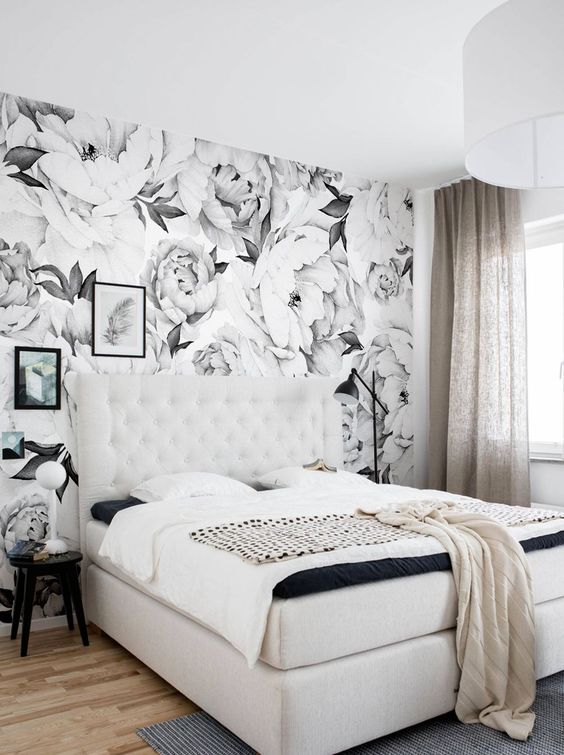 When you have an idea to makeover your bedroom design into a shabby chic bedroom idea, but you don't have much time. Clam down, we give you a simple solution to keep your dream shabby chic room plan alive with the easiest renovation.
Installing a high-quality printed vintage retro mural wallpaper in your room. That is enough to evoke shabby chic room design vibes in your interior design. To make this room more attractive, spread a polka dot linen on your cream coverlet, and spread a striped rug on the floor. Do you love this easy shabby chic bedroom decoration idea?
Those are 10 lovely shabby chic bedroom ideas, which one is your favorite? Now, we will share with you some shabby chic ornaments and furniture. Get closer to your dream shabby chic bedroom with its attire decoration down below!
Pink Rose Glass Jar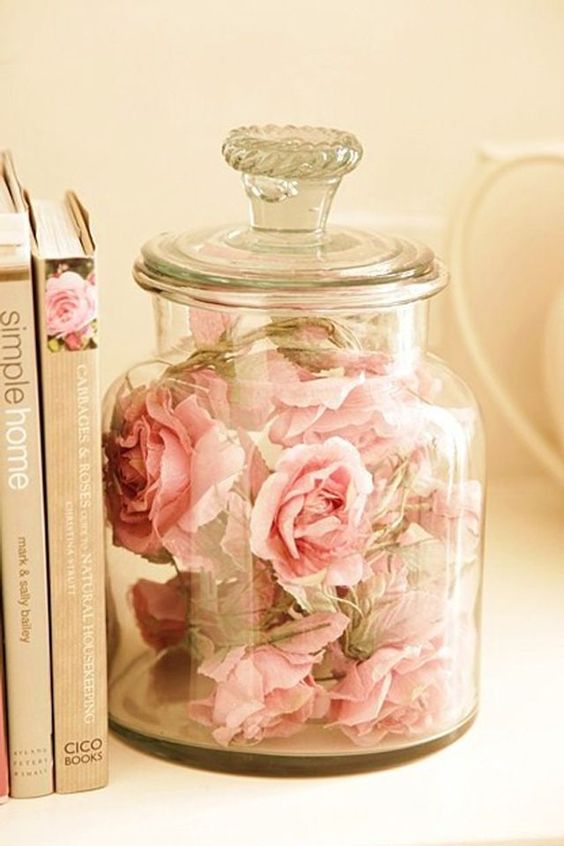 When you come to a romantic shabby chic bedroom design, you can not forget this item to bring into your bedroom interior design. Bringing florals accent into your room. such as a glass jar filled with roses that look chic and sweet. Put this beautiful stuff on the night table or beside a reading nook spot. It looks so lovely for the girl's bedroom decoration, do you agree with us?
Shabby Chic Candlestick Floral Holder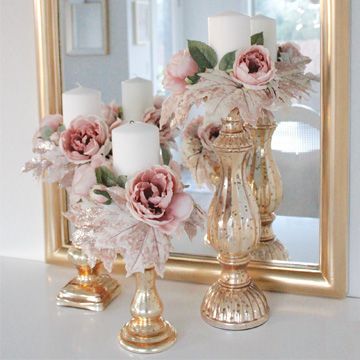 Common stuff you need to include in shabby chic decoration is the candle. The warm rustic lighting from the candle giving an extra dimension to a lovely antique room-style design. So we have to add the candle into room decoration. A vintage candlestick holder is suitable giving a credit to shabby chic room style.
Shabby Chic Vintage Chest Drawers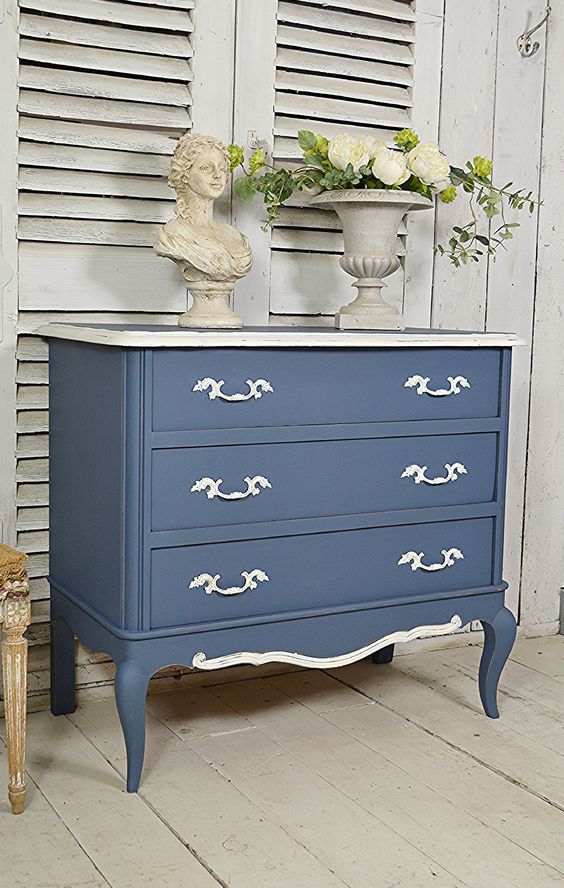 Giving a touch of antique furniture into a shabby chic bedroom design. A French vintage chest drawer will be perfect to set in your lovely shabby chic bedroom. This antique vintage furniture is another stuff you must-have in your plan decoration.
Romantic Vintage Roses Table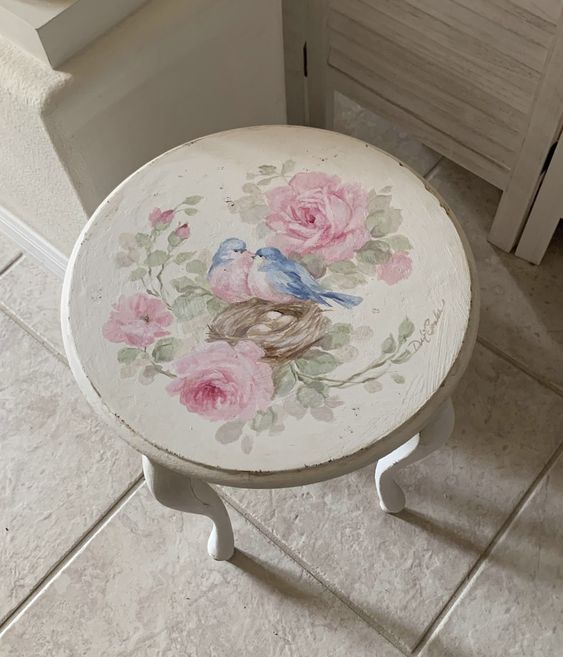 If you need a table for your room decoration, make sure this romantic vintage roses table gonna be your choice. This table will work very well in creating a lovely shabby chic plan room decoration.
Distressed Wooden Bookcase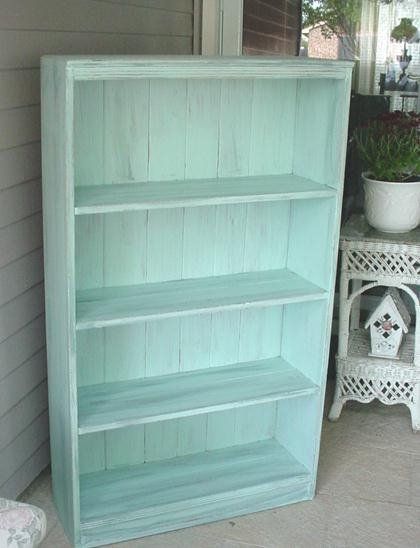 Reading lovers, whether you are an adventurous, romantic, or sci-fi reading lover, you certainly need a bookcase in your own room to store your books well. One tip to choose the perfect furniture for a shabby chic bedroom design is choosing distressed furniture. So, you can take a piece of wooden distressed furniture into your own room. It will bring out the antique style in your room.
Printed Floral Throw Pillow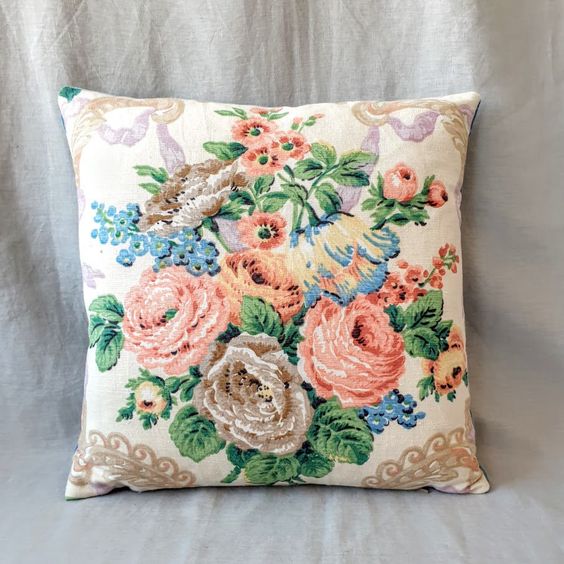 Decorating bedding in a shabby chic bedroom design will be so important to show more its bold style. Printed floral linen for your throw pillow will improve your lovely shabby chic bedroom design.
A shabby chic bedroom design commonly appears vintage furniture, distressed wooden furniture to create a chic antique style. Appearing lots of floral accents make this design stand out in a romantic style. Using lots of neutral palettes makes this room design feel so warm and cozy.
So, ladies do you find out your dreamy girl's bedroom design by our recommendation of 10 lovely shabby chic bedroom ideas? We hope these shabby chic bedroom ideas could be your inspo. Whether to makeover your bedroom into a shabby chic design or even choosing its room attire to improve your lovely room decoration!