Jordlinghome.com – As the pandemic spread out around many countries in the world, the government led their population to do less outdoor activity and require them to stay at home or we called it quarantine. It ruins major normal activity to be restricted. Before that happens we usually interacted and gathering each other such as in the workplace, school, or even in worship places is something normal but now it's the opposite. In this case, many of us get stressed during quarantine time and feel stuck at home.
Regardless of quarantine time, we have some ideas to change our outdoor spaces to be something creative and comfortable spot to stay at home for a long period of time. In this way, we need to maximize our outdoor spaces to be a place of relieving stress. We will show you 13 creative patio ideas that will liven up your outdoor spaces!
Cozy in Warming Patio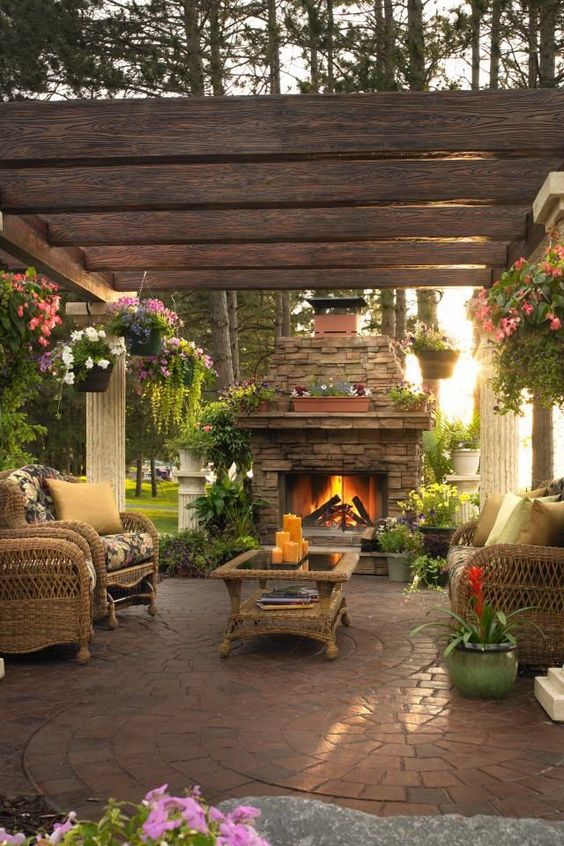 Summer is a perfect time to spend the whole day outside. Enjoying the warm and sunny day by sitting in the lush garden is totally makes us relax. It will be amazing to decor our patio to be a warm and comfortable outdoor space to hang out in the cooler afternoon summer season.
We bring out the creative and comfortable patio idea to warm you up in the afternoon and night of summer. Building a brick fireplace on your brick patio, installing a wooden pergola to make our sitting area to be shady, and hanging some colorful flowers in pots to beautify your patio.
Simple Patio Decoration with Artsy Chair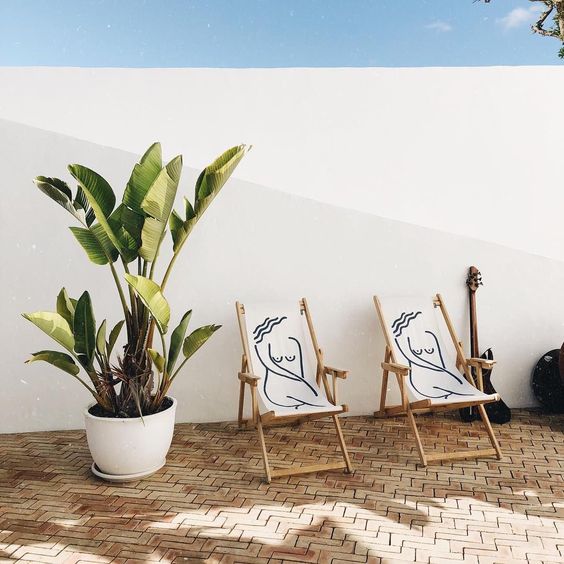 Are you the one who confused to decorate your patio? Well if so, we have an idea to decorate a small block paving patio space with simple instruction. We only need two artsy folding chairs and set a big pot and plant besides. To create a dramatic contrast of the white wall beside the chairs, we can draw something on the canvas. It is quite a simple and creative patio decoration that we can apply to our outdoor space. Sitting on the artsy chair and feel the morning fresh air, what a simple and comfortable home outdoor spot!
Lost Under Shady Trees!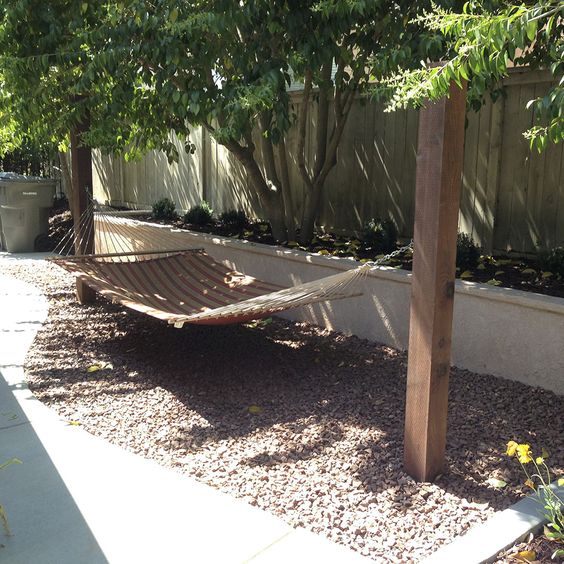 Summer has arrived, there is nothing better to relax outdoors! Here we tell you how to maximize your gravel patio turn to be an enjoyable and relaxing outdoor space. Installing an outdoor hammock under shady trees will be a dreamy spot in your home.
There is nothing better than napping on the hammock under shady trees in the summer! Do you like this creative and comfortable patio idea to liven up your outdoor space?
Liven Up Outdoor Spaces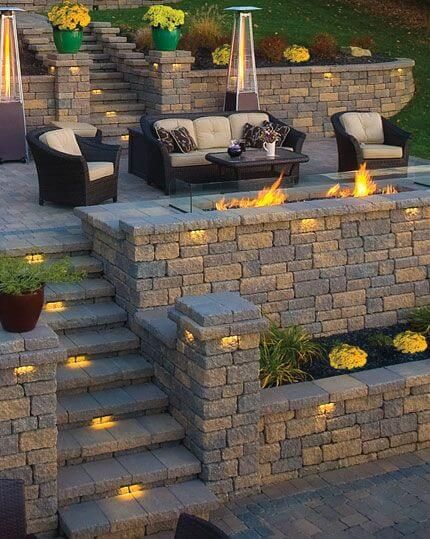 Liven up our brick patio outdoor spaces to be comfortable and lovable spots to hang out at night. Creating a dramatic warm effect by putting some lamps in holes of multiple brick patio walls. We can set some sofas next forward to the roaring fireplace. Enjoying the night with family over beautiful multiple gardens around.
Wooden Deck For Al Fresco Dining Area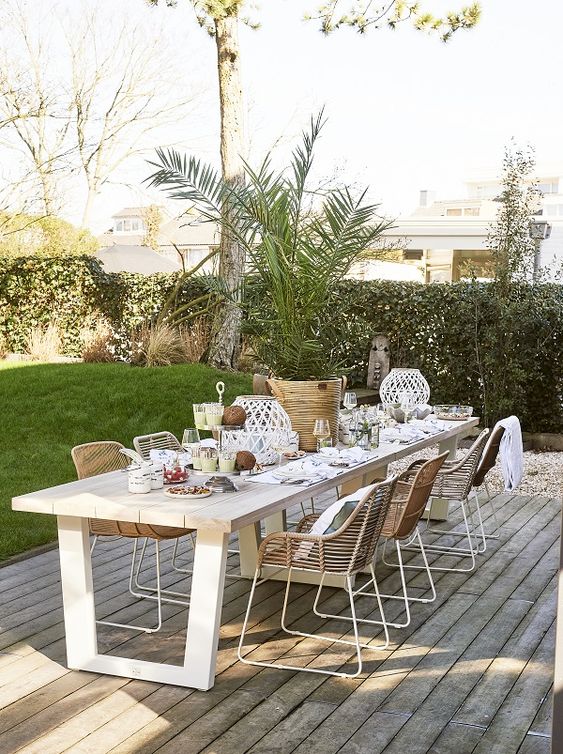 What we can do to the wooden decking in our backyard? Well, we can make a great dining spot to liven up our outdoor spaces.
We can set a wooden dining table to liven up our outdoor space, provide some chairs to have great alfresco dining with family.
Comfortable Wide-open Outdoor Space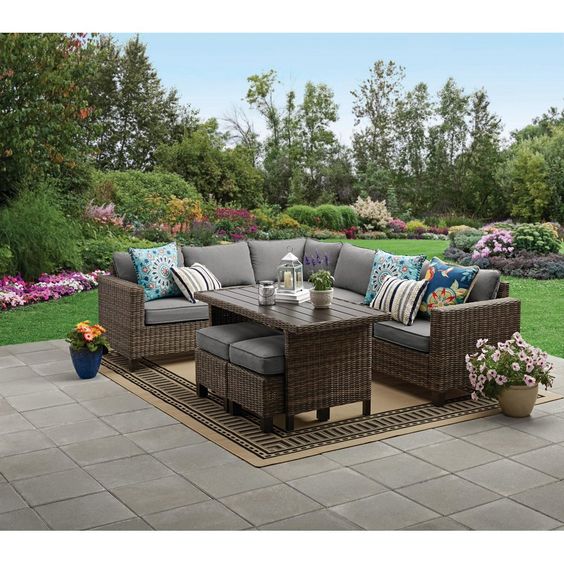 Another creative patio design, we brought up comfortable seating in our beautiful backyard. We can add a cushioned ottoman rug, two cushioned sofas, and a table. This wide-open patio space turns into a relaxing and comfortable outdoor zone, surrounded by lush garden scenery just so perfect.
Be Creative with Entertaining Outdoor Bar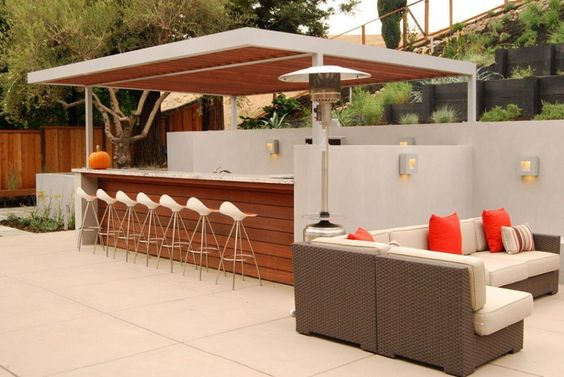 We can makeover our tedious outdoor space into a perfect spot to have a drink with friends. Creating a simple bar on our wide patio is possible. All we need to do is to build a space for a bar and the other half to provide more seating. Adding two cushioned sofas beside the bar will provide comfortable seating. This idea will turn to be an entertaining spot zone in our outdoor space, so have a try this one!
Patio and Pergola Works Good Together!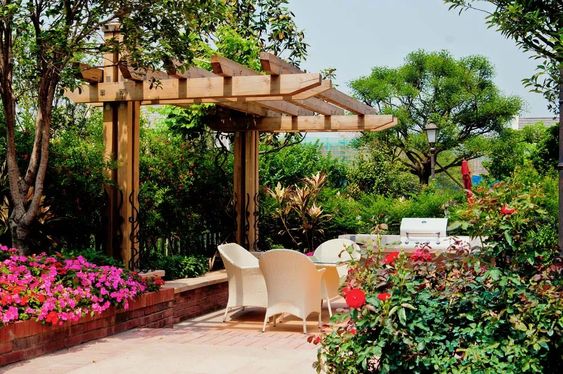 Do you like sitting around a beautiful garden that full of flowers? Um, that sounds so pleasing! Let us do some work on our brick patio that surrounds by colorful flowers! Starting with planting various plants and colorful flowers on each side of the patio. To comfy our seating area, build a pergola roof to protect too much sun's heat over the seating space. We can set some easy-to-lift chairs on the garden patio, so we can set it anytime we want to leisure in a seasonal blooming garden.
Relax In All Green!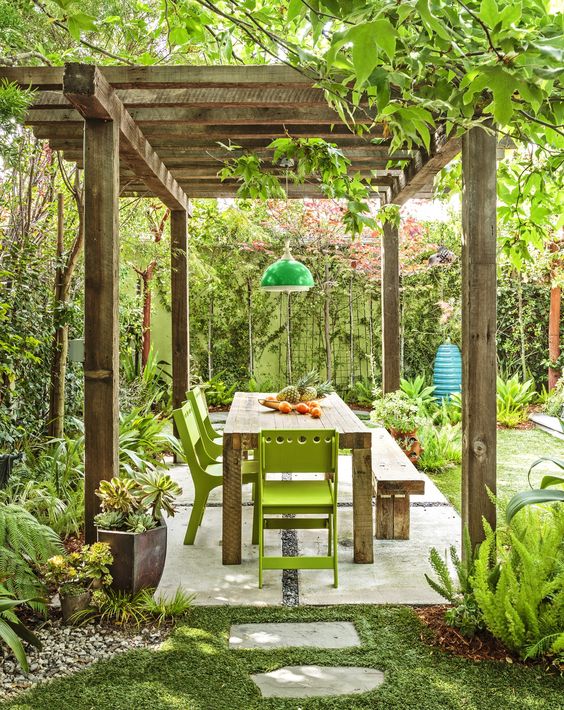 Appearing nature in our outdoor space is a way to get rid of stress. Building a bungalow on the patio space we have, install some stepstones paver patio before entering the bungalow, growing some green plants all around, decorate simple bungalow with teek table and give an extra green touch by adding some green chairs, a green pendant lamp on the table to provide lighting when the sun goes down. Sitting or having breakfast in a green lush garden will make us in absolute relaxation!
Get Warm with Gravel Patio and Firepit!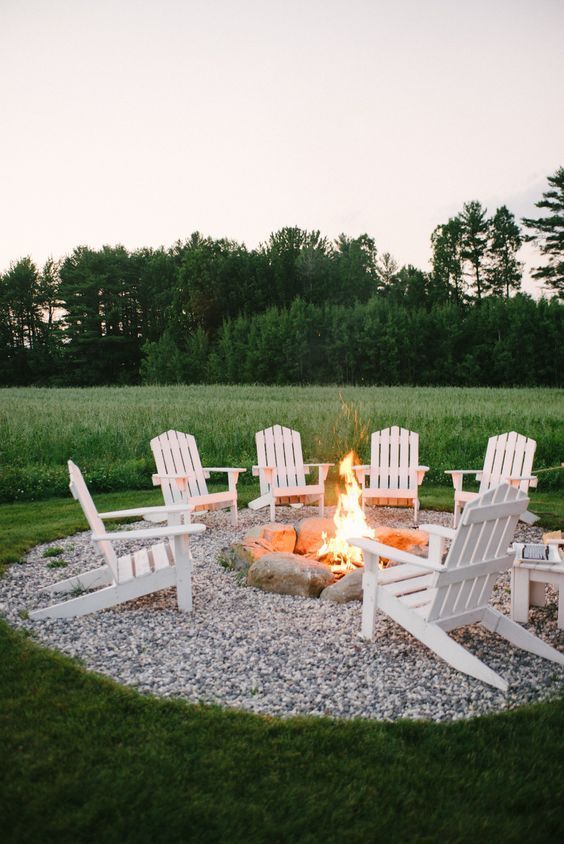 Spending the cold summer night on the gravel patio accompanied by the roaring fire in the firepit is a gorgeous view in the dark of night. We can decorate our gravel patio with some antique white Adirondack chairs around the firepit. Adding BBQ grilling grate on fire pit then we can have an amazing dinner environment. It is a simple patio idea that livens up our outdoor spaces.
Create a Seemless Transition With Slate Flooring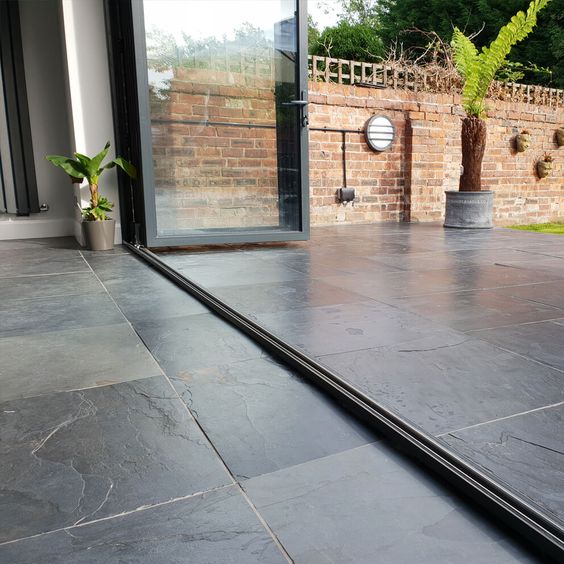 Creating a seamless transition between inside and outside spaces is another creative patio idea. Using the same tiling both inside and outside of the home also creating timeless and "extra spaces". We can install Genuine Welsh slates for tile flooring. Do you love this creative patio idea to make your outdoor spaces look bigger and timeless?
Escape to The Moment of Silent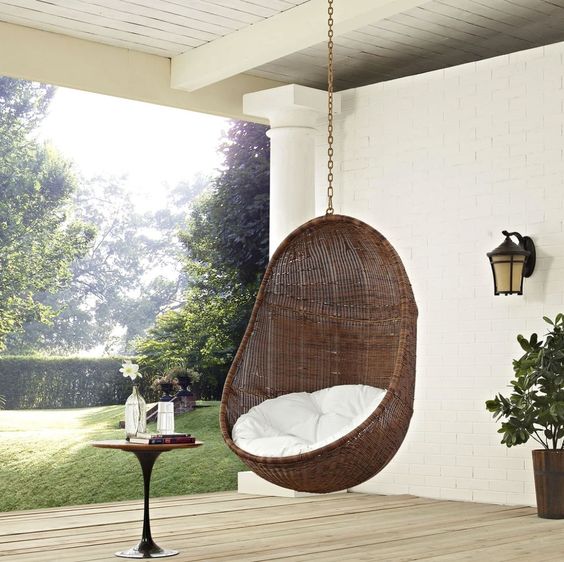 What sense comes through your mind to see the picture above? feel relaxed? What a perfect place to escape from a frenetic world! We can create our outdoor space that turns to be a calming and comfortable spot to chill out. What the essential furniture to create a calming environment? Well, we can start with flooring work, use wooden flooring to blend very well with nature. To comfy a simple wooden patio we have, install a Laguna swing chair made from synthetic rattan weave and add a plush white fabric cushion. The Laguna swing chair will remind back us of joy in childhood memories. Sitting on a Laguna swing chair and drinking a cup of tea is a great way to relax. Let us escape to the moment of silence!
Having Big Feast Outside of the Door!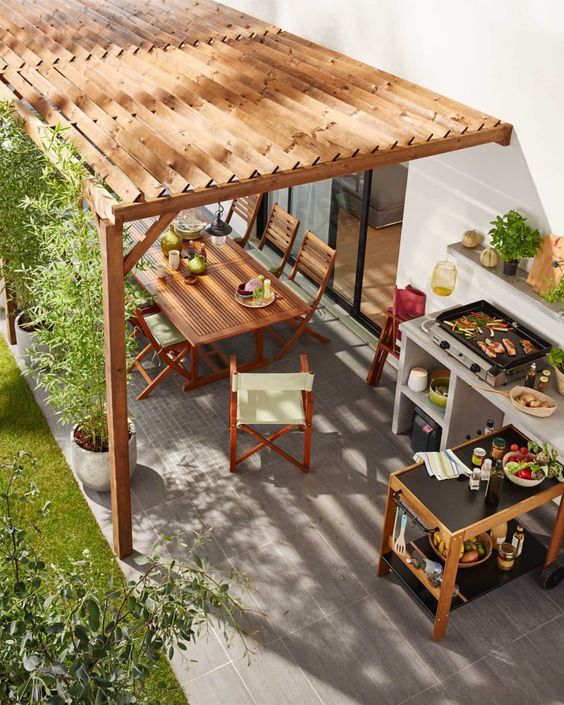 During the summer, people tend to spend their leisure time outside, going to the beach, park, hike the mountain, just so perfect in summer. Bringing happiness into our outdoor home spaces is a great idea. One of them is having a big feast with all family in our backyard. We can bring our cooking stuff to set up on the patio, so we have a friendly outdoor kitchen where we can cook without being left alone. Aright, set up a stove and some cooking stuffed you need on the patio, a wooden dining table, and some chairs beside the outdoor kitchen. When the meals are already cooked, and that time we all gather for having a big feast under a lovely sunny day!
Check out our another writing about effective gardening: 7 DIY inexpensive vertical garden ideas 
We have come to the conclusion now, on this pandemic we are spending most of our time at home, such as working at home, study at home for children, and all things we usually think normal such as gathering with friends, working at the office with a group of people, sitting in the class with many people to be the opposite it. There is one thing to be the idea of making this writing is we consider many of us get stressed during quarantine at home. So, then we want to help that issue by designing outdoor spaces that will help us to relieve stress while staying at home for a period of time. We hope this pandemic will end up soon, so then we can gather and having leisure time with others as before.
We have summarized 13 creative and comfortable patio ideas to liven up your outdoor spaces! There are some creative ideas that might suit you the most.
Simple patio design by adding simple furniture
Warm patio design by building fireplaces or fire pit on our patio spaces
Calming and comfortable patio design by adding natural elements, such as green plants, wooden tables, and chairs. Which one is your favorite patio idea?
We hope this article can help you to improve your outdoor spaces, so we can feel happier during staying at home for a long period of time. Be positive, stay healthy, and have a nice day everyone!