Jordlinghome.com – Backyard is a joyful place during our spare time to gather with all our family. We can create a homey feel in our backyard. It would be a pleasure for every householder. Here are some ideas to improve our backyard that will turn to be the most pleasing living space at home.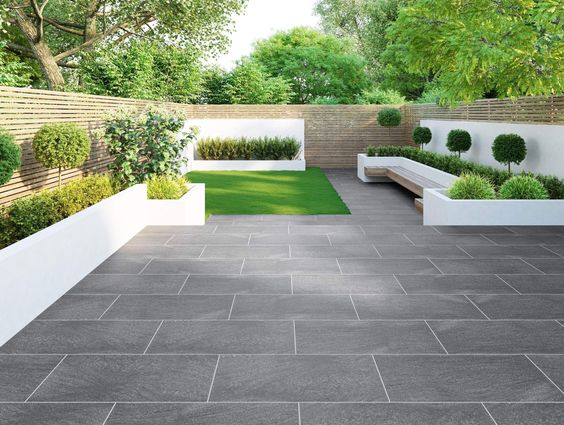 Beautiful organized yard landscaping with comfortable wooden bench gives an extra comfort for all homies. Minimalist backyard is an easy option for us who does not have much time to maintain garden because it remains low maintenance.
Backyard with Dining Spot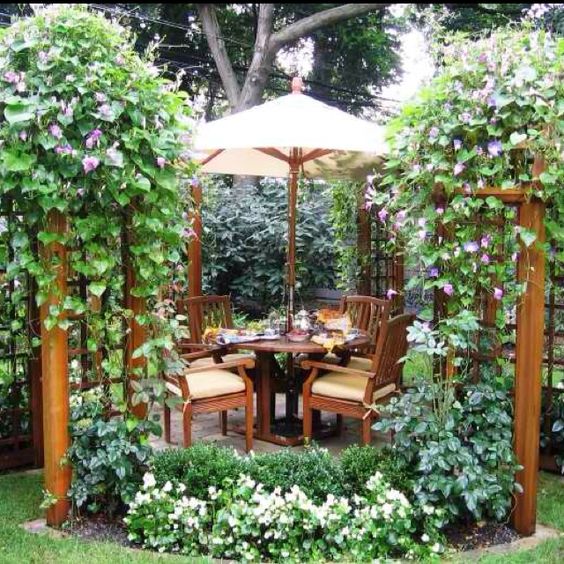 Having a romantic dinner in our backyard? Well, we can make it happen with our creativity to design by setting a dining table with patio umbrella to prevent wet if there is rain falling. We can see the backyard above is quite beautiful because it is surrounded by plants and flowers.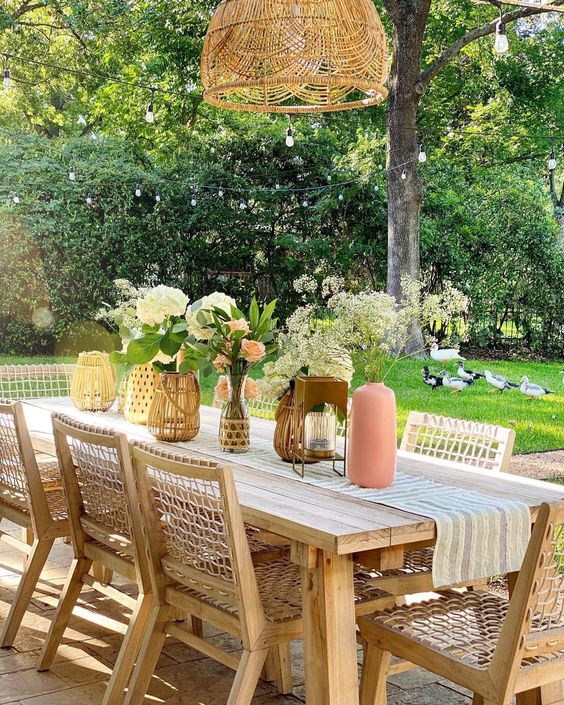 When summer time has arrived, we can enjoy holiday with tropical vibes! It is a perfect weather to be in outside of the door. To walk outside or having a picnic with family would be a great idea. We can utilize our backyard space for a pleasant dining spot. Choosing a right space to put dining wooden table and chairs. Our suggestion is to put it facing the green trees and garden grass to feel the warmness of summer season.
Backyard Pond Ideas
Water is the source and one of important element in our life. It evokes comfortable, fresh, and of course lots of fortune according to ancient Chinese culture, water element symbolizes positive energy. Isn't it has lots of advantages? Beside that, it can be represent as fish pond, water fountain, aquarium or even a painting that include water element. Here are two samples fish pond garden ideas we can try in our backyard.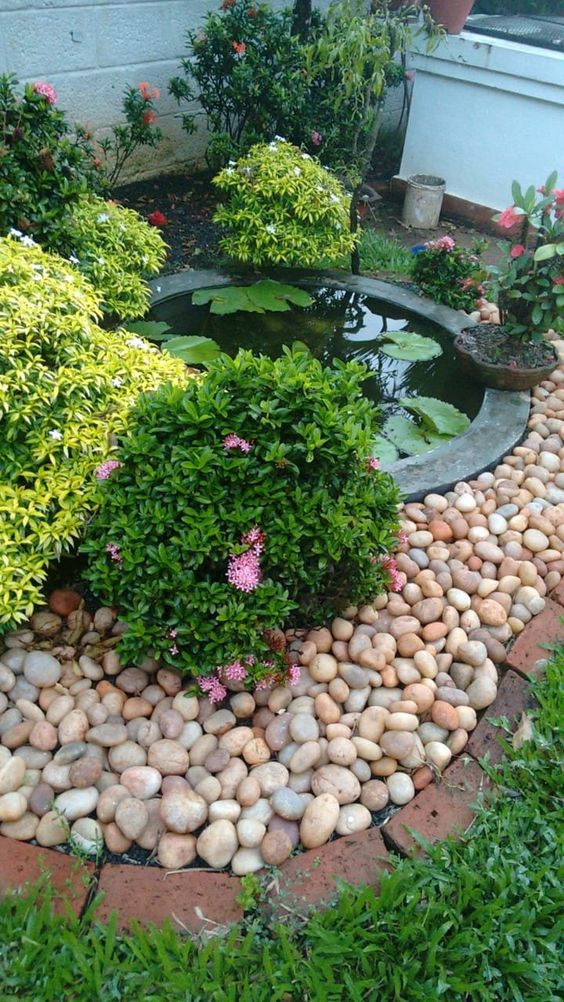 How to build a fish pond in a small yard? Is that possible to make? There is always solution for every problem. We can make a simple fish pond by only taking place around 2×3 m. Then, we can build a round pond with river rock around it, water plants, and some plants at the pond edge. After that we can get a simple garden fish pond in a small yard.
Lovely Koi Pond for Our Beautiful Backyard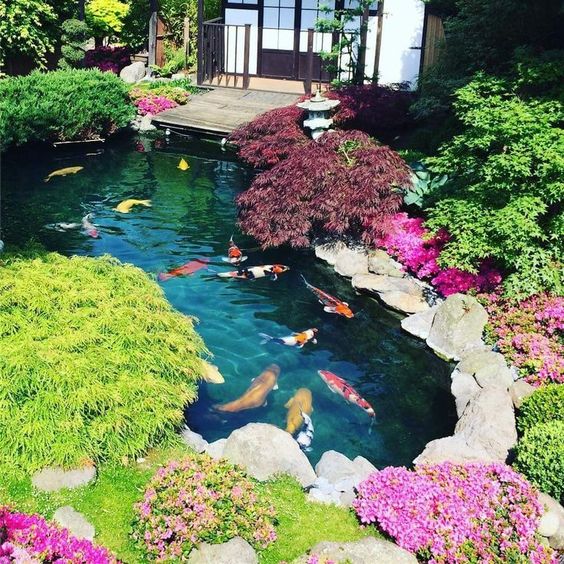 Adding koi fish pond will give a lively impression in our home. In addition, a beautiful koi pond landscaping also makes us feel relaxed and get a rid of boredom while being at home. Building a koi pond should be consider in large space because koi fish can grow larger. Large fish pond space makes koi lives and breath well.
All we need to know about building a beautiful fish pond are:
pile of rocks
Colorful plants
Water source
 Koi fish
How to build a beautiful fish Pond? First, design a sketch of the pond as we want. Second one applying the sketch to the area that we have, its deep should have at least 5 feet. The third one, Koi fish pond need around 1000-1200 gallons in volume. After that, put rocks around the edge of the fish pond, it helps to reshape the pond and to protect escaping fish when the volume water rises.  Next step, grow some colorful plants around the fish pond to make it prettier. The last one, add fish Koi to the fish pond we already built.
Would you like to have a simple fish pond or a beautiful koi fish pond in your backyard?
Fire Pit Backyard Warm Up Our Night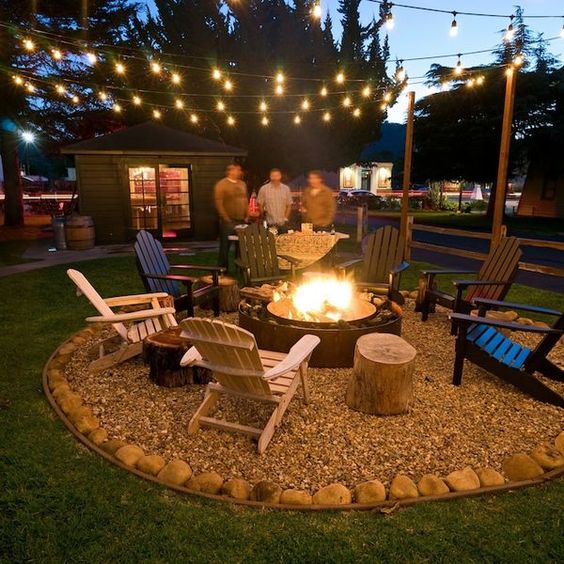 There is nothing cozier thing than gathering with all family or friends around fire pit on summer cold night. Feeling relax and enjoy in the cold night by roasting hot dogs, drinking a coffee or hot chocolate. We can also do additional activity such as cooking food over an open fire, chit chat with others will be the most homey feel where we could not forget when we are not at home.
It is a good idea to build a fire pit in our backyard to create warm and so-homey feel in our home. Build a fire pit in the middle of the yard, so we can feel more to the nature. We can also decorate it with some wooden trunk chair around the pit if we need more sitting we can put some wooden folding chairs. Adjusting lighting around the yard, to comfy seating area. Do you like the ideas to build fire pit in your backyard?
Easy Mini Farm Ideas to Grow Vegetable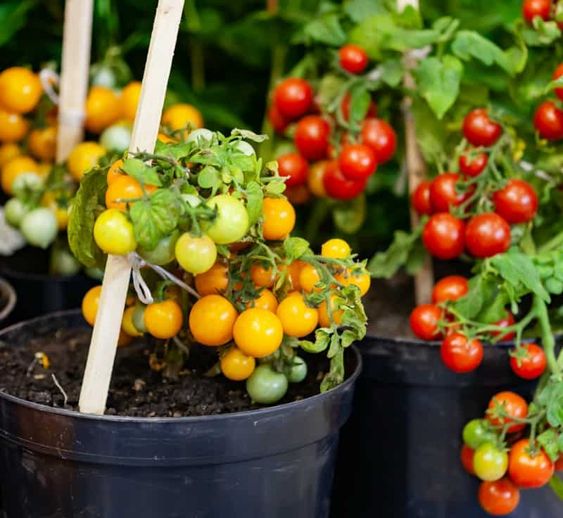 It is a pleasure to pick fresh vegetables in our own garden. Beside that, growing our own food is much healthier than buying from the market, green groceries or any other places that supplies fresh vegetables. We fully know how is the vegetable growth as we are growing it by ourselves. Growing our own vegetable also saves a lot of money.
Cherry tomatoes is one of easy-to-grow vegetables. So, we can grow it in our backyard space. It can grow in pots too that make it easy to maintain where we can display it exactly as we want. Here are the tips to grow cherry tomatoes in pots. The first thing we need to do is to decide a good spot. Find a perfect spot in your backyard that receive at least 5-6 hours of sun. The next tip is to put your pots in group but make sure to not get too close one to another. Watering them twice in a day in the morning before they receive the sun and the other time is in the afternoon. Taking care and watering them regularly so they will grow happily! That is so easy to grow cherry tomatoes!
Building a Tree House for Joyful Kids Zone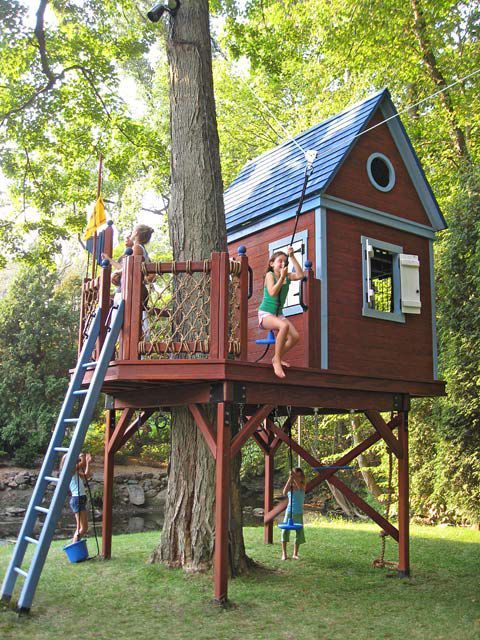 We can give happiness for our children in our backyard by building kids zone. An enjoyable tree house for our children should be on the list of creating homey backyard ideas!
First we need to look around the garden. The perfect tree to build a house tree is oak, maple, pine or any other strong tree that has many branches. To make a safe house tree for our children is to choose the branches that near to the ground. Watch them while they are playing to keep them out from accident. Another thing we can do is to invite them inside a house tree and then read them about their favorite stories. What an incredible nap! Dream on kids!
Those are five improving backyard ideas. Would you like to create each one of them in your lovely backyard? Or do you want to have it all to creates more homey feel?