Jordlinghome.com – We are now going to celebrate the warm season of the year. Yeah, nearly we will cheering summer days! What is that mean to be? It's a perfect time to cheer the warm season outside of the door! With the clear sky and lovely sunny days, let's move our dining table to the backyard and have some fun there!
With happy weather outside, we have a big chance to have some fun outdoor activities with our family. Let's take advantage of our outdoor space to have some fun in our home, no matter what size small, or large our garden is. For instance, have a big feast, having a barbeque on a cold summer night, and many more!
The backyard is the proper outdoor place to do those activities. It's much better to spend all day long in the backyard rather than the front yard. Where the front yard usually aiming to show the beauty of our property from the roadside. Therefore, a backyard garden is more appealing to do some fun with our family.
There are many ways to decorate our backyard garden to feel homier. As a result, we would love to spend time in the garden! If you are looking for backyard decorating ideas. Here we would love to share with you, 10 ways to achieve gorgeous backyard decorating ideas!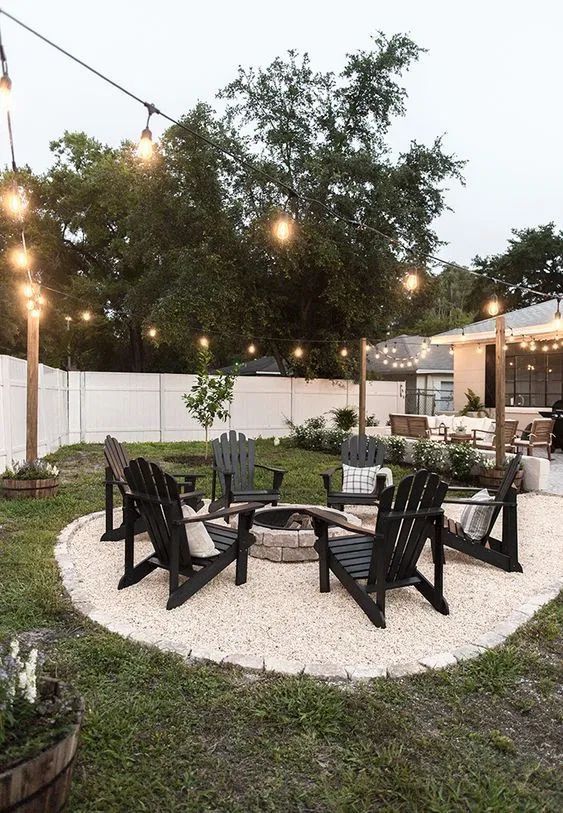 Creating privacy in the backyard
When we spend time only with our family, and no allow anyone on the road there could see. For sure, we need to create privacy in our backyard. There are many ways to create privacy in our backyard garden. Each one of them is growing trees, some shaded trees could give comfortable natural privacy in our garden! If you want to have trees in your backyard immediately, you can grow some fast-growing trees. We already craft fast-growing trees to be planted in your garden. And enjoy the advantage sooner! Installing trees not only gives us the privilege of the private garden but also gives us a lot more benefits. Find out the best fast-growing trees for your backyard garden!
Fencing ideas
Another way to create a gorgeous and cozy backyard decorating idea is to install a fence. Fencing could improve the curb appeal of our property. We love to spend summer days outside of the door, having alfresco and unwind in the beautiful relaxing environment. So, we could build a fence to double up the comfort of our backyard garden. There are many fencing ideas available, just pick what you want to be installed in your garden!
Cheap garden path
Improving our garden look will make us cozier being outside of the door. As we alluded to earlier, there are many ways to decorate our garden. To enhance the beauty of our garden landscaping, we can install the garden path. In the previous article, we already collect some affordable garden paths to decorate your backyard garden! Let's check them out and find out the best garden path that suits your garden!
Backyard decorating ideas for a busy homeowner
Figuring out what types of garden landscaping that suit you the most. Remembering that you are a busy person that has a little bit of time at home. When you get home, you love to unwind in the garden so you can forget all of the mess out of this world. We've found some less maintaining gardens that will stand in green without make you running back and forth to clean!
Cheap garden landscaping
Who couldn't love being in the beautiful lush garden? Where flowers blooming in every spot in our garden, that is so beautiful! Gardening and landscaping could be so hard and even drain our wallets! But, calm down there is still we have a big chance to decorate our garden with a friendly budget. Choosing perennials to decorate our garden is a good option!
There are many beautiful and easy maintenance perennials to beautify our backyard garden! In this way, you'll get a beautiful lush garden that full of colorful blooming flowers! We guarantee choosing perennials plants and flowers will save you money a lot!
Creating water feature in the garden
To complete the beauty of our garden, we can present water features such as ponds. It feels incomplete when the beautiful blooming garden without water features. Water can attract our senses to a relaxing environment. As a result, we will feel less stress and it's good for our health. The water feature also can attract the wildlife nature in our garden. The bird will perch down to drink in the fountain. Isn't it lovely to see a relaxing natural ambiance like that in our garden?
Home gardener, whether you have a small or large backyard space. You equally have possibilities to create water features in your garden! There are affordable pond ideas to be set up for your backyard. Just pick the type that suits properly to your budget! We are pretty sure, with a little bit of creativity we can use the materials around us that could be worn to build a pond!
The all-year-round blooming garden that will never die
For most all gardeners, we would love to see our garden lush in green all year round! Well, we can keep that dream on and make it come true! We're not playing magic seriously, we only have to choose the variety of plants and flowers that could survive in all seasons of the year. There are some plants that still thrive in extreme weather. We were already collected blooming plants that will keep the beauty of our garden long-lasting!
Produce fresh vegetables in our garden!
Thinking about picking fresh vegetables to supply healthy products for our kitchen is absolutely incredible. When we use our backyard to create a vegetable garden, we have fresh food. Besides that, different vegetable plants could be the option to decorate our garden! It such a valuable outdoor space decoration. Remember that gardening at home must be easy, so we have fun growing those vegetables. Yet, we can harvest them sooner. It's very important to know some easy-to-grow vegetables. So, we can fulfill our kitchen fresh product in a short period of time!
Herbaceous garden for small backyard
Do you love to smell fresh herb aroma? If so, we can grow some herb plants in our backyard. So, when we step outside of the door, we will smell the fresh herb blown by the wind. Home gardener, there is some herb that thrives in less care maintenance. Besides, giving us fresh spice to improve the taste of our food. Some herb plants also look beautiful that perfect to decorate our garden. As lavender has a purple bulb flower that has a soothing aroma and gives color to our garden! Do you like to create an herb garden to purpose a small garden?
Appealing decoration in backyard
Decorating our garden will improve the curb appeal of our property. Furthermore, inviting decoration will make us feel cozier while being at home. Especially when the warm season has come, we would love to spend our day outside of the door. Feel the warmth of the sun in our backyard and seeing a lush garden view. We have 5 backyard decorating ideas that will absolutely improve our garden look. And yet a cozy backyard garden will make us love staying at home!
Conclusion
Before we buy or even entering the new property. We used to give a value first to see how it looks externally. Designing both outdoor and indoor space is equally need to find a balance. Imagining when we enter the property that presents a warm and cozy ambiance inside. Then, when we step outside of the door we are served by a lovely garden panorama. When both internal and external design finds a balance, there we get a harmony of cozy living home!
In this writing, we focus on improving the backyard garden. There are many ways to decorate an appealing backyard garden. Cheering sunny days in summer is quite fun outside of the door. Furthermore, we can decorate our backyard garden to do some fun outdoor activities in it. Such as gathering and having a big feast with all of the family, that is so fun!
We already put 10 ways to achieve cozy backyard decorating ideas. You have the privilege to choose what kind of decoration you want to be applied to your garden. We hope this article can help you all out in decorating your outdoor space. In addition to creating an appealing garden design!