Jordlinghome.com – If you have undecorated backyard space, you better have to make use of the available space. Thinking about picking fresh vegetables in our own backyard, that could be so delightful!
After we have a plan to produce our own fresh vegetable in our home. But then you are wondering about what types of vegetables I could grow with less maintenance? Don't worry about that, cause here we will inform you about 5 vegetables that so easy to grow in our own backyard!
There is a few benefits of gardening:
Good exercise. When you are gardening outside of your home. In fact that 30-45 minutes of gardening can burn up around 300 calories. In the garden, we do a lot of things such as hoe the soil, watering, and also harvesting. All of that activities can burn calories.
Creating a beautiful yard. Growing various vegetables in our garden would make the undecorated space garden looks beautiful.
Produce healthy food. Planting our own fresh produce is a health investment. Creating an eco-friendly garden by growing fresh herbs that free harmful substances supply good nutrients for our body.
Connect with nature. Gardening is such a good exercise both physically and mentally. When we do some activities outside can make us sweat. On the other side, gardening makes us connect to nature.
Those are a few tips we already share with you about gardening. To keep our garden looks beautiful, we can choose some easy to grow plants and vegetables. Without taking too much time, let us see 5 easy-to-grow vegetables in the backyard.
Green onion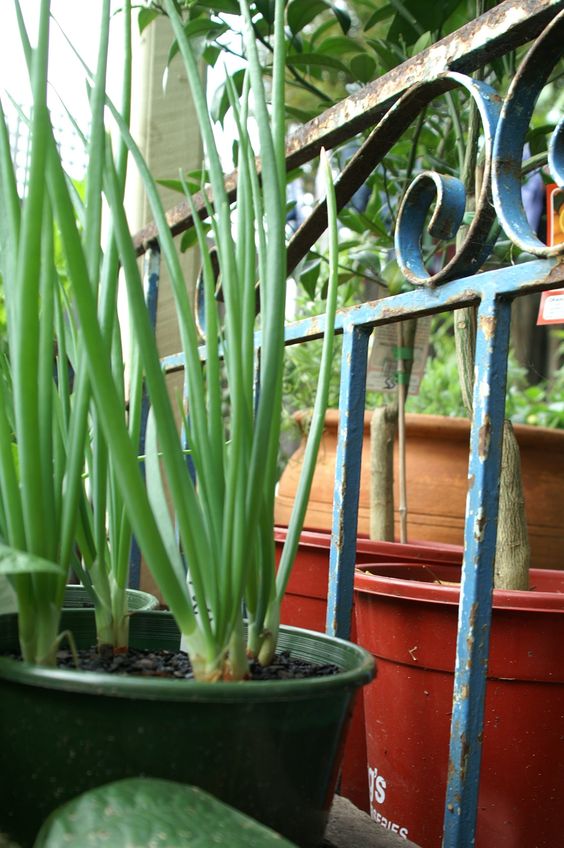 The first easy-to-grow vegetable in our garden is green onion. It's easy to maintain and can grow even in a small space. The green onion grows vertically which makes us possible to plant some green onion in the same pot.
For a fast-growing green onion, we can cut the stem and leaves the root. Take the root and plant in the soil about 2 inches deep in the ground. When you buy some green onion from the supermarket, do not waste the root, because we can re-grow it in our backyard!
After plant the green onion in the soil, we can pour the cracking eggshell onto the soil as a natural fertilizer. Afterward, do not forget to water them every single day. If you want your green onion to thrive, you can keep the pots in a place that receives enough sun.
A couple of weeks later, you will have young green onion, in addition to a couple of weeks later after that. You are ready to harvest the green onion in your garden!
Tomatoes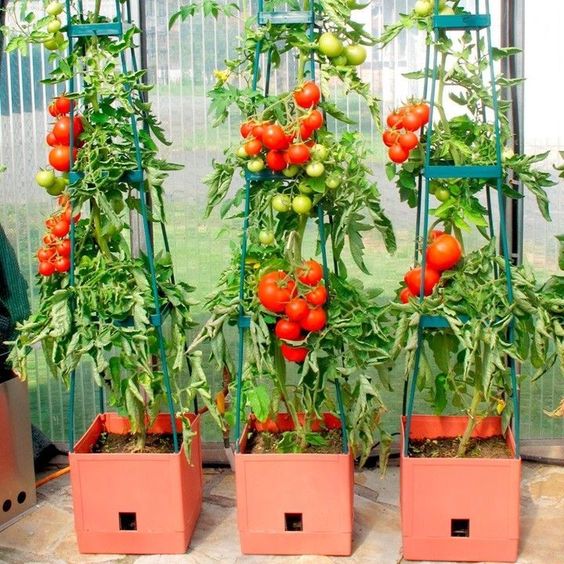 The next easy-to-grow vegetable at home is tomato. We can grow tomatoes from seeds. When you cut the tomato, you will find lots of seed inside the skin right? Those see can be planted into new tomato plants. Growing tomato from seed requires super fertile soil. You are lucky if you live in fertile land, so you can grow some vegetables in the native soil. But, if you consider the soil that does not fertile, you can buy a potting mix. This growing media is included some fertilizer nutrients.
Tips on growing tomato in the backyard.
Choosing a big plastic pot. Imagining using a clay pot is so appealing but it's not an ideal planter for growing tomatoes. The clay pot drained the soil easily, unlike the plastic pot that can keep the moisture of soil longer than that. But if you want to use a clay pot for your tomato planter, you can use a double pot system. Layering the clay pot with a plastic pot inside, so that can keep the moisture of the soil and the clay pot outside give the aesthetic look.
Fill the pots with native soil or potting mix. Then, tomato seeds can be sown on it.
Watering the seed twice a day. And make sure that your tomato plants receive enough sun. It can fasten the baby tomato plant growth.
After a week the baby tomato plant will appear from the ground. Making sure to take care of them carefully.
After a couple of weeks, tomato plants grow taller. It's time to install a string concept. Plug a few iron or wood such as in the picture above. It helps the plants grow straight and it helps to hold the fruit.
We can harvest the ripped tomatoes if the color has turned out from green into red.
Lettuce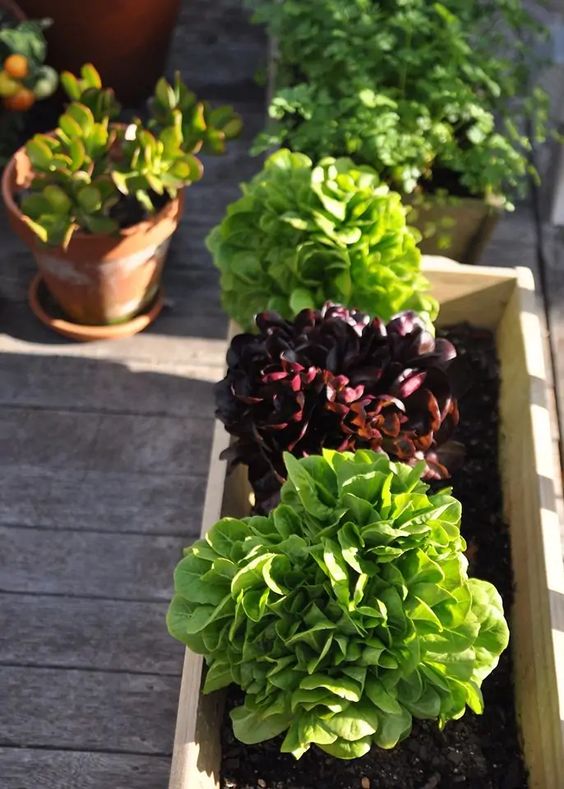 Creating a whimsical look vegetable garden in your backyard is a great idea! Planting a variety of vegetables that displays various colors will make our backyard even more beautiful!
Now, we introduce you to an easy-growing plant called lettuce. If you have a small backyard, do not worry about that. You still have a chance to produce some fresh vegetables in your garden. Using raised beds for growing green and red lettuce is quite possible!
Starting to fill half of the raised bed with fertile soil or we can use potting mix.
Then, plant the lettuce seed about 1/2 inch deep. It is quite enough because the lettuce seed is small.
Put the seed distance to each other around 12 inches apart. So, they have a proper space to grow from each other.
Watering requirements for lettuce is in a light amount of water but frequent. Keep the soil in a moist texture.
 Normally harvesting the lettuce that has been reached 70 days start from planting.
You can cut off the head from the ground if you want to harvest them.
Creating a vegetable garden gives us so much benefit. Besides providing us fresh food, a vegetable garden gives an aesthetic to our outdoor space and it could be our backyard decorating ideas!
Carrot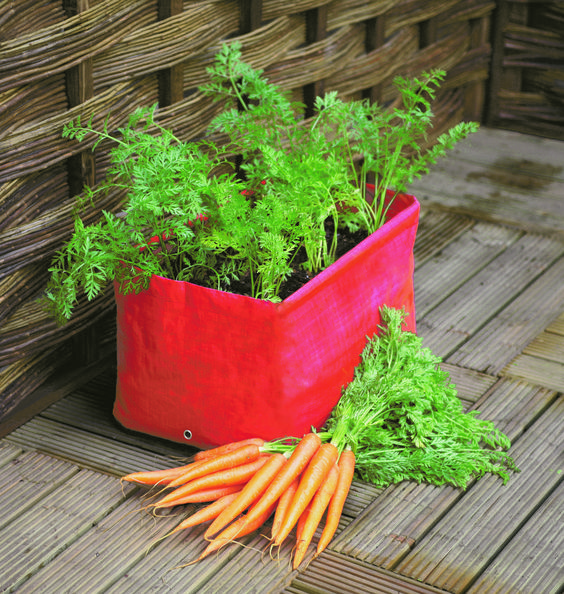 The next easy-growing vegetable on our own is carrot. This vegetable plant is tolerant to the sun. They are a full-sunlight receiver kind of plant, but they also tolerant to partial shade. Newbie gardener, we can grow carrot from the seed in the container too! It's such a brilliant way to save space!
Choosing a container that has at least 15 inches deep. Because carrot is one of the vegetables that grow underground. The height of the carrot approximately has 6 inches tall. So when we have a container that has 15 inches deep, it will cover enough the depth of carrot's growth
Carrot seeds can be sown on the container. Give the space from each seed around 3 inches from each other
Light watering carrot plants, but make sure to keep the soil moist. So, they will not be drained by the hot of the sun
Our fresh carrot can be harvested for around 75 days.
Eggplant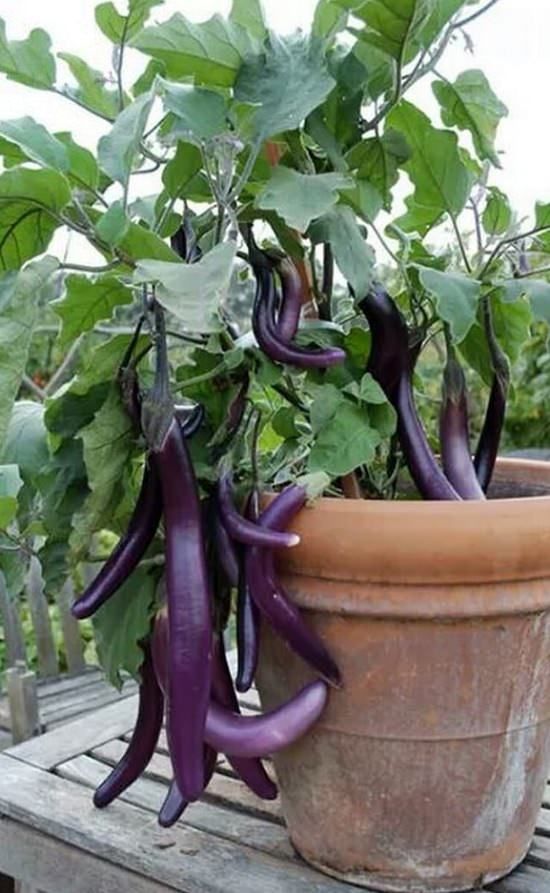 Do you love grilled or roasted eggplant? If so, it could be so fascinating to pick the fresh eggplant right in our backyard garden! We can start to grow our eggplant in the pot! It does not matter if you are using a clay pot for growing eggplant.
The first step to plant eggplant in the pot is to fill the pot with a high-quality potting mix
Grow 1 eggplant in one pot, remember it can grow in a large size and can make space a lot. So, it's better to plant grow 1 eggplant in a pot
Watering this plant deeply but don't overwater it
Pour the fertilizer in a slow way
Generally, harvesting eggplants when they reach 3-4 months
Conclusion
Those are 5 easy to grow vegetables we have already shown you. We hope this article could help you all out in decorating a backyard garden. Provided with some easy gardening tips that will guide you to make your dream garden come true!
We highlight the benefits of having a vegetable garden. There we can get some fresh vegetables for healthy food, giving aesthetic to our outdoor space, and also gardening can make us closer to nature. So, do not hesitate to create your own vegetable garden in your backyard immediately!