Jordlinghome.com – Having trees in our backyard can improve the curb appeal to our property. Growing trees in our backyard garden could be a good investment for the future. Providing clean air by producing oxygen from trees can help to clean the air. Sadly, a lot of trees are being felled to supply the factory needs without replanting them. The best way we can do to save our planet is growing trees around our house to supply fresh oxygen for all of us.
There are some benefits we get by having trees in our landscape:
Enchanting the exterior look. The presence of trees can elevate the curb appeal to our home. It can raise the value of our home!
Heath investment. It's been known that plants, trees produce oxygen and as a natural air filter. As a result, our home free from air pollutant and provide high living!
Reduce the stress. If you are a busy man that has full of schedules in the office. Imagining to get rest at home and being in the backyard that has shaded trees. That's such a relaxing environment.
When you are planning to have a few trees to decorate your backyard. But then imagine that it will take cost a lot to buy a tree and replant in our landscaping. Calm down, we have a solution for you! For an impatient garden that needs lush trees sooner, we have some easy-to-grow trees that you can plan. And sooner you will get the benefit.
Here are 4 easy-growing trees for enchanting your backyard garden!
River birch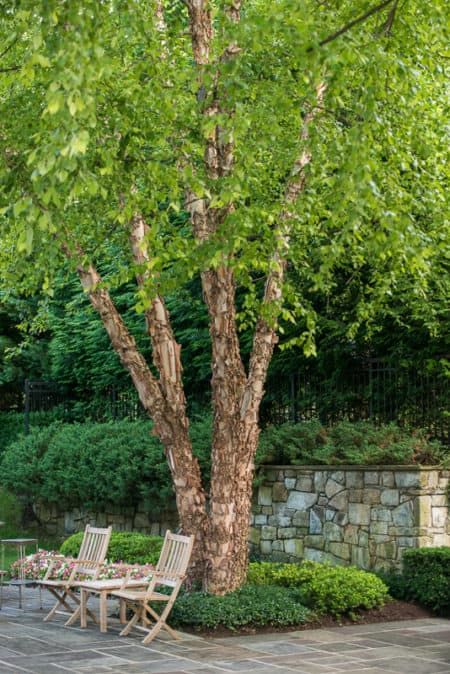 The first fast-growing tree to give a shaded place in your backyard is River Birch. Home gardener, we can grow a river birch treen from seed. Follow the tips to grow river birch from the seed down below!
How to grow river birch from seed?
Using pot to grow the river birch seed. Planting the seed in the pot will make us easier to take care of. When it needs the sun we can replace it on the place that receives enough sun. And if the rain is falling or unwanted situation we can place the seed to a saver place.
Usually, the river birch needs 4 to 6 weeks of germination. Keep on light watering germination.
Give the river birch germination a slow-release fertilizer. We can use a blend of nitrogen and potassium. Follow the construction on the package, so it will grow properly.
Keep the pot in the light sun
Taking care of the river birch growth until it reaches at least 10 inches. After that, you can plant a river birch on the ground in your backyard.
Remember that river birch is fast-growing and shaded trees. That means it needs plenty of space to grow. Keep the distance with your house, so it can grow in the proper space and doesn't make your house clutter.
Those are some tips to grow river birch trees from seed. These trees could grow approximately 70 to 80 feet tall. And the lifespan of natural birch trees could live up to 70 years. We can plant this tree in our backyard and when it grows into a giant tree. We can set a shaded place to rest in our garden!
Japanese maple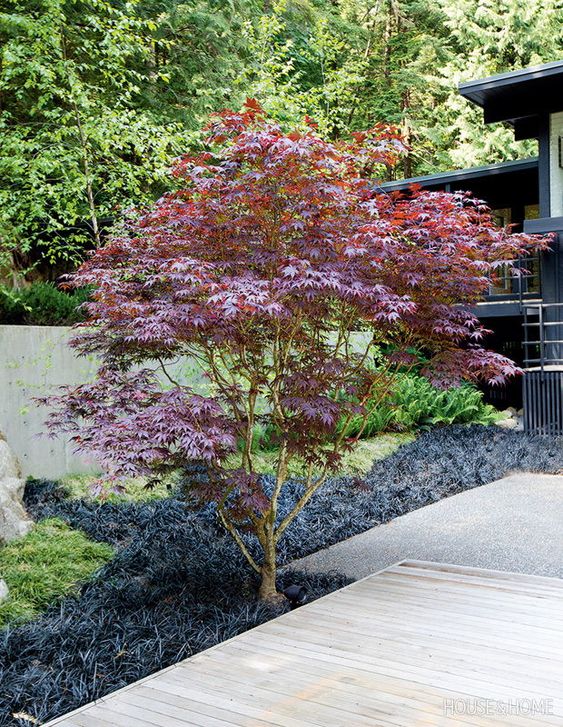 Imagining you are producing fresh food in your own vegetable garden. Then surround with beautiful trees and plants that could be a great enchanting factor for your garden! Alright, here we will show you the second fast-growing tree for your garden! It has beautiful leaves that turn into starry shapes and has a pink to red color tone. It will give color and shade to your lovely garden!
How to grow Japanese maple for an enchanting backyard garden?
For a faster-growing, we better grab a Japanese maple tree that has been germinated rather than grow it from the seed. Especially if you dream to have a Japanese maple tree in your garden soon. Choosing a baby tree will make it easier to grow and can cut down the time!
Place the small Japanese maple tree in the partial shade of the sun.
Keeping the moisture of the soil. Don't get wet or too drain soil! Give heavy water twice a week or 3 to 4 times a week during drought season.
Protect our Japanese maple tree from the strong wind in spring. It's been known that this tree has fragile leaves. So, it will fall when the wind swept over them. You won't the baby Japanese maple tree fall out, right? So, place them in a safe place during strong wind in the late spring season!
Make sure to give enough compost around the Japanese maple tree. It is useful to keep the soil moist. During hot summer days, the mulch and compost will keep the soil to drain.
Place the maple tree in the right place, where it receives enough sun.
Around a year or two years after planting and take care of it with some tips that we already list above. Finally, we will have a beautiful maple tree! We can enjoy the best Japanese maple tree in autumn when its leaves turn into the red color shade before it falls to the ground! Home gardener, we can enjoy the beauty of this tree for around a hundred years. So, take care of them carefully to extend their lifespan.
Weeping Willow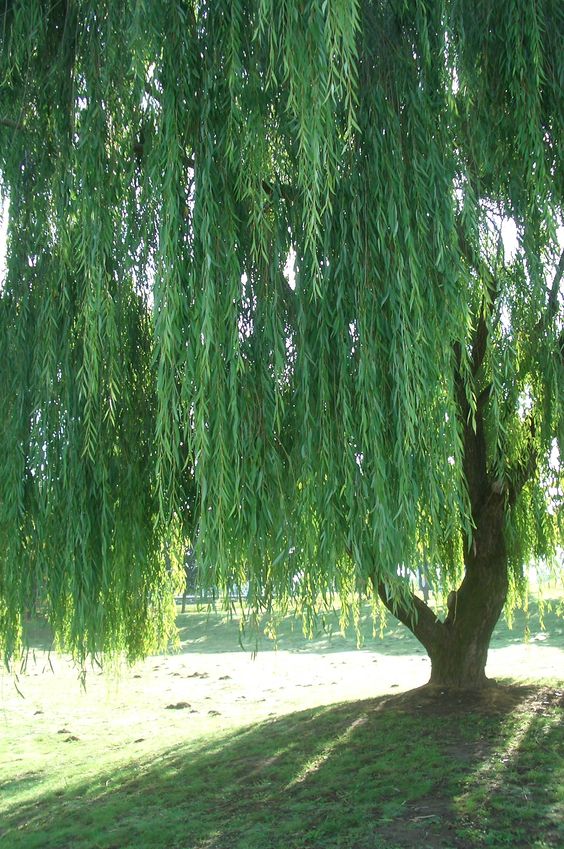 Another fast-growing tree for an enchanting garden idea is a weeping willow. This tree can grow up to 40 feet tall when it gets the mature age. We often see this tree in the English garden landscaping, it has lush green leaves that beautify the English garden.
If you have enough space in your garden and want to have a shaded tree in your backyard, this weeping willow tree could the option!
How to grow a weeping willow tree?
First of all, choose the proper site in your backyard. Where it has the partial shade of the sun and not getting too close to your home. Remember that weeping willow can grow into a giant tree. So, it's important to keep the proper space from your home.
This tree loves to grow in slightly acidic soil. We can add peat moss to the area of the weeping willow tree
Keep the soil moist, by watering in the proper amount. Do heavy watering in the drought season and less in the cool weather.
It's important to plant this weeping willow apart from power lines. Because when it grows, it has many branches and lush leaves that might stick to the power line.
We can enjoy sitting under these shaded trees for around 30 years.
Reading a book or having a family picnic on the summer days under this weeping willow tree with our family will be amazing!
Leyland cypress tree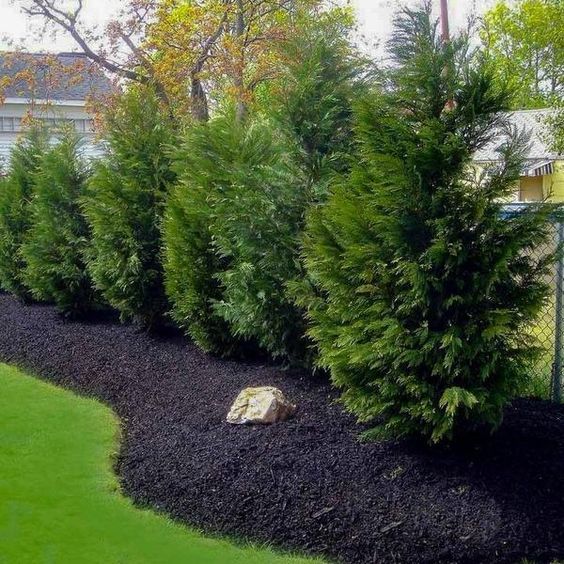 Our next fast-growing tree for your impatient backyard landscaping is fall to Leyland cypress tree! We can grow this tree for creating natural backyard fencing. These trees could give privacy to our backyard.
How to grow Leyland cypress tree?
Choose the right site in your backyard to grow this tree. If we want to make this tree a backyard fencing idea. We can grow this tree all around the edge of our garden.
Making sure to plant this tree that receives full sunlight to partial shade.
Heavy watering system twice a week in normal weather and three times a week in drought season.
This tree will grow 4 feet per year and reach a maximum height is 12 feet in 30 months. That means we need 3 years to enjoy the privacy wall made by the Leyland cypress tree.
The average lifespan of this tree around 10 to 25 years.
Conclusion
There are many ways to decorate our backyard space. For a small outdoor space, we can create a herbs garden, vegetable backyard garden, and to elevate the outdoor space. We can grow some trees for our garden landscaping. Appearing some trees can give an enchanting look to our garden. As a result, we will get a beautiful garden! In this article, we provide 4 fast-growing trees for an enchanting backyard garden. Providing practical tips to grow them that you can follow. We hope you enjoy it and start to plant some trees in your garden immediately!