Jordlinghome.com – The trend home style has been in rapid development from time to time. Now, we are going to talk about modern homes. It's been known that the modern home concept now is to balance nature and sophisticated design.
So, what it looks like the blend of natural concept to be the part of home living decoration? The raw materials and look in outdoor space are common to see. But in the futuristic modern home, that outdoor accent is blended to be a part of interior design. For instance, there is limestone has been set up creating an accent wall in the modern interior design.
In this writing, we are focus on the kitchen. Because we consider that kitchen is most used space in our home. If you want to make a sustainable modern interior, you can apply this organic modern style to your kitchen!
The advantages of organic modern interior design:
Enchanting the beauty of the interior design. Displaying raw material accents such as limestone for the wall can extend the beauty of your interior. Then combining with a modern material accent such as steel that stands in harmony with organic material.
A sustainable home that worth for the future. The house that made from high-quality natural surrounding material will give an absolute beauty and solid home. As a result, we will get a home that stands in sustainability!
The relaxing view inspired by nature. When we include natural material accent that displays inside our home will give a relaxing ambiance to the interior. For instance, the presence of weathered stones, that could feature water lines inside our home!
What comes to your mind when including raw exterior material in your interior design? It's a little bit weird at the beginning. But the trend of modern home design now tends to gather the natural material to highlight the property. And it really works to enhance the beauty of the interior design.
We can not wait to introduce the futuristic and sustainable organic modern kitchen ideas to all of you! We hope this could be your inspiration to create a sustainable modern interior!
Weathered stone wall feature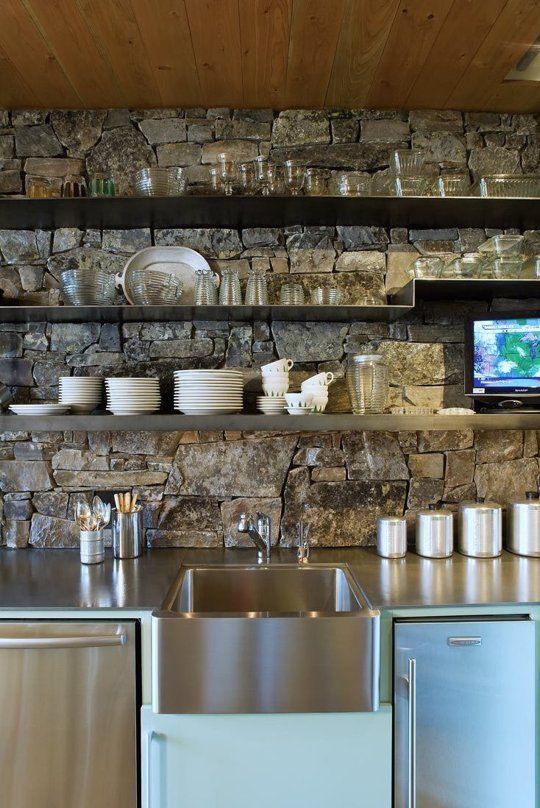 In the picture above, there is a display of weathered stone on the wall. These raw materials successfully give a natural beauty to this organic modern kitchen design! Let see what makes this kitchen so pleasing to the eye!
The weathered stone wall creates a water feature for our property. When it works for the interior, it evokes and leads our sense to a relaxing natural environment. Using a stone wall is a great deal for a durable and sustainable home design. Besides giving the aesthetic to our interior, a natural stone wall also tolerant to the heat. It will cool the temperature down inside our house when the weather gets extremely hot outside. And the stone wall can keep the balance of the humidity to the interior space. Besides giving a unique aesthetic to our interior, the stone wall also gives a lot of benefits for a sustainable home design!
Alright, after highlighting the stone wall above. Now, we want to feature the wooden floating shelf that keeps in natural harmony to create an organic kitchen style. Then, displaying stainless accent on the cabinet, countertop, and the floating shelf gives a modern touch design. We can see clearly that industrial design that has been shown in raw material and design standout for a future home!
Wooden and greenery accent that build excellent organic kitchen style!
Have you ever been thinking about why does it call a modern kitchen when the source comes from organic? Well, we try to explain this, the modern design tends to blend natural materials with some modern accent together at the same time. The raw natural accent gives a quirky interior design.
Now, we are going to talk about this organic kitchen design. Wooden flooring and cabinets make this kitchen looks so friendly. Then there is a full-height window installation that connects with the nature view. Adding some greenery to this sleek kitchen extends the natural environment look for the interior. The glass arrangement on the shelf above supplies natural lighting in this kitchen. The modern sleek design combine with natural materials creates a friendly environmentally look. Do you love to have this sustainable kitchen design?
Aesthetic timber paneling and log pine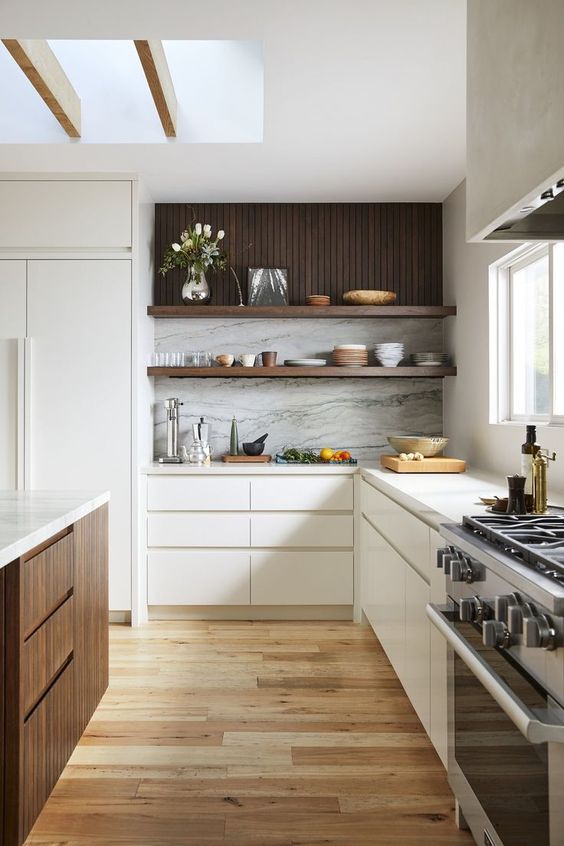 In this modern kitchen, we can spot timber wooden paneling and marble work accent wall gives an aesthetic for the interior. The marble accent wall gives a sleek and clean modern look while the wooden accent gives a quirky organic look.
The natural lighting robustly comes to the interior and hits the neutral wall. That what makes this kitchen look spacious. The raw wooden panel flooring gives beauty to this kitchen. In addition, timber paneling on cabinetry and on the wall gives an organic statement design.
Simple organic modern kitchen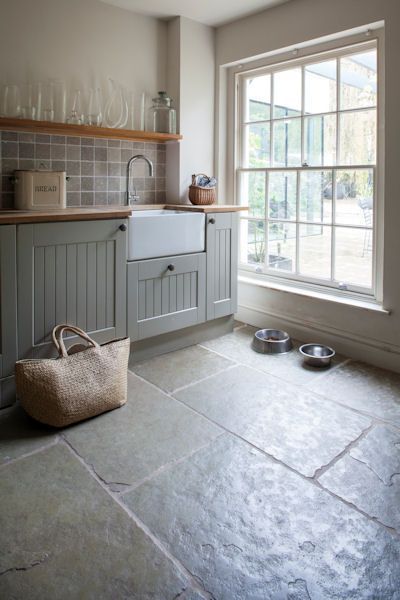 There is one thing that modern organic design to achieve is a simple line and close to nature. We can see those statements clearly in the picture kitchen above. The limestone flooring gives a natural and rustic view to this kitchen. There is no exaggerating decoration in this design that makes this kitchen fall into a real simple organic interior.
If we spot the decoration in this kitchen, there is some glass is been settled up above the floating shelf. It's important to create natural lighting in this kitchen. When the natural lighting comes to the interior, then it hits those glasses. Finally, those glasses transfer sunlight to the whole interior. It's a unique technique to brighten up the interior.
Rules to achieve organic modern kitchen design:
Include natural material from
As we already alluded to earlier that modern organic design tends to use natural material as the main highlight of the house. Using natural resources surround our living. And avoid materials that can harm the environment.
Showing raw design for enchanting the interior
After you've got natural resources that you can use for building your house. We can display it for our interior, keep it looks natural. Displaying raw materials for the interior can improve our home interior look. We can show raw materials based on abundant natural resources. Whether it's sone or wood, make sure to keep its natural look then display it to our interior. Creating a seamless construction building that works in harmony with natural surrounding that is called organic!
Keep in a simple line decoration
Talking about the organic interior kitchen decoration must be clear in simple line decoration. Highly respect nature surrounding, and just bold nature look into our living space. If we over-decorate the interior, that will rush the organic concept we already attach to our interior.
Conclusion
In trend modeling home interior design now, people embrace back to nature concept or we know it as "organic" as well in the architecture design. Building a house does not all about beautiful architecture only. But it's all about the sustainable design that friendly- environmentally for now and the future.
In the organic home interior design, we can achieve a sustainable home. For instance, displaying weathered stone can give timeless beauty to the interior. An organic style synergizes with nature, that a proper design to be installed in our kitchen. Considering the kitchen is the most used space in the house, we need a sustainable design to be applied with.
We hope you enjoy these organic modern kitchen ideas. Building a sustainable home design gives us a lot of benefits. It will save our finance, cause we will get a durable and timeless home in between. We guarantee, the home design that stands in nature concept is worth to be applied from time to time!