Jordlinghome.com – Lately, applying industrial concrete wall panels in great demand to decorate the apartment and house interior. When we install it into our living space successfully create a distinctive modern look!
In this project, we're not aiming to install industrial concrete wall panels to the whole interior. But here, the concrete wall accent appears to give a modern touch to the living space. Combining this concrete wall with wooden accent decoration look stylish and welcoming! Where the wooden accent help to soften the look caused by the rugged look the concrete wall has made! Then, we feature some stone concrete walls to style the modern interior!
Let's get a modern interior by applying industrial concrete wall panels down below!
Industrial concrete wall in bedroom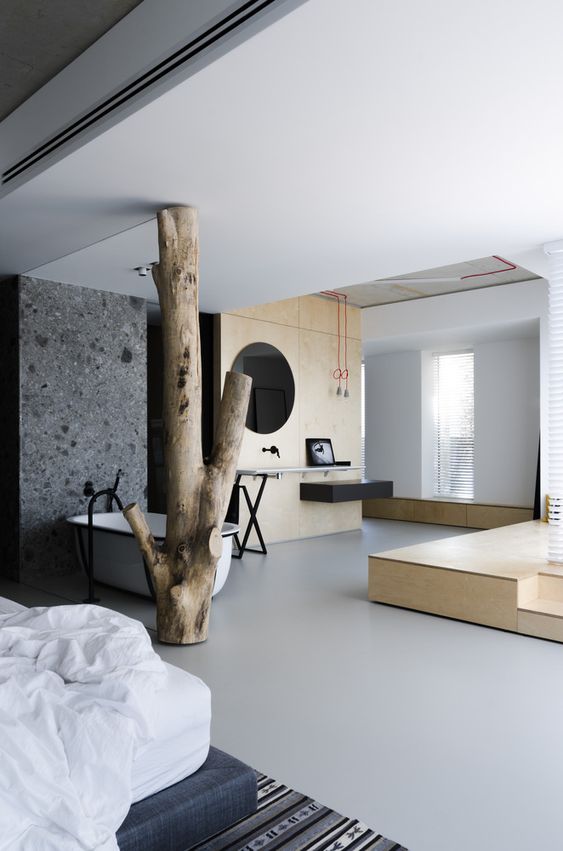 The presence of an industrial concrete wall in this bedroom gives a unique modern touch. Industrial design influence the bathroom concept. The highlight of the industrial style looks like an unfinished design where we can see there is no divided wall between the bath area and sleeping space.
A concrete wall has been installed that attaches to a bathtub, which differs from the neutral wall that has been installed for the bed area. The transformation from a painted wall to a rugged concrete wall creates a distinctive modern interior!
Industrial concrete fireplace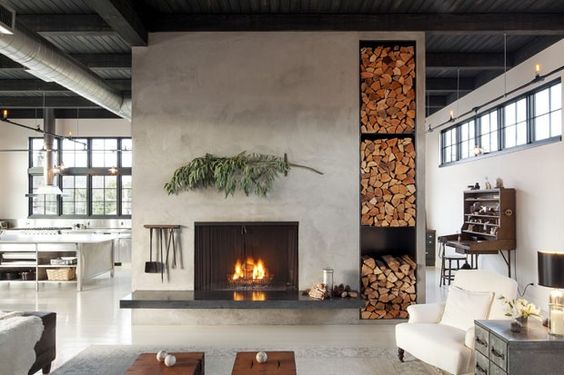 As we alluded to earlier, the industrial concrete wall combines well together with wooden accent decoration! In this modern living room, a concrete wall has been installed for the fireplace. It is completed with full-height wood storage beside, the wood presence in this storage creates a unique fireplace look. Let this fireplace be a focal point in this modern room. Do you like this idea to be set up in your modern living room?
Modern minimalist living room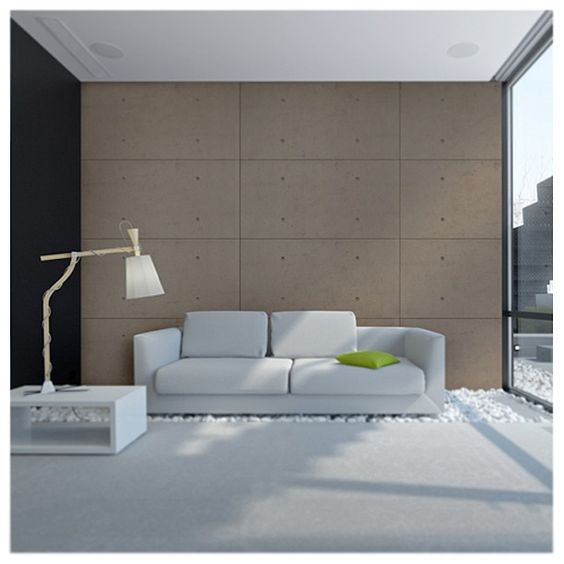 Do you love a piece of distinctive design to apply in your living space? Installing some concrete panels as a backdrop in this minimalist living room.
This room using two types of flooring, there is concrete flooring combine with river stone flooring. This modern living room featuring a distinctive wall for the right and left sides. The black wall on the right and there a full-height window on the left.
The natural sunlight comes inside and brightens up the whole room. For the decoration, this room bold in its minimalism concept. There we can see only a white sofa and table lamp that has been settled in this room.
Intriguing modern industrial interior
The concrete wall feature makes a big statement in this modern interior. Then the seamless feature wooden staircase is perfect to decorate this creative industrial home design. The wooden ceiling and flooring make this interior look so welcoming!
Sustainable kitchen design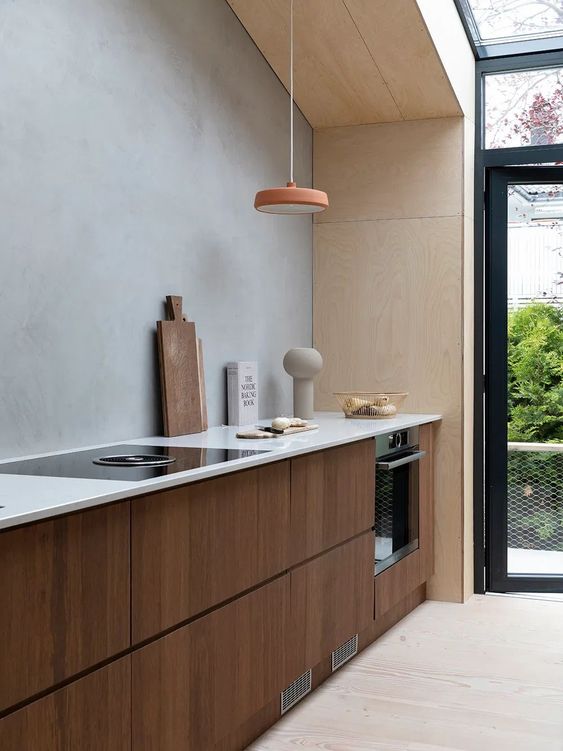 What is the first impression you get when seeing this kitchen? Clean line and very sustainable design? To begin this project, installing seamless wooden flooring to soften the kitchen look. Then, choosing a dark wood for the cabinets, it gives more color and increases the vibrancy of this neutral kitchen. Giving a statement to this kitchen by installing a concrete backsplash. Finally, we can highlight a pretty good ventilation and lighting concept in this kitchen.
There is a chicken wire door installation to provide fresh air circulation inside this kitchen, and there we can see a glass ceiling above to provide well-lit natural lighting. It's a typical kitchen style for a tropical concrete house!
Industrial concrete wall panels in bathroom
The concrete paneling in this bathroom combine with a distressed wooden cabinet, makes this bathroom look classic and modern at the same time. The glass installation makes this bathroom look spacious. Then we can add some greeneries to freshen up the room!
Smooth texture industrial concrete wall panels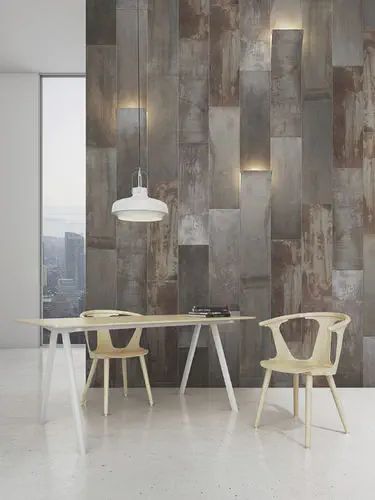 The appearance of the concrete wall panel in this neutral room successfully makes this room looks so stylish! Featuring the clean line decoration makes this room feel spacious. In addition, the white pendant lamp and soft furniture finishes evoke modern living space!
Stylish dining area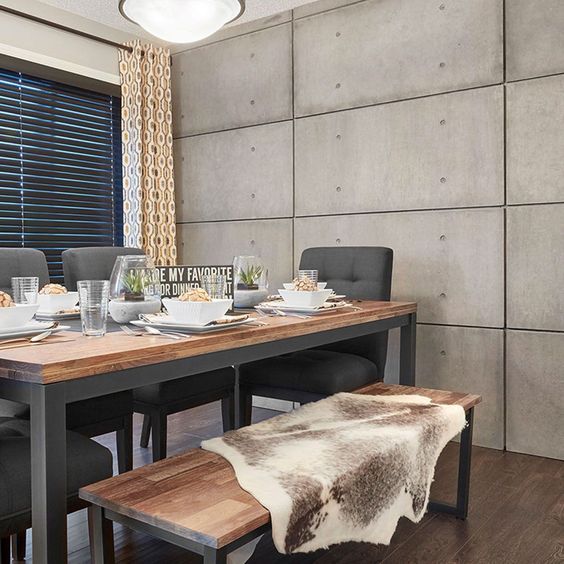 Featuring some materials into the room makes the modern interior rich in blending textures and patterns! The distinctive of an industrial design look so unique! The clean line decoration is well known for the modern interior that we could find in this room. When the concrete panels meet other materials such as steel, and wood invents a new interior masterpiece.
Intriguing indoor-outdoor room decor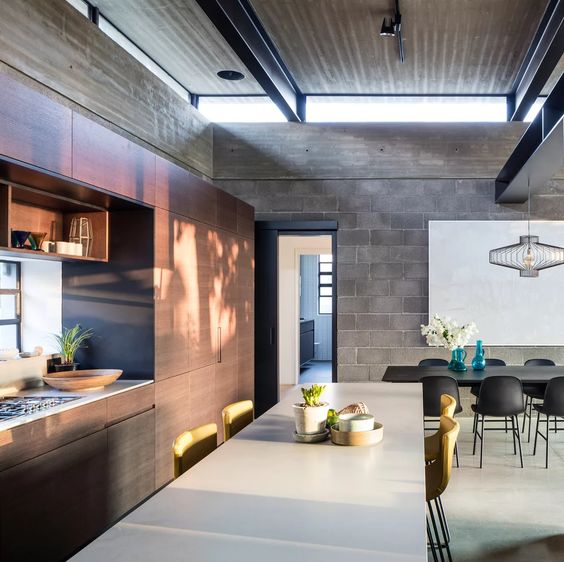 When the concrete house brings lots of glass window installation in the design, it useful to give well-lit natural lighting to the interior. Another benefit of installing full-height windows is to create a seamless transition between indoor and outdoor space!
There we can see the natural sunlight in the morning robustly hit the dining area. We would love to have a warm ambiance that natural lighting has been transformed into the room.
This concrete house completed with well-designed ventilation that allows the fresh air to fulfill the living space. The solid textures of this concrete wall are worth choose for those who want a sustainable and durable home design. To those who live in the tropic and other humid countries, this concrete house could be your best option! This house withstands damp weather.
Honeycomb decorative concrete wall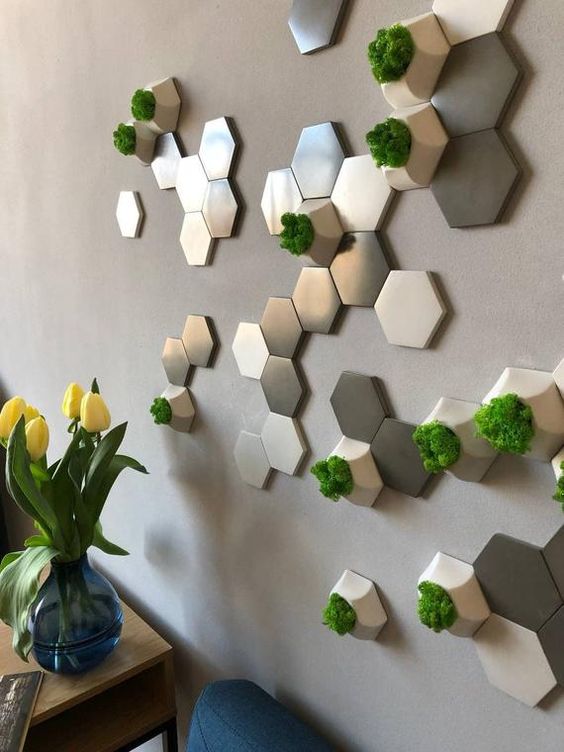 Are you a big fan of plants and you want to feature them on the wall? We recommend you to have these honeycomb tiles to decorate your empty interior! These decorative honeycomb tiles are a clean and elegant addition to any room! It made from steel which makes these decorative tiles are durable! Installing these decorative planters helps us to find a green corners in minimum care!
Stylish faux stone bar table for upgrading your kitchen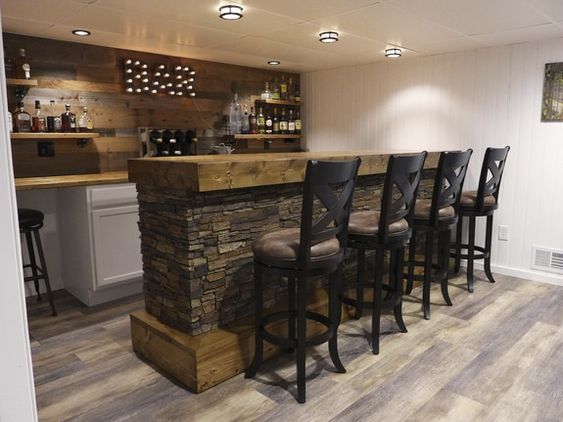 The faux stone usually decorates an outdoor space, we easily find them decorate the garden wall. It has a solid texture which is perfect to decorate outdoor space, it can withstand extreme weather both rainy nor excessive hot summer days. Lately, the urban designer loves to include concrete materials such as stone to decorate the interior. The stacks of faux stones that set on the bar table give an aesthetic touch to this modern kitchen. Do you love to set your kitchen into a stylish bar look?
Shower stone wall panel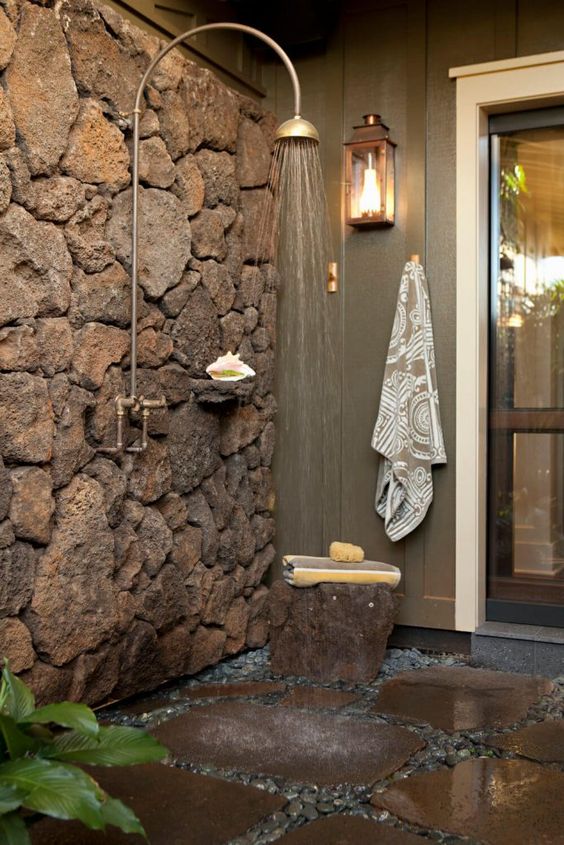 Bringing a fresh outdoor look into our bathroom by installing stone wall panels! The natural stone wall panels served us a relaxation shower experience just feel like in a spa. Evoking a warm ambiance by installing a garden lamp inside. Do you love this shower design?
Stonewall textures for a stylish bathroom design!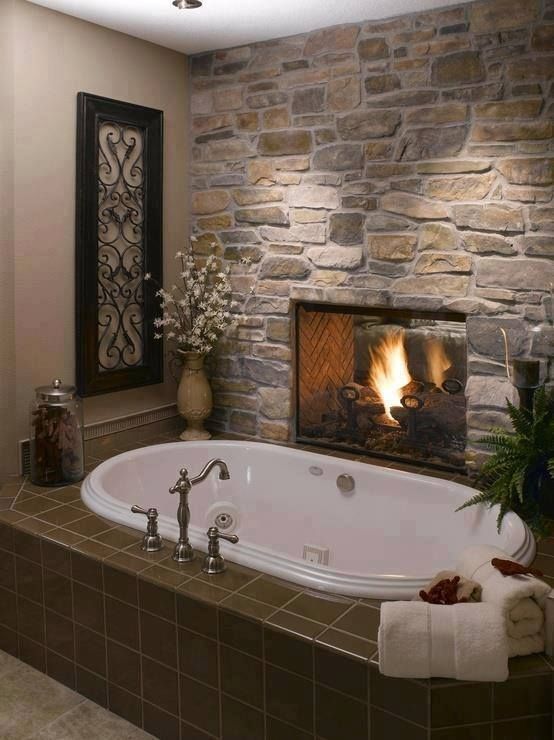 Bringing a common outdoor material such as stone to the interior looking so distinctive! The stone wall textures create a uniquely welcoming environment in this bathroom. Another brilliant design we could spot in this bathroom there is a fireplace installation. It intrigues the warm ambiance in the bathroom. What a superb modern bathroom design is!
Those are some industrial concrete wall panels ideas to create a modern interior. The concrete decoration makes a big statement to the building and also gives a stylish feature to the interior. With some curated design and great ideas, we'll achieve our dream modern interior! May this article could help you all out in creating a distinctive modern interior, let's get started with this project immediately!