Jordlinghome.com – When your home or apartment has a rooftop then you are a lucky one! Because we can improve this extra space turn to be a cozy outdoor spot! For anyone of us who doesn't have a rooftop yet, we still have a chance to make it come true, of course with determination and some good design planning!
Without some good planning and ideas, it might bring up a new disaster to the homeowner. To prevent a nightmare that ghosting you to create a dream rooftop terrace. We've prepared a bunch of ideas that could be your inspo!
Before we dig into the rooftop terrace design, we need to remove all of the fears that could be a barrier to make our dream come true. Well, keeping in our mind that the renovation will go right, and just think about the dream rooftop we will get! Spending lovely days with our family will bring infinite happiness!
We're here about appearing various rooftop terrace design ideas that could be your inspiration. Here are 10 inspiring rooftop terrace design ideas, do not miss any of them!
Fabulous barbecue spot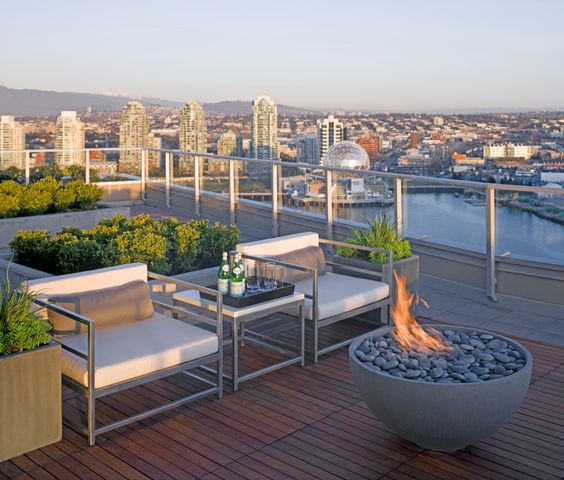 When you have a minimalist home design that usually has a flat roof type, you are in a big chance to create an amazing spot on your roof! Differing from a home that has a steep roof which it needs some extra job to flatten the roof before dig into the rooftop terrace decorating idea.
Installing a wooden deck to give an aesthetic to your outdoor space. Then set a fire pit bowl in the middle, while enjoying the city view from the height building. The roaring fire could warm us while being outside of the door! Having a barbecue with family and friends will be a countless joy anytime we want! At the backside of this barbecue spot, some greeneries stand out to extend the friendly outdoor space. It's a beautiful contrast between a lovely and friendly rooftop and dazzling city life. Do you love this terrace idea to be set up on your rooftop?
Bookworm's dream corner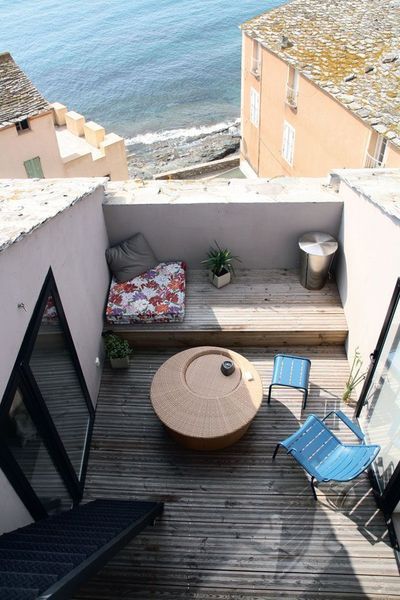 What things are needed to create a dream bookworm's corner on our rooftop? Basically, we just need to dedicate a little space to create a reading nook on our rooftop. When your home has a gambrel or a steep roof, you have a big possibility to create an incredible outdoor reading nook! Open the roof to create a narrow outdoor terrace for the reading corner. The wall on each side gives us a private rooftop space. The wall also can block the excessive sun, rain, and wind. Finally, we can add a cushion on the bench to comfy us while reading a book. Right down below this outdoor reading nook corner, we served by the incredible sea waves feast for the eyes. What a dream peaceful bookworm's design it is!
Sunbathing spot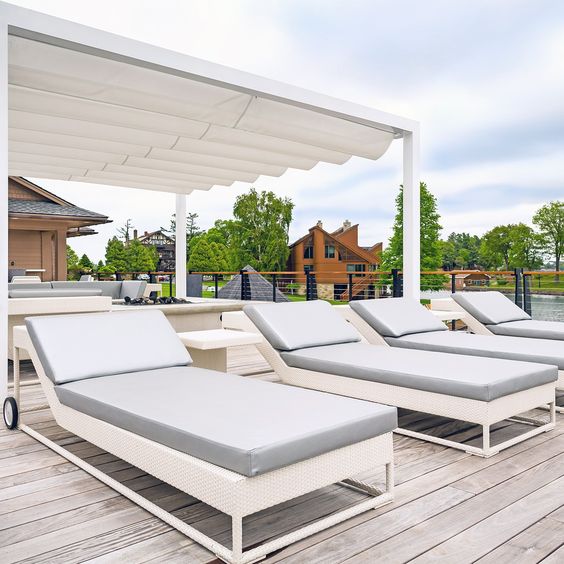 If you are a fan of coastal decoration, there is no doubt to maintain your rooftop into an affordable sunbathing spot in your home! The idea of installing a wooden deck is a must-do to evoke a dream beach house. Set up some sunbeds and do not forget to use sunscreen before you have sunbathing!
Then installing a pergola behind the sunbathing spot, where you can shelter yourself in a cooler environment.
Marvelous dining spot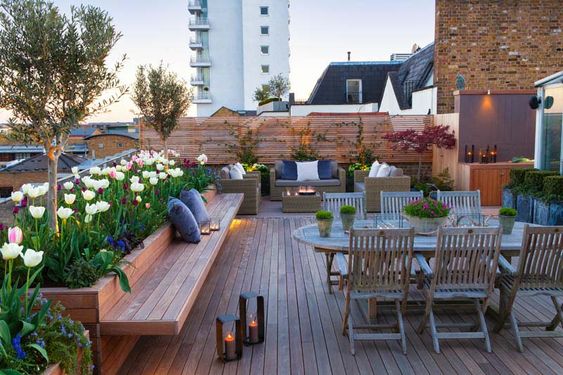 Do you want to create a marvelous dining spot on your rooftop? That's a good idea! Here we have a romantic dining area that could improve your rooftop terrace look! Installing a wooden deck to feature a welcoming ambiance, then set a bench to provide more seating. Flowers always be a good option to feature a romantic design. So, we can plant some flowers such as roses, tulips, orchids, etc. Surround with lush tulips make this dining spot looking so damn beautiful! The most essential decoration in creating a dining area is of course to set up a table and chairs. We can set a dining table in the middle, so we get a lovely environment surrounded by lush flowers and plants! In addition, put some candles to bold a romantic dining spot!
A little oasis in the crowded city!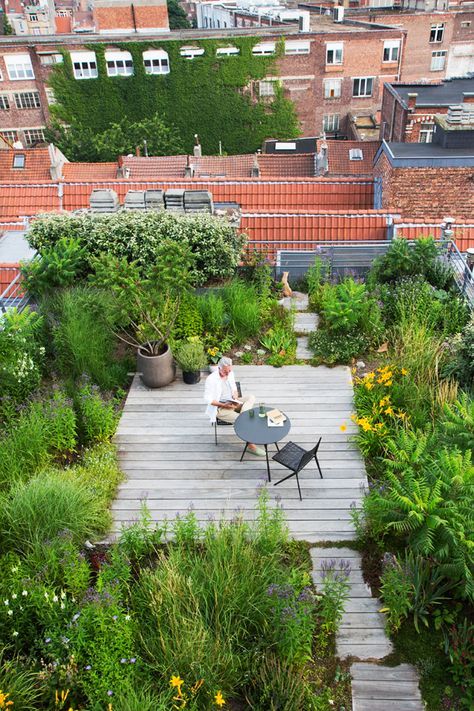 In crowded urban living, people live in a small space and multi-storey living space or we called it an apartment. A common view we've got while living in the city are bunches of splendor building construction and barely find a large space where we connect with nature.
The idea of gardening on the rooftop has been popular in urban outfitters. It appears to answer our longing for lush scenery that given by nature. Before we create a little oasis on our rooftop, there is some consideration we should know!
You have to know is that your terrace is located on the south and north which means your living space gets excessive sun in summer? On the other side, are your living space located in the west and east line which means you have a shaded living?
If your home gets a lot of suns then we have to consider choosing the right plants to grow on our rooftop. Here, we share with you some affordable flowers and plants you can grow and easy to maintain! Lavenders are worth growing on your rooftop. Do not worry about the excessive sun that will break down your lush plants, lavender needs a lot of suns to obtain its characteristic aroma. Combining lavender with a species climbing plants such as Ivy that can withstand to live on your rooftop.
Installing a wooden deck then set up table and chairs on it. Escape from a busy urban living in a little oasis on your rooftop!
Vertical garden idea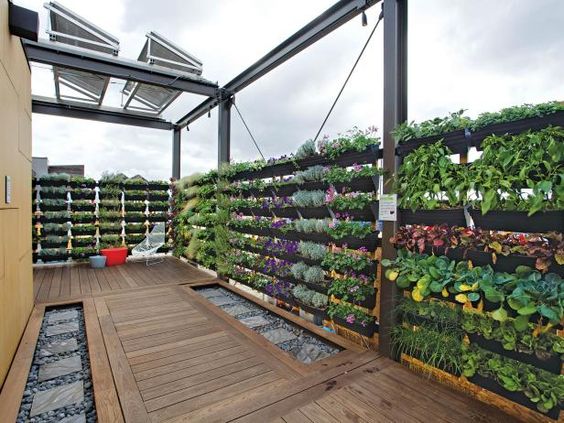 When you live in an apartment you can take an advantage of your outdoor space to be the spot where you can grow your own fresh vegetables or even fruit. The ideal gardening type for a small space rooftop is a vertical garden concept. A clever gardening idea for a small space!
To begin this project, we have to install solid and durable beam steel to prop our vertical garden. After that, nail some cheddar boards vertically, make sure you nail them very well, so the planters can withstand strong wind blows on a high place!
When the planters have been installed properly, we're ready to plant some plants or vegetables. Put the right amount of potting mix into large outdoor planters and then start to plant the vegetable seed. Keep maintain them by watering them twice a day until the seed grows into fresh vegetables! Do you like a vertical garden idea to be installed on your rooftop?
A perfect outdoor spot for our cinema night!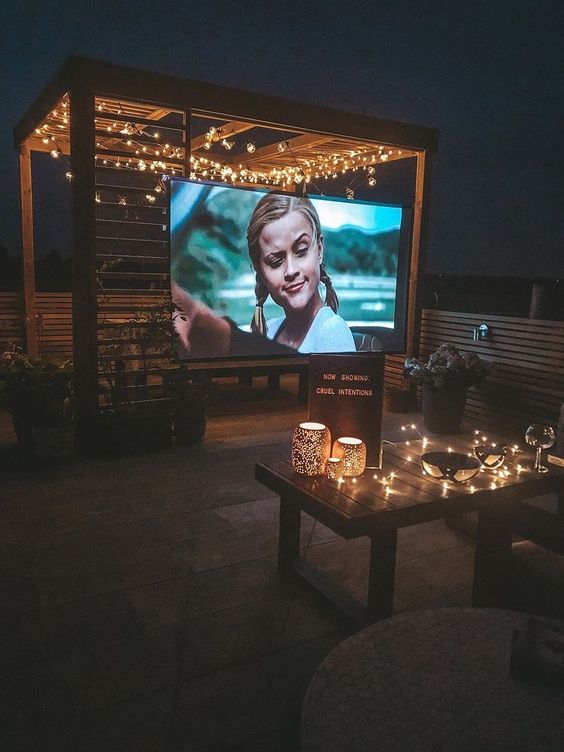 Turning our rooftop terrace into an entertaining spot to rest at night! This rooftop terrace idea was built with all wood materials. Starting off with a wooden deck, ceiling, pergola, wooden table, and chairs. Wood is chosen to create a warm ambiance and to add an aesthetic to the outdoor space! Installing some fairy lights on a wooden pergola ceiling to evoke a balmy night environment. After that, we can install a large wooden board which aims for directing projector to play the movie. Watching a movie with our family on this cozy rooftop is amazing! What a perfect outdoor cinema night!
A cozy outdoor spot to lounge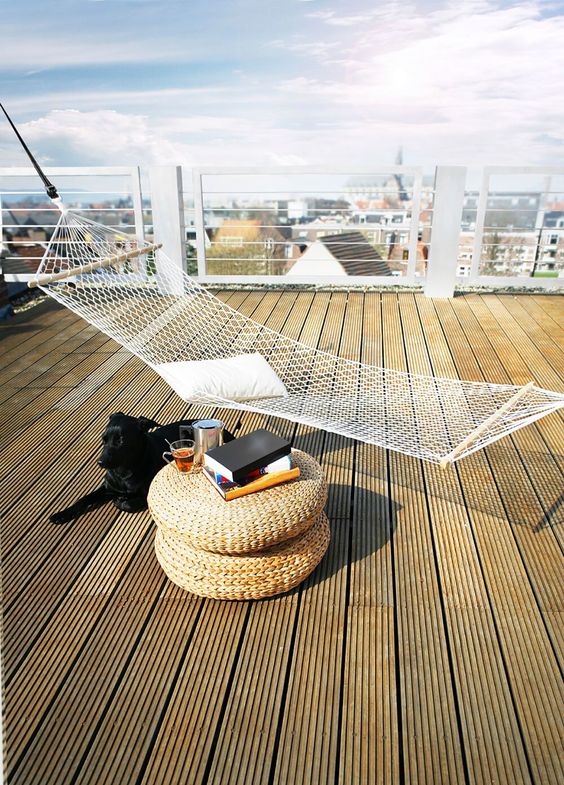 Do you have an undecorated rooftop terrace in your home? Well, we share with you to utilize the undecorated rooftop terrace. Installing a hammock is the simplest and the easiest way to maximize outdoor space that turns to be a cozy outdoor spot to lounge! Giving an aesthetic touch by adding two round straw cushions are works well together with timber deck paneling. Do you love this simple rooftop terrace decoration?
Rooftop bar idea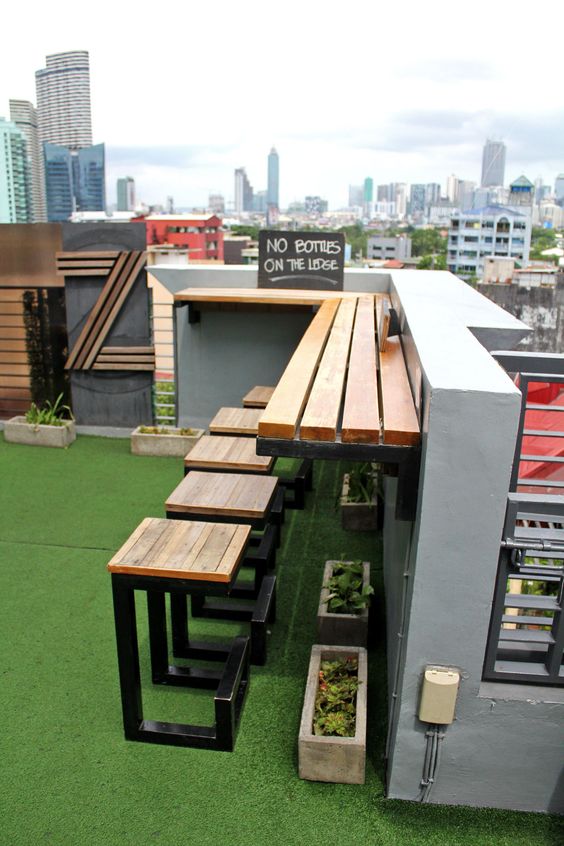 Another inspiring rooftop terrace idea we share with you is a cozy lovely mini bar! Spreading synthetic grass to evoke a green terrace idea. Then tuck a wooden table on the concrete railing. Adding some wooden stools next to the bar table.
Let's highlight three materials that have been used to decorate this lovely bar rooftop idea. The existence of synthetic grass, concrete railing, and wooden furniture make this rooftop terrace look unique! All combine in a harmonious way that successfully creates a lovely homie bar! Having breakfast or have a cup of coffee in the late afternoon on this lovely mini bar just feel so great! Completing with a sophisticated city view that will feast our eyes with joy!
Outdoor soaking tub idea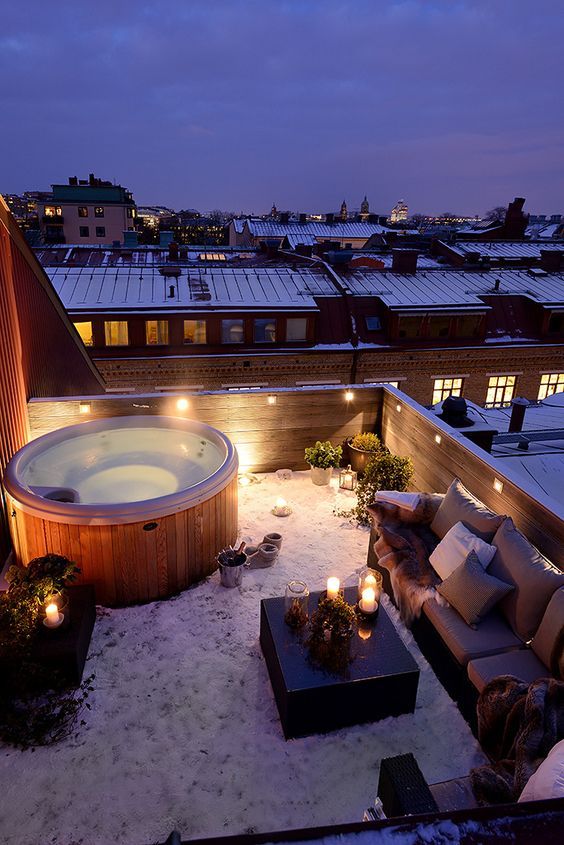 are you dreaming of having a bathtub on the rooftop? Where you can feel the relaxation soaking in the warm water after passing a busy day. Honestly, it's an extraordinary rooftop terrace idea! Alright, let's begin the decoration immediately!
Installing some lamps on the wooden fence creates a cozy warm ambiance at night. Then, we can put some candles to adjust the cozy lighting. Soaking in the warm water surrounded by a cool outdoor view is out of the box experience!
Those are 10 inspiring rooftop terrace design ideas we were already shown to you. Do not be afraid to get a new project in decorating your rooftop space! After seeing these 10 rooftop designs and considerations, you already know what things to do to create your dream rooftop! We hope these could help you all out to find your own aesthetic rooftop style and get started on the project immediately!