Jordlinghome.com – Summer is coming soon, can not stand for a beach vacation this year? Worry about the pandemic issue that makes this world run into chaos? Don't worry, we have an idea to redecorate your living room to make you feel like in the beach ambiance which is so peaceful. A coastal living room design is what you need now! So, design our own room would be fun and raise our creativity through designing.
Whether you are an expert in designing or even a beginner home designer, we will guide you to have a coastal living room design. What elements should be present in creating coastal room decor? Well, there is one thing we should know to design this room style, it must be airy spaces, the second rule is to give a touch of blue tone on your wall or some decoration. And then adding some nautical furniture such as a surfboard, marline fish, and many more.
So, let us do the cozy coastal living room project down below!
Simple and Airy Space Room Decor
As we alluded to earlier, a coastal room style features an airy space decoration. Appearing a nautical decoration by adding a blue strip rug on the floor, and then we can put a modern cream sofa beside a glass coffee table. There is no crowded look in the coastal room design. This helps us to feel the beachy ambiance while being inside the home.
We also have amazing peaceful coastal bedroom designs, check them all out here:8 Peaceful Coastal Bedroom Interior Design Ideas!
Maritime Knot Door Stopper for Coastal Room Decoration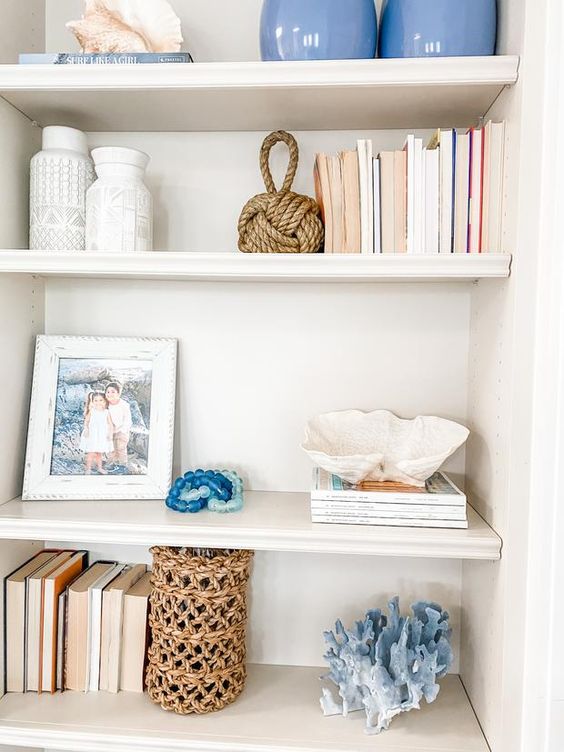 Whether you use it or not, you can put it on a bookshelf in the living room. The natural fiber from the jute knot door stopper evokes a nautical ambiance. Complimenting coastal decoration with a blue-sprayed coral and a couple of blue jars. We guarantee these ornaments will highly evoke beachy nuances.
Whale Tale Coastal Wall Decoration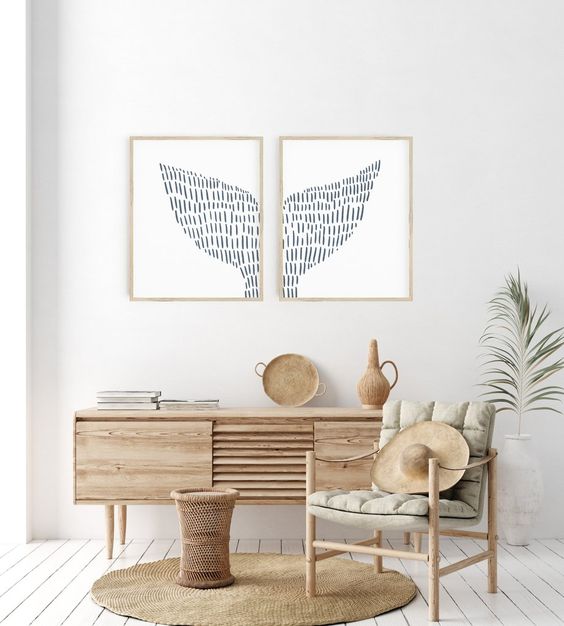 Bringing some sea animals into the interior design makes us identify that this room applies a coastal style. This pair of whale tale paintings works very well with a neutral wall palette. Giving an extra beachy feel with some nautical furniture. We can apply a jute rug, wooden chair, and a fish trap in the middle. This room decoration requires natural furnishing such as wooden furniture that balances well together with a neutral palette room. Another tip to achieve this coastal design is never putting over decoration that will make this room crowded. Displays simple decoration then you will feel the breeze airy feel nautical room style.
Ripple Navy Printed Throw Pillows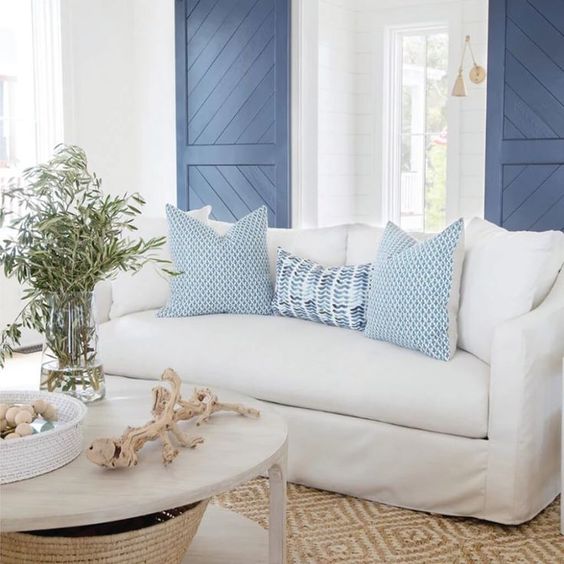 There is another way to create a coastal room style. We can play the design on throw pillows. It is quite simple, we only need to wrap our throw pillows with ripple navy printed pillows case. It is perfect to lay on these pillows on a white sofa. In that way, these pillows create a contrast of a nautical look. To bold this coastal room look, we can spread a pattern jute rug, coral reef, and the best way to paint the wall with white. The blue tone looks stand out in the neutral room tone.
We also have calming bedroom ideas check them all out: 12 Dreamy Tropical Bedroom Ideas| Find The Ultimate Tropical Vibe In Your Room!
Hawaiian Coastal Living Room Idea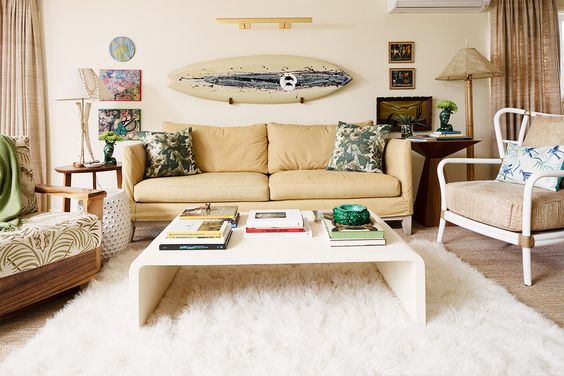 There is another coastal living room decor with this cozy Hawaiian room style. Let us do a room decoration project. The first thing we have to underline about Hawaiian beach interior design is appearing surfboard in the decoration. Next step to decor this room, adding a rattan standing lamp and some coastal chairs. To comfort this living room, we can spread a fluffy rug on the floor and a cozy beige Scandinavian sofa. Do not forget to decorate the wall with some wall arts. This soothing living room comes from a neutral wall palette and some natural materials decoration. Do you fall in love with the Hawaiian living room idea?
Panoramic Canvas Wall Art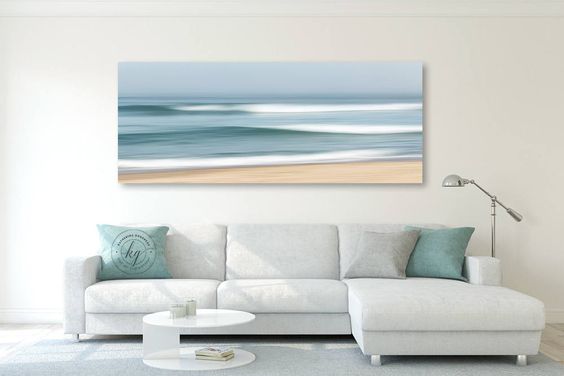 There is a simple way to create a nautical living room style by sticking a panoramic canvas beach wall art. Remove unnecessary decoration, to create an airy space, painted the wall in white to make the room look spacious, and then set a neutral sofa with some blue throw pillows lay on them. Comfy the seating area by adjusting the standing floor light. Now let us look into the final result of this room decoration. It feels so spacious yet peaceful by adding some blue tone element in the neutral wall palette.
Classic Coastal Living Room Style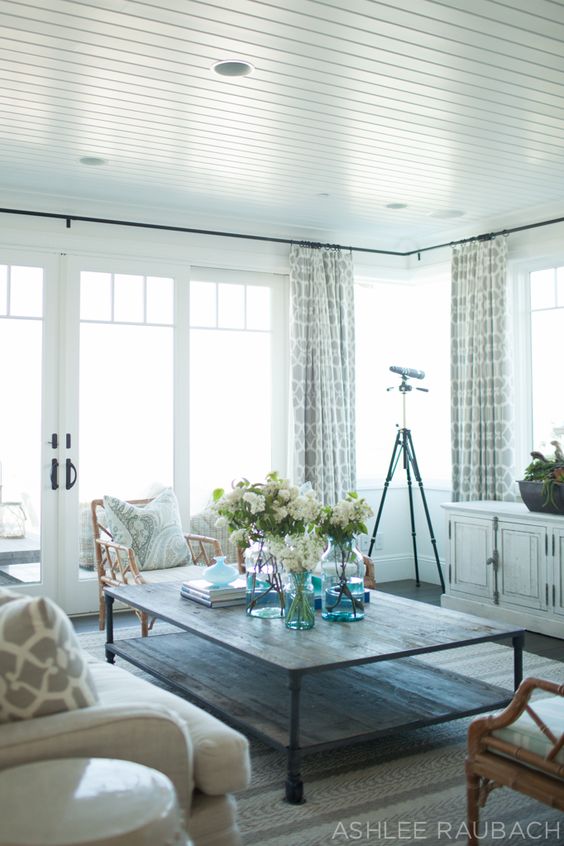 On the previous design, we're appearing modern coastal room design at this time, we share with you a classic room style. Appearing some blue glass jar and flowers surround by the bamboo chairs and then present a classic jute rug makes this room feel classic and peaceful.
Nautical Fish Curtain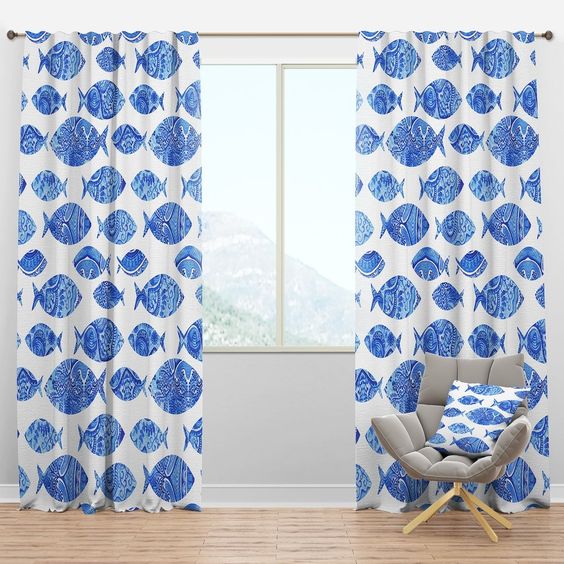 We can decor a coastal living room style by installing a nautical fish curtain. This view will guide us into peaceful nuances such as being on the beach. And then we can display a lazy chair in front of the window, then get lost and feel relaxed in the nautical living room design.
Starfish Tieback Curtain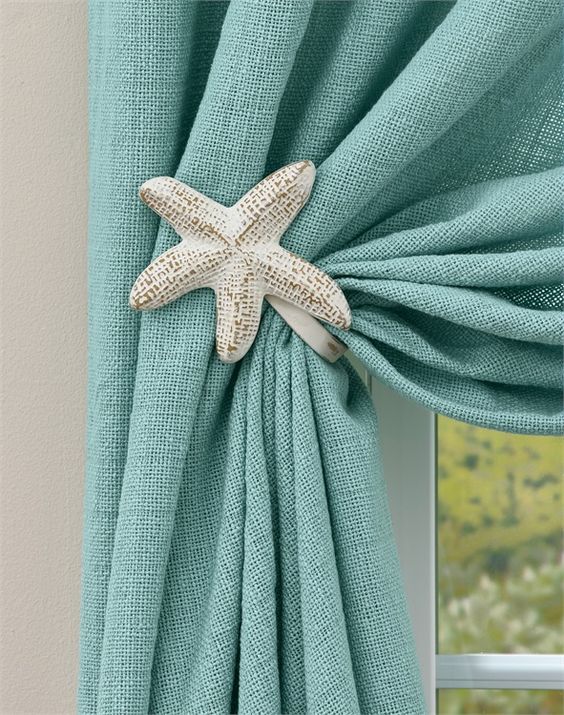 This starfish tieback curtain will hypnotize our sight and switch our imagination into beach nuances. Although it takes a little part in coastal room decoration, this will work well together combine with other nautical ornaments. So, if you want to style your living room with a coastal design, you can display a starfish tieback curtain to decorate your window.
Reef Coral Table Lamp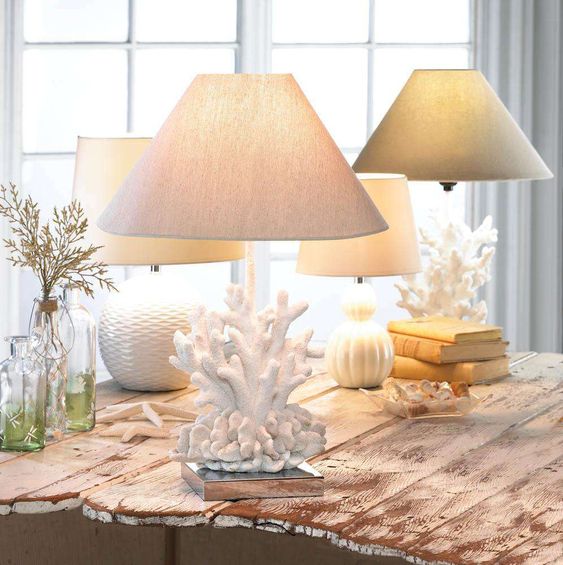 Another distinctive decoration for a coastal living room is a white coral reef table lamp. Making this an eye-catching spot in the living space. It works well together with a distressed table and some starfish craft. When the sun goes down and we need some lighting to brighten up the interior spaces. That is the perfect time to let our coral reef table lamp shining. When it shines, that will lead our focus on them, what a beautiful nautical spot!
Striped white and blue sofa for a coastal room decoration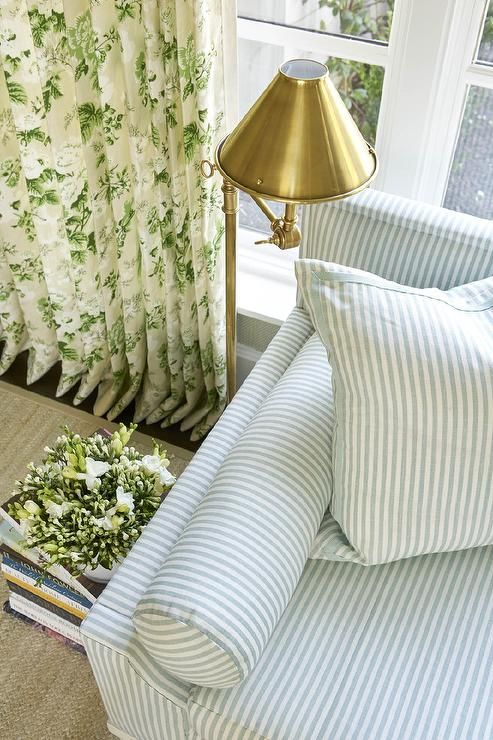 Creating a cozy coastal living room design by adding a striped white and blue sofa. Making this sofa a focal point of this room. The beautiful waves of the ocean transform into a striped blue and white for some nautical furniture. This sofa will look great and blend all together in the neutral hue wall. To intensify a nautical wave design we can add a jute rug on the floor.
Coconut Palm Tree Canvas Wall Art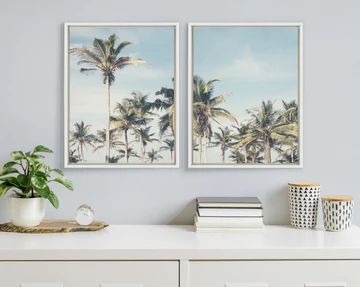 Entertaining a guess when they entered the living room with a peaceful effect by adding some coastal decoration. One of many tricks to evoke a nautical vibe room is decorating wall space. the simple way to do this is to stick something that referred to the beach nuances such as coconut palm tree canvas wall art. Make sure to stick them on the neutral palette, so they will show their nautical accentuate very clearly.
You might need a preference in designing an impressive bedroom idea, check our own here: Eclectic Bedroom Design: Express Your Own Exquisite Room Style!
Coastal Tapestry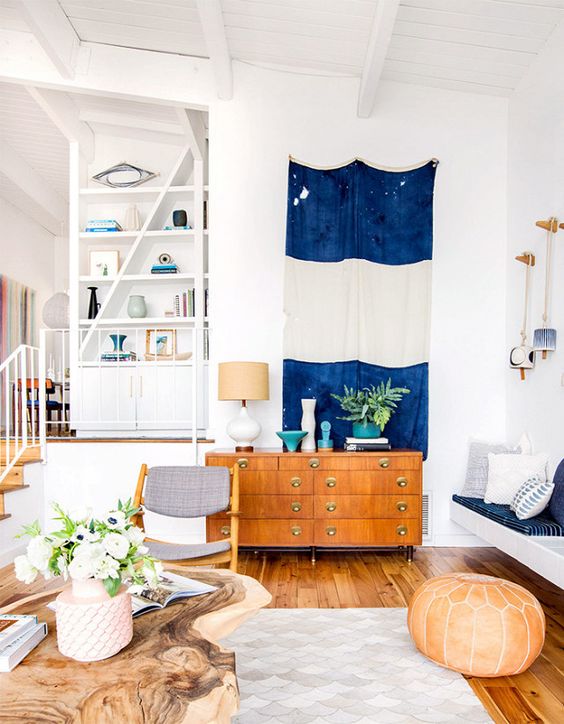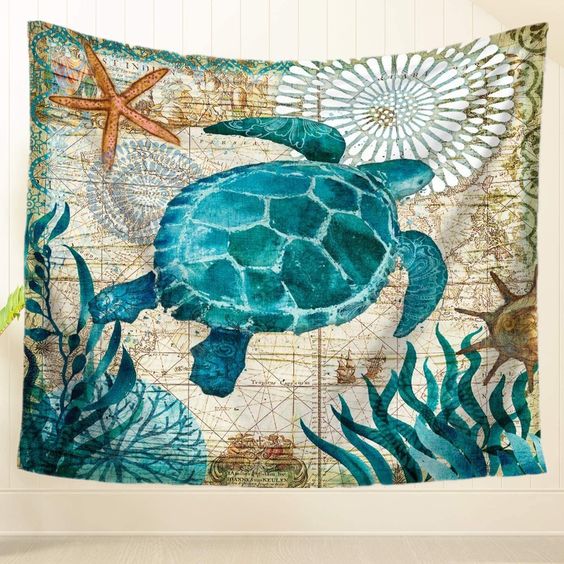 Another thing we can do to decorate coastal living room design by sticking a nautical tapestry onto the wall. It can be shown as a parallel line white and blue tapestry or we can choose a sea animal theme tapestry. Simply, stick them on the neutral wall in your living room, then it will successfully evoke a nautical room design.
Surfboard On The Wall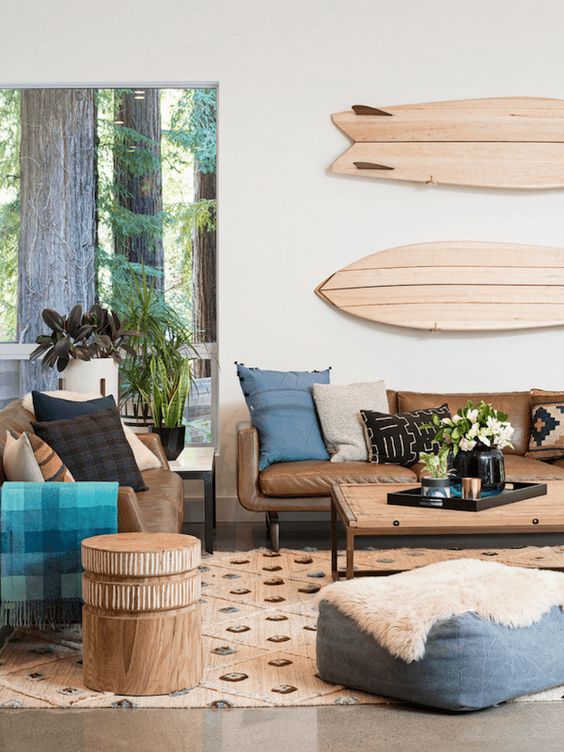 There is a way to identical coastal living room design is by adding a surfboard on the wall. We can simply stick a surfboard on the neutral wall palette that will bring you into the beach nuances.
Showing Nautical Effect With Leaves and Trees Wallpaper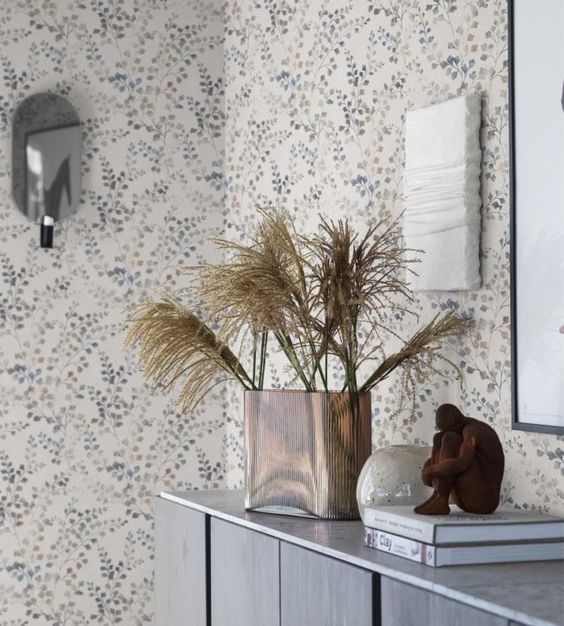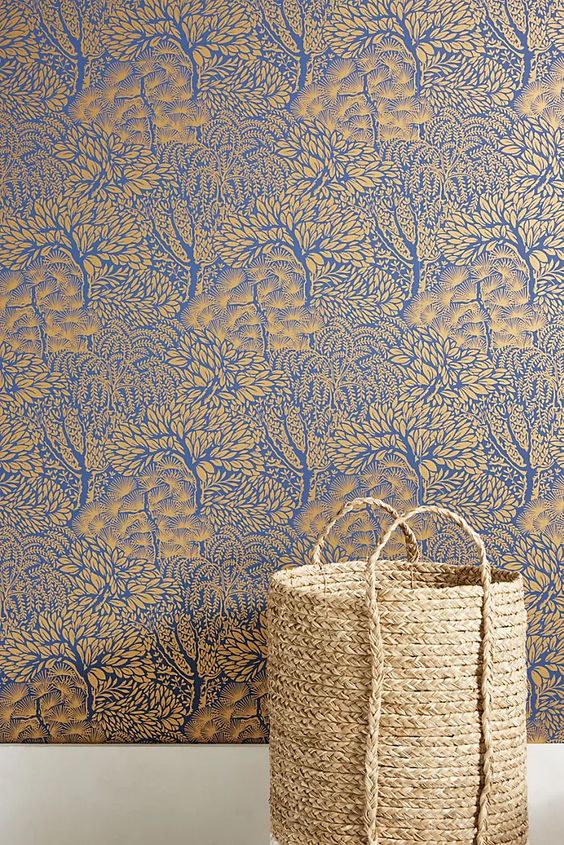 In the first picture, it shows leaf silhouettes wallpaper to emerge coastal style. And then completing nautical nuances by adding a dry palm tree on the table.
For the second picture, the coastal room appears in printed tree wallpaper, and to support the coastal style even stronger by adding a seagrass basket on the table. The golden printed tree wallpaper combines with a natural craft seagrass basket perfectly showing a coastal room idea.
Living in the beach house undoubtedly delightful. The breezy and easy design-in coastal room makes this style gets many enthusiasts. We already collected various coastal living room decor, from simple decoration to the dreamy Hawaiian beach house style is so fascinating.
When we come into a coastal design, there is a lot of blue tones can be found on its decoration. There is one thing we should know about coastal decoration is adding some natural material inside. Such as seagrass baskets, rattan pendant lamps, and reef corals.
We already collect some identical coastal furniture that you can apply to your own living room decoration. They are curtain, rug, sofa, tapestry, lamp, wallpaper, surfboard, and some wall art. There is a highlight point we should know to feature out a nautical design is using a neutral palette for the wall. We hope this writing can help you all out to redesign your own cozy living room and help you to get a peaceful interior design!