Jordlinghome.com – Does your home interior feel like a humdrum space? Is there no intriguing design inside your living space? Thinking about home decoration is not cheap as we buy a bottle of coke and not easy as a piece of cake! Well, let's change the humdrum space turn into a fabulous one! Meanwhile, we want to share with you some creative ways to decorate an interior with an affordable budget.
Without taking an extra budget to decor an interior. We have an idea to paint the wall with some outstanding creativity and beyond our imagination! The wall is a large canvas that waiting to be painted by us. So, let's grab brush paint immediately and start to paint right now!
Here we have some outstanding accent wall paint designs that could be your inspo! Do not miss any of them for aesthetic interior decor in your home!
Arch accent wall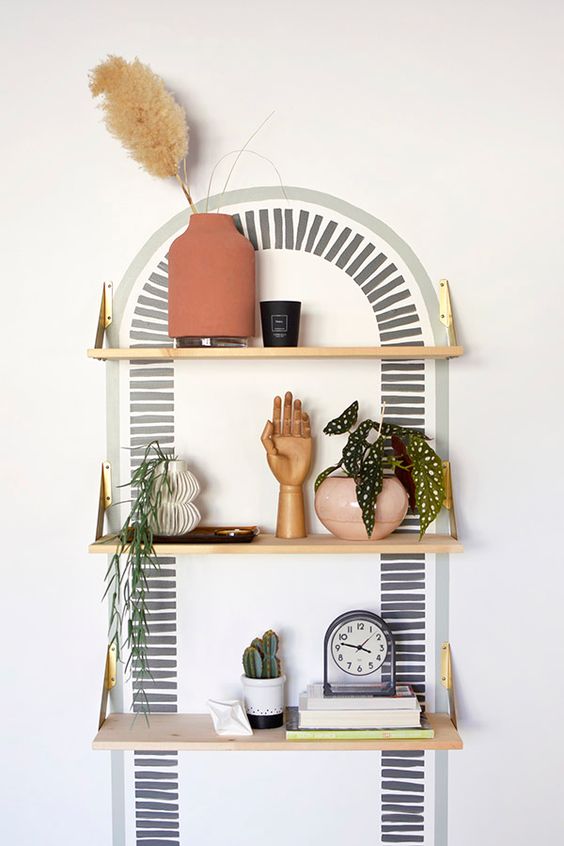 Do you want to create intriguing art on your neutral wall? Creating an arch accent wall as a centerpiece on a neutral wall is a great idea! How we should start this project? First, you have to decide the spot where you can create that wall art.
After you've got a spot, start to measure the height base on what you need to create an arch accent wall. Then, grab a paintbrush vertically and dip it into the paint. Start to brush the wall with a curved movement and continue to draw the vertical line on each side of the curved. Next step, we can stick a painter's tape inside the arch shape, it divides the space between the gray stripline and the arch work line.
Furthermore, we can install some wooden shelves on that arch work. Finally, we can put some decorations on the hanging shelf. Putting hand sculptures, exotic plants and cacti will lead our mind to imagine the middle east surrounding. We guarantee this arch accent wall will be an outstanding focal point on your neutral wall palette!
Funky geometric accent wall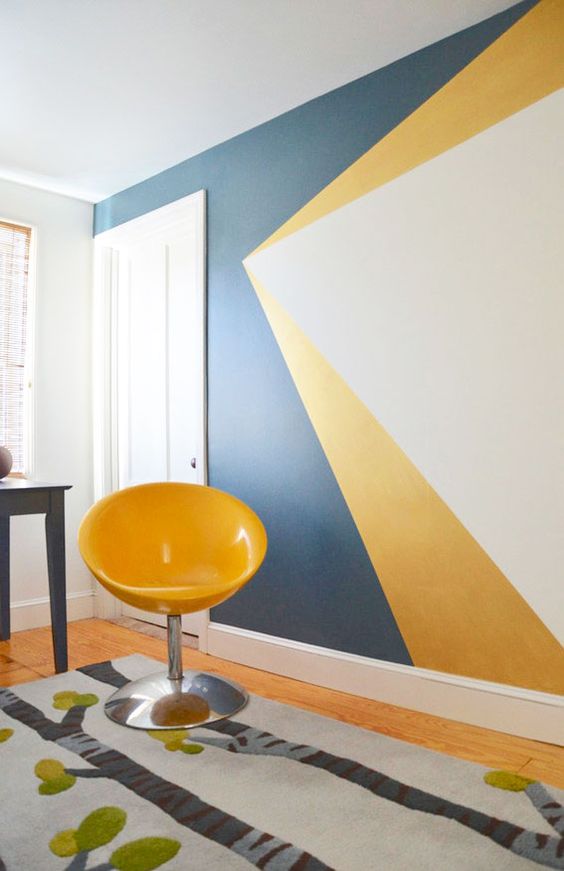 This funky geometric accent wall is perfect to liven up the blank space on your wall. Featuring three colors, they are dark blue, bright yellow, and neutral white. The funky geometric view is brought by bright colors, they are yellow and blue. When you searching for a cheerful interior design to embrace summer, this funky geometric wall accent definitely could be your option! Adding some colorful furniture to support this cheerful interior such as a yellow stool, and tropical thematic rug! Get rid of humdrum living space and pale decoration with this affordable funky geometric accent wall!
Hexagon accent wall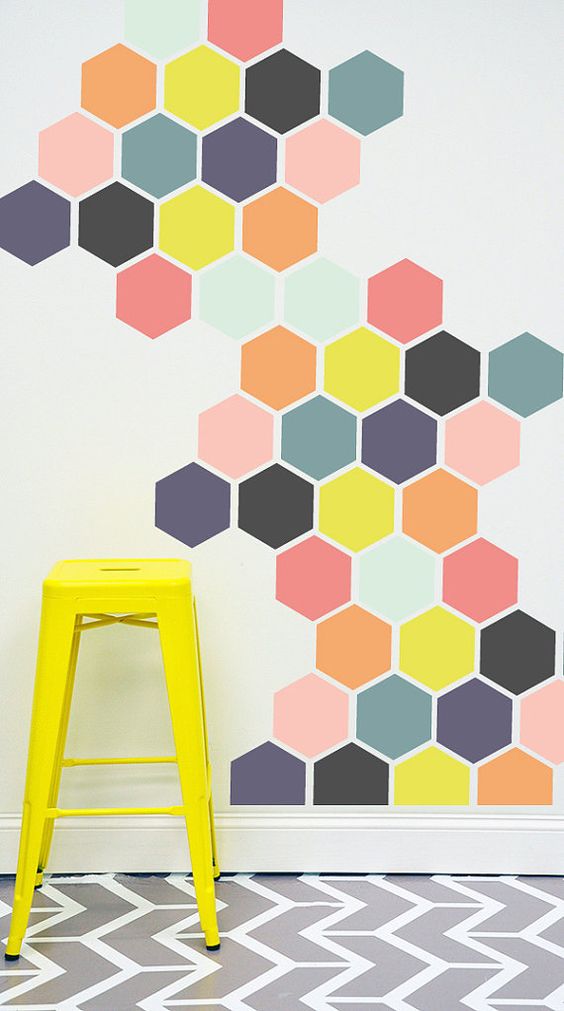 Bringing to live interior concept by painting the wall with a colorful geometric hexagonal feature wall. We won't paint the whole surface with this colorful design. Let the half-neutral wall palette still exist, we want to create a dramatic effect by painting colorful geometric on half of the neutral palette. When we enter the room, this colorful hexagonal accent will be a focal point in the living space!
Ombre ocean wave accent wall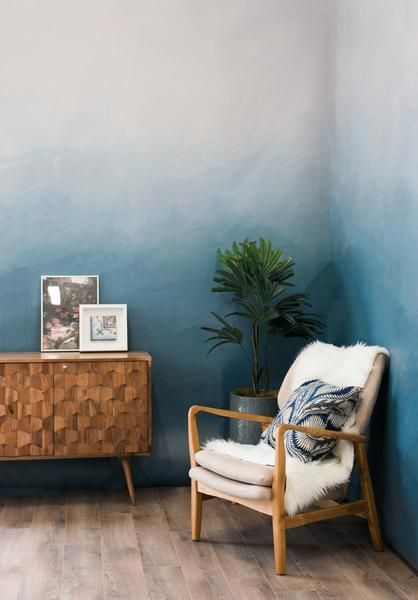 The blending of turquoise, white, and dark blue color scheme creates an outstanding peaceful coastal decor!  Starting off brush the dark color at the base, then shading the dark blue with turquoise. The neutral palette takes the top side of the wall and the blue dominates the lower side of this wall. Completing the nautical wall theme with some natural furniture such as a wooden table and chair. Now, we can evoke a coastal decoration by painting the wall with a blue color shade! It's a cheap coastal decor that only requires a minimum of brushing paint skills to create dramatic ocean waves on a neutral wall!
Diagonal accent wall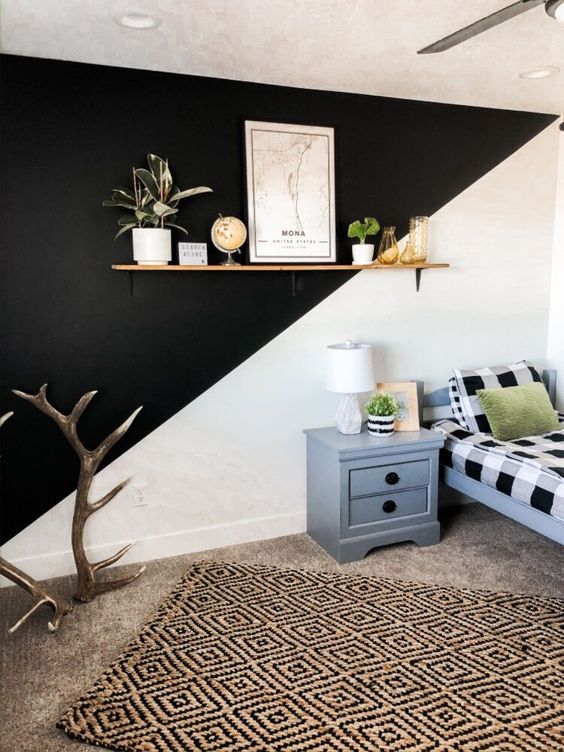 Do you want to decor your neutral Scandinavian studio apartment to look more attractive? Here we share with you an affordable and simple painting layout to apply on a neutral wall palette. A unique view has given by the diagonal accent wall. Then, adding more pattern into the decoration make this small studio apartment more alive! We can add more pattern by spreading a geometrical rug and a plaid bed sheet. Do you love this diagonal accent wall to apply in your bedroom?
Three-tone painted wall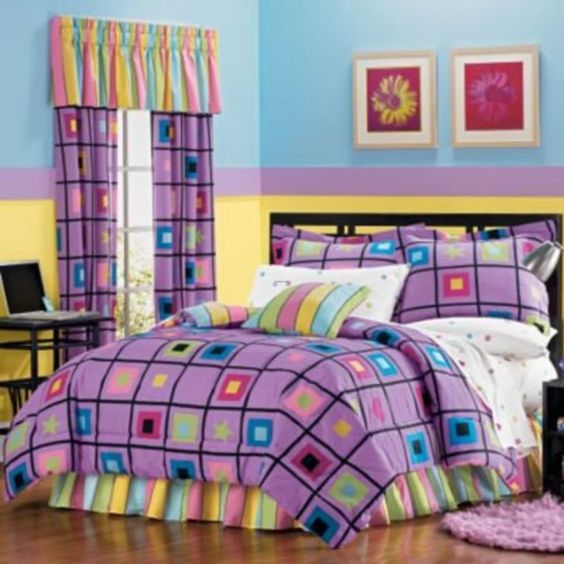 Are you looking for a funky decoration for your daughter's bedroom? Making the dreamy cheerful teenage bedroom come true! We can start the project by painting the wall. Considering a teenage girl's room require colorful decoration, so we can choose three vivid colors such as yellow, violet, and sky blue. Starting to paint the upper side with a blue shade than the yellow set on the bottom. After that, we can divide the color with a narrow horizontal violet shade. We can use painter's tape to draw a clean line of paint. To bold this welcoming teenage girl's bedroom add a similar color tone decoration.
Tropical three-tone accent wall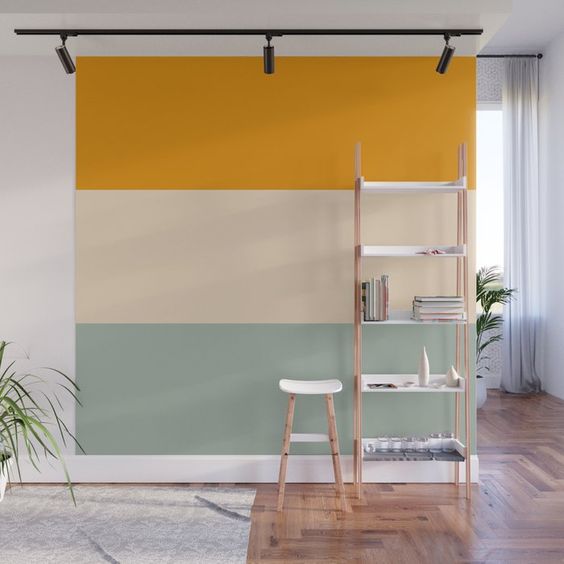 Summer comes with its welcoming warm sunshine, the shines has been transferred into the living space, that what makes a cozy tropical ambiance alive in this interior! We want to collect the cheerful summer ambiance outside into the interior but we're questioning on how to do it with an affordable budget? Simply, we can paint the neutral wall with three-tone intriguing tropical paint.
Let's grab yellow paint to brighten up the room with a cheerful summer concept, then choose a baby blue to evoke a beachy look, and the sand transformed into a cream palette. Painting these three-tone paint on the neutral wall and in the same ratio. When the natural lighting robustly hits this tropical paint, there we can feel the summer vibe inside our home. It's a pleasing tropical environment!
The stripe accent wall for the small bathroom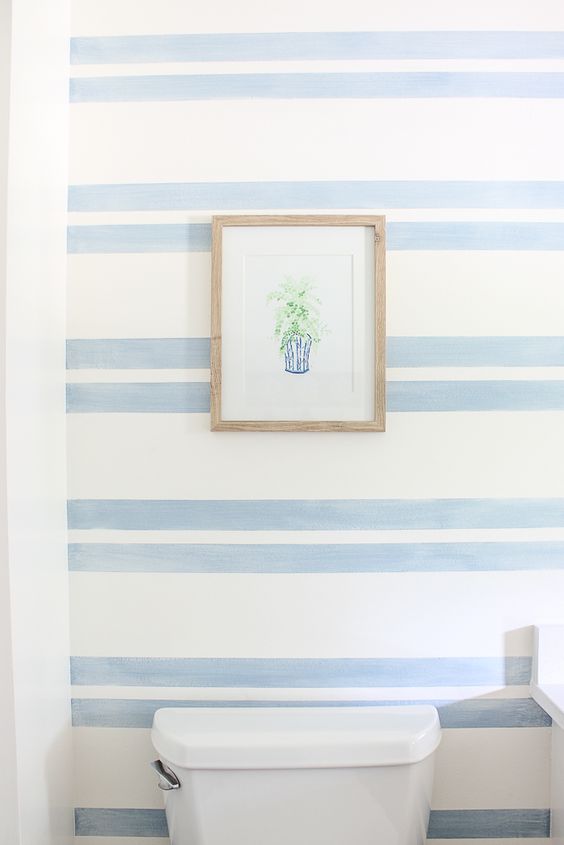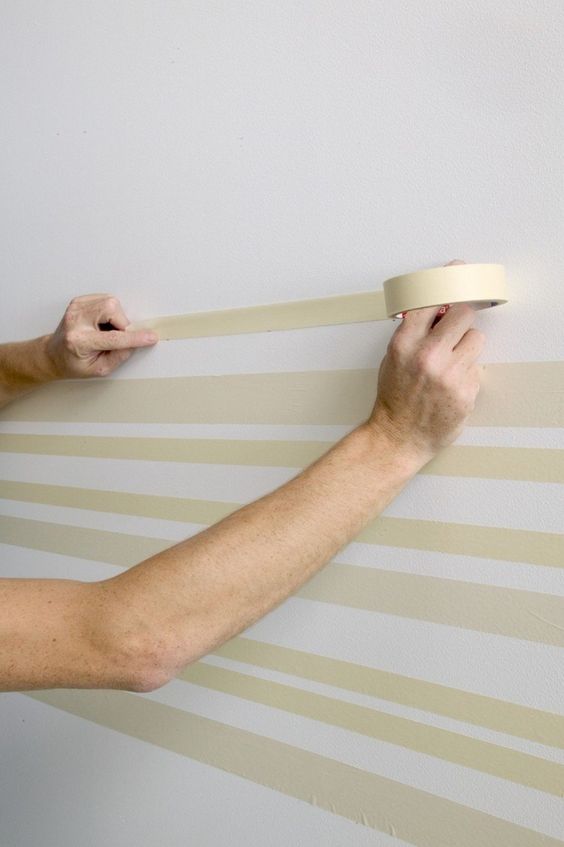 Looking for the best decoration for a small bathroom in your apartment? Besides keeping your small bathroom in a neutral palette to look spacious, we still have a chance to do a little paintwork on the tiny wall! To begin with, we can stick the painters' tape horizontally, which makes a clean line striped blue accent wall. After you have done sticking the tape, now you're fully free to brush the wall with blue shade paint! Let it dry in few hours and finally remove the tape on the wall. Now, we already have a clean line striped blue wall accent in our tiny bathroom!
Charming Gingham wall accent style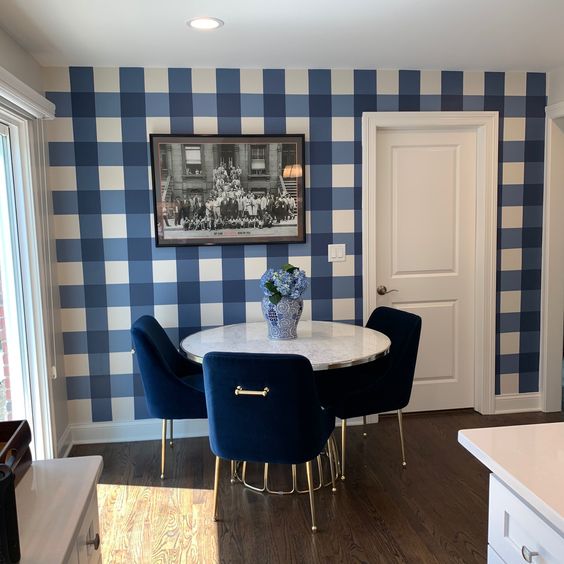 Appealing interior design by applying blue charming gingham style! To make a clean curated line, we can use a painter's tape horizontally and vertically. Then, we can brush the wall with blue paint. When the paint is quite dry, we can remove the tape on the wall. As a result, we got a charming gingham wall style! Do you love the idea of a charming gingham accent wall to be set in your living space?
Those are 9 outstanding accent wall paint designs for the aesthetic interior! Featuring some affordable and intriguing paint style we can try on a neutral wall, that makes us fall in love with this paint wall decoration on a budget!
We already collected some bright colors to get rid of a humdrum space in your home. The three-tone color paint idea is quite good to be installed in the teenage room and evoking tropical room decor. There is some geometric pattern accent wall to limit saturated room. Lastly, we can evoke a peaceful coastal decor by applying blue striped paint on a neutral wall. We hope you enjoy these accent wall paint projects! Do not be afraid to explore your style and find your own aesthetic interior design!