Jordlinghome.com – Urban home designers, do you thirst for making a new home renovation in 2021?  Here we offer you one of the best home renovations in 2021. Our choice must come into a relaxing tropical concrete house design! We will show you the best feature of concrete tropical house design internally and externally.
The concrete house has a solid texture that makes a big statement home feature, and then freshens up the look with some tropical plants will make us relax being inside! This house supported with well-lit natural lighting by installing full-height windows to transfer the natural light into the whole room. Get ready to feel comfortable living in the statement home design and offer you a magnificent tropical vibe inside and outside of the door!
Extra Large Windows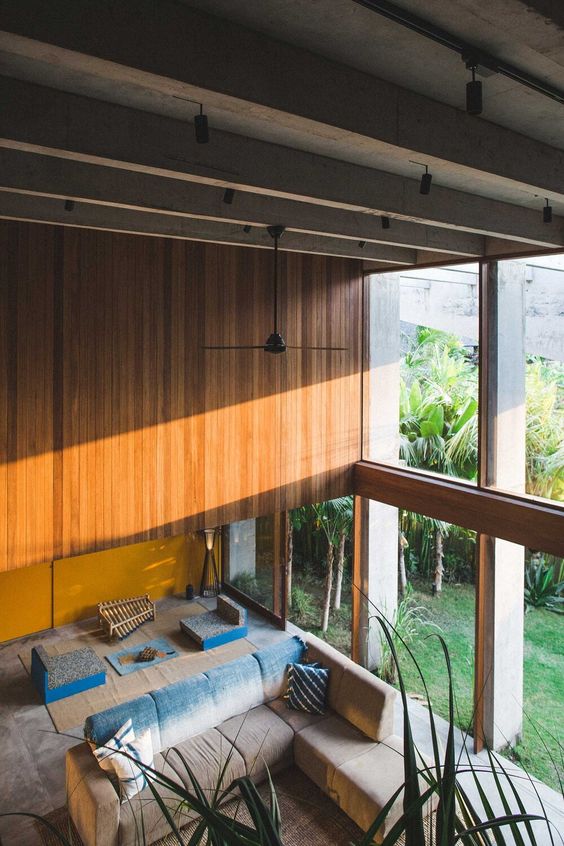 As we alluded to earlier, creating a tropical house design provides lots of natural lighting to brighten up the interior space. This beautiful tropical concrete house in Canggu, Bali featuring some extra-large windows in design. It allows natural lighting comes through the room. We can see spectacular tropical scenery through the windows will relieve the stress.
Great Transparency Between Outdoor and Indoor Space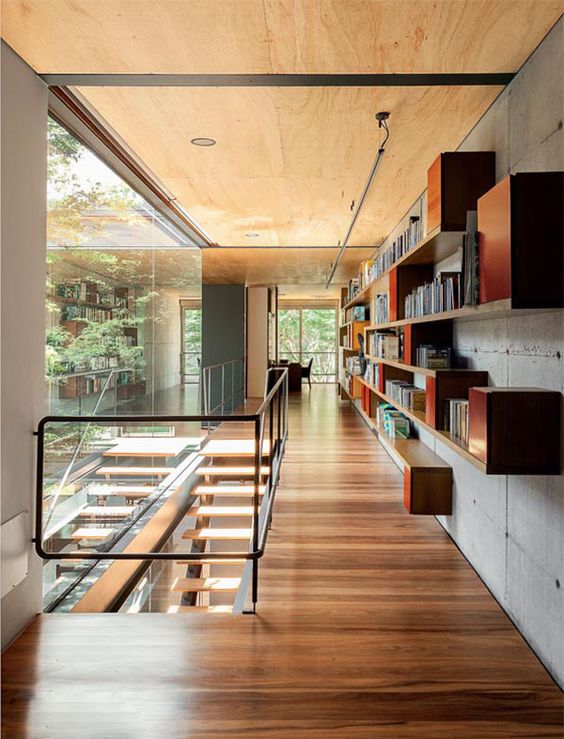 Installing super large windows to show transparency between the outdoor and indoor space could be a great idea! Connecting the indoor space with the private lush tropical garden creates a dramatic paradise effect! These large windows transfer the fresh natural view which helps us to feel relax while being stay at home during this pandemic. There is another thing we can get by installing the large window, it delivers enough natural sunlight to the whole room, that is a brilliant no-cost way to save electricity!
Black Steel Staircase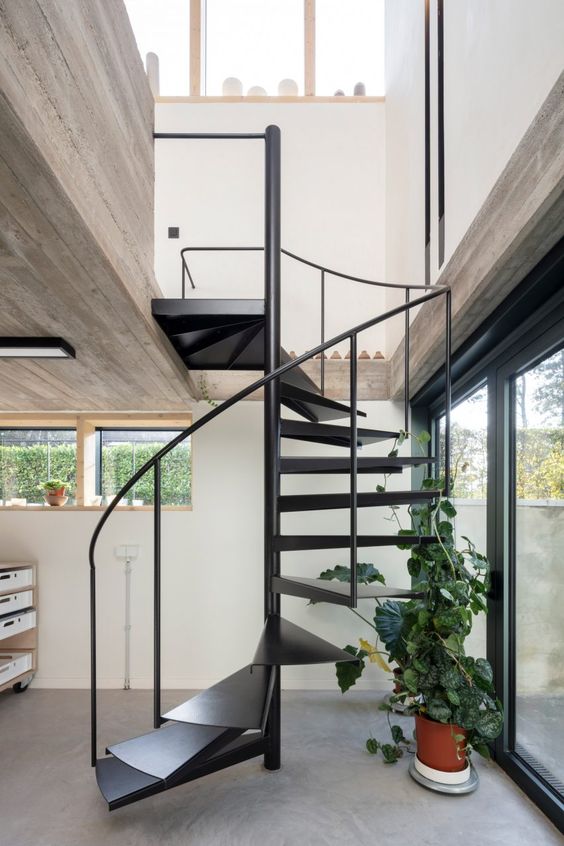 Installing an amazing seamless concrete staircase for this tropical house is needed! It brings out the modern side of this room and this staircase stands out in the slim shape design that could save the space a lot.
The Kitchen Connected With Nature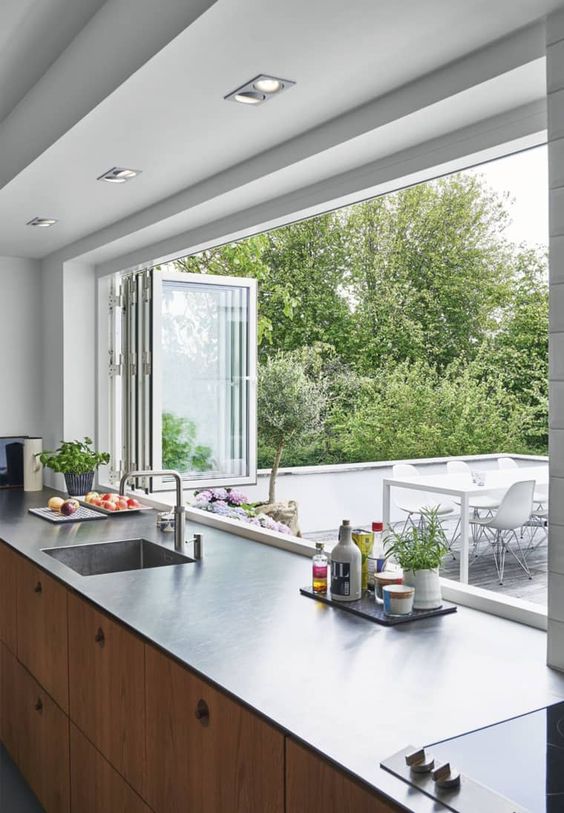 When you enter the kitchen that connected with nature, you will say what a truly hidden gem is! Preparing breakfast for the family will be a fun activity in the morning when you open up the window and let the warm morning shine come through your kitchen. We will love the kitchen turn out to be, how it connects with nature, get a relaxing vibe in the morning before doing your busy days!
Cozy Reading Nook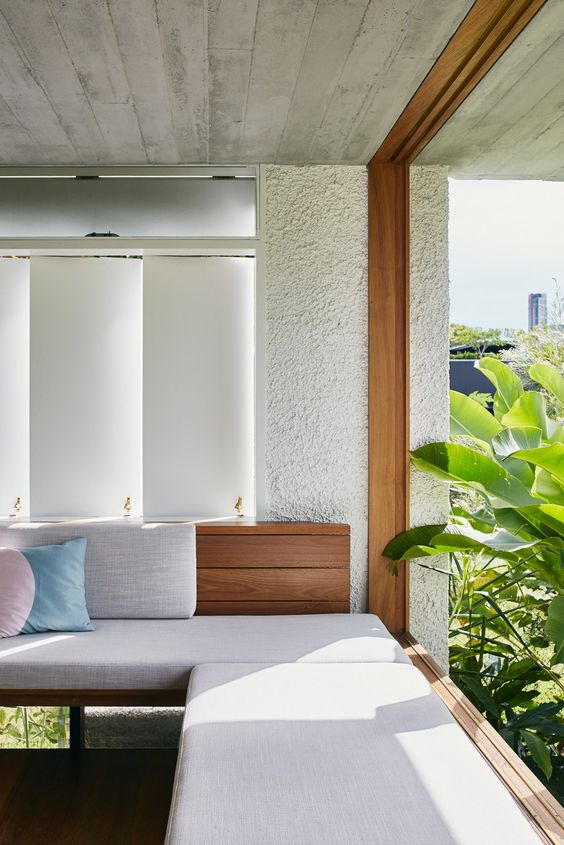 When you going upstairs and you will find a cozy reading nook settled by a gorgeous natural view through the ultra-large window. Installing the bench around the window and comfy seating area with cloud sofa and some throw pillows. This reading nook design made from the distressed wooden ceiling and blend well together with a concrete wall.
Now, grab your book and lie on a cozy reading nook while having spectacular tropical plants through the windows. This is a multi-purpose spot design, where you can purpose it as a reading nook, or even be a gathering place with all your family. It looks so magical when we able to see the beautiful rain that falls into the green plants outside or even watching a spectacular sunset through the window, that's gorgeous!
Amazing Natural Backdrop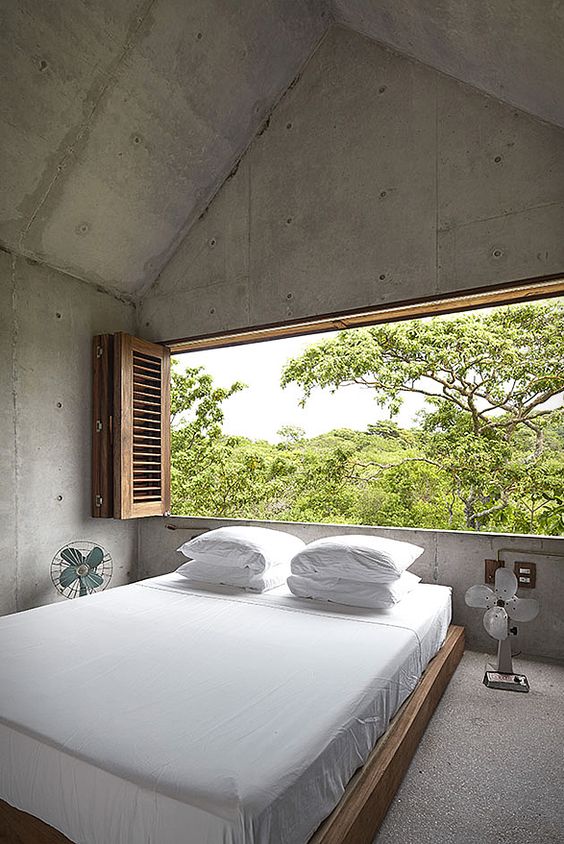 Dreaming to live in a tropical country surrounded by lush green plants could be so relaxing. Thinking about the relaxing room design that could relieve our stress is needed now. This tropical concrete bedroom set in a clean line, there is no over-adding decoration but only highlights one thing. There is a wide-open space window that could be the most beautiful backdrop ever. Open up the window and you will see the natural tropical garden in lush green! This view will make you relax when you just woke up in the morning, let the fresh air come through inside your room and let the warm morning sun cheer you to start the day!
Natural Ventilation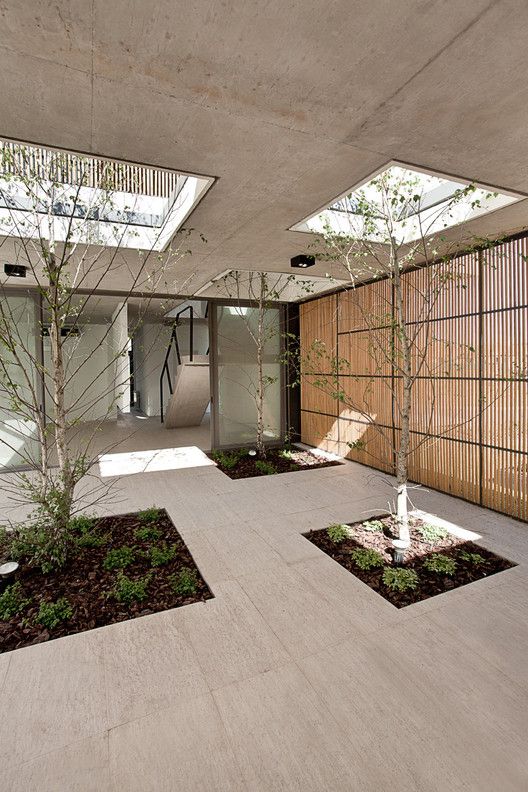 What next stand-out feature of this tropical concrete home design? This home has natural ventilation set in the courtyard area. There is some open ceiling focus on the tree spot area. This open ceiling design allows the fresh air to come through the room and also transfers the natural light into the whole room. This brilliant courtyard area connected to another room, which means it can supply fresh air to another room! Would you love to have this courtyard design to implement in your house?
Design Small Office in a Concrete Home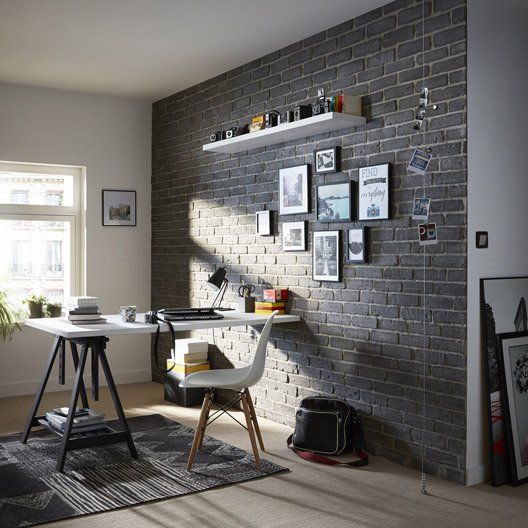 Are you thinking about the best home renovation in 2021? Since the pandemic problem spread throughout the year and people supposed to work from their homes. We need to build a small office in our home, so we able to work from there. This small office featuring a concrete wall effect by featuring a facade wall of bricks. And then facing the table to the window where we can get enough natural lighting to brighten up our small office. This is such a cozy small office featuring a unique concrete wall and well-lit natural lighting. Now, we can work from home comfortably!
Concrete Topical Garden Style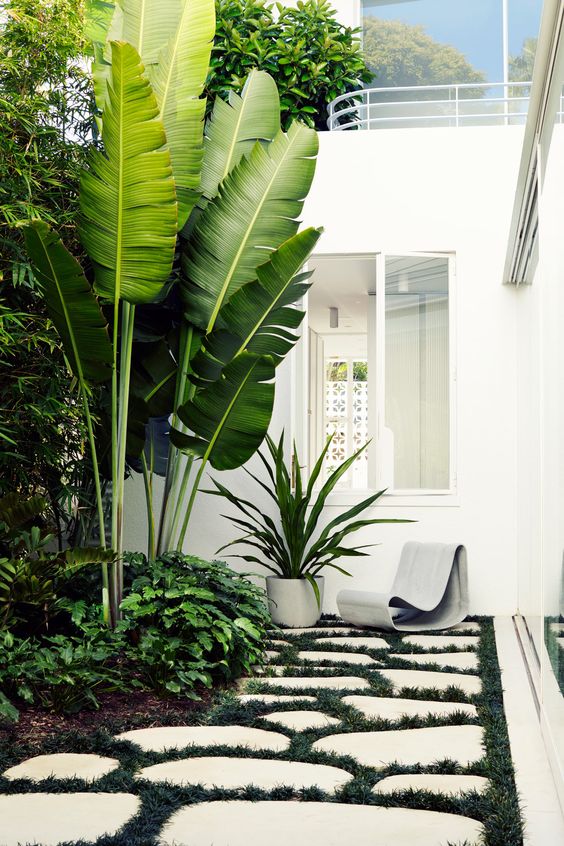 There is nothing better than to feature tropical plants in a tropical concrete design, bringing the banana trees inside the garden will evoke a tropical vibe! When we stepping into the garden area, we can see some concrete stepping set within the grass. It is a beautiful minimalist garden idea featuring tropical plants and combines with concrete craft.
Tropical Concrete House Look Outside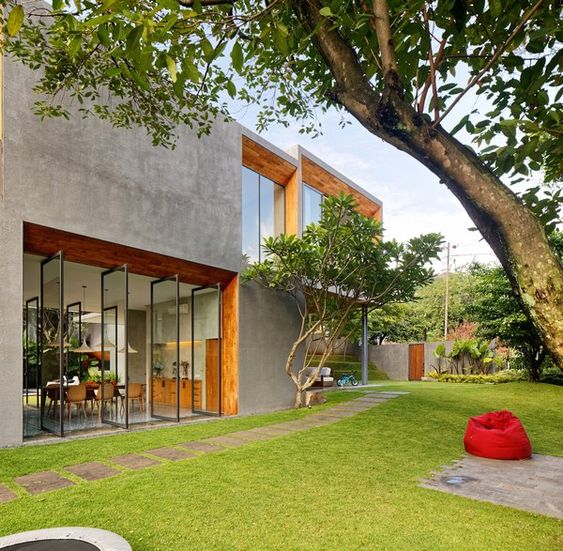 The tropical concrete house design looks externally similar to the minimalist home design, it has a flat roof shape and then the structure looks so solid in rectangular. There is a major interesting feature of this type of home design. The concrete wall makes the home looks so solid and then balances it with a nature touch such as bringing some tropical plants into the design. So, this house looks bold in a strong accent of concrete walls, and on the other side, it looks so friendly by appearing nature concept to beautify and freshen up the home design.
Do you think about living in the countryside where the leaves and rain always come next to your window? That is the true natural beauty we can feel by living in the countryside. This interesting natural tropical beauty becoming our main idea to write this statement house design that set in the beautiful hidden gem of the tropical landscape!
On this tropical concrete house project design, we highlight the natural lighting is the essential concept to build this relaxing home design. The natural light brings this house alive, it allows the fresh air to come inside and brighten the room.
Featuring a solid structure made from the concrete wall make a strong statement home design and then refreshing the home design by appearing tropical plants.
During the pandemic issue we face now, we are figuring out the best interior design that makes us able to work at home. In this writing, we offer you a small office design that features a concrete brick wall and support by well-lit natural lighting that will comfy you to work inside your small office.
We hope you love our tips in making a relaxing concrete tropical house design. We also hope this helps you all out in finding the best home renovation in 2021!