Jordlinghome.com – Do you love the sparkling night of Christmas and New Year celebrations? There are dozens of fairy lights that decorate streets, shopping places, and even houses on the blocked road. They all sparkling beautifully in the dark night but sadly, those moments must over after the new year celebration. Are you the one who's begging to have that warm and sparkling night longer than that? Well, you can make it last longer as much as you want! You're never too old to display fairy lights in your bedroom!
Let's DIY fairy lights bedroom makeover right now! All you need is a string of fairy lights and some affordable stuff to begin this project. Here we will show you 15 DIY fairy lights rooms, we hope you find the idea to decorate your bedroom, liven up your dreamy space and define your own aesthetic room!
String Picture On The Mirror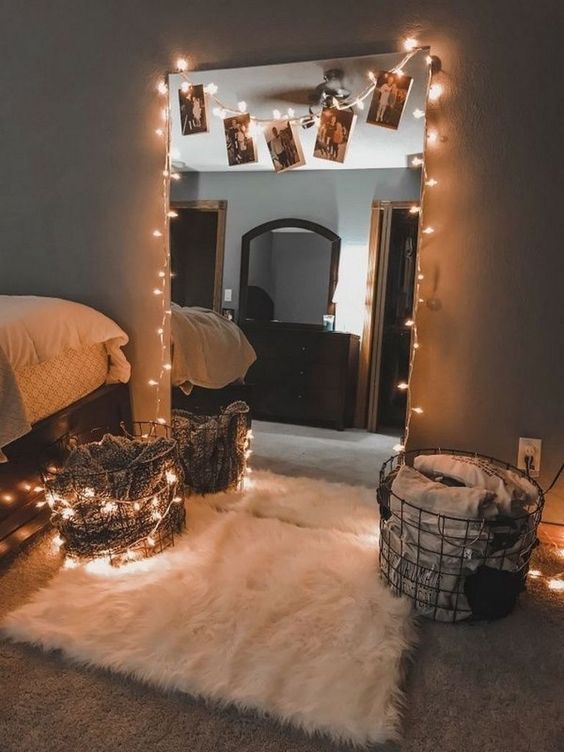 Creating a magical feel when you look into your mirror. It is not a magic mirror in Snow White movies! By sticking some pictures on the fairy lights string that tuck on your standing mirror, it brings out the memories you got when you took that picture. Sticking your best picture with your lovely one will be a great centerpiece in your room. Girls, these DIY fairy lights will work well when your room set in the dark.
Cozy Reading Nook Idea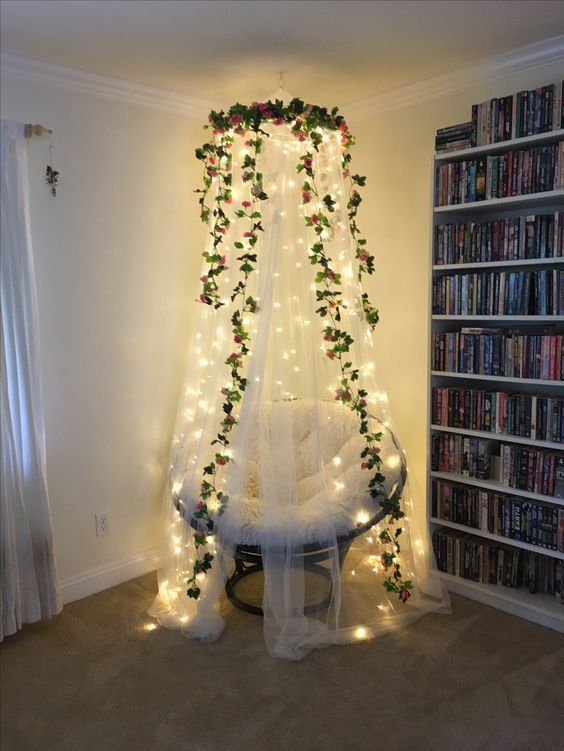 Do you have many book collections in your bedroom? If so, you should have a cozy reading nook in your room space! We guide you to have this fairy lights idea to make your reading nook looks magical! Let's start the DIY cozy reading nook right now! Starting off to put a round comfortable reading chair on the corner of your room right beside the bookshelf, and then install a transparent canopy for your reading spot. Starting to hang on some flowers from the top canopy till dangling to the floor. Do not forget to hang some string LED lights all around the transparent canopy. Turn off the lights in your room and just let the string LED lights to shine on your cozy reading nook. Do you love this DIY fairy lights cozy reading nook idea?
DIY Fairy Lights Magic Jar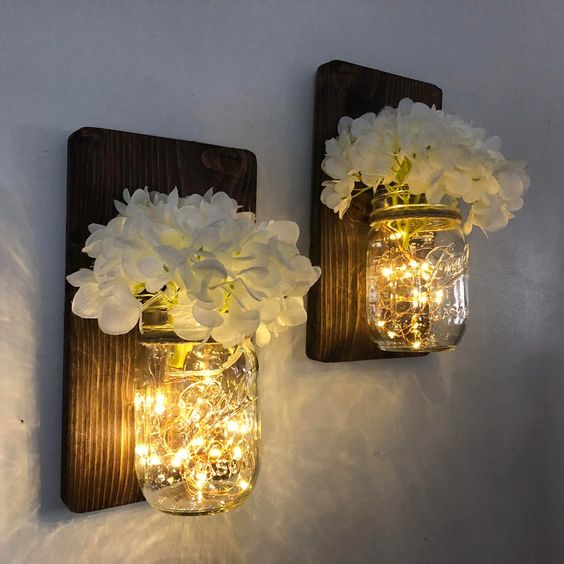 Do you have an unuseful jar in your home? If so, do not throw them on the trash can, you can repurpose them into a beautiful craft to decor your bedroom wall! Starting to install the wooden board on the wall, and then let's go to the jar decoration. Let's take the empty jar and fulfill it with some LED string lights. After that, we can put a bucket of white flowers or you can choose artificial flowers if you don't have the actual one. Finally, you can stick the jar on the board. Turning on the LED string light in the jar, then you'll be amazed by the sparkling flower jar, these will evoke a magical effect when you turn off the lights in your room.
Sparkling Bonsai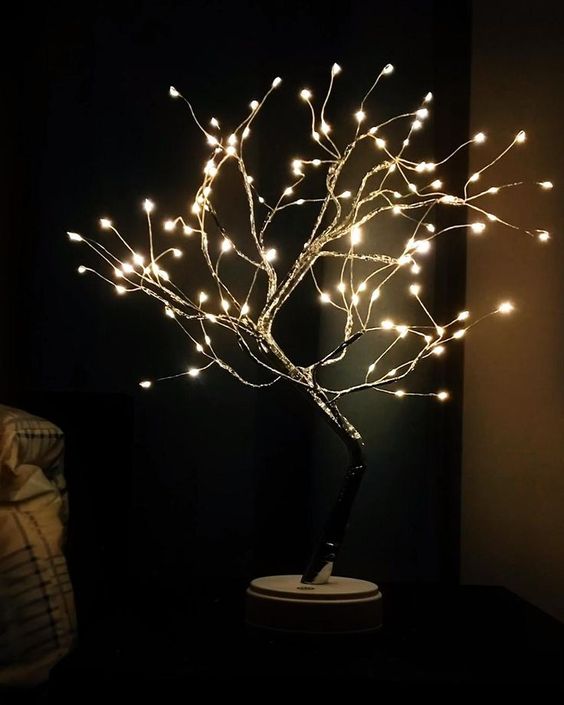 Are you amazed by the sparkling Christmas tree? Sadly, that moment is already over, do not be sad about it we have an idea to make a sparkling tree in your own room! We will make a DIY sparkling bonsai. Looking at your backyard, and find the falling branch then take it to your room. All we need to do is wrapping a string light all around the branch. Now, turning on this sparkling bonsai when your room already dark. It's beautiful to see this sparkling bonsai before falling asleep.
Liven Up Your Dream With Polaroid Wall Fairy Lights Idea!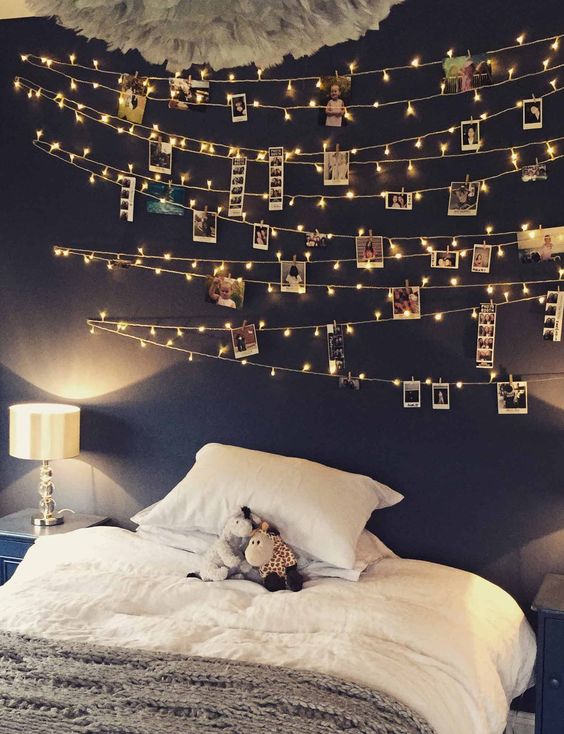 Starting off this project, make sure you painted the wall in dark color or wallpaper. All we need are a few LED string lights and then some polaroid. Stringing fairy lights create zig-zag lines on the wall. The final step, to stick polaroid from your childhood or even your family member. This will bring back us into good childhood memories, that is so lovely!
Inspirational Lighted Word Fairy Light Idea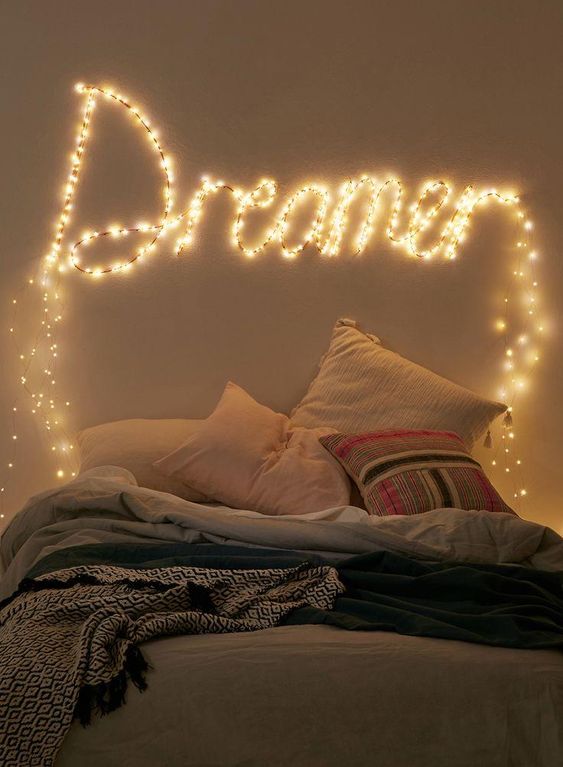 Are you a dreamer? So, do I! Do you love to imagine your dream before falling asleep? If so, let's make our bedroom to be an inspirational place to liven up our dream! We can write a large inspirational word on the wall. And then we can string the fairy lights to floor the word that has been written. Then that is all the simple project to create an inspirational bedroom. Seeing the lighted inspirational word in the darkroom will lead our focus on it. Thinking about our life's goals by seeing that inspirational word and go beyond imagination to liven up our dream!
Branch Chandelier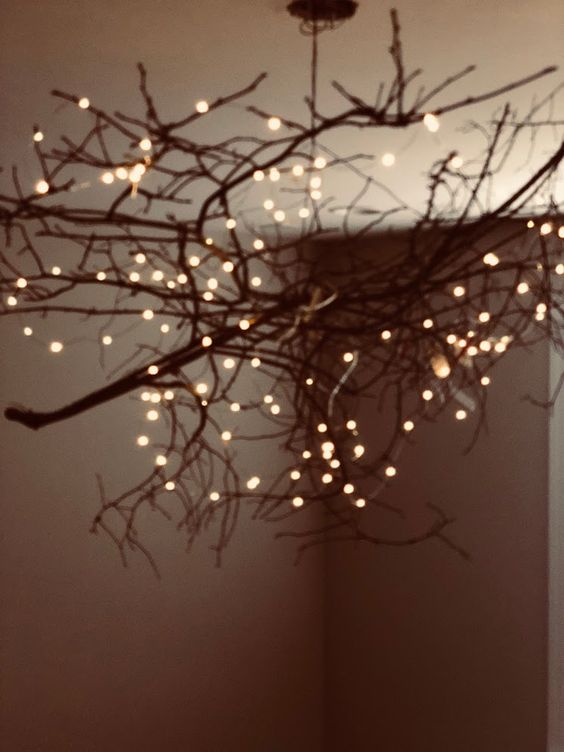 Do you love something rustic and unique in decorating your own room? If so, we have a branch chandelier that could be an awesome rustic decoration to find out our own aesthetic room! First of all, we need to find natural material in creating aesthetic rustic room decor. We can use the dry branch and then wrapping it out with string LED lights. Installing this branch chandelier on the ceiling, and then turn off all of the lights in our room, and just let this chandelier shines above our bed! Do you love this eclectic bedroom design with a branch chandelier?
Fairy Lights Vine Idea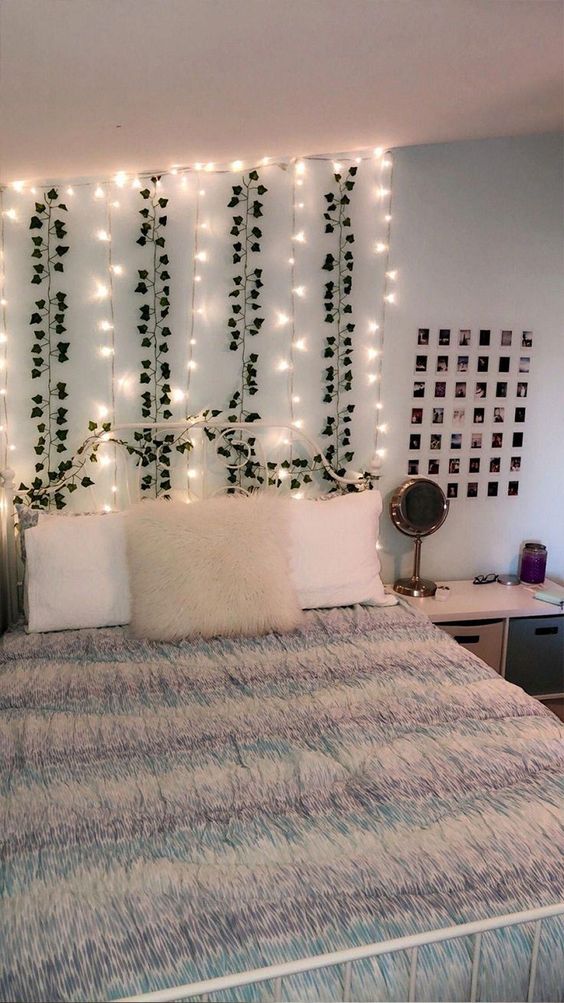 Do you love to highlight the relaxing accent in your room design? Appearing some greeneries to make your room looking fresh. Then we have an idea to bold your green bedroom design by sticking the string LED lights around the vine. It will accentuate the greeneries inside your room. Do you love this fairy light idea to make your bedroom feel cozier?
Cozy Warm Bedroom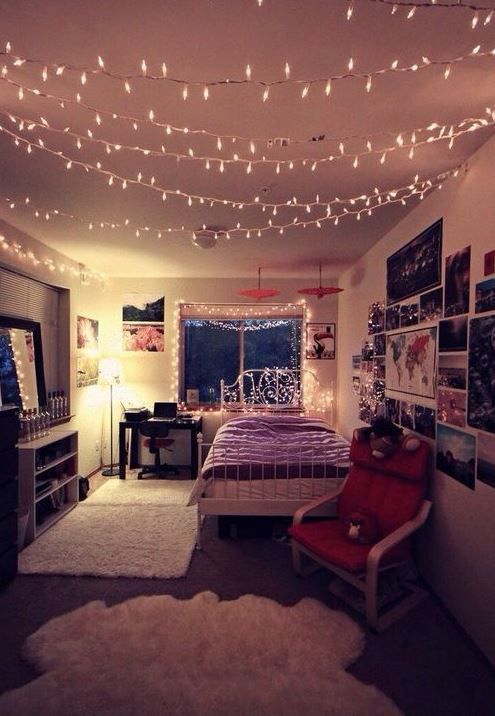 Did you know that lighting can support our room to be cozier and feel warmer while being inside! If you want to have a warm design bedroom, you can install string LED lights all around under the ceiling. The effect of this string light makes our room feel warmer. Do you want to try this idea in your room?
The bedroom is the place where we supposed to sleep or rest well after tiring busy days. It is a place where we can express our feeling and it also the place where we can decorate the living space with our own style. There are many styles to decorate the room such as a coastal bedroom to create a peaceful feeling, a bohemian style to make the room decoration feel more cheerful and vibrant, and they're also some ways to make our room feel cozier.
in this writing, we have already shown you some DIY fairy lights bedroom ideas. Our focus on this DIY fairy light bedroom idea is easy to apply, so you can DIY easily. These fairy lights ideas will make your room feel warmer and cozier by appearing gorgeous sparkling lights!
We hope you enjoy this writing and hopefully, it can be your inspiration to define your own aesthetic room! Do not be afraid to work on the new style of your own fairy lights room decor ideas, be creative in designing and live your dream on!