Jordlinghome.com – Figuring out what best decoration to relieve the stress caused by the spread of this pandemic era. It definitely falls into a relaxing decoration! Have you ever imagine living in a tropical country that offers you magnificent natural surroundings? That is an absolute actual paradise that exists in this world!
Dreaming about the tropical forest that full of green lush is so relaxing! Seeing the gorgeous peacock spread its beautiful wings, and also feel the warmth of the sun on the beach or hiding under the palm trees makes us fall into a deep dreamy paradise!
After we imagine lots of magical tropical scenery, our vision to have that environment nearly close be realized. What comes next to mind is how to create a tropical environment into our living space? Creating a tropical theme into our living room would be an easy job, on the other hand, it could be a disaster if we are not able to display decoration in the right way.
There are some important tips to achieve a relaxing tropical living room decoration. We should create an airy space that means not to do an over decoration, adding some natural decoration from wood, rattan, or bamboo. And then amplify the fresh tropical room style by including some green plants inside.
A tropical room theme usually filled with vivid color decoration to make the room feel cheerful. There is some vivid color usually involved in the tropical room decor, they are green, yellow, pink, or even yellow, etc.
Here we have some tropical living room ideas and decorations that could be your inspo, find a relaxing living space design inside your home!
Minimalist Tropical Room Decor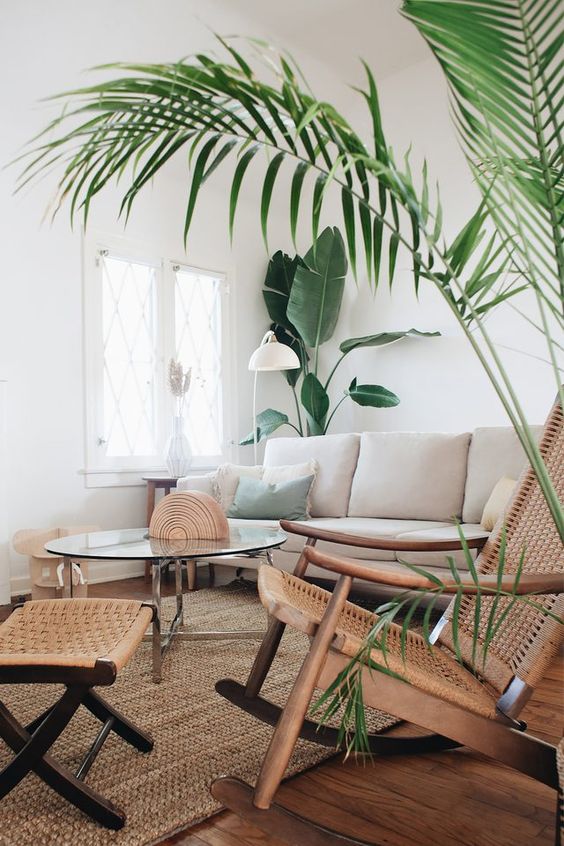 This authentic tropical living room decor stands in a minimalist style. The neutral wall palette makes this room look bigger and airier space feel to it. Bringing a medium banana and palm trees defines enough tropical room style. Comfy seating area by adding a white Scandinavian sofa, and then spread a seagrass rug, then finally add some chairs to provide more seating. This minimalist tropical living room looks spacious and relaxing, do you love this idea?
Green Motif Decoration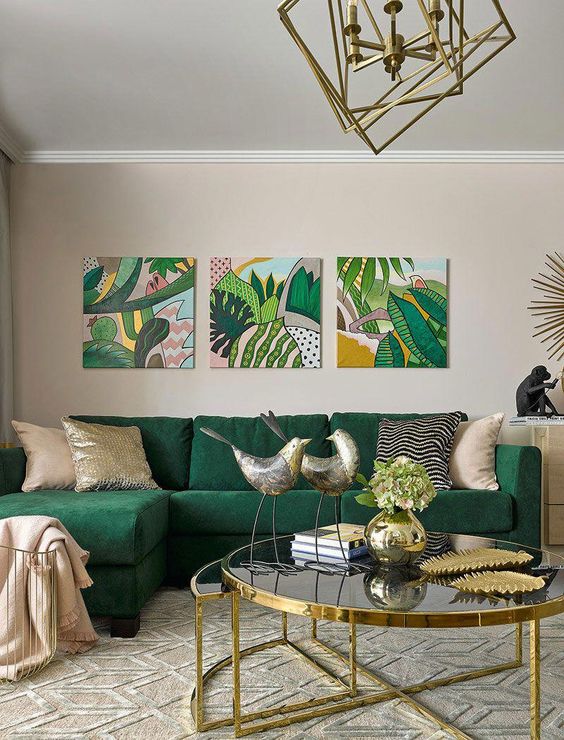 We can evoke a tropical room design by featuring green motifs in decoration. To begin with this green room style, we can add a green sofa, and then add some jungle-inspired paintings on the wall, monkey and bird sculpture, sun and leaves metal craft. These curated green and neutral palette decorations make this tropical room look stand out in harmony.
Environmental Wooden Ceiling For Tropical Interior Design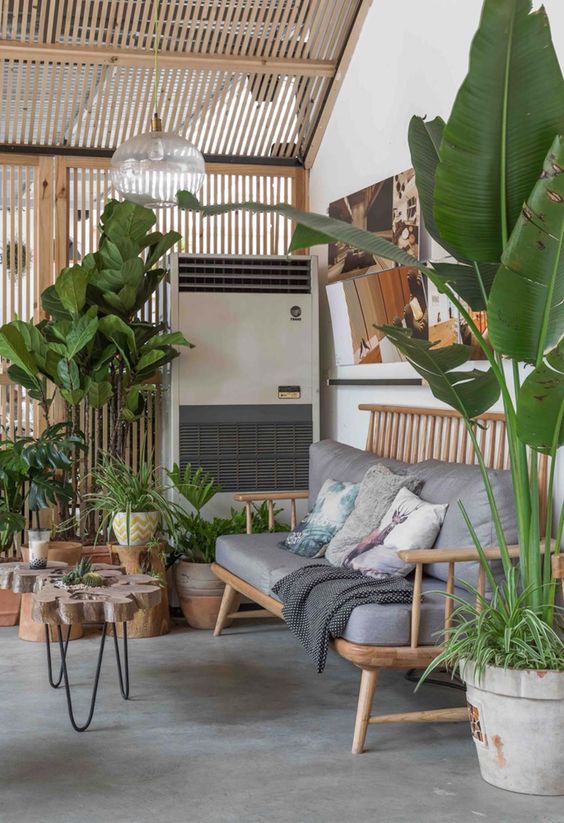 This creative tropical room design using an environmental wooden ceiling that evokes open space jungle-like, for the flooring we can install misty gray granite. These two combinations make this interior design does not feel like being inside the home but look like an outdoor space. Let us do some matched decoration to make this interior work in its jungle style. We can set a wooden sofa and table, and we can bring some tropical plants such as banana trees and spider plants. Do you love this open space-inspired living room?
Cheerful Tropical Living Room Idea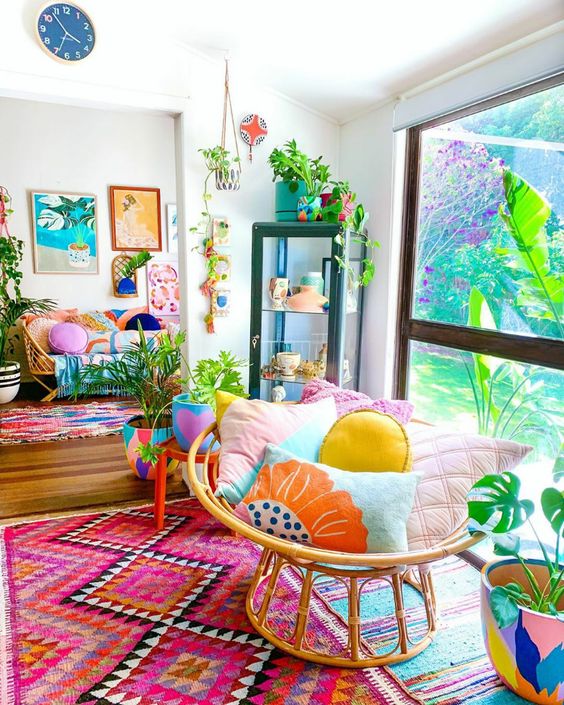 As we already alluded to earlier above, tropical design has vivid colors in decoration such as pink, yellow, and green. Here we able to see those colors are so beautiful and cheering this room. Starting off spreading a geometric pattern and colorful rug on the wooden flooring, and then add a vintage bamboo chair with some colorful throw pillows on it. Do not forget to stick some paintings on the wall that evokes tropical vibes. And to freshen up the room, we can bring some green indoor houseplants. Some decoratives and colorful pots give an extra dimension of a cheerful summer vibe!
This cheerful tropical design adding some vintage and colorful accents which is commonly found in bohemian style. So, we can blend the tropical style with a bohemian to make this room looks more attractive.
Peaceful Tropical Living Room Decor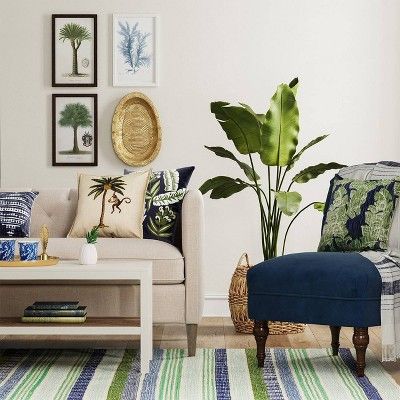 Featuring two colors in decoration makes this room look simple but also meaningful. A relaxing effect made from the green touch and combine with calming feel with a blue effect make this room feel so peaceful. Without over-decorated you will love to stay and have a rest in this room.
Gorgeous Dark Green Living Room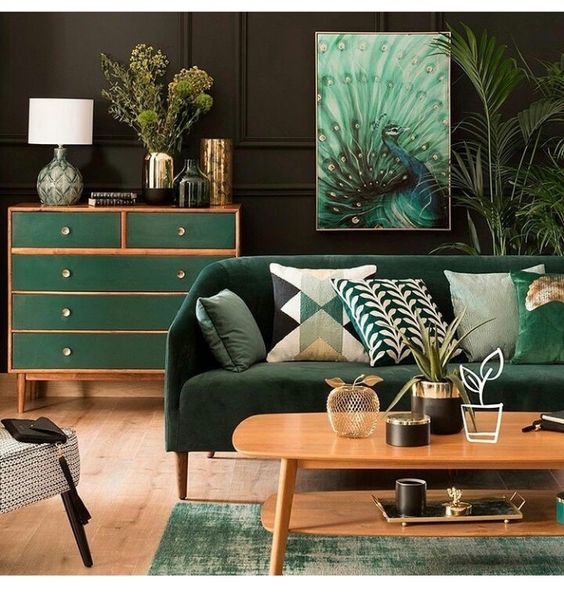 This is a sample of curated tropical living room design in dark green. The key point that makes this room stand out is a balanced combination of two colors, that is green and brown. When the brown palette takes part in the flooring and some wooden furnishing while green takes part for a rug, sofa and plants. This perfect ratio in combining two colors makes this room stand out in harmony. To enhance the tropical accent, this room using a peacock painting, and printed green leaves throw pillow.
When The Greeneries Take The All Attention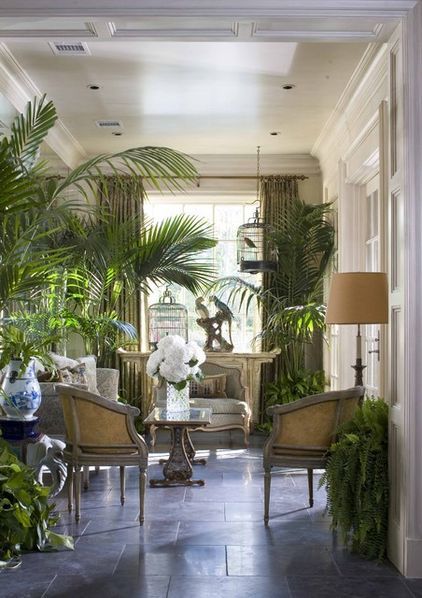 Do you want to sit where lots of lush green plants surround you? Well, you can bring some green plants inside. Let the green plants take the attention in this living room. We can work from one corner to another, place a medium green palm tree on each corner in this room. For more decoration, we can hang on the birdcage. This room looks classic with some display of antique chairs and combines together with black marble tiles for flooring. Just sit and relax in this room and feel such a great relaxation like being in the tropical forest.
Those are some relaxing tropical living room ideas, now we will guide you to have some tropical room decoration, don't miss any of them!
Printed Tropical Palm Leaves Throw Pillow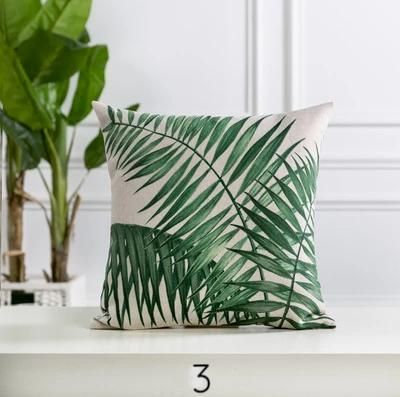 We can style the tropical room decoration by adding some printed palm leaves throw pillows. Appearing the palm trees accent on the decoration is enough to define tropical style. So, we can lie some of them on the sofa, and there we can see the tropical vibe alive there!
Rattan Pendant Lampshade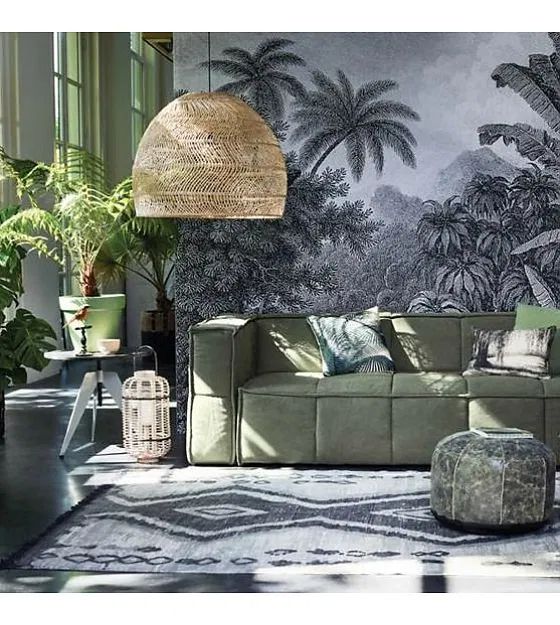 Leading the concept close to nature, the tropical design should bring the natural material on its decoration. Do not leave behind the lighting to strengthen the tropical vibes in your room decoration. We can choose a rattan pendant lampshade to brings out the natural texture in this room.
Tropical Green Leaves and Flamingo Wallpaper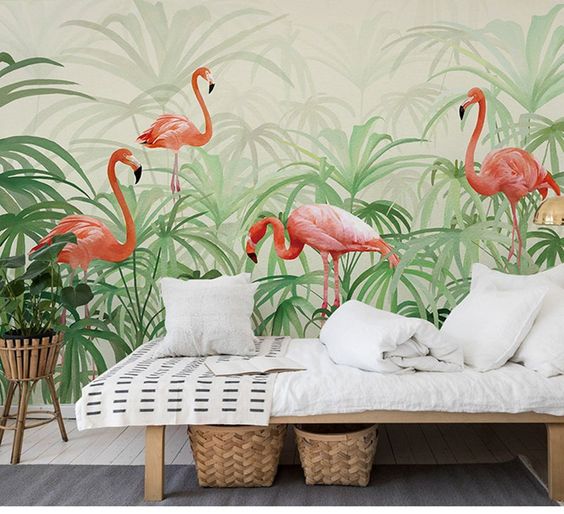 How to create a tropical room style in the easiest way? It definitely goes to the selection of tropical wallpaper themes. We can choose green leaves and flamingo wallpaper to decorate our living room. Display this wallpaper on the large wall and see them will evoke our sight to imagine the tropical environment, go beyond imagination!
Woven Pot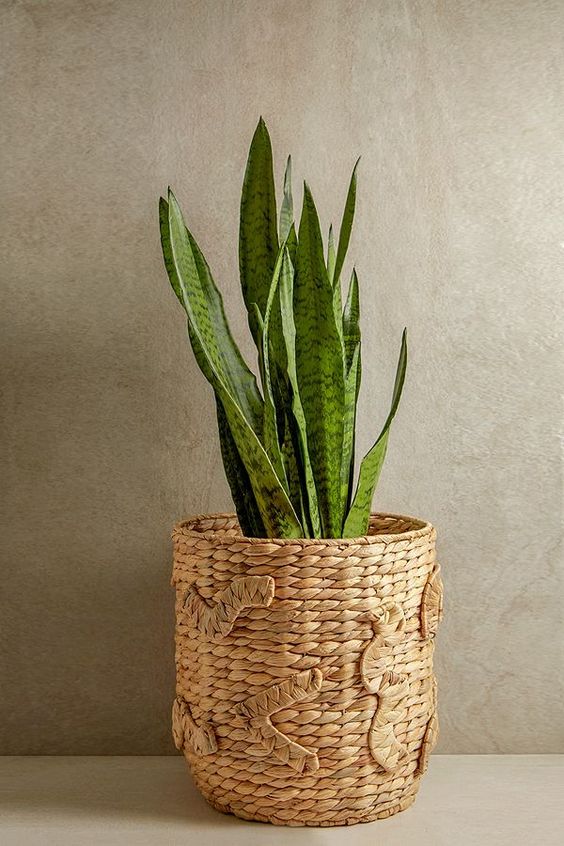 There is nothing better to choose natural material for tropical room decoration. While bringing some greeneries inside we also need to pay attention to the planters. We can choose the woven pot made from seagrass, or rattan. By choosing the right materials will make the room easy to define, just like this tropical room style that needs lots of natural decoration to brings out its major characteristic.
Tropical Craft Decoration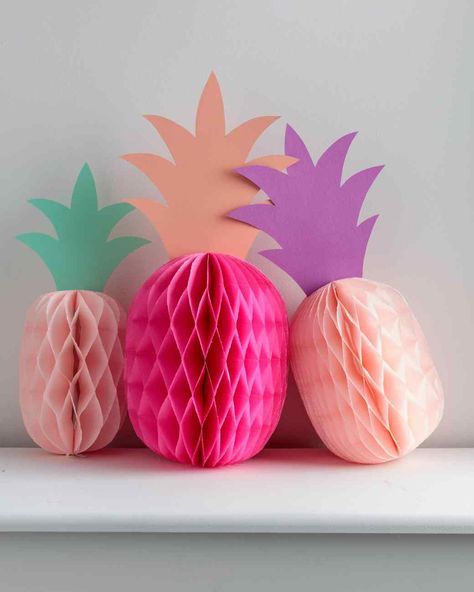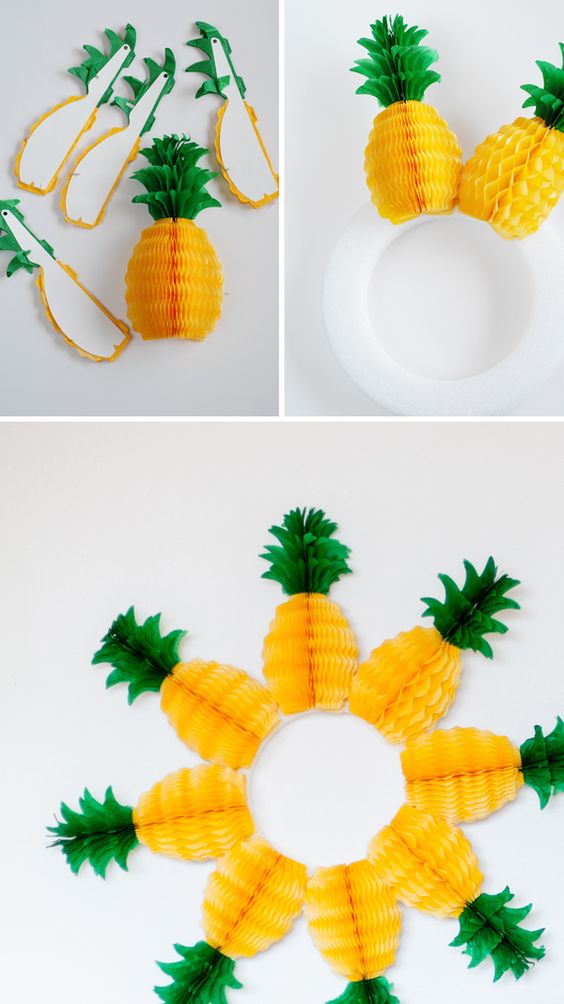 Why not bring some pineapple craft into your tropical room design? This fruit is well known from a tropical region. So, we can craft this pineapple decoration from paper or even plastic. We guarantee this will evoke the tropical vibes just in second sight.
Chairs For Tropical Design
Furniture take an important part in interior design, every room design has its own furniture style. We can categorize furniture divided into modern, classic, and natural material. We find suit furniture for a tropical interior design should be natural. The best material selection for tropical furniture made from bamboo, rattan, or wood. Here we have two different chairs to beautify your tropical living room decoration.
Woven Rattan Cave Chair
Get relax to sit in this cave chair and surround by green plants that will lead you into the tropical paradise! Reading books and have a cup of tea in this living room, such a relaxing environment!
Petal Chair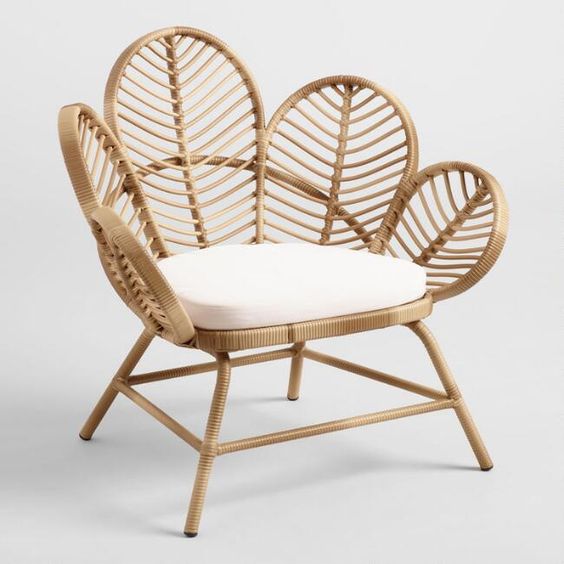 Another identical piece of tropical furniture is a petal chair. So, we can display some petal chairs in our living room. They will make our room looks beautiful.
Tropical Rugs
Rugs takes an important part in living room decoration. There are various rugs available to style our living room. Here we have some suit rug for tropical living room decor:
Jute Rug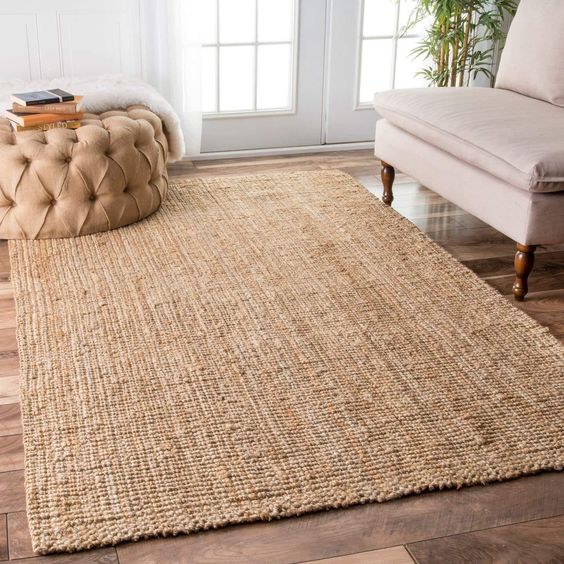 Jute rug has natural fiber and unique textures, which is perfect to display in tropical room decor.
 Palm Leaves Rug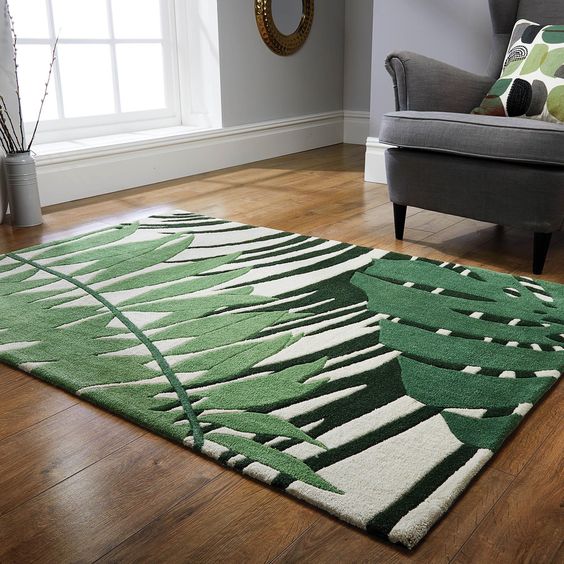 Besides choosing a jute rug for tropical room decoration, we can trick the style to brings out the tropical vibes in the room. Well, we can choose the right pattern rug to define cheerful summer vibes. The palm leaves pattern rug can be your option to use in your living room.
Round Woven Rug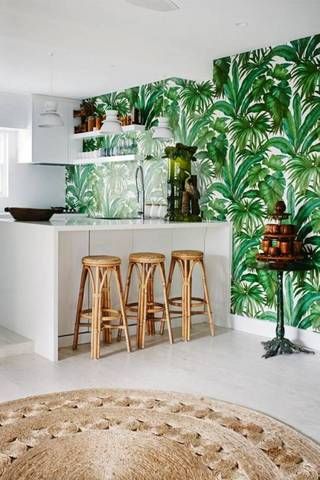 A round woven rug brings out the impressive natural living room design. It has natural fiber which is so unique and the round shape makes this rug more attractive.
Are you dreaming and fascinating about a vacation in the tropics country? Surrounded by lush green plants and seeing some beautiful tropicbirds such as peacocks, flamingo, or even dreaming relax on the beach while drinking fresh coconut water.
Sadly, we are not lucky enough to go for travel abroad now, it caused by the coronavirus pandemic. Well, don't be sad, we can make a little tropic vacation while being at home! We can do a little makeover to the living room space. Freshen up the interior space by bringing some tropics trees such as banana, and palm trees. Giving an extra natural look by adding some natural furnishing such as a woven rug, bamboo chair, and rattan pendant lamp shade.
The fresh look came from green plants and some natural furniture that's all which makes us feel cozier in the room. Now, we can hang out and relax in our tropical living room. We hope you enjoy our writing about tropical room ideas, and find a relaxing living space design inside your home!