Jordlinghome.com – Are you looking for a living room decoration that bold in simple line decor yet look stylish? We recommend you to have a masculine room design that will totally answer what you need!
When you find an elegant room design that bold in a simple line decor you must fall into masculine living room ideas. Before we dig into the masculine living room ideas, now let's see what kind of decoration that called masculine design.
Now, let's talk about a brief masculine decoration first, black is a major color that uses in the masculine room. We can also use neutral or earthy colors to evokes the clearness of the masculine type. There are some common materials that decorate a masculine room there are steel and leather. The steel brings out the statement to the room where a leather decoration features the sexy side of the masculine design are.
Men's room style love to show the simplicity in decoration, which means there is no over-decorated space interior design. Men love to put some electronics to their decoration such as tv or even an antique radio to make their room look stylish and sophisticated. When the simplicity in masculine style meets the right curated decoration then there is the time its room achieve its goal!
Here we have some masculine living room ideas you will love to get! Create an elegant dramatic shade room in a curated simple line Design!
Black Feature Wall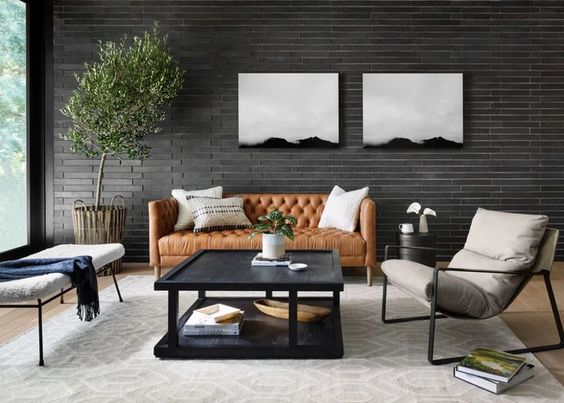 As we alluded to earlier that a masculine room style uses a lot of black palette in the decoration. Now, we can see the display of a black feature wall that set as a backdrop in this living room. It shows the assertive character of men's room style, different from women's interior design that plays a lot in textures and colorful decoration, the men's room has a simple line but strong enough to show a masculine character to its decoration.
A leather sofa set in front of the black feature wall creating a sexy look of this room. There are a neutral cushion chair and a black coffee table that successfully creating a simple and clean decoration. And we can see, there are two monochromatic scenery paintings tucks on the wall that creates a dramatic backdrop.
Eclectic Men's Room Style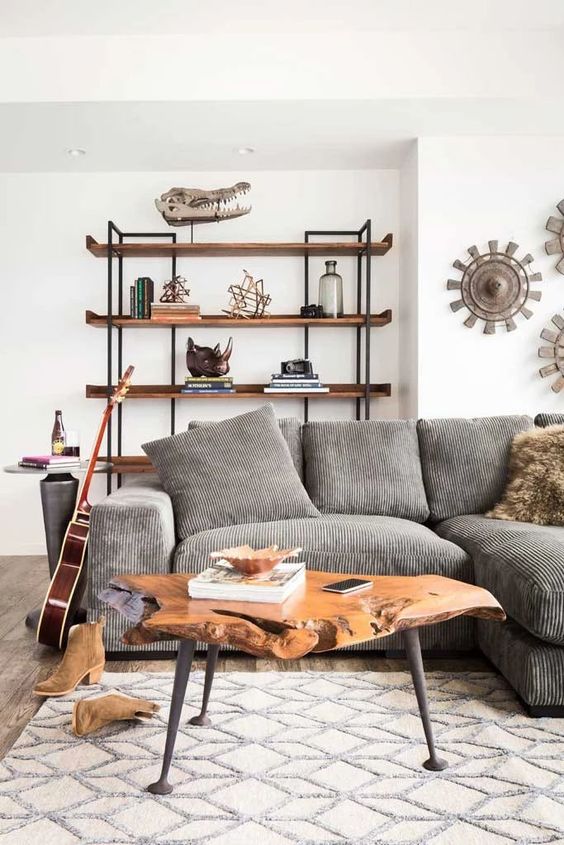 Creating our own room style but follow the curated design to find the balance in decoration called eclectic room design. Now, we can see a sample curated eclectic room style in men's living room design. There are many ways to achieve a curated eclectic room style, each one of them is shown in this living room style that balances material decoration, there are metal, wooden, and fabric materials that seem to take the same ratio in decorating the space.
Now, let's take a look at the decorations! There is a strip grey sofa set in the middle of the room, giving unique touch by adding a teak coffee table, creating a more masculine room style by appearing some metal craft and then to make this room feel warmer, put an acoustic guitar beside the sofa. This room feels so warm with the accurate men's decoration accent and a soft neutral wall palette backdrop. Do you love this men's living room idea?
Dark Masculine Room Style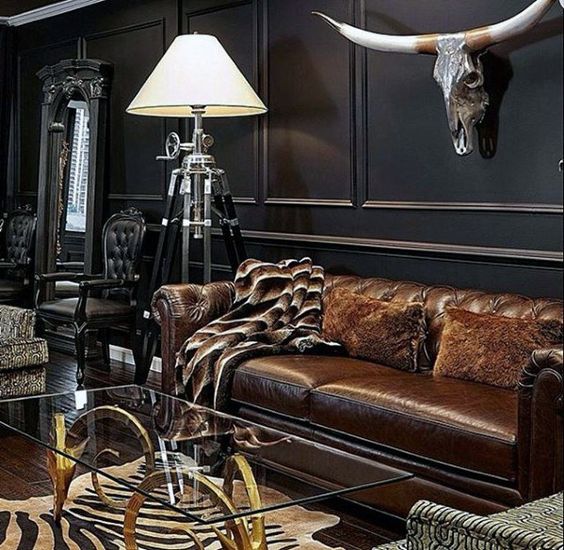 This masculine room style chooses dark furniture to show its masculine design. Enchanting the room look by setting a classic leather sofa that set in front of the dark backdrop. Bringing the wildlife accent into a decoration creates a powerful men's interior design. We can choose a glass coffee table that has golden table leg finishes, that brings out the elegant look in this room. Giving the warm touch by adding a floor standing lamp beside the seating area. When the darkroom theme meets a golden accent create a luxurious effect!
Beautiful Mess Bachelor Pad Living Room Style!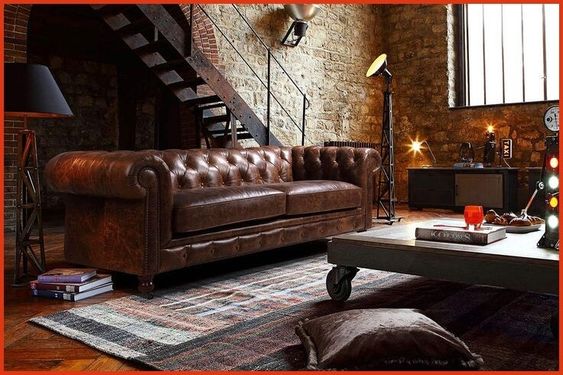 Imagining the bachelor pads room in the dorm, they are usually looking into a real mess in the morning! It happens when they wake up late and running on the deadline that finally ends up leaving their room in a mess! Whether not all their room looks a mess but we can see that majority look like that.
That mess in the bachelor pads inspires a unique masculine living room style, moving a little bit from the clean decoration that the masculine room has used to. We can put some books on the floor and some throw pillows that lay on the rug, do not forget to add a leather sofa to bold a masculine room style. Brighten up the room with some floor and table lamp. Giving a rustic view by featuring a brick wall around the room. This masculine room style turns into a beautiful mess! Guys, do you fall in love with this idea?
Monochromatic Living Room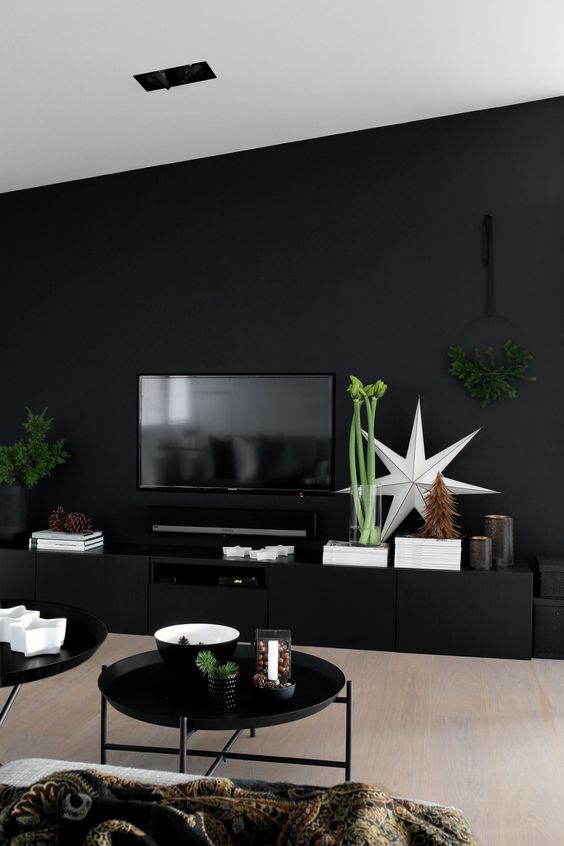 When we come into the masculine room style, we can never go wrong by choosing black as a focal point of this room. Black is all about perspective, being bold, and also being cool if we can use it perfectly to style the room. Black also works well together with white, the combination of these two called a monochromatic palette. Do you realize that a monochromatic palette works very well in creating a masculine room style? When the black take the bold attention of men's room and then the white accent creates an elegant dramatic shade room in a curated simple line design! Guys, we can add some greeneries to freshen up the room space!
Artistic Masculine Room Design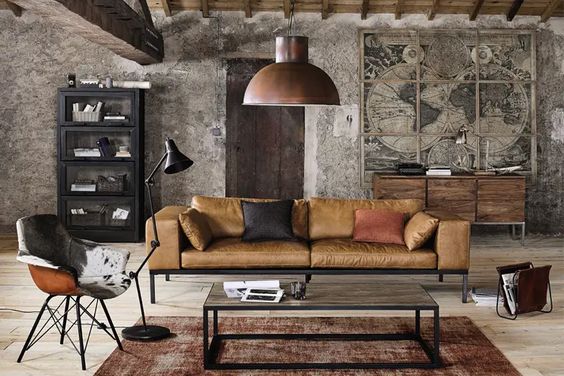 Another masculine living room ideas come to the artistic style. Featuring concrete walls backdrop and there we can see a mural wall art stick to it, the two combinations creating an artistic and unique room style. We can set a leather sofa to define masculine room style, and then we can spread a distressed rug o the floor. Adding a wooden accent into the room such as wooden tables, ceiling, and flooring brings out a rustic view. The antique furniture, artistic mural wall art, and concrete wall combine together to make a beautiful artistic masculine room style
Those are six super stylish masculine living room ideas we already collected for you. Before we wrap up this writing, let's summarize what we have from masculine room design! They usually appear a simple and clean line decoration, adding steel and leather material to define the men's room style and they usually stand out in a dark palette. They all look so gorgeous!