Jordlinghome.com – Living in an apartment is a common thing for many people in the city. Why do urban people love to live in the apartment instead of owning the home? The apartment comes to provide affordable proper living space in the high population city. There is a reason why people do love to live in an apartment because it usually has a smaller space than owning a house, that means smaller living space less in cleaning too, so cleaning the house will be easier!
Now, are you searching for a spacious luxury apartment design? We will share with you how to choose the right mood board to create both spacious and luxurious apartment interior design. There are some point can be your concern in making modern apartment design. We can feature a timber accent to make the room feels cozy, adding an organic mirror in the dining area will make the room feel spacious, and then appearing marble wall to make the room luxurious.
Now, let us do the project of luxury spacious apartments ideas down below, do not miss any of them!
Column and Concrete Wall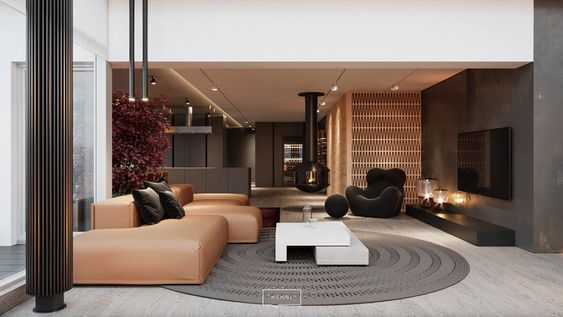 What stands out the most in this apartment design? We consider there are some columns installation in this interior design, they are very useful to create airy space inside, and there we can see a concrete wall and combine with a timber woodgrain accent wall creates a dramatic living space. To make this room look luxurious, we can do some decoration projects. We can set a leather modern sofa facing the large LED tv, and then set a geometrical gray rug on the floor. Finally, set a white coffee table in the middle of the seating area. There is a key point we should know to create a luxurious interior design is to keep in the simple line design.
Mood board palette:
Spacious and Luxurious Bedroom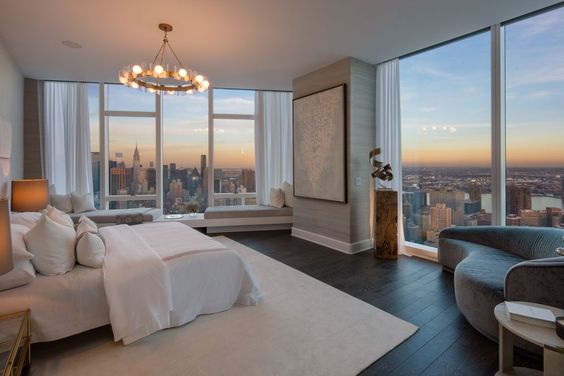 Living in the 20th-floor apartment will give you a sophisticated megacity view. Taking the advantage of living in the tall building to see the busy city life from the high place. First of all, we need to have a full-height window, so we are able to see the view on a wide-angle side. Now, we can do the decoration to make the room feel airy space. To begin with, the wall must be painted with a neutral palette such as white, and then using wooden flooring to make the room feel warmer. Then, we can set some decoration properly such as a coffee table beside the cushion sofa. there is no overwhelming decoration in this room which makes this bedroom feel so spacious and then there is a modern chandelier that brings out the classy accent in this room.
Mood board color scheme:
White
Beige
Dark brown
Ivory
Gray
Yellow with earthy color shade
Modern Apartment Design: Walk-in Wardrobe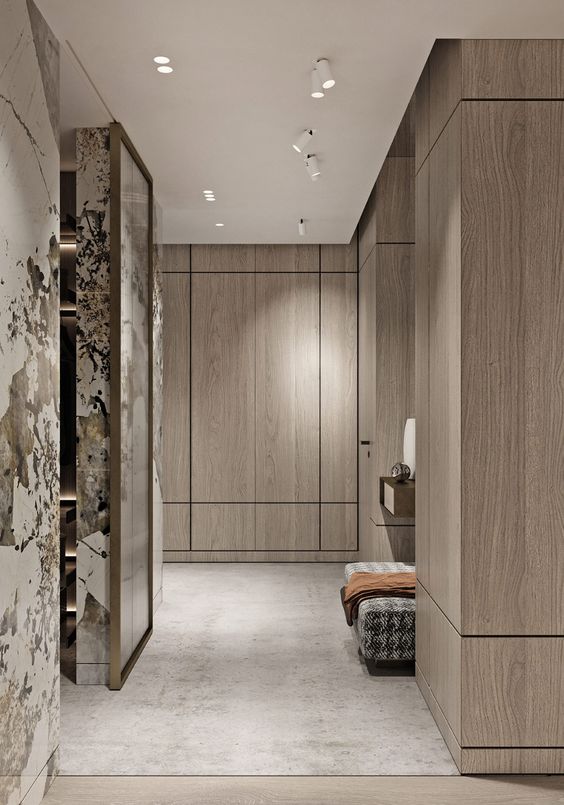 Talking about the modern living space design, there must be a focal point that makes this home look stand out. Now, we let you see an interesting modern bedroom that features a distinguish walk-in wardrobe. As we can see a marble accent wall set looks sophisticated with a sliding door. Installing a timber wall for the whole room creates a minimalist feature wall that shows the strip detail from the wood itself makes this room feel cozy. This room shows the consistency of a marble and wood accent in decoration, it is such a warm and cozy bedroom design! Would you love to have this cozy modern bedroom design in your apartment?
Mood board color scheme:
Being Generous In Natural Lighting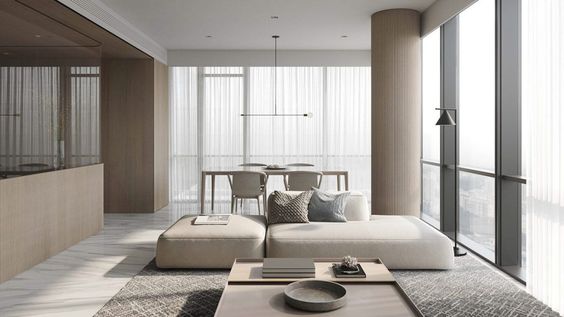 Let us be generous for natural lighting to come inside the room! Installing full-height windows around the living space allows the natural lighting to brighten up the whole room. Using earthy color for the wall palette and decoration, such as white for the ceiling, beige color for the furniture, and gray for the window frame. Installing white marble flooring makes this room less busy and look glossy. As we can see in this minimalist home design, there is no inconsistent color set for the decoration, that what makes this room achieve a minimalist design.
Mood board color scheme:
Dual Function Cabinet: TV cabinet and Stylish Cabinet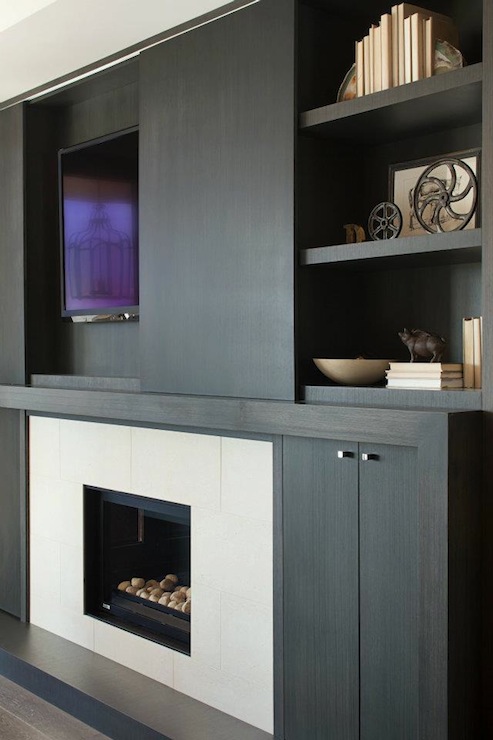 When we come into the modern decoration, there will be multifunction furniture, such as appearing the dual function cabinet that displays in the picture above. We can slide the door when we are watching tv and close the sliding door there we can see a display stylish cabinet.
Mood board color scheme:
Organic Shape Mirror To Make The Room Look Spacious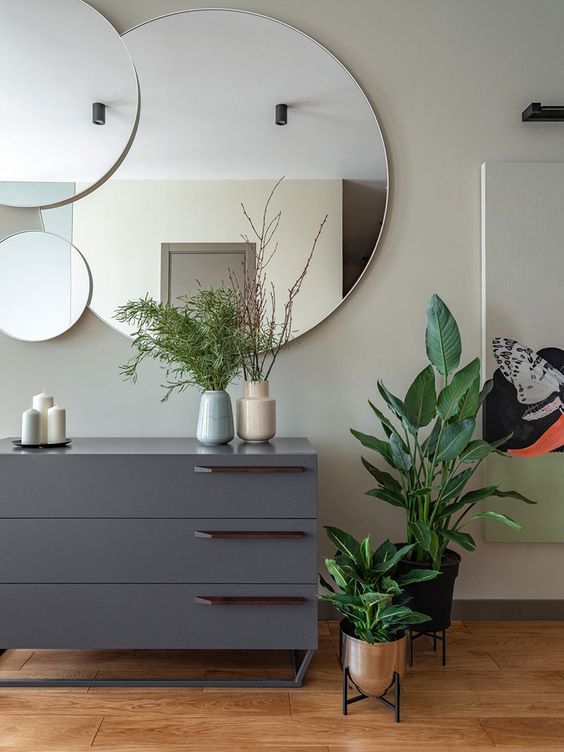 Installing the large organic shape mirror in the living room successfully make the room looks spacious. Appearing a mirror in the room decoration not only evokes a spacious view but also makes the room brighter when the natural lighting hits the mirror and it will reflect the light into the whole room. The white wall palette also supports the spacious room design. We can add some greeneries to freshen up the room. Here we have some wall palette tips to make your living space feel so soothing!
Mood Board Palette:
White
Dark green
Brown
Gray
Beige
Baby Blue
Luxurious Kitchen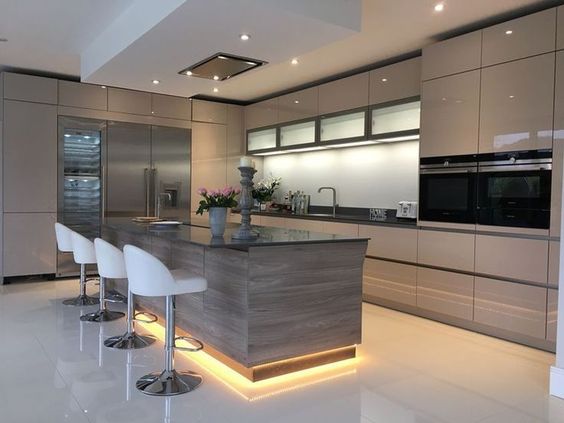 Making fun and comfortable cooking in the cozy kitchen be a priceless moment living in the apartment. We can install white granite flooring that successfully creates a spacious room. There a marble accent set on the dining table and cover up with a black granite countertop make this table looks so glossy and classy. There is a built-in refrigerator in the glossy cabinets which saves a lot of space. This minimalist kitchen look stands out in the glossy decoration. This kitchen will impress us with a luxurious and spacious design that keeps it neatly arranged.
Mood board color scheme:
Dramatic Timber Panel Ceiling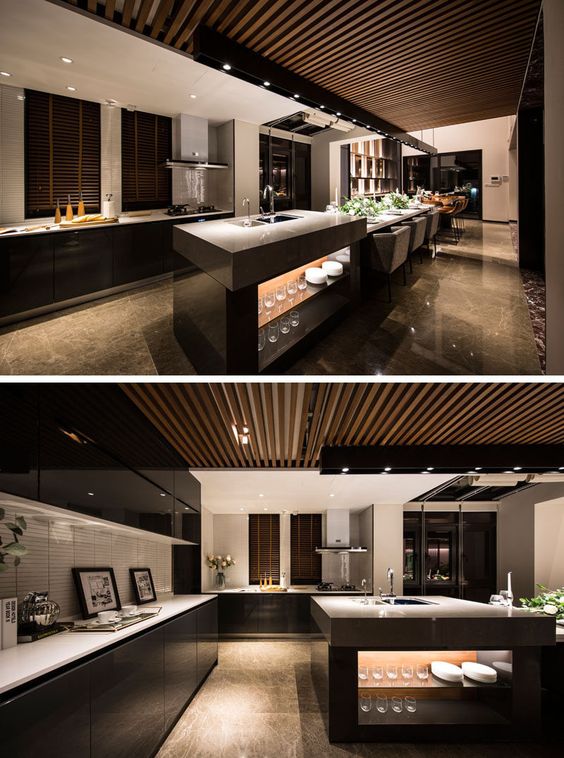 Installing a timber panel for the kitchen ceiling creates a dramatic effect and also makes the kitchen more warm feel. There are three main materials that built this kitchen, they are black marble stand out for the cabinet, unique granite pattern tiles for the flooring, and timber for the ceiling. These three main materials in this kitchen make a big statement. We can purpose this kitchen for a dining area and bar.
Mood board color scheme:
Black
White
Reddish-brown
Neutral Kitchen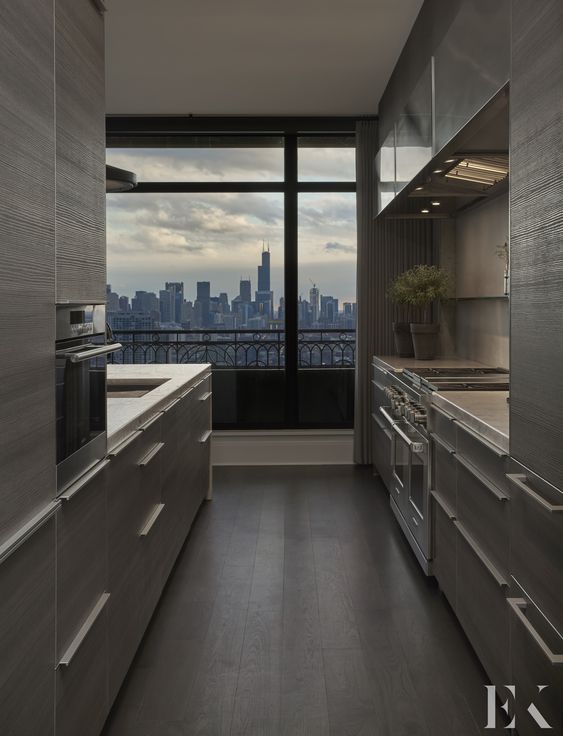 A stylish minimalist kitchen stands out in a neutral color scheme. The earthy color such as beige is perfect to decor the neutral kitchen. Even though this kitchen has no large space but it has enough savings to store our cooking utensils, and spices through large cabinets. There are full-height windows set towards the cooking section, make the natural lighting comes to brighten up the kitchen. A full-height window also offers an open wide view of the outside, so we'll not feel crowded even cooking in the small kitchen.
Mood board color scheme:
Monochromatic Bathroom Idea For a Small Apartment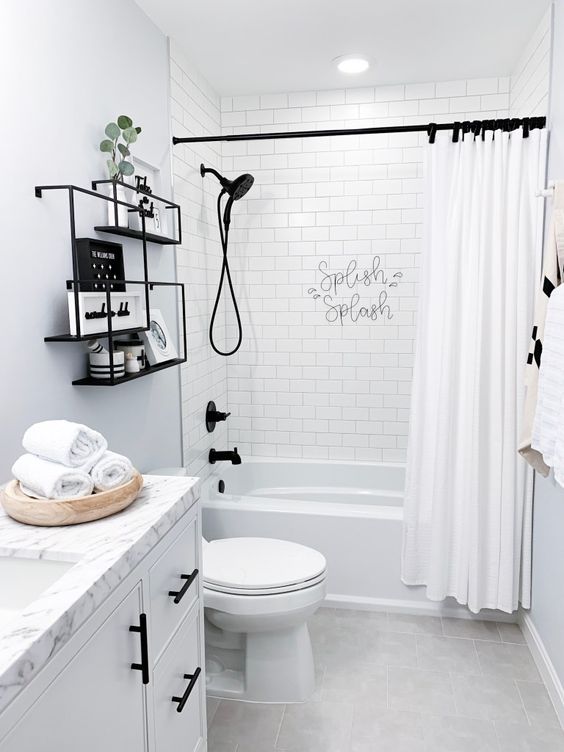 Living in a small apartment that only has a tiny bathroom but we want to style the bathroom that only needs less effort in decoration. We can choose a monochromatic bathroom style, featuring a black and white color scheme that correlated with each other to define monochromatic style. To make this small bathroom look more spacious we can set the wall palette in white and then add a black accent on the decoration, such as black steel hanging shelf, and shower. Do you love this minimalist monochromatic room style for your small apartment?
Mood board color scheme:
Back to Nature Bathroom Concept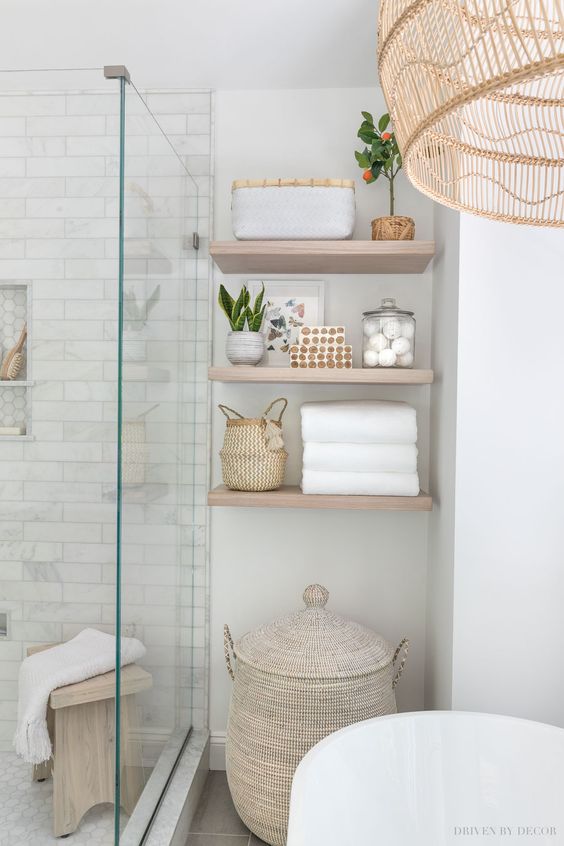 There is another way to evoke a spacious bathroom in a small space. We can install glass to separate the shower and toilet section, dividing the bathroom with glass block window make the room look spacious. Then we can add some natural decoration into the neutral bathroom, such as a woven laundry basket, rattan pendant lamp, and wooden hanging shelves. These natural materials' existence makes the bathroom feel cozier. So, urban designers, we can apply this neutral bathroom style to our small apartment, make it more spacious and even cozier!
Mood board color scheme:
White
Green
Yellow earthy color shade
Living in an apartment for some people in the city is a good option, where usually the apartment support with house supplies makes the occupants easier to find affordable living space. There are various apartment rates available, we can choose one that compatible with our budget. Now, these properties growing rapidly along with an increasing number of enthusiasts living in the apartment. There is no wonder if there are many luxurious apartments available across the globe.
In this writing, we already collecting some spacious and luxury spacious apartments ideas that could be your inspo, and we also share tips on choosing a mood board for modern interior design. We hope this writing could help you out to find a luxury spacious apartment design base on your taste!