Jordlinghome.com – Cleaning the house is a daily routine task to maintain it nice and livable. There are half of us bear to clean and in fact the other is opposite. How would it be mom, if our house is quite large and should maintain the garden too on the same day? We need to prepare for breakfast, changing the baby's diaper that is all hectic housewives work. How can we do it all? Well, calm down moms, we can use modern household appliances to help our job cleaning our home be more effective.
In this article, you will find some smart cleaning gadgets that will help your household chores be easier and cutting down your time than ever!
1.Spin Mop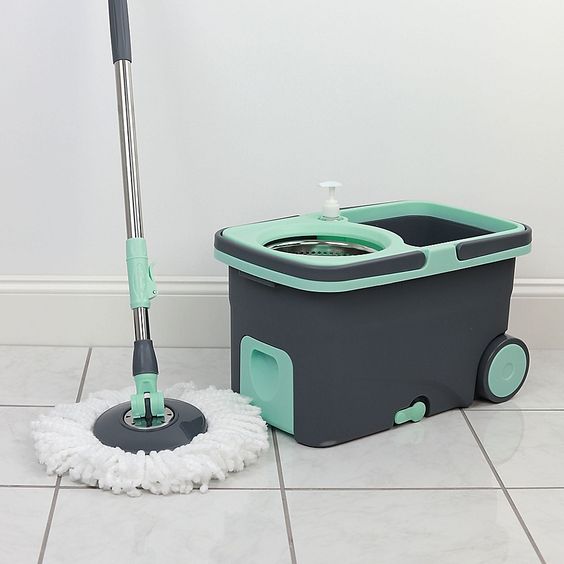 Mopping the floor is one of the daily cleaning projects at home, school, office, and any other floored places. It can be a tiring job especially when the floor is quite large and you still use a standard mop, oh it is unbearable!
Spin mop appears to make mopping floor easier. Using spin mop we do not need to wring out the dirty mop which we agree is something disgusting. Calm down, by using a spin mop no more touching dirty and disgusting mop head. It really works so easily.
First, we need to dank the mop head into a bucket that has filled with cleaning liquid.
Second, Just pomp the mop handle in the spinner basket, which will reduce water absorption in the head mop.
Third, we can simply mop the floor
A spin mop can reduce germ-free affected on our hands. Using a spin mop will cut our time than using a standard mop. So, mom you must-have spin mop in your home!
2. Silicone Dishwashing Gloves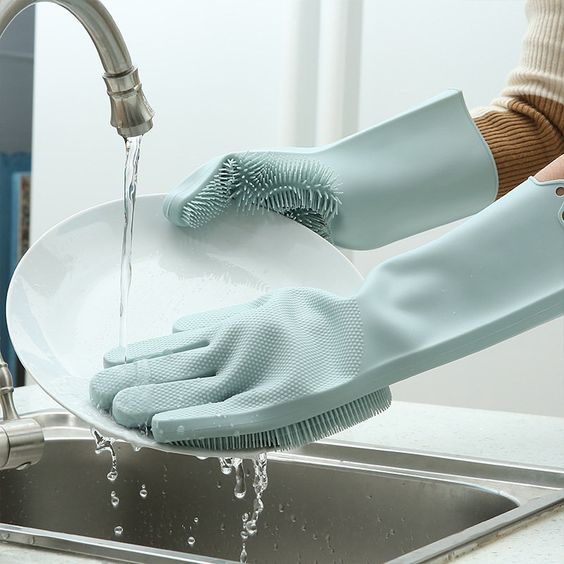 Do you have this cleaning gadget in your home? If not yet, you must have this! It is silicone dishwashing gloves. With the latest and effective reusable dishwashing gadget, you do not have to be worried again by touching dirty plates. By putting our hand inside the gloves and we are ready to clean the dirty plates. Pouring dish soap sufficiently onto the gloves, rub the gloves gently until it's foamy, and then rub it into the dirty dish plate. Next, rinse it with water. Cleaning the dish plate will be not a big problem anymore, it keeps our hands dry and clean still.
The benefits of using silicone dishwashing gloves are to help us reduce our hand-contact with germs causing by touching dirty plates. It is also a durable and reusable cleaning gadget that will save our money better than buying a bucket of sponge.
3. Angry Mama Microwave Cleaner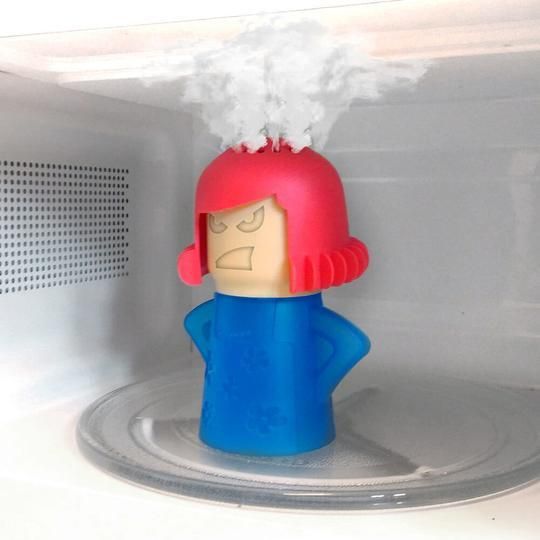 Angry mama? calm down it is not as bad as you see actually.  It is a kitchen gadget that will help you to clean your microwave. After heating your cast-offs Mac and Cheese, your microwave looks like volcanic lava. You want to clean it directly but sadly it still piping hot oh no!!!
We can use the Angry Mama to clean our microwave easier. But, how does it work?
Filled up the body of Angry Mama with vinegar and water, we can also combining it with lemon juice to get a nice fragrance.
Put the Angry Mama in the middle of your dirty microwave
Set it in 7 minutes, you will hear a scary splattering noise but that is okay that system in Angry Mama works. It is spouted vinegar, water, and lemon liquid from the Angry Mama's body.
After 7 minutes have passed, cool it down for 2 minutes.
Remove Angry Mama carefully from the microwave with her plastic arms, because she is still hot if you touch it.
Wipe your microwave with a towel and that's it you already done very well cleaning a dirty microwave.
4. Fabric Steamer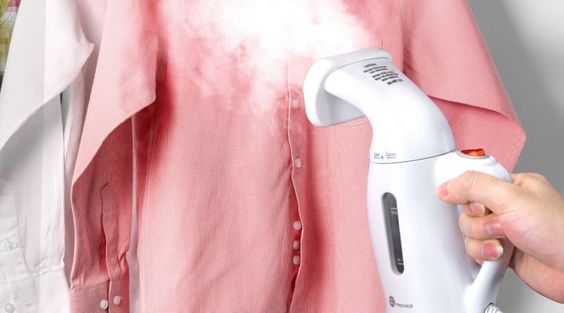 If we have a serious problem with wrinkly clothes, tired of ironing a basket full of crumpled clothes, or even more. We need this fabric steamer to substitute the iron. It is easy to use, does not require much effort and space. Hanging on our crumpled clothes and turn on fabric steamer, point it vertically, and the hot steamed comes works properly to the wrinkled clothes. Using this smart gadget anytime and anywhere we want is possible. It also saves our energy and cutting down time much better than ironing. Would you like to add fabric steamer to your home?
5. Vacuum Cleaner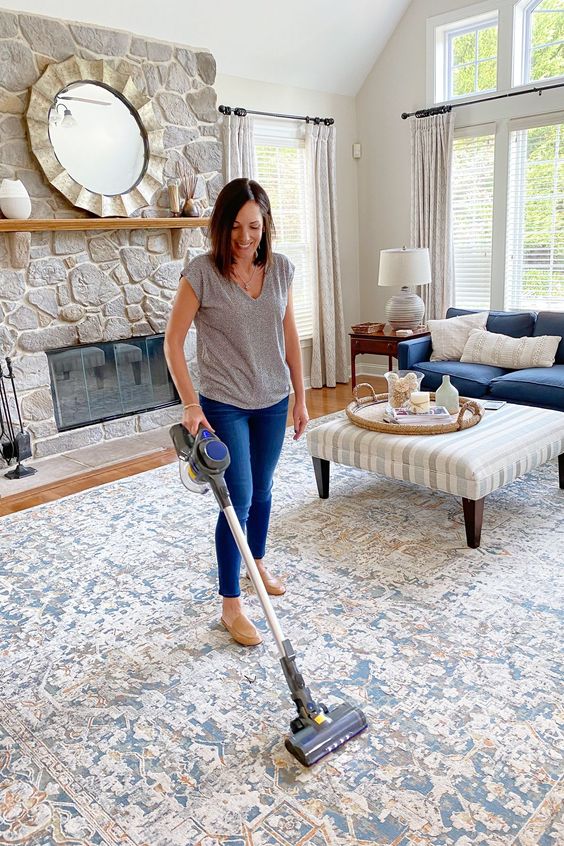 Another useful must-have cleaning gadget is absolutely going to vacuum cleaner. It can remove the dust and dirt in carpets and floors. Not only that, but vacuum cleaner also can do many things to help us cleaning, they are:
Capturing the mess from the pet. If we have a pet such as a dog or a cat, they leave their fur on the carpet, floor, or even on our bed. Sweeping with the broom is not the best way to get away their excess, it can be spread to a wider place in our home. But, if we have a vacuum cleaner, this will help a lot. It captured the excess pet hair exactly in that place without even spread it out. So, pet lovers, you need to have this one in your home!
Vacuuming dust very well. Cleaning our carpet, floor, or even our bed sheet is much easier with a vacuum cleaner, it is effectively vacuuming the dust and some small dirt without spread it out.
6. Robotic Window Cleaner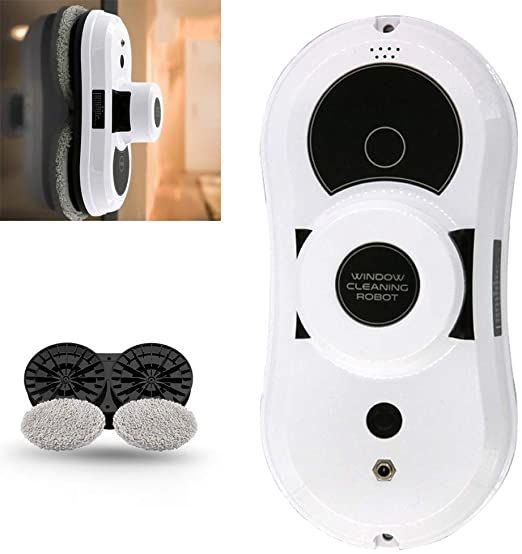 Cleaning window for most homeowners is difficult and could be a risky task. Imagining if we have 15ft tall window in our home. It will be hard to clean it up even we use a stair, how if we fall from the stairs? isn't it a scary thing? That is why cleaning window is something difficult and dangerous too.
Lately, technologies answer all the problems and challenges which is difficult for us to do. A robot window cleaner helps us to clean and to reach out the glass surface that we don't. How to use a robot window cleaner? It is so easy as a piece of cake!
First, fill the window robot cleaner with a glass cleaner
Second, stick it to the window
Third, operate the robot move with your remote control
Using this helpful robotic window cleaner helps us to reach out to the surface that we can not access.
In this modern era, humans create abundant innovative discoveries to improved and making life easier. One of the human's rapid inventions is technology. Including the improvement of smart gadget household which we are discussing now. From the useful stuff, spin mop to the robotic window cleaner that can help and cut down our household chores on express. Those are 6 must-have cleaning gadgets we already examined, we hope this article can help you to choose the cleaning gadget you need the most in your home.