Jordlinghome.com – The balcony is the external space of the upper building. We can find a balcony in the attic house, apartment, etc.  Creating a magnificent view over our balcony takes advantage of an extra space attached to our upper building. The well-designed balcony will give us lots of comforts by enjoying relaxing views such as a beautiful garden or even a sophisticated view of a megacity if you live in the city.
Before we dig into the balcony styles. There are a few things we need to keep in our minds. They are:
Choosing the right materials for furnishings. Using durable and solid wooden furnishing such as teak. Adding a wood coating to our wood furnishing weatherproof.
Consider the balcony size. We are the ones who know the size of our balcony is. So, we don't want to be overwhelmed by oversized seating that will take too much patio. Choosing a proportional sofa, table, and any other furnishing on our balcony is much required before decorating it.
We can hook and enjoy the outdoor environment with family and friends or even to get reduce the stress of being inside your small apartment. In this article, we will show you creatives ideas to design a balcony that will make you adore and might be turned to be your favorite outdoor spot. Let's check them out!
1. White Balcony Ideas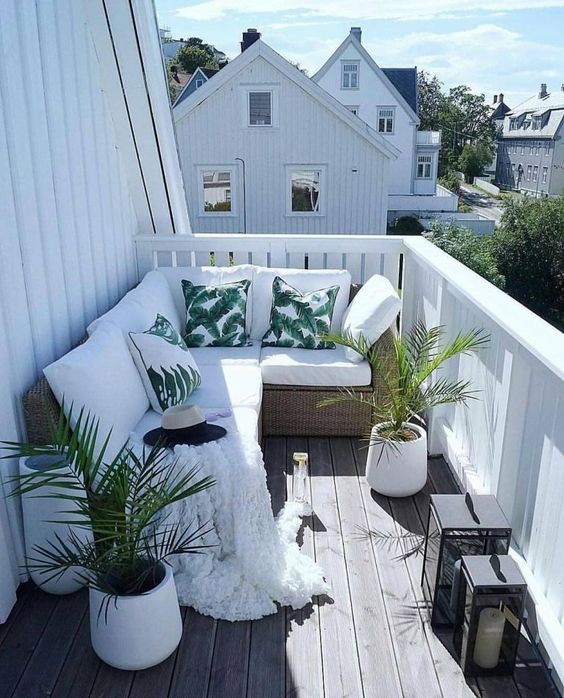 This is an open-air balcony type. We can paint this tiny balcony in white to look more spacious, set a proportional size sofa to the balcony space, decorate it with throw pillows to comfort us enjoying the perfect morning sunlight in summer. To beautify our minimalist white balcony we can add two pots of green plants. Intriguing the specious and minimalist balcony look and turn to be an amazing outdoor spot to hangout. It looks bright and spacious in white!
2. Bohemian Balcony Style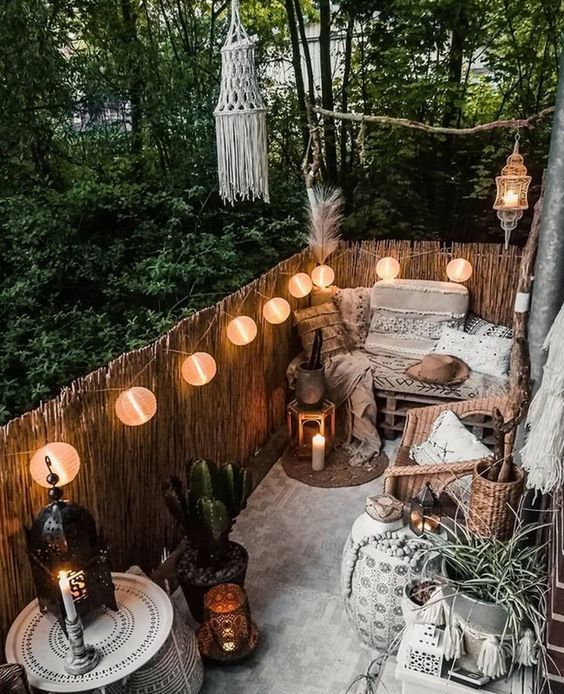 Do you search for a fashionable and antique-like 16th look balcony? We can try a Bohemian-style balcony to leave a humdrum space. Let us bring our balcony to life!
Adding wooden wall panels surround our balcony space as a fence. Hanging on the lantern to the fence, put an ethnic seating chair and some details of boho furnishings style. To intensify the boho balcony style that rich in natural vibe, we can add a standing dried branch. This balcony boho style brings us into a magical escape! Do you want to try this idea in your small balcony spaces?
3. Smart Green Terraces Balcony Ideas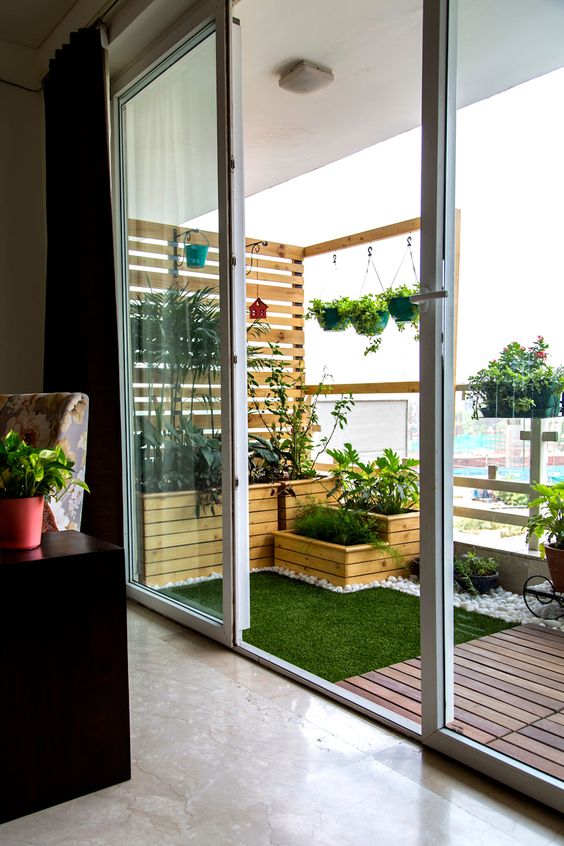 Thinking about urban living in a megacity that has small living spaces, it is hard to have a large yard. For example, living in a small apartment that does not have a garden.
For some people who love gardening and landscaping but having small spaces but only have a tiny space on a balcony. Yes, balcony! We can juggle this external space in our building into a beautiful and organized garden. It really works very well even only has an approximately 3×1 meters square meter balcony.
Here are some tips to make a beautifully-designed garden on only a 3×1 square meter balcony:
The first step, measure a 1- square meter balcony space for landscaping, the rest is for decking
The second one, make a perfect lawn. It does not require high maintenance if we have a small lawn in our balcony garden
The third one, install some vintage wooden boxes for planting, then we are ready to grow our favorite plants on it. This looks cool with the wooden fence it has!
Fourth, we can maximize the space for planting. Hanging our plants on the wooden fence we have.
 Fifth, giving a more natural look into our balcony garden with some white river rock on each side of the lawn.
The last one, we can install a wooden decking for the rest space of our small balcony, plus we can provide some wooden seating to complete a natural look.
The capability of designing even in small spaces brings us satisfaction. We do not have to be worried or getting stressed anymore because having no garden in our house or apartment. This is a smart green terrace idea that will be a solution for all of us. Be creative, relax and have a cup of tea!
4. Luminous Balcony Goals!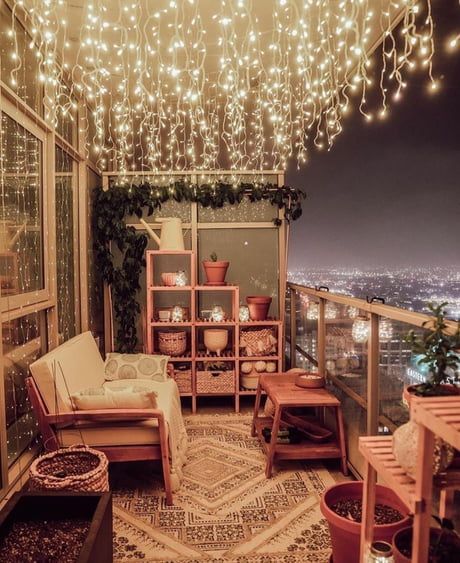 Luminous balcony ideas with some wooden touch are a next-level way to styling our balcony. We can create our small balcony to be a comfortable and warm spot after doing a busy day of working. How to create a warm and luminous balcony? Installing hanging LED columns on ceilings, beautify with wooden table and chair, wicker baskets, wooden shelves, put some plants in pots to the wooden shelves, growing a line of vines on the wall.
The warmth and homey feel balcony contrast to the sophisticated view of the city. We can relax and have some coffee with friends after our busy day spent working.
5. Get Lost in Bamboo Balcony!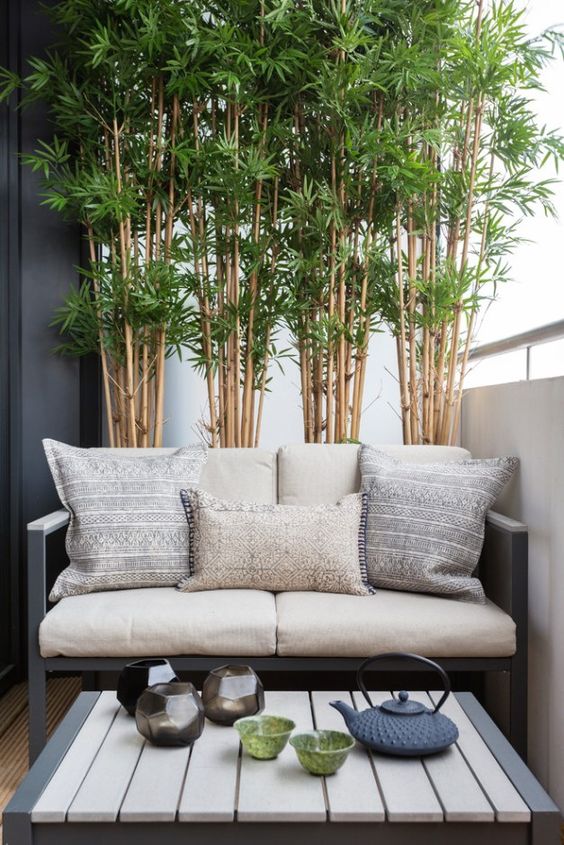 Bringing nature as the main concept into our private balcony is an awesome idea. Planting bamboo trees is still possible too! As we can see in the picture above, a small balcony is perfectly good with a small group of bamboo existences. We can put a minimalist sofa and table to provide a seating spot. Using bamboo for nice flooring, installing a wall fence for the balcony so then we have an unseen private spot for having tea. Get lost in nature with bamboo trees, what a spot to chill!
6. Balcony Bar Style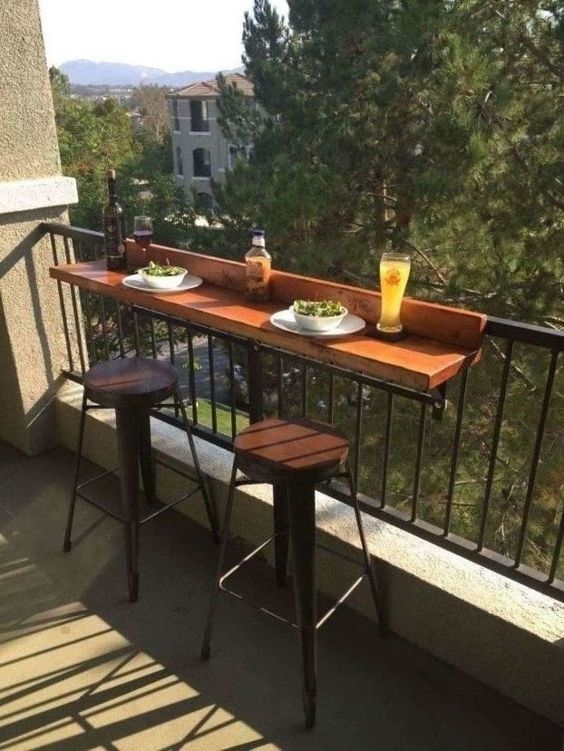 We can turn our outdoor space into a favorite chill zone. If we confused about designing our flat balcony then we can make a mini bar on it. We would love to have breakfast on an inactive Sunday morning, or even enjoying drinks nor dinner.
Creating a mini bar on our balcony is not hard as it sounds! We will guide you to have a minibar that does not take too much effort. Alright, let us have this one!
How to install a minibar on the balcony? Here are some tips to make it easier, let's check them out!
We begin to gather some slabs of wood and screw them together to make a countertop form.
After we have a countertop form as we want, now we have to sand down the wood.
Paint it with our color choice, other tips of choosing the right color are using a light color for a natural look and a bright color creating attractive touch such as a summer vibe
Add a wooden topcoat, so our mini bar will last longer to weatherproof
Constructing the brackets, and hooking them onto the railing
Add some bar stools
That it is a simple DIY mini bar already done. Now, you have a chill spot which is better than letting your balcony into a tedious zone.
7. Boost Your Mood with Blooming Balcony Design!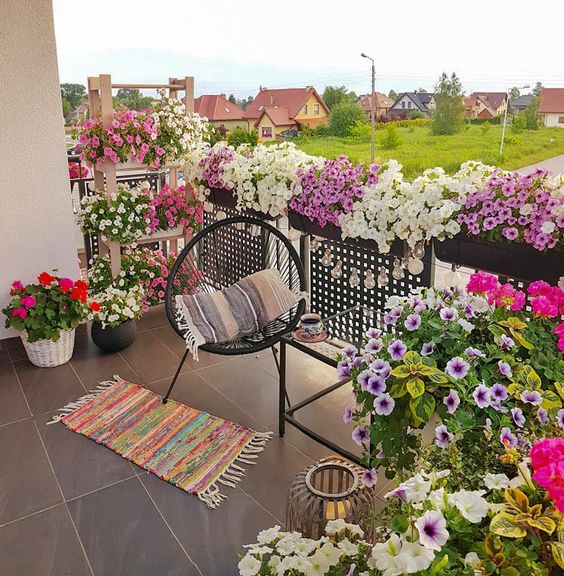 There is nothing better than to wake up in the morning seeing the colorful blooming flower. It can boost our mood incredibly good. How to DIY an amazing blooming balcony? Here are some tips:
Bring some pots onto the balcony, fill the pots with rich soil (use an organic soil that supplies its nutrients to the plants)
Cut the deadhead flower often. We have to check our flowers in healthy condition, the easier thing to keep them healthy is to cut down the deadhead flower.
Fertilize our plants. To make them bloom beautifully feed them with nitrogen and phosphorus liquid fertilizer. Make sure we feed them regularly during the blooming season.
Provide them with enough sun. As we all know that the sun is essential to plant growth. So, place them directly to the sun for several hours a day
Watering them regularly in the amount they need. Don't overwater nor underwater them. If we are overwatering them, we would not have blooming flowers we will only have an abundance of development leaves. In the other case if we underwatering them they will drop their flower buds. That is exactly what happens if we overwatering or underwatering them, so then, watering them as a proper amount.
Those are some tips for blooming flowers. Now we can decorate our balcony with colorful flowers. Planting yellow, white, purple, red Bougainville, or any flower you have such as roses on the pots. Collecting and placing some of them in groups on the floor, some on the flower shelf, and some stick to the railing balcony. The next step for creating an amazing blooming balcony is to add a garden string chair. Taking care of our flowers every single day so they will bloom beautifully.
We would love to sit on the chair surrounding blooming flowers. This environment will absolutely boost the mood that affects us to live our lives more fun and cheering.
Designing our balcony with some creative ideas that will turn to be one of our favorite outdoor spaces of our home. It depends on our mood to create
We already offer 7 ideas for designing a balcony, from a minimalist balcony in white, bohemian, smart green terraces in a small space, to the blooming balcony style. Which one is your favorite!