Jordlinghome.com – The apartment is one of the popular living spaces right now. There are few factors that make some people prefer to live in an apartment than owning a house. It existing some life facilities and commonly its location right in the heart of the city. Which makes the apartment is an affordable living space in the city.
There is various types and prizes apartment available. From a three-bedroom, two-bedroom, to the smallest apartment called studio type and various prizes that compatible with your budget! What we are going to discuss now is a studio apartment. It is typically a single large space where we can see the bedroom, dining table, and even kitchen set in the same room.
Our focus on creating a small studio apartment feels cozy. How to make it happen? We offer you to have a lovely Scandinavian style to decorate your small apartment. It has a simple and clean line design which makes the room feel soothing and cozy for sure!
What makes us feel cozy in a small Scandinavian studio apartment?
Basically, the Scandinavian style using lots of neutral wall palette that will make us feel relaxed while being inside the room. The neutral wall palette also makes the Scandinavian interior design feel spacious and bright! So, do you like these affordable tips to make your interior feel more spacious?
Here we will bring you into some cozy arrangements for a Scandinavian studio apartment, so do not miss any of them!
Enlarge Scandinavian Studio Apartment With Large Mirror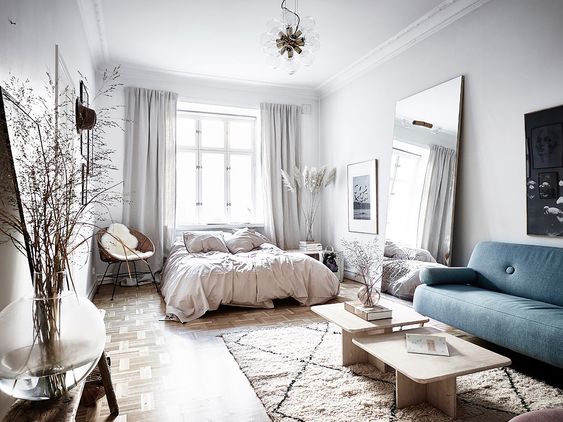 This small space looks larger than the actual side, installing a large standing mirror in the middle of the room. Then paint the wall with a neutral hue such as white successfully makes this studio apartment look spacious. For the decoration, we can add an earthy color Scandinavian sofa, a geometrical beige rug, and a wooden coffee table. The soft palette decoration in this Scandinavian interior makes the small living space feel cozy.
Warm Color Scandinavian Studio Apartment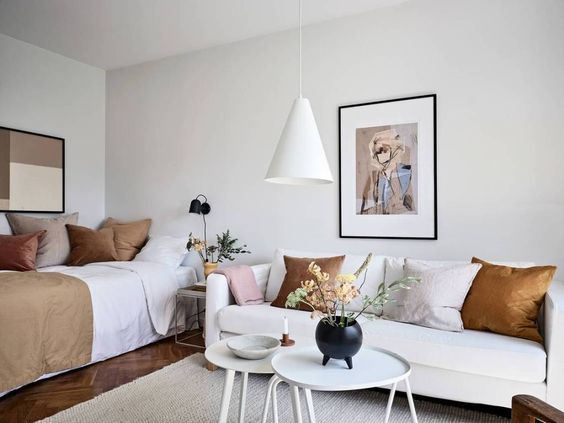 There is no mistake to design a cozy room with warm color. Starting off paint the wall with a white hue to create a spacious room. Then, we can apply brown color to make the room feel warmer such as put some brown throw pillows on the neutral Scandinavian sofa. Sticking a geometrical painting on the wall to bring this room more alive. Installing a modern white pendant lamp makes this room stand out in a minimalist style!
Stylish Small Studio Apartment Design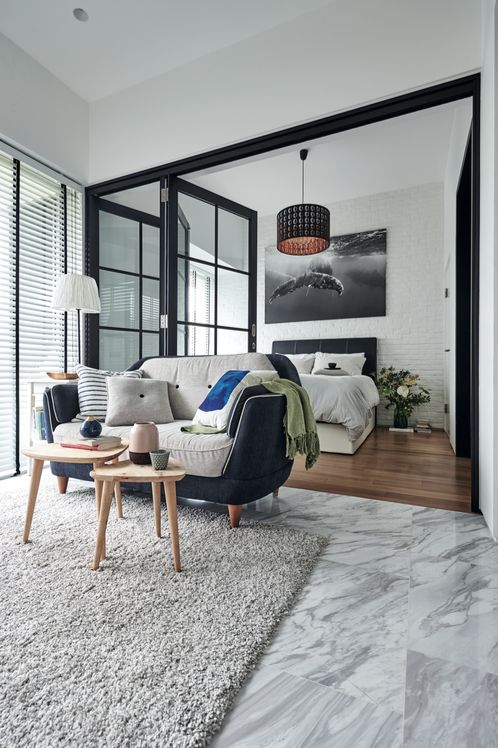 What is the first impression when you enter this tiny studio apartment? Stylish and cozy? There is a barrier has been installed to divide the bedroom and living room section. There are different flooring types to distinguish the bedroom and living room area. Where in the bedroom using wooden flooring creates a warm feel and the variation flooring shows in the living room that looks luxurious by installing marble tile flooring. The dual dimension from the flooring makes this studio apartment look stylish.
This room looks spacious and bright by installing some height windows that allow natural sunlight to come through the room. The earthy color decoration makes this room looks standout! We can find them on a gray rug and paintings, and then a simple blue sofa that looks so good with a shade of earthy color!
Walk-in Wardrobe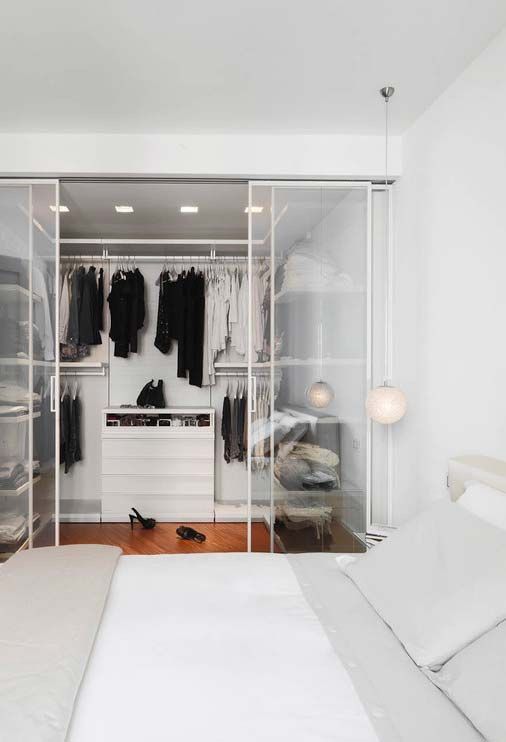 This cozy studio apartment completed with a built-in wardrobe, a big saving place to store our clothes! There is natural lighting through the full-height windows makes this room look bright. The neutral wall palette blend very well with a soft gray bed. The wooden flooring settled to make the room feel warm and cozier. The simple line decoration really makes this room stand out in simplicity!
Cozy living room with nature touch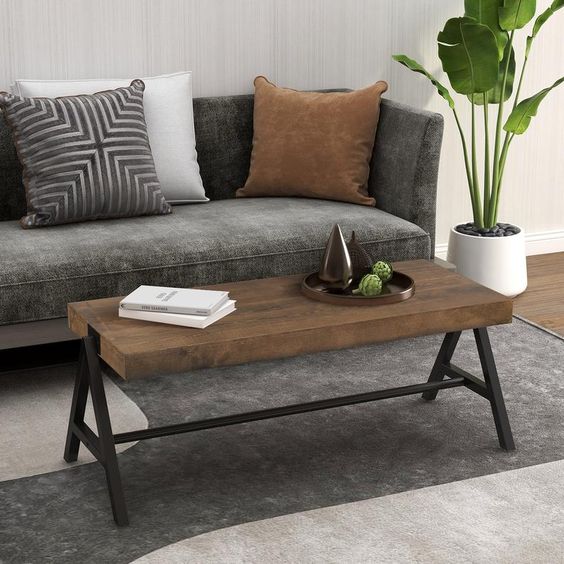 When we enter the studio apartment, there are some main areas that we could spot one of them is the living room. The first thing we can do on the Scandinavian studio apartment project is simply adding a Scandinavian sofa. It is a focal point in the Scandinavian living room. Spreading the same identical gray earthy color rug with the sofa. Then set a wooden coffee table in the middle. Do not forget to bring greenery inside to freshen up the living room area.
Built-in Bed To Save The Space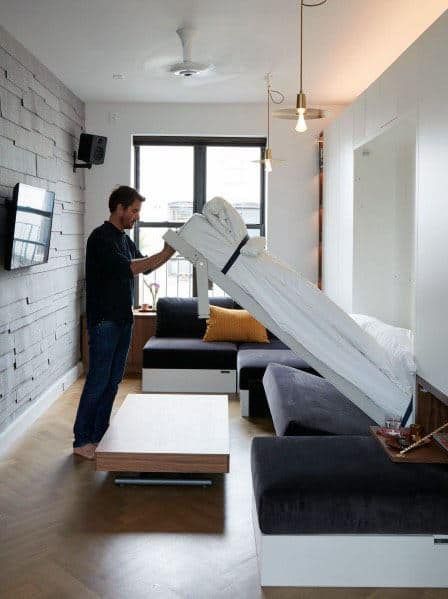 Living in a tight studio apartment? Many of us fighting for the right arrangement that could be implemented in a tight studio apartment. We have an idea to store your bed on the wall! It is not a new home design product in the 20th century. There is a built-in bed that tuck on the wall! We can pull the bed from the wall if we want to sleep. Then, we can keep it back on the wall if we need more seating areas to welcome guests or even watching movies with friends. The creative design to save the space in a small living space is a brilliant idea. Would you like to have a built-in bed in your studio apartment?
Colorful Scandinavian Studio Apartment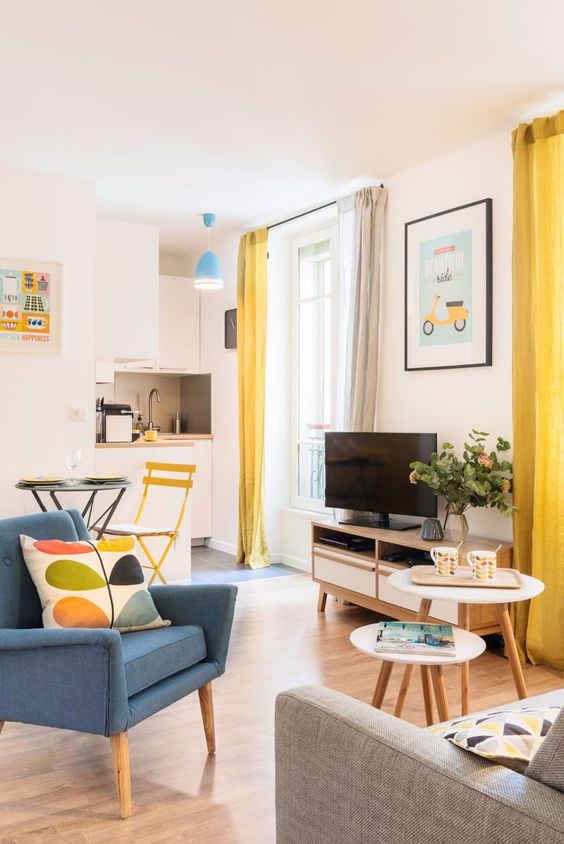 A Scandinavian interior decoration usually bold in a neutral palette, but this time we show you a little bit different! Yes, this room style stands out in vivid color decorations! There are bright yellow curtains that have been installed in this room. Next, we can see there are some colorful printed throw pillows lay on the Scandinavian sofa. On the corner of this studio room, there is a small dining table completed with a bright yellow chair. Adding more vibrant color into this room by putting a green plant and installing a blue pendant lampshade in the small kitchen area. These vibrant colors make this studio apartment more alive and cozy!
Loft bed and Walk-in-built Closet Save Space A Lot!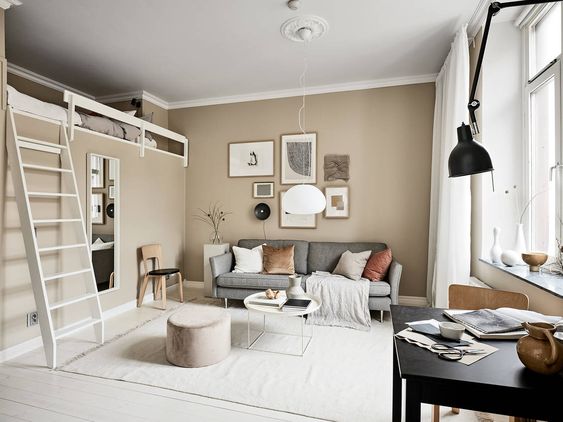 Another cozy arrangement for a Scandinavian studio apartment is featuring a loft bed and walk-in-built closet decor. These two decorations save space a lot, especially in a small apartment! Now, we talk about this studio apartment decoration. It has a neutral wall palette in beige, then spread a white rug on the floor, and do not forget to set a Scandinavian sofa to define the style!
For the lighting concept, this room has enough natural lighting which makes it comfortable being inside the room when the daytime. Then comfy the reading nook area by installing a pendant lamp. Now, you can see this small space look cozy with creative saving space. Do you want to try this design in your small apartment?
Cozy Small Dining Area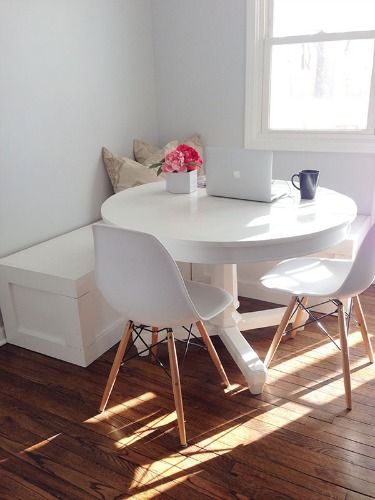 Let the natural lighting robustly come through the small dining area. We will feel comfortable having breakfast to feel the warm morning sunlight. It is also a perfect place to have a cup of tea in the late afternoon. Besides the dining table, there is a white bench that could be a cozy reading nook. Surrounding by the natural wall palette and the cozy wooden flooring make this corner feel airy space!
Organize Small Kitchen For Studio Apartment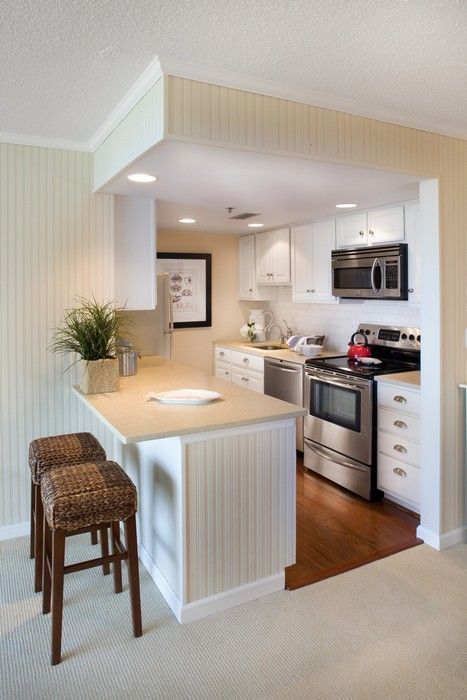 Do you love to eat your own food? Where all the healthy food came from your kitchen, is that possible to have an organized kitchen in a small studio apartment? We can take a small space around 2 x 1.5 square meters for the kitchen. Installing small hanging kitchen cabinets to store some spices. This tiny kitchen also enough to store a refrigerator, a gas range burner with an oven, and a small table that useful for a dining area. Do you love this small kitchen that set in your studio apartment?
Cozy small bathroom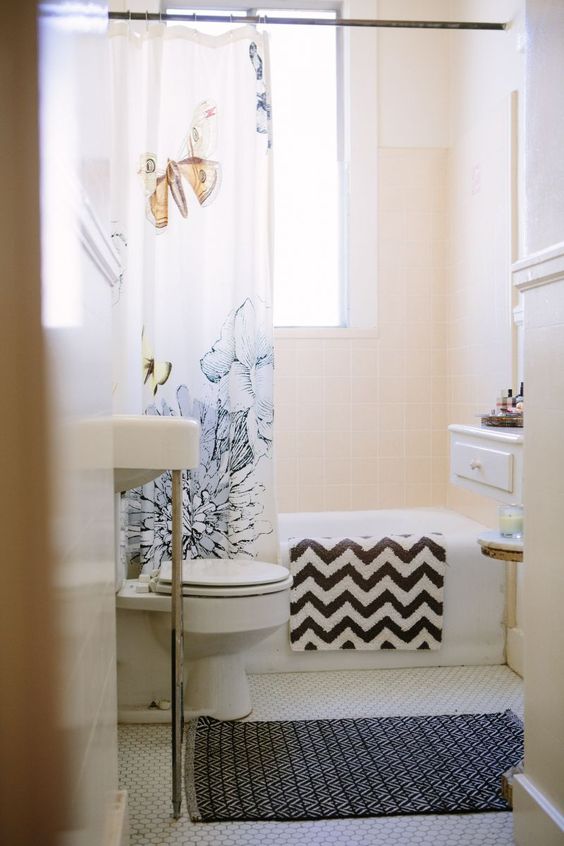 First, we have to paint the small bathroom with a neutral palette, such as cream. Then, install a large window to allow the natural sunlight comes through the bathroom. Spreading a geometrical mat on the floor to add textural accent in this pale bathroom design. Finally, we can install a floral sheer curtain to divide the bathtub and toilet section.
A Scandinavian style usually embraces the neutral pallet in design. The selection of neutral palette decoration turns the room into a soothing place. In this article, we also show you a lovely Scandinavian interior design with colorful decoration. The blend of the neutral wall palette and colorful decoration make the Scandinavian room style more attractive! So, which one is your favorite? The soothing room style in all neutral palette decoration or maybe the opposite one that has colorful decoration to cheer your day?
So, that is all cozy arrangements for a Scandinavian studio apartment! We hope you enjoy the design and it might help you to find the right decoration for your small apartment!