Jordlinghome.com – Are you looking for a new home renovation that makes a big statement and new purpose in design? In this writing, we will share with you outstanding exotic home decor! What comes to your mind when hearing an exotic home style? Something that refers to the Indian ethnic home decoration? Well, that is an example of an exotic home style. In this article, we will not talk about the exotic Indian home decor but featuring the black house as an outstanding exotic home design!
The simple line decoration and earthy color mood board palette make a great deal of a black statement house! Why do we choose a black house as an exotic home? Simply, black is a neutral, powerful, and timeless color palette that can make a big statement. That is why we choose the black house to define an exotic home style!
In every home design project, we always have a big concern about bringing natural lighting into the design. There are some benefits of having enough natural lighting for the living space. It can brighten up the room in the daytime, save electrical energy, and bringing the living space more alive!
Here down below we have an outstanding black house design support with well-lit natural lighting you would love to live in! So, make sure you do not miss our outstanding exotic home decor!
Open Space Living Room with Floating Staircase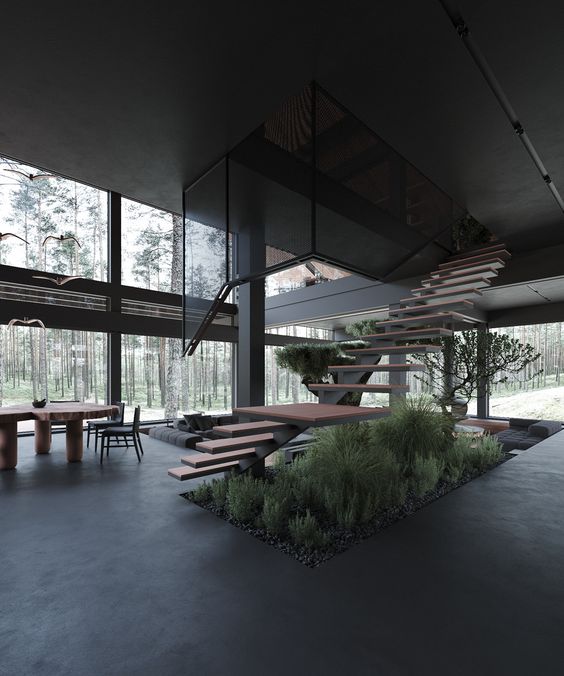 An incredible sophisticated view of this exotic black house interior by installing a seamless floating wooden staircase! A very fine wooden finishing staircase blend perfectly with the black interior house design. Installing full-height windows around the living space to picture the beauty of incredible natural scenery. These windows allow the natural lighting robustly to come through the living space. Adding the wooden table, chairs, and some indoor houseplants to complete the natural look interior design!
Open Sky Ceiling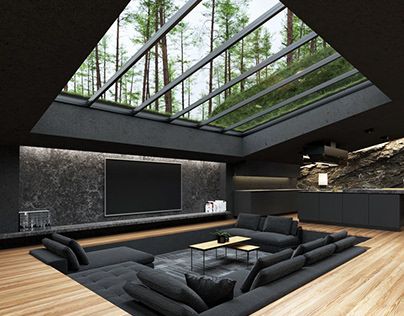 As we alluded to earlier that we always bring the natural lighting concept to our home design project. In this exotic black house design appearing the open sky ceiling allow natural lighting to shine through the living space. Now, let us talk about the design of this black living room concept! There is a built-in seating area that tucks on wooden the floor. This area is lower than the floor around two feet deep, set up black sofa around a wooden coffee table in the middle. A very stylish black marble has been installed to create a dramatic effect on this exotic black house. On the right side, there is a concrete wall has been installed to give more texture to this house. It is a mind-blowing black living space concept!
Cozy Black Master Bedroom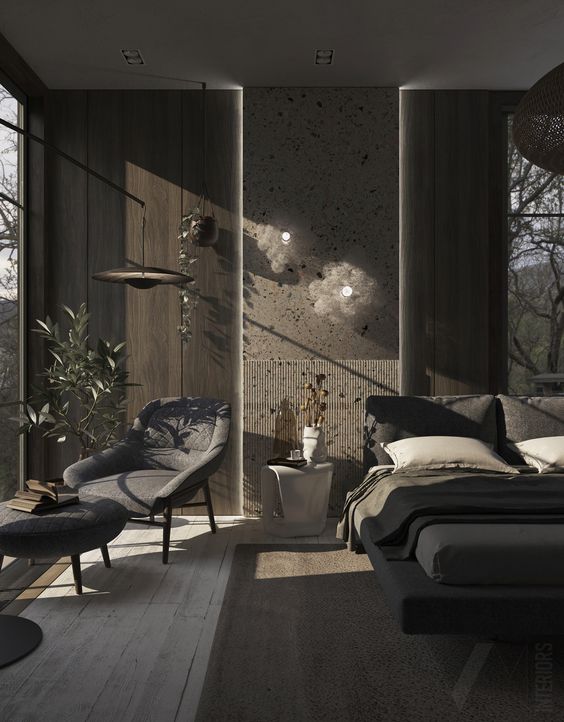 The earthy color dominates this black master bedroom. Starting off installing a distressed wooden flooring then comfy with a soft gray rug. There is a display of a modern gray bed, chair, and table. This bedroom wall using two shade accent walls from wood and marble. The wooden wall accent makes this room feel warm and cozy. There is a gray concrete marble wall that has been installed in the middle of the wooden wall. We can highlight the narrow line marble wall with LED lights on each side of the concrete wall. These LED lights bring a beautiful 3D effect to the wall, as a result, it makes the simple line bedroom decoration more attractive and alive. One more thing to spot in this room, there are full-height windows that have been installed to brighten up the room.
Gorgeous Masculine Bedroom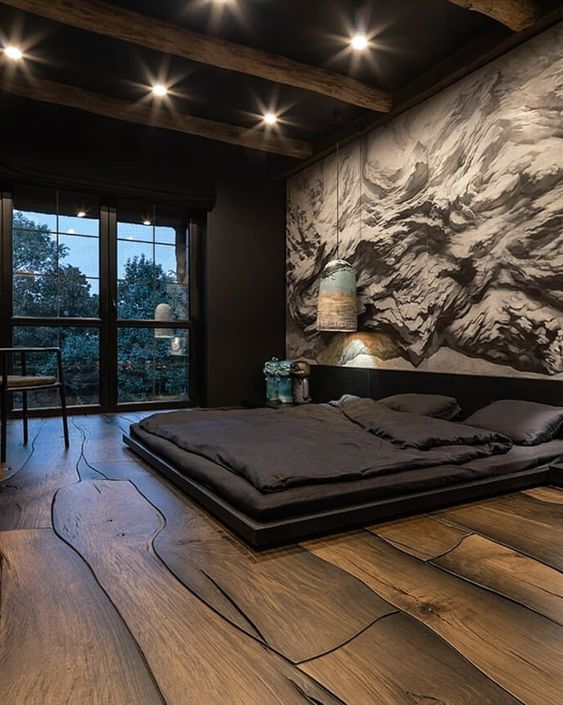 What is the first impression you get when you see this masculine bedroom? Looking so artistic in well-curated design! Let us dig into the decoration that makes this masculine bedroom look so gorgeous! Pointed up to the wooden flooring that uses in this bedroom. This floor made from dark wood materials, the black shade on this slab creates a unique appearance. Then, installing the wooden flooring with inconsistent wooden slab size creates a different texture and visual appealing! Now, move to the concrete wall that has beautiful abstract cement construction. The textural wall gives an aesthetic impact on this exotic black bedroom!
Minimalist Bedroom In Black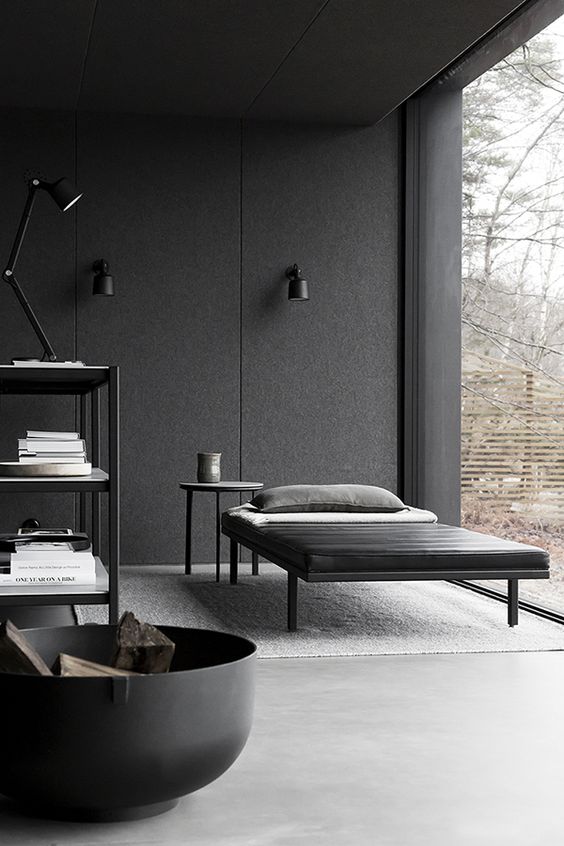 On the previous black bedroom design, we offer you a luxurious and artistic interior. Now, we guide you to have a minimalist black bedroom. First of all, we have to install a full-height window to transfer the natural sunlight into this black bedroom. Spreading a grey rug on the floor and the daybed on top of it. This room using simple decoration, there is a bookshelf and pendant lamp. Finally, adding a firepit bowl into the room help warm us in the cold winter days. This well-design black bedroom stands out in a minimalist style, do you love it too?
Elegant Walk-in Wardrobe in a Black Bedroom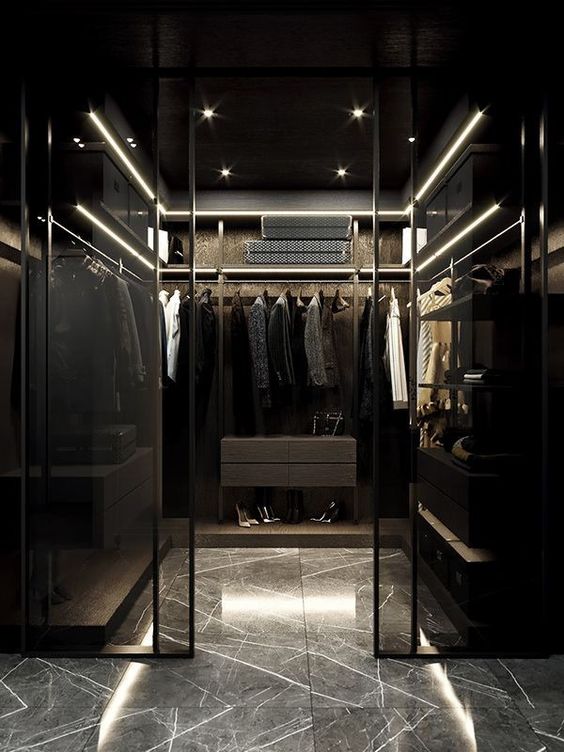 Another outstanding feature in the black exotic home decor is an elegant walk-in wardrobe! Instead of creating a large space to store your clothes, this walk-in wardrobe can bold the elegant side of your stylish masculine bedroom. Installing a full-height sliding door that shows transparency on this classy walk-in wardrobe. When we enter the walk-in closet, we can see the LED lights that shine on the black ceiling that makes this room feel warm. Now we point up the granite flooring that shows a glossy accent which makes this wardrobe look so elegant!
Dramatic Timber Wall Accent!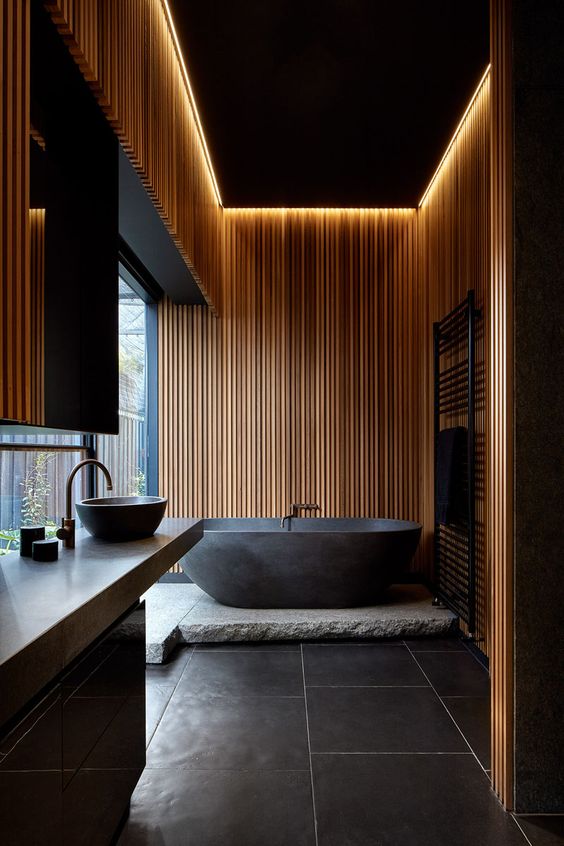 Installing timber accent for the wall in the bathroom creates a cozy a warm feel. Then, we can install a black ceiling completed by linear LED lights all around the edge of the ceiling. The linear LED lights create a dramatic view of both the black ceiling and timber wall. Comfy this bathroom by installing a black marble bathtub and floating wooden table. Finally, we spot the full-height windows that have been installed in this bathroom. It creates an open-up space bathroom design, and you can see the beautiful garden in your private bathroom. Do you like this exotic black bathroom idea?
Glossy Black Marble Wall Bathroom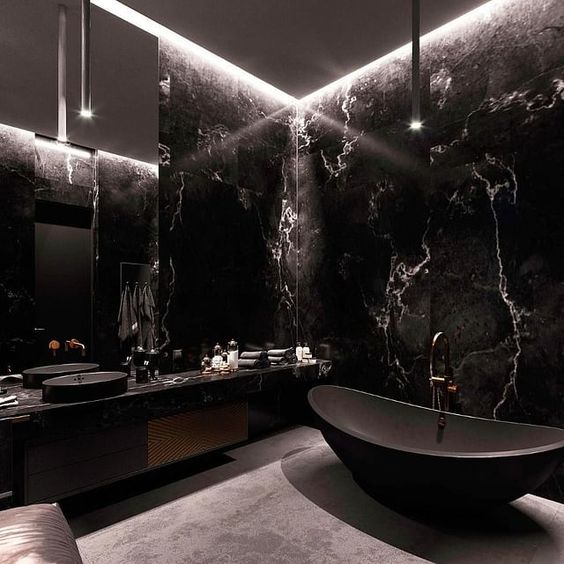 This bathroom looks so exotic in black! Now, let's take a look at the black marble wall, they look so glossy when the LED lights hit the wall. Then, installing a large mirror on the wall to give this bathroom look spacious. Finally, we can see the modern pendant lamp hang on the ceiling. It supports the lighting in this dark and mysterious bathroom.
Gorgeous Black Kitchen!
There are three colors mood board palettes to make this gorgeous black kitchen style! They are black, wood, and white. Where we can see the wood palette attach to the flooring, wooden table, and backdrop hanging wall kitchen cabinets. Then we can see the black palette on the cabinets, pendant lamp, and the wall. The last mood board palette on this kitchen is white, we can see it settle on the ceiling. The white ceiling creates a dramatic effect when meets a black wall palette.
This kitchen provides a small dining area set with a wooden flooring table and some stools. Installing some hanging lamps above the dining area creates a warm and friendly environment!
Black Dining Furniture In A Tropical Backyard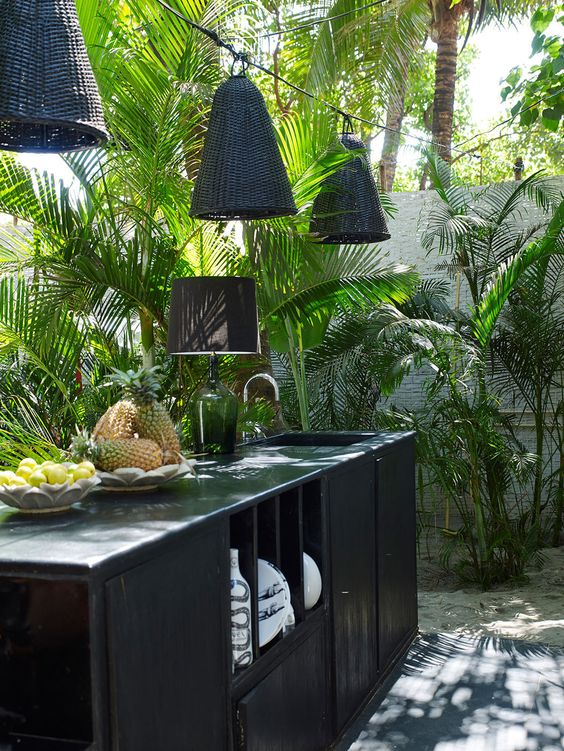 Black is a cool color as long as we can style it in the right curated way! Just like this black dining furniture that set in the cozy tropical backyard! We can set this black kitchen cabinet to store the dining plates. Enhance the classy black dining style by installing some black rattan pendant lamps. The contrast of the black accent furniture in the lush tropical backyard is a cool dining area! Well, we can try this black design to have a distinctive outdoor dining area! Do you love to have a big feast in an outdoor space with your family?
Cozy backyard in a black house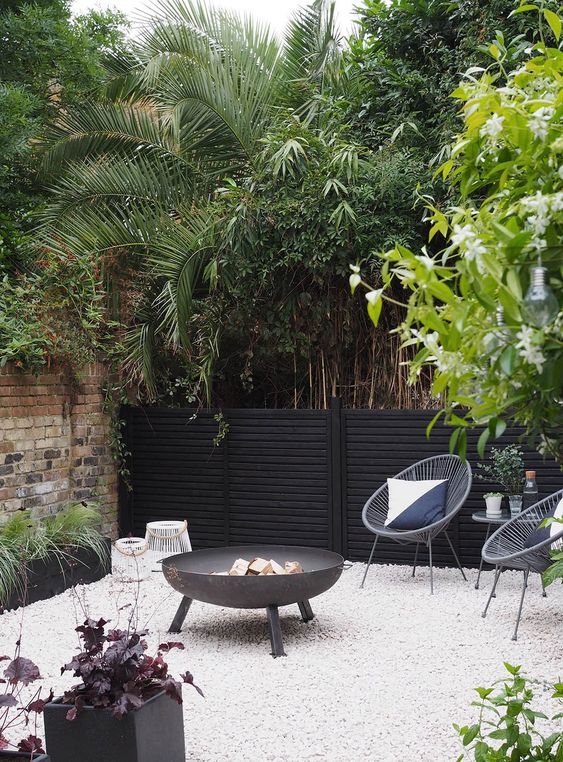 A backyard could be a pleasing outdoor space at home! We can do many things in the backyard, such as having a big feast with family or even relax in the private garden. In the picture above, this backyard surrounded by green plants that turn to be a relaxing outdoor spot. Installing a brick wall and black wooden fence to create a private backyard area. There are rock river stones spread on the patio space. Adding a fire pit bowl in the middle and some outdoor chairs on the patio. Now, we can have a BBQ in the cold of a summer night. This backyard gives a homey feel to the statement black house!
Cozy Black House Balcony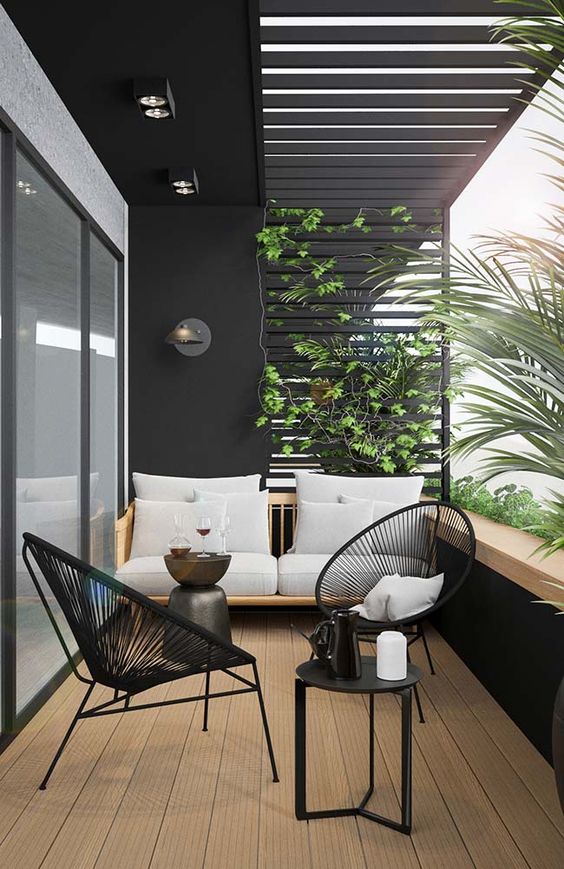 There is another favorite outdoor spot in this black house, it is a balcony. The balcony that tucks on the second floor of the house offering a calming private outdoor spot. Installing wooden flooring to create a warm engaged warm environment in the balcony. This balcony using a black wooden pergola that can protect you from the heat of the sun and wet from the drop of the rain. Finally, we can add some outdoor chair to hang out on the balcony while seeing the natural surrounding, that is beautiful!
In this article, we introduce you to a black house for outstanding exotic house decor. Black is simple but it has various meanings. In the design, we can style black to create a mysterious, cool, simple, and exotic home design. Featuring the bold black accent in the house creates a statement and exotic decor!
It is never too boring to have a black house that combines natural design! Appearing a wooden accent and some greeneries to design make this black house more alive! Do you love to have this exotic black house decor?