Jordlinghome.com – When we are grown up and facing a busy life, it is hard to figure out a little bit of time to spend reading novels or any book we like. Bringing back the childhood memories when we have a lot of time to read many books! Supported with cozy reading nook decoration, we'll guide you into a dreamy reading nook and go beyond imagination!
Imagining the cozy reading nook, we have to know some basic knowledge to achieve the cozy reading spot. Here we will share with you some considerations in making a comfortable reading spot in your home!
We suggest you to choose some soft materials decorations to make the room quite soothing. Spotting the space which has well-lit natural lighting to comfort you while reading a book inside the room or we can adjust the lighting if you love to read in a private wall such as a built-in reading nook design.
At this time, we offer you 10 cozy reading nook inspirations to install in your home. We hope each one of them turns to be your favorite and could be created in your living space!
Comfortable in a neutral soothing reading spot!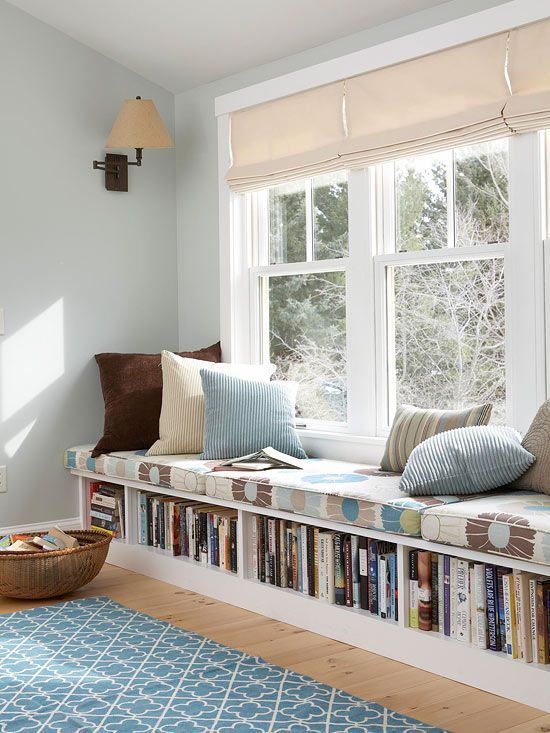 The first cozy reading nook inspiration that affordable to install in your home is appearing enough natural lighting. This reading spot is easy to apply, we only need to install a bench around the window area. The bench function is not only provided cozy seating but it is also useful to store some books. To comfy the seating area, we can put some cushions on the bench.
Now, we have a cozy reading spot that direct to the natural sunlight. It gives us enough lighting when we read a book. In the morning, when the natural sunlight robustly entering the reading nook, we can feel the warm morning sunlight which is so good for our health. Completing a cozy ambiance surrounded by a neutral wall palette creates a soothing effect when we are sitting in the room.
Cozy bedroom reading nook with a beautiful lush backyard view!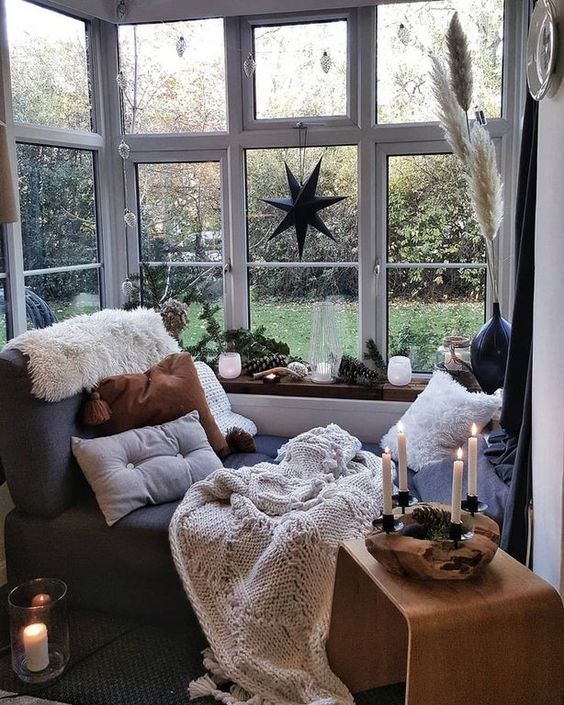 Do you love to read a novel or any kind of book? If so, then you have to dedicate the small space in your room that turns to be a cozy reading spot! If you have a room that faces to a beautiful green backyard view, then you are a lucky one! We can set a cushion reading nook that sticks to the window.
The calmness of a backyard environment helps us to feel great relaxation while reading our favorite book. We can bring an aromatic candle such as a chamomile-infused candle to bring a nice aroma around the reading spot. This aromatic-infused candle will make us feel cozier in the bedroom!
Cozy built-in reading nook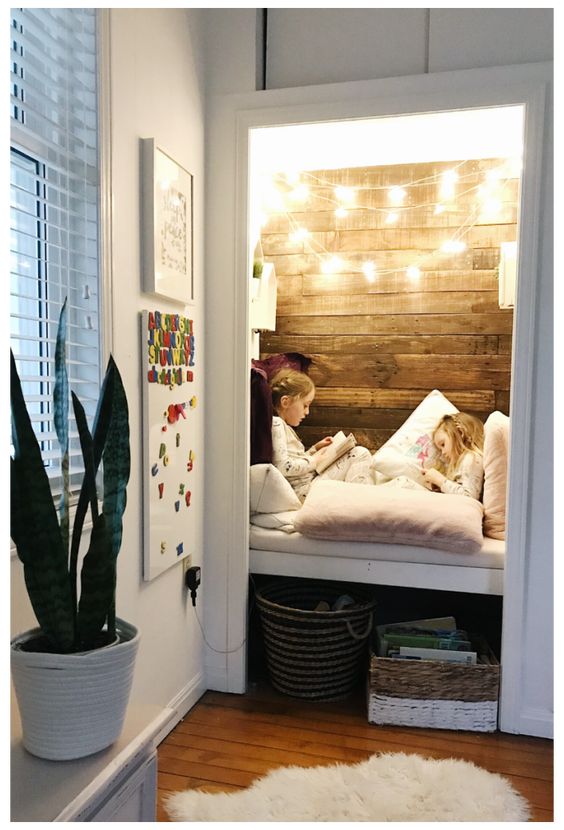 Teaching children to love reading books at a very young age. Providing them a friendly and comfortable reading space in their room, so they will love to spend their time reading a book there. We share with you how to design an intriguing cozy reading nook for children.
Creating a built-in reading nook in their room. Installing a wooden accent wall to create a warm environment while being inside. To adjust the lighting, we can install a string of LED lights on the wall. Bringing some cushion inside the built-in reading nook to comfy their seating. Finally, we can store the books under the seating area. This is such a brilliant way to bring out their reading interest. Besides that, this built-in reading nook keeps the children's bedroom looks tidy, it's a superb design!
Simple but cozy reading nook style!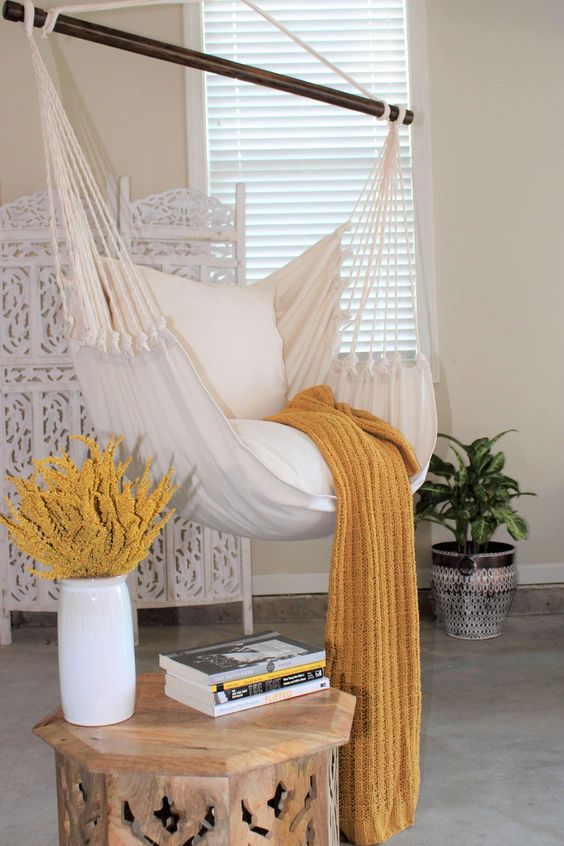 Are you looking for the easiest way to create a homey reading nook design? Here we offer you a classic white hammock that is customizable anywhere you want to. For example, we can set a hammock in the spacious living space. Surrounding with a neutral wall palette and minimalist decoration make this reading spot feels spacious and comfortable!
Restful Hanging Chair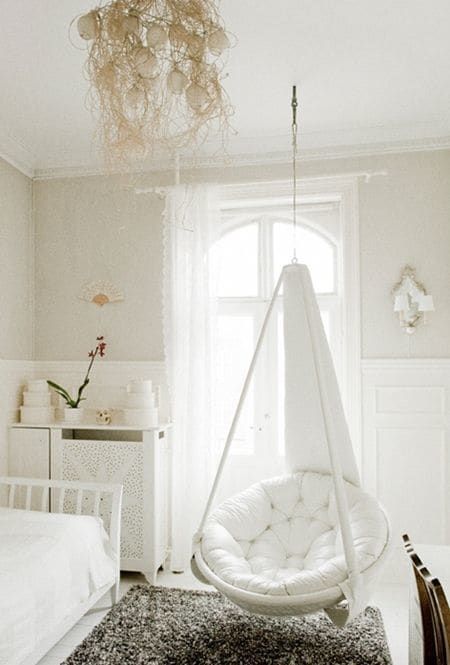 The bedroom is the place where we can drop our body onto a restful bed, such a pleasing and relaxing spot at home! Some of us love to read a book in the bedroom because it's the coziest private living space at home.
Before we create a cozy reading nook in the bedroom, we have to know some room decoration to achieve that dream. First of all, we can paint the wall with white hue, it makes the room not only brighter but also feel spacious. It's worth to make a cozy reading spot! Then, we can install a white hanging chair in the room. We will feel relax reading a book while seating in the hanging chair! Would you love to try this idea in your room?
Cozy balcony reading nook idea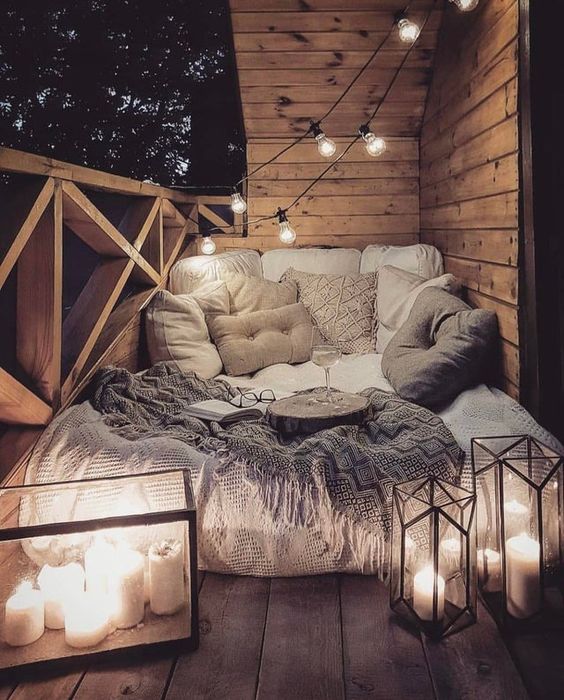 Do you love to hang out on the balcony till late at night? Or are you even dreaming to have a cozy outdoor reading nook where you can relax and lying there? Obviously, you can make it come true! The only thing we need is to bring a customizable mattress outside. To make this outdoor reading space even cozier at night, we can install a rope backyard lamp above the reading nook. It provides us enough lighting to read a book in the outdoor space. Creating an extra cosy reading spot level by bringing some candles to make the outdoor space more friendly! Do you love this cozy balcony idea?
Welcoming outdoor reading nook idea!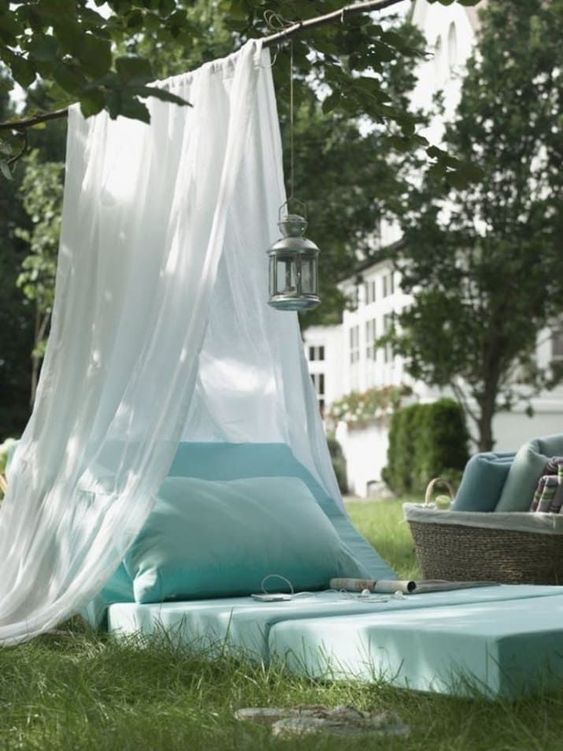 Do you love to read a book surround by relaxing natural scenery? If so, let's turn the garden into a dreamy reading nook paradise! The first thing we need to do is to find the right spot to read. For example, under the trees, then we can hang on a white sheer canopy on the branch. Finally, we can put a customizable mattress on the ground. What a perfect reading nook outdoor spot! Lay back under the sheer canopy then read your favorite book, and dream on the sunny summer day!
Fairy light reading nook idea!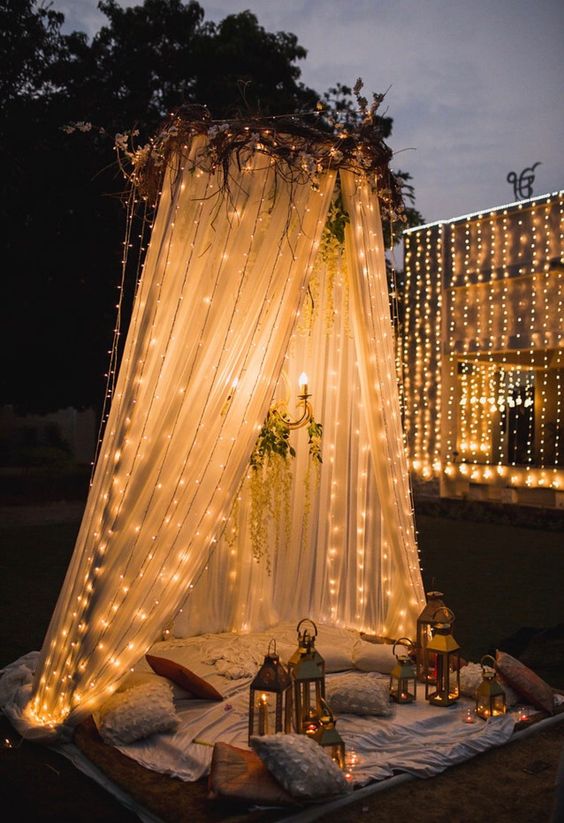 Do you love the sparkling fairy lights in your bedroom? It shines beautifully in the darkroom! Well, we can bring out the fairy lights to decorate the outdoor space! Now, our purpose is to make a cozy outdoor reading nook at night.
Grabbing some needed materials to create a sparkling outdoor reading nook such as some string of fairy lights, white sheer canopy, and a rug completed with throw blankets and pillows. To begin this project, we can install a sheer canopy first in the garden, find the perfect spot where you feel into it. Then, hanging on some string fairy lights all around the sheer canopy. When the canopy is already set well, we can move to the base. Spreading a rug, add an outdoor mattress, and put some throw pillows and blanket to comfy us lay back in outdoor space.
Escape In The Lush Outdoor Reading Nook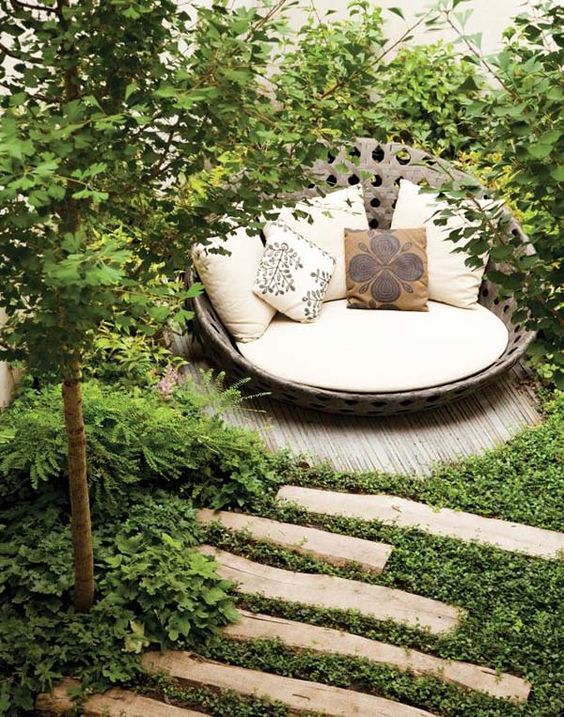 Reading a book in a private lush garden is so peaceful! Now, we bring you into the amazing reading nook spot. All we need is only an outdoor chair and a round cushion completed with some throw pillows. After you got all that comfortable seating materials, now we are going to place them in the comfortable patio design!
This reading nook surrounded by green trees and plants gives us fresh air while reading a book. We hope you like this reading nook idea that surrounds by lush green plants!
Nature concept reading nook!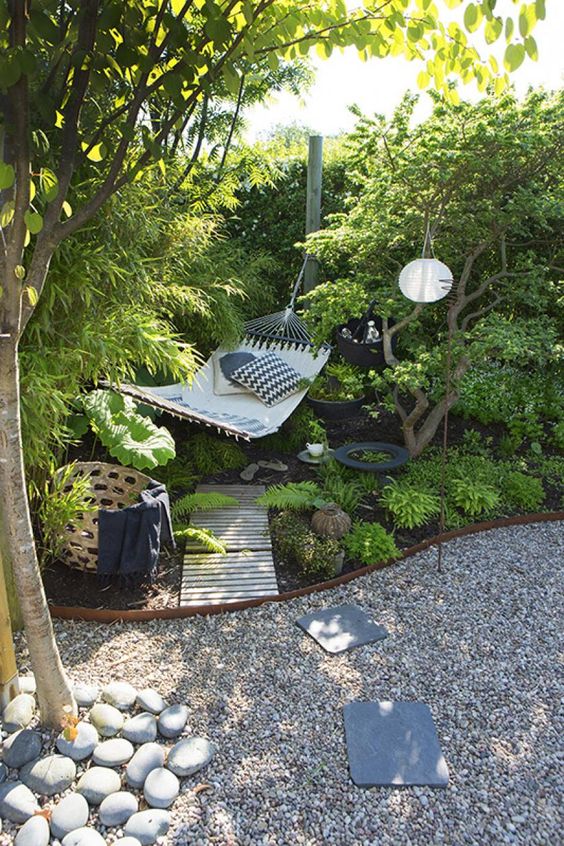 Our last reading nook inspirations in this writing turn into nature concept! Installing a hammock in the beautiful garden landscaping is easy to apply and a simple reading nook idea. This reading nook has been installed at the corner of the garden. it's surrounded by green plants in curated beautiful landscaping. It makes anyone who comes to this outdoor reading nook fall in love with a gorgeous nature ambiance around!
It is perfect to lay back on this outdoor hammock in the summer days. We can read a book or even having a cup of tea in the late afternoon, what a spot to relax!
In this writing, we share with you 10 cozy reading Nook inspirations that you can apply in your home! From above, we have already shown you 5 indoor reading nook ideas. There are some points we get to make a cozy reading spot inside the home. They usually need a neutral wall palette and materials to make the room feel airy space and soothing. That is really helpful to create a cozy reading spot. The second cozy rule to achieve a cozy reading spot is providing enough natural lighting. The last consideration to reach a welcoming reading nook is by not taking lots of decoration to the room. It will only make a chaotic reading nook, so do not do that!
After talking about three considerations in making a cozy reading spot inside the home. Now, we summarize the major point to achieve a welcoming outdoor reading area. The first thing you need to know is to make sure the spot you choose accepts enough lighting, whether you get it from the natural or adjust lighting by installing some fairy lights. Another tip to achieve a cozy outdoor reading spot is to install it in the garden. So, we'll feel the fresh air and relax in the amazing natural ambiance! Let's know which one is your favorite, indoor or outdoor reading nook idea?