Jordlinghome.com – The apartment is one type of dwelling that sought after by many people. There are some factors why many people currently love to live in apartments. This dwelling provides house equipment that makes people who come to live in apartments easier. The apartment usually located in the central part of the city where we can get much access to many places such as school, office, easy transportation, etc.
There various types of apartments available now. Each one of them is stand out in minimalist design. Talking about the minimalist interior design we can not leave behind the Scandinavian style in decoration. Both minimalist and Scandinavian styles work very well together to create a comfortable modern living space.
In Scandinavian apartment design, we will find a neutral palette, less decoration, and some wooden accents. Those three elements make this living space feel cozy. So, without taking a lot of time, we'll guide you to have a stylish and simple living in minimalist apartment design!
Super trendy and cozy apartment in a beige color scheme!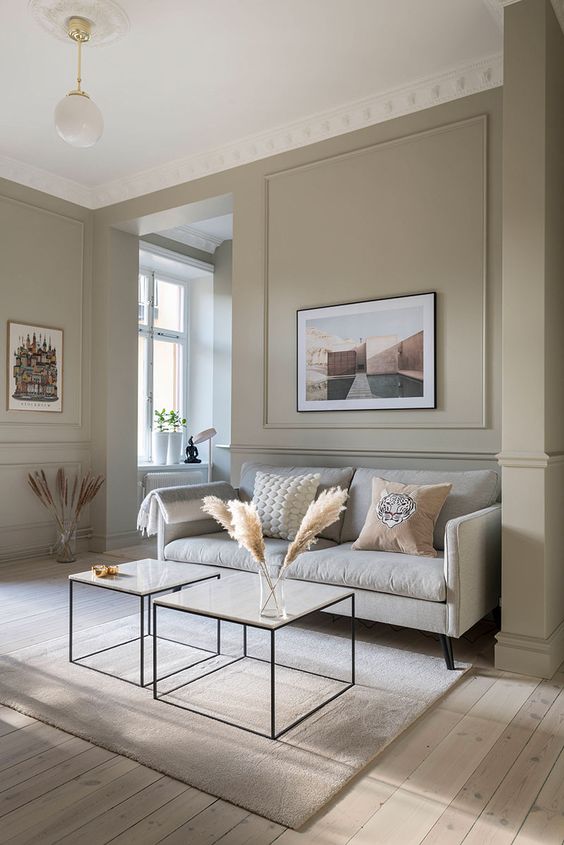 The neutral color shade in this living room makes the ambiance feel so friendly and welcoming. Appealing the warm sense of this room by installing wooden flooring. Then, paint the wall with beige, this earthy color makes this room feel so soothing. Do not forget to add a Scandinavian beige sofa into this trendy minimalist apartment style. Completing the cozy living space with natural light that shines through the room. We really appreciate the simple decoration in the Scandinavian style but creating a big impact on cozy living space!
Monochromatic minimalist apartment decor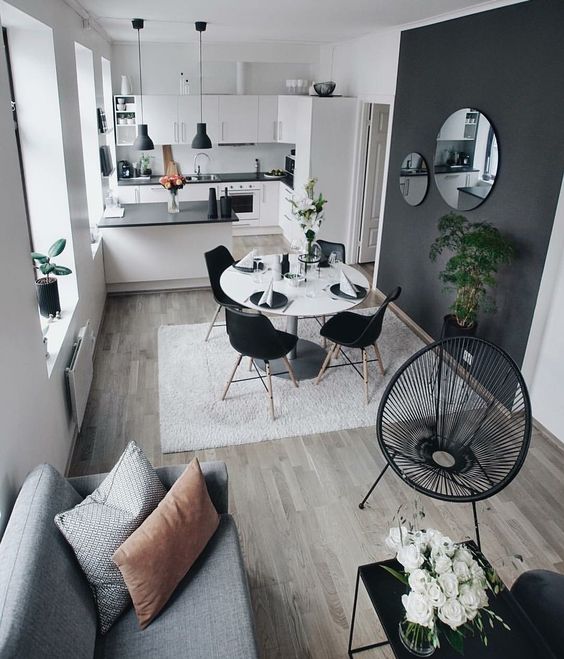 It is never too boring to get a monochromatic room style in a small apartment. There are black, white, and gray that make this apartment look stand out. Now, let's dig into the interior design! Installing wooden flooring to evoke a warm feel. Then, paint the wall with a neutral palette such as white creating a spacious room. Painting a black wall in the middle room creating a dramatic effect in this room. Installing organic mirror to make this small space even larger. Finally, we can add a Scandinavian sofa and coffee table to comfy the seating area.
Minimalist bedroom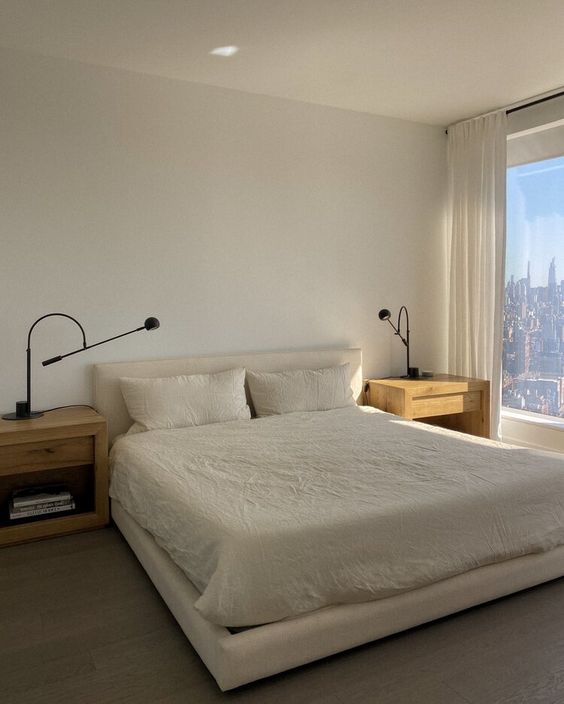 Carrying the statement that "less is more" in minimalist design. This room approves that statement by adding only simple and useful furniture into the decoration. Starting off paint the wall with white to make the room look spacious. Installing the wooden flooring to give the warm touch of this pale room. Then installing a full-height window to allow the natural light to shine through the room. Finally, we can add wooden table night completed with modern table lamp, set them on each side of the bed. As we can see, this room stands out in the simple line decor!
Luxury minimalist apartment idea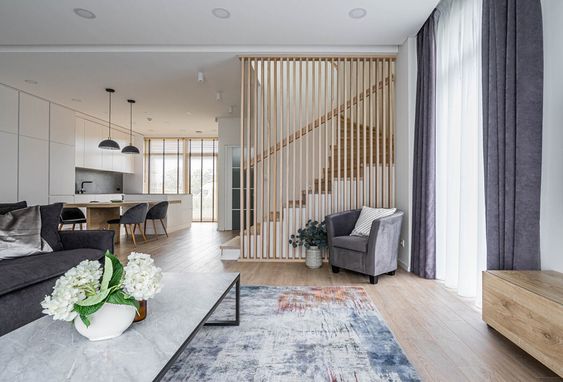 Looking for a luxury apartment but only require a simple line decor? We bring you to this luxury and spacious apartment design! Painting the wall with a white palette to make the room looks larger. There is a wood partition set up to divide the living room and the staircase of the second floor. Welcoming the warm environment by installing the wooden flooring and adding a Scandinavian sofa. Finally, we can add some soft palette furniture to achieve a serenity room idea. The natural lighting robustly comes to the interior! Do you love to have this cozy minimalist apartment decor?
Glossy minimalist living room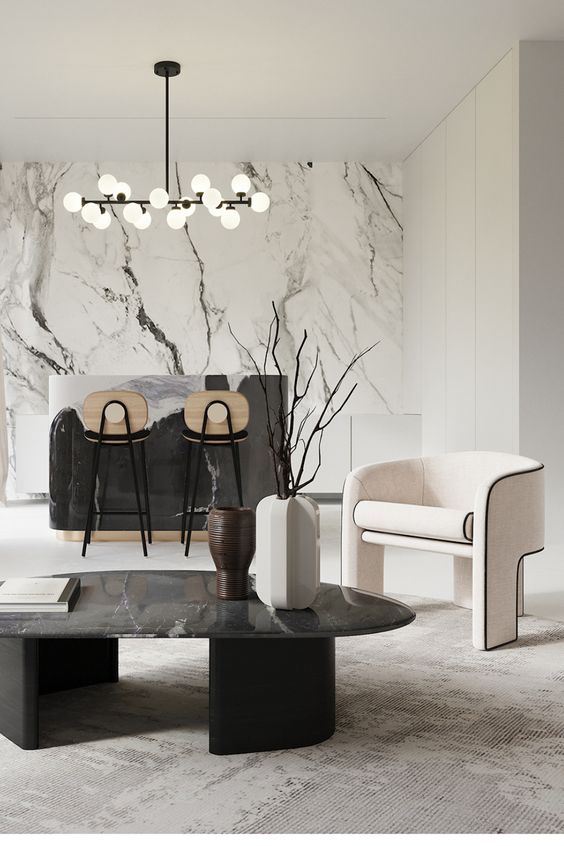 Featuring a unique minimalist style by bolding a glossy marble accent to be a focal point in this living room! Installing a white glossy marble wall at the backdrop creates a classy minimalist room style. Adding a black marble coffee table that shines in this all-white room palette. Adding a simple decoration to this room such as branch craft in a simple and beautiful vase. The presence of a marble accent makes a big statement and elegant touch to this minimalist living room idea!
Coastal decoration for a soothing minimalist bedroom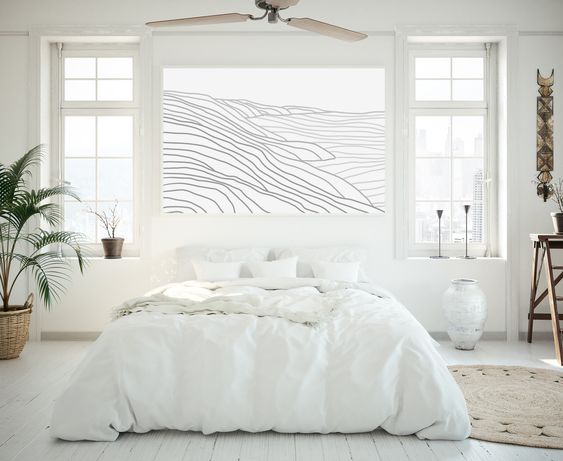 Decorating our minimalist bedroom with some coastal touch decorations that will turn into a peaceful room design! Setting up this minimalist bedroom with white color. To evoke peaceful coastal decorations, we can add a gray wave painting to define the coastal design. Adding a round mat on the floor to add natural texture to the coastal style. Then, we can see the charming natural morning sunlight comes through the windows and brighten up the whole room. What a cozy minimalist bedroom it is!
Gorgeous minimalist bedroom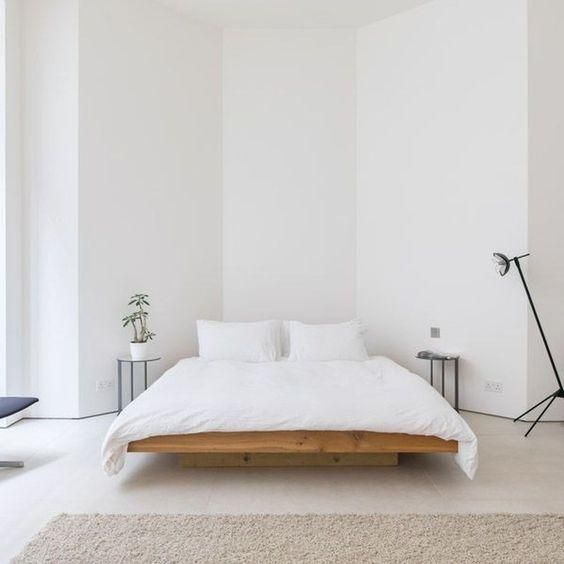 This minimalist bedroom represents the statement less is more! The first thing we want to spot in this bedroom design is a geometrical backdrop wall. The geometrical wall on the backdrop gives a dimension and imaginative view! Setting up a bed in the middle of a geometrical wall backdrop. To comfy this minimalist bedroom, we can spread a neutral rug such as beige on the floor. This room supported with well-lit natural lighting which makes us feel cozier being inside! The simple line decoration and selection of neutral color scheme make this room not only good to be a relaxing place but also suit for a meditation! Discover a great relaxation in the simple line bedroom!
Trendy minimalist bedroom idea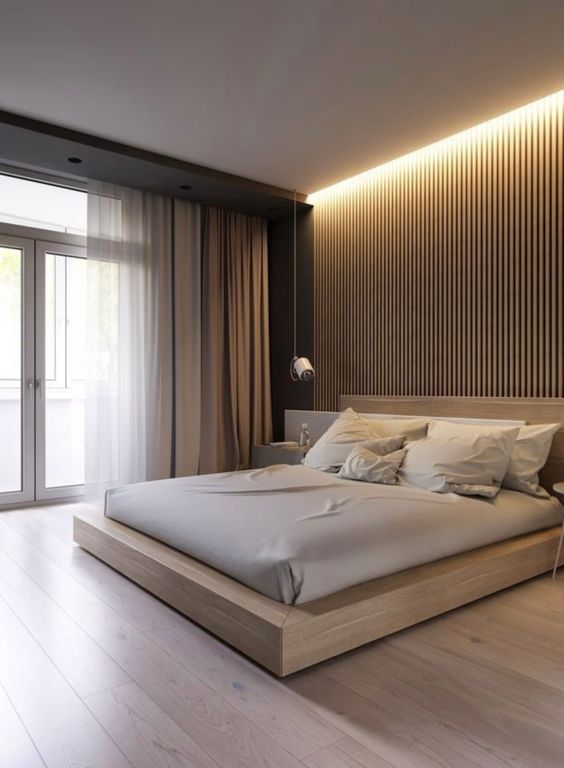 Let us get a stylish and simple line decoration in this minimalist bedroom style! The earthy color tone in this bedroom creates a natural soothing ambiance. This bedroom only using three colors mood board color scheme. There are wood, beige, and white, all stand out with earthy colors! There's something that made us amazed while entering this minimalist bedroom. There are timber panels that shine with LED lights at the backdrop. This timber accent makes this minimalist room more alive! The second impression while being inside this bedroom is the presence of very fine wooden flooring finishes that blend with a wooden bedstead. The soft linen bedding makes us fall into the cozy minimalist bedroom design! Do you fall into this trendy minimalist bedroom idea?
Simple and cozy neutral kitchen idea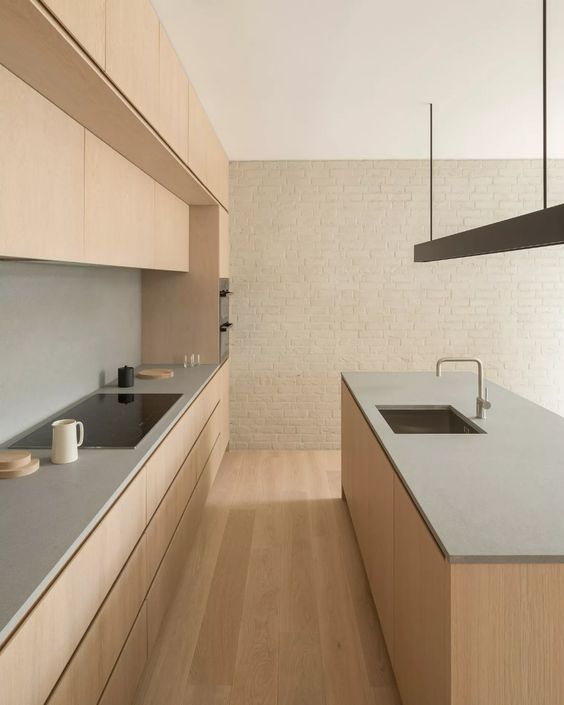 Are you looking for a warm kitchen design to be set in your minimalist apartment? Here we have a super cozy kitchen that stands out in a neutral palette! To begin this project, we can install lots of wooden accents for decoration. Installing wooden flooring, table, and cabinets with the same wood that evoke a seamless effect. Then, we can install a Silestone line countertop that has a smooth surface. It works perfectly together with a wooden cabinet and table. This minimalist kitchen bold in a modern simple line decoration, it looks so organized! Do you love this neutral kitchen idea?
Rustic minimalist kitchen style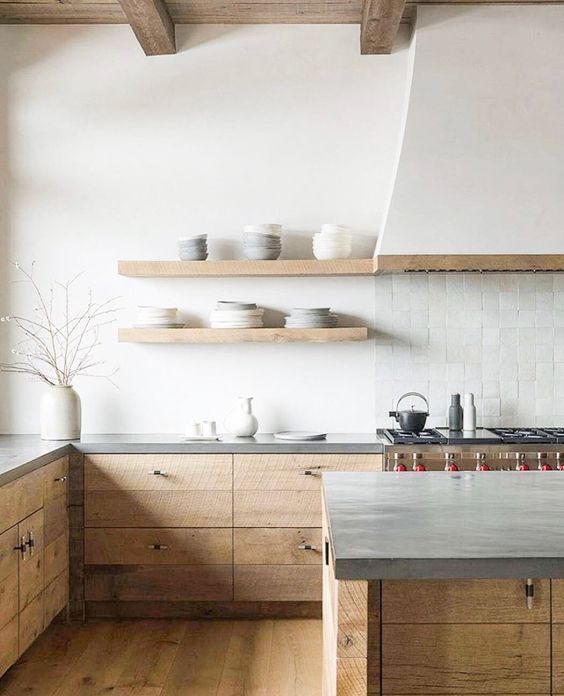 A simple line design combining with an unfinished wooden accent makes this kitchen looks gorgeous to define a rustic minimalist idea. The natural fiber on the wood gives a bold natural texture to this kitchen. Installing a concrete countertop on wooden cabinets gives a solid texture. For the ceiling, this kitchen again using unfinished wood to bring out the natural texture. Then, we can install some wooden shelves on the white wall. Do you love this masterpiece of rustic minimalist kitchen idea to be set in your apartment?
Solid surface basin for neutral bathroom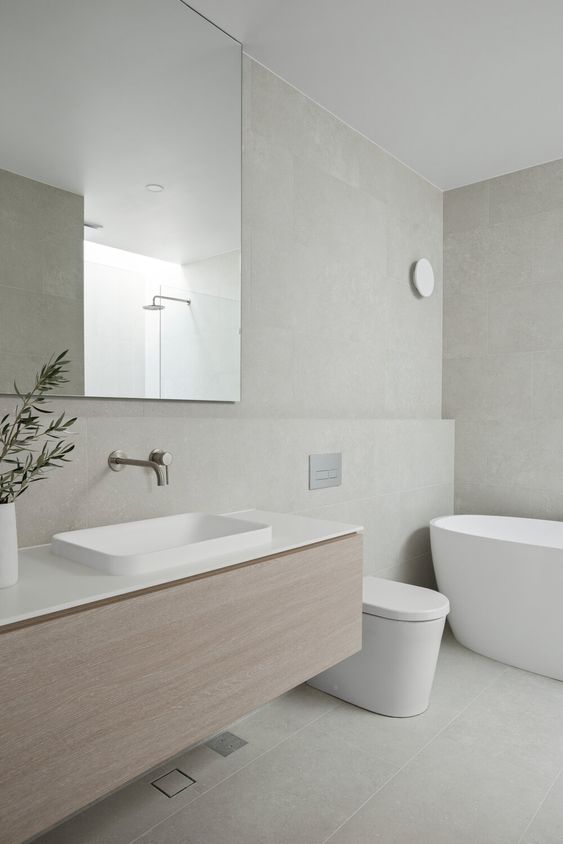 After talking about many parts of the room in the apartment. Now, we share with you a neutral bathroom design for a minimalist apartment! Displaying seamless gray ceramic tiles for the flooring and the wall. Then, installing a solid surface washbasin that perfect to create a neutral bathroom style. Then, do not forget to install a large mirror on the wall to create a spacious effect in this bathroom! Some neutral palette that has been adopted in this bathroom successfully creates a spacious yet calming bathroom style! Do you love this neutral bathroom idea?
Well-lit minimalist bathroom idea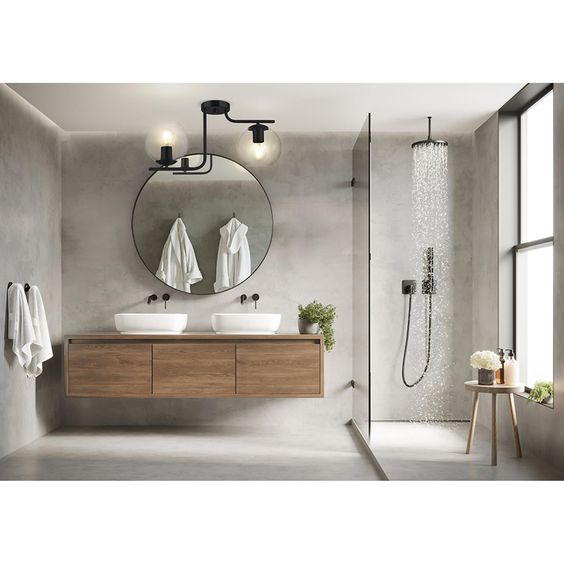 Are you the one who scared when entering the dark bathroom? If so, you need a bright bathroom design in your apartment! Let's be generous to set a large window to allow natural lighting comes through the bathroom. Then installing an organic mirror and pendant lamp to adjust more lighting in the bathroom area. Installing non-slip ceramic for the flooring to prevent slip-up stepping on the bathroom flooring. Then, we can install a concrete wall all around the bathroom area to define a minimalist style that bold in a neutral palette such as gray. Finally, we can install a glass partition wall to divide the shower area. Now, we have a complete cozy minimalist bathroom that has a well-lit design, no more afraid while being in the bathroom!
There are lots of people who love to live in a minimalist design for their dwelling. It is because a minimalist style looks stylish and cozy in a simple line design. Featuring lots of neutral palettes such as white, gray, beige, and many more that successfully make the room feel spacious yet cozier.
While talking about the neutral palette decoration, we can not forget the Scandinavian style that embraces neutral color for its decorations. In this writing, we offer you a mix of minimalist and Scandinavian style stands in the same place and time. Both do amazing work! While the minimalist style bold in simple line decoration where the Scandinavian decoration completed the curated simple living space!
This minimalist style suit decorates your big apartment with three bedrooms or even a small studio apartment. That is all stylish and simple living in minimalist apartment design we already brought to you! We hope this could help you all out to find the best minimalist design for your apartment!