Jordlinghome.com – When you come to the decision in choosing a one or two-storey house for your family. We suggest you have a double-storey house to afford living for a big family. It provides all families to move around in a larger space.
A two-storey house helps us to build a larger house even in a narrow lot. We can purpose the upstairs for a private place to spend with all of the family. In this way, we get a functional layout that the downstairs concentrates on gathering guests and some major activities such as cooking and having a feast with all family members.
In this project, we'll share some tips to make a cozy and larger double-storey house design. Appearing a wooden accent for the interior brings a warm effect, so we'll feel cozy to live in the house. Then, there are some full-height window installations to make the house feel spacious. The neutral color selection for the interior makes the room feel spacious and brighter. The earthy color for the exterior and the glossy glass installation make a statement to this house. Without taking too much time, let's have some fascinating two-storey house design down below!
Natural slate stone wall for the exterior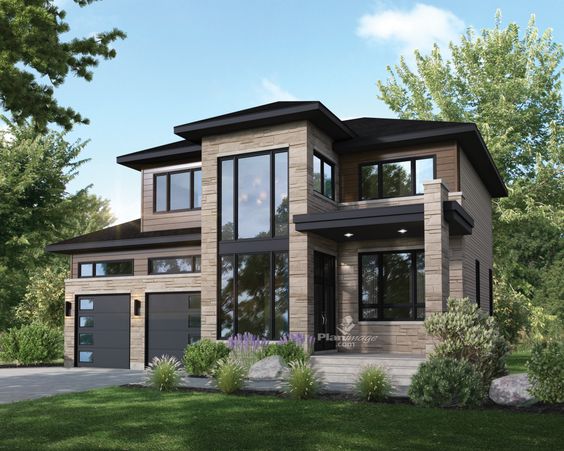 Creating a big statement by installing natural slate stone for the exterior home design. There we can see a top to bottom glass window to feature a front side of this house.
The earthy color shade, natural material, and concrete terraces make a big statement on the exterior side of this house! The clean line design surround by a lush garden makes this house turn into a cozy modern two-storey house idea! Do you fall in love with this modern statement house?
Luxurious double storey house exterior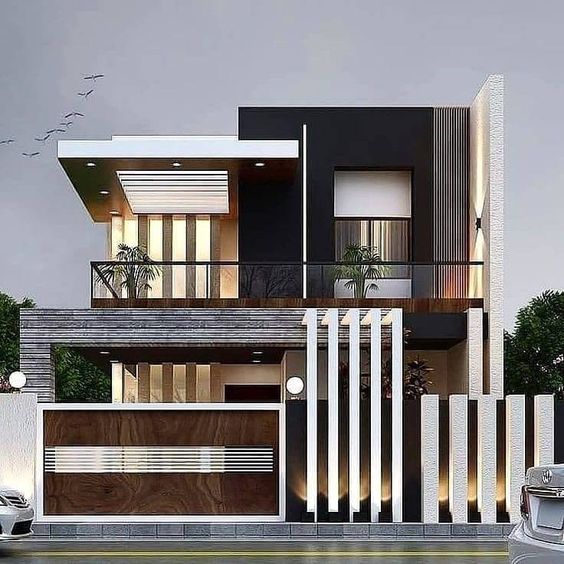 Another amazing exterior design in this home project is featuring the minimalist house style. As we can see there is a flat roof display that mostly found in a minimalist home. Displaying various textures from wood, natural stone, and concrete wall make this house rich in textural concept! The earthy color such as gray, black, and white correlate to each other making an incredibly simple line harmony. There is some luminous lighting that has been installed in the garden intriguing our sight, that light penetrates the fence.
Full-height windows to brighten up the living space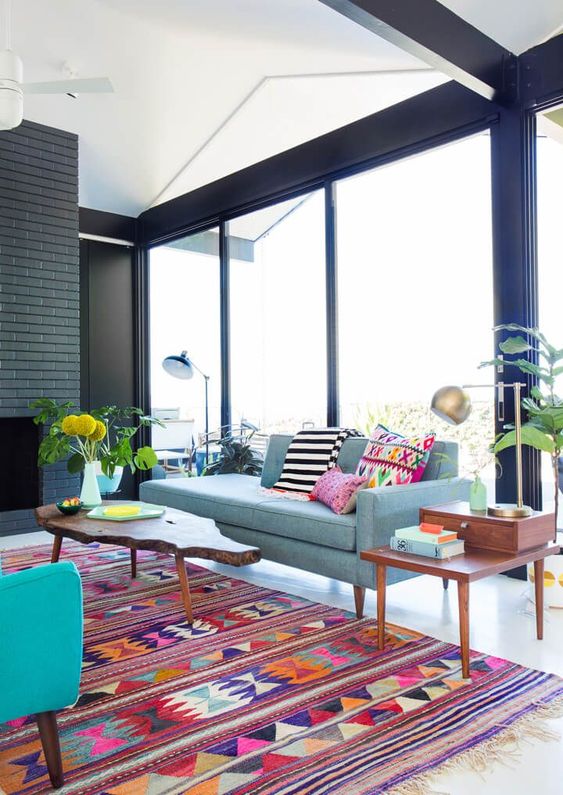 When we have a double-storey home, commonly we concentrate our cozy place on the second floor. The basic reason behind that statement is the higher place makes us feel comfortable. Displaying a better view from the higher place provides us many perspective views around our house!
Almost all of us love to spend time living on the second floor but we should consider to not leave the ground floor into a humdrum space! It is important to design the downstair as cozy as the upstairs! Especially in decorating the living room, it's the place where we welcome guests or even gathering with all family members.
Installing full-height windows to allow natural sunlight to come through the room and also provides well ventilation. To make this reception room more alive, giving a bohemian decoration to have a quirky living room design. We can transform a boho style into a geometrical colorful rug on the floor and printed vivid color throw pillows. Adding a wooden table to create a warm environment and some greeneries to freshen up the room!
Wooden flooring to create a warm ambiance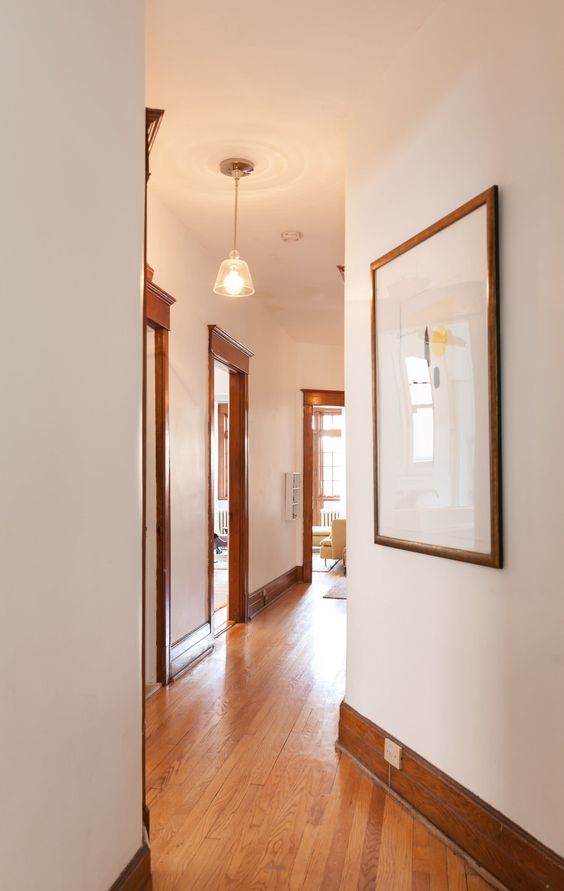 Installing wooden flooring for the second floor of a double-storey house to create a warm feel. A wooden flooring without finishes that shows natural fiber creates a unique look. Besides that, wooden flooring with glossy finishes brings out a classy look. Which one you would love to install in your home without or with finishes?
There are some benefits of installing wooden flooring. They are:
Easy to clean up the pet hair, the smooth surface of wooden flooring make us easy to swipe or vacuum the pet hair that lies on the floor
Easy to clean spillages, the smooth textures of wooden flooring (with finishes) make us easy to wipe up any spillages
After discussing the unique appearances of wooden flooring and its advantages, there is no doubt to install wooden flooring for the second floor of our house!
Ground floor: Marble flooring for a spacious and elegant look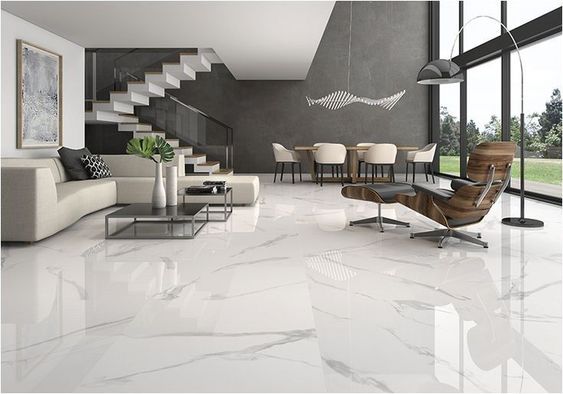 We guide you to have a different dimension in two-storey house. The warm ambiance we'll get when we entering the second floor. Then impress our sight with the spacious and elegant look by installing marble flooring. The glossy textures and white marble color scheme make this first floor look spacious!
The different types of down and upstairs flooring create an appealing design. When we enter the ground floor we'll be amazed by the spacious and luxurious design. Next, we're going to the upstairs we'll find the cozy and warm ambiance of the living space by the humble wooden flooring installation!
Open plan double storey house design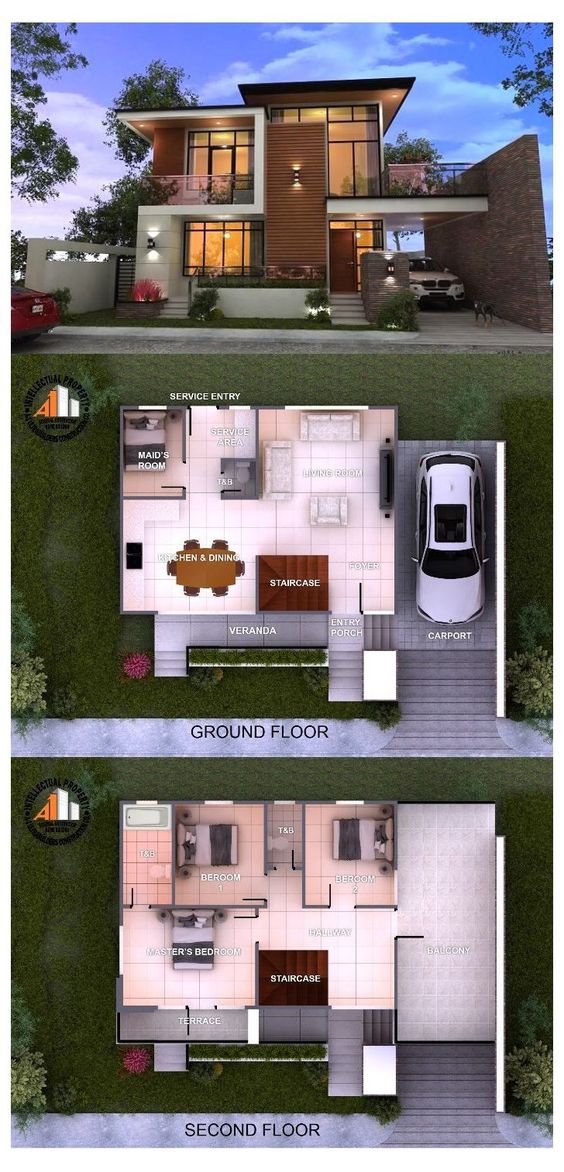 After we show you some exterior designs of a double storey house, now we guide you to have a massive open plan for this home project! This house looks so welcoming, there we can see the appealing warm interior design through the full-height window!
Now, let's observe the ground floor of this house! There is a garage on the left side and the entry porch beside that. There is a staircase to connect the ground and the second floor. It has been installed behind the entry wall. When we come inside, we'll see the spacious living room that set at the backside on the ground floor.
Now, we are going to the left side, where we'll find a dining area facing the front yard through the window while the kitchen set behind the dining area. There are only one bedroom and toilet that has been settled on this ground floor.
After observing the ground floor of this house, let's move onto the second-floor layouts! The main three private bedrooms in this house settle on the second floor. When we first come up to the second floor, we'll find a hallway that directs us to the bedrooms on the right side and the left for the balcony. The master bedroom settled at the front, while the first bedroom set up behind it. The last little bedroom set beside the first bedroom. The private balcony sets above the carport.
A quick review about this two-storey house style is the homeowners put their private living space on the second floor. Where the ground floor concerning welcoming guests and a gathering spot.
The perfect color scheme for the double-storey house
The earthy color just perfects to paint and decorate the double-storey house. There are lots of earthy colors available that could be our preference. Starting from the basics such as black, white, gray, and beige. Then, there is some appealing earthy color shade such as green, blue, and wood. Here, we share with you how perfect the earthy color paint a two-storey house is!
Wood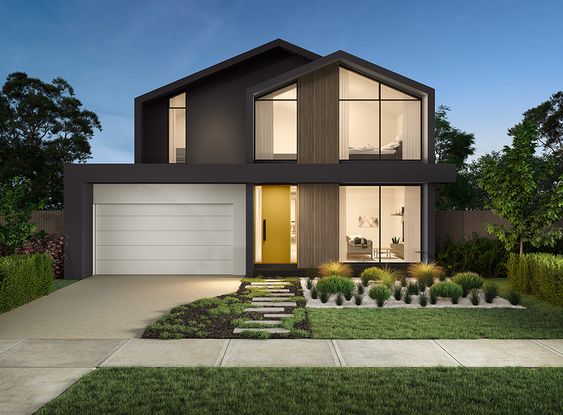 The dark wood color scheme inspires us to make a big statement to the double-storey house. The natural color shade of wood blends very well with the natural surroundings.
White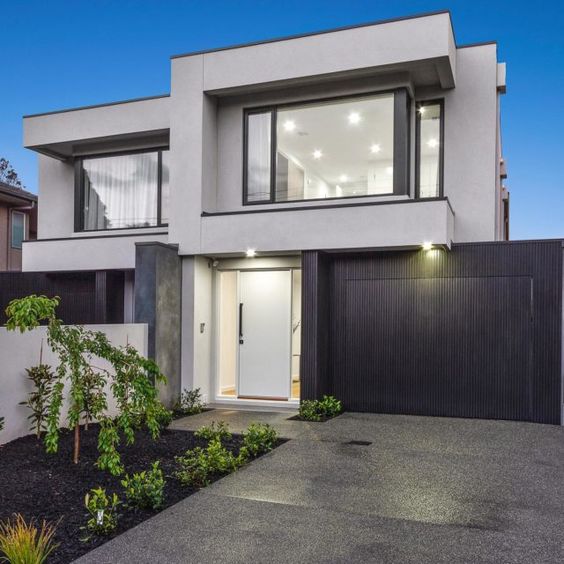 White is a neutral and timeless color scheme. It also makes our house feel spacious and brighter. So, there is no doubt to choose white to paint our house for both internally and externally!
Black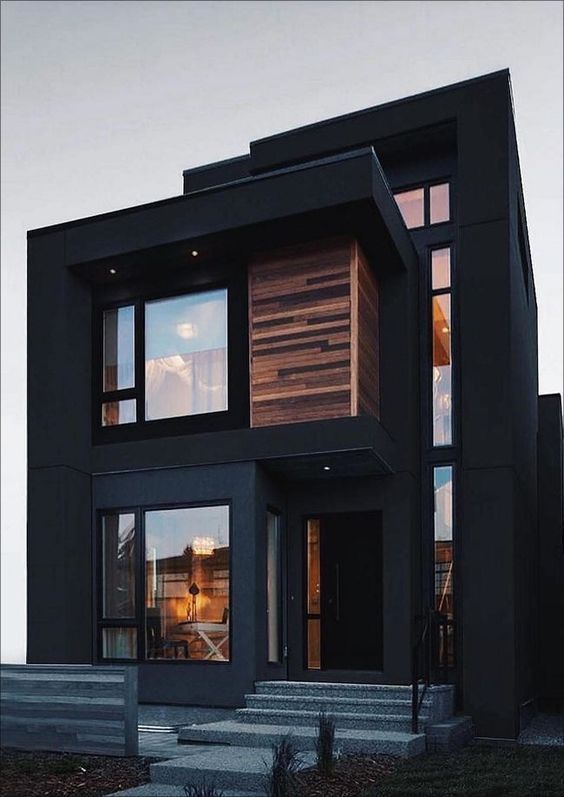 There is nothing better than to choose black to make a big statement in our house! Look at this black house, looking mysterious yet cool appearance! As long as we use black in a perfect curated line design, you'll be amazed at the outcome gonna be! This black two-storey house combines with a wooden accent and concrete terraces to bold a statement house!
Effective decoration for a cozy and spacious two-storey house design
Scandinavian sofa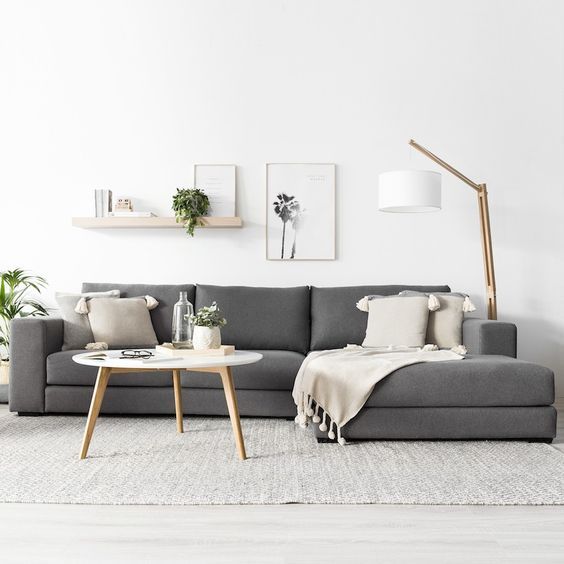 The most essential decoration in the living room must come to the sofa. There is various sofa available to decorate our living space. In this ultimate guide of a cozy double-storey house, we offer you to get a Scandinavian sofa to be set in your living room. The Scandinavian sofa is so comfortable with a high-quality fabric and looking standout in neutral and earthy color. That makes them perfect to decorate any type of room!
Neutral rug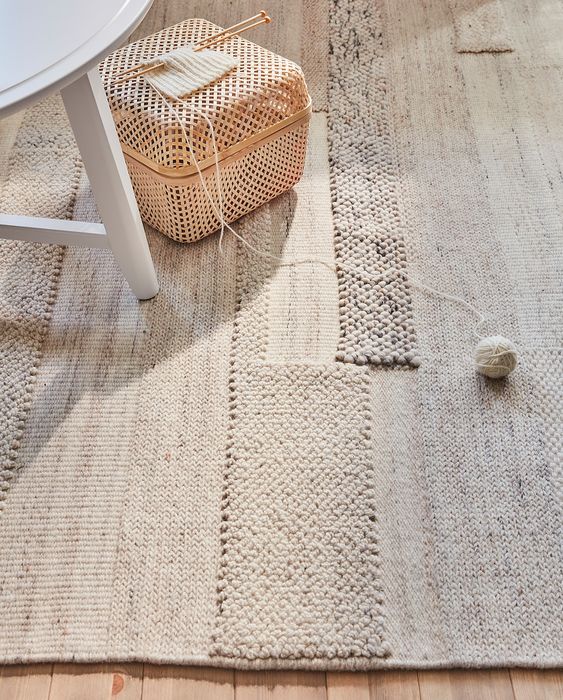 There is nothing wrong to have a neutral rug on the wooden flooring. It's perfect to set in our bedroom on the second floor of our two-storey house! The beige neutral color scheme and the natural fiber rug blends very well with wooden flooring. These two combinations make our room feel warm and cozy!
Pendant lamp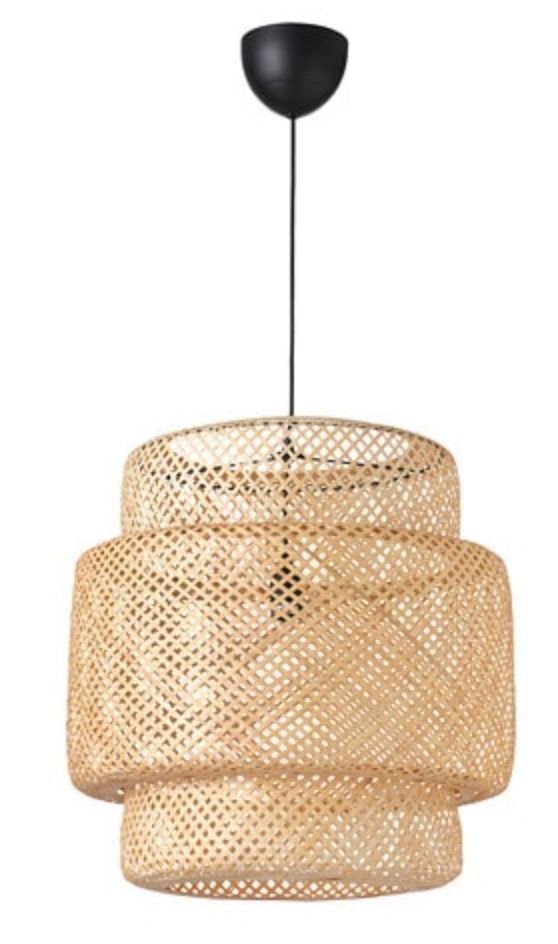 The first aim of the light is to brighten up the room. Besides that, the light appears in many shapes and materials. As an example, this rattan pendant just perfects to install in our cozy room. Installing wooden flooring, spreading the woven rug, and install this rattan pendant lamp to make the environment even cozier in a warm ambiance!
Modern geometrical glass pendant lamp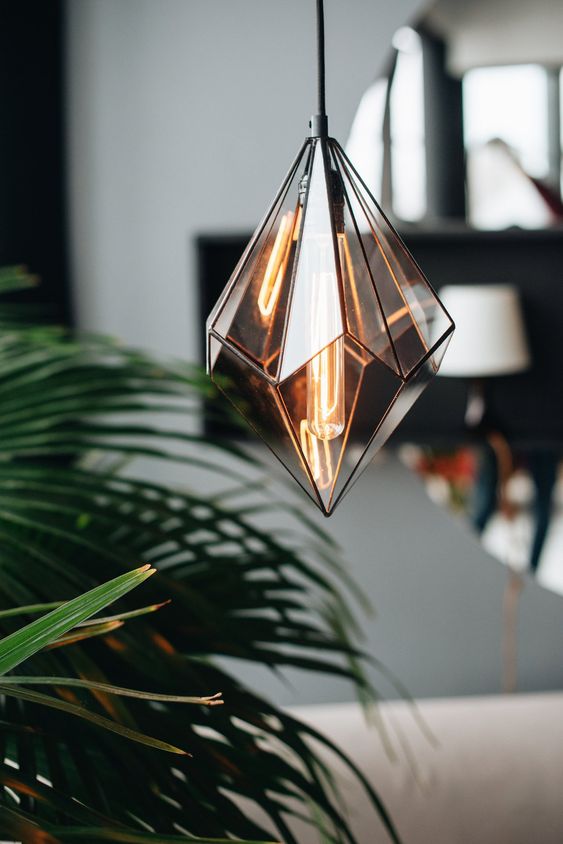 Installing a modern pendant lamp can improve the appearance of the spacious and luxurious room we have! We can install this geometrical glass pendant lamp in our living space, it will make our room look charm!
Those are the ultimate guides of a cozy and spacious two-story house design we were already shown to you. Appearing some incredible double-storey house design externally. Then, we guide to have ultimate guides to choose the perfect flooring tips for the ground and second floor of the house.
Completing with some tips on choosing the right decoration to beautify the interior design! For the first floor project, our concern is to make a spacious and luxurious design while for the second floor we focus on creating warm and cozy decoration. So, we have two different perspectives design in one house through a unique double-storey house concept!
We hope you enjoy our guides to make a dream double-storey house design. Do not hesitate to try these tips in designing your own home. Be creative in designing and have a nice day everyone!