Jordlinghome.com – Lately, Scandinavian in the trend of contemporary design. It has a minimalist core for the design, that makes the Scandinavian interior stand sleek, clean, and modern. No wonder that many people love the Scandi interior style. But those just a short description about the Scandinavian interior you may need more information to make it clear. Here we will bring you to have some description to get know it better than before!
Therefore, you will know exactly what Scandinavian interior design look like through the 7 characteristics of the Scandinavian interior we will bring immediately to you! So, don't miss any of them!
Wooden flooring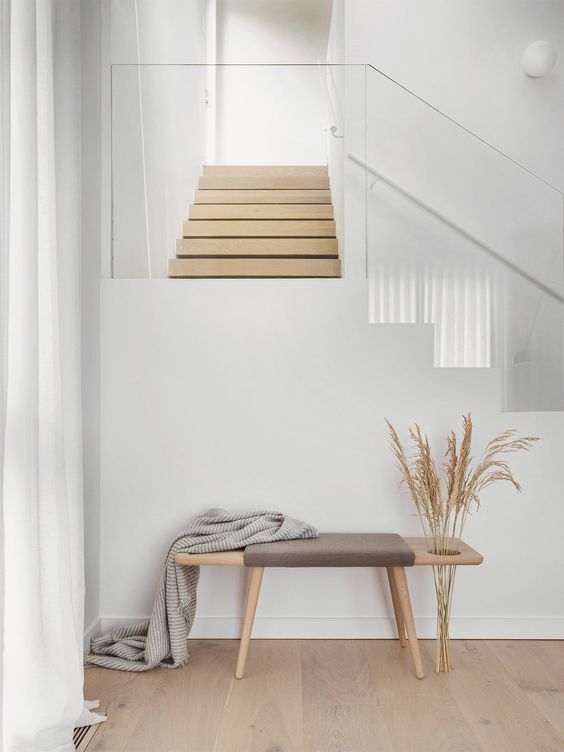 To begin with, identifying Scandinavian interior from the base construction is come with flooring style. Scandinavian homes usually tend to use wooden flooring to create a sleek, and warm ambiance. Abundant wood supply in Scandinavian countries is made it clear to use them a lot to construct their home, especially for flooring and ceiling. Light color wood such as oak is frequently used in the Scandinavian interior. The lightwood materials make the interior feel airy yet spacious. Let's see the implementation of wooden flooring work very well in the Scandinavian dining room decor. They look so cozy and warm ambiance!
Neutral colors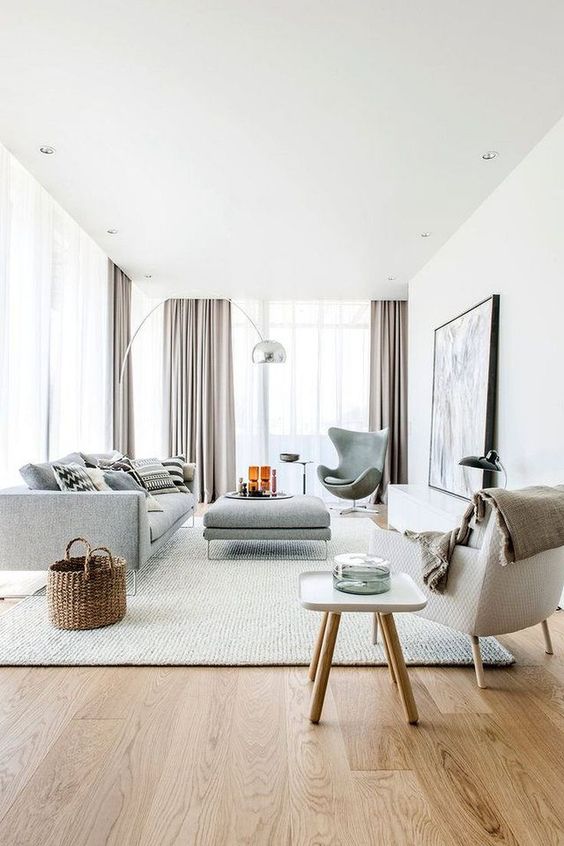 The simple technique to create a spacious yet airy interior space is brushing neutral color for the base. White is a perfect color base in creating a spacious room. A neutral color such as beige, gray, and black can be applied to give a vibrant Scandinavian interior look. The neutral color palette successfully create a Scandinavian studio apartment feel spacious
Applying white as a basic wall color not only gives a spacious but also fresher living space. As a result, the Scandinavian interior looks stand out in clean line decoration.
Plenty of natural light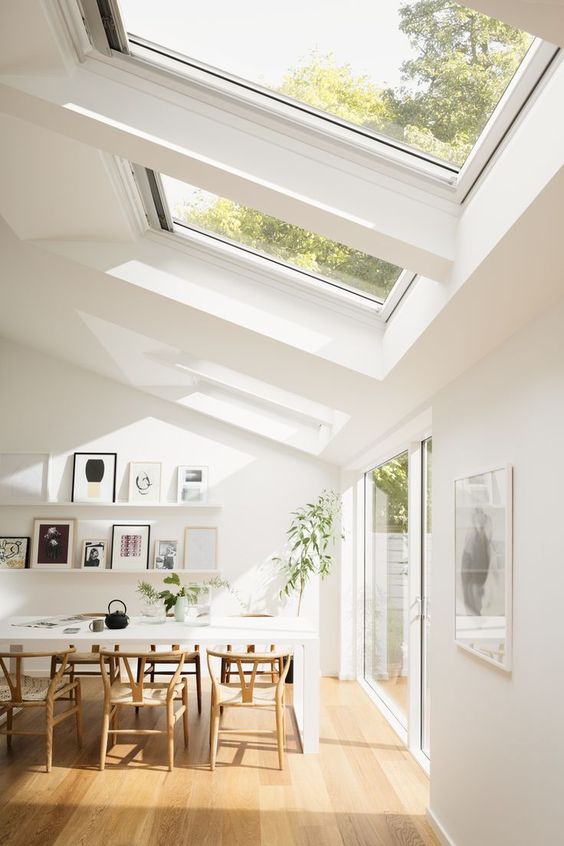 The natural light is the main lighting in the Scandinavian interior. Installing full-height windows will allow plenty of natural light inside the room. In addition, this unique Scandinavian dining room has some roof ceiling windows to increase natural light come inside. The light wood oak flooring, neutral wall color scheme, and plenty of natural lighting all combine together creating a cozy Scandinavian interior style!
Several benefits of natural lighting for us:
Natural lighting makes us calm
The morning sunshine that comes through your bedroom, care our face with its warmth. The serenity made from the natural sunlight makes our soul calm.
As we all know that natural sunlight contains the vitamin D that useful to strengthen our bones. Vitamin D is not only good to strengthen our bones but also good to nourish our skin. As a result, we have fairer skin.
Known for a good healing effect and makes us calm. Finally, that will make us have a good sleep at night.
Natural lighting is safe and efficient energy. When it comes through our home, we reduce the usage of electrical energy. In the end, we get a sustainable home that allows natural supply to be a part of our home.
Lightwood furniture accent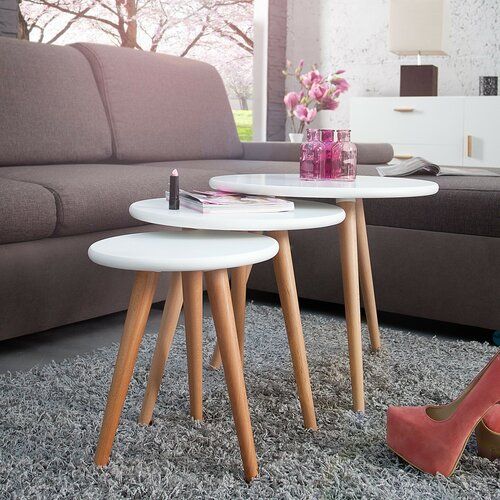 Wooden furniture is not the main part of the Scandinavian interior, but it gives a warm ambiance and works well together with soft textiles furniture. As we can see the side table in the picture above made from wood. Its appearance creates a warm ambiance and works well together with a neutral interior. We can find the lightwood furniture accent on the dining table, side table, Scandi stools, and moreover.
Warm and quality textiles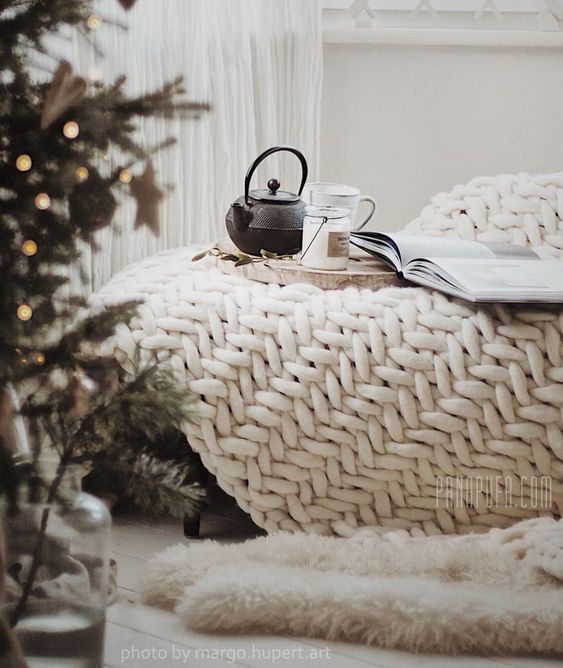 Another characteristic of the Scandinavian interior when you enter the room, you will feel the great warm ambiance. It made from the display of warm and quality textiles such as nettle, flax, and wool. As we can see in the picture above, there is a chunky knit blanket that is quite comfortable. It successfully creates a warm ambiance in the delightful modern Scandinavian bedroom. The main reason for adding soft and warm textiles decoration in the Scandinavian interior is to warm up when the colder season autumn and winter come.
Choosing natural materials such as plants for decoration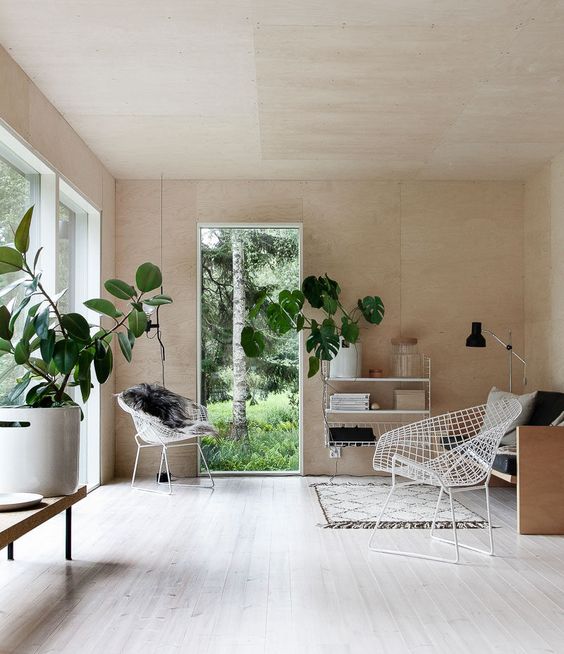 As we alluded to earlier the Scandinavian interior using neutral color. To make the room does not feel still in neutral colors. Natural decoration such as greenery is good to decorate the room. Senseivera, monstera are common plants in the Scandinavian interior. The green plants not only give an aesthetic to living space but also help to purify the air. As a result, we will get the fresh air inside our home.
Embrace the "less is more" concept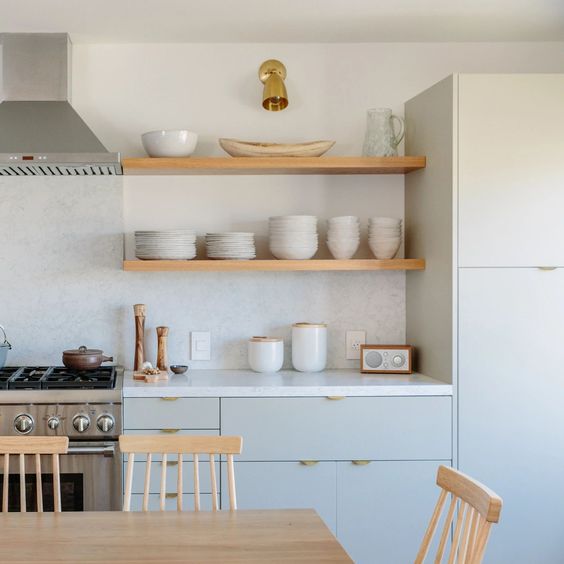 The core of minimalist is ingrained in the Scandinavian interior design. They believe that simple line decoration creating an outstanding outcome. And it really happens when the simple line decoration meets the natural lighting creates a soothing environment.
When the natural lighting comes inside the Scandinavian island decor there we will get the harmony of a soothing room! The nautical vibe made from a blue tone cabinet and countertop. A few wood floating give an aesthetic to this kitchen. There is no over decoration to be set up in this kitchen, it actually applies the minimalist concept.
Conclusion
There are seven characteristics of Scandinavian interior design we already explained above:
Wooden flooring
Neutral color
Natural lighting
Lightwood Furniture accent
Warm textiles decoration
Natural decoration (plants)
Stand in minimalist core
After knowing seven characteristics of Scandi interior style, we hope those could help you to define or even want to create a Scandinavian style in your home.
There is one thing we would like to share this idea with you. The Scandinavian home is an example of a modern sustainable home. We can summarize from all of those seven concepts that build a Scandinavian home stands in the environmentally friendly design. It's a superb sustainable design that stands to create a healthy environment living space.
We can clearly see it from the installation of full-height or ceiling windows that allows robustly through the interior. In addition, a neutral wall palette combines together with natural lighting to create a spacious home design. For the decoration, the Scandinavian style stands in minimalist core and combines it with warm textiles and wooden furniture which makes us feel calm inside. Those aspects make Scandinavian design turn to be one of the livable, sustainable home designs. Do you fall in love with the Scandinavian interior style now?