Jordlinghome.com – When we come to the decision to remodel our bedroom. We want something curated clean line arrangement and affordable decorations, our decision must come to the Scandinavian style! Along with Denmark, Sweden, Norway where they share a common culture and decorating simple interior style. Finally, they found the coziest interior design well known as the Scandinavian style and it has massive enthusiasts around the globe!
What is the most distinctive style from Scandinavian interior decor? Well, Scandinavian decor well known for its curated clean line and minimalist decoration. That makes them suit the most for a modern living space that thirsts for simplicity and versatility design. Let's find a perfect definition to describe how the Scandinavian style looks like through the portrait of room decoration down below!
Now, we will share with you 10 delightful modern Scandinavian bedroom ideas that you will fall in love with!
Cozy artsy Scandinavian bedroom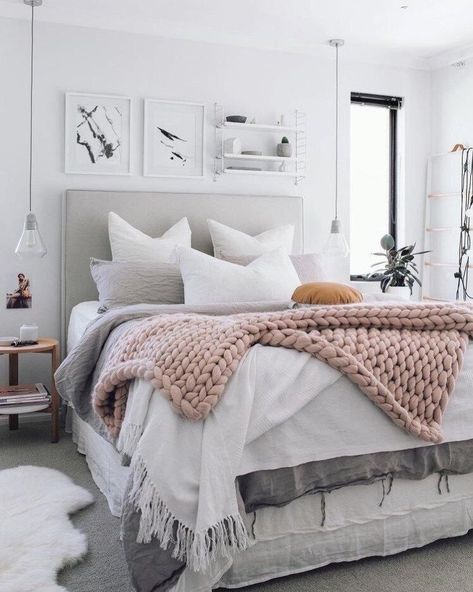 This Scandinavian room apply some layering concept to improve the appearance! Starting off to paint the wall with a neutral palette such as white. Then, add some artsy monochrome walls for the backdrop. installing modern pendant light on each side of the bed. For bedding, we can do a layering concept so this pale room does not feel stiff. Spreading a pink woven coverlet to give textures and color in this soothing room. Now, we're going down to the flooring side, where we can see a fluffy rug lie on the gray rug. Adding some textures decorations to this neutral room successfully evokes a vibrant ambiance!
Modern Scandinavian bedroom completed with a walk-in wardrobe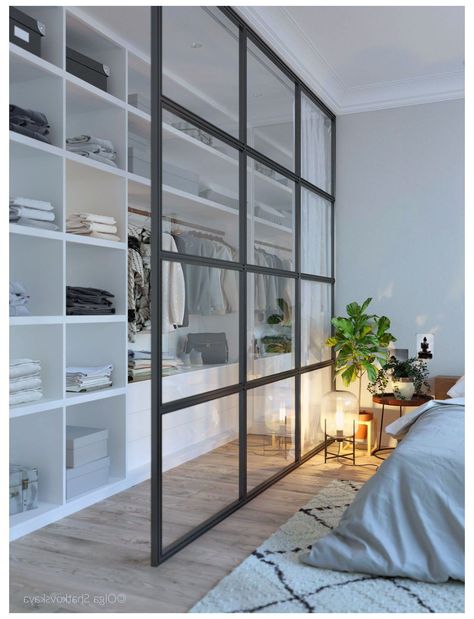 The presence of a walk-in wardrobe makes this modern Scandinavian bedroom style feel cozier! Providing a large space to store our clothes is the highlight to keep our bedroom away from a messy room. The walk-in wardrobe completed the Scandinavian statement that holds clean line decoration.
The perfect flooring for a warm Scandinavian bedroom surely comes along with a wood accent! For the decoration, we can spread a geometrical rug and some candlelight to support a warm ambiance. Who's able to refuse to have a rest in this cozy and warm Scandinavian bedroom style? We're pretty sure none of us!
Stand out with art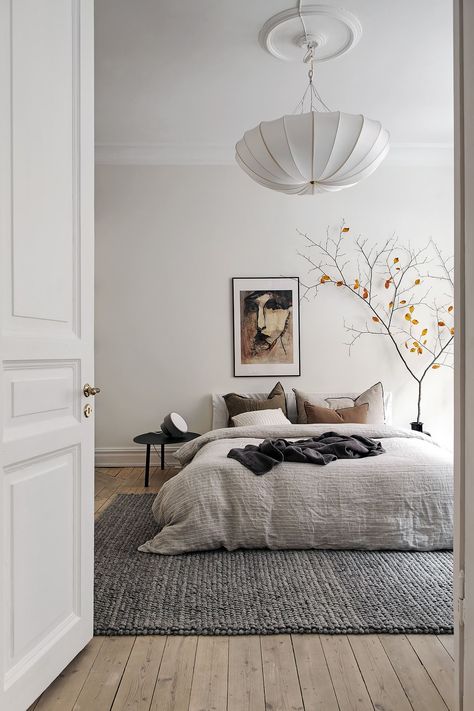 Would you like to have this gorgeous Scandinavian bedroom filled with artistic decoration? We're pretty sure we would love to have that one! Let's come step inside the room and see the decoration. First, let's talk about the flooring that used in this room. Installing wooden paneling for the flooring makes us feel a warm ambiance even at the first step come inside! Spreading a gray woven rug on the floor and a bed on top of it. We do not need the bedstead to sleep well in this room, it already offers us an absolute cozy room to rest!
Adding some pieces of art to raise the beauty of this room. There we can see a whimsical painting that tuck on the neutral wall palette. Simple decoration but make a big statement to the room! Then, we can see a tree branch craft stands proudly to decorate this soothing bedroom! Looking above, there is an umbrella chandelier hanging on the ceiling. This room looking so stylish!
Relaxing Scandinavian bedroom combine with tropical decor!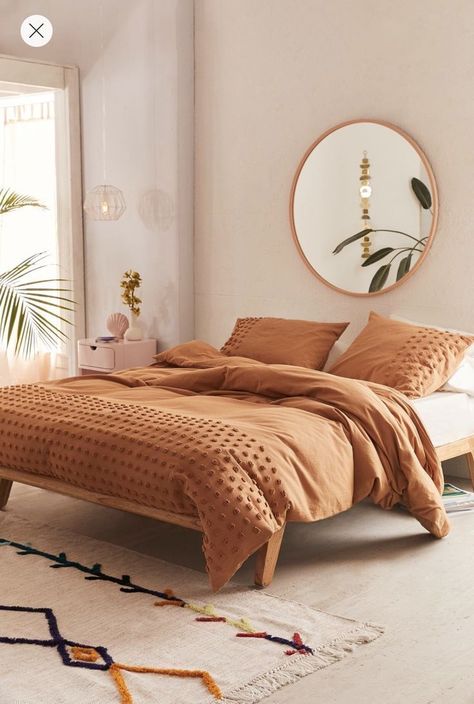 This Scandinavian bedroom looks so relaxing with tropical accent decoration. Adding tropical plants into this soothing room and see the magic happen! Starting off to paint the wall in beige. Then, we can spread a beige rug on the floor. Now, let's spot the bed as a focal point in this bedroom. Spreading a tufted brown duvet on a neutral bed gives more vibrant in this room!
Hibernate in this peaceful loft bedroom!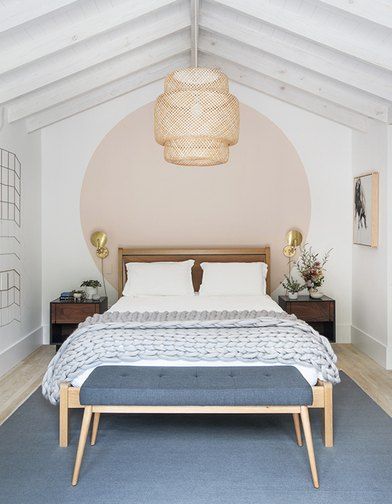 Do you have a small space in your loft? We can utilize it as a great place to hibernate. With the biting cold winter air outside, let's wrap our body with the blanket and sleep in a cozy Scandinavian loft style! The neutral palette is a characteristic of the Scandinavian interior, so we can paint this small bedroom in white. Applying white paint for a tight space is something right, it creates an airy space design. After that, the blue rug has been spread on the wooden flooring. Installing a rattan pendant lamp evokes a welcoming ambiance! When the winter comes and it feels freezing cold, have a rest in this tight but cozy room is perfect to fight the cold air!
Scandinavian Kid's bedroom
The simple line decoration in the Scandinavian interior style also perfect for styling kids' bedrooms. The earthy color palette makes this kids' room look so delightful. The wooden installation creating a warm ambiance and welcoming flooring for kids to play inside. Installing a window on the ceiling allows the natural lighting to brighten up the room. The open sky window installation in this loft also serves a beautiful starry night view. That will help the kids to play with their imagination, keep your dream in this lovely bedroom kids!
Soft Gray Scandi room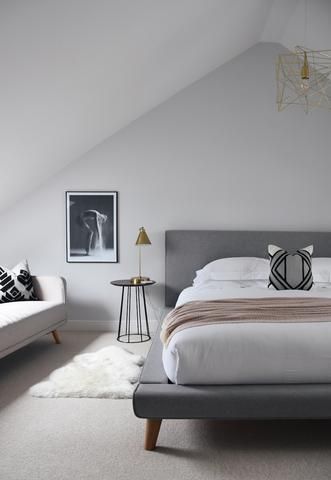 When you live in a tight apartment Scandinavian style could be your bedroom inspo. The clean line and simple decoration make this style worth trying even for the beginner designer! Brushing the neutral palette on the wall will definitely create a relaxing environment. Adding Scandinavian bedding and sofa is enough to feel cozy in an airy feel bedroom design. We all know Scandinavian furniture made from high-quality material and fabrics which make them durable furniture. The modern simple design makes a Scandinavian interior style in great demand and timeless home interior.
Cute Pink Pastel Scandinavian Room Style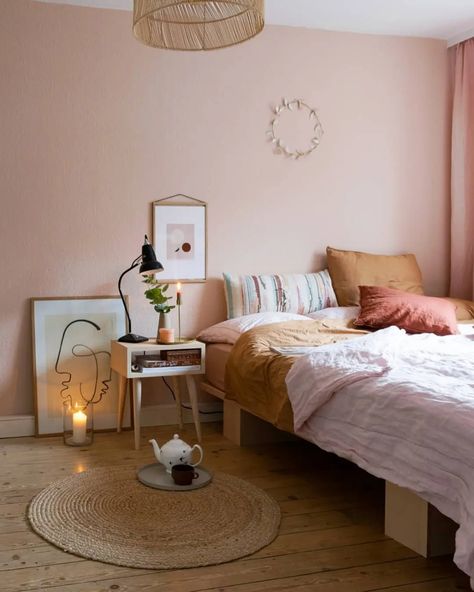 Scandinavian interior styles are quite generous in pastel colors. the soft color scheme makes this interior style feel so calming. Girls, it's looking so lovely when you paint your room with a pink pastel color scheme. Combining with a neutral ceiling and wooden flooring will make us fall into the dreamy girl's room! Adding some artistic decorations such as abstract paintings that enhance the beauty of this girl's room! So, would you love to have this cute pink pastel Scandinavian bedroom?
Lovely decoration for your dream pink pastel room!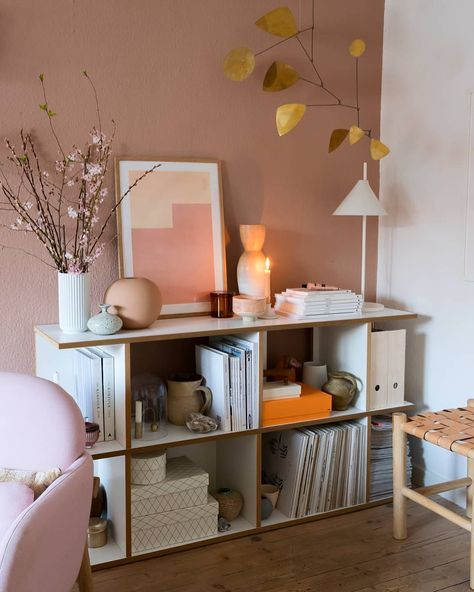 Let's do some lovely decoration on the corner of our soothing pink pastel room! Starting off to put a neutral shelf on the corner, put some handicraft flower decoration on the table. When the blooming season comes, we can put sakura flowers on the pot, what a perfect spring decoration in a pink pastel room! Then we can add a woven leather chair beside the shelf, such a perfect reading nook in a lovely room!
Fresh Scandinavian Small Bedroom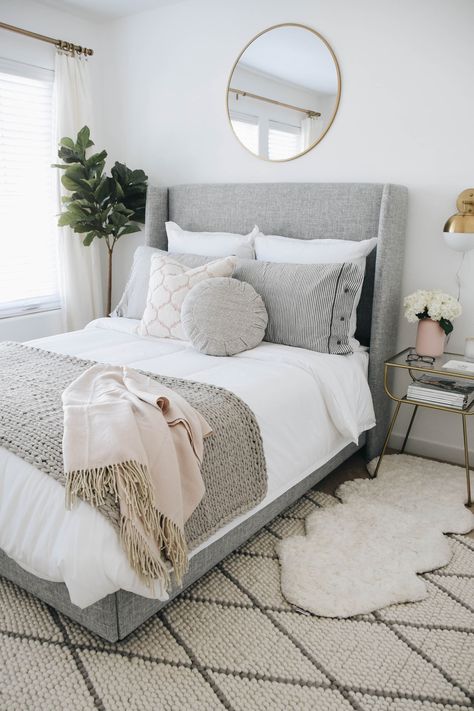 Simple arrangement and perfect decoration evoke a cozy and spacious room design. There a mirror tuck on the wall and it helps to evoke a spacious room, when the natural sunlight comes and hits the mirror there exactly it transfer light to the whole room. As a result, a tight bedroom looks bright and spacious with mirror support!
The neutral wall and pastel decoration in addition to the green plant in this room create a fresh interior decor. This relaxing Scandinavian bedroom is worth remodeling your room in the summer season!
Accent Wall Pastel Paint Design to Give Aesthetic In Your Room!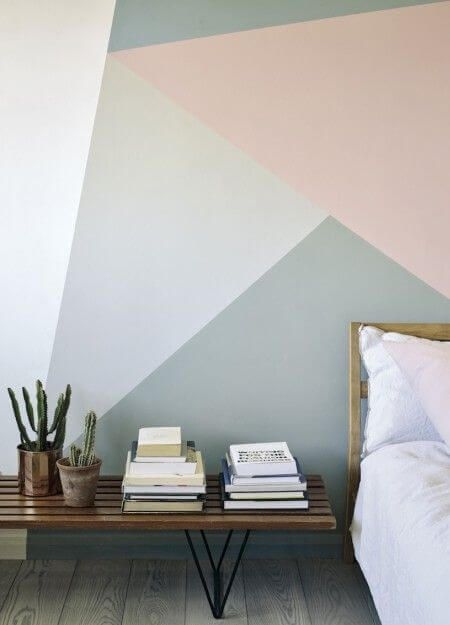 Appearing an outstanding geometric accent wall giving an intriguing Scandinavian room style! Some pastel colors in gray, pink, and blue shade are a perfect color scheme to enhance the beauty of your Scandi room interior! Then, adding some minimalist decoration to bold the accent wall as a focal point in this room!
Scandinavian warm textiles decoration
After we have seen several Scandinavian bedroom designs above. We highlight the warm textiles that always display in the Scandinavian bedrooms. The rug, blanket, throw pillow all look so warm and cozy. The warm textiles made from cotton materials. Cotton itself has a soft texture that suits to display in the Scandinavian interior design that makes the room feel warm and cozy!
Those are 10 delightful modern Scandinavian bedroom ideas we already share with you. We hope those designs could help you to find your dream Scandinavian bedroom!