Jordlinghome.com – Some people tend to have a luxurious interior design for their home. On the other hand, half of us prefer a simple and clean line interior decor. If you're the one who loves a simple curated line design, then Scandinavian decor could be your preference!
Currently, Scandinavian interior designs are in great demand across the globe. None other than because it has a simple and affordable design. If you're not yet over dozed with Scandi decoration in your home, we'll guide you to have some amazing Scandinavian dining room characteristic ideas right now!
What should we keep in mind to create a cozy and fresh Scandinavian dining room decor? The neutral color scheme gives the best look for soothing the interior, in the end, we'll feel cozy inside. What else we need to do to get a soothing Scandinavian interior? The minimalist decoration will blend perfectly with the neutral wall palette the Scandinavian interior has.
What makes the Scandinavian dining room feel warm and cozy?
There is one thing we highlight from the Scandi dining room is a wooden flooring installation. Natural material for flooring creates a warm and serenity design. Wooden flooring is one of the characteristic Scandinavian interior designs.
When it comes to design the gathering spot such as the dining room, we have to create a warm ambiance. The wooden flooring itself can withstand the biting cold air in winter. Wooden flooring installation is a natural and sustainable design for cold climate Scandinavian countries. There is no doubt to choose wooden flooring for our dream Scandinavian interior design!
Without taking too much time, let's dig into cozy Scandinavian dining room decor down below!
Soothing Scandinavian dining area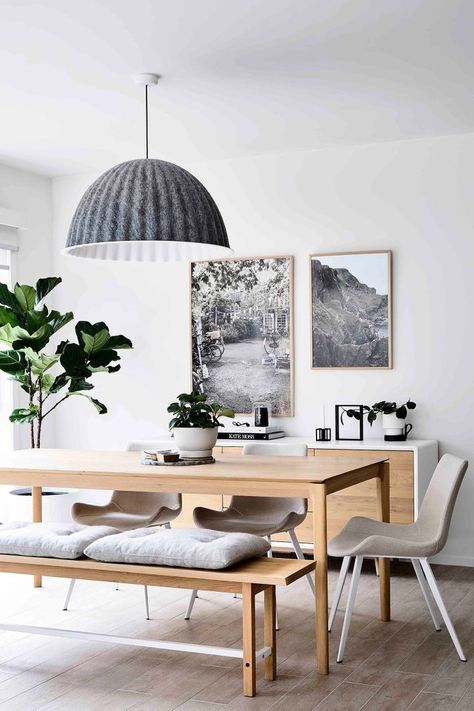 Brushing a neutral wall palette such as white makes this room looks soothing and bright. Adding some wooden furniture gives a warm ambiance to this neutral room. The whimsical wall art gives an aesthetic to this room. Some greeneries make this dining spot feel so relaxing! Do you love this Scandi clean Scandi dining style?
The rustic Scandinavian dining spot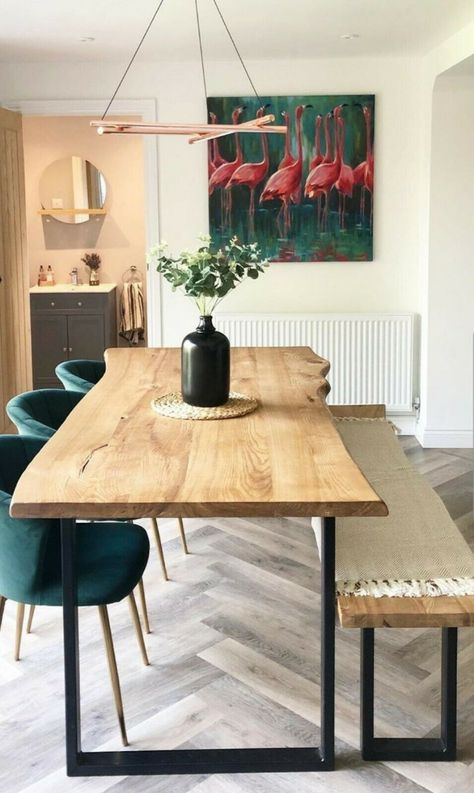 Do you love when the clean line decoration of Scandinavian style blends with a little bit of rustic touch? Here we offer you to get a solid oak ash dining table to be set in your dining area. The oak chandelier made the ambiance stronger in rustic view. Combining the rustic view with some appropriate modern touch. Adding some Scandinavian chairs to comfy the seating area while on the other side we have a wooden bench.
The perfect finishes on antique reclaimed wood flooring make this room feel warm and cozy. Some decorations can be applied in this Scandinavian dining room such as whimsical tropical wall art painting. The existence of decoration makes this minimalist interior look more attractive!
Charming Scandinavian Dining spot!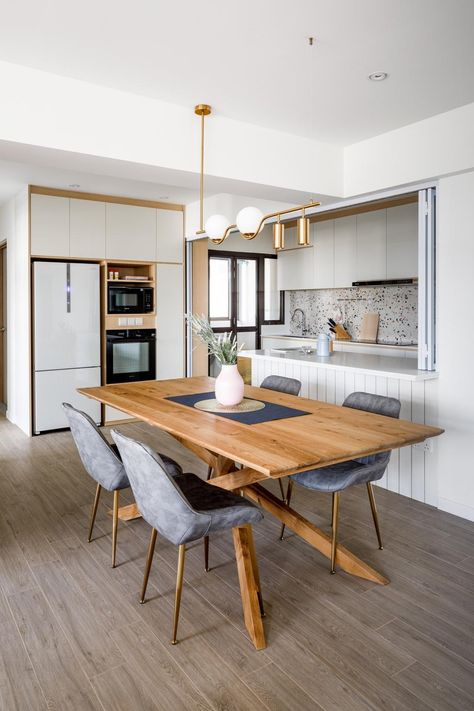 The neutral wall palette always in the spotlight in the Scandinavian interior style. The white color scheme makes this small dining spot look spacious! Adding some Scandinavian chairs around the wooden table. Installing a golden accent chandelier successfully makes this dining spot look classy. When the natural lighting in the morning comes inside the room, feel the warm ambiance that brightens up the room and cheer the breakfast time with the whole family!
Natural oak matt give a handcrafted aesthetic to the Scandinavian interior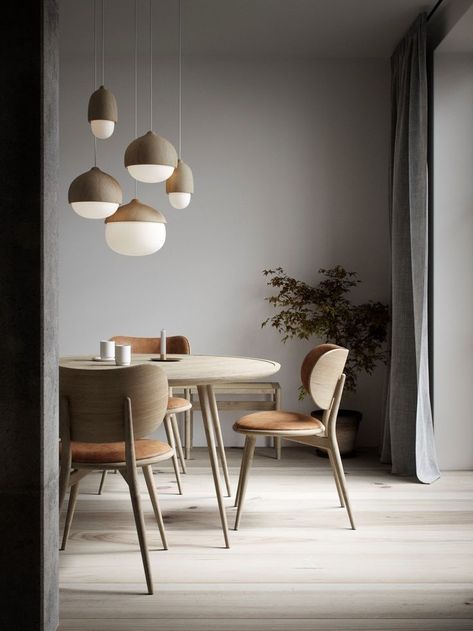 The Scandinavian room style blends perfectly with natural materials such as wood. In this dining room, we can spot the handcrafted oak matt that appears in intriguing pendant lampshades and handcrafted wooden chairs. The very fine finish makes this dining area look so clean and tidy. The neutral wall gray palette has been installed on the wall and curtain. The shade of calming natural lighting comes inside just perfect to create a soothing interior ambiance!
Calming Dining Room In Beige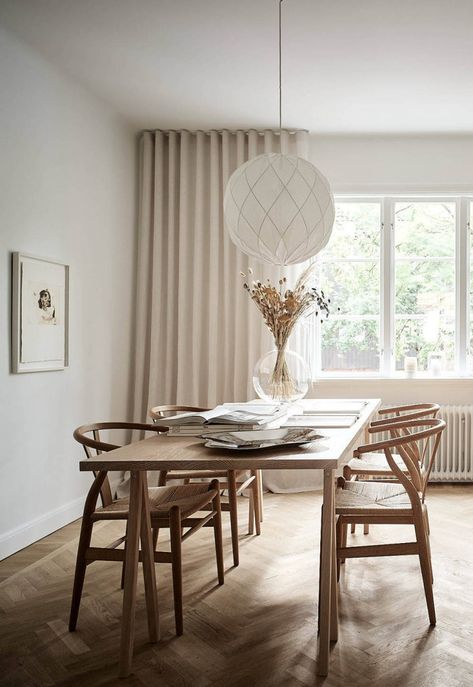 A neutral and earthy color scheme always be a great option to decor Scandinavian interior decor. A neutral color such as beige is softened in this dining spot. Adding some natural wooden furnishing evokes calming effect in this room. Whimsical chandelier and flower glass jar give a lovely look into the whole room!
Relaxing Scandinavian dining decor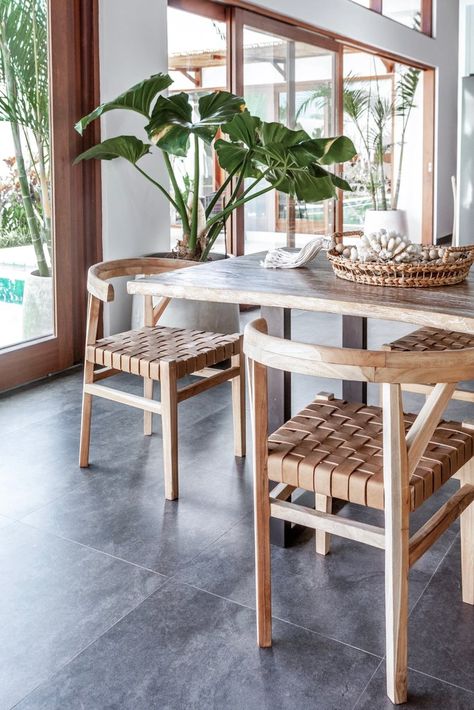 The relaxing ambiance we get from the appearance of massive tropical plant monstera close to the dining area. The gray marble flooring and leather woven chairs give a stylish look to this Scandinavian interior. Now, let's spot some full-height window that has been installed to provide natural lighting brighten up the room. They offer us a wide-open view of the outdoor space. Seeing the gorgeous natural view of our front yard feats our eyes with a relaxing lush garden!
Cozy Scandinavian Interior With Earthy Color Decoration!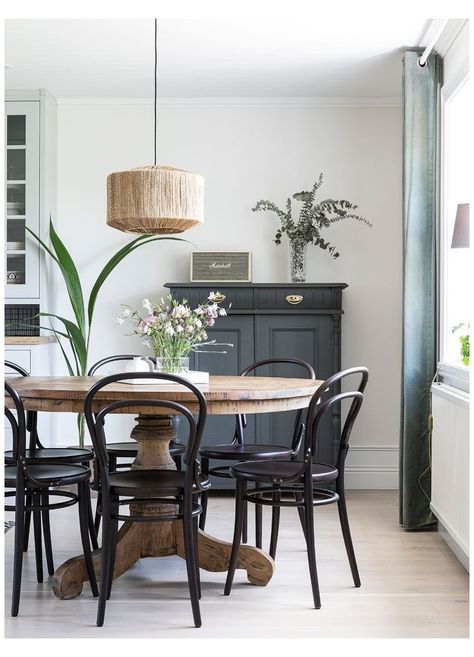 This cozy Scandinavian dining spot using earthy color decoration to improve the look. The round wooden table is placed near the source of natural lighting comes, window. Adding some black steel chairs to get the perfect transition look with a wooden table. When the sun goes down the natural lighting slowly disappears from this dining room. Now, let's give a chance to the unique rattan pendant lampshade to illuminate us having dinner. The lamplight that shade with rattan lampshade creates a welcoming dinner ambiance!
Appealing Scandinavian interior with boho decor!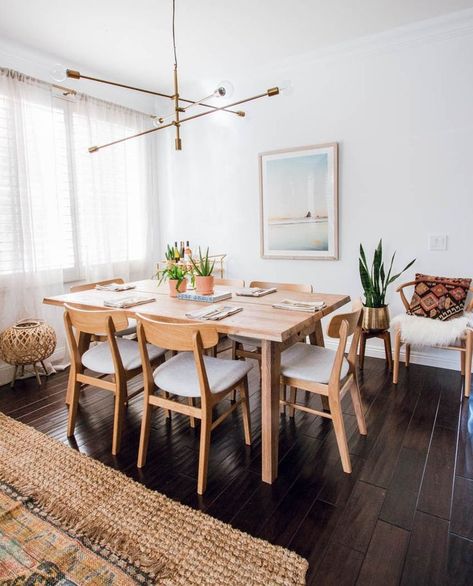 Could you imagine how gonna be the clean line Scandinavian decoration meet a quirky boho style? Well, the blend of two different styles creates an appealing new style! We can start the project by applying a neutral wall palette to define the Scandinavian decor. Then, we can add some quirky boho decorations to this room. Spreading a vintage rug and printed boho throw pillow successfully creating a unique dining spot design! The proper amount of boho decoration runs very well with a clean line of Scandinavian decoration. Do you love to add some boho decoration to make your Scandinavian decor look more attractive?
Soothing Scandinavian Dining Room With Pastel Colors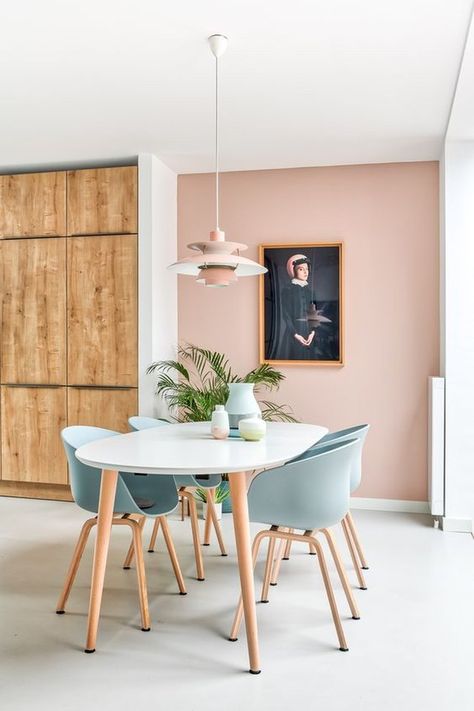 Do you love to paint and decorate your interior with pastel colors? At this time, we offer you a gorgeous Scandinavian dining spot with pastel color decoration! Starting off to paint the wall with a soft pink shade and pink pendant lamp. Now, let's jump into decorations! Adding a white round table in the middle completed with some Scandinavian chairs in blue pastel. The neutral color scheme of flooring and ceiling make the pastel wall and decoration shine in this room! When the natural sunlight robustly comes inside the room and hits the lovely pastel Scandinavian interior, what a soothing view to the eye!
Inviting Scandinavian dining room design idea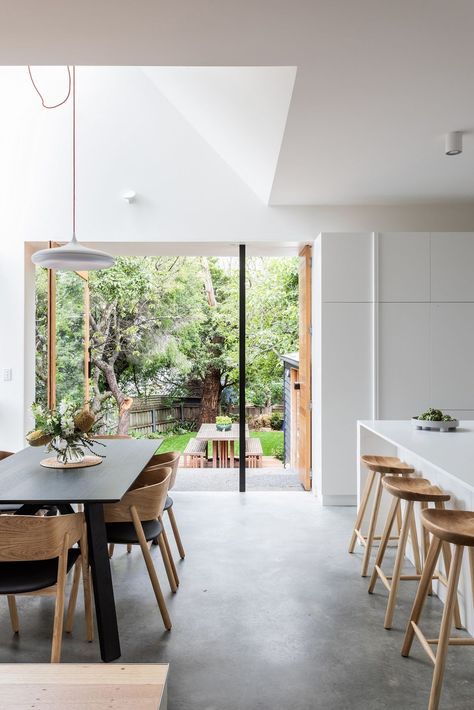 Don't eat while watching tv but watch this inviting lush tropical garden view! Providing magical natural scenery through the full-height window installation. Break the boundaries between the indoor and outdoor space with this large full-height window!
Inviting a lush garden outside while having a dine with our lovely family is something priceless! Then, we can put some wooden decorations to intrigue a welcoming dining ambiance. Feel cozy with these soothing Scandinavian dining room decor!
Get a Warm Dining Ambiance In Scandinavian Style!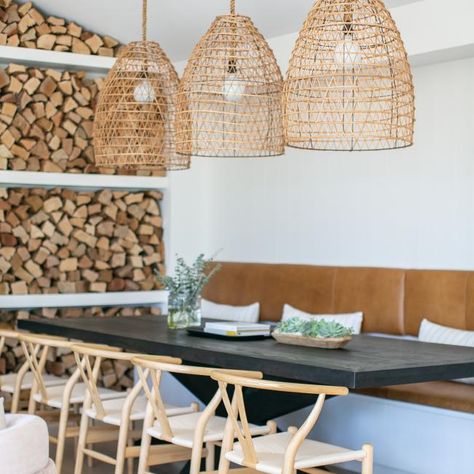 This Scandinavian dining spot is well-designed with some natural decorations. Adding a dark wooden table in the middle of the room and then add some wooden chairs. The presence of three rattan pendant lampshades makes this room feel cozy and welcoming. Finally, we can highlight there are piles of firewood neatly arranged as a backdrop in this dining room. Choosing wood as a dominant decoration makes this room bold in nature concept! Do you love this idea to be installed in your home?
Conclusion
In this article, we share with you some appealing Scandinavian dining room decor. We underline some highlight things on creating a cozy Scandinavian dining spot.
Neutral wall palette and decoration. A neutral palette is just perfect to evoke a clean line and spacious Scandinavian interior decoration. We can easily find a neutral color scheme for our soothing wall palette such as white, gray, and beige.
Natural decoration. Wooden tables and chairs are the most common furnishing we can find in Scandinavian interior design. The natural accent furnishing in tune with neutral interior decor.
Simple decoration. The Scandinavian interior design embraces the minimalist style. Where we can see there are no overwhelming decorations in this type of living space. A neutral wall palette and airy space decoration successfully guide us into the soothing ambiance inside our home!
Those are some soothing Scandinavian dining room decor we were already shown to you. Don't be afraid to explore and try your own dining room decor! We hope you enjoy these soothing Scandinavian dining room decorations and start your own project immediately!