Jordlinghome.com – Have you ever been traveled to Bali? The place that serves us many exotic beaches and lush tropical scenery, such a relaxing place! When you are not able or worry about traveling during this pandemic. You can create a Balinese-inspired garden to complete your beautiful tropical concrete house!
There are some tips we will share with you to create a Balinese tropical garden. It should feature lots of tropical plants and flowers, natural materials such as timber, wood, and stone are the most essential to Bali island. Then, for the final touch give an exotic and aesthetic of Balinese garden style by adding some artistic statue in the garden!
Without taking too much time, let's go on the relaxing Balinese garden down below!
Natural materials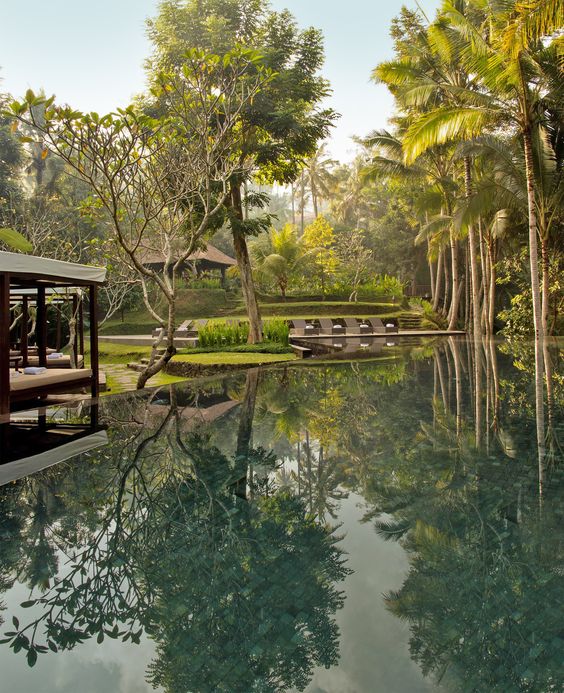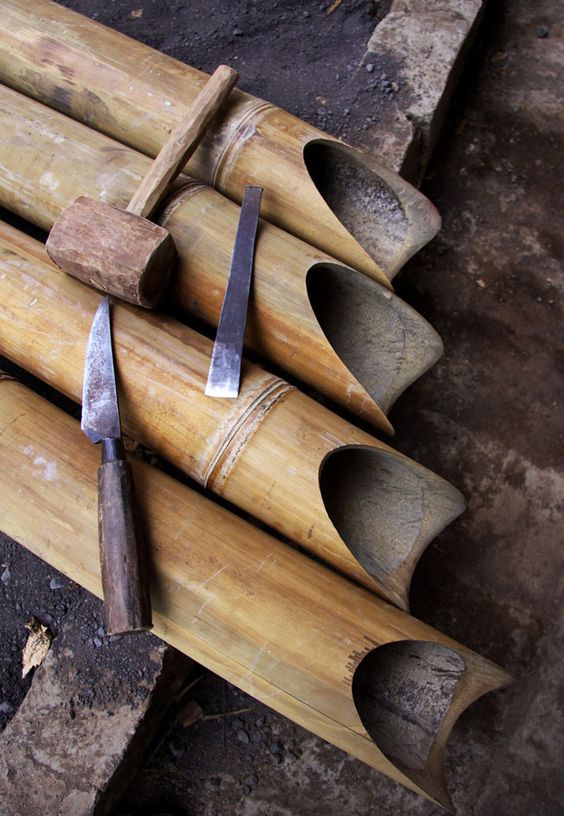 When we come to create a Balinese garden project, the most essential thing we have to prepare is natural materials. Apply natural materials for creating gates such as timber, wood, and bamboo. All we have to know before making the Balinese garden is to embrace nature!
Choose tropical plants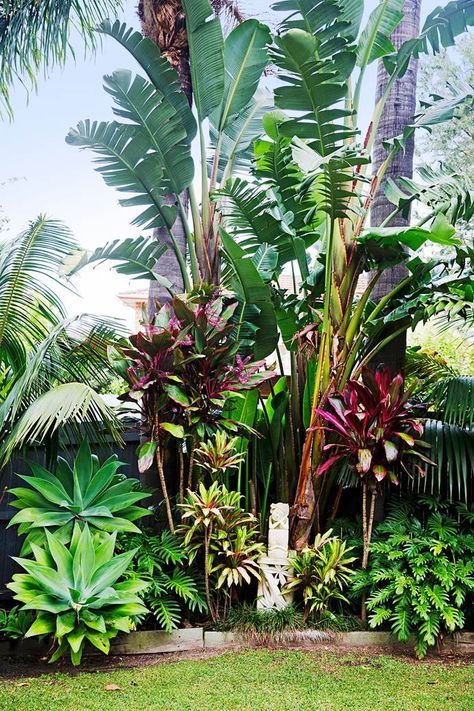 When we design our garden with the Balinese style, we have to choose some tropical plants to decorate the garden. There a few trees that usually decorate tropical gardens is bamboo, palm, and banana trees.
Balinese believe that greener is better. So, if we want to create a Balinese garden, we have to make our garden lush in green. The natural green element evokes our eyes to feel a huge relaxation!
There are some essential flowers you can add to your dream Balinese garden are:
Frangipani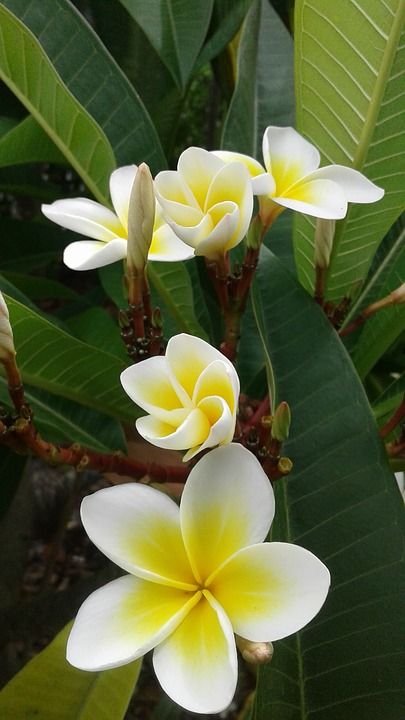 Where you step inside the Balinese garden, you'll find some frangipani decorate the Balinese landscaping. Frangipani is the mascot of the tropical garden because it thrives in a tropical land. They are available in various colors that give an aesthetic to the garden view! Frangipani is one of many tropical scented flowers, without a doubt they are chosen to give a nice natural fragrance in the Balinese garden!
Pandan Bali/ Cordyline australis/ cabbage tree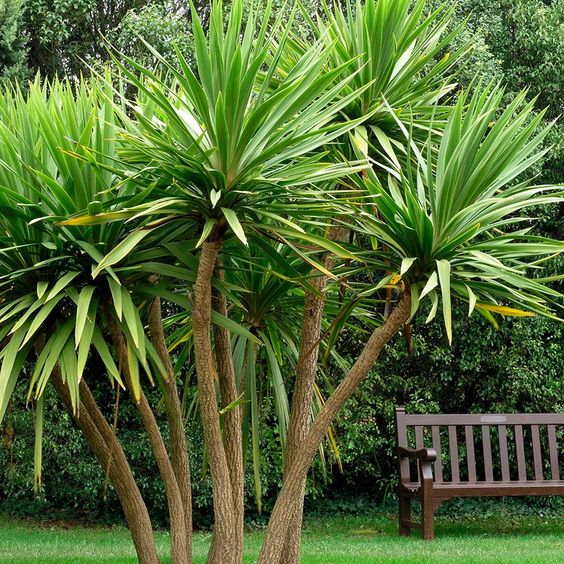 Cordyline australis is an exotic tropical plant. This plant is not only give an aesthetic to the garden but also has an excellent feature as a pollution filter.
Hibiscus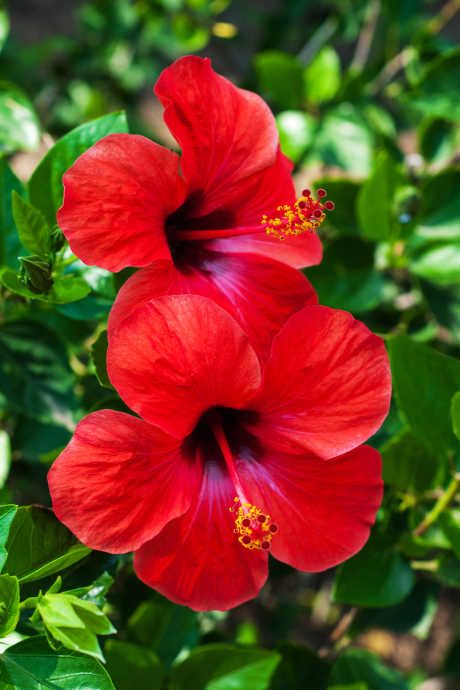 Hibiscus is one of many tropical flowers, they appear in many colors which makes them feels right to decorate the lush tropical garden.
Lotus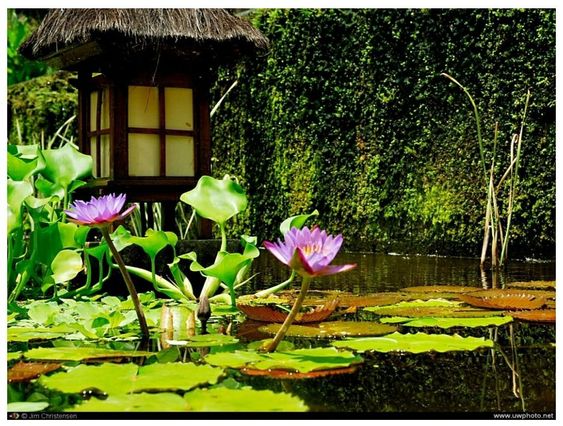 Lotus is beautiful aquatic plants that always decorate the pond in Bali. The appearance of lotus in a Balinese garden has an important aspect. The majority of Balinese people adhere to Hinduism, and they believe that the lotus takes an important role in their life.
Based on Hinduism thought, the lotus symbolizes the eight cardinal directions. Each direction symbolizes the Great God, for instance, the lord Brahma represented in the south.
Element of water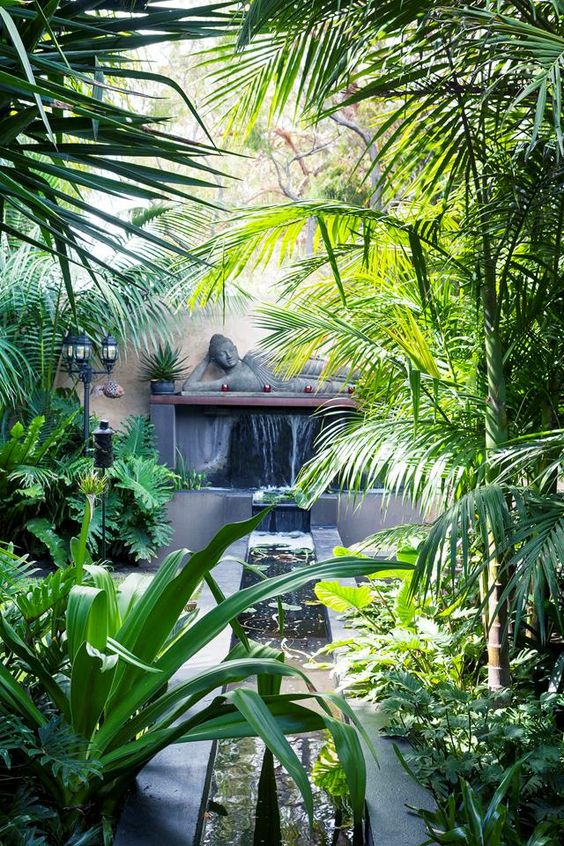 Just like the English and Japanese garden that needs an element of water to be set up in the garden, so the Balinese do! What is the best way to feature elements of water in the Balinese garden? In a simple way, we can build a mini splashing fountain, or in a big deal, we can create a beautiful pond with tons of gorgeous blooming lotus. As we already know that water takes an important role in our life, so the Balinese-inspired garden needs a water feature to make the decoration stand in harmony with nature!
The splashing water made from a water fountain creates a relaxing ambiance! Another advantage of presenting water elements to our garden is featuring the natural ambiance more alive! Water is one of the most essential things in our life. It revives the entire habitat on earth, including our garden. Installing a water feature in our garden supply some birds to come and drink. The natural view we get from that moment brings uncounted happiness to our home!
Balinese gazebo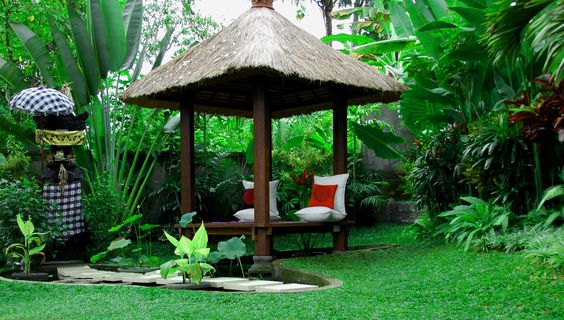 Introducing a shaded place into our lovely garden is a great idea. For most gardens all around Indonesia that feature gazebo in decorations, so the Balinese do!
The gazebo comfy our seating when we're being in the garden. Admiring a gorgeous Balinese garden landscaping in this gazebo feels great!
The gazebo also aims for gathering guests in a Balinese home or even have a big feast with family. So, when you're going to landscape a Balinese garden, don't miss the gazebo to build in your lush garden!
Add some artistic Garden Statues
GANESHA Statue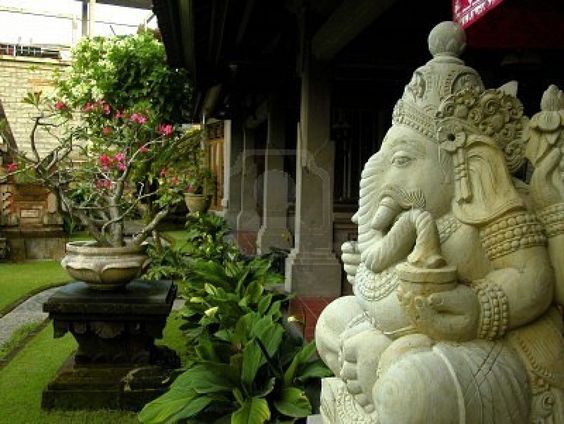 A Balinese garden full of artistic decoration. In the picture above, there is a Ganesha statue feature in the garden. The appearance of these artistic decorations makes the Balinese garden look to the next level.
The Ganesha statue is a mascot in the Balinese garden. A quick review about the Ganesha statue. It has the feature of an elephant's head that combines with a human body shape.
The huge head feature on the Ganesha statue teaches us as a human to use our brain to think more than a physical action in solving the problem. The slanted eyes feature represented we are as humans should focus on the positive things only and throw away all the negative things. The big ear on the elephant feature is a symbol of modesty, as humans need to listen to each other and not becoming selfish people. After knowing the brief explanation about the Ganesha statue feature that is quite interesting, isn't it?
Dewi Sri Rice Goddes Water Feature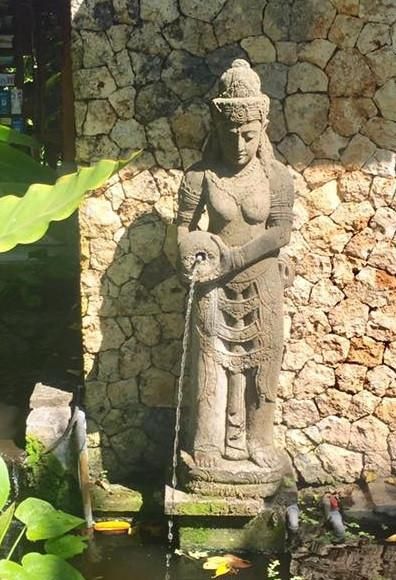 Another statue we commonly found in the Balinese garden is the Dewi Sri Rice Goddes water feature. You might be asking, why this lady statue called a Rice Goddes? We're excited to share a brief history of Dewi Sri Goddes! She's well known as a gorgeous lady with her down-to-earth attitude and etiquette word she always brought.
After the death of Sri Dewi, miracles sprung up. From her head grew a coconut, through her lips, nose, and ears grew some vegetables, then from her navel grew some rice. From that moment the Balinese people adore the Goddes Dewi Sri and made her a symbol of agricultural fertility. Now, Balinese people feature the Dewi Sri statue in their garden as a water feature.
There are 6 essentials in creating a Balinese-inspired garden we should owe. Don't miss any of them down below!
Starting off choosing natural materials to decorate the Balinese garden such as installing bamboo for the gate.
The second one, we have to add some tropical plants remember that Bali is located in the tropic country, Indonesia. So, adding native plants is a must such as a banana tree, bamboo, hibiscus, lotus, etc. the
Featuring element of water in the garden, by creating a simple pond or even a water fountain. Remember that water is an important source of human life, that is why important to feature water elements in the garden.
Gazebo. Building a gazebo in the garden to introduce the shade and comfortable feel in the garden. What a perfect spot to relax in the garden!
Statue. The Balinese garden decoration feels incomplete without a present of artistic decor. Adding a Dewi Sri Rice Goddes water feature will bold the Balinese inspired-garden!
Lush in green. When we come into the tropical garden decorating idea, it should be lush in green. It evokes a relaxing ambiance!
Those are six important elements we already highlight for you. We hope you enjoy our tips on creating a Balinese tropical garden. Don't be afraid to explore your ideas and start your own tropical garden project immediately!