Jordlinghome.com – If you are a fan of soothing and clean line decoration, undoubtedly our decision must come to the Scandinavian interior! There is popping up interior design more and moreover the decade. Even so, the Scandinavian interior exists as one of the most demand across the globe!
When you decorate your living space with some curated clean line Scandinavian style. Now, we take you to have a look at some appealing Scandinavian kitchen island designs. Do you already have Scandinavian kitchen decor? If not yet, we will guide you to have some peaceful Scandinavian kitchen island decoration!
There's nothing better than to look at relaxing Nordic, Swedish, and Danish interior style! The place where the Scandinavian design was born. They hold on to the minimalist concept to design their living space. The "less is more" statement has taken root in their design. There is one thing we should know before bringing Scandi interior to our decoration. We have to choose high-quality and durable furniture for the decoration which useful to bring out the classy simple line decoration!
Alright, without taking too much time, let's have a look into these 10 Soothing Scandinavian kitchen island designs down below!
Airy Space Island Kitchen Design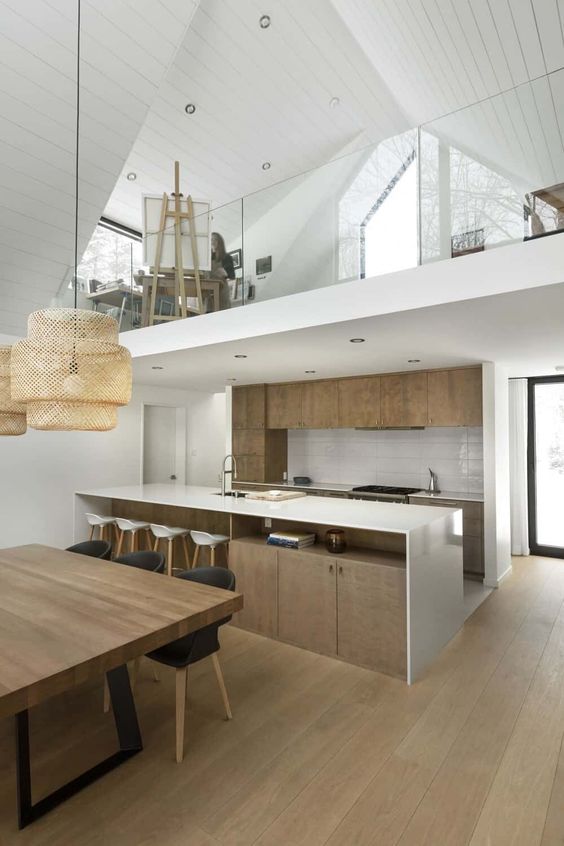 This kitchen island looks so spacious and sophisticated! The spacious look comes from the high shiplap ceiling installation. As we can see, this kitchen connects with a loft work studio above. In addition, a white palette on the wall and wooden ceiling successfully create an airy space design.
Installing white glossy ceramic backsplash to support a spacious design. Then wooden ceiling and shiplap ceiling evoke an island decor. Wooden table and flooring create a warm interior ambiance. Finally, installing some rattan pendant lampshade to bold an island kitchen decor.
Black Kitchen Island Idea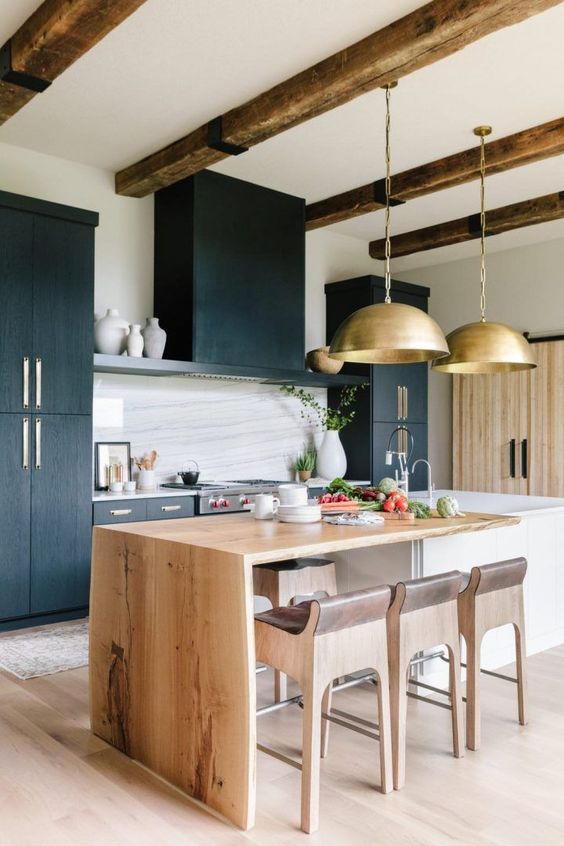 When you come to decorate your kitchen island with dark undertones and a glossy accent interior combine in between. We have something that you fall into it! Starting off to put some wooden cabinets in a black undertone. Then, installing white granite stone for the backsplash. It creates a magical contrast between the dark furniture and the glossy bright backsplash!
To evoke island decor, we can install some logs on the ceiling. The gold pendant lamp makes a statement decoration to this island kitchen! Do you love this black kitchen island idea to make an impact statement in your kitchen?
Cobalt Blue Kitchen Island Decoration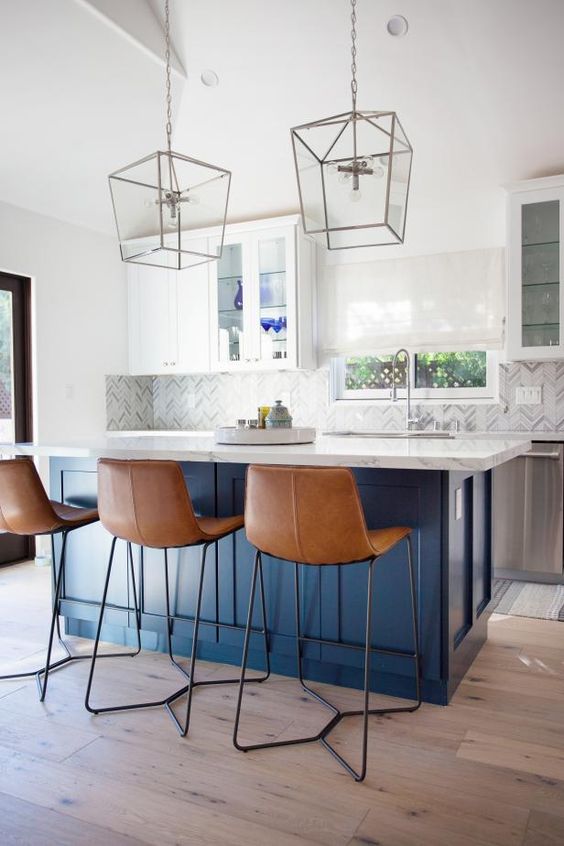 Which colors can evoke nautical decor? If it's not white, it must be a blue accent undertone! Here we introduce you to a cobalt blue undertone to decorate your kitchen! It can be applied to the kitchen cabinet. Then, set this cabinet in the middle to create a focal point in this kitchen. Installing a white marble for the countertop to add a glossy accent, in the end, this kitchen will look elegant!
The white wall palette makes this kitchen look spacious and wooden flooring creates a welcoming decoration. Adding a few glass chandeliers with chain rope to evoke a nautical decoration. A few leather stools that stand next to the table effortlessly bring this kitchen stylish!
Beautiful contrast kitchen island design!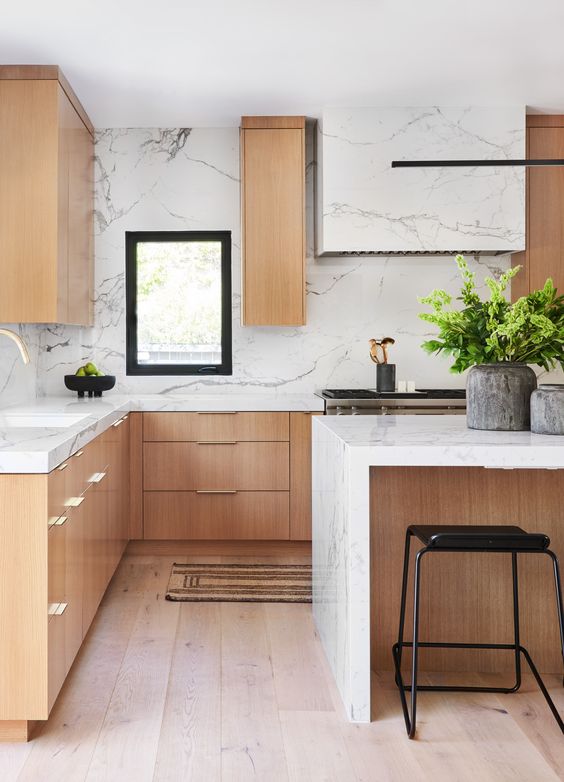 The wood and glossy white color scheme are so perfect working together! There we can see a black accent decoration attach to the window frame and stool. Their appearance creates a beautiful contrast! Installing some glossy marble accent to create a classy and clean line design. Adding some greenery will make this kitchen decoration look so relaxing!
Minimalist kitchen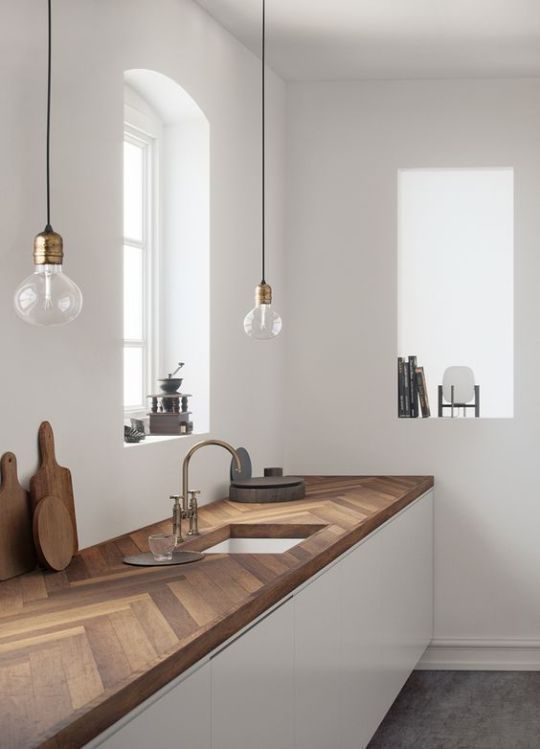 Maintaining the slogan of "less is more" Scandinavian style really works with it. As we can see in this kitchen, the wall is painted in white, and the kitchen cabinet too. There is no overwhelming decoration in this kitchen. Installing some windows allow the natural sunlight to brighten up the whole room. When it hits the neutral white wall, all of the sudden, we feel the energy of the sun that brightens up the whole space!
This minimalist kitchen looks so clean, to add a warm ambiance, we can install dark wood paneling for the countertop. If you want to remodel your kitchen with an airy space island decoration, then this minimalist kitchen style is worth trying! All you need to do just brushing white paint onto the whole wall surface in the kitchen area. Then, choosing a dark wooden accent to the furniture. And that's it, you got a minimalist Scandinavian kitchen island decor!
Cozy Scandinavian Kitchen Island with Spacious Dining Area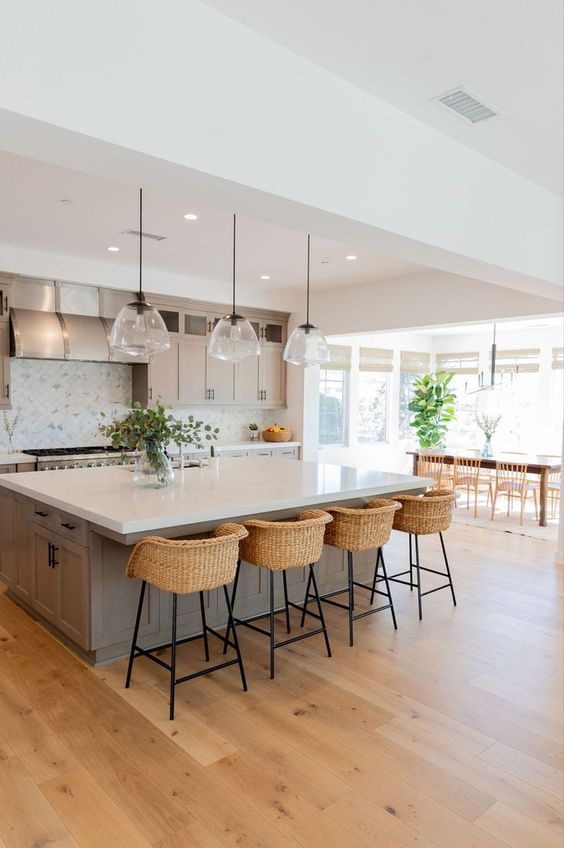 This island kitchen style looks so welcoming with an airy space decoration. Some mirror glasses have been installed to allow natural sunlight through the interior, and that makes this kitchen look so bright! The white palette on the wall and ceiling make an impact on the spacious kitchen design! The wooden panel flooring with fine finishes creates a cozy and warm ambiance.
In addition, we can put a dining table in the middle to get rid of humdrum space. Some seagrass stools welcome us to sit and enjoy the authentic nautical kitchen idea! The glass chandelier gives a classy statement in the dining area. Would you like to have a dine with your lovely one in this cozy kitchen island?
Outstanding clean decoration!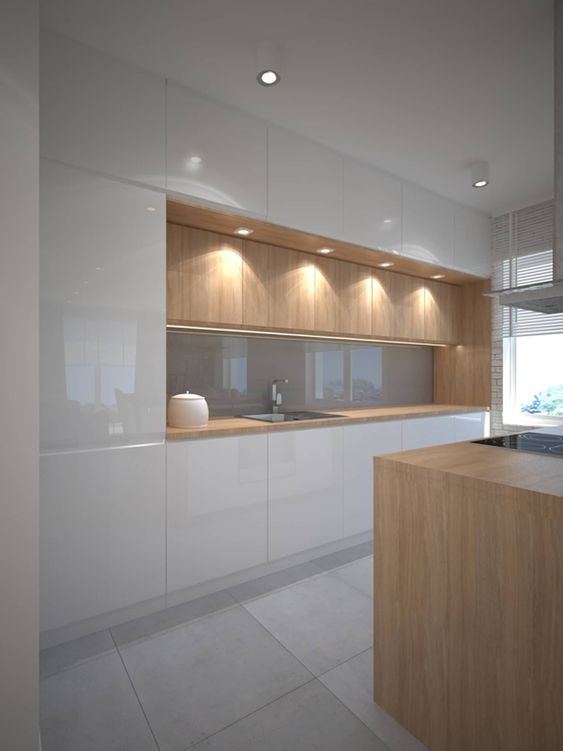 The glossy ceramic tiles are installed to give a pretentious and super clean kitchen decoration. To evoke an island kitchen decor, we can choose ceramics with a blue shade. the blue undertone creates a magical calming effect in this luxurious kitchen!
Installing some lights to brighten up the countertop space. Some wooden accents create a warm ambiance in this kitchen. then there is a bamboo sunshade installation to evoke an island kitchen style.
Lovely Small Scandinavian Kitchen Island Idea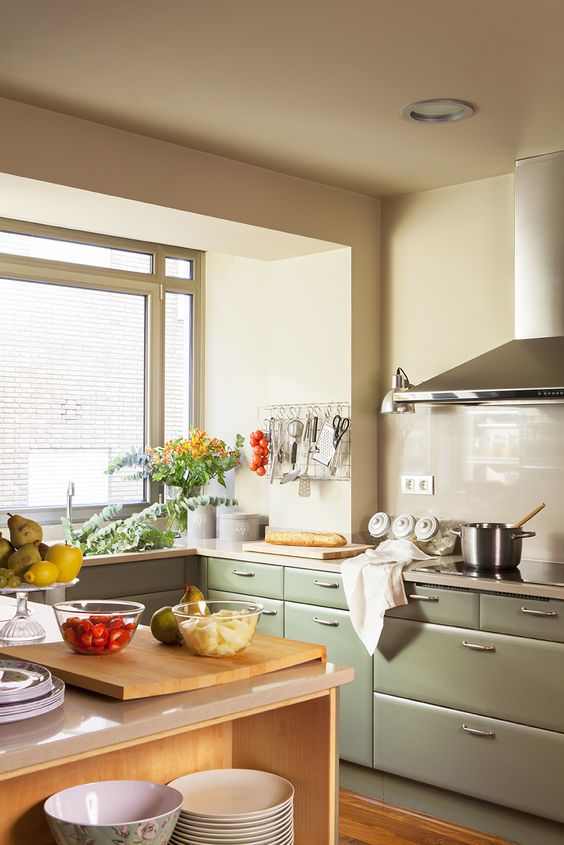 Let's have a look at this small kitchen that brought an island concept in decoration. The soft mood board palette that has been used in this small kitchen creates a friendly environment! To enhance the island kitchen style, we can put some fresh decorations, such as tropical fruit that look so appealing to the eye! A large window installation let the natural sunlight robustly come to cheer this lovely kitchen island! Having breakfast or a brunch in this kitchen feels so delightful!
Soothing blue undertone decoration!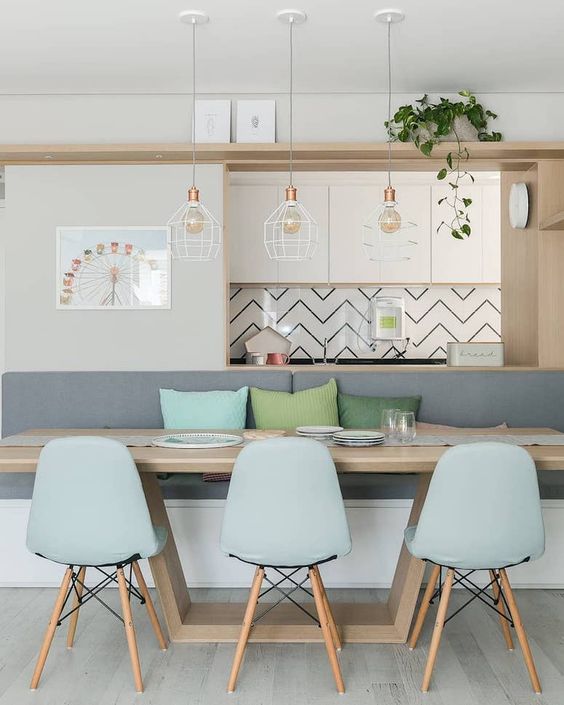 This Scandinavian kitchen looks so peaceful with some blue pastel decoration! Providing Scandinavian cushion to comfy our seating next to the dining table. To provide more seating, we can put some Scandinavian chairs in the baby blue color scheme. Looking back to the cooking section, where we can spot the waving pattern backsplash has been installed to evoke an island kitchen style. Some wooden accents feel so right in creating a soothing kitchen ambiance!
Trendy kitchen island design with a stone accent wall!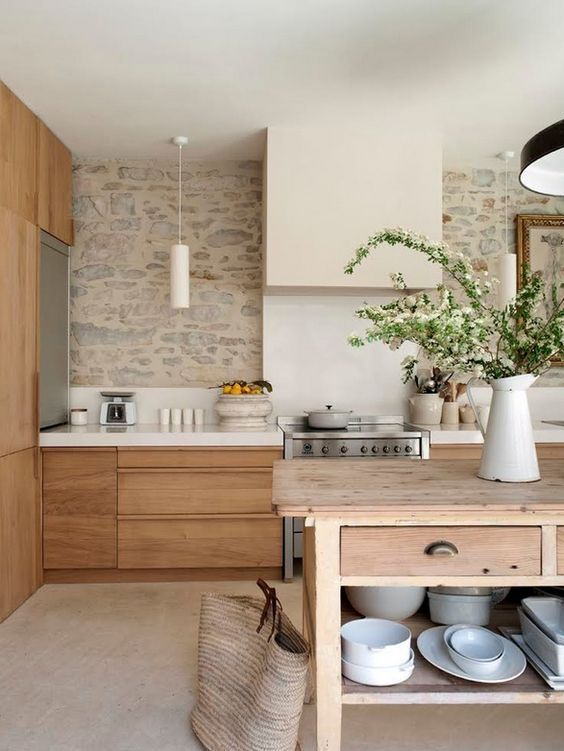 Creating a distinctive Scandinavian interior style by installing stone accent walls to the interior. Bringing concrete accent wall stone to the interior design creates a magical trendy look! To keep the Scandinavian interior essential alive that hold on clean line decoration. We can use a stone that has gone through very fine finishes. Then, Choose a neutral stone color scheme, so it won't break the neutral Scandinavian decoration that has been made. Adding a distressed wooden table and woven tote bag to the decoration, they evoke an authentic Scandinavian interior!
Conclusion
There is one thing we would love to highlight and sum up from the Scandinavian kitchen island ideas is being generous in natural lighting. By installing some large windows that allow natural lighting brightens up the whole kitchen space. What a sustainable and environmentally friendly Scandinavian interior design!
Those are 10 Scandinavian-inspired kitchen island ideas we already share with you. There is some luxurious and spacious design and half of them are small but have a lovely and welcoming design, they're all so intriguing! Which one is your favorite?