Jordlinghome.com – Are you dreaming of a summer beach vacation this year? Where you can hide under the palm trees on a hot day and experience grilling fish right at the coastline in the summer afternoon. If we're not lucky enough to have that all, let's make a brand new coastal decoration in our house to welcome summer!
Do you find it hard to remodel your kitchen with coastal decor? Basically, there are many ways to evoke a coastal kitchen style. There is some massive consideration we should know before remodeling our kitchen into a coastal design. It requires well-lit natural sunlight to brighten up the whole room, simple line decor to create a spacious and laid-back feel on the beach-like. We can combine marine colors such as turquoise, white, and light blue tint.
Coastal decor is basically fulfilled with natural materials and decorations such as rattan, wicker, and some wooden craft. Installing nautical wallpaper is the easiest way we can do to create a coastal kitchen style.
After we already know some basic concepts in creating a coastal design. Be ready to update your kitchen with some peaceful coastal decorating ideas down below!
Clean line coastal kitchen design in white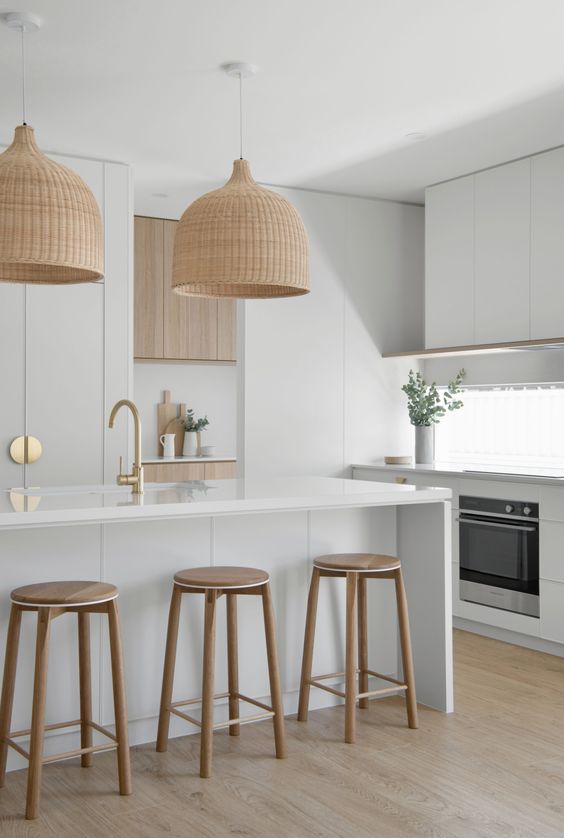 The clean line decoration made of wooden furniture, rattan pendant lampshade, and well-lit natural sunlight. All of those combinations successfully create a peaceful coastal interior design. Do you love this simple line nautical decoration to remodel your kitchen?
Light blue cabinet and rattan chairs to bold a nautical kitchen style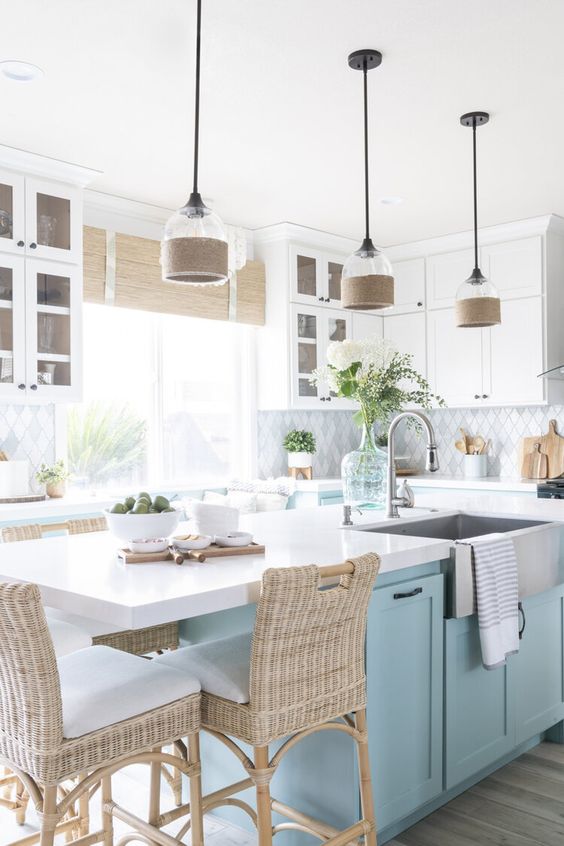 As the ocean looks blue we will never go wrong to choose that color scheme in decorating coastal kitchen style. It can be featured in a blue cabinet, then we can apply a two-tone paint accent on this cabinet by applying a white countertop. Installing wooden flooring to amplify nautical decor ideas. Adding some natural textures in furniture such as rattan chairs that have been settled for the dining area.
When the summer comes, there are lots of sunlight outside. We can open the window to allow the natural sunlight to come through the room. Now, we completely have a peaceful coastal decoration in our kitchen!
All stand out in the wooden accent furniture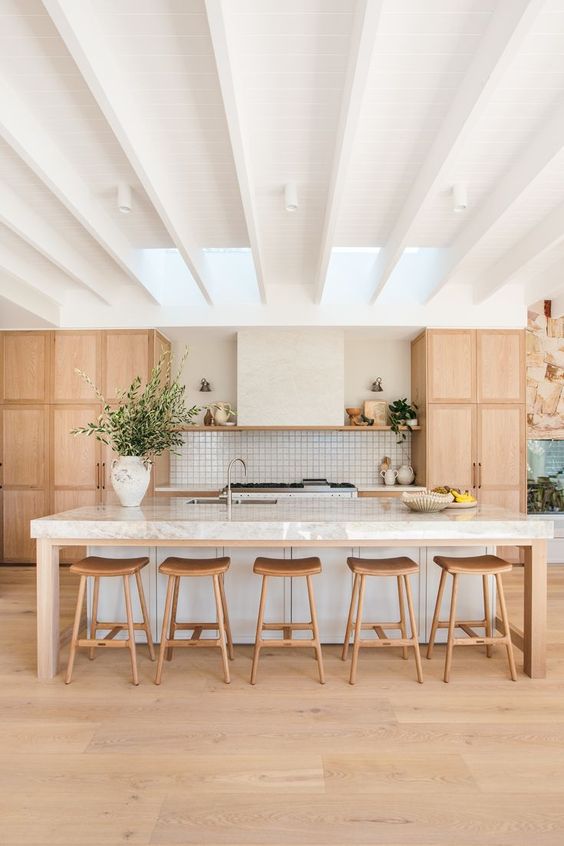 There is another way to evoke a coastal kitchen style other than using a blue color scheme. The white and wood color scheme can represent the nautical design. Where the white taking part as a water element-like and wood accent furniture gives a warm decoration. This two-tone accent color palette gives a peaceful coastal design!
Timber panels and a white color scheme for a peaceful coastal kitchen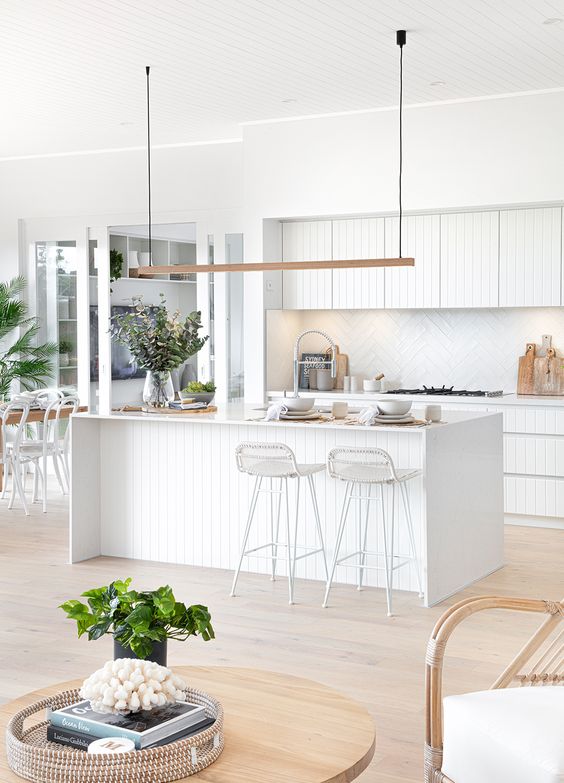 A focal point in this coastal kitchen decor is made of timber panels. Where we can find timber work on the ceiling and kitchen cabinet. The timber panels give natural unique texture to the white accent furniture and ceiling. To refreshen the room, we can add some greenery inside. Finally, we can add a wooden table and chairs. The wooden accent furniture makes this coastal kitchen looks so welcoming and cozy!
Navy hexagonal backsplash tile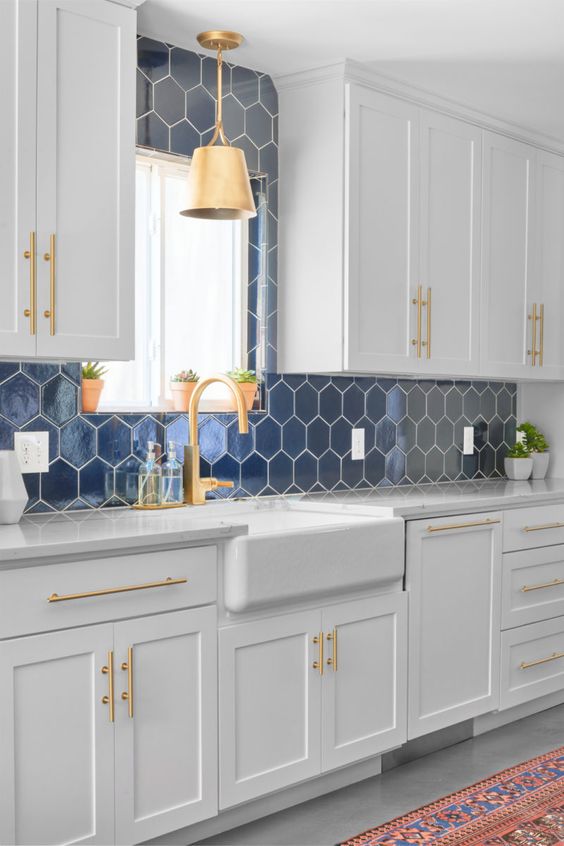 We can evoke a coastal line decor by installing a navy hexagonal tile for the backsplash. It creates a dramatic effect by putting them surround the white cabinets. Giving a luxurious touch to this kitchen by adding golden accent finish furniture. We can apply a golden accent on the pendant lamp, and door handles kitchen. The glossy accent made by golden finish furniture undoubtedly makes the interior look elegant!
Baby blue backsplash tile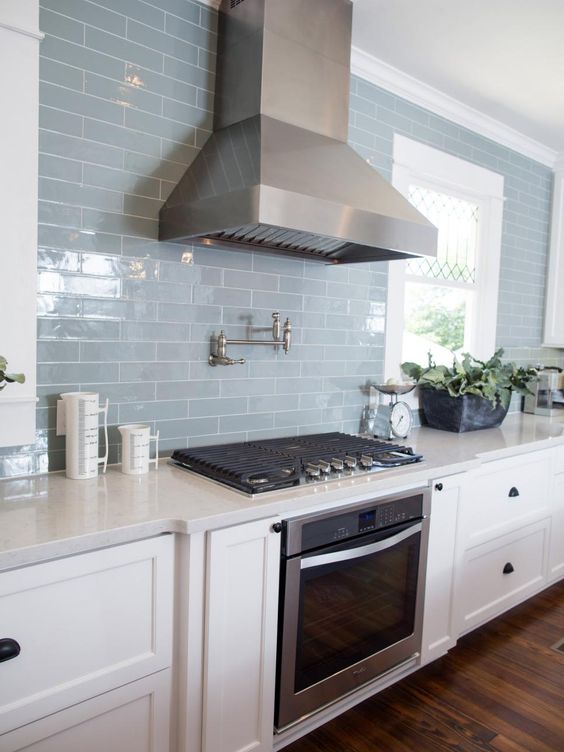 The coastal line decor in this kitchen supported by a baby blue backsplash tile. The glossy blue accent on the backsplash becomes prominent coastal decor. Combining blue accent tone with white creates a calming kitchen decor. We can not leave behind the wooden flooring installation that supports a warm ambiance in this beach kitchen style!
Waking up in the morning and prepare for breakfast on summer days would be fascinating in this peaceful coastal kitchen!
Log cabin ceiling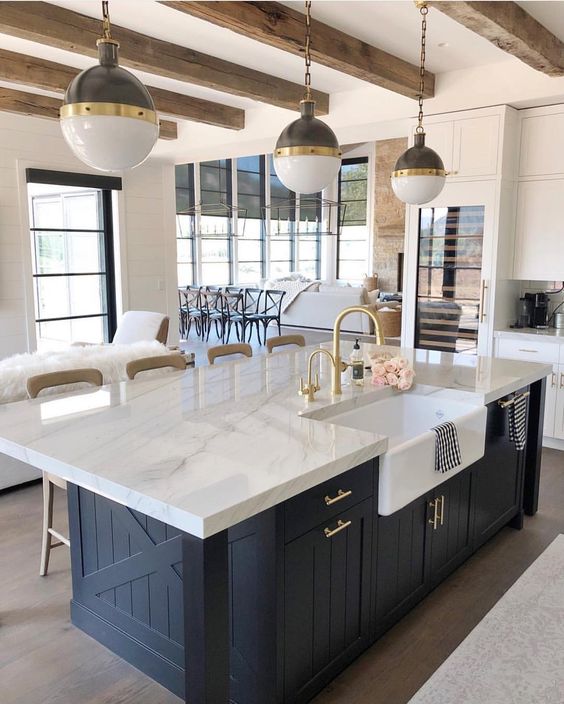 Did you know styling ceiling could give a big impact on your interior? Like in this kitchen do, the log cabin ceiling has been installed to evoke coastal living space. The log cabin installation on the white ceiling makes a huge coastal statement design!
After the log cabin ceiling work is done, we can move to the decoration project! Alright, we can set a navy cabinet that combines with a white marble countertop in the middle. Providing some wooden chairs around it for a dining area. Finally, we can install pendant lamps with chain hanger to amplify the coastal decor!
Seagrass kitchen mat and chairs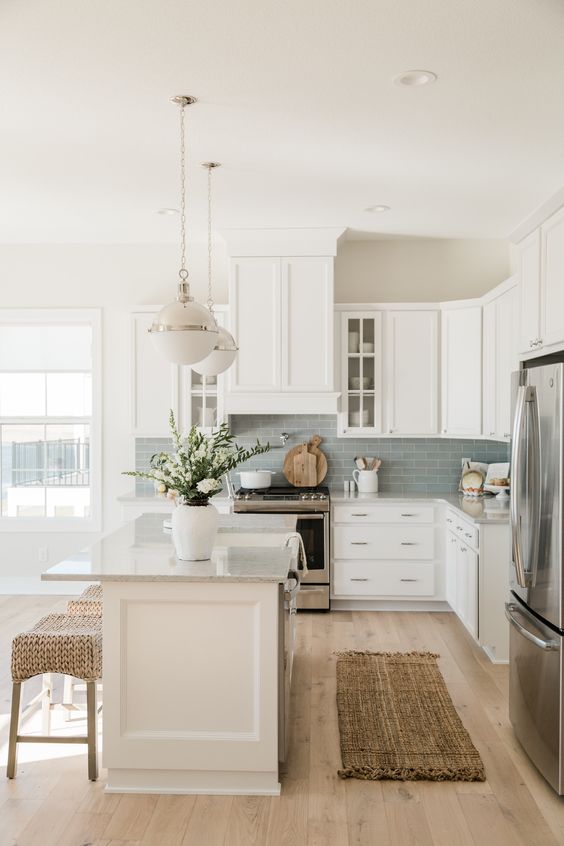 The warm ambiance in this room carried by a seagrass mat and chairs that show a unique natural fiber. The clean line decoration in the white palette makes this kitchen feel spacious and look brighter. The wooden flooring makes this room looks so welcoming! Do you love a soothing environment to be set up in your kitchen and dining area?
Intriguing mountain rattan pendant lampshade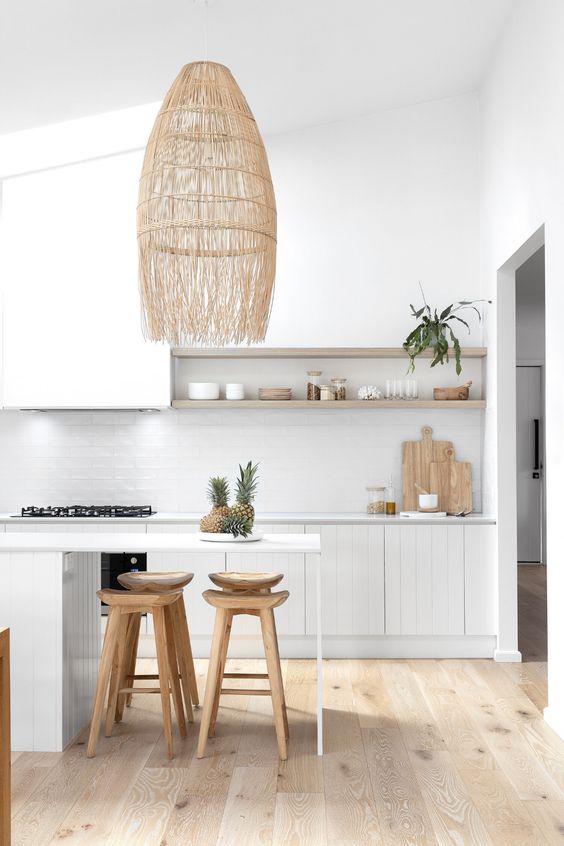 When the summer comes with its lovely sunshine suddenly makes us wants to have summer interior decor! Summer and beach are two things that cannot be separated. So, we have an idea to create a coastal decoration in our house, let's do the affordable coastal project in our kitchen!
For those who have a wooden flooring installation in a kitchen then you are lucky enough! The wooden accent creates a warm ambiance of coastal decor. The wall is painted with a white palette to create a bright and spacious room. Installing a rattan pendant lampshade to define a nautical decoration. To enhance the coastal look we can install some wooden open shelves. Finally, adding more wooden accent furniture such as wooden stools and tables.
There are three major focal points to create this affordable coastal kitchen style. Paint the wall with a white color scheme to evoke a water element, adding some wooden furniture to create a warm ambiance, and then installing an intriguing mountain rattan pendant lampshade to feature a nautical design that bold in natural decorations.
Coastal stripe wallpaper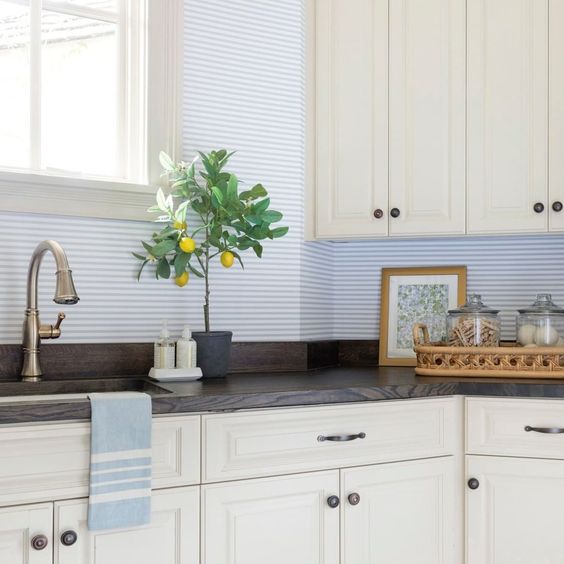 Installing blue and white stripe wallpaper onto the wall is the most affordable and might be the easiest coastal decoration. All we need to do is only sticking the thematic ocean wallpaper on the wall, then suddenly we get a nautical environment in our kitchen!
Adding a little lemon tree on the cabinet is a great way to remind us of a cheerful summer vibe! Do you love this affordable coastal kitchen idea?
Bold white windows all around the kitchen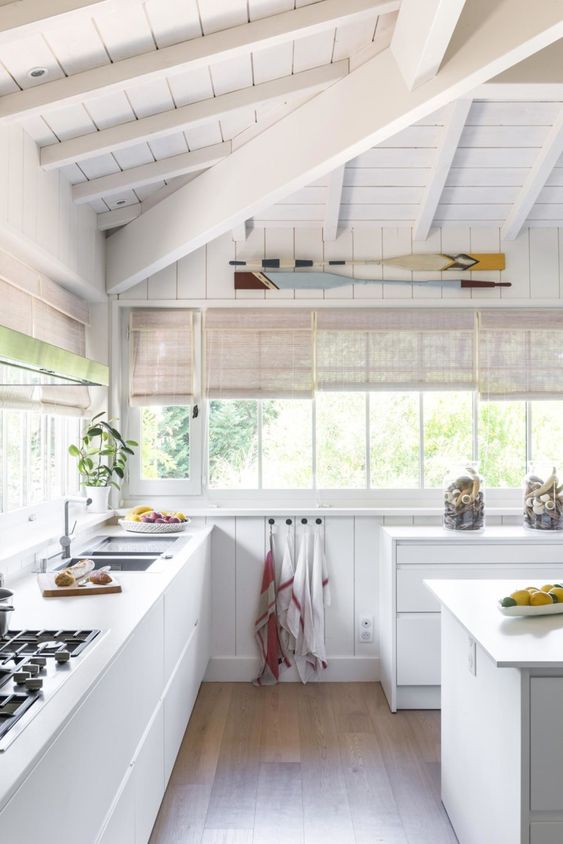 Installing windows all-around the kitchen area to provide lots of natural sunlight brightens up the room. After that, we can install a bamboo panel curtain for each window to add more natural textures to this clean line kitchen design. Above the window, we can stick some canoe paddles that amplify the beach house decor.
Through the all-around windows, we can feel the fresh morning air fulfilling the kitchen space. They also provide us a wide-angle view to see lovely summer scenery outside!
There is nothing better to spend the warm summer days on the beach, feel the laid-back lifestyles while we sit underneath the lush palm tree, what a perfect summer vacation!
The laidback lifestyle, while we're on the beach inspires us to create peaceful interior decorating ideas. In this project, we concentrate on the coastal kitchen design. There is some consideration we should do to create a peaceful coastal interior. Do not over-put decorations into the living space but just do a simple line design to keep the kitchen feel spacious still. Then, we can add natural furniture made from rattan, wood, or seagrass to evoke a nautical ambiance.
The neutral palette from natural furniture won't break the peaceful coastal decor. We hope you enjoy our tips and update your kitchen with some peaceful coastal decorating ideas!