Jordlinghome.com – What comes to your mind when trying to portray the Japanese kitchen? Something clean, sleek, stylish, and for sure minimalist! That's all right to define a Japanese modern kitchen!
Talking about Japanese minimalist interior, we couldn't be apart from Zen philosophy. In addition, we have to find a balance of simplicity, subtly, and nature altogether in our interior.
A light wood such as pine is lot chosen in the Japanese interior. Wooden materials are perfect to construct houses in Japan which has frequent earthquakes and unstable ground. Wood also eco-friendly materials and suit to build a house in humid weather all year round. It's easy to spot a wood-beam installation in Japanese interiors. The wood beam installation is chosen for resisting earthquakes that often happen in Japan.
Lately, interior design has been popped up in a few decades. But it doesn't change the Japanese core that stands in a minimalist style. The warmth and serenity Japanese interior have made its way undoubtedly to be one of the most covetable houses worldwide! In a modern Japanese house, we can see a steel or concrete wall accent appear to give an aesthetic of modern Japanese interior.
So, without taking too much time, let's have some quirky modern Japanese kitchen designs down below!
Look stylish with window splashback!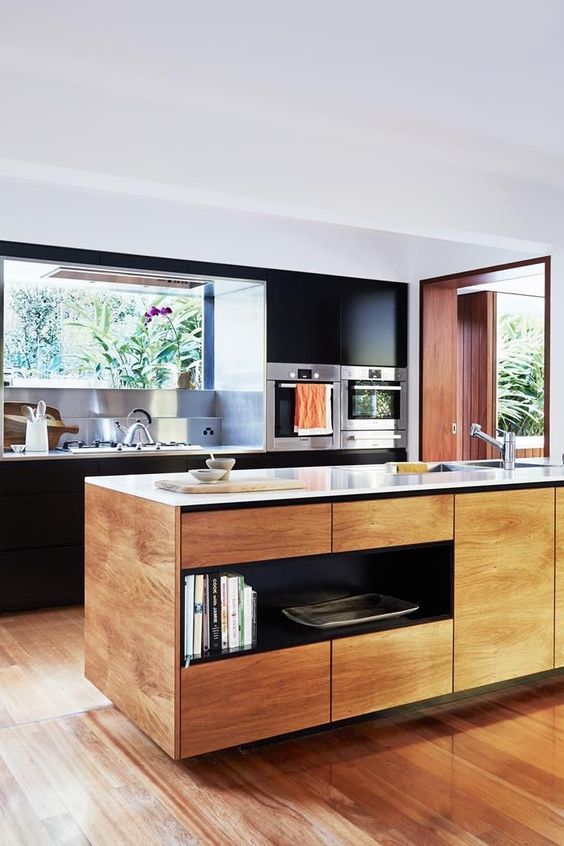 Japanese interior often uses wood as the main materials to create a cozy and warm ambiance. As we can see in this stylish modern Japanese kitchen style, the wood accent dominantly takes part in the interior.
The appearance of window splashback serves us the beauty of the Japanese garden. In addition to this, window splashback is used to make us easier to clean up the surface. Glass materials easier to clean up than walls. The steel has been installed around the stove to protect the heat of the flame wreck the wooden materials around. The black feature on the cabinet makes a big statement to this kitchen design!
Authentic design with natural materials and neutral color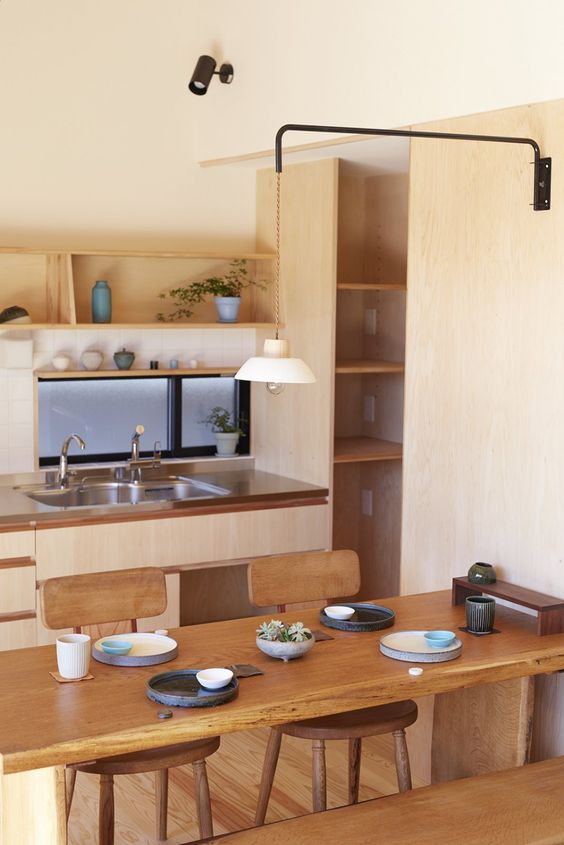 In this kitchen, we spot a sliding door wooden cabinet to store some kitchen utensils. The sliding door makes a statement of Japanese home style. The neutral color scheme of wood and beige successfully creates a warm kitchen design.
The neutral palette interior and natural material decoration made Japanese house stands in the harmony. And there is a wooden dining table set up in the kitchen. Japanese loves to eat and cooking right next to their family, so, the dining spot in the kitchen could be a perfect gathering spot with all of the family!
Minimalist kitchen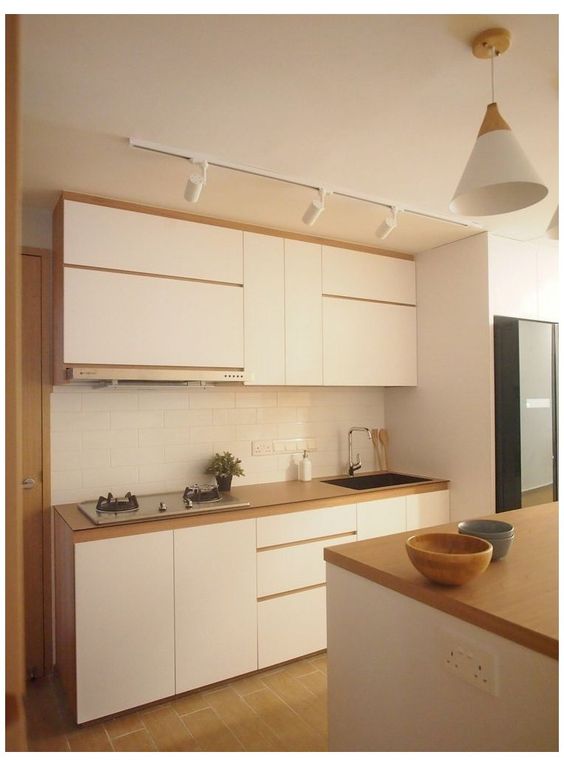 The Zen philosophy is looking so bold in this kitchen. It looks simple, subtly, and so natural! Around 80% of materials in this kitchen are made from wood. The soft neutral palette makes this kitchen looks so intriguing and calming. There are no color piles extend, there is only a neutral palette that stands out in this kitchen.
Aesthetic of Floating Shelves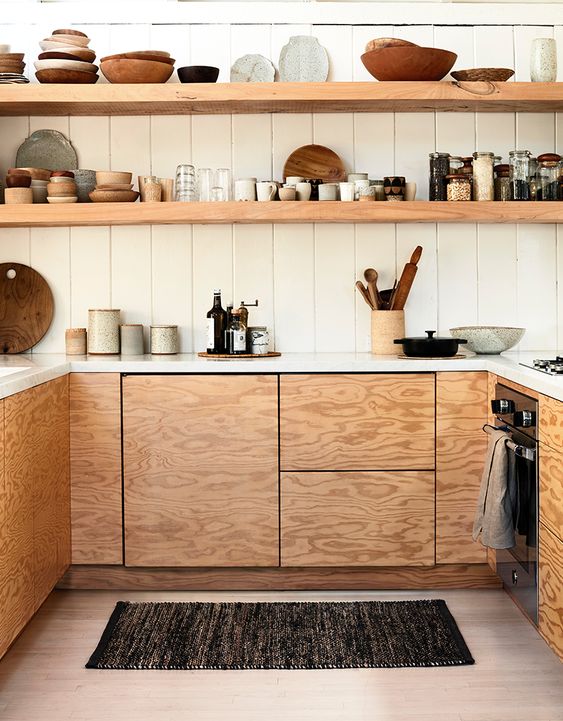 The unique natural fiber made from wood pine gives absolute beauty to this minimalist Japanese kitchen! Let's take a look at the display in this kitchen! There are some floating shelves that have been installed, so we can put Japanese authentic plates and the spices. The open shelf makes an impact on the aesthetic modern Japanese kitchen style. The jute rug that lay on the floor made from natural jute fiber that stands out in earthy color.
Slide cabinet screen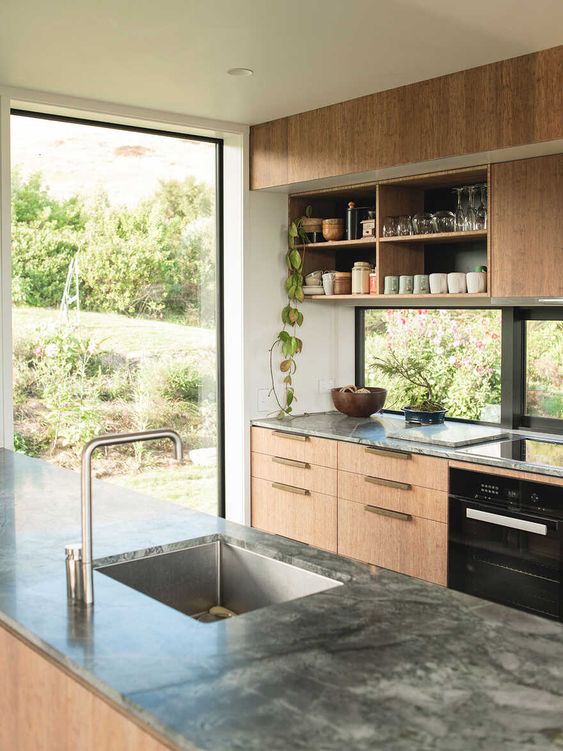 The sliding cabinet screen in the Japanese kitchen is essential furniture. Bringing the concept of sliding screen Shoji in Japanese home features makes this cabinet stands out in simplicity. It doesn't need hinges or a door handle to open the cabinet, look simple and so practical cabinet design!
As we already alluded to earlier, the Japanese modern interior combines a wood accent with a concrete or steel accent to decoration. In this kitchen, we can see a gray marble countertop decorate this lovely Japanese kitchen. The marble work accent creates an elegant and statement to this property!
White kitchen and wooden partition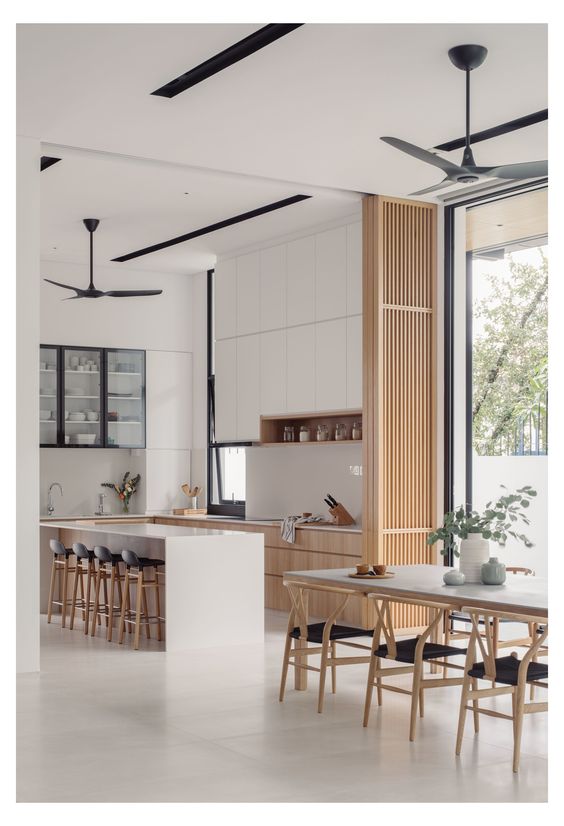 Brushing a neutral palette to the wall creates a spacious effect. The white color scheme does not only creates a spacious feel but also evokes an elegant look! So if you want to create your small kitchen to look more spacious, you can choose white color scheme to become a prominent in your kitchen.
The wooden partition makes this luxury white kitchen feel stand in Japanese style! An open kitchen design makes us feel connected with family while cooking. Adopting the Zen philosophy, this kitchen featuring greenery inside the decoration. As a result, this kitchen design meets its balance of simplicity, subtly, and nature concept all in the same place!
A cozy kitchen connected with a reading nook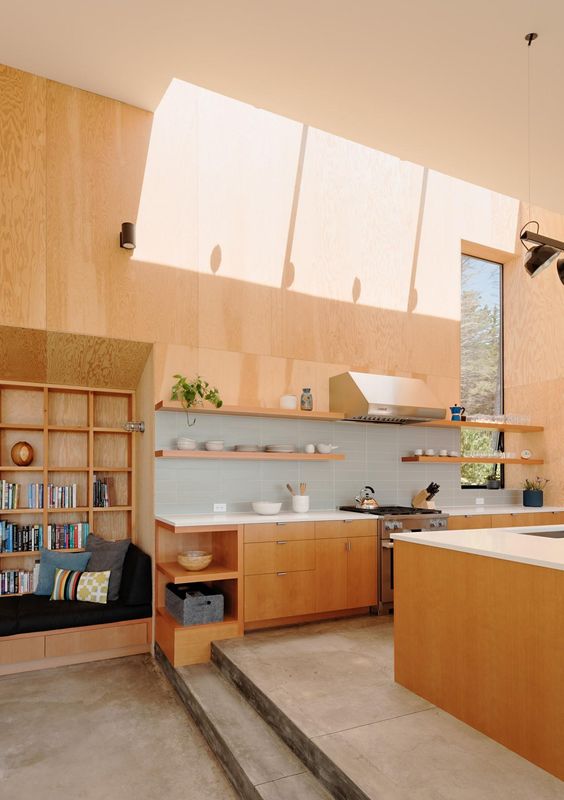 Well known for its strong building reading culture make Japanese dedicate a little space in their home for a reading spot! Just like in this kitchen, we spotted a cozy reading nook attach to the kitchen cabinet. Now, let's dig into the decorations!
A high ceiling installation makes this kitchen feel spacious, supported with well-lit natural lighting makes this kitchen feel so cozy! Window installations on the height wall give the interior receive good cross ventilation. The sun robustly hit the wooden wall and all of the sudden brighten up the cooking section, that's so pleasing!
The ceramic baby blue tiles backsplash gives a relaxing vibe in this kitchen! A height window contributes to give beautiful lush scenery outside. And, the concrete flooring successfully creates a big statement to this property! Would you like to remodel your kitchen with this super cozy modern Japanese style?
Industrial Japanese kitchen style!
In this modern Japanese kitchen idea, we show you how fascinating the industrial concept meets Japanese style are! First of all, we want to highlight an open sky ceiling installation, it is a great way to provide natural lighting to the interior! Then the presence of a wooden cabinet that shows its natural fiber feels so right in this industrial kitchen decor. A solid gray marble wraps the wooden kitchen cabinet to make a big statement countertop!
The distressed wood gives aesthetic floating shelves in this industrial design. A dark and glossy wood accent cabinet tuck on the marble wall. All those interior bring up the masculinity in industrial design. Do you fall in love with this industrial Japanese kitchen?
Geometric wall shape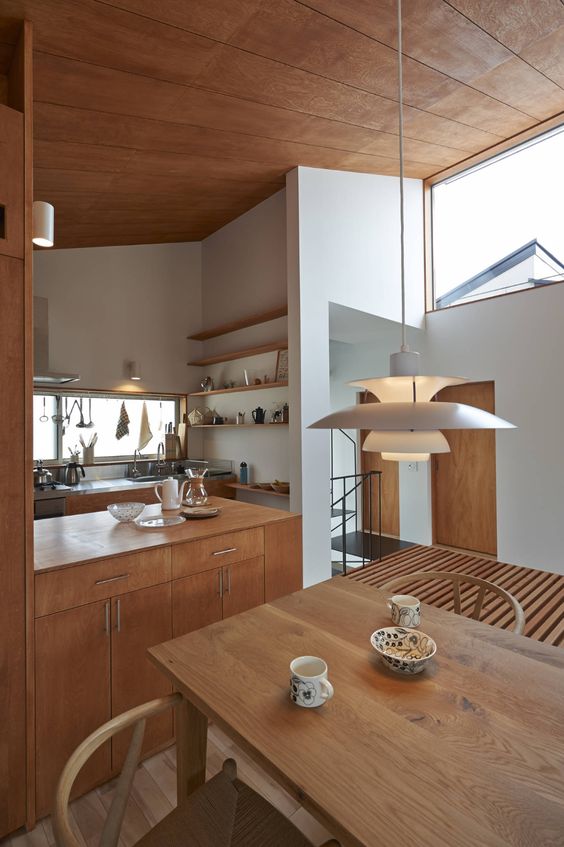 The flexure geometric wall design makes this kitchen look so distinctive! Wooden floor paneling creates more texture and gives an aesthetic to this interior. The soothing ambiance made from the neutral wall color scheme. And the open kitchen design gives a sophisticated feature that connects with the dining area. This cozy kitchen allows us to see the cooking process while having a feast, what a superb design!
Japanese small kitchen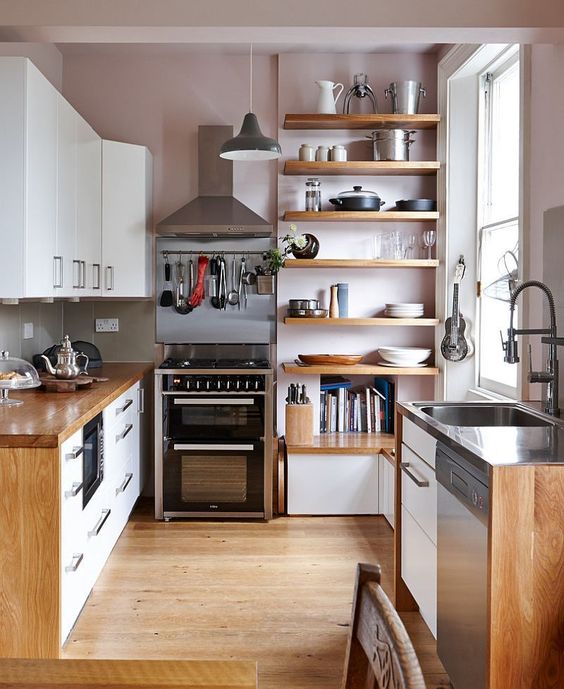 Are you looking for an appropriate design to remodel your small kitchen in the apartment? Japanese style gives a good option for you. Starting off paint the wall with neutral colors such as white, gray, beige, or even a blush pink that present in this kitchen. Then, install some wooden floating shelves to put kitchen appliances. After that, put some hook S on the stove board to hang on some utensils. Installing one pendant lamp is enough to provide lighting in the small kitchen. A wide window that directs to the sun allows the natural lighting to brighten up the kitchen in the daytime. It's an affordable small Japanese kitchen you can install in your studio apartment!
Those are 10 quirky modern Japanese kitchen designs we already shared with you. Whether you want to create a Japanese kitchen in a spacious, luxurious design nor in a small space. There is one thing we have to hold its core that stands in minimalist design!
How to apply the minimalist concept in Japanese kitchen decor? Simply, we can paint the wall with neutral colors such as white, gray, beige, etc. Adding wooden decoration to create a welcoming ambiance in the interior. Finally, we can add greenery to make our kitchen connected with nature, or we can install a large window to see the natural view of our garden!