Jordlinghome.com – Are you looking for a sleek, modern, and clean line decoration for your interior? If so, we offer you a Scandinavian interior style that sought after by many people. If you're the one who loves simple decoration, and a cozy arrangement the Scandinavian is what you searching for!
There are some considerations we have to know before digging into Scandinavian decoration. It holds a minimalist concept to construct its beautiful clean line decoration. The most common thing we could find in the Scandinavian interior style, it has a neutral palette decoration which makes us fall into the breathtaking soothing interior.
Now we guide you to have a look at Scandinavian furniture!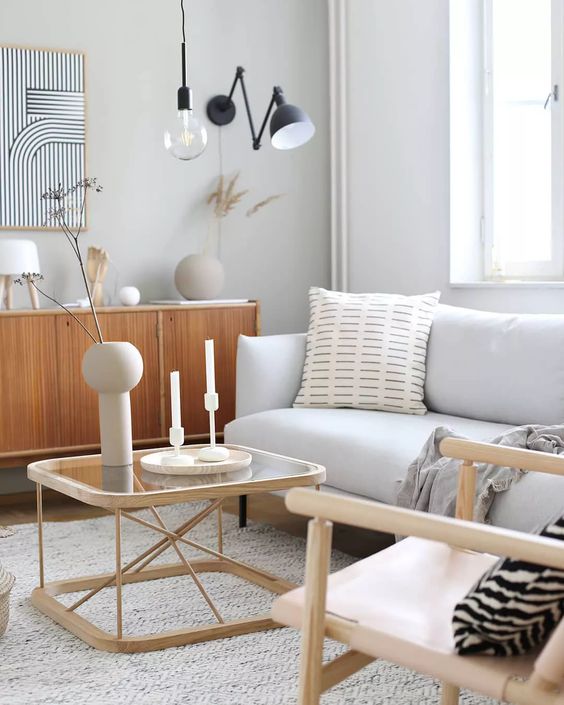 The Scandinavian interior style displays some wooden furniture. The wooden accent furniture evokes a warm and serenity design. When the winter comes, Scandinavian countries have dark and long winter days. So, it is important to design the interior as warm as possible. And wooden accent furniture successfully creates a warm ambiance to the whole living space. This chair and table made from lightwood material such as oak.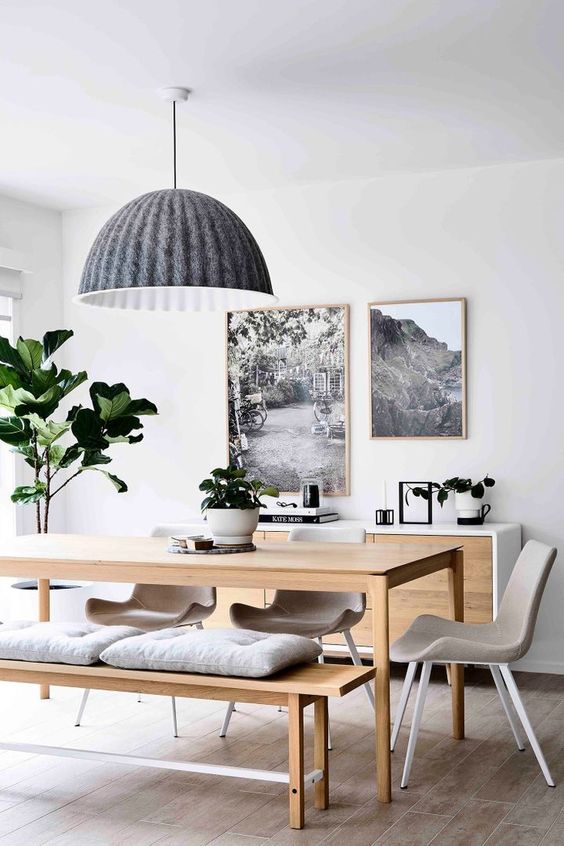 Muted color furniture is one of the Scandinavian interior design characteristics. It applies to the cabinet, muted gray pendant lamp, and chairs. The group of muted color furniture creates a big statement interior.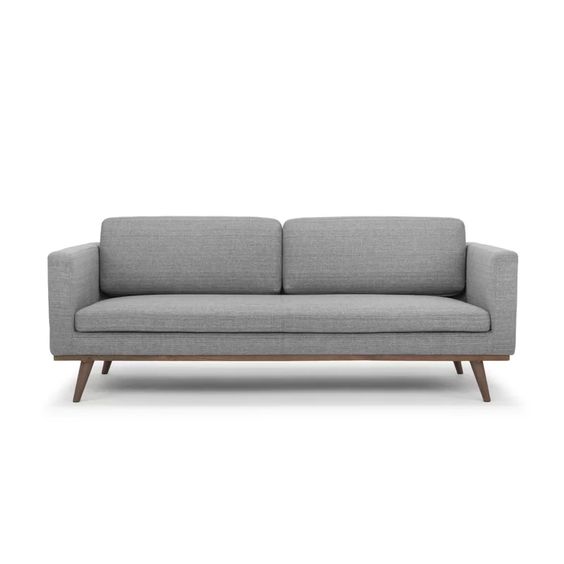 The Scandinavian sofa has a simple design but looks so sleek. It made from a high-quality fabric that makes the Scandinavian sofa are durable furniture to decorate your modern living space.
Here we have provided some impressive Scandinavian living rooms that could be your inspo!
1 out of 10
Scandinavian living room with a printed art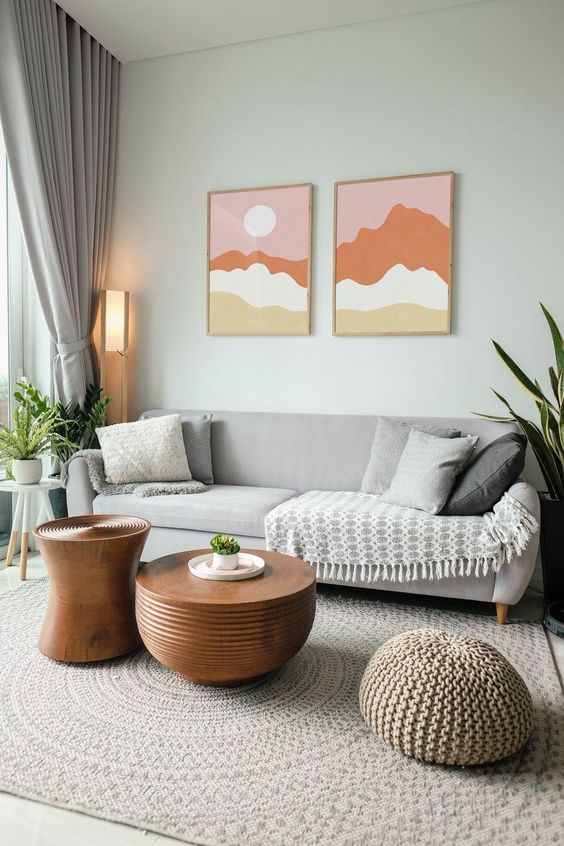 This Scandinavian living room is so generous in a pastel color scheme. The pink, gray, beige, and muted green color scheme are applied in this room. For instance, we can see a gray sofa, beige straw round cushion, and gray curtain.
Adding some textures to the interior to avoid a humdrum living space. Spreading a gray woven jute rug and round floor cushion. The stylish glossy coffee table gives an aesthetic to the whole room. Finally, to refresh the living space, add some greeneries inside. Some pastel color decorations create a perfect calming effect for the interior. So, if you need to remodel your living space to be a soothing space, pastel colors could be your preference!
2 out of 10
Add a rustic detail into the room

Do you love something extraordinary designed in your home? Featuring a distinctive Scandinavian style by adding some rustic decorations to get a quirky interior!
So, let's do the project immediately! Creating a big statement to the interior by installing a rustic black chandelier, then spread a distressed rug on the wooden flooring. At the backdrop, a pile of firewood has been stacked to give a rustic aesthetic to this modern living room. Don't forget to paint the wall with a neutral palette such as white, and open the curtain to allow natural lighting to brighten up the room.
3 out of 10
Bookworms corner!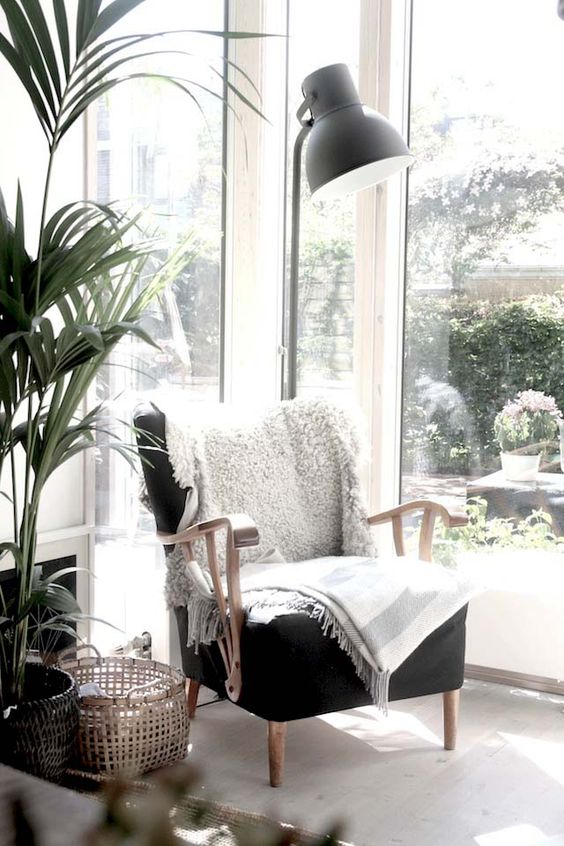 The calming and peaceful environment is made from large window installations which offer a beautiful lush garden view. We can take advantage of this lovely spot to create a cozy reading nook. Let's put a neutral chair in the corner, then put a floor lamp to adjust the lighting when the sun goes down. Enjoying the warmth of the sun in the morning while reading a book or even just sit and adore the beauty of nature accompanied with a glass of tea, what a superb reading spot!
4 out of 10
Scandinavian style meets island decoration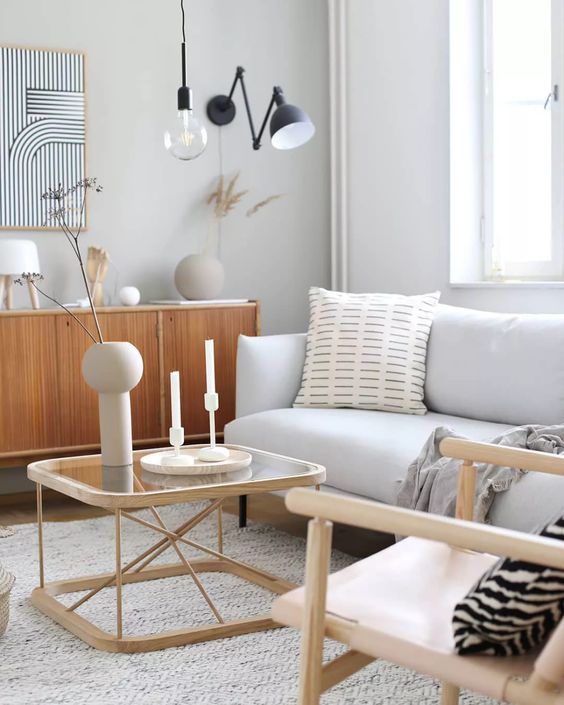 Could you imagine how peaceful it could be when the soothing Scandinavian interior meets an island decoration? What a relaxing place it could be! No wonder that these two combinations to be one of the most Scandinavian chosen designs.
How do blend these two designs in creating a relaxing decoration? We can evoke island decoration by adding a printed strip painting on the wall and a blue strip undertone on the throw pillow. In addition, put a wooden chair and round straw floor cushion gives so much credit to evoke a coastal decoration.
5 out of 10
Industrial Scandinavian Style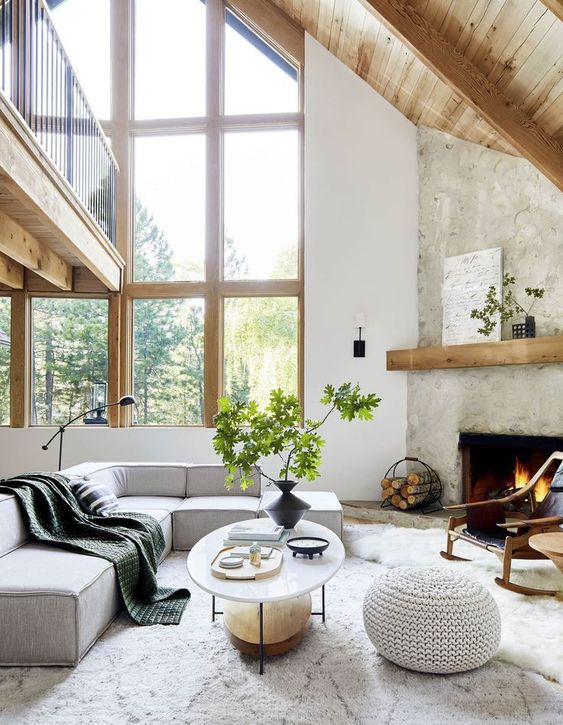 Another distinctive Scandinavian interior style we reveal now is where Scandinavian style marries industrial design! Blending Scandinavian with industrial design brings a big impact to the modern interior!
A concrete wall has been installed to distinguish the style and make a big statement. Then, let's take a look into the wooden panel ceiling without finishes really bold in industrial design. Where the Scandinavian design takes part in decorating furniture. Providing the room with well-lit natural lighting by installing some full-height windows. Could you see how welcoming this design is?
6 out of 10
Feel cozy in a small space!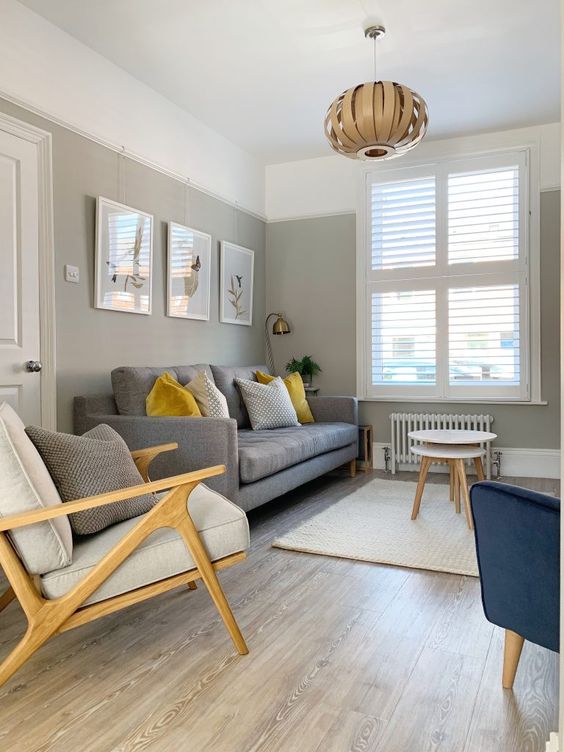 The Scandinavian is so close to minimalist concept design. We will feel cozy in a modern, sleek, and airy space interior no matter the small or large space we have.
The key factor to create a spacious and airy space interior is base on the selection of neutral wall colors. Not only make our living space larger but also appeal inviting and soothing design!
As we alluded to earlier the Scandinavian interior focuses on minimalist decoration to create a simple modern living space. But then, we can put a few bright decorations to cheer this neutral interior. It can be applied on the bright yellow throw pillows and light wood finishes to the furniture.
7 out of 10
Greenery spot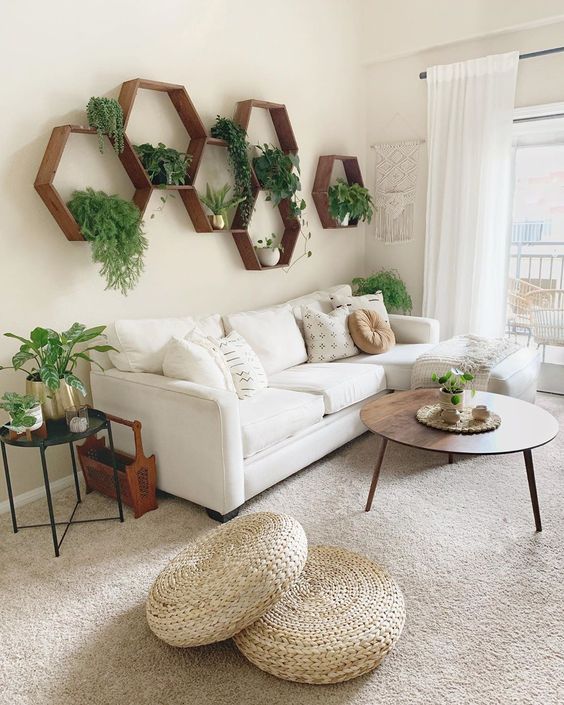 Let's make a greenery corner in our living space to get rid of humdrum space and add more color to make a vibrant Scandinavian interior! Alright, let's give a chance greeneries to marry a minimalist Scandinavian interior! Installing some honeycomb decorative planters on the wall. Then generously put the lush green plant on each planter.
To add a more relaxing ambiance, we can add two round straw cushions that wouldn't make the room too busy. Natural materials furniture can be applied to enhance the nature Scandinavian interior concept!
8 out of 10
Scandinavian Gallery Wall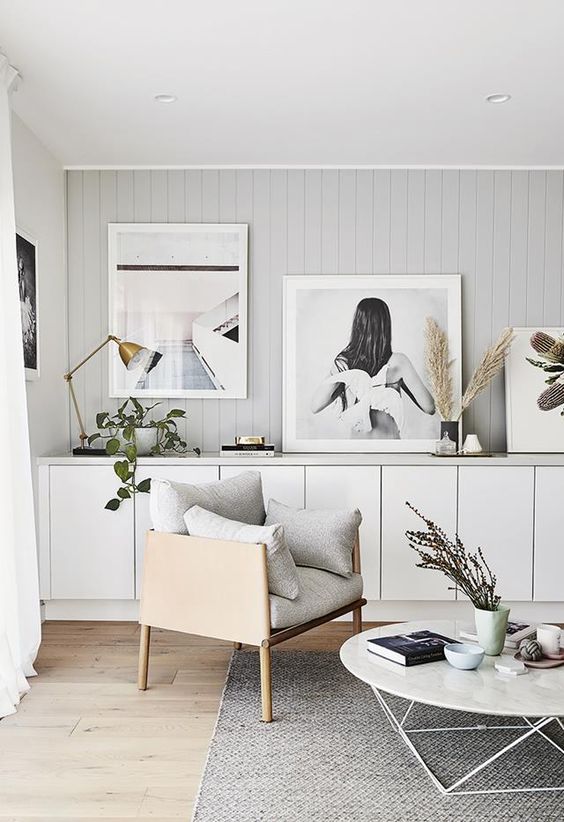 Among many Scandinavian decors, it usually limits full decoration on the wall for a less busy interior reason. Actually, there is a big possibility to decor our neutral wall with some wall art. There is one thing we highlight before you put a lot of painting on the wall. We have to focus on a single neutral color painting such as gray. Why that so important? Cause we won't break the characteristic of the Scandinavian interior that bold in clean line and soothing design. Earthy color paintings suit you the most to make your dream Scandinavian gallery wall come true!
9 out of 10
Exotic Scandi interior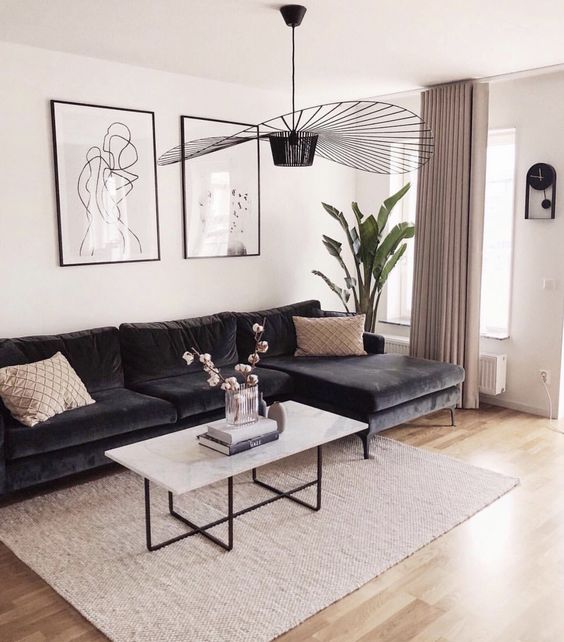 This living room is blessed with sleek, elegant, and clean line decoration! How to create an exotic side in a neutral interior such as Scandinavian style? It is easy as a piece of cake to make a big statement in a neutral palette interior. The black accent furniture will make a big impact on the neutral room. There we can see, a black sofa and artistic pendant lamp make this room look so gorgeous! The black abstract print wall art gives an exotic look at Scandinavian living space.
10 out of 10
Focus on one color scheme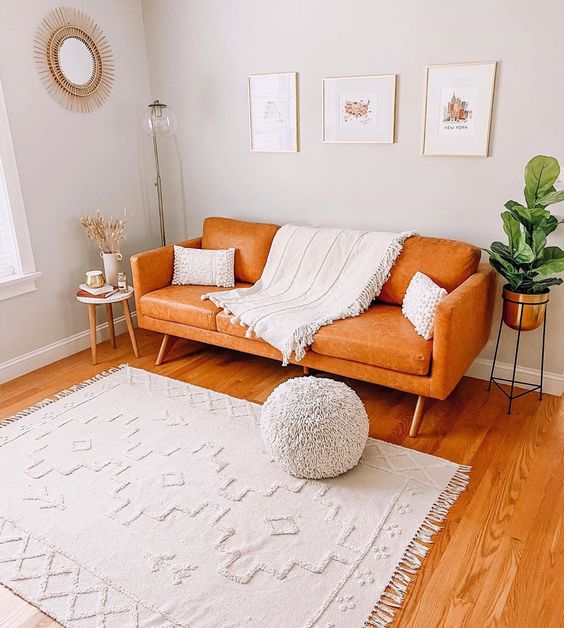 Scandinavian interior lovers, we can easily create a focal point in our room by adding an orange sofa, and that's it! The contrast color scheme between vivid hue sofa and neutral wall palette create a distinctive look in the living space.
There are seven important aspects of the Scandinavian interior we should own before applying this style to the interior design.
Wood materials for the Scandinavian flooring create a warm ambiance to the room. It is not only the main reason for choosing wooden flooring, it's chosen for its easy to clean and durable materials. So, it's essential to choose durable materials to be installed for a Scandinavian interior!
Can we say the Scandinavian interior is a good sister of a minimalist style? Either minimalist or Scandinavian both are using neutral color schemes for wall interior and hold the core of simple decoration.
The neutral palette makes the room feel spacious and bright. It's essential to provide natural lighting in the Scandinavian interior, such an effective way to save electrical energy consumption!
Lightwood and metals decoration
It's easy to spot a light wood and metal decoration in the Scandinavian interior. Lightwood decoration can usually be seen in coffee tables, chairs, or photo frames. Where the metal decoration usually can be found in metal pendant lamps. Both decorations make the Scandinavian interior look stylish!
Scandinavian loves to maximize the natural light to brighten up space. We can get a well-lit room concept by installing some large windows that face directly to the sun. When the warm sun in the morning summer day comes across the window, be ready to fall in love with the warm ambiance inside the house!
Embracing the "less is more" statement
As simple as it sounds, the Scandi interior really holds that statement. Scandinavian interior decoration usually displays sofa, table, and minimal decoration.
Remember that the Scandinavian interior is generous with natural materials and decoration. So, we can display some greenery in the living space to create a relaxing ambiance!
Adding some warm and quality textiles to the decoration
There is nothing better than to put some quality materials textiles to make the living space feel warm and cozy. It can be applied on the rug and some throw pillowcases.
Those are 10 Impressive Scandinavian living rooms we already shared with you. We hope this could help you all out to find your dream Scandinavian interior! Don't be afraid to explore your own style and let's get started with the project right now!