Jordlinghome.com– The eclectic contemporary interiors are super trendy. Many platforms have been showing its stylish interior design, such as on magazines, tv shows, and review blogs. Before we show you some stylish eclectic interiors, did you know what an eclectic interior is? Based on what we see, eclectic style is all about combining textures, art, adding some classic touch to create a trendy modern interior style, all blend together to create a harmonious design.
When we see an eclectic style, the first impression that might come to our mind is just throwing a bunch of decorations, textures, and colors. But then, we realize it create an out-of-the-box modern interior! Have you ever been trying to create an eclectic style on your own hand? If so, we may have noticed it's not as easy as it looks, to put some decoration and colors on curated line decoration, hence creating a magical trendy outcome.
If you've never tried the eclectic style but wanna remodel your interior with this style. Better for you to have a lot of preferences and ideas before digging to design. The freedom in choosing materials and decoration makes this style in great demand. As long as we do the decor with a curated design, there you'll achieve eclectic style!
Here, we will share with you some eclectic interior styles that could be your inspiration. And we also will provide a few eclectic interior features down below, so you won't make a clutter piece interior!
Classic painting decoration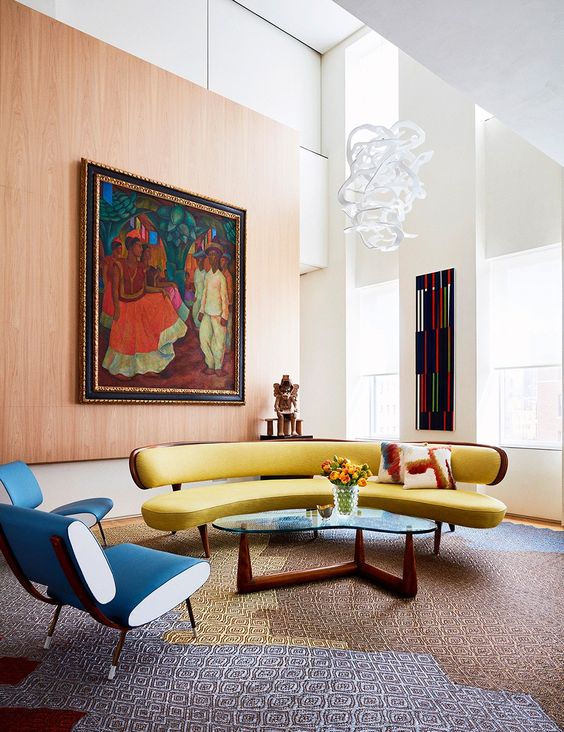 What the first impression you get when seeing this eclectic room? Vibrant in colorful decoration and ancient decoration. The medieval painting that tuck on the wall reminds us about the medieval era around the 13th to the 15th century. The geometric rug and colorful enhance the beauty of this eclectic interior.
The modern decoration that tucks to this living room is by the modern sofa installation. Wooden paneling applied to create a sleek modern decor. The rustic glass chandelier successfully enhances the beauty of this room. This is such an eccentric eclectic contemporary interior!
Put abundant art on the wall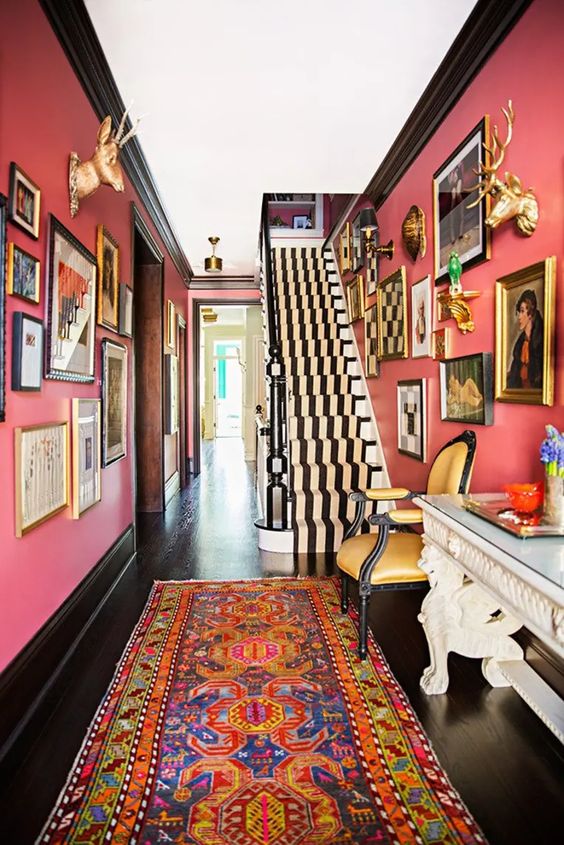 Is there any chance for us to put an abundant art wall on the eclectic style? For sure, we can! Decorating the wall with an artful cluttered is awesome. Adding a bunch of your artful collection on the wall, anything you've chosen to decorate your own eclectic style. Then, we can put a classic rug such as a colorful vintage rug to add more textures. Don't worry about a messy room you've been made by adding a lot of decorations. As long as it looks good and balances in creating your eclectic theme, that goes well.
Eclectic style with natural color tones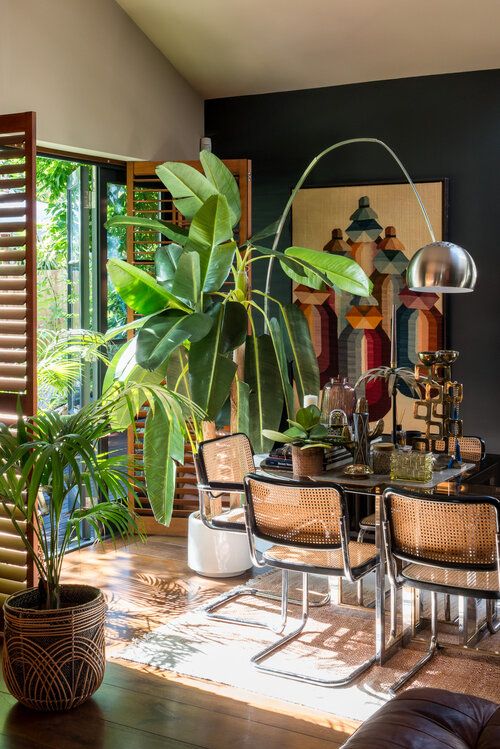 If you're a fan of relaxing interior design? Then the possible eclectic style you can try is going on natural color tone! Earthy color schemes are offered the best option to decorate a relaxing eclectic style. Starting off brush the wall with beige and give a contrast with black shade paint color. Now, let's put some decoration to create a vibrant eclectic dining room!
Sticking a large artful craft on the wall to create a statement in this room. Blending this eclectic style with a tropical design style. It's not bad to combine eclectic style with two or three styles to create a distinctive style. Bringing some plants inside the interior to give a fresh touch to this room. For the furniture, we can add woven chairs to give a natural ambiance. The steel accent materials added to give a stylish modern eclectic interior!
Monochrome eclectic style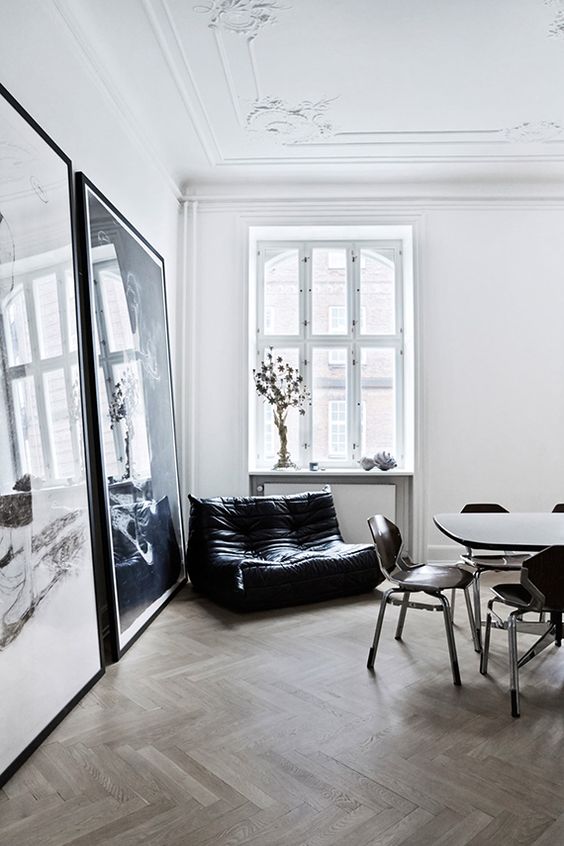 Do you want to remodel your living space with an affordable eclectic decoration? Without being too cluttered and too many decorations. We can choose a monochrome theme to decorate the space. Adding a black leather cushion on the corner, then add some large painting on the wall. These black decorations create a magical contrast with a neutral wall. Enjoying the interior while seeing on the cushion while seeing artful decorations! It is also good to be an outstanding bookworm corner! If you're afraid of how to remodel a living space by adding colorful and textural decorations that turn to be a real mess, better for you to have this monochrome eclectic style!
English eclectic living space style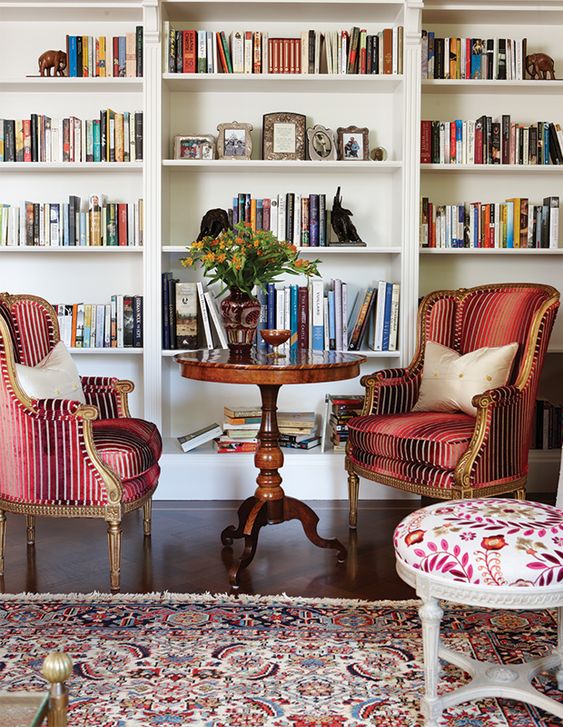 What makes this room categorized as eclectic English style? The classic English armchairs have been settled in this reading nook to evoke a unique eclectic contemporary design. Then, adding a lot of textures to give an eccentric vibrant interior style. A colorful oriental carpet is displayed to give an impact of a colorful eclectic style. Do you love this eclectic style?
Sustainability concrete house with eclectic design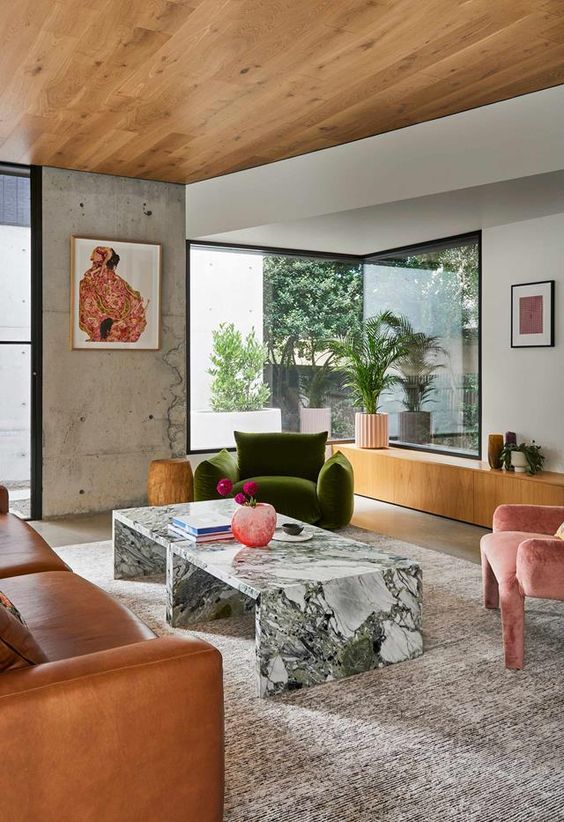 Are you looking for a unique home design to remodel the look of your concrete house? The eclectic style could be your option, working with the artful eclectic project, that will bold a statement to the concrete wall.
Now, let's do the project! Adding a leather sofa in the center followed by some extra seats, muted green and pink sofa to add some colors in eclectic style. Giving an eccentric decoration such as a mural painting to give an aesthetic to the concrete wall.
Finally, we can add a glossy marble coffee table to give an elegant touch to this stylish modern interior! Have you got the idea to decorate your concrete house with a frequency of eclectic style? We pretty sure, it won't that break a statement interior you have!
Eclectic style with a barn door decoration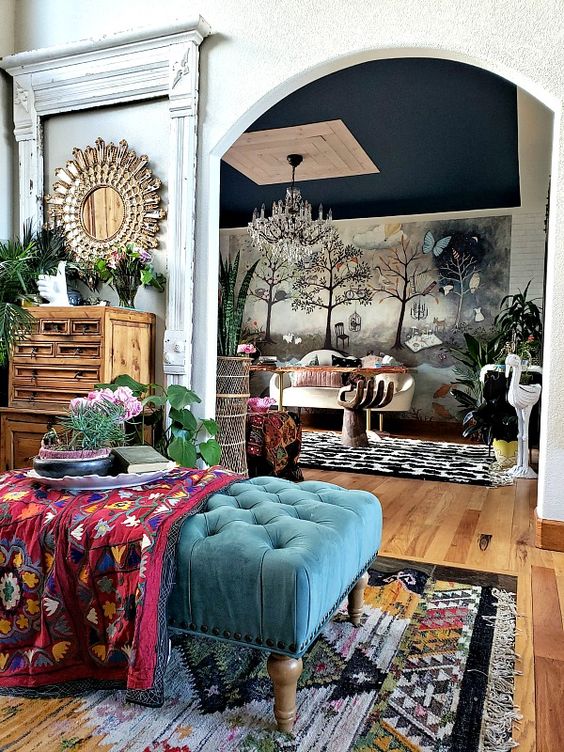 What exactly eclectic interior needs? Combining distressed materials or ancient decoration with modern clean furniture creates a distinctive interior design!
Spreading a distressed geometrical rug, wooden cabinet and add abundant decorations. There a barn door decoration on the left side of this room creates an unpredicted decoration but is successfully creates a distinctive eclectic interior style.
Simple eclectic decorations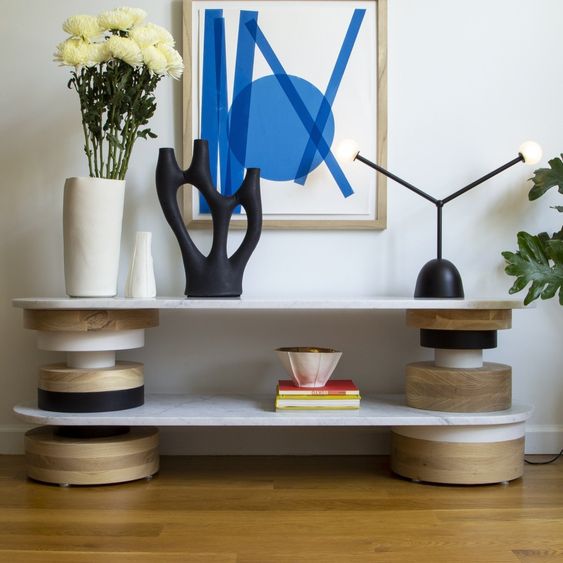 Eclectic contemporary styles feature unpredicted interior design. Everyone has their own dream home design and supported with an eclectic style that embraces the freedom in designing. So, we have a big deal to create our dream interior design.
A mimic of simple decoration in the picture above we can try if we want to feature a less busy eclectic contemporary style. Black marble and wooden are constructed in this modern sass console. In addition, we can put some decorations such as antique flower vases, abstract paintings, and table lamps. Simply, put those decorations next to the neutral wall will enhance the appearance of your interior!
These simple eclectic decorations also suit to appear in the Scandinavian living room, they will not break the Scandinavian core that bold in clean line decorations.
Chic colorful eclectic contemporary interior!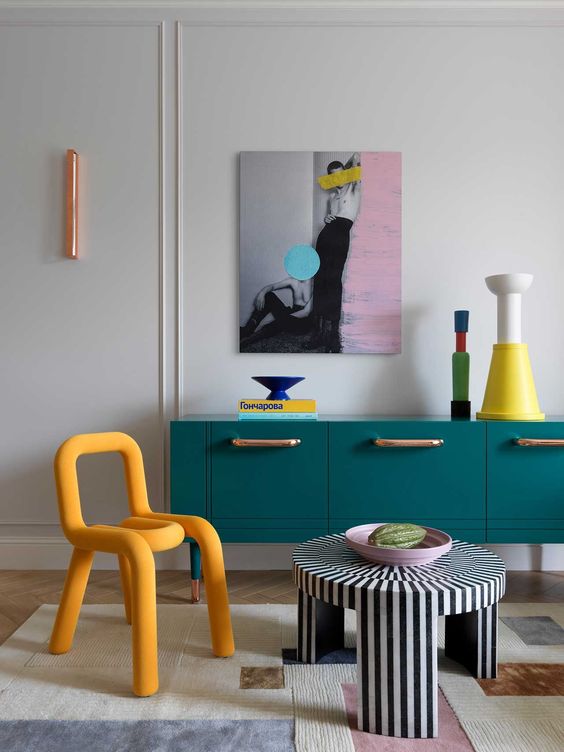 If you're looking for an eclectic contemporary design that does not fill up your living space with crowded decorations. Well, we still have a chance to have an eclectic vibe design. Spreading an asymmetrical neutral rug on the floor, in addition, put a modern chair in a vivid color such as yellow to contrast e neutral ambiance. The strip coffee table can be applied to add more patterns to the interior. To complete this chic eclectic decor, we can stick a painted art on the neutral wall. Do you love this chic eclectic decoration?
Eclectic interior style features
Eclectic interior doesn't belong to any styles, but it can be made by combining 2 to 3 styles to create a distinctive interior design. The freedom in deciding concept decor, makes every design look so unique and brings its own charm. That's an extraordinary design!
Eclectic contemporary designs are thirst to have abundant decoration, pattern, and textures into the design. Adding lots of decoration into the living space is not an easy job, we have to pay attention in creating curated decor. When we get a balance in decorating design, there we close to achieve a perfect eclectic decor.
Adding a classic touch furnishing
The eclectic interior is in great demand cause it has a distinctive feature that combines classical furniture in a modern dwelling. An oriental carpet, vintage rug, classic painting, English armchair, and many more. Those classic furnishings are the essentials in creating an eclectic interior!
So those above are the example of eclectic contemporary interior designs that could be your inspo. Half of them are stand out in minimalism and the others are bold in vibrant curated decorations. Both are amazing, which one is your favorite?
Basically, the eclectic interiors are refined from the old design, it usually prefers to the age era such as Medieval ages. Currently, adding a classic decoration into the modern dwelling create an impact on the aesthetic interior. We hope those eclectic interior designs we already shared with you could be your inspiration. And providing a few eclectic interior features that could help you in defining eclectic style. Get a unique home design by applying eclectic contemporary interiors!