Jordlinghome.com – Japanese interior and garden in great demand across the globe. It is all about the simple and super sleek design for a sustainable modern home. What comes to your mind when thinking about the Japanese home? The minimal decoration that embraces natural materials such as wood, bamboo, etc?
Since antiquity, the Japanese embrace natural material to build their home. Other than that, building a Japanese home follows Zen philosophy that stands in the minimalist core. In the design, it only allows some useful stuff decoration and gets rid of the unused item. As a result, Japanese homes look simple yet multifunctional design.
Along with the times, many Japanese home-style is influenced with a modern touch. Such as the appearance of concrete wall structure, stone wall interior panel as a modern touch to their home interior. The combination of modern interior and Japanese style creates an incredible interior look!
Now, we want to guide you to have a look into a modern Japanese dining room style. We guarantee you will love the clean line, super stylish, and sleek design that modern Japanese home style has been invented! Without taking too much time, let's see how gorgeous the Japanese dining style. It probably suits you to decorate your modern and elegant home!
There are a few things to keep in mind before applying Japanese dining room style to your house:
Super clean
A very fine wood finishes make almost all modern Japanese dining room style looks outstanding in the clean line decoration. The very fine wood fishing evokes a stylish and sleek dining area.
Natural materials
As we alluded to earlier the Japanese interior and exterior construct by natural materials such as wood, bamboo, rock, etc. Then, we can see that those materials are applied a lot in the interior. What type of wood that uses a lot to construct a Japanese home interior? The common type of wood they use is cryptomeria, cypress, and pine. They harvest the wood for around 40-60 years, it is a perfect wood age to construct a solid and durable home. Those wood themselves can be trusted resistant to mold and insects and withstand for Japanese climate.
Unique decoration
There is no doubt that Japanese interior design is liked by many designers around the world. Because it has a unique feature in every corner we see. The handmade and eco-friendly product that wraps in modern style makes this style is very suitable for the next home generation. The unique Japanese decoration always included wherever it is. For example, in the kitchen, we can see the kanji characters and some kitchen utensils originally made from Japan display in the proper place. In the end, the Japanese interior is well known across the globe.
As we already talk the essential materials in modern Japanese home above, now will guide you to see how sleek and stylish Japanese dining room are. It might be your inspo in creating an inviting dining spot for all of your family! Let's get a modern and sleek Japanese dining room design!
Good ventilation and airy space design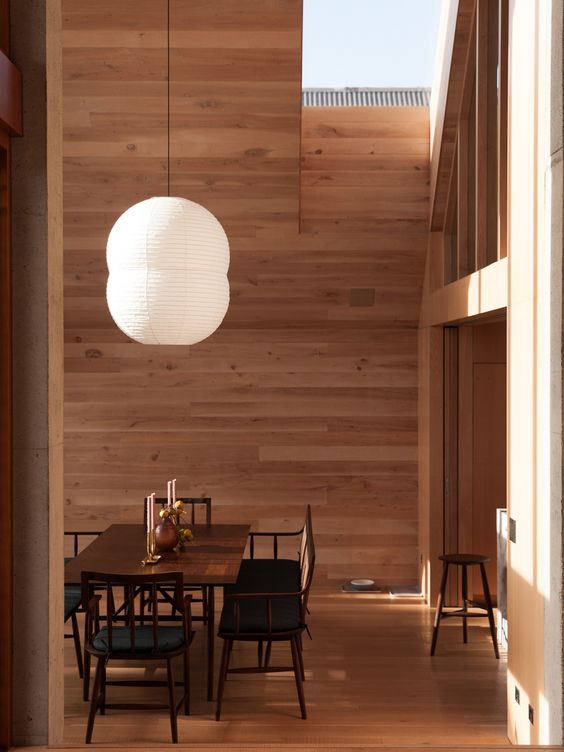 As we have been discussed a lot above, the Japanese interior still holds the natural material to construct an aesthetic interior. For instance, this dining room made up undoubtedly of 100% wood materials. From flooring, wall, to ceiling it is made from wood and that looks stunning!
Bold in wooden construction, this interior looks so welcoming yet inviting warm ambiance. Not only give an aesthetic to the interior, wood construction useful as a natural room heater. When the cold season comes, this house does not need a room heater because the wood material can withstand the cold air outside and create warmth inside.
One more thing we want to highlight in this dining room design. There is an open sky ceiling feature that gives airflow ventilation and natural lighting to the interior. The high ceiling construction creates an airy space, so when we being inside we'll not feel stuffy. For the decoration, this dining room stands in a minimalist core. There we only see the wooden table and some chairs in the middle and a giant Japanese lantern has been installed to give a statement Japanese decoration!
Modern Japanese dining room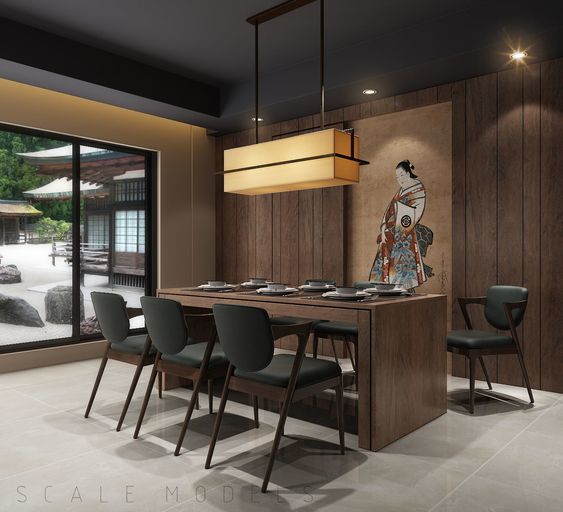 This modern Japanese dining area featuring gray marble flooring, large window installation, modern pendant lamp. Those modern features contrast with a wooden wall that shows the natural fiber. A dark wooden table that shows the natural fiber reinforces the aesthetic of a Japanese house. In addition, there is a woman picture wearing kimono decorate the wooden wall that successfully amplifies the Japanese interior style! So, would you love to have this super sleek dining room with Japanese decoration?
Super-sleek Japanese dining room style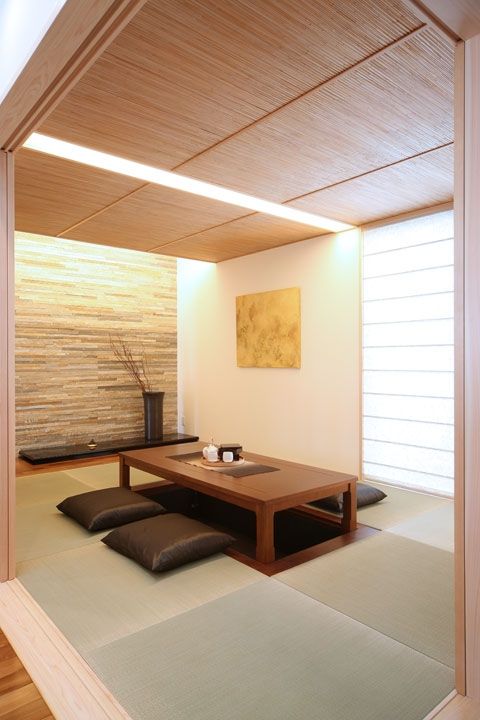 This dining room looks super sleek and clean! Combining traditional and modern touch decoration makes this Japanese dining style look so appealing. Wooden flooring and bamboo ceiling create a warm ambiance Japanese interior. At the backdrop, there is a stone wall panel to give a modern touch in this dining room. Both traditional Japanese design and modern touch create a completely cozy dining area inside our home.
Now, let's talk about the decoration. Starting off spreading a comfortable and soft rug on the wooden floor. Then, set a table in the middle followed by some floor cushions. Simple yet inviting dining area!
Installing horizontal LED light on the ceiling evokes a sleek and futuristic design. Shoji screen has been installed to amplify Japanese interior style. This screen is transparent which allows the natural lighting to come through inside.
When you have a small space in your home, but you wanna have an inviting dining area for a family gathering. This Japanese dining style decoration could be your preference. It can be applied in the small area and the warm ambiance decoration will make anybody loves to be inside!
Artistic wooden table design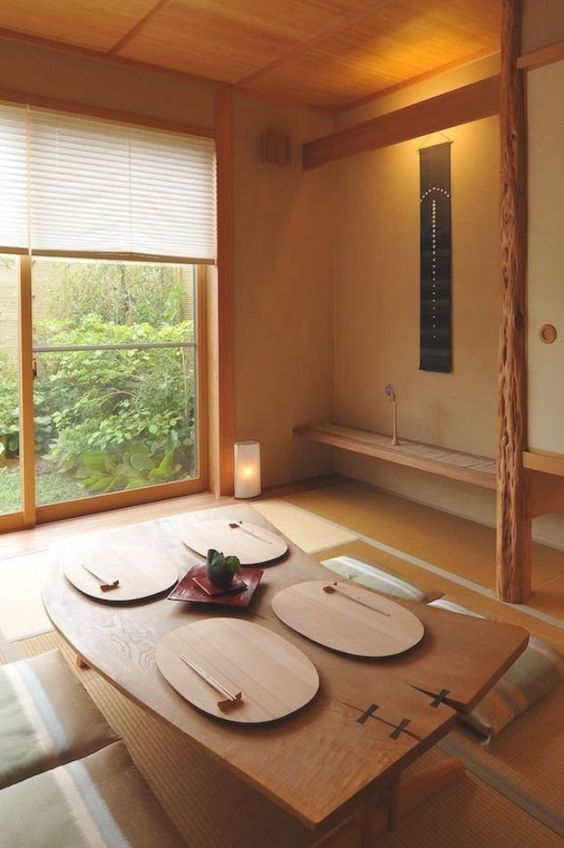 What makes this dining room look so attractive yet calming to the eye? It's absolutely the appearance of an artistic Japanese dining table and wood column installation. Tatami rug lies on the wooden flooring and some floor cushions are set up on both sides of the table to complete a cozy dining area. The full-height window installation allows a great lush garden view. What a superb dining room design!
Modern Japanese dining room style for a small space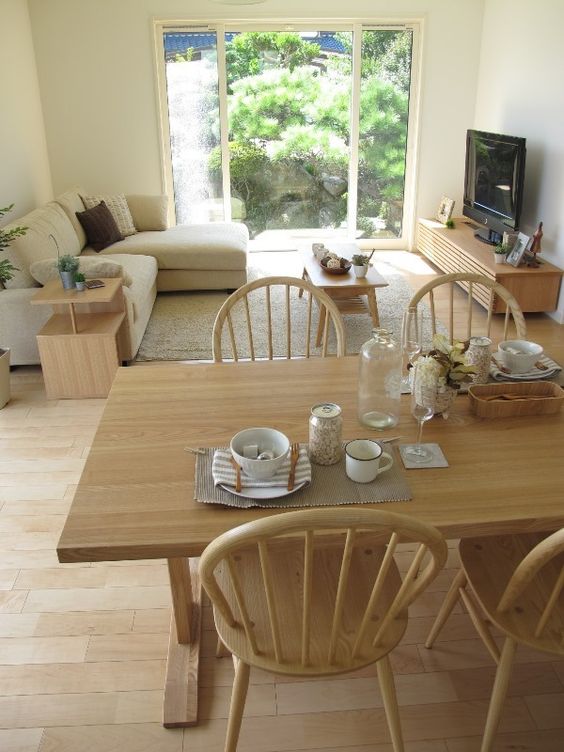 This small dining room bold in serenity design even though it still connected to the living room. The bright feature of wooden flooring made from oak gives a calming sense to the whole room. In addition, the neutral white wall palette gives a soothing effect and combines very well with wood decoration in this room. Setting up the dining table that faces towards the large window. It gives a relaxing panorama, a beautiful Japanese garden can be seen through the large window! This soothing dining room is so practical but has an outstanding outcome. Would you like to have this dining room design in your home?
Conclusion
There are a few things we highlight in modern Japanese interior design above. They look clean, sleek, bold in natural material such as wood, and the last one is they look unique with a minimalist Japanese decoration. Creating an inviting dining room in a small space with Japanese style is quite possible! The design that stands in the minimalist core creates a spacious room. As a result, we will find the balance of subtly, simplicity, and nature in the design. Those substances correlate with Zen philosophy.