Jordlinghome.com – Are you looking for a simple design to remodel your bedroom? Surfing on the net and there we've got lots of preferences. But our decision must come to the unique Japanese bedroom design! One unique thing that comes to mind when imagining a Japanese bedroom is simple and less decoration. What a superb soothing bedroom decoration!
If you already decide to choose the Japanese style, then you have to know some elements to create a cozy simple bedroom. For those who do not know how to start the Japanese bedroom project, we'll share with you a few tips:
Wooden materials dominate the Japanese bedroom. The design is generous in natural colors. We can find it on tatami (Japanese woven rug), sliding door, and wooden cabinet. All go in natural colors!
Japanese home well known for its Zen philosophy that stands in the minimalist concept. The core of minimalism makes them design their interior with less furniture. So, it won't fulfill the interior space. As a result, the Japanese interior feels so calming yet charming in simplicity.
We'll find Japanese bedrooms are so clean with organized decorations. There a futon or a bed in the middle, a simple wardrobe at the corner, and a floor table provided with a floor cushion to create a cozy spot to have a cup of tea or a study spot.
Let see how intriguing Japanese bedroom designs are down below!
Traditional Japanese bedroom look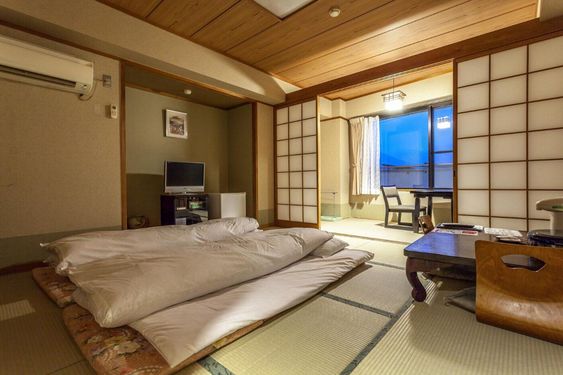 This one is a very typical Japanese bedroom look, there is a tatami spread to cover all the bedroom flooring. Tatami makes the whole room feel warm, that's why they don't need a bedstead to put a Futon (bed)
After wake-up Futon is rolled and stored in a wardrobe. Using this type of bed will make the room more spacious. In addition, there is a tv cabinet and a low table inside the bedroom. It's such a cozy and simple bedroom to relax and sleep!
Scandinavian and Japanese inspired bedroom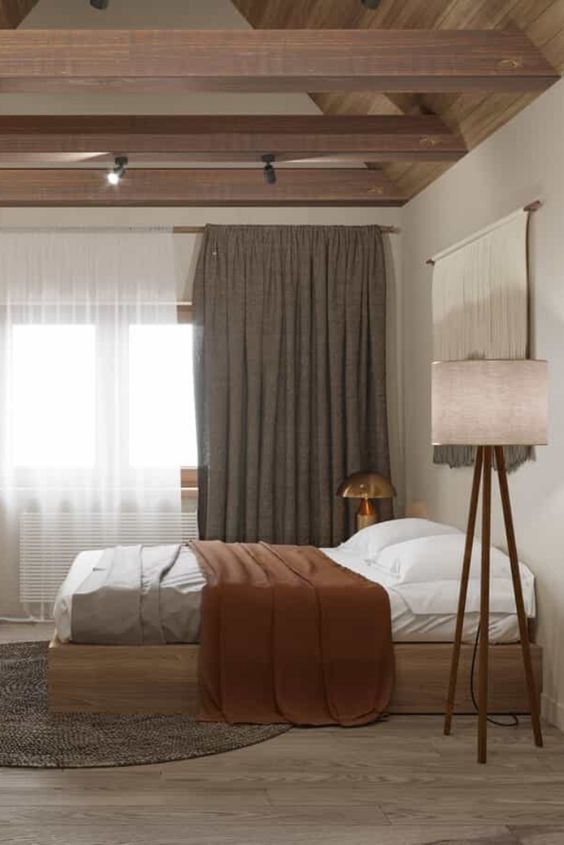 Both Scandinavian and Japanese share a minimalist core. So, it's not rare if both can work together to create a harmonious modern clean line design. The Japanese style share in the low bed and the Scandinavian style take the simple decoration. We can see a gray curtain, metal lamp decoration, and round woven rug.
Modern Japanese bedroom design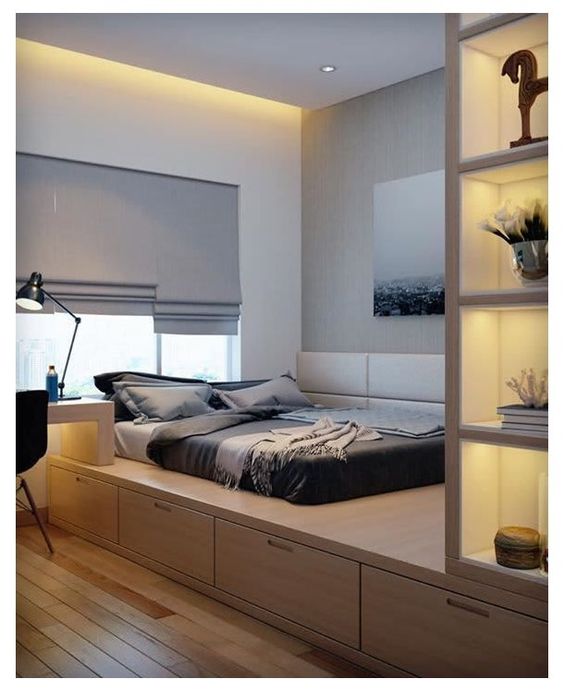 We have already shown you a traditional Japanese bedroom design, now we guide you to see a cozy modern Japanese bedroom. One thing we cannot leave by creating a Japanese interior, that's a wooden accent. Along with a large wooden storage bed make it possible to store lots of goods, as a result, our room will look clean. Installing a wooden rack, to put some books and some indoor plants to freshen up the room. Giving a modern touch, by brushing the wall with a neutral palette such as gray. Finally, adjust the lighting to make this room feel cozy!
Sakura wallpaper
There is nothing better than to see cherry blossom season in Japan. Sakura is a mascot of Japan. So, there is no doubt to bring this lovely flower to decorate the Japanese bedroom style. A sakura wallpaper has been installed at the backdrop in this bedroom. One thing we really want to highlight in this bedroom, there is natural ventilation set up on the ceiling. It creates a cozy and bright Japanese bedroom.
Wooden bathtub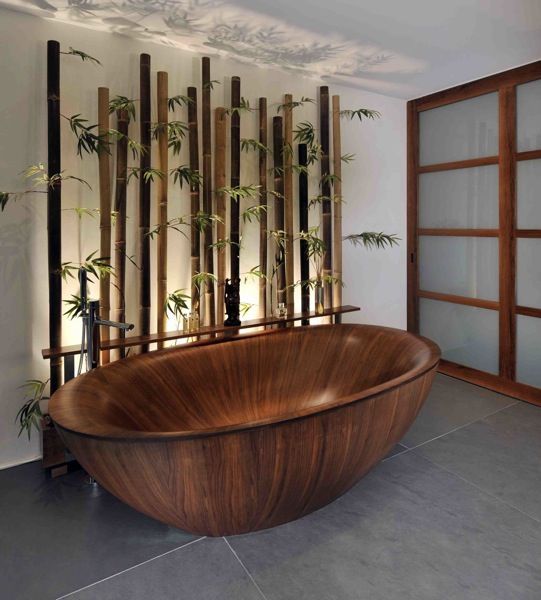 Have you ever experienced soaking in hot springs that come from the bowels of the earth called Onsen? It appears in the large wooden bathtub provided by a panoramic view. It's so relaxing!
When you have an idea to install a modern bathroom with a Japanese concept. Here we offer you a luxury Japanese wooden bathtub completed with a bamboo backdrop that will successfully make you relax after spending a busy day! The presence of a sliding door in this bathroom is all about to bold the Japanese bathroom concept!
Japanese lantern wall lamp decoration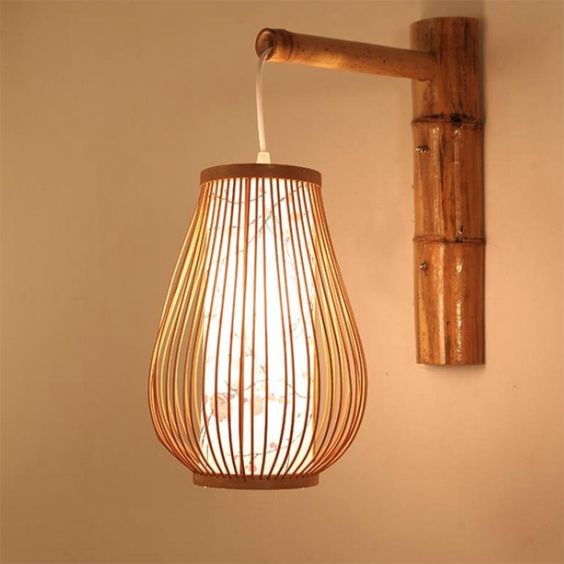 There is always be a lantern in the Japanese bedroom. This lampshade made from natural materials such as bamboo and rattan. This lamp does not only provide the light in a bedroom but also gives an aesthetic for the wall decoration. The presence of this lantern creates warmth and serenity in this room!
Relaxing and harmonious Zen bedroom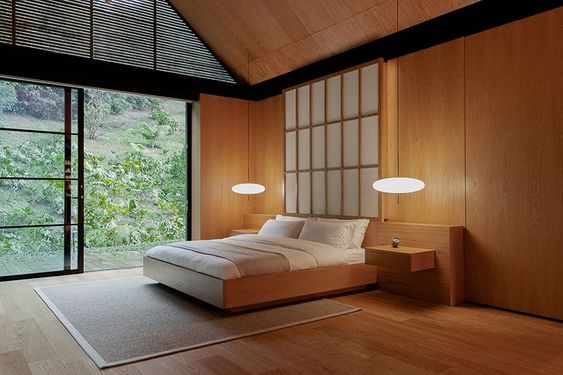 Zen philosophy teaches us the simplicity to live life in a simple way. We can clearly see the transparency of the Zen concept in this bedroom. This bedroom has a true concept of minimalist decor. All the construction made from wood, it applied on the wall, flooring, to the ceiling. In addition, there is a full-height window installation that connects with nature.
This bedroom is superb in simple line decoration. As we can see, there is only two hanging lantern and wooden night tables and the bed decoration. This simple bedroom creates a less busy ambiance which useful to be a great relaxing spot at home! Applying Zen concept in our bedroom helps us to achieve the balance of simplicity, subtly, and nature all together creating a harmonious interior!
Stylish Japanese tea table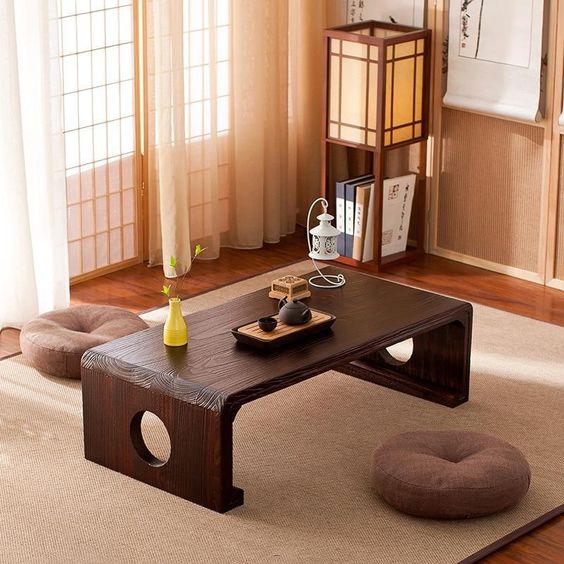 Drinking ocha or tea is a part of Japanese culture. Respecting drinking tea culture in Japan, they usually have a tea table specialty that stands on the tatami (Japanese natural rug) and completed with some tatami floor pillow. Enjoying a cup of tea in the morning or in the late afternoon in our bedroom will be so relaxing!
Meaningful Kanji decoration
There is another decoration we couldn't forget in creating a beautiful Japanese bedroom. It's a Kanji decoration! Let's review a little bit what actually Kanji is!
Kanji is one of the Japanese characters besides Hiragana, Katakana, and Romaji. It brought to Japan by the Chinese through the trading process a long time ago. Since then, the Japanese adopted Chinese characters and modified them called Kanji.
Kanji usually symbolizes the words of honesty. Such as in the picture above, Kanji characters decorate the wall in the bedroom, every word that sticks on the wall has a deep meaning, such as in the picture above, a few Kanji words mean peace, love, and health. We can also use inspirational Kanji words to inspire us when entering the room. Would you love to have Kanji wall decal stickers in your bedroom?
Enhance the beauty of the bedroom with Japanese tapestry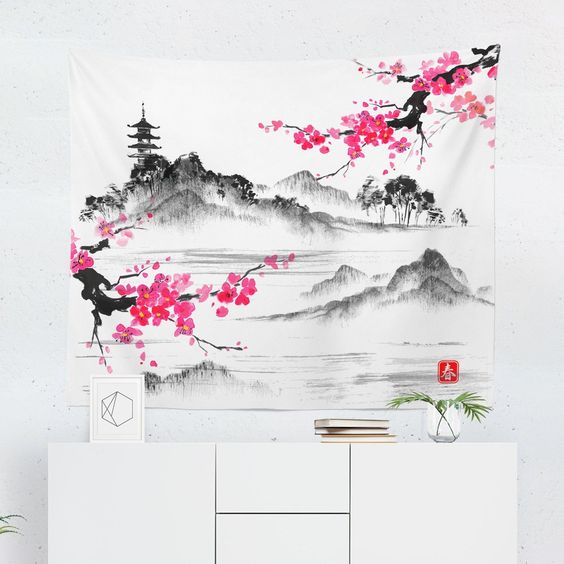 Creating a simple Japanese theme in our bedroom is so easy, and there are many affordable ways to achieve that. Each one of them is installing a Japanese tapestry on the wall. We guarantee it will evoke the Japanese bedroom look. Fuji mountain, geisha, and sakura tapestry are the most used Japanese-inspired tapestry. So, you can pick each one of them to give an aesthetic to your bedroom. What a simple and beautiful Japanese bedroom design!
Those are a few Japanese bedroom designs that feature simple and beautiful decorations. Completed with Japanese identical furniture to bold the Japanese line decor. One thing we highlight in Japanese interior is that they use a Zen philosophy. That guides us to find a balance of simplicity, subtly, and nature in the decoration. As a result, we've got a superb relaxing room with simple and beautiful decorations!