Jordlinghome.com – If you love spending time outdoor in your home. Whether it's for gathering with family having a BBQ in front of our cozy firepit. Or even to chill sit admiring our beautiful backyard garden. We are pretty sure that we need to install a fence for our backyard. Creating privacy in our garden, as a result, we get a nice outdoor place to hang out with family and friends.
Don't you know that installing a fence is not only give a private place to our outdoor space? Fencing our backyard can be enchanting the curb appeal of our property! Synergize with a home design that has been developed rapidly from time to time. It also happens for backyard fencing that has been developed in many styles and materials.
If you have a vegetable garden and herb garden in your backyard, you are definitely creating privacy fencing to keep your backyard! In this writing, we will introduce some fencing ideas that could improve your outdoor space look!
Here are Backyard Fencing Ideas To Beautify Your Home Exterior we share with you. So, don't miss any of them!
Appealing Bamboo Fencing idea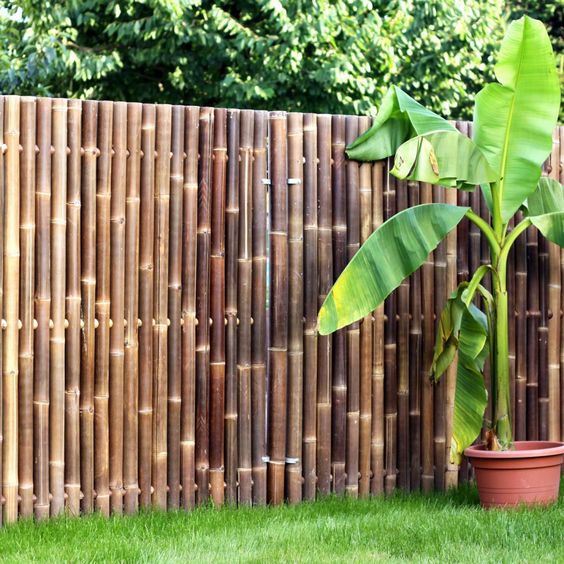 The first backyard fencing idea we want to share with you is made from bamboo. It's common fencing in Asian gardens, and more common as natural fencing in the tropical house design. Garden lover, we can install bamboo fencing to create a privacy zone for our backyard. A common bamboo type for screening or hedges is Gracilis bamboo. This bamboo is well known for its durability. To withstand the outdoor weather, we need a solid bamboo type for our fencing!
A minimum height to give privacy in our garden around 7 ft tall. So, we can choose the proper bamboo height for our private garden. A bamboo fencing is unique and looks balance with nature. It can enhance the curb appeal of our home!
Aluminum Blade fencing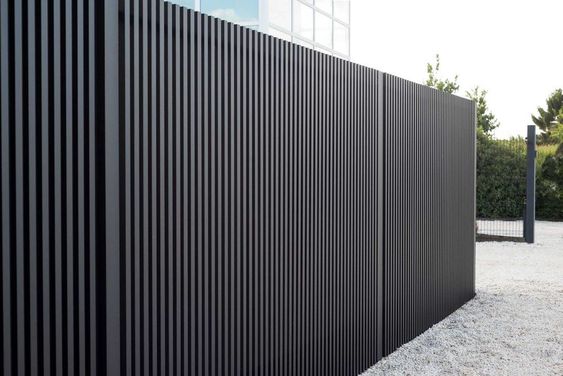 We can give a statement to our exterior look by installing an aluminum fence. There are a few benefits we should know about the aluminum fence. They are minimum maintenance, so for a busy gardener, you can absolutely install this fence for your garden. Compare to wood fencing, the aluminum fence won't rot and also not oxidize like other metal. So, for a durable and less maintenance reason, we can choose aluminum fencing to decorate our backyard!
We also want to share a pros and cons of aluminum fencing for your garden. As we alluded to above, that the pros of this fence are durable, less maintenance and it can withstand the strong wind outside. The cons of aluminum fencing is it getting extremely hot when the intense sun hits aluminum fencing. So, make sure not to touch or being close to the aluminum fence when the weather is hot outside!
Wood fencing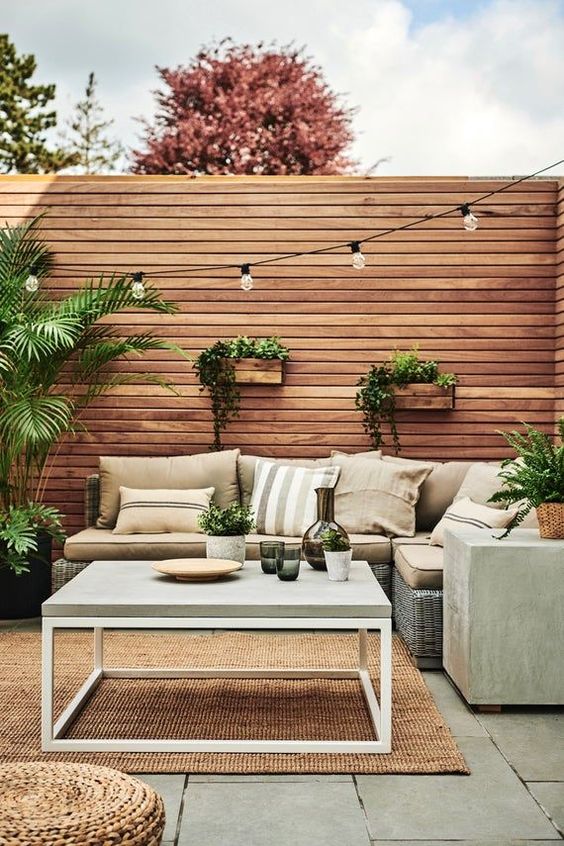 The next fencing idea for backyard decorating ideas is wood fencing. This type of fence is ideal to beautify a minimalist backyard garden. The warm ambiance from wood fencing will make our garden feel cozy. Wooden fencing also easy to decorate for instance we can hang on some lamp on it to brighten up the outdoor space.
We can create a cozy outdoor space in our backyard. Simply, we can add some rattan couch next to the wood fence. And then set a table in the middle. We can hang out in this cozy outdoor space at night too! Installing lamps that attach to the wood fence. To add aesthetics to the wooden fence, we can attach wooden planters. So, greenery can be included to give an aesthetic wood fence.
Cedar fence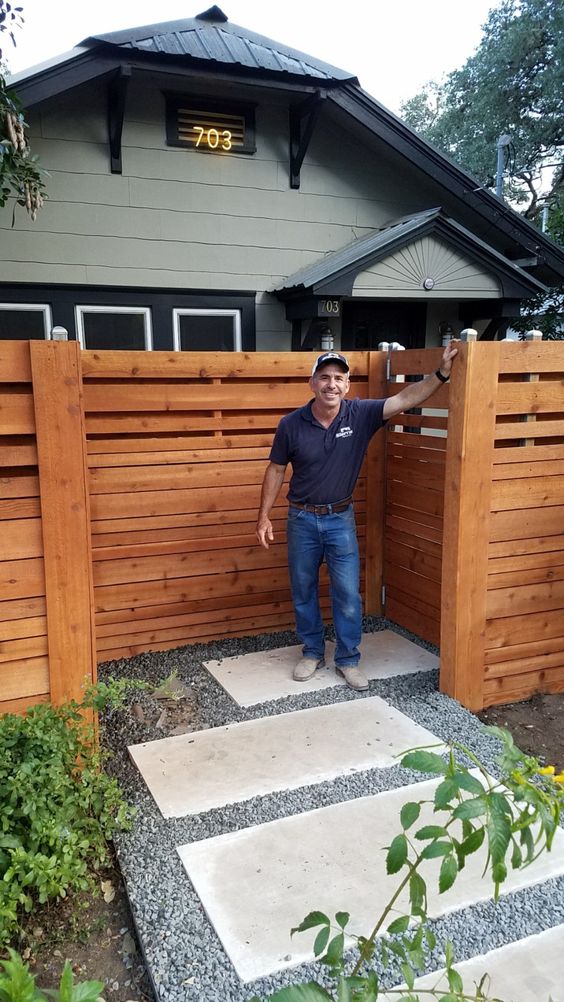 Another fencing idea for enchanting and create privacy in our garden comes to the cedar fence. Since antiquity, people tend to choose cedar wood for their fence. The natural red shade cedar wood will make this fence is quite appealing. This wood is also known for its durability, so our fence will last longer than any other wood.
Installing a cedar fence for our garden can withstand the strong wind outside. Do not worry about the lifespan of this fencing idea. It will save your finances because this fence could stand around 30 years. Would you like to install a cedar fence for your garden?
Picket fence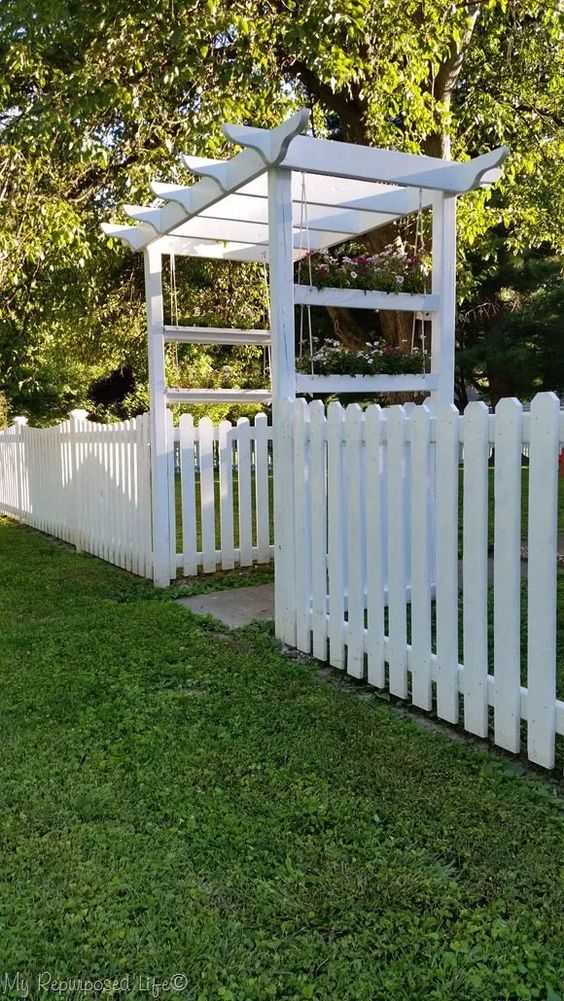 Where do you usually see this fence type? It's commonly used in suburban areas. This fence is commonly painted in any color. But the most well-used color is white. It this better to give an aesthetic and mark the area of our outdoor space rather than to create a private garden. The short and untightened feature fence makes this fence good to give a curb appeal to our property.
The lifespan of this fencing is around 15 years. Garden lover, we can build a pergola for the entrance to the garden. That will enhance the beauty of our garden!
Wood and wire fence idea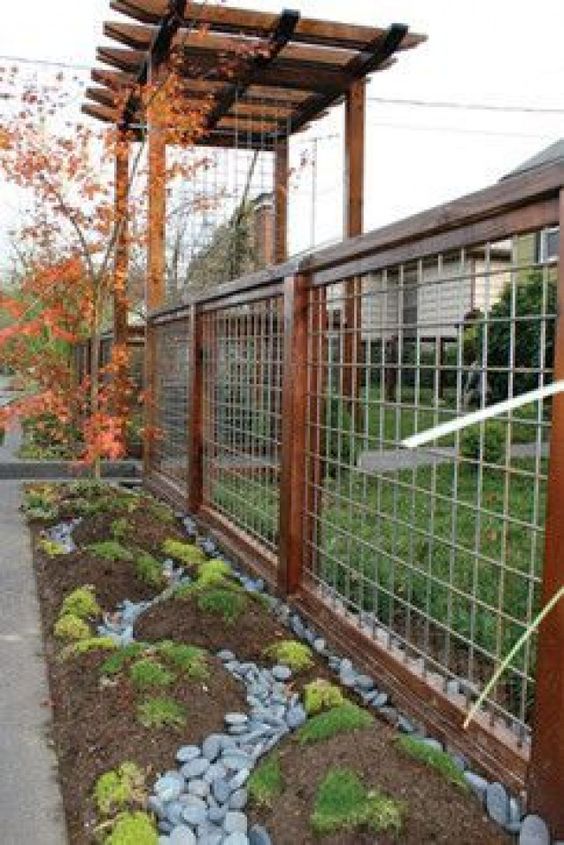 A wood and wire fence might be the cheapest fencing idea we can install for our backyard garden. Reduce wood consumption for installing a fence. We only need wood for the frame, then we can minimalize the hollow with wire. It is worth trying to save your money if you don't want to waste the cost too much for fencing.
With creativity, we can make the cheap fence turn to be a fancy fencing idea. First of all, create a pergola for the entrance of our home that will successfully elevate the curb appeal of our home. After that, we can furnish the wood so it's showing a glossy accent that will make our wire fence look more special! Do you love this affordable fence idea?
Split rail fence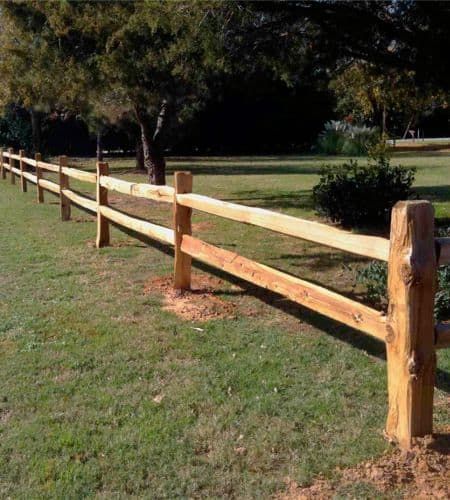 If you live in the countryside and have a large land to cover your farm area. Then, the best choice fencing idea comes to split rail fence! This fence is often used to mark the farm area. The benefits of split rail fencing are often more cost-effective than others. But, if you want to apply this fence idea to your backyard, you obviously can install it too! This fencing idea will add a rustic charm to your home exterior! So, if you need a fence that can mark your home's outdoor area you are definitely right to choose a split rail fence!
Conclusion
There are many available fencing ideas to decorate our outdoor space. There are made from wood and metal materials. Choosing the best type for your garden is based on your budget and the durability fence you want to be installed.
Basically, installing a fence is aiming to mark the outdoor area of our home. Besides that, installing a fence could elevate the beauty of our garden.
We already display 7 fencing ideas that could be your inspiration to be set in your backyard nor a front yard of your home. Installing a fence can improve the curb appeal of our home exterior! There are always pros and cons to every fencing type. We hope our explanation could help you to choose the right fence for your backyard. So, what is your favorite fencing ideas to beautify your home exterior?