Jordlinghome.com – Brick wall home is a very distinctive home style. Why the brick home styles look so distinctive to another? Because we do not need to line and paint the wall to open up the natural impression of the home feature.
It is commonly popular in the 16-17 centuries in Britain. There, we will see lots of brick walls home lined up the roadblocks. Bricks are much choosing in Britain because their local material that is widely available. The reason why bricks are much used because Britain has a stable ground which is possible to have a brick home.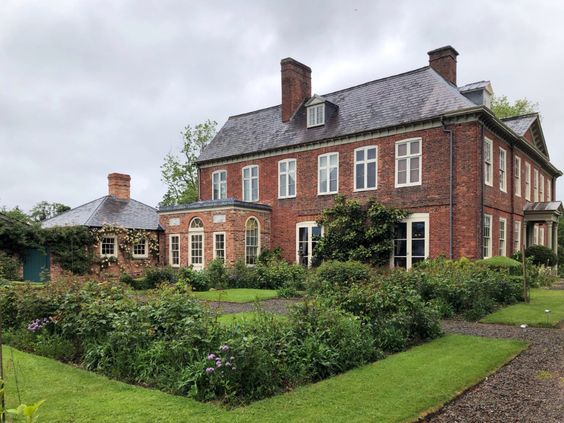 That picture above is a local home look in England featuring it with a facade brick wall exterior and large simple yard. Its appealing rustic view takes us laid back to the old era.
Let us figure out a classic British brick home design: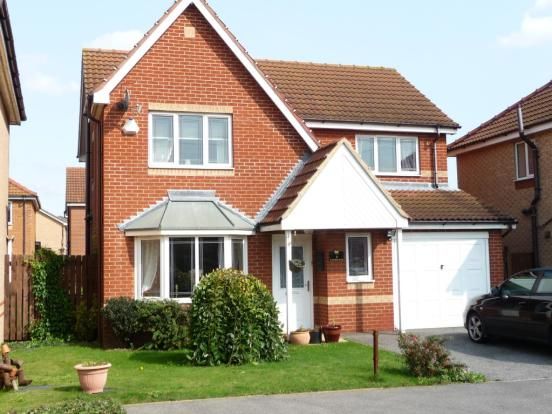 Classic British home has easy-to-spot characteristics. One of them we can spot from the roof shape. British home usually uses the combination of a mansard and steep roof. It looks sturdy!
Tudor Roof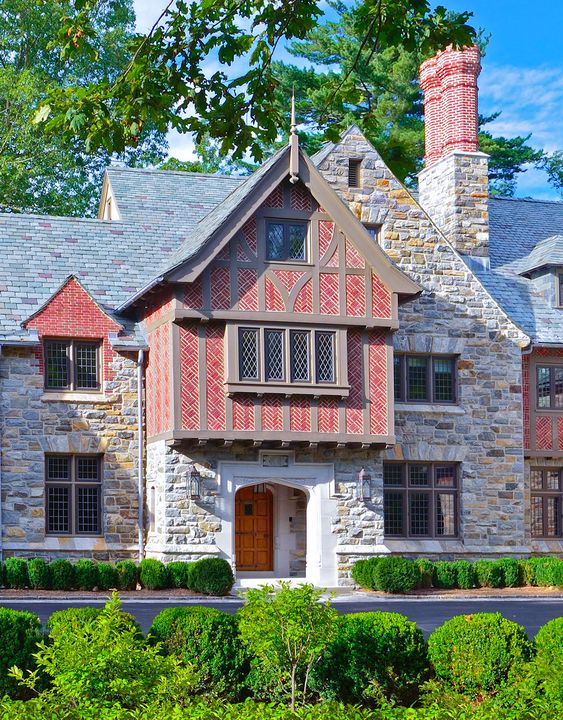 One of the famous British roofs is the Tudor roof. This Tudor period started to emerge from 1485-1603 in England when Tudor's family ruled the British Empire. Architectural heritage from the Tudor reign is the Tudor roof that has a steep shape. It has a tall and slender chimney that symbolizes the glory of the Tudor empire.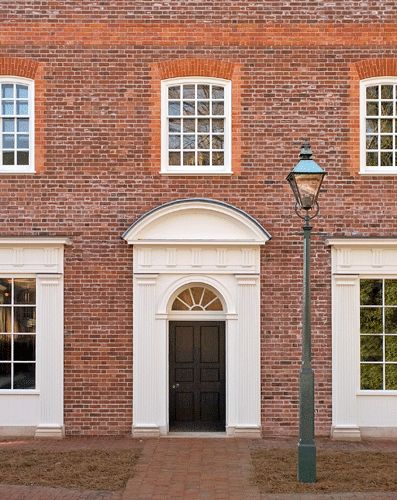 The typical view that we usually see on British housing is the red brick wall from outside of the door. Redbrick walls give a sense of powerful impression for both window and door, British homestyle tend to use strong and thick wooden materials. They usually painted in white to create dramatic contrast from the red brick wall.
Featuring English Garden In Our Classic British Home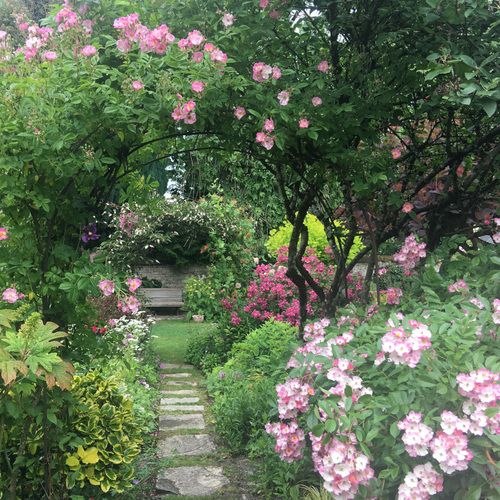 What comes to our imagination when we hear about the English garden? A beautiful lawn landscaping with lush flowers? Laidback to its historical construction which cannot be separated from the Romanticism era in the 18th century in Europe. Romanticism era leads humans to reconnect with nature to raise creativity and the freedom to express art. That is a key factor that underlies English garden creation. So, we can see the Engish garden represented with a large evergreen lawn with lush flowers. It evokes a spontaneous and surprising feel into it.
We can build a magnificent English garden in our home. Once to remember creating the English garden landscaping would cost high maintenance and a high structure yard.
Here are some materials to build an English garden in our home.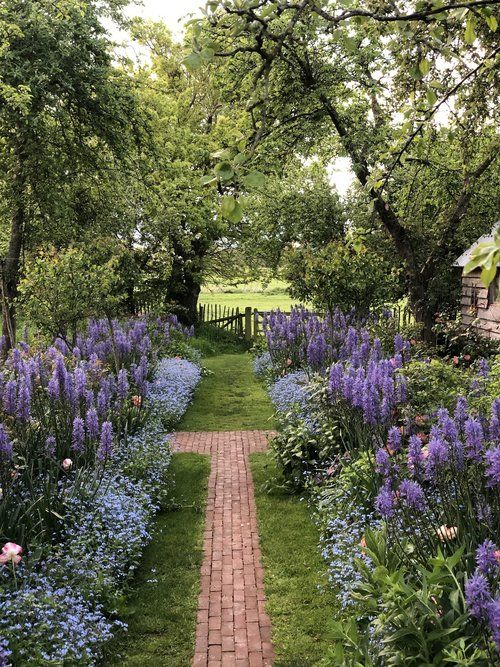 Consideration while designing a beautiful garden need plants and flowers as an essential material and so building an English garden. In this case, landscaping an English garden requires lush plants and flowers to feature that the difference can live all together in nature. Here are some plants and flowers we can grow in our English garden landscaping
Laurel bushes
Aromatic plants
Rosses
Wildflowers such as violets, buttercup, cornflower, poppy, etc.
Lawn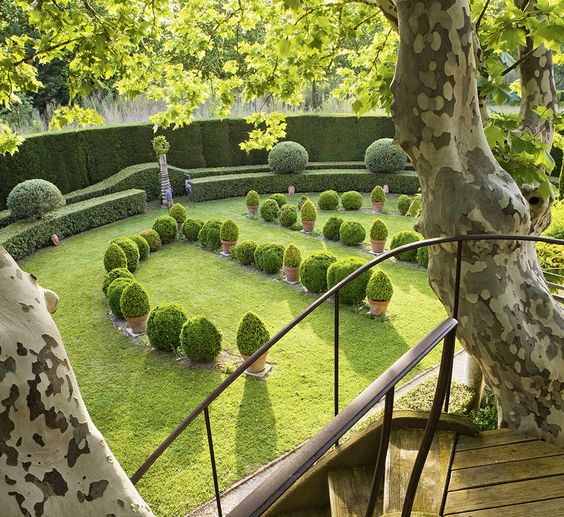 An English garden lawn requires fertilization to be healthy, mow the lawn shorter than normal around 2-3cm, watering the lawn every three days. All of that needs high maintenance to keep the lawn looks beautiful, clean, and healthy.
Evergreen beautiful lawn serves our eyes an open panoramic space. It represents freedom to express the beauty of art.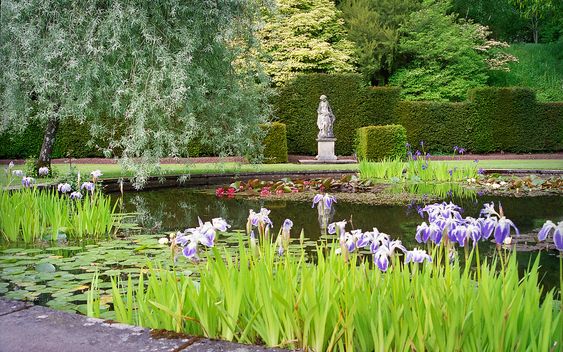 Creating an English garden won't be perfect without a water element. It evokes great relaxation being in nature. We can also hear the relaxing sound of water and the frog splashing to the pond, what a natural calming sound of nature!
Installing a pond in our garden brings a wildlife habitat that will affect us to feel low tension and anxiety in our busy day. So, would you like to build an amazing English garden in your home?
Now we will see the interior of the brick wall home design!
Classic British living room brick house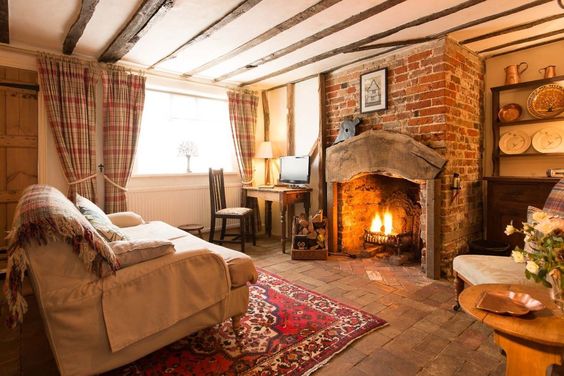 Brickwall is just not a common thing we can see on the outside of a classic British home. It also dominance inside of the building. The picture above featuring a classic British living room design. It has brick flooring, an antique rug, a fireplace in front of seatings to warm up us especially in winter. There are also antique chairs, a wooden table beside to complete the classic British brick home look, put several pieces of stuff on the hanging shelves such as antique dish plates and tea kettles.
A classic brick Bedroom ideas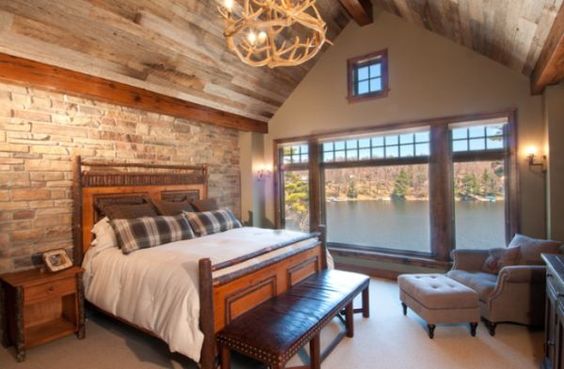 Creating warm-rustic with the beautiful wood ceiling in our bedroom will be the highlight of comfortable space in our classic brick house. We can install a large window if we have a narrow space bedroom. It allows fresh air through the room and also does not feel too crowded as it created by brick walls in a small space. Adding a more warm-rustic feel, we can install a wooden chandelier and some wall lamp in every corner of the room. A nice classic brick wall bedroom with a spectacular English garden view over the window is one of the highlights of having a classic British brick home.
Classic Brick wall Kitchen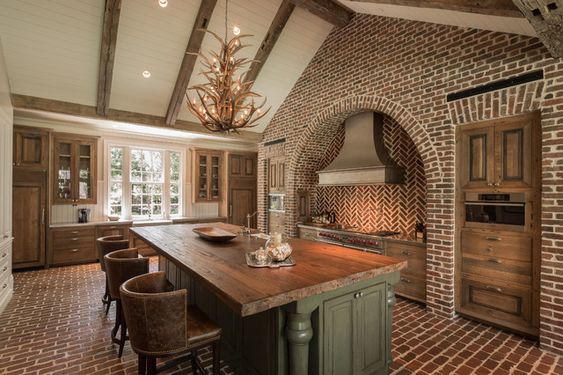 Combining wood and brick elements create a warm, classic, and chic country kitchen home design. Put a wooden dining table and some wooden chairs in the kitchen space, so we have an incredible dining environment by eating food directly from the grilled. We can also install wooden kitchen drawer pulls, a unique shape of a wooden chandelier to make our kitchen looks more attractive.
Brick wall kitchen is not only well known for a classic home. It also appears to be a trend kitchen in modern home design. Brickwalls give a unique and stylish kitchen both at the same time. That is a beautifully designed brick wall and flooring kitchen! Would you like to have it in your own home?
We have come to conclusion now. A brick wall house has a very distinctive design because it is featuring a unique look created by sequences of bricks without finishing nor painting make it looks so different from one to another.
A Classic British brick home design with a beautiful English garden landscaping is a mind-blowing home idea!