Jordlinghome.com – Do you need more bedrooms for your big family or creating an additional bedroom for a guest? Well, we can maximize the unused space in our home! Almost every home has a space under the room that is called the attic. Even though not every home has an attic such as a flat roof in the minimalist home does not have a loft.
When you consider you have space under the roof. There you have a big chance to create a comfortable place to rest! Let's take advantage of the loft to create a dreamy bedroom! In this way, you will have an extra bedroom at home!
There are a few considerations we have own before digging into attic decoration!
The ideal attic bedroom at least has 7 feet width and height. This is a minimum space to create a comfortable attic bedroom style
Creating ventilation is needed to create a healthy bedroom environment that supplies oxygen and shines through. The common window for this type of room is the ceiling window. So, we can install it to give the airflow circulation in our bedroom.
After knowing a few basic rules on creating a loft bedroom. Now, let's discover 8 dreamy attic bedroom ideas that turn into a comfortable place to rest!
Comfortable organic modern loft bedroom style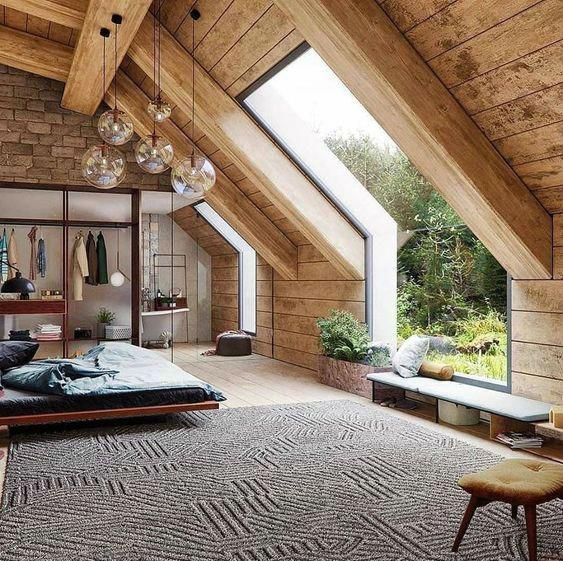 The loft is commonly undecorated and dusty that creates an unhealthy environment if we let it open still. So, it's better to let go of the dusty and humdrum space in the loft, which turns into an unexpected comfortable space you will thank for it!
Figuring out what types of loft bedroom style that suit you. Here we have an outstanding design that you can copy! It's an organic modern loft bedroom style. Why is it called modern organic? Because we can see this bedroom using natural material to extend the beauty of the modern property. From the loft to the ceiling display the wood feature without finishes. Then, the brick wall feature creates an outstanding view.
What makes this bedroom look so comfortable is the presence of a large window installation. It provides well-lit to the whole room. For the decoration, this organic modern design using a glass effect to transform the natural lighting to create a spacious bedroom. We can see it from the round glass pendant lampshade. If you have enough space in your loft bedroom, we can also complete the comfort of the loft bedroom by installing a walk-in wardrobe. It also will make this modern organic more stylish!
Scandinavian loft bedroom style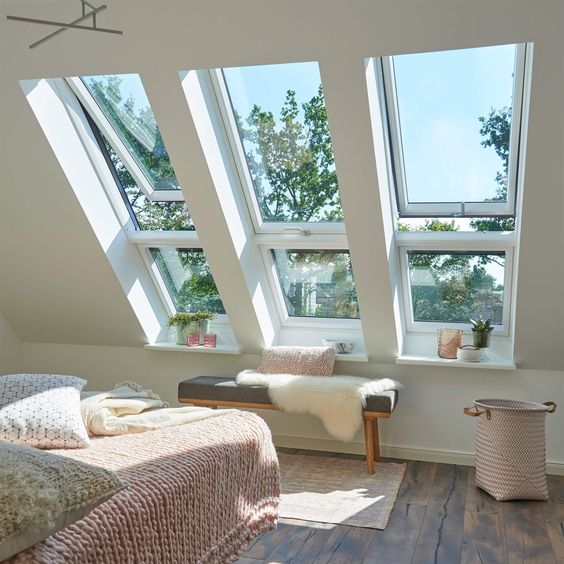 The next comfortable loft bedroom style is fall to Scandinavian interior design! The main reason that this design is fit to create a comfortable attic bedroom because it has a neutral wall palette that turns our bedroom into a soothing place to rest!
As we alluded to earlier, the Scandinavian interior style tends to choose a neutral color for wall color tone. So, we can brush white or cream paint on the wall. When the natural shines through the room and it hits the white wall. It will transform the light into a spacious and airy room!
Creating a comfortable Scandinavian bedroom style, we can add some warm textiles on the bed and rug. Adding a woven basket to organize dirty clothes and it can give the beauty aspect to the interior look. After doing a busy day, a loft bedroom is such a dreamy place to have a rest at night! Feel the silence and fall into sleep peacefully!
Minimalist loft bedroom style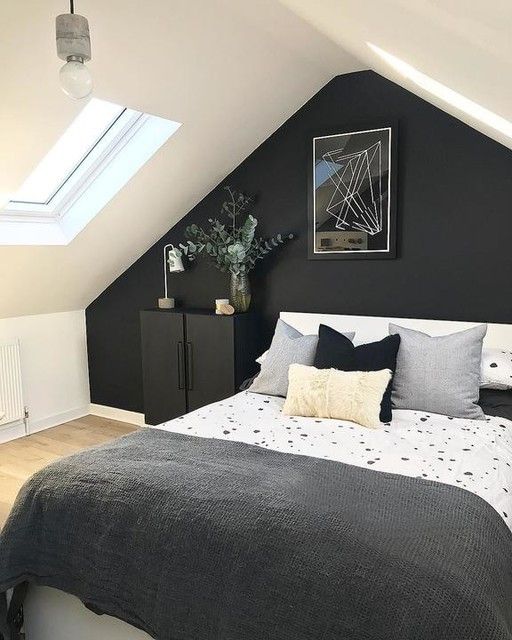 Another outstanding loft bedroom idea is to turn to the minimalist style. Displaying a monochrome color tone for this bedroom creates a simple yet appealing bedroom look. First of all, paint the wall with a neutral white color tone. Black can be brushed on the backdrop to create a statement to the design. To make this bedroom look stylish, we can stick a glossy geometrical wall printed.
So, we can makeover the dusty and empty feeling in our loft to be an outstanding bedroom style. Only require a two-tone accent paint, this bedroom looking so stand out! Would you love to have this affordable idea loft bedroom idea?
Boho attic bedroom style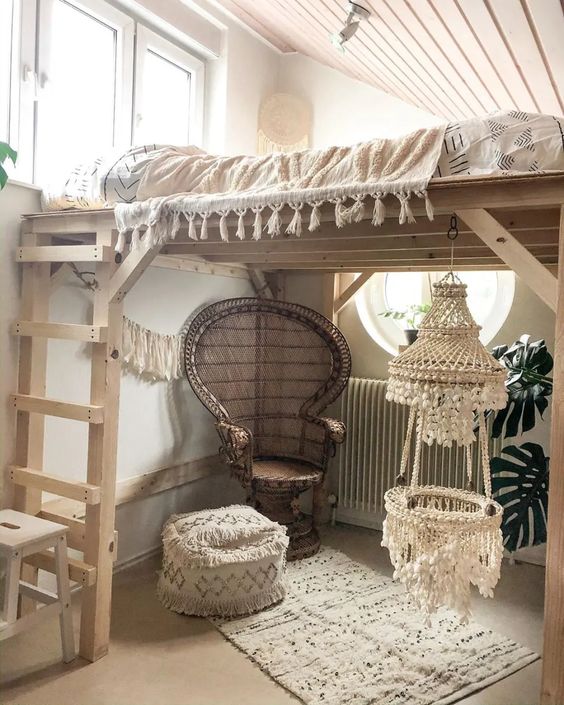 Home designer, repel the humdrum attic space into an exotic boho bedroom style! First of all, we can paint the wall with neutral colors such as beige. Furthermore, we can play a lot with the decoration. Boho room style loves to add texture to the decoration. We can see it on the string, blanket, and braided hanging accessories. The second rule is to add natural decorations such as green plants inside the room. We have the freedom to add decoration in boho style. Do you love to present a fun look for the attic bedroom style?
Library loft bedroom style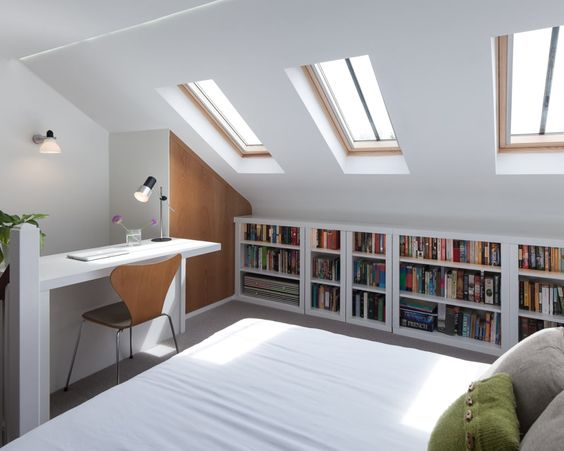 When you consider yourself is a bool lover, you must need a silent place to enjoy reading books, right? We have an idea to change a dusty loft that turns into a cozy reading nook and the perfect time to rest!
What kind of decoration supports the coziness of loft reading nook style? Installing a few ceiling windows to allow natural lighting comes inside the room. Then, paint the wall with a neutral color. Those two points successfully create a cozy ambiance. The spacious and bright bedroom feature is what we need to feel comfortable reading a book. Reading a book in the cozy attic bedroom is super comfortable!
Natural loft bedroom design is so refreshing!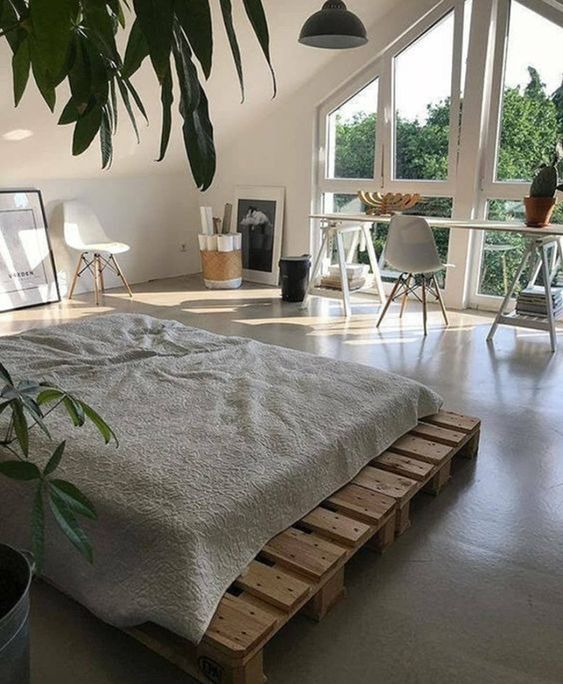 The next amazing loft bedroom design is featuring greeneries to create a soothing environment! Installing a large window that offers a beautiful green lush view. If we have a spacious loft, we can create a workspace in the bedroom too! Facing the working table to the window that offers relaxing green lush scenery, we guarantee that will relieve the stress! Do not forget to include some greeneries to improve a soothing bedroom decoration. Find a peaceful environment in the loft bedroom!
Lovely attic bedroom decoration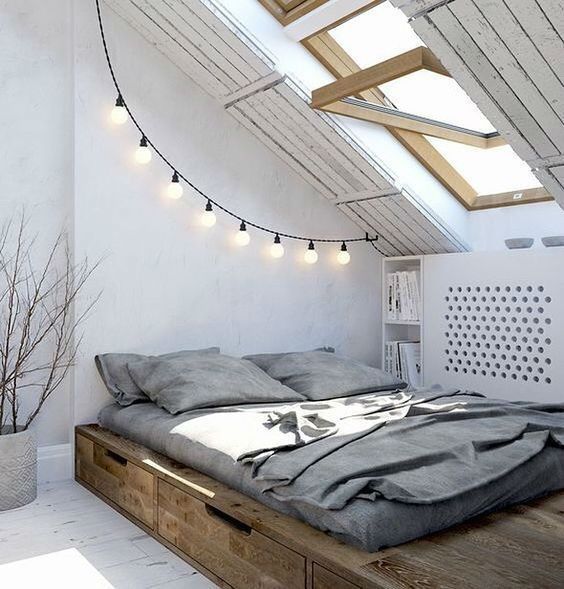 Another way to turn the empty attic space into a lovely bedroom! Starting to paint the bedroom with a neutral color tone such as gray. Then, provide a good air-flow circulation by installing a ceiling window. Open the window and enjoy the fresh air in the morning! When the night comes, we can enjoy a spectacular starry night. It's such a dreamy place to rest!
Nordic bedroom style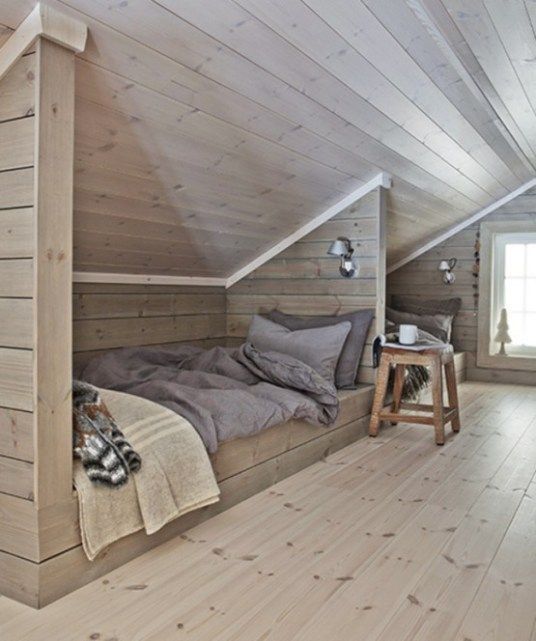 Nordic is one of Scanivaian root style, the design emphasizes the clean line decoration. In addition to versatile and inviting ambiance. We think these quite simple elements suit to create attic bedroom. We can go with all wooden accent decoration, from flooring to ceiling wood accent material has been installed. The nordic style tends to choose lightwood features such as oak. The wood has been qualify with very fine finishes. As a result, it looks clean and creates a warm ambiance. We only need to stick a lamp on the wooden flooring at night. Then install a window in the right direction. So, we will get natural lighting in the morning!
Conclusion
In this writing, we share already share with you 8 dreamy attic bedroom ideas. We hope this helps you to make use of the empty dusty attic space at your home to be a comfortable place. Especially when you need extra space, it could be a good solution! If you have a plan to create an attic bedroom, just start the project immediately. Then, remember the basic rule we have shared with you above. Making sure that the bedroom at least has 7 feet width and height. That is a minimum space to create a comfortable and safe attic bedroom design. Let us know, which attic bedroom style turns to be your favorite?