Jordlinghome.com – The most visible part of our home is definitely the front yard. So, it's important to decorate the front yard to elevate the curb appeal of our home! No matter the small yard we have, there are still many ways to landscape and decorate our front yard. Whether to display raised bed, decorated pots, and so on.
Regardless type of gardening you like whether it's classic, modern, or the blend of both styles. The beautiful gardens show the combination of creative decoration and lush blooming plants. Before taking too much time, let's dig into 10 front yard decor ideas to improve the curb appeal of your home!
Small flower bed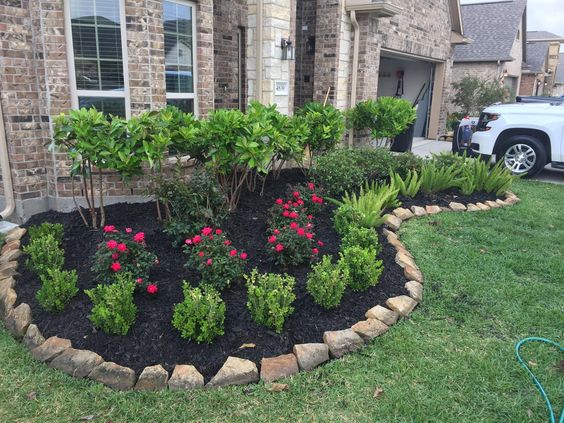 When you have the green beautiful lawn in your front yard. It's easy to create a highlight in our landscaping. We can create a small flower bed that displays colorful blooming plants. Even though it takes took a little bit of space in our garden. But, it successfully creates an intriguing sight to the eye. The key to making this small bed is shown perfectly. We have to choose the best site that looks good from every angle.
The advantage of having a small raise bed means less care maintenance. So, we don't need to spend a lot of time take care of it. Another point we want to share with you, choosing the vivid colors of plants that contrast to the green lawn we have. So, it's easy to spot and enhance the beauty of our property from outside of the road!
Window boxes full of blooming plants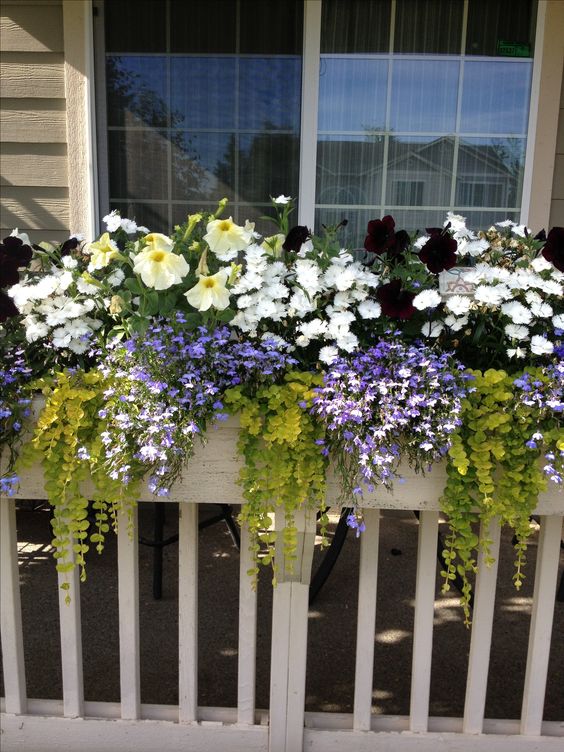 When you have not enough front yard space for gardening. There we still have a chance to beautify our home on the front side! Well, we can install window boxes. It's typically a planter that tucks into the window and usually made from concrete or wooden materials.
After we install a window box, now we are ready for gardening beautiful plants in it! Fill up the planter with native soil or potting mix. In the next step, we can directly plant the flower on it. We can plant some perennials on it. Because they are well known for their easy to take care of and comes bright thrive flowers. When they bloom next to the window, there we will enjoy the beauty of our home externally!
Display water feature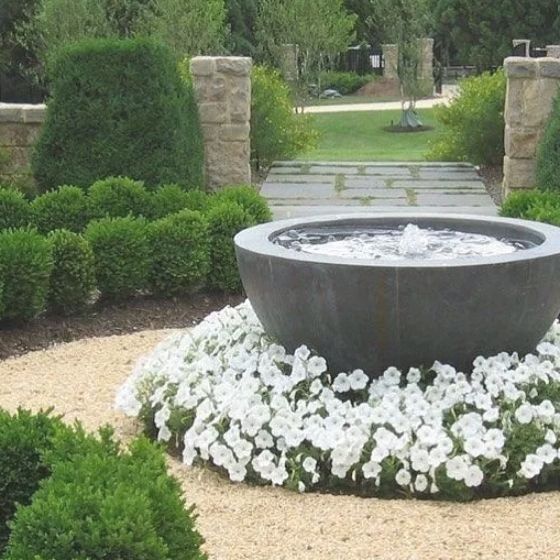 Another way to improve the curb appeal of our home by displaying water features in the garden! Water is so essential for our life, and so garden do! To make the flowers thrive they need to drink some water. In addition, the display water feature in front of our garden can symbolize the thrives garden. Thinking about the birds that perch on the small fountain to drink. Hearing the birds are singing, that's a sound of happiness garden!
Alright, there are many ways to create water features for a welcoming garden view. For instance, creating a pond or small water fountain. In the picture above, the bowl water fountain made from concrete cement. In addition, to beautify the look, we can plant some flowers around the water feature. Display this water feature in the middle of the front yard garden. Obviously, it will enhance the beauty of our garden and the curb appeal has been improved!
Garden path decorated with flowers and plants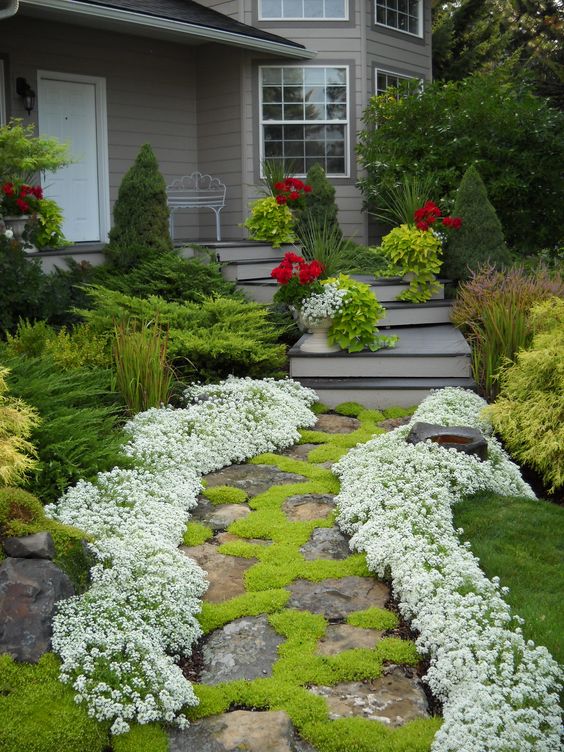 Creating a garden path in our front yard also can extend the beauty of our garden! There are many affordable garden path ideas we can apply. For instance, using pieces of rocks and combine with green grass such as in the picture above! To give a statement to the garden path, some plants can be planted straight the pathway. This walkway will make everyone who steps on it feel special. Beautiful flowers welcome us and lead our step to the entrance of a home!
Rock garden landscaping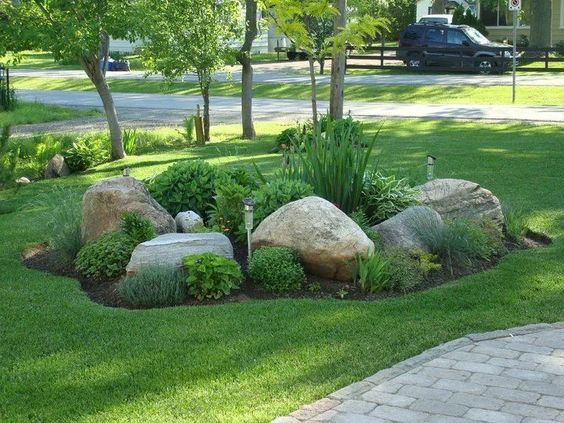 Another affordable front yard landscaping is using rocks! This will make a big statement to our property. In addition, the advantage of using rocks as landscaping is they are less maintenance. Combining the rock landscaping with some shrubs. For a busy homeowner, this rock garden landscaping could be your option! Besides that, rocks are solid materials that could withstand any weather outside of the door! To maintain this rock landscaping, we can clean the rock by scrubbing it with a brush once a week. It will remove the moss on the rocks.
Shrubs for hedges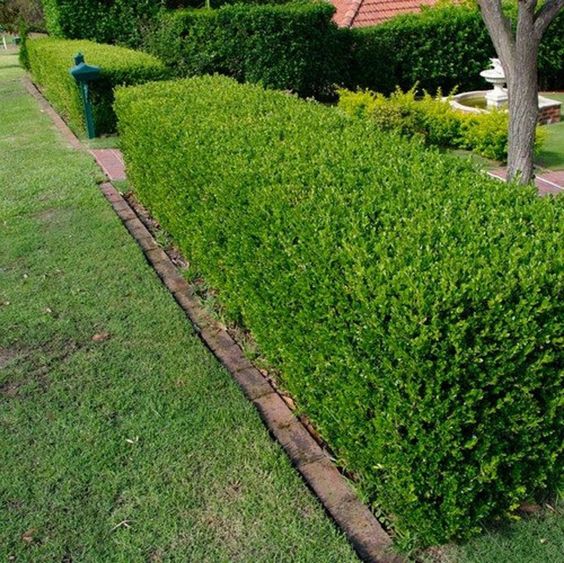 The next front yard decor ideas to improve the curb appeal of our home. It's using shrubs for green hedges. Growing shrubs on the outermost of our front yard garden. It does not only give the aesthetic to our home but also gives privacy to our property. We only need to water them intensely at the first growth.
They need a lot of nutrients to grow faster, so we can give compost around them and watering them a lot especially in the drought season. When it reaches 3 feet tall, it's less maintenance, but still, we have to water them regularly at least twice a week. Making sure to cut the shrubs to keep them look neat and tidy. As a result, our home will look more beautiful and relaxing by these shrub's hedges!
Welcome the walkway with tulips!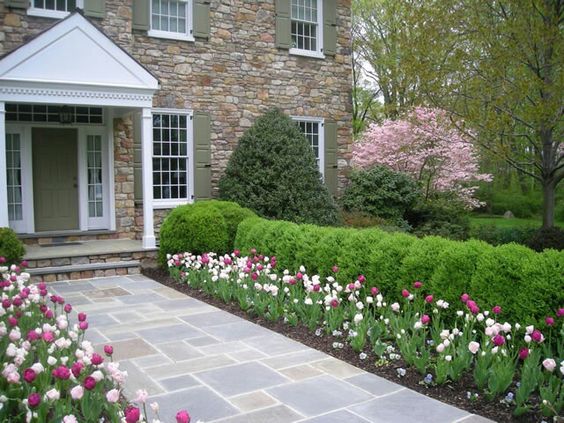 Tulips are miraculous flowers, they have been loved for many centuries. It's been known for the perfect love sign. They come in spectacular bright colors, they are just perfect to decorate our front yard! Let's grow tulips straight beside the walkways. They will bloom perfectly in spring. Imagining walking in the middle of blooming tulips, that will makes fall in love with the ambiance outside! They will welcome and cheer everyone with love before entering a home. So, using tulips for front yard decoration is an excellent idea!
Installing subtle light for appealing night front yard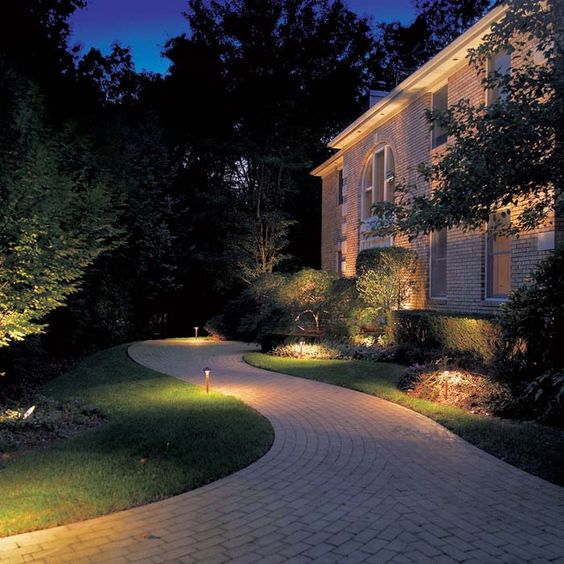 Creating a splendor property look by displaying subtle light for a balmy night! Decorate our garden look is not only look good when the sun above us. When the sun goes down, our home is shine with its beauty showing subtle shine. It's so easy to create this project. We can adjust some garden lamps on the wall, and around the garden path including the plants in between. The subtle look made from garden lights will enhance the beauty of our property. The lights installation brings a cozy and warm environment on a cold night. It's such an appealing front yard garden idea!
Barrel planter idea!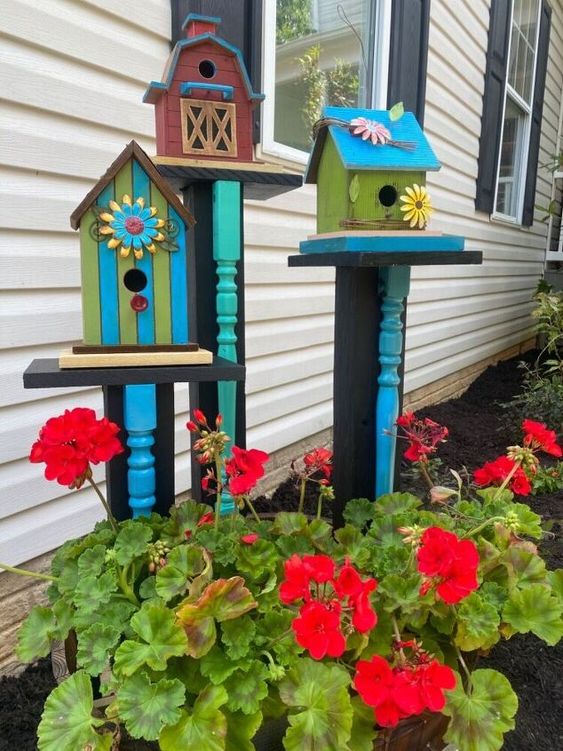 As we alluded to earlier, there are many ways to achieve beautiful garden landscaping. At this time, we show you how beautiful barrel planter idea to beautify the garden look. We can recycle the unused items in our home and crafted them to be valuable goods! For instance, we are reusing the barrel for a planter box, where we can grom flower on it. The old item creates a unique classic look. Well, let's get started to plant the flower in the unused item! We can grow any flower we like such as rose, orchid and so on. To improve the look of this planter, we can tuck a bird's cage on it!
Gorgeous garden arch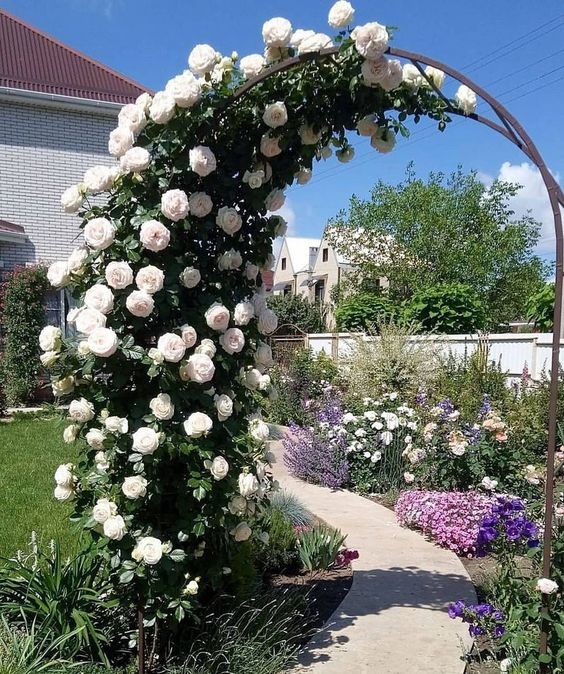 Creating a beautiful accent before we enter a home with beautiful blooming flowers! We can install a garden arch for the entrance, and then growing a flower or plant under it. The plants will crawl to the arch, as a result, the garden arch full of beautiful flowers. Home gardener, we can grow white rose for the entrance, they are absolutely beautiful and can bring an elegant look to our home! Would you love to have a garden arch for the entrance of your home?
Conclusion
Those are 10 front yard decor ideas to improve the curb appeal of your home! Honestly, there are many ways still to decor a beautiful front yard. But we hope you enjoy those ideas and soon can be applied to your garden.
Improving our front yard garden not only elevates the curb appeal to our property. But it also give us happy to see the beautiful garden. There are a lot of garden decorating ideas we can apply base on our budget. For instance, we can use unused items such as barrels to be a planter, using inexpensive plants such as perennials and shrubs for decoration. Or even using rock and plants for less care garden maintenance. We hope you can find the best decoration that suits you the most. Let's be positive and start gardening immediately!