Jordlinghome.com – We've got excited every time we talk about Scandinavian home design. Because this home-style features creative and sustainable home design. For the externally look Scandinavian style look so solid and blend with the nature surrounding. That is an outstanding home design!
Sustainable homes are integrated with natural materials. In Scandinavian architecture, it's been known tend to choose natural materials to construct their homes. For instance, natural black stone, dark wood, and so on.
There are a few benefits by using local natural materials to construct our home:
Less energy production. The abundance of local materials will reduce the production cost to build a home. Local materials also will fit with the natural surrounding. As a result, we'll achieve that sustainable home that withstands the weather surround.
The home feature will more enchanting. The various color of natural materials give a big impact on our property. It's not color only that matter of using natural materials. But also they have different smells and textures that will improve kid's learning process. So, let's grow our children close to nature. Building a home that displays natural materials will improve our sensory touch, smell, and sight.
After we discuss the benefits of natural materials to construct our home. Now, we will guide you to have a look at some gorgeous Scandinavian exterior home designs! Providing various natural materials that will make our property look enchanting!
Scandinavian home with natural slate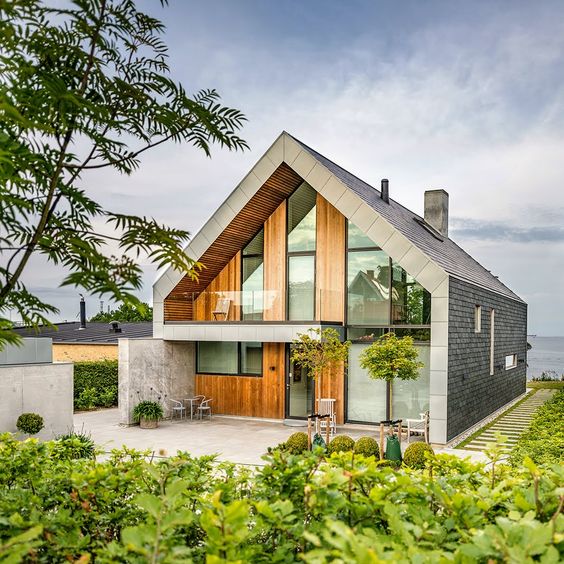 The Scandinavian home style uses the minimalist core to design their home both externally and internally. Integration of natural materials is another core to create a sustainable home. In the picture above, there is an awesome Scandinavian home that constructs with a natural slate.
There are a few benefits of applying natural slate to construct an external building:
The natural slate has the ability to defend against fire and mold. As we all know that Scandinavian countries including Finland, Norway, Sweden, and Denmark which have extremely cold weather. So, they find out sustainable materials that can withstand the cold weather and soggy weather.
The solid textures of natural slate make this stone can withstand the extremely cold Scandinavian country's weather.
The Scandinavian home design accentuates the sustainable feature to prevent extreme weather. Their home looks to blend naturally with the natural environment surrounding them. Then inside the building, it looks stands out with a warm ambiance. Do you fall in love with Scandinavian home design?
Gorgeous black house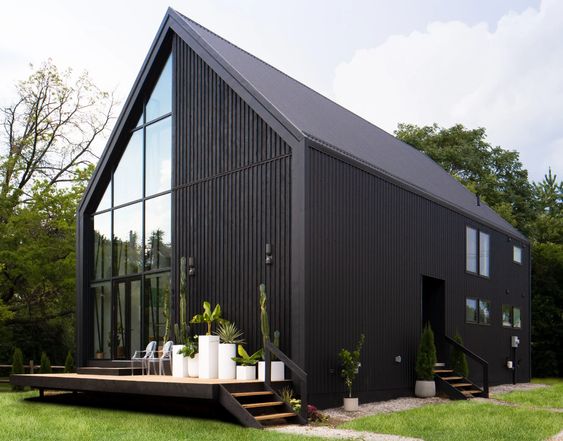 What is the first impression that comes to your mind seeing this property? Looking so gorgeous and exotic? Well, that's all right. The black house is clearly creating an impact on the natural surrounding!
Home designer, besides its appealing exterior look we have to know the sustainability this home has offered. The full-height glass window creates comfort in the living space. It allows natural lighting to shine through the room.
The black-painted exterior house will absorb the sun's rays. In contrast, the white color tone will reflect the sun's rays. Applying a black color tone for the Scandinavian exterior will absorb the sun's rays. As a result, inside the building, the temperature will rise and we feel warm being inside.
Gorgeous cuppa stone accent wall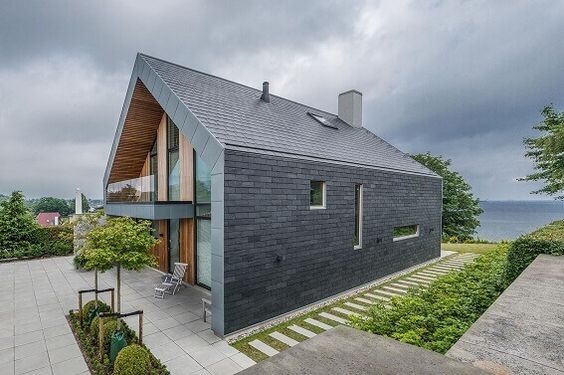 Another outstanding Scandinavian interior that integrated with natural materials is using cupa stone or well known as the stone panel. It's been chosen for its durability to construct an exterior of the property. This type of home just perfect to be installed in any climate that exists.
Scandinavian home exterior with lightwood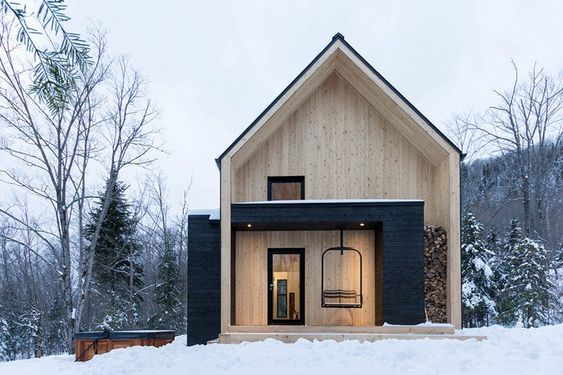 With an abundant local source of lightwood, they can be worn to construct homes. We can choose beech, ash, and pine wood to construct a Scandinavian home style. The subtle look made from lightwood looks in harmony with the natural surroundings. Wood has a natural heating system. So, when the weather outside is snowy, do not be afraid of being cold inside. Because wood installation can warm the interior.
Brick feature wall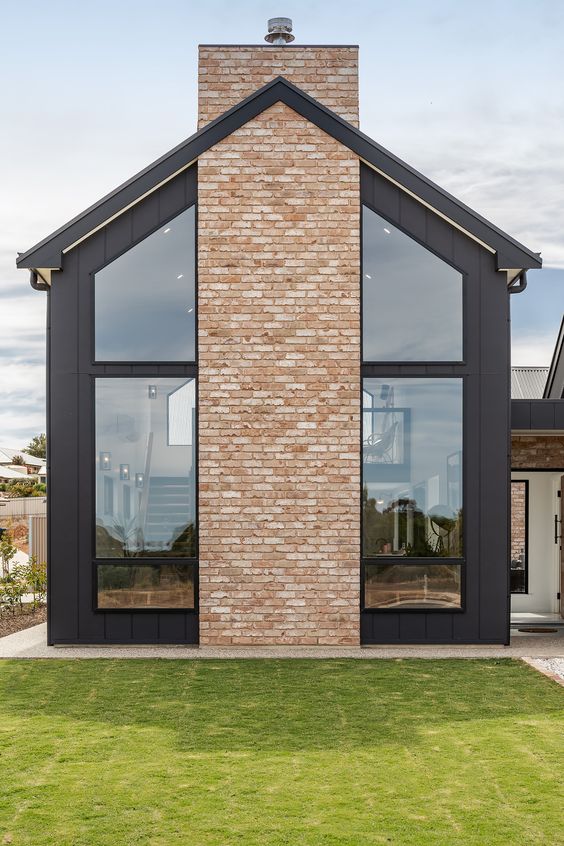 Another natural material we can choose to create a Scandinavian home style is brick. Its applications are well known to cool down the temperature in summer. Furthermore, it can get warm in cold weather. What a sustainable natural material to build a house!
This Scandinavian house looks outstanding with a full-height window. This will absorb the natural lighting to the interior. The brick feature wall gives a quirky exterior look. As we can see the Scandinavian exterior have a minimalist core in the design. The simple line decoration and put the functional design first above all!
Outstanding timber and cladding feature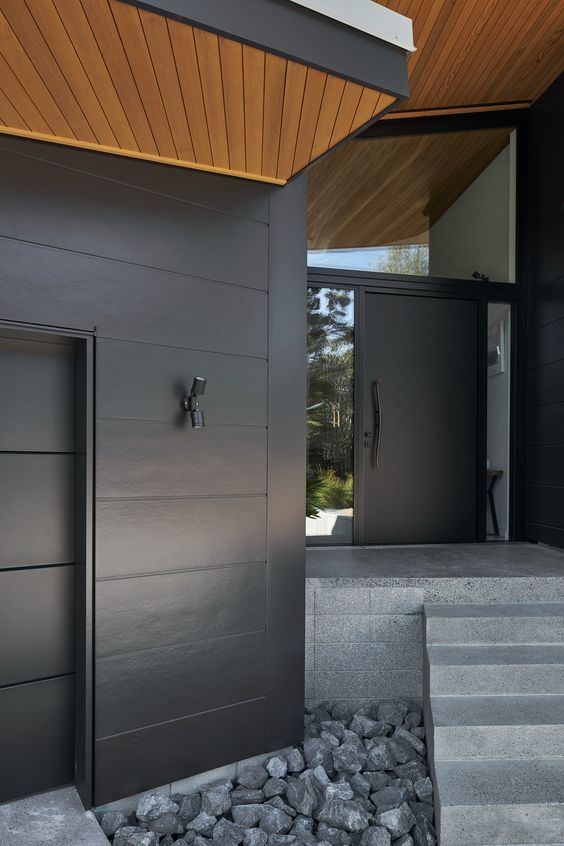 Other common natural materials used in the Scandinavian exterior are cladding and timber paneling. Those two combinations are, durable and give an aesthetic to the exterior. A very fine wood finishes make this home look so sleek and clean. So, make sure to hold the minimalist concept to create a clean line and versatile Scandinavian home design.
Limestone and timber paneling accents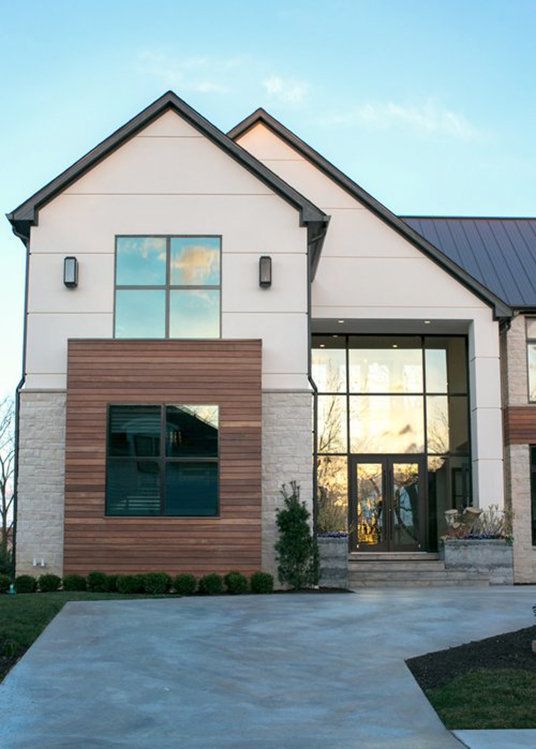 Combining two natural material accents for a distinctive modern home design. This Scandinavian home using limestone and timber panel to give a quirky look. The benefit of limestone paving is so durable and that's perfect to decorate the exterior home look. Then, timber cladding will elevate the curb appeal to our property. In addition, timber cladding is good to reduce noise and heat insulation. So, there is no doubt to combine natural materials to improve the curb appeal of our property!
Conclusion
In this writing, we already share with you the impact of natural materials installation on Scandinavian homes. With abundant natural local sources, usually Scandinavian homes using durable materials. So, it can withstand extreme weather outside.
Natural materials such as teak, pine, timber, limestone, cuppa stone are commonly used to construct Scandinavian style. Besides that, using lots of abundant local materials will cost-effectively build a home. In addition, using local source materials will make our home eco-friendly surround the living area, and can withstand with climates around.
We hope you enjoy our consideration before designing a home in Scandinavian style. We want to highlight that the integration of natural materials is a focal point in creating the Scandinavian exterior home design!