Jordlinghome.com – A men's cave bedroom usually represents his beyond personality. It has various styles to express the room owner's character. The common theme in men's room decoration is musical studio type or travel theme ambiance that shows his adventurous character. Besides that, we found that the men's cage has a super sleek and sexy array of the design.
The word "sexy" has been attached to the men's room, regardless of that statement. The furniture selection takes part a lot to give such an impression. For instance, leather furniture is settled to give the sexy and stylish masculine interior design! If you're going to decorate your own aesthetic room with a masculine design. We have to consider choosing the proper furniture to make the dream men's cage bedroom come true! Here we will help you all out to give some masculine bedroom furniture ideas to be settled in your manly room!
Bartow round mirror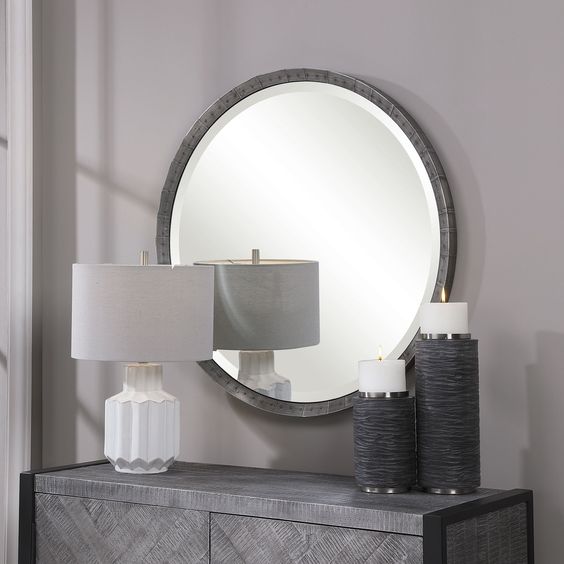 The industrial design that shows the raw construction style is in great demand to create a masculine room kind of design. The material such as silver, concrete, or brick wall can feature a unique manly room style.
To decorate a sleek masculine visualization, we can add the Bartow round mirror on the wall. This mirror is wrapped with a silver accent, which is so important to show industrial design. In addition, the gray night table can be added, and some quirky manly decor. The dark accent in the men's bedroom style creates a comfortable, sexy, and a stunning sleek array of decorations.
Pagoda night table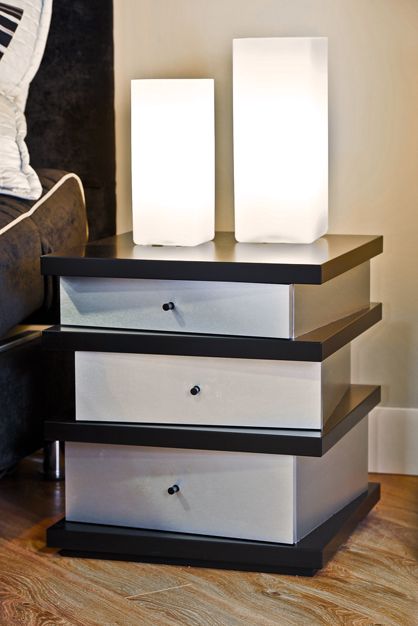 The men's room also embraces the modern and sophisticated design to be applied in their interior style. This pagoda night table can be your option to give an impactful modern decoration to your room. The distinguished night table that has a stacked design will give the modern look to the interior design. In addition, we can put modern LED table night to extend the sophisticated view in your men's room.
Faux leather chair
As we alluded to earlier, the leather accent furniture can bring a sleek and sexy masculine bedroom design. To give a bold manly room decoration, we can add a faux leather chair inside. The sleek texture and gentle camel color tone give sexy decor to the interior. Setting up this chair in the corner can be a perfect and comfortable reading nook option. In addition, the Scandinavian table lamp can be added to give you good lighting while reading a book at night! This is a great way to decorate the corner side of your room! In the morning time, the natural light comes through the window to create a warm ambiance to have a breakfast meal!
Vintage trunk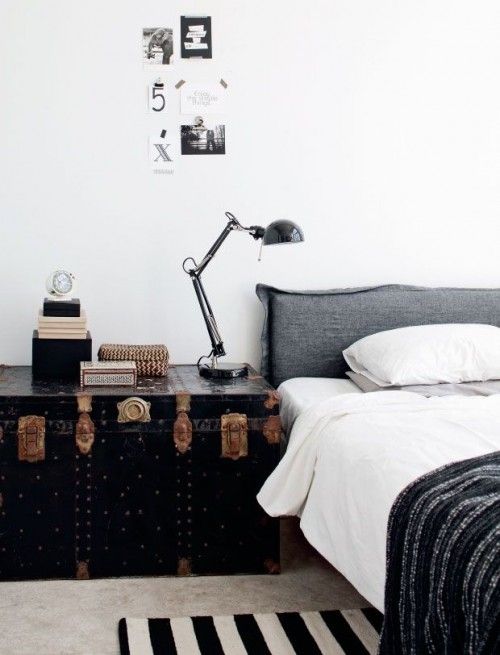 The rustic look furniture also can join the men's room appeal. Distressed furniture such as vintage trunks can be added to the beauty of your room decor. It's been known that the men's room really embraces modern decoration to create a sleek room ambiance. That's absolutely true, but adding the rustic furniture accent to the modern interior will double up the charm of the room itself. Just like this bedroom that has a clean line decoration, bold in impactful masculine mood board palette furniture that shows manly decoration. But there is a focal point that leads our mind to focus on it, it's all about the stylish vintage trunk beside the bed. It gives a quirky accent and trendy men's room style. So, don't hesitate to bring the rustic furniture touch in a modern line decoration. They are absolutely stunning!
Simple and stylish TV stand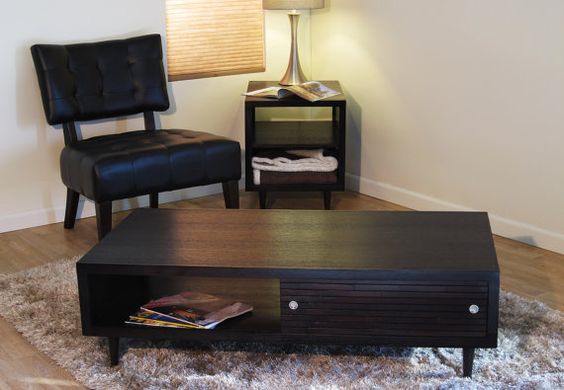 When it comes to men's bedroom decoration, we will find out a lot of electronic sets in their room. Yeah, they love watching, football, playing a game with their friends, or even just display the old radio to decorate their room. If you are a bachelor pad who lives alone in your own dorm. You can decorate a small space with something simple but eye-catching. For such stylish black barn wood tv stands, they are extremely lightweight but look so stylish. Set them on anywhere you want to, for instance in the corner of your room. Creating a warm ambiance by setting up this tv stand on the fluffy rug. There you can have fun watching tv or any kind of movie with your best buddies!
Stacked metal table lamp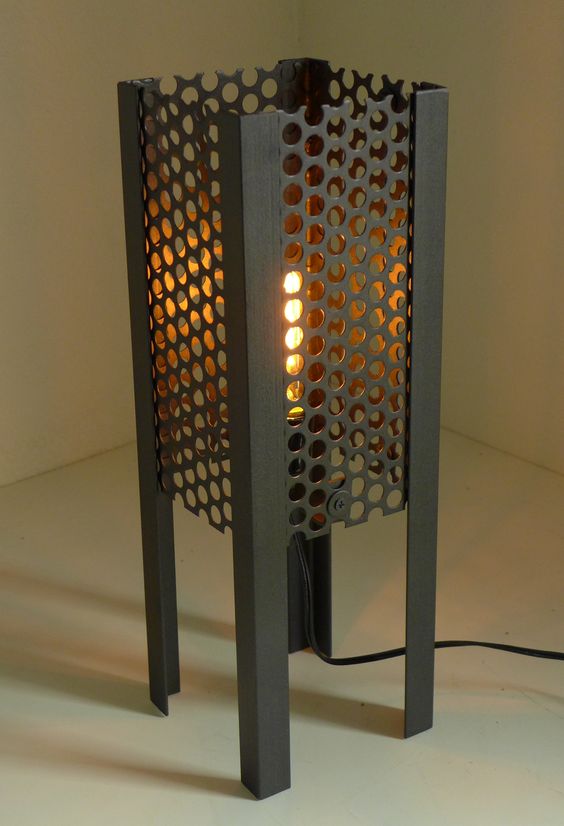 The manly room kind of type really embraces both stunning industrial design and decoration. You will never go wrong to add some of the industrial furniture recommendations to highlight the men's cage bedroom kind of type! Well, the stylish industrial metal table lamp will successfully give an impactful masculine decor. When the sun goes down, the dark color tone men's room needs some comfortable lighting to liven up the warm ambiance inside. This metal cage table lamp will give comfort in the men's room. The dimmed lighting from this lamp creates a dramatic feel in the darkroom style. In this time, we will be achieved the sexy feel in the men's room style!
Leather lounge chair
If you are confused on how to choose the proper furniture to be added to your men's bedroom theme. Here we give you some of the best masculine bedroom furniture ideas that will enhance the sleek and sexy men's room design! The most important thing you have to know before dig into the men's bedroom decoration is that you have to grab hight quality furniture. For such this black lounger chair that set next to the window.
The black chatters lounge chair upholstered in very high-quality leather. As a result, this chair gives a sophisticated view and provides comfortable seating. The crossed metal leg gives the industrial touch that will enhance the men's kind of room style. Set this comfortable chair nearly close to the window that offers a beautiful view, it's such a relief!
Conclusion
The masculine bedroom commonly has a dark array decoration. Adding the dimmed lighting to the interior creates a dramatic feel inside. This truly gives a magic impression which transforms into a sleek and sexy statement. Anyway, creating a sexy masculine bedroom is not that easy, we have to choose the right mood wall palette and the furniture selection to achieve the dream sexy room style!
Creating a sleek and sexy men's room appeal can be achieved by choosing the proper furniture for the interior. In this writing, we already give you some masculine furniture bedroom recommendations. Displaying leather, metal, and distressed furniture will successfully create a dramatic sexy feel to the interior. We hope you enjoy our tips on choosing masculine bedroom furniture ideas to decorate a manly room style. If you have the idea to decorate your bedroom with this style, these tips can be applied to achieve your dream men's cage bedroom. Let's begin the outstanding project immediately!