Jordlinghome.com – Differ from girl's bedroom essentials, guys do prefer the dark palette in their bedroom. That is the unique thing we can clearly see from both. Well, man has a reason to choose an earthy color palette to be settled in his room. The earthy color tone gives an impactful statement beyond their powerful character, and it can be able to transform their calm personalities. Moreover, the dark color palette in the masculine bedroom design is quite appealing! When the sun goes down, the curtain is being closed, and the dimmed lighting shines through the interior. That the exactly time we get the comfortable men's bedroom style!
When you have a plan to decorate your bedroom with masculine vibe decor, you have to know very well some considerations to keep your dream men's room on! Well, we have to choose the right furniture to decorate a manly bedroom style. In addition, we have to own impactful masculine bedroom wall colors. So, what color palette really suits men's bedroom personalities? Let's find the answer down below, and dig in!
Go with a natural wood palette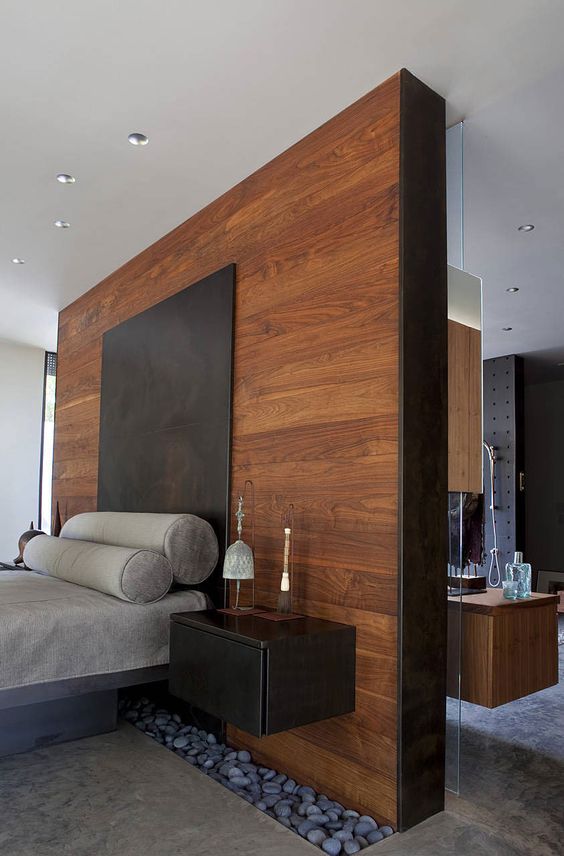 The men's bedroom also embraces the natural material to construct their bedroom visual appeal. We can never go wrong to choose wood to create a dramatic wall. Using the timber wood statement wall catch our attention it. To highlight the outstanding timber wall backdrop, we have to paint surround the wall with neutral white paint. The timber color palette creates a contrast to the white wall. In addition, these two wall color palettes harmonize very well and compliment each other to create a soothing bedroom ambiance! To give the quirky industrial men's bedroom style, we can install the metal accent on the timber wall. This men's bedroom design is quite appealing and still, looks friendly for women.
Big Statement in Black!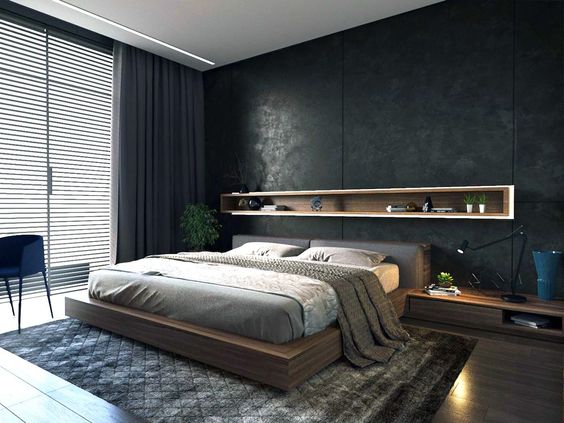 When it comes to the masculine mood board palette, we will never go wrong with a black color tone. This color will give an impactful ambiance to the men's room type. Setting the black wall as the backdrop that contrasts with the white ceiling. This monochrome color tone is given you an elegant masculine color tone. Then, decorate your men's bedroom with proper furniture that shows a sleek line. The hanging wooden cabinet tuck on the black backdrop creates a seamless feature, that gives a stylish interior impression. The dimmed lighting that comes from table lamps creates a comfortable warm ambiance inside! The black color tone successfully creates an impactful masculine bedroom wall color!
Navy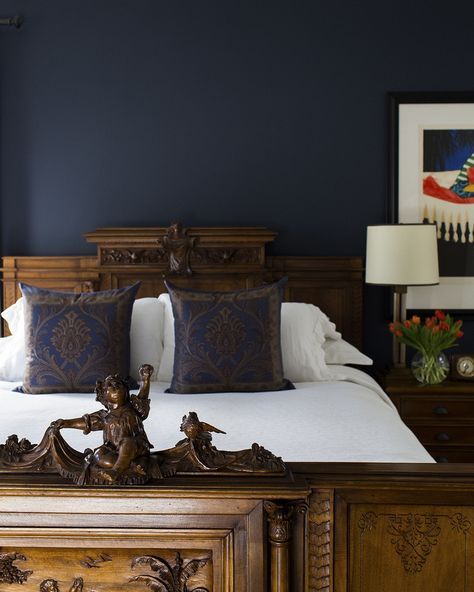 Another impactful masculine bedroom wall color falls to Navy. Same as black, this color tone has a deep tone charisma which is perfect to paint the men's bedroom style. Adding some sleek masculine bedroom furniture will enhance the sexiness side of this men's kind of type. A rustic table, leather chairs, and some distressed wooden furniture will go balance to this impactful decoration!
Olive green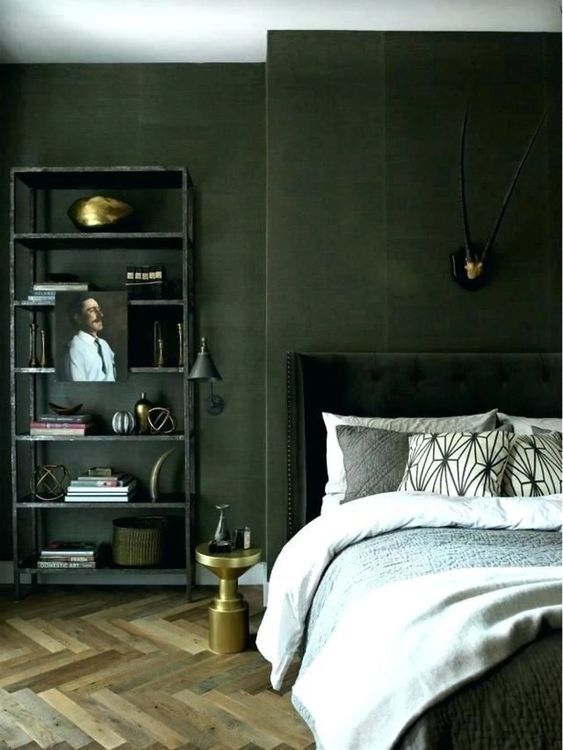 The masculine interior design is indeed bold with a dark color tone. We can paint the wall with an olive green color palette. It has a deep color saturation and contrast with the white ceiling. In this way, we achieve a dramatic feel with simple paint ideas.
Did you know? Choosing the perfect color paint for the wall can give an impactful men's bedroom design rather than plentiful in decoration. Olive green has been used for camouflage in the army military. In addition, it shows the strength and the character of the men's souls. So, don't hesitate to use olive green for the men's bedroom decoration.
Gray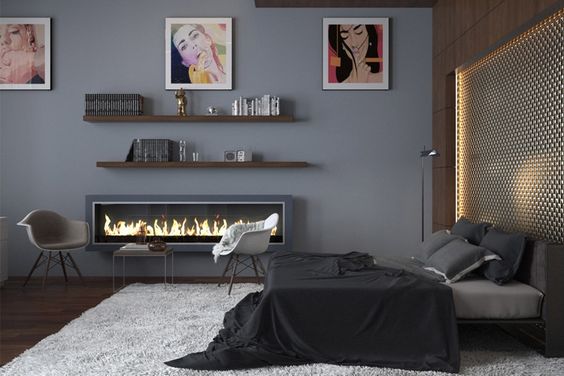 The neutral color such as gray also can be applied in masculine bedroom style. This paint color tone is calm and perfect to decorate comfortable and sleek men's bedroom. Creating a warm ambiance by installing timber paneling as the backdrop. And the stylish metal bedhead completed with LED lights creates an outstanding comfortable sleeping spot!
Creating a wow factor in this masculine bedroom by installing a sophisticated fireplace that tuck on the wall. When the temperature goes down, this fireplace is an alternative to warm up the living space. Moreover, this could be a cool space to spend our relaxed time for such reading a book or have a cup of coffee!
White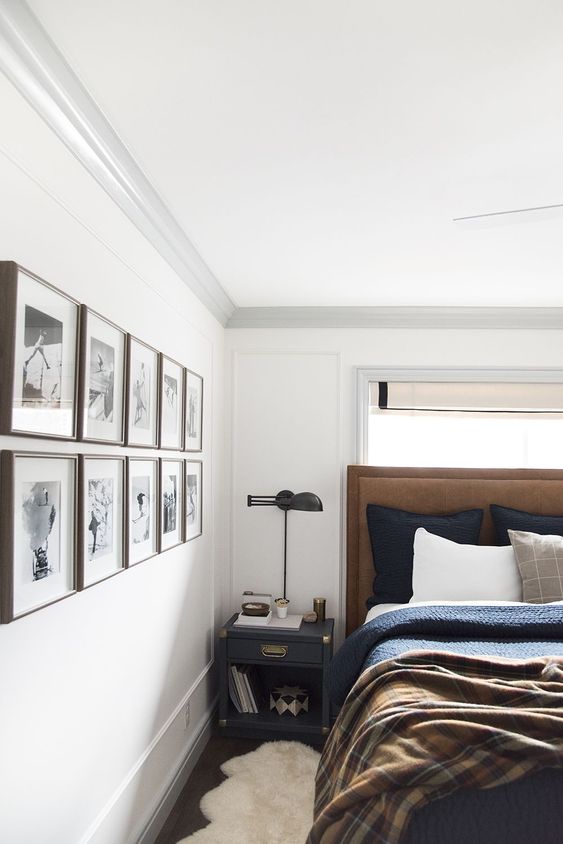 Although dark color tone commonly used in the masculine bedroom wall color ideas. But, there is nothing wrong to paint the manly wall idea with a neutral white palette. Remember that white is a timeless and elegant color that easy to decorate with any kind of decor. White does not belong to women or men, the timeless color palette perfect to style both manly or girly bedroom themes.
For the manly bedroom decor, we have to be generous in manly furniture and decorations. For such, sticking masculine wall art, so, will give the statement of manly decoration. For the furniture, a simple night table can be added and the modern table lamp will add the charm of simple line manly bedroom decor. The leather lounge chair can be joined into the decoration to give the bold accent manly decor!
Brown
We have come to the last manly bedroom wall color essential. The brown color tone gives the depth sense of masculinity room. Brown psychology color meaning associated with reliability and strength. These essentials really suit men's personality that is bold in strength and adventurous character. The dark brown also bring a calm ambiance to the interior. In addition, the dark wooden furniture and decoration give an impactful dramatic feel inside.
Conclusion
A men's bedroom is well known for its sleek and sexy look in a simple line decor. The dark color tone dominates the manly room kind of type. Because when the dark color tone room meets the proper lighting. That is the exact time the classy and sleek men's room design features dramatic effects.
In this writing, we have compiled 7 colors that could represent masculinity design. There are black, wood, gray, olive green, navy, brown, and white. Overall come up with the dark color tone excluding white, it is the neutral color tone that works properly with the men's room style. So, if you want to start the men's cave bedroom decoration project, make sure you have done well by choosing the proper color tone for the wall. Then, you can go on adding furniture and doing decoration projects! We hope this men's wall color essential helps you all out in designing a men's bedroom style!