jordlinghome.com – Pink is often avoided because it is considered too girly and quirky. In fact, a pink bedroom can look beautiful and feel very comfortable. This all depends on the shade of pink and also the interior design you choose. If you want to have the pink bedroom you've always wanted, then you are lucky to read this article. Because we have prepared 30 Pink Bedroom Ideas that Feel Comfortable and Not Quirky that can be your references. So, let's check it out!
1. Beautiful Sleek Pink Bedroom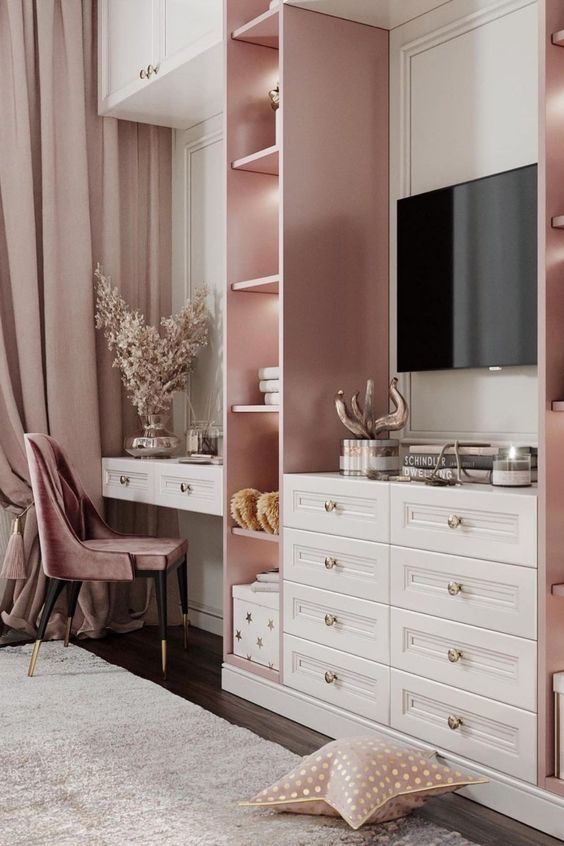 Not only dark colors, but pink can also look sleek. As in the picture above, the furniture in the pink section looks glossy and makes the pink bedroom look so beautiful and elegant.
The bedroom looks calmer because the pink color chosen is rose gold. So, suitable for those of you who want an interior that looks shady.
2. Elegant Bedroom with Blush Pink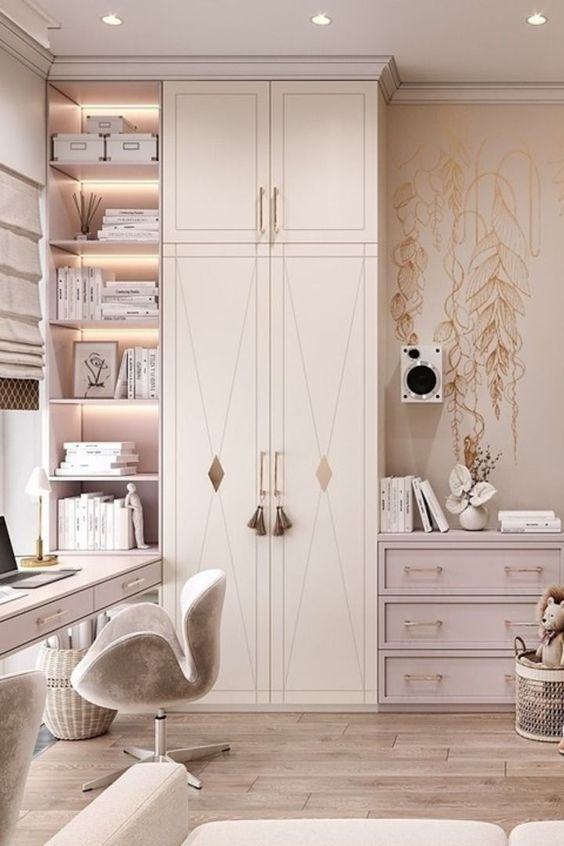 When you see this picture, the pink color which is actually quirky and tacky will disappear. The blush pink color chosen for the bedroom interior makes it look soft and elegant. Plus there is a slight touch of gold color and also LED lighting with yellow lighting on the buffet.
3. Kids Pink Bedroom Ideas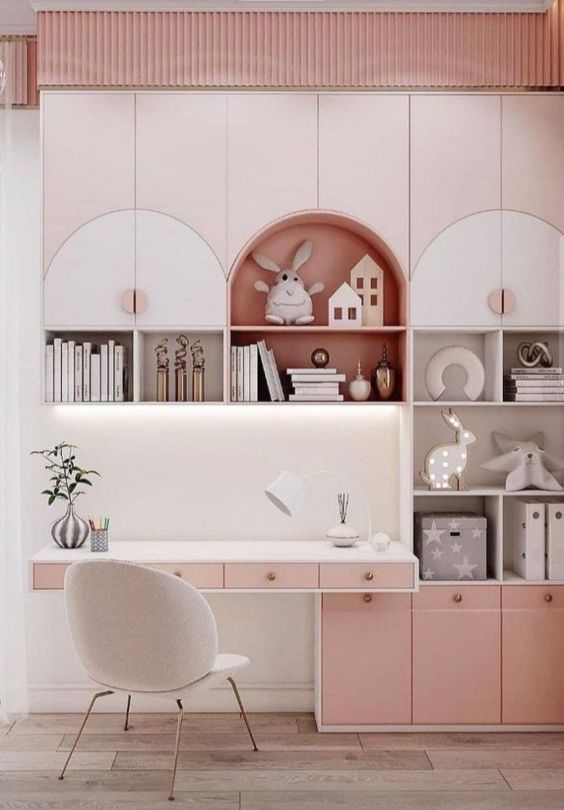 Pink is often a girl's favorite color. So, for you parents who want to make your daughter feel happy and comfortable in their bedroom, this is a beautiful pink bedroom you can choose from. You can add two shades of pink to the interior of the room. And then decorate the room with some cute dolls.
4. Pretty Pink Bed Decors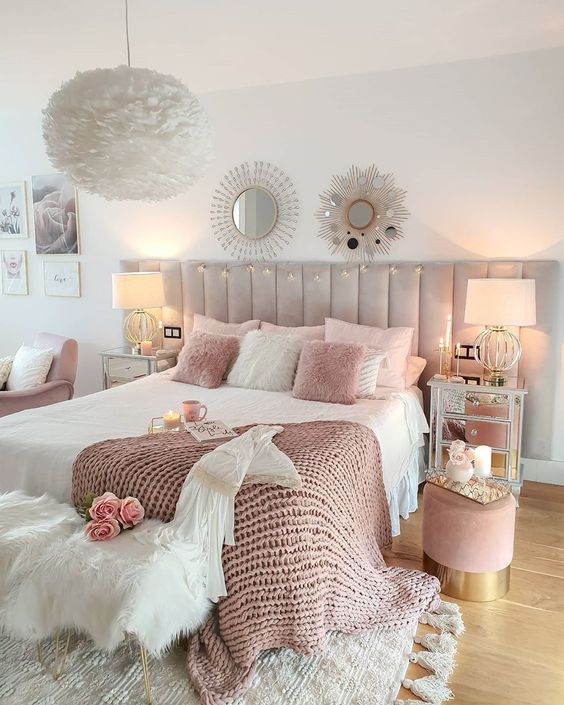 As the main item in the bedroom, the bed has a considerable effect on the appearance of the room. You can use this in creating a pink bedroom. Try choosing soft and beautiful pink bedding or blankets and pillow sheets.
5. Pink Bedroom in Bright Look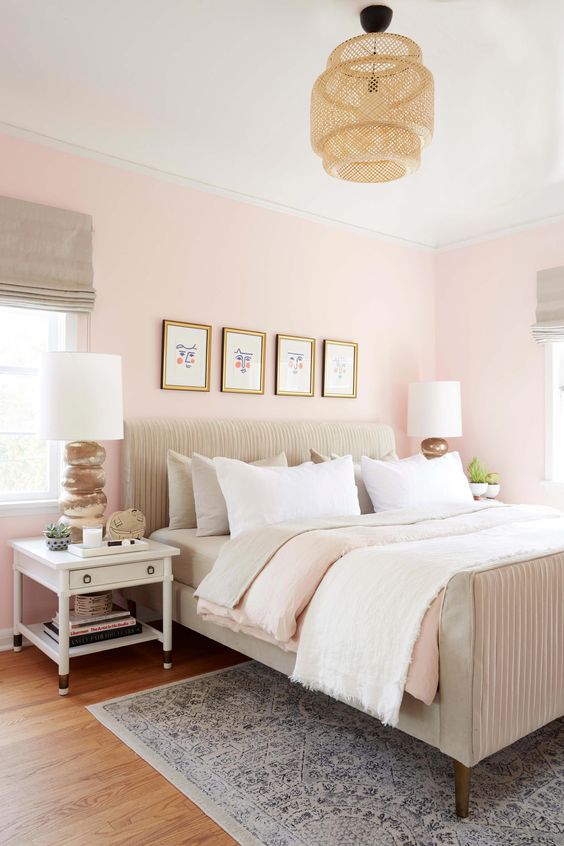 There are many shades of pink that you can choose for your bedroom. For those of you who want a pink bedroom with a bright appearance, you can choose the lightest shade to apply to the walls. This not only makes the bedroom bright but also looks soft and feminine.
6. Pink Bedroom That Looks Feminine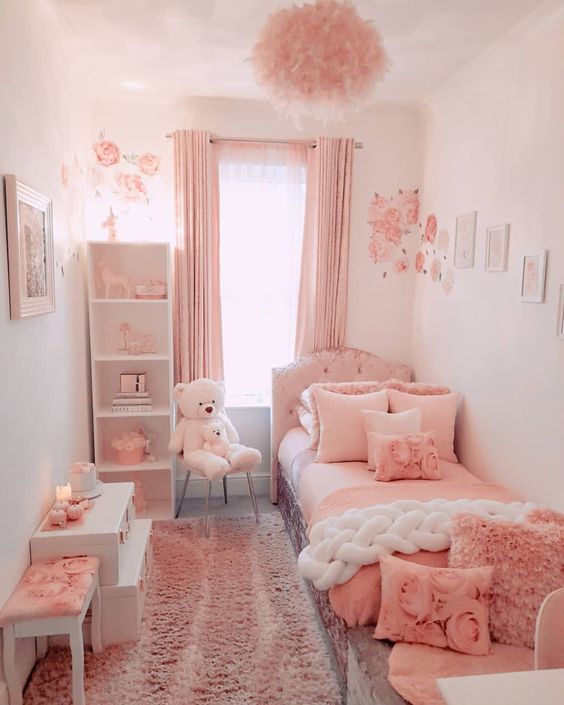 The color pink is indeed very synonymous with the word feminine. So, for those of you who want a bedroom with a girly interior, you can choose this one idea.
If we look at the picture above, the walls are still painted with white color to make the room feel not cramped. And then the bedroom is filled with charming pink decorations. The dolls and rose motifs make this room look so feminine and beautiful.
7. Elegant Pink Bedroom with Gray Touches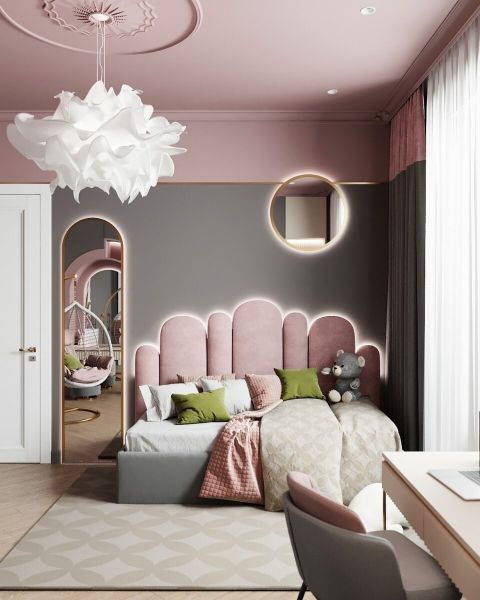 A pink bedroom can also look elegant. Here, you only need to add a touch of gray to some of the walls of the room and some of the furniture in the bedroom. Give LED light to the mirror and headboard to make it look prettier and stand out.
8. Teenage Pink Bedroom Ideas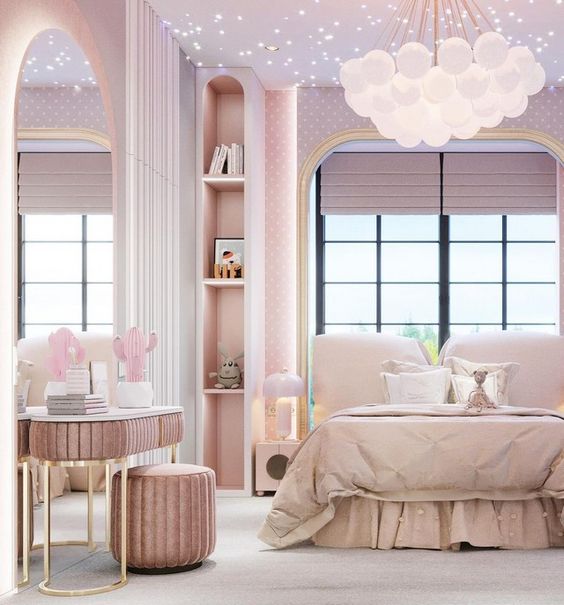 Not only kids, but teenage girls also like pink. Who would have thought, the pink color that seems eccentric can actually make the bedroom look so beautiful? As in the picture above, soft pink and rose gold makes the teenage bedroom look so pretty. A little touch of gold on the table legs gives a more elegant impression.
9. All Go Pink is Great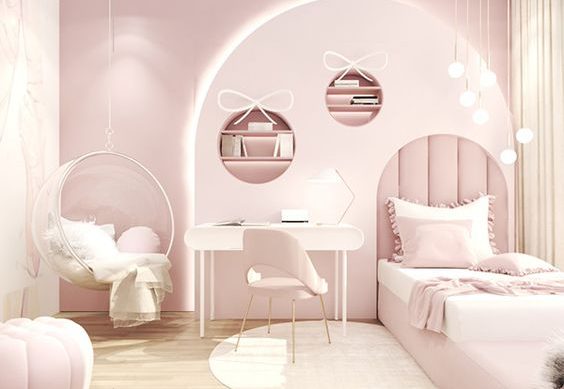 Applying pink to the entire bedroom is also an interesting idea. The pink blush color is so pretty to decorate the bedroom. And a little darker pink shade on the headboard and wall shelf makes the bedroom look smoother and not stiff.
10. Pink Bedroom with Hanging Chair in It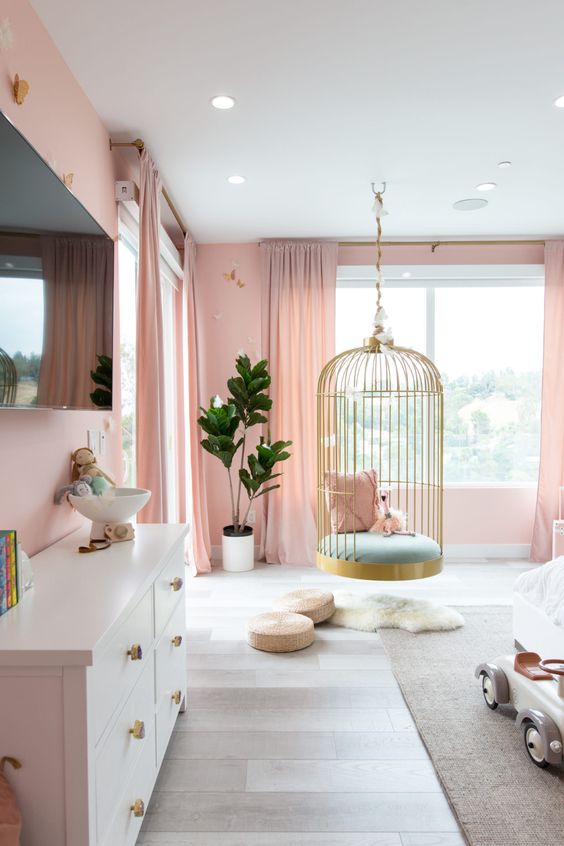 Hanging chairs are usually placed in an outdoor area. However, you can also use it in the bedroom. A gold-colored hanging chair will look beautiful for a pink bedroom. You can add the soft cushion and pillow there. With this, the hanging chair will be the coziest spot for you to spend your leisure time.
11. Pink Bedroom with Rose Wall Mural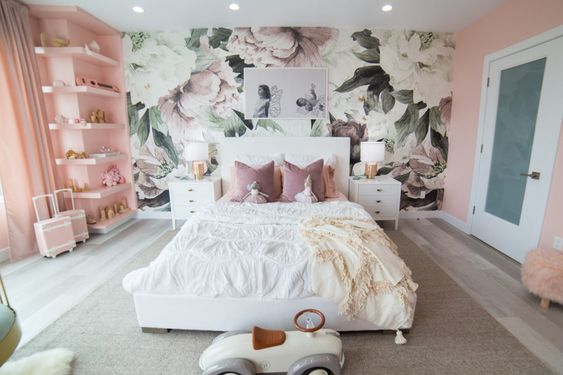 Want to give a more girly touch to a pink bedroom? If so, applying the wall mural on one side of the wall will look interesting. A rose wall mural will look so beautiful. The combination of green, pink, and white colors will make the pink bedroom look so durable.
12. Contemporary Girls Bedroom in Soft Tones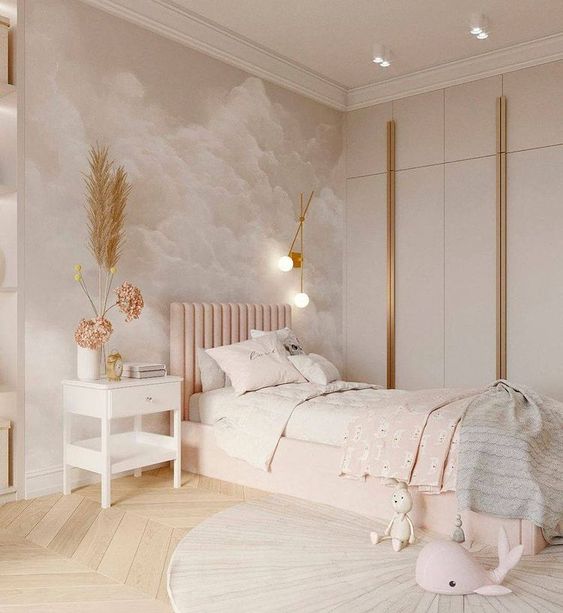 This one pink bedroom is far from being quirky and tacky. The choice of soft pink color makes the room feel so calm. The minimalist concept applied to this pink bedroom makes it look contemporary. You can also feel the elegant impression from the touch of gold on the walls. And what makes this room look cuter is the warm lighting applied to the walls.
13. Yellow Lighting Make It Warm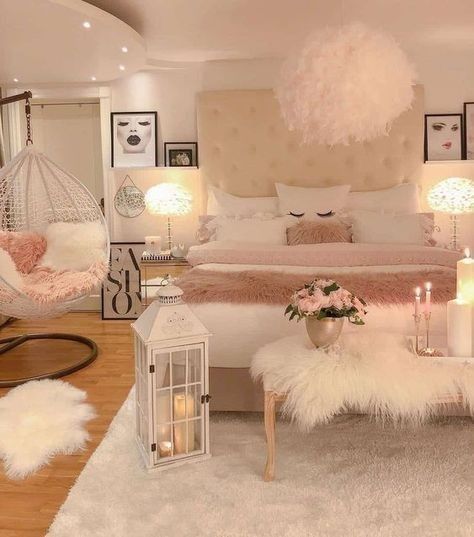 You can give a pink bedroom with a calm feel by presenting yellow lighting like the picture above. You can use additional lights such as table lamps. Or, you can also use some candles there.
A lantern filled with candles will be a decoration that can beautify your pink bedroom. And the use of aromatherapy candles can make the room feel very calming and comfortable.
14. Cozy Glam Bedroom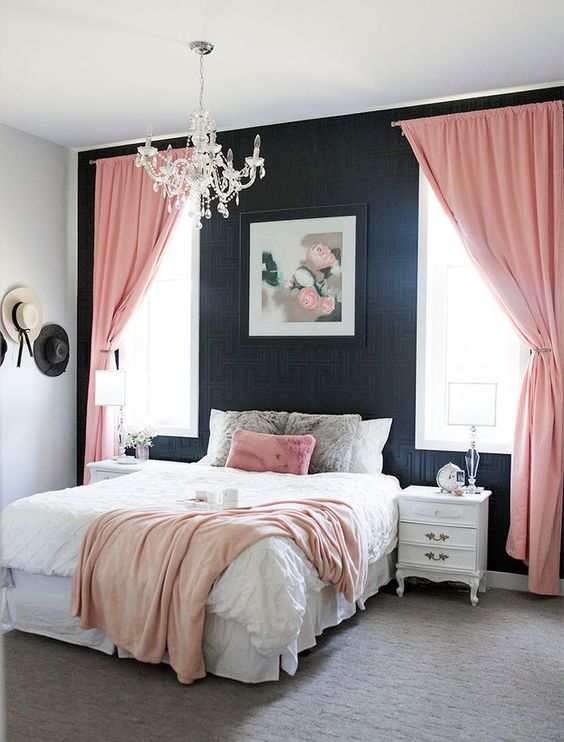 The pink bedroom can also look glam. With one side of the wall painted black, it gives a bit of a firm impression to the room. And white curtains are decorations that make the room look perfect.
15. Small Pink Bedroom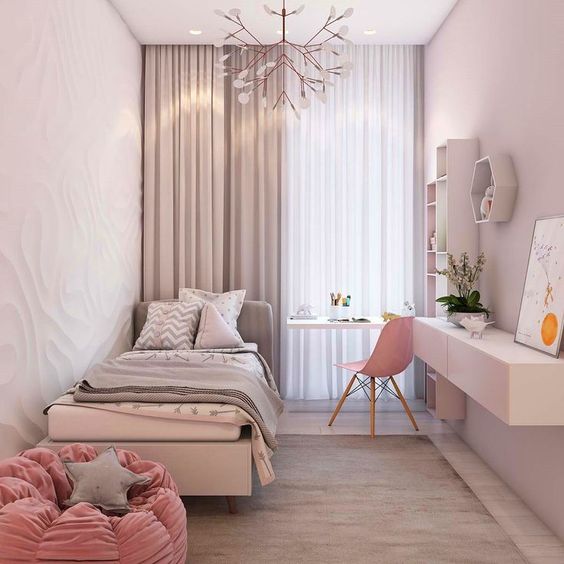 Pink can also make a small bedroom feel comfortable. Pink color with light shades will make the small bedroom look bright. With this, a small bedroom will be far from feeling cramped and stuffy. The pink color also makes the bedroom look softer. So that the atmosphere in the room will feel more calming.
16. Beautiful Geometric Wall Accent with Gold Line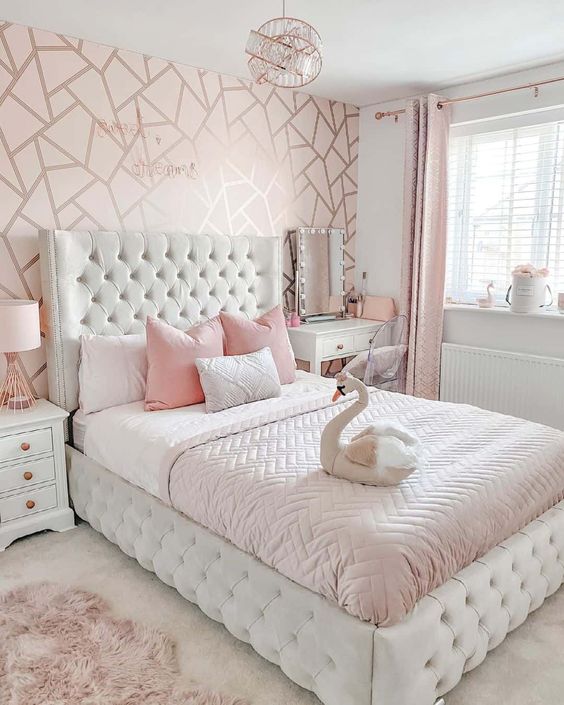 The pink color often makes the bedroom look soft. However, if you want a more cloudless atmosphere, you can try this idea.
You can use the wall as an area that can evoke a cloudless atmosphere in the pink bedroom. A geometric wall accent will make the room look more attractive. The gold-colored stripes give a slightly luxurious effect to the room.
17. Pink Board and Batten Make It Attractive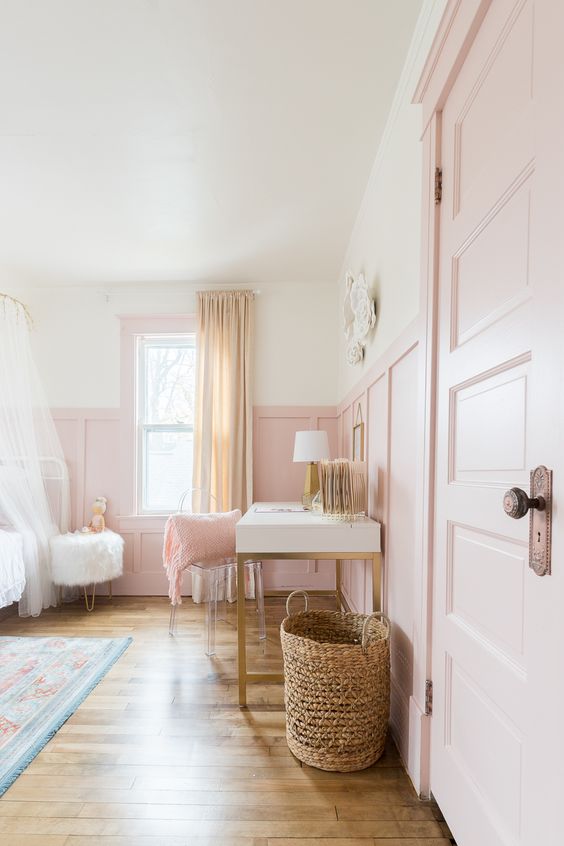 Board and batten are one of the decorations on the wall. The texture that arises makes a simple and minimalist room look attractive. You can choose a board and batten in blush pink color. So that the atmosphere of the bedroom is calm and soft.
18. Soothing Pink Bedroom Ideas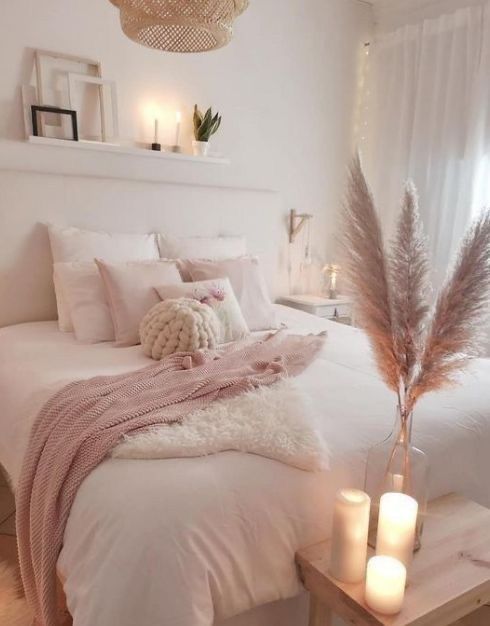 Several shades of pink when combined will give a very attractive and soft effect. So the bedroom will feel very quiet. You can also add some decorations that add serenity to the pink bedroom, such as some candles on the table and floating wall shelf.
19. Autumn Tones for Calm Atmosphere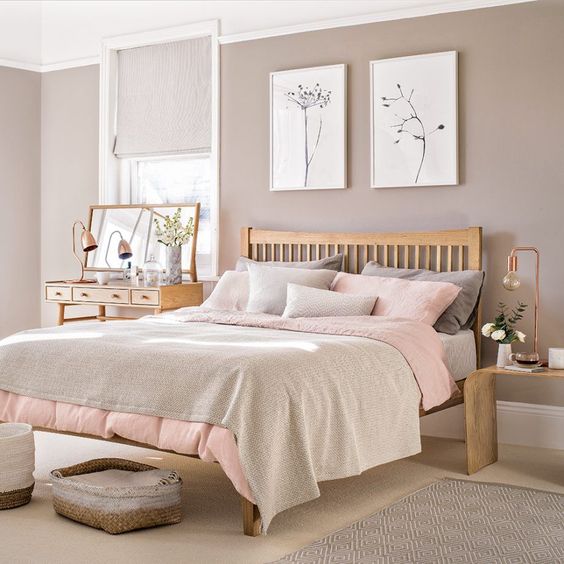 Nothing is more soothing than autumn tones. And you can use this to make the pink bedroom feel so soothing. Colors such as natural beige and warm beige are very suitable to be combined with pastel pink.
20. Pink Bedroom Design for Teenage Girl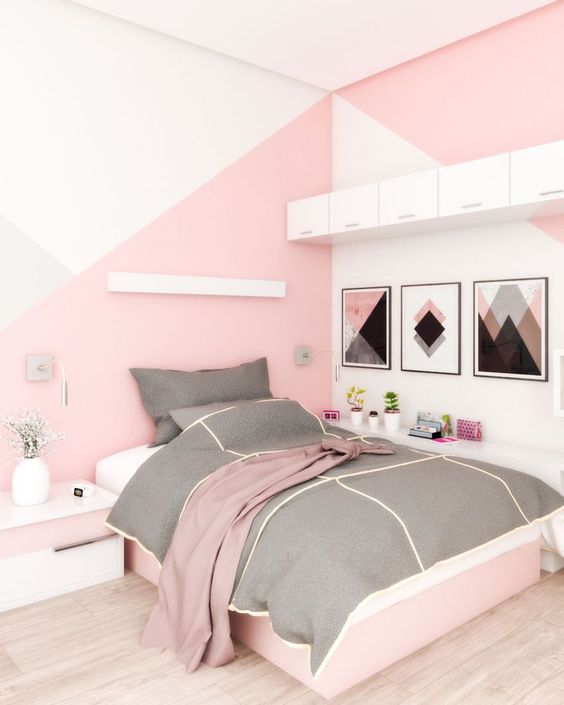 Try playing with stripes. This is very suitable for the bedroom of today's teenagers. Gray bedding with white stripes is very attractive for a pink bedroom. And what's even more interesting is the wall with a very beautiful accent.
21. Feel Fresh with Artificial Plants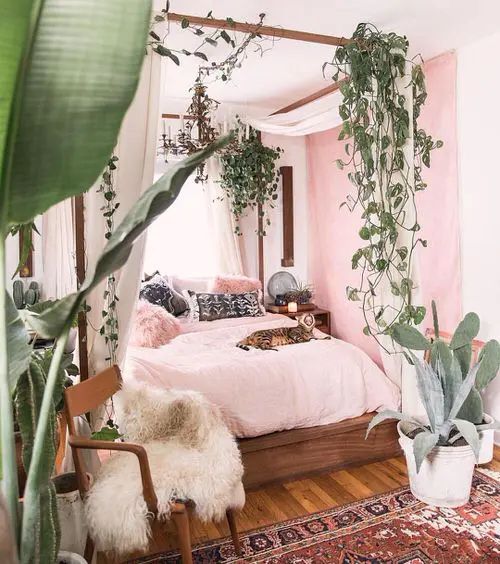 The pink bedroom may feel soft and calm. However, you can also give a fresh impression that can make the bedroom feel more comfortable.
You can add some artificial plants to your pink bedroom. You can place it in the corner of the room, beside the bedding, or on the canopy bed.
22. Modern Pink Bedroom Design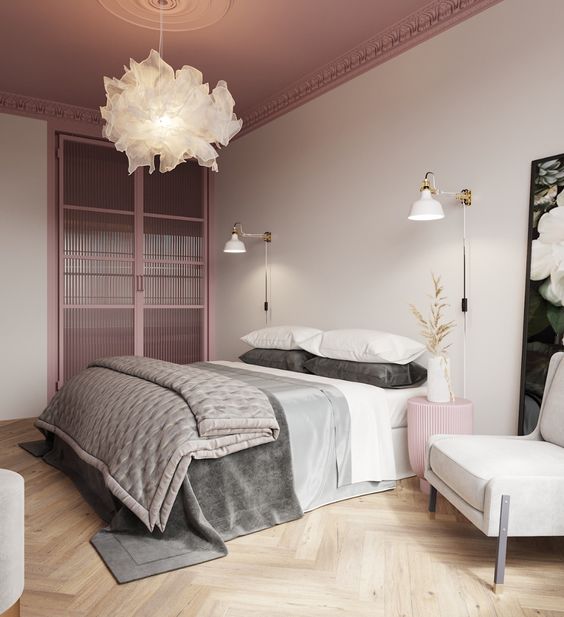 The bedroom ceiling and some pink spots will look so simple but beautiful. You can also make the room look elegant with a minimalist concept. The walls are still painted white to give a natural bright effect. And the gray color on the bed makes the room seem cold but elegant.
23. Luxurious Pink Bedroom Design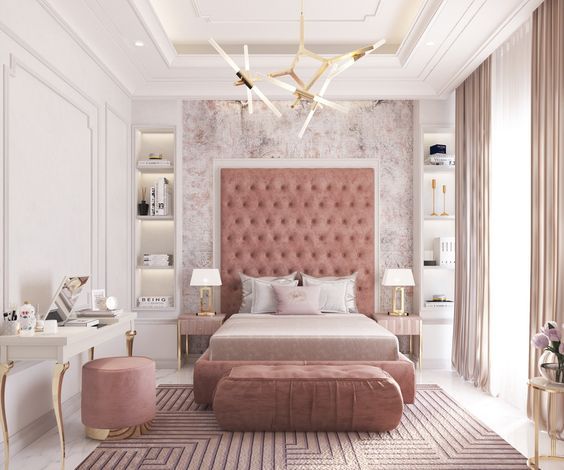 Want to have a room with a luxurious and soft look? If so, you can try this one idea. Pink velvet makes this bedroom look charming. Plus a soft pink accent wall that decorates the side of the wall. And of course a touch of gold color on some furniture.
24. Simple Pink Bedroom Decors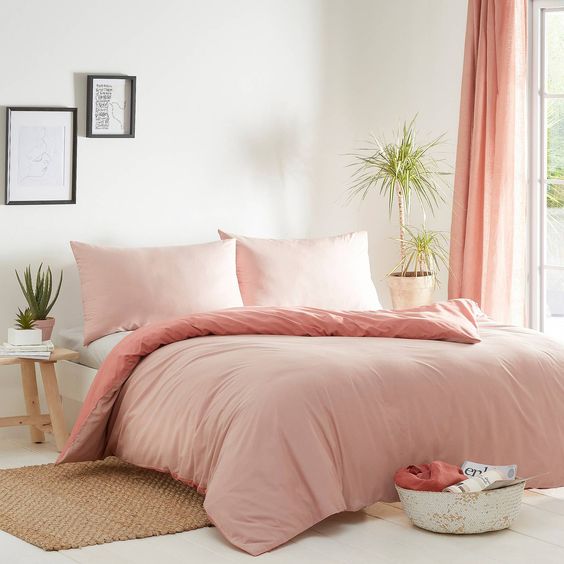 The next of Pink Bedroom Ideas is the simple pink bedroom. Bedding and curtains with matching colors make a simple bedroom look beautiful. Several plants on the right and left sides of the bed make this simple room look fresh so the room feels more comfortable. And the last is simple wall decor that makes this room look perfect.
25. Minimalist Pink Bedroom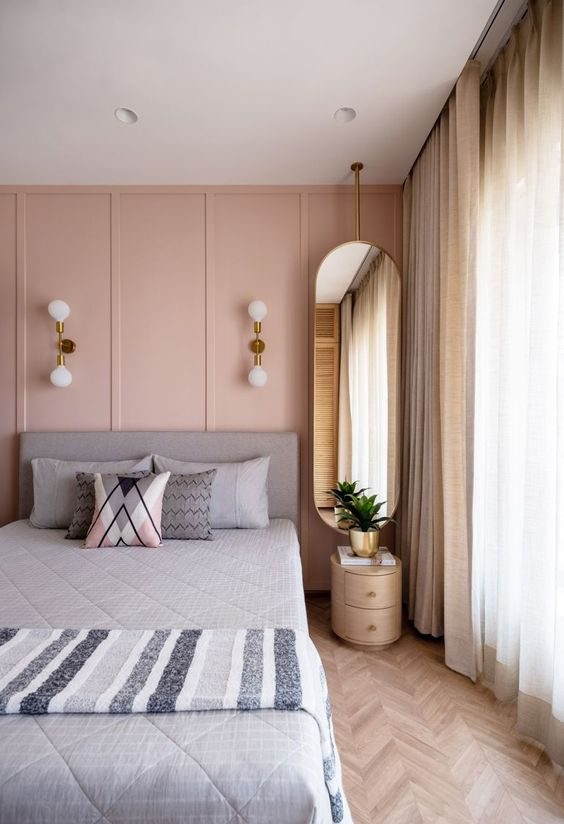 This minimalist pink bedroom looks elegant with a touch of gold on the table side, wall lamp, and mirror. Board and batten is the right idea to make this minimalist room beautiful even without decorations.
26. Beautiful Pink Bedding with Flower Motifs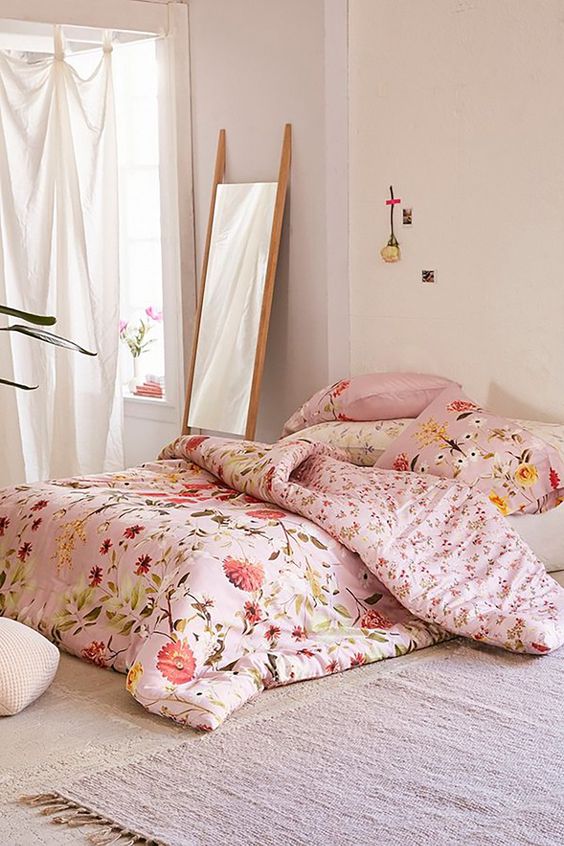 The bed is the main item in the bedroom. So this one item has an important role in the appearance of the room.
You can create a pink bedroom by using pink bedding. Try choosing a motif that can beautify your bedroom, such as floral motifs like the picture above.
27. Korean Pink Bedroom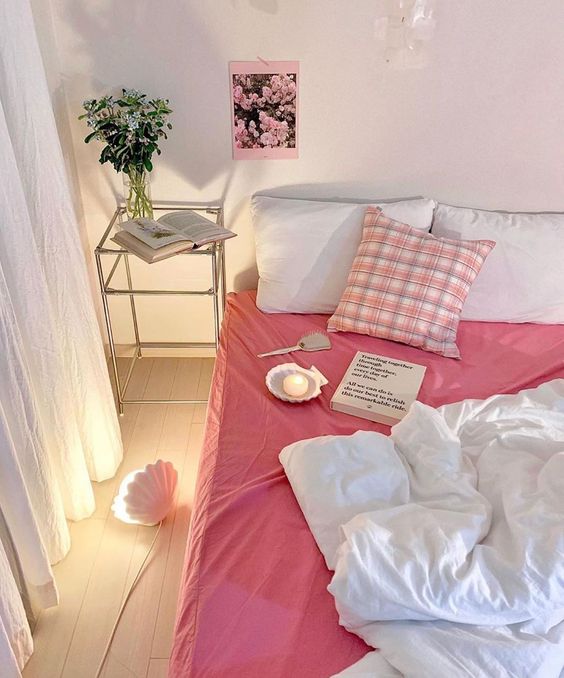 Korean style is very popular lately. You can have a pretty and cute Korean bedroom with shades of pink. There is no need to apply pink to your entire bedroom. Because you can use pink bedding with darker shades. And do not forget a pillow with a plaid pattern as a mainstay.
28. Gorgeous Pink Bedroom in Classic Style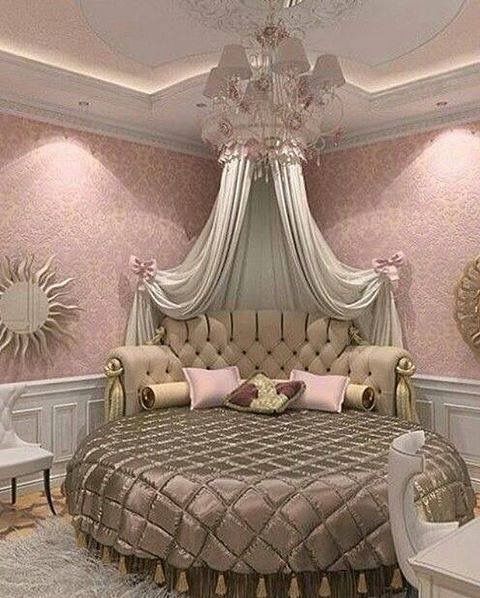 The pink bedroom in classic style is no less interesting. With a bed like being in a palace, it can pamper you every time. The shades of pink and gray make the bedroom feel so soothing and calm. And the carvings on the ceiling that make this pink room look so classy.
29. Classic Pink Bedroom Wall Ideas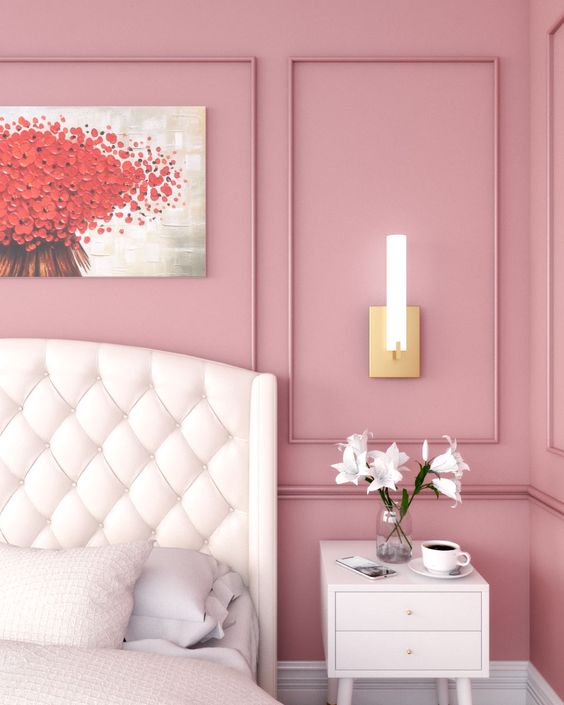 A pink bedroom in classic style does not always have to look crowded and as a palace. The classic style can also look calm with a minimalist concept. As in the picture above, the classic style is only present on a very beautiful wall.
30. Pink Girly Doll-House Bedroom Design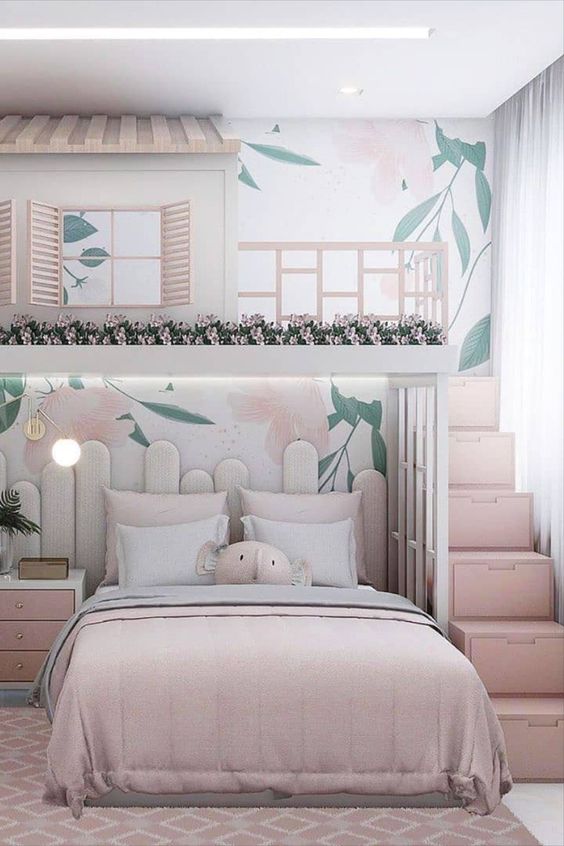 Pink girly doll-house bedroom design becomes the last of Pink Bedroom Ideas. This bedroom idea is perfect for your little princess. The bunk bed that is made like home makes the bedroom so comfortable for children. The lower part is for the bed and the upper part is the play area. And a wall mural with pink flowers and green leaves evokes a cheerful and fresh atmosphere which your daughter will love.
Final Words
There's nothing wrong with having a pink bedroom, or a pink bedroom. Currently, there are many shades of pink that you can choose for your bedroom. You can choose a soft pink color to make the bedroom feel so soothing and comfortable. With this, the pink bedroom will be far from being quirky and tacky. And the points above are 30 Pink Bedroom Ideas that you can use as your reference. Make sure you choose the pink bedroom that suits your personality. So, good luck guys!